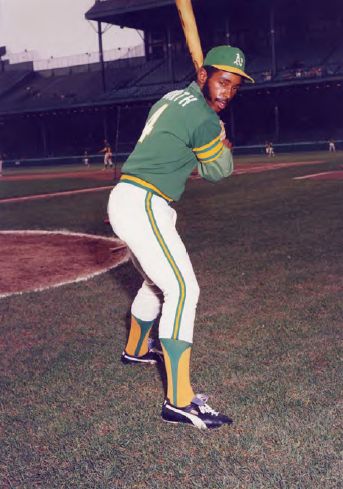 ---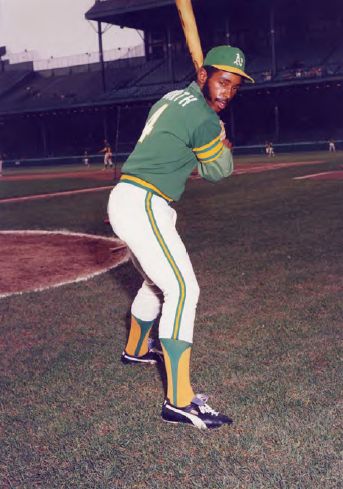 "The mentality of a basestealer is, when you get to first base, you see, you look around and say, 'Now they're in my ballpark.' Know why? Cause I can get a lead and take two steps. Pitcher ducks. Catcher's coming out. Shortstop's coming across. Second baseman's coming across. Center fielder's coming up. Cause I took two steps. And they couldn't stop me anyway! That's the mentality of a base stealer. You have to have that mentality. Look at these guys! Look at all that action! And they can't stop me anyway!"1
With determination, speed, toughness, swagger, and a resolve to never back down from conflict or confrontation, Bill North forged an impressive 11-year major-league career with the Chicago Cubs, Oakland A's, Los Angeles Dodgers, and San Francisco Giants.
North was the starting center fielder on four playoff teams, and earned World Series championship rings on two of them, the Oakland A's of 1973 and 1974. His fielding range was excellent; from 1973 through '76, he recorded more putouts than any other major-league outfielder. Despite a .261 career batting average, which was roughly on par with that of the league, his career on-base percentage of .365 was 43 points above the league average. Batting first or second in the lineup for most of his career, North racked up 395 stolen bases, leading the American League in 1974 and 1976, and narrowly missing a title in 1973 due to injury. Twice he was voted the outstanding player on his team by local sportswriters.
Yet North received very little national recognition. He never was selected to an All-Star Team, or honored with a Gold Glove award. He received just two votes in league MVP balloting during his career. His postseason play was undistinguished, as he managed just 3 hits (but 8 runs) in 59 League Championship and World Series at-bats.
Perhaps North's best-known moment in the national spotlight was a celebrated clubhouse fight with superstar teammate Reggie Jackson in June of 1974. It typified the tumultuous times of the three-peat world champion Oakland A's of the early 1970s — a fractious collection of gifted ballplayers who attained the highest pinnacle of their sport despite frequent, sometimes violent, clashes of ego. The fight was one of several altercations that punctuated North's playing career.
William Alex North was born on May 15, 1948, in Seattle, the youngest of five children to Frances North, a strong woman who held the family together through all types of adversity. "Mom never raised us with any bitterness," he reflected. "I had a great childhood." He developed a passion for baseball at an early age and went to Sick's Stadium whenever he could to watch his hometown Rainiers of the Pacific Coast League. He attended Seattle's Garfield High School, playing primarily second base, and in one game completed an unassisted triple play. But the diminutive infielder failed to attract the attention of big-league scouts, and after graduating in 1966 enrolled in Central Washington State College (now Central Washington University).
At Central Washington, North was mentored by new baseball coach Gary Frederick. "I was a pretty bad boy," he said in a 1972 interview. "I definitely had an attitude problem. But I was fortunate in having a very understanding coach in Gary Frederick. He helped straighten me out."2 Said Coach Frederick, "All he could do when I got him was hit, run, and throw, and I taught him how to carry the chip on his shoulder."3 In his sophomore year, North led the Wildcats to the National Association of Intercollegiate Athletics tournament finals, where they finished third. The following year, North hit .476 and was named an honorable mention All-American.4 North elected to leave school after his junior year and was selected by the Chicago Cubs in the 12th round of the 1969 major-league draft. The scout who signed him was former major-league infielder George Freese.
North started his professional career that summer in Caldwell, Idaho. He led the Pioneer League in stolen bases with 42 and scored 67 runs on 50 base hits plus 61 walks. That fall he played in the Arizona Instructional League and won high praise from manager Lou Klein. "[Klein] predicted that the Cubs' next big hitter in the Banks–Santo–Williams mold will be outfielder Bill North," wrote Jerome Holtzman in The Sporting News the following summer.5  North played most of 1970 with Quincy, Illinois, the Cubs' affiliate in the Class A Midwest League, and moved up to Double-A San Antonio in 1971. He led the Texas League with 91 runs scored and 47 stolen bases, and finished third in batting at .291. He earned a berth on the Texas League All-Star Team6 and a September call-up to the Cubs, where he collected 6 hits in 16 at-bats.
North had made it to the big leagues strictly as a right-handed batter with some power, but was sent to the Arizona Instructional League after the 1971 season to learn to become a switch-hitter. Cubs manager Leo Durocher wanted to take advantage of North's speed. He led the fall league in runs scored, stolen bases, and walks,7 and switch-hit his entire major-league career thereafter.
North hit over .400 in spring training in 19728 and appeared to have won a starting job in the outfield when the club broke camp in Arizona to play exhibition games against the White Sox at New Orleans' Tulane University football field. North looked at the concrete wall outside the running track that ringed the stadium and commented that he didn't like the field. According to North, pitching coach Hank Aguirre overheard and misinterpreted the comment and reported to manager Durocher that North didn't want to play. North rode the bench that night.
The next day, April 1, the Players Association called a strike against major league baseball that lasted until the 13th. When the strike was settled and the season began, North remained in Durocher's doghouse. He played sporadically before being optioned to Triple-A Wichita in May and again in July. Disheartened and defiant, North told the club he was quitting baseball to become a teacher, but acquiesced when Cubs vice president John Holland told him he'd be suspended indefinitely if he did not report. North batted over .400 for the Aeros with a 16-game hitting streak9 and rejoined the Cubs on July 29. He ended his first season as a switch-hitter batting just .181, and was again sent to polish his skills in the Arizona Instructional League, where he was voted an all-star.10
Nonetheless, Chicago traded the promising young outfielder to the 1972 world champion Oakland Athletics that winter for Bob Locker, a 34-year-old relief pitcher. North made the A's roster as a fifth outfielder, but manager Dick Williams needed a leadoff hitter because shortstop Bert Campaneris was suspended the first week of the 1973 season. Williams inserted North into his Opening Day lineup as the A's first-ever designated hitter. North collected two hits and continued to DH until he moved to center field in late April.
Williams took an immediate liking to his new speedster, "the only player I've ever seen literally strut on to a world championship team. I saw North and thought, 'This will be fun.'"11 It didn't take long for North to inject himself into the shenanigans of the Oakland clubhouse. The A's started the 1973 season with three straight losses, then flew to Chicago to play the White Sox. "On the bus ride from the airport to the hotel," Williams recalled in his autobiography, "I heard North and Blue Moon Odom sniping at each other, and then sniping louder, and I thought 'We're going to have our first fight before our first victory.'"12 By May 2 North was leading the league with eight stolen bases, but hitting just .208, when Williams dropped him to ninth in the batting order. Over the next four weeks, North hit .397 to raise his season batting average to .303 and stole seven more bases. He hit his first major-league home run on May 17, off the California Angels' Rudy May. The next night, against Kansas City, North initiated a fight that earned him an ejection, a three-day suspension, and a $100 fine.
In that ruckus, the A's were leading 5-4 when North stepped to the plate in the bottom of the eighth against Royals rookie reliever Doug Bird. On Bird's first pitch, North swung and missed, and his bat sailed out near the mound. "Walking to the mound," Williams wrote, "just before he reached his bat, North stopped, turned, and nailed Bird with a right to the jaw. Bird dropped, but North didn't stop — he jumped on him and pounded him. What in the hell is Bill North doing pounding a guy after the guy throws him a strike?  Did I have an insane man on my hands? I mean, more insane than the guys I already had?"13
Williams called North into his office after the game and demanded an explanation. North told the manager that in a Midwest League game in 1970, he came to bat after Bird surrendered back-to-back home runs. Bird knocked him down with his first pitch, then drilled him in the left ear with the next.14 North had not forgotten the incident and vowed to get even. Williams chastised North for taking the game into his own hands. "Why didn't you at least tell us, and we would have gotten back at him some other way!" Williams bellowed. "This is a team that doesn't just play together, it fights together!"15
The beaning by Doug Bird in 1970 was a defining moment in North's career. "I waited one pitch too long," he recalled later. "I should have stopped it when he knocked me down. And that's the way I felt about it the rest of my career." Later in 1973, the Angels' Dick Lange threw a pitch at North's legs. North responded on the next pitch with a drag bunt, hoping Lange would attempt to field the ball. Instead, first baseman Mike Epstein charged in and tagged North hard on the neck, but dropped the ball. Standing on first, North initiated a near-brawl with Epstein. Both benches emptied before order was restored.16  "North's an aggressive player," said Dick Williams, admiring his combative style of play. "He can play for me anytime."17
After the suspension, North played in every one of the A's next 112 games. Manager Williams elevated him from ninth to second to leadoff spot in the batting order. The A's climbed back into contention, moving into first place in the American League West to stay by mid-August. On September 20 they were just days away from clinching the title. North was the offensive catalyst, batting .285 on that day, with an on-base average of .376, and leading the league in stolen bases (53) and runs scored (98). In the second game of a doubleheader that day in Minnesota, his fortunes turned. With a man on third, North hit a grounder to second base. Rod Carew fielded the ball and threw home. North took his eye off first base to follow the throw, and landed awkwardly on the side of the bag. He sprained his ankle so severely that he missed the rest of the season, including the American League Championship Series and the World Series. Boston's Tommy Harper and teammate Reggie Jackson nipped North the final week of the season to take the stolen-base and runs-scored titles, respectively.
The A's dispatched the Orioles to win the AL pennant, and then defeated the New York Mets in seven games in the 1973 World Series. Due to a blunder by owner Charlie Finley, the A's had only 24 eligible players on its Series roster. Finley petitioned the Mets and Commissioner Bowie Kuhn for accommodation but was denied. To accentuate his position that the A's were at a disadvantage playing shorthanded, Finley did not allow the injured North to suit up or sit in the dugout with his teammates, despite North's contribution to the team's success. "I was his pawn because of the beef that he was having with Bowie Kuhn," North recollected. Disconsolate, North watched Game Three from the Shea Stadium grandstand, with the players' families, then flew back home to Oakland. As a result, he was not in New York during the Mike Andrews controversy, nor in the A's clubhouse when Dick Williams announced he would resign after the Series. He did receive a World Series ring and a full share of the postseason bonus.18
North began the 1974 season under new manager Alvin Dark in the worst hitting slump of his career, collecting only two hits in his first 33 at-bats. He was coming back from the severe ankle sprain of the previous year and nursing a sore hamstring. By contrast, Reggie Jackson was off to a phenomenal start, batting over .400 and leading the league in home runs. Jackson had attained full-fledged superstardom the year before, being selected Most Valuable Player of both the regular season and the World Series. He had always gotten along with North. Sometime in mid-April, however, North failed to run hard to first on a routine groundout. When he returned to the bench, Jackson berated him in front of his teammates for not hustling. The seeds of The Fight were sown.
"I tried to set him up for a month," North recalled. He gave Jackson the silent treatment despite his torrid start, and refused to talk to him on or off the field. He would not congratulate Jackson after home runs. Gradually, North lifted his average to .228 and took the league lead in stolen bases. Jackson remained hot, batting .390 with a league-leading 15 home runs, and the A's were atop the AL West when they arrived in Detroit to play a night game against the Tigers on June 5.
In the locker room at Tiger Stadium, North made a remark that infuriated Jackson and ignited the brawl. The superstar, who was not even dressed for the game yet, charged North and the two wrestled on the floor, in full view of teammates and sportswriters. Catcher Ray Fosse, pitcher Vida Blue, and others were able to separate the two, only to have the combatants tangle again a few minutes later. "It wasn't a regular clubhouse fight," said an A's teammate anonymously. "There was no backing off. They went at it hot and heavy — twice."19 When the dust settled, Jackson ended up with a bruised shoulder and a battered ego. Fosse suffered a separated cervical disc in the melee and was out of action until late in the season. Owner Finley met the team in Milwaukee a few days later and chastised both combatants. For the rest of the June, Jackson batted .197 with just three doubles, no home runs, and four RBIs. Finally, North and Jackson met to clear the air and lift Jackson out of his funk. Reggie regrouped and finished the 1974 season with a .289 average, 29 home runs, and 93 RBIs. North finished with a league-leading 54 stolen bases, despite a foot problem that lingered all year long, a .260 average, and .347 OBP.  He also compiled the finest defensive season of his career, recording 9 assists and making only 4 errors while finishing third in the league with 437 putouts
The A's won the AL West division for the fourth year in a row and defeated the Orioles again in the ALCS. The 1974 World Series pitted the defending champions against the Los Angeles Dodgers. First baseman Bill Buckner bragged about the Dodgers' seeming superiority: "If we played them 162 games, we'd win 100."20 The A's went about their usual business, which included a North-Jackson-type scuffle between Rollie Fingers and Blue Moon Odom in the Dodger Stadium clubhouse the day before the Series began. "I learned my lesson," North said playfully at the time. "When Blue Moon and Rollie went at it, I moved to the other side of the clubhouse."21 After the fracas, the A's vanquished the Dodgers in five games to win their third straight World Series title.
In his first postseason, North collected only two hits in 33 at-bats, but scored six runs, stole two bases, and played a hand offensively in all four of the A's World Series victories. Unlike 1973, he was able to celebrate on the field with his teammates, earning his second World Series ring.22
In 1975, despite losing Catfish Hunter to free agency, the A's won 98 games and a fifth straight AL West title. North batted .273 with a .373 OBP for the season, but his stolen-base total dropped to 30. Painful bone spurs that required surgery to his left ankle the following winter played a role. Also, manager Dark took away North's permanent green light, the only time that happened during his career. The impact of the loss of Hunter became evident in the postseason, as the A's were swept three straight by the Boston Red Sox in the ALCS. North went hitless in 10 at-bats. 
In an afternoon game in Oakland on June 8, the center fielder failed to catch a deep line drive to left-center with two out in the ninth inning that some said he should have had, costing staff ace Ken Holtzman a third career no-hitter. "Every time I hear that, it pisses me off," North retorted in an interview. "We're supposed to pitch [weak-hitting Tom Veryzer] hard away. So I'm playing right-center field and shallow. [Holtzman] floated a damn changeup inside." Veryzer lined the ball into the left-center-field alley. In the Oakland Coliseum, the sun goes across from first base to third base, right behind home plate. "I'm running back. It's in the sun. If I had a clean run to it, I'd have had to dive for the ball to get it."
That winter the reserve clause that had stood in baseball since 1879 was struck down. North and teammates Jackson, Bando, Rudi, Campaneris, Holtzman, Fingers, Gene Tenace, and Vida Blue held out against owner Finley for better contracts. On April 27, 1976, North signed a two-year deal worth $75,000 per season, a substantial increase over his previous salary of $55,000.23 The others remained unsigned, to become free agents at the end of the year. One week before the start of the  season, Finley dropped a bombshell by trading Jackson and Holtzman to the Orioles. Without Jackson, new manager Chuck Tanner turned to the running game, and the A's stole a league-record 341 bases en route to a second-place division finish. North led the majors with 75 thefts, breaking Campaneris's Oakland club record. In his autobiography, teammate Billy Williams recalled that when North was closing in on the record, "Campaneris would swing and foul every time Billy would take off to steal."24 If not for Campaneris, North believed, he would have stolen 110 bases, easily setting a new American League record. North also led the team in runs, hits, and batting average, and was named Outstanding Player by the Bay Area sportswriters.
Before North joined the A's, Campaneris led the American League in stolen bases six times, including an Oakland franchise record of 62 thefts two years in a row. From 1973 through 1976, when they were together in Oakland, North stole more bases than Campaneris each year. North was successful on 71 percent of his career attempts, compared with Campaneris's success rate of 77 percent. "When I had a hitter hitting behind me, I had to steal second base on the first three pitches, or I'm taking the bat out of his hands," North said. "That's why I got thrown out quite a bit. But check the record from the seventh to the ninth [innings], on Campaneris, too. When the game's on the line." Indeed, from 1973 to 1976, North swiped 29 bases in 38 close-and-late attempts; Campaneris was 19 for 32.25
North and the A's would just as soon forget 1977. Only North and Blue returned to play for Oakland; the rest of the elite players became free agents and signed to play elsewhere. On Opening Day, North was the only returning starter from the previous year. Five weeks into the season, he missed nearly a month after severely cutting his foot when a shower door shattered at his health club. Shortly after returning to the lineup, he fractured his index finger on a sacrifice bunt and missed two more months. By the time he returned from the disabled list in late August, the team was hopelessly out of contention. North did not play after September 7 and finished 1977 with a .261 average and 17 stolen bases in 56 games. The A's sank to last in the AL West, with 98 losses.
Two weeks after attending the 1977 World Series in Los Angeles, North was arrested at his Bay Area home in a drug bust. Undercover police had bought cocaine from an acquaintance staying with North's roommate while North was out of town. On October 29, just before midnight, a vice squad burst through the front door. Drugs on the premises were seized, and North was charged with drug trafficking and possession of cocaine for sale, a felony carrying a maximum sentence of three to five years. A magistrate of the Oakland Municipal Court looked over the evidence and dismissed the charges. But the drug bust certainly did not enhance North's image.
The 1978 season was North's option year with the A's, his salary reduced to $64,000,26 after which he would become a free agent. When Finley traded Vida Blue to the San Francisco Giants during spring training, North was the only player remaining from the A's championship years. On May 17, the day before his 30th birthday, Finley swung a waiver deal that sent North to the defending NL champion Dodgers for utility outfielder Glenn Burke. North scored 14 runs in his first 15 games with manager Tom Lasorda's crew. For much of the year, he batted over .280 with an on-base percentage well over .400 before tailing off to finish at .234 with a .371 OBP and 27 stolen bases, second on the team.  North shared center-field duties with Rick Monday and helped the Dodgers win a second successive pennant before losing the World Series in a rematch against former teammate Reggie Jackson and the Yankees.
According to North, the Dodgers offered him a four-year $932,000 contract "but my agent suggested I go free agency. I was supposed to be one of the top free agents of the day." Instead, whether it was due to his drug arrest the previous year or other factors, North attracted almost no interest. "I had to go beg for a contract," he said. Finally, on March 9, North himself negotiated a one-year deal with the San Francisco Giants.
North had a fine season in 1979 for the Giants. Batting leadoff, he led the team with a .386 on-base percentage, 96 walks, 87 runs scored, and 58 stolen bases. He was named the team's outstanding player by the local sportswriters, and the Giants rewarded North with a three-year contract at more than $200,000 a year. The Giants as a team were a huge disappointment, falling to a distant fourth place in the NL West after contending the year before.
North worked hard that winter with new hitting coach Jim Lefebvre, and got off to a great start in 1980, reaching base in each of the first 33 games he started. On April 17, trying to advance from first to third on a single, he unintentionally broke the nose of the Padres' Aurelio Rodríguez with an elbow-high slide. The 1980 Giants were expected to contend, but it was not to be. North barely played the last month of the season, and finished with a .251 batting average, a .373 OBP, and 45 stolen bases in 128 games.
The Giants hired Frank Robinson as manager for the 1981 season. At the time North publicly lauded the move, proclaiming,"He's a winner.  He also has credibility as an individual and can make the Giants a cohesive unit."27 Privately, the two had clashed earlier in North's career and Bill knew Robinson did not like him. When Robinson decided to platoon North with right-handed batter Jerry Martin, it didn't sit well. On May 8 in Montreal, North went 2-for-4 and stole three bases. The following night, off Expos ace Steve Rogers, he stroked the only grand slam, and the last home run, of his career, and drove in six runs, a career best. Despite the offensive explosion, North started only 10 of the next 22 games, and was hitting just .221, but with a .354 on-base percentage and 26 stolen bases, when the players' strike brought the season to a halt. When the strike was settled in August, North was released. Dispirited, he left baseball behind and did not pursue any potential opportunities to play the rest of the year.
North's old manager, Dick Williams, invited him to compete for a job with the San Diego Padres in 1982. If San Diego kept North on its roster, it would have to assume the final year of his contract with the Giants. At the end of spring training, Williams told North he did not make the team. His major-league career was over at the age of 33.
After baseball, North pursued different vocations before becoming a financial planner. He picked up the few remaining credits he needed to earn his bachelor's degree in sociology, attending commencement at Central Washington University in 1992. He began teaching the art of hitting to high-school, college and pro athletes. He and his wife, Pam, reside in Kirkland, Washington. They have a daughter, Ashley.
Acknowledgements
The author is indebted to Frances North, Gary Frederick, and especially Bill North and his family for consenting to the series of interviews that contributed to this work.
Sources
Dickey, Glenn. Champions: The Story of the First Two Oakland A's Dynasties and the Building of the Third (Chicago: Triumph Books, 2002)
Hunter, Jim, and Armen Keteyian, Catfish: My Life in Baseball (New York: Berkley Books, 1989)
Jackson, Reggie, and Mike Lupica, Reggie (New York: Ballantine Books, 1984)
Markusen, Bruce, Baseball's Last Dynasty: Charlie Finley's Oakland A's (Indianapolis: Masters Press, 1998)
Williams, Billy, and Fred Mitchell, Billy Williams, My Sweet-Swinging Lifetime With the Cubs (Chicago: Triumph Books, 2008)
Williams, Dick, and Bill Plaschke, No More Mr. Nice Guy (San Diego: Harcourt Brace Jovanovich, 1990)
Sporting News Baseball Guide, 1970 through 1982
The Sporting News, 1970-1983
Interviews with Bill North on February 23, March 15, May 31, and November 29, 2008, Frances North on November 17, 2007, and Gary Frederick on March 25, 2008.
Notes
1 Interview with Bill North, March 15, 2008. All quotations from Bill North are from his interviews with the author in 2008 unless otherwise noted.
2 Edgar Munzel, "North's Torrid Bat Could Force Change in Cub Garden Forecast," The Sporting News, April 8, 1972, 27.
3 Interview with Gary Frederick, March 29, 2008.
4 Bergman, Ron, "A's Center Field Vacancy Interests North," The Sporting News, February 3, 1973, 36.
5 Jerome Holtzman, The Sporting News, July 4, 1970, 8.
6  "Caught on the Fly," The Sporting News, October 9, 1971, 35.
7 Ed Prell, "Cey Hey! Ron Dominant Figure in Arizona Loop," The Sporting News, December 4, 1971, 53.
8 Glenn Dickey, Champions: The Story of the First Two Oakland A's Dynasties and the Building of the Third, 56.
9 Ron Bergman, The Sporting News, February 3, 1973, 36.
10 Ed Prell, "Cactus Loop Picks 16-Man All-Star Squad," The Sporting News, December 2, 1972, 53.
11 Dick Williams and Bill Plaschke, No More Mr. Nice Guy, 156.
12 Ibid.
13 Williams and Plaschke, 157.
14 Ron Bergman, "A's Charge Double Standards in North Case," The Sporting News, June 9, 1973, 17.
15 Williams and Plaschke, 157.
16 Bruce Markusen, Baseball's Last Dynasty, Charlie Finley's Oakland A's, 228.
17 Markusen, 229.
18 "Players Split Up Record Playoff-Series Pot," The Sporting News, December 1, 1973, 30.
19 Markusen, 300.
20 Dickey, 84.
21 Dickey, 60.
22 "A's, Dodgers Divvy Up Record Series Swag," The Sporting News, November 23, 1974, 48.
23 Ron Bergman, "Unsigned A's See Break in Logjam," The Sporting News, May 15, 1976, 13; Milton Richman, "Average Regular's Pay Rockets to $95,149," The Sporting News, April 23, 1977, 29.
24 Billy Williams and Fred Mitchell, Billy Williams, My Sweet-Swinging Lifetime With the Cubs, 164.
25 Retrosheet.org.
26 Jerome Holtzman, The Sporting News, April 8, 1978, 43.
27 Nick Peters, "Older, Wiser Robinson Given Giant Welcome," The Sporting News, January 31, 1981, 47.
Born
May 15, 1948 at Seattle, WA (USA)
If you can help us improve this player's biography, contact us.
http://sabr.org/sites/default/files/BillNorth.JPG
600
800
admin
/wp-content/uploads/2020/02/sabr_logo.png
admin
2015-09-18 00:00:41
2020-12-02 06:27:21
Bill North