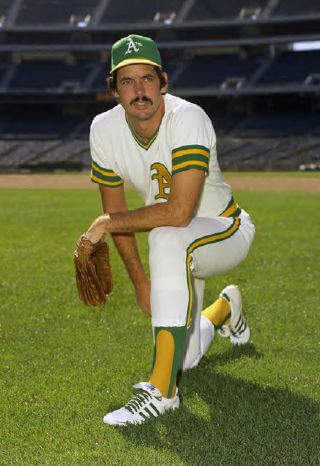 ---
William Raymond Parsons had a four-year career in the major leagues, compiling a 29-36 record with a 3.89 earned-run average. Among his achievements were being named the 1971 Sporting News American League Rookie Pitcher of the Year and being selected to the 1971 Topps Major League Rookie All-Star Team.
Parsons was born in Riverside, California, on August 17, 1948. His baseball career began at an early age. He competed in a number of leagues including Little League, Pony League, Colt League, and Connie Mack baseball. Twice he helped his team to a berth in the Colt League World Series, and in a losing effort in a 2-1 loss to Greensboro (North Carolina), had 13 strikeouts in a seven-inning game. While pitching in the Colt League he pitched a perfect game.
Parsons attended Riverside Polytechnic High School, where he played baseball and basketball. He was named to the All-Citrus Belt League in his senior year for baseball, was his basketball team's captain, and was named to a High School All-American basketball team. After graduation, he attended the University of Utah on a basketball scholarship. "I wasn't a high-school standout or anything like that," Parsons said. "I just liked basketball and baseball and when the scholarship offer came along, I decided to try to get an education first, but baseball always was in the back of my mind, and I attended Angels games in Anaheim as a kid. I really liked it. One day I decided to leave Utah and go back to junior college in Riverside."1
While attending Riverside City College, Parsons played both baseball and basketball. One summer he pitched for Ontario in the California Collegiate League. In nine games, he posted a 4-1 record, with a 3.10 ERA, striking out 71 and walking 38 in 61 innings. In the 1968 major-league draft, Parsons was selected by the expansion Seattle Pilots. Bobby Mattick and Lou Cohenour signed him to his first contract.
Parsons' first stop was with Newark (New York) of the New York-Penn League. He posted a 2-6 record with a 4.69 ERA, striking out 54, walking 41 in 48 innings of work. He split the 1969 season Billings in the Pioneer League, and Clinton in the Midwest League. With Clinton, he posted a 1.57 ERA, striking out 60 in 69 innings. He spent the offseason pitching in the Arizona Instructional League. On June 14, 1969, Parsons married Marcy Rae Rudd.
The 1970 season began with Parsons pitching for the Portland Beavers of the Pacific Coast League. In his first three starts he pitched two shutouts, but on May 5 his season came to an end when he was called to active duty for four months by his National Guard unit. After his discharge he pitched for Mayaguez, managed by Cal Ermer, in the Puerto Rican winter league. He attracted the attention of the Brewers (successors to the short-lived Pilots) by winning four straight games, including a two-hit victory over Ponce.
Brewers general manager Marvin Milkes commented, "We've had nothing but good reports on him from Puerto Rico, and Cal Ermer said he's certain Parsons can make our club next year."2 Manager Dave Bristol said, "Parsons will have every opportunity to make the club as a starter."3 During spring training in 1970, Leo Durocher, then managing the Chicago Cubs, called Parsons a young man of "great skill and maturity for his age."4
Parsons made the 1971 Brewers roster, and his major-league debut took place at Milwaukee County Stadium on April 13, 1971, versus Vida Blue and the Oakland A's. Parsons pitched a complete game, scattering six hits, but lost, 2-0. He recorded his first major league victory on April 23 over the Washington Senators, striking out seven and pitching 7⅓ innings of shutout ball. He lost his next outing, but then won three in a row, pitching complete games in two of them, and lowering his ERA to 1.83.
Parsons had a a curve and a live fastball, but his best pitch was his change-up. "I've got confidence in it thus far," he said.5 Parsons had a lot of confidence in himself commenting, "Pitching and winning in the majors is much more than I hoped for. I just wanted to come up and make a good showing in the first month. Now I have a good idea of what I can do. There certainly is a difference between the majors and Triple-A, but I figure if I can go through a tough lineup like Boston and California, I'm satisfied I can pitch well against anybody."6
One of Parsons' biggest supporters was Brewers pitching coach Wes Stock. "Bill has a lot of things going for him," Stock said. "He has confidence and he has poise. He can change speeds as good as anybody and is not afraid to throw the changeup in key situations. By doing that, he will make his fastball that much more effective, and he has a good fastball. You have to love the way he throws the ball with an easy motion. It's loose and will help keep him away from a sore arm. We try to teach all our young pitchers to throw pitches with the same motion. And he does this well."7
A highlight for Parsons was a 4-1 victory over the Angels in Anaheim on May 14. Among the spectators were his parents, who were seeing him pitch professionally for the first time.
Parsons had some very frustrating losses during the 1971 season. He lost 1-0 five times, and lost four other one-run decisions. Four of his victories were shutouts. Starting 35 games, He wound up with a 13-17 record, with a 3.20 ERA. He finished second to Chris Chambliss of Cleveland in the Baseball Writers Association of American American League Rookie of the Year voting. Parsons called his selection as the 1971 AL Rookie Pitcher of the Year his greatest baseball thrill.
Parsons and new general manager Frank Lane clashed over salary before the 1972 season. Lane's stand was that the pitcher had to "establish himself as a consistent performer for more than one year."8 After reaching a contract agreement, Parsons was the Brewers starting pitcher on Opening Day in Cleveland, posting a 5-1 victory, and for the home opener in Milwaukee, losing 8-2. By June 8 he had a 6-2 record, but then lost his next five decisions. He raised his record above .500 (8-7) with a victory over Minnesota on July 21, and finished the season on a strong note, posting his fourth straight victory on September 19, a complete game victory over the Yankees, to wind up 13-13 record with a 3.91 ERA.
After the Brewers traded Jim Lonborg to the Philadelphia Phillies, Parsons assumed the role of No. 1 starter for the 1973 season. He said the pressure of being No. 1 didn't faze him. "There was probably more pressure last year when I was coming off a good rookie season," he said. "I wanted to prove that my winning 13 games as a rookie was no fluke."9
A big concern for the Brewers and Parsons was a sore shoulder that limited him to 13 innings of work in spring training. Despite the shoulder issue, Parsons was the starting pitcher in the Brewers' home opener, and pitched 6⅔ hitless innings in a 2-0 victory over Baltimore. The rest of the season, however, was very difficult for Parsons. The sore shoulder restricted him to throwing batting practice and pitching out of the bullpen for a portion of the season. After he returned to the starting rotation, muscle spasms in his back caused Parsons problems. After a victory of Chicago on June 16, his record was only 3-4.
Parsons was frustrated with his progress, so much so that he contacted his former pitching coach, Wes Stock, who had been fired by the Brewers and was now with the A's. Parsons wasn't pleased with successor Bob Shaw's policy of "pitch-my-way-or-forget-it,"10 and was happy the Brewers finally replaced Shaw with Al Widmar, who had worked with Parsons in the instructional league.
A memorable moment occurred on August 6 during an exhibition game against the Atlanta Braves in front of 33,337 fans at Milwaukee County Stadium; Parsons got to pitch to Henry Aaron. Parsons recalled, "When he came up in the sixth, I made up my mind I wasn't going to walk him again. I didn't want to walk him in the second, but I did and got booed. I said to myself that if it happened again, the fans would tar and feather me. So I figured with a three-run lead (5-2) why not throw him my best? If he hits it, he hits it, and that's what the fans were looking for anyway."11 The fans got their wish as Aaron hit a home run and received another one of the half-dozen standing ovations the fans gave him during the game.
After finishing the 1973 season with a 3-6 record in 60 innings with a 6.79 ERA, Parsons sought to explore any avenues that might return him to his earlier success and pitched in the Venezuelan League for Caracas. Though Brewers general manager Jim Wilson's policy was not to permit his regulars to play winter ball, he allowed Parsons to do so "and see if he could find himself." Wilson also believed that "It might do him good getting away from everybody in our organization. He'd be in a completely different atmosphere."12 Parsons posted a 6-2 record with Caracas, and afterward told Wilson, "My physical problems have been straightened out and I'm mentally much better prepared for the new season. I'm looking forward to it."13
However after spring training in 1974, the Brewers optioned Parsons to Sacramento of the Pacific Coast League. The displeased Parsons asked Brewers president Bud Selig to trade him. He lost his first game with Sacramento, yielding five earned runs in five innings, and was unhappy pitching in Sacramento's Hughes Stadium, with its 233-foot distance to left field (topped by a 40-foot-high net). "Our pitchers will be ready for the nut farm at the end of the year," he opined. "It's ridiculous. There is no way to describe it. By last count (May 22) 172 homers have been hit there in 25 games. It's gotten so bad they don't even let fans into the stands until right before the game time."14 In a victory by Parsons over Tacoma, Sacramento hit seven home runs in a 22-7 Solons victory. Parsons was also disenchanted with the Brewers organization. "I have no desire to go up to Milwaukee," he said. "It's not the town or the people. There are two or three people in the organization who don't provide any incentive. They've discouraged people."15 Parsons and some of his teammates were also unhappy with an edict by Milwaukee that Sacramento players shave off their mustaches. Parsons reluctantly complied, saying, "I shaved mine only because (manager) Bob Lemon asked me to. If it was just between the Milwaukee club and myself I probably wouldn't have, but I like Lemon and didn't want to get him in trouble."16
Parsons' wish came true on June 24 when he was traded to the Oakland A's for Deron Johnson.
He was assigned to the A's PCL farm team in Tucson, then was called up by Oakland for the last month of the season. Reunited with pitching coach Wes Stock, he appeared in four games, pitching two innings, yielding one hit and no runs. His four-batter stint on September 28 against the White Sox (one hit, two walks) was his last major-league appearance.
After the season Parsons was sold to the St. Louis Cardinals. After 1975 spring training, he was sent to the Tulsa Oilers of the Texas League. In July he was traded to the White Sox with cash for Buddy Bradford. The White Sox assigned him to Denver for the rest of the season. In 1976, at the age of 26, he was out of baseball, moving to Phoenix, where he got involved in insurance and securities work. He attempted a comeback in 1978, joining the Seattle Mariners briefly for spring training. He was active as a consultant and doing marketing work for small companies, and as of 2014 lived in Las Vegas. Parsons and his wife, Marcy, had two daughters, Korey and Morganne, who have presented them with three grandchildren.
What had happened to a potentially great pitcher? Parsons told the Milwaukee Journal, "I just listened to too many people. What they wanted me to do wasn't what I needed to do. I was thinking about too many mechanical things and I didn't think about getting people out. In the state of mind I was in, I couldn't get my mother out. If you have confidence in yourself, you're going to make your pitches. It's as simple as that."17
Notes
1 Larry Whiteside, "Rookie Parsons Pride of the Brewer Hill," The Sporting News, June 5, 1971.
2 Larry Whiteside, "Brewers Prime Parsons as Starter," The Sporting News, December 26, 1970.
3 Larry Whiteside, "Kids Add Kicker to Brewer Hill Plan," The Sporting News, March 20, 1971.
4 Larry Whiteside, "Slaton Gives Brewer Mound All-Right Label," The Sporting News, May 5, 1971
5 Larry Whiteside, "Rookie Parsons Pride of the Brewer Hill," The Sporting News, June 5, 1971.
6 Ibid.
7 Ibid.
8 Larry Whiteside, "Brewer Barrels," The Sporting News, February 19, 1972.
9 Larry Whiteside, "New Delivery in Parsons Message," The Sporting News, March 31, 1973.
10 Ibid.
11 Lou Chapman, "Aaron Touched by Milwaukee's Salute," The Sporting News, August 25, 1973.
12 Lou Chapman, "Brewer Suds," The Sporting News, September 8, 1973.
13 Lou Chapman, "Brewers Seeking Solution to Parsons Mystery," The Sporting News, January 26, 1974.
14 Lou Chapman, "Parsons Seeks Trade Following a Look at Sacramento Stadium," The Sporting News, June 8, 1974.
15 Ibid.
16 "Solons Dislike Becoming Little Shavers for Brewers," The Sporting News, July 6, 1974
17 Steve Berthiaume, "The Curious Case of Bill Parsons," ESPN.com, May 10, 2011
Born
August 17, 1948 at Riverside, CA (USA)
If you can help us improve this player's biography, contact us.
http://sabr.org/sites/default/files/BillParsons.JPG
600
800
admin
/wp-content/uploads/2020/02/sabr_logo.png
admin
2012-01-04 20:18:24
2020-12-02 17:50:25
Bill Parsons