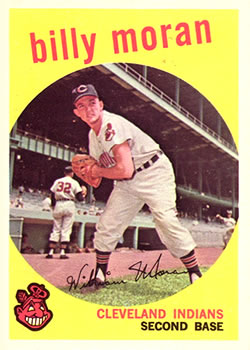 ---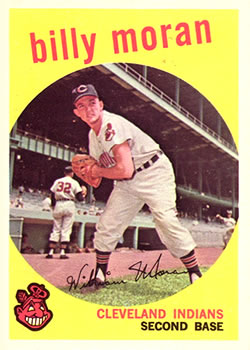 Billy Moran joined the Los Angeles Angels midway during the team's inaugural season in 1961, but it was 1962 in which both Moran and his club broke out in a major way.
The infielder, who would spend seven seasons in the major leagues, posted career numbers across the board that season. In 160 games he tallied 186 hits (.282/324/.407) with 17 home runs, and 74 RBIs. His 186 hits remained the team record until Alex Johnson surpassed that in 1970 with 202.
The Angels, meanwhile, finished third in the American League pennant race with an 86-76 record and were up by a half-game after sweeping the Senators in a Fourth of July doubleheader. (The 1999 Diamondbacks are the only other expansion club to post a winning record in their second year of existence.)
He made history when he was the first American League player to hit a home run at Dodger Stadium, where the Angels played 1962-1965. They had spent their 1961 season at Wrigley Field in Los Angeles and have played at Angel Stadium, then Anaheim Stadium — the fourth oldest ballpark in the majors as of 2018 — since 1966. The home run was a two-out, two-run walk-off homer against Dave Wickersham of the Athletics in the bottom of the 12th, scoring Eddie Yost and breaking a 4-4 tie for a 6-4 win on April 19. It would be the only walk-off homer of his career. He had one multi-homer game that season: Aug. 23 against the Yankees, both coming off Ralph Terry in a 5-4 win. Terry was one of five pitchers to give up multiple homers to Moran that season.
William Nelson Moran was born November 27, 1933, in Montgomery, Alabama, to Joe and Martha Moran (née Roberson). Moran said he traced his father's side of the family back, with the original family name being Morin. An only child, his love for the game came at an early age.
"My dad, from the time I was able to walk almost, he was teaching me how to play baseball," Moran said. "He played kind of sem pro baseball. He was a pitcher for the cotton mill there. He had me working out every day. He'd come home from work and we'd go out and he'd throw me balls one way or the other, ground balls and so forth, and then we'd go take batting practice, and the first time I was like five years old, and I warmed him up before he started one of the games there in the semipro league. It was a wonderful time."1
The Moran family moved to Atlanta, and he attended Russell High School in East Point, Georgia, where he served as a shortstop. He graduated from Russell in 1952 and signed with Indians scout Joe Sewell, although he said the Reds and White Sox were also interested in him. "He was the main man that came around and got me finally to sign with Cleveland," Moran said.2 Assigned to the Class D Wisconsin State League's Green Bay Blue Jays, he hit .277 with four home run in 63 games. He and Jake Striker were the only two Jays to make it to the major leagues.
With the Spartanburg Peaches in the Tri-State League in 1953, his numbers improved with a .batting average of .285 with a .446 slugging percentage, 17 doubles, five triples, and eight home runs. The team finished 96-54.
Advanced to the Class A Reading Indians of the Eastern League, his hitting fell to .242. "It was a pitchers' league, that's what they used to call it, all of the major league teams had sent their best pitchers into that Eastern League, and it was a tough league to hit in for everybody, really," he said. 3
In 1955 and 1956, Moran was stationed in the Army at Fort McPherson in Georgia, which he said was only two miles from his parents' home. Moran took night classes at Georgia Tech University, where he had earlier flunked out in engineering physics and engineering calculus He eventually graduated with an industrial management degree.
"I finally got through there, or they kicked me out, I'm not sure," Moran said with a laugh. 4
After basic training, Moran played baseball on the base team as a shortstop. Quite a few players who appeared in the majors were on his 1955 team: Wilmer Mizell, Billy O'Dell, Frank Bolling and Norm Siebern. Taylor Phillips tossed a no-hitter against Fort Benning in Georgia.
Yet Moran had mixed feelings on being in the Army and playing for Fort McPherson.
"The competition just wasn't that good," he said. "I'm sure you lose a little edge while you're in there…I really was proud to serve, but it didn't help me a bit with my professional career."5
When he got back in 1957, he was in Triple A with the San Diego Padres of the Pacific Coast League. Moran again hit four home runs for the third time in his four minor league seasons, with 45 RBIs, up from the 40 he had in 1954. Yet his other numbers were on the decline once more. In 158 games. Moran hit .211 with a .254 on-base percentage and a .287 slugging percentage, stealing three bases and getting 108 hits compared to his 127 with Reading.
His major league debut came on Opening Day, April 15, 1958, against the Kansas City Athletics. Moran batted in the eight-hole as the second baseman for the Tribe. He stepped up to the plate in the bottom of the third at Cleveland Stadium and singled to left field in his first major league plate appearance, against Ned Garver. That would be the only hit he'd get as he would go 1-for-3 in Cleveland's 5-0 loss. He would split time that season between second base and shortstop.
The Tribe made a managerial change after 67 games. Bobby Bragan was in his first season managing the club after previously being the skipper for the Pirates. Bragan had also managed Moran during the 1957-58 season in the Cuban Winter League, with many of the Indians playing for Almendares.6 It was in Cuba that Moran went over to second base at Bragan's insistence. Moran hit .245 with five RBIs and two steals with Almendares 7. Bragan was let go after the team started 31-36, and future Hall of Fame second baseman Joe Gordon took over. The move resulted in Gordon going 46-40 and the Indians finishing with a 77-76 record. Moran credited Gordon for helping him with his hitting, He belted his first career homer, a three-run blast, against Chuck Stobbs of the Senators at Griffith Stadium in the top of the sixth on June 13. The home run scored Rocky Colavito and Preston Ward, and the Indians would cruise to a 10-1 victory. It was the only home run Moran hit in 1958.
It would take a few years after that until Moran got consistent playing time. He appeared in merely 11 games in the majors in 1959, hitting .294 (with identical on-base and slugging percentages) with two RBIs. The Indians acquired Billy Martin in a trade with the Tigers, and he played 67 games at second base for Cleveland, sending Moran back in the minors. Most of Moran's time came with the Padres again, appearing in 102 games and hitting five home runs, while driving in 35 runs.
Moran did not appear in a single major league game in 1960. Instead, he was with the Toronto Maple Leafs of the AAA International League, playing in 121 games. Around this time in the early 1960s, Moran wanted to quit baseball. He asked for his contract to be sold to Toronto and then be traded to another major league team.
He hit five triples, four home runs and had 33 driven in. The Maple Leafs went 100-54 in 1960 en route to a championship with Mel McGaha as manager.
"We ran away with it because we had a great defensive team, and good pitching," Moran said. 8
McGaha took Moran under his wing and taught him how to handle a bat better, according to Moran. In 1961 he was hitting .300 on the nose with three home runs and driving in 16 when, on June 22, Toronto traded him to the Angels for Ken Hamlin and Russ Heman,
"First of all, I was glad I got away from Cleveland because, obviously, nobody had any confidence in me to play, I guess, but I was just happy to be there," he said. "We had a good defensive team…I enjoyed playing for [manager Bill] Rigney. He let you play your game."9
His debut with the team came the next day, at home against the Orioles, in an 8-6 loss. Ted Bowsfield had started the game for the Angels, and with Ed Sadowski on first base after a leadoff single, Moran came on to pinch hit for Bowsfield, drawing a walk against Steve Barber. Yost was the next batter, doubling to right field and bringing home Sadowski, but Moran was gunned down at home plate when Earl Robinson threw to Jerry Adair at second base and Adair relayed it to Baltimore catcher Gus Triandos, giving the Halos just one run instead of two. Moran was lifted after that as Ron Kline took over as the new pitcher.
His first start and first hit came on the 24th in a 4-1 win against the O's, going 1-for-5 and singling to center field against Jack Fisher with two out in the bottom of the sixth, but Moran was stranded. The next day saw his first home run in an Angels uniform, a two-run shot off Hal Brown, scoring Albie Pearson in the bottom of the third. He finished the 1961 season with the Angels with a .260/.328/.347 slash line, hitting two home runs and 22 RBIs in 198 plate appearances, while drawing more walks (17) than strikeouts (16). Moran was intentionally walked once. The Angels went 25-29 in games Moran appeared in.
Moran had been in the hospital for roughly two weeks toward the end of the 1961 season, as he had hurt his back. The back troubles carried into the winter and into Spring Training 1962. He credited team trainer Freddie Frederico for helping his lower back and doing chiropractic work. Moran said Frederico had him do reverse sit ups off a training table; the pain disappeared within 10 days. He played in 160 games that season, all at second base, which he credited for helping him have the season he had. Moran said he was better when he played as a regular and not seeing playing time on a partial basis, and said he had no idea why he felt he didn't get much playing time in Cleveland.
"I had a really great year and enjoyed every minute of it," Moran said about his 1962 campaign.10
Moran earned the starting second baseman job in both All-Star Games that season, ahead of Bobby Richardson, who would finish second in that year's American League MVP race. The first All-Star Game was held on July 10 at D.C. Stadium with the National League prevailing, 3-1. He went 1-for-3, facing Bob Purkey in the bottom of the sixth after Rich Rollins led off with a single to right field. Moran singled Rollins over to third by hitting the ball to left centerfield, and the A.L. All-Stars scored their only run of the game iwhen Rollins was brought home on a Roger Maris sacrifice fly.
"I was really excited about, of course, being in the All-Star Game," he said. "Fortunately, I was elected by the players and not the public as happened in some years…I was so nervous…There I was on the field and Mickey Mantle, and there's Roger Maris and Yogi Berra — all those famous names and I wondered what the hell I was doing there, but there I was. I was having a good year."11
The A.L. got the N.L. back 20 days later in Chicago at Wrigley Field, winning, 9-4. Moran reached base in that game, once on an error, and then again in the top of the seventh when he singled against Turk Farrell.
Perhaps his finest performance of the season was the first game of a June 10 doubleheader against the Kansas City Athletics, which the Angels swept. Moran was 3-for-5 with a double, a run scored, a home run and six RBIs. Los Angeles won the first game, 14-6, and the second one, 6-5.
For his efforts, he finished 13th in that year's American League MVP race. He called 1962 an amazing year and said Gene Autry was an amazing owner.
His contributions were not at the plate alone. As a defender he had 422 putouts and 477 assists for a .986 fielding percentage. His 422 putouts led the A.L., while his 477 assists were second only to Cleveland's Jerry Kindall, who had 494, among American League second basemen. He followed that up with 352 putouts and 455 assists in 1963, both of which led American League second basemen.12
The Angels did not enjoy the same success as they did in 1962, going 70-91. In 153 games, Moran batted .275 with seven home runs and 65 RBIs. He walked 31 times versus 39 the year before, but he also significantly cut down has strikeouts, having gone down on strikes 80 times in 1962 as opposed to 57 in 1963.
"I really didn't have a bad year, but there were a couple of guys that had great years in '62, but did not have that good of years in '63, and so we just didn't mesh together very well," Moran said. 13
Things changed in 1964, however. He appeared in merely 50 games for the Angels, the fewest he had played in since 1960. Bobby Knoop had replaced Moran as the team's everyday second baseman. Moran spent some time at third base, until June 11, when he was involved in a three-team trade that sent him back to the Indians. The Angels traded Frank Kostro to the Twins. The Twins traded Lenny Green and Vic Power to the Angels, while the Indians sent Kindall to the Twins.
"One mistake that I made was in spring training of '64, Rigney came to me and wanted to know, they said they had a kid in Hawaii, which was Knoop of course, and they wanted to know if I could move to third base from second base, and I had never played third base before, but anyway, I told him one of those rah-rah, of course at the time, I didn't realize the statistics I had in '63. I don't know if they just weren't available or if nobody paid attention to them, but anyway, I told him that if he thought it would help the team, yes, I would try to go to third base, and that was a big mistake because if I had known that I had led the league in putouts and assists at second base and had about 100 double plays, I would've asked the question, 'Why do you want to replace me?'" Moran said.14
He said his arm wasn't as strong at third base as it was in earlier years.
"That was very disappointing," he said about the trade back to Cleveland, the team the Angels were facing on the road that week.15 Moran had been traded from dugout to dugout. Coming off the bench pinch hitting for pitcher Don McMahon, Moran singled to right off Bob Lee, moving Larry Brown to second base and Max Alvis to third before being lifted for pinch runner Pedro Ramos. The Angels won, 5-4, and took four of five from the Tribe in that series.
The man who had hit 17 home runs in 1962 went deep just once in 1964. It was August 18, the first game of a doubleheader against the Athletics. Moran homered off John Wyatt to lead off the bottom of the seventh at Cleveland Stadium. The Tribe lost that game, 13-9. He did not get a lot of playing time in 1965, going 3-for-24 in 22 games and scoring one run. His last major league game was September 28 of that season, going 0-for-2 with a walk in a 6-3 win against the Yankees. Moran's final plate appearance came against Mike Jurewicz, and he popped out to first baseman Ray Barker. He did not appear in the minors after 1965, though he did spend some time with the Triple-A Portland Beavers in 1965, homering five times and driving in 15 runs with a .298 batting average.
Moran got into the insurance business afterward and had moved to the Atlanta area around the time the Braves had relocated. He called general manager John McHale to ask if there was a need for a backup player, which McHale said he would be. Moran had called Indians general manager Gabe Paul to ask what it would take to go to another team. According to Moran, Paul had asked for the waiver price, which was $25,000, and McHale was on board, but McHale then advised Moran that the move could not be done because the Indians wanted Denny LeMaster in return. He called Paul and told him he was not returning to Cleveland. He never got to play with the Braves as he had desired.
Moran said he went into the insurance business because he would be subsidized for a year or two until he learned the business. He had an offer for a management trainee job with Sears Roebuck. He also knew of a high school friend who worked in real estate who invited Moran to work with him, but Moran preferred not to get a bank loan to live on for the first year. He said he was in the insurance business for about 30 years, holding a job in one form or another, focusing on life and health insurance.
"I hated it, I just was not that kind of a person," Moran said, saying he was too laid back.16
Moran now lives in Rotunda West, Florida, his home for almost 20 years. "What do I do? I do nothing, and don't start that until about 1:00," he jokingly said. 17
He has three sons: Michael, Steven and Christopher. Moran has been married twice. His first wife, Peggy Ann Burns, is deceased. He has been with his second wife, Annette Seago, for nearly 40 years. Moran has six grandchildren and two great grandchildren.
"I'm very thankful, my life has been really blessed with the talent that I was given and the opportunities to use that talent," Moran said. "My three sons — any father would be proud to be their father. My two ladies that I've been married to are both exceptional women and we've always had good times together…I just want to be remembered as someone who worked hard to get what he got out of life."18
Last revised: August 9, 2018
Acknowledgments
Grateful acknowledgement to Billy Moran for his memories in phone interviews with the author November 29 and December 3, 2017.
This biography was reviewed by Norman Macht and fact-checked by Chris Rainey.
Additional sources
Books
Clarence Watkins, Baseball in Montgomery, Mount Pleasant, South Carolina: Arcadia Publishing (2017): 121.
Websites
Halofan, Rev. "Billy Moran – Top 100 Angels #96." Halos Heaven, October 11, 2013, www.halosheaven.com/2013/10/11/4815074/billy-moran-top-100-angels-96.
Notes
1 Billy Moran, telephone interviews with Corey Stolzenbach, November 29 and December 3, 2017.
2 Ibid.
3 Ibid.
4 Ibid.
5 Ibid.
6 Rogero Manzano, "Almendares (Liga Professional Cubana 1957-58)," Desde Mi Palco de Fanático blog (desdemipalcodefanatico.wordpress.com/numeros/almendares-liga-profesional-cubana-1957-58/)
7 Jorge S. Figueredo, Who's Who in Cuban Baseball, 1878-1961, Jefferson, North Carolina: McFarland & Company (2007): 299.
8 Moran Interviews
9 Ibid.
10 Ibid.
11 Ibid.
12 Baseball-Reference.com
13 Moran Interviews.
14 Ibid.
15 Ibid.
16 Ibid.
17 Ibid.
18 Ibid.
Born
November 27, 1933 at Montgomery, AL (USA)
Died
October 21, 2021 at Fort Myers, FL (USA)
If you can help us improve this player's biography, contact us.
https://sabr.org/sites/default/files/Moran%20Billy.jpg
600
800
admin
/wp-content/uploads/2020/02/sabr_logo.png
admin
2018-08-09 09:37:54
2022-04-04 13:52:30
Billy Moran