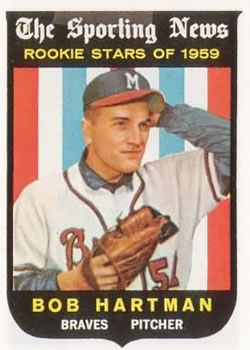 ---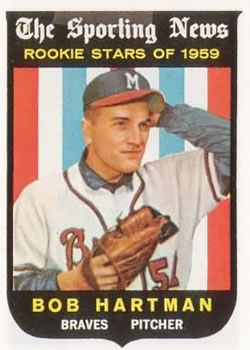 Perseverance is defined as "(continuing) despite difficulties, opposition, or discouragement."1
Robert Louis Hartman was a model of the above. He persevered throughout a baseball career that began at age 14 with the semipro Kenosha Chiefs and labored through five minor-league seasons. A 20-win season in 1958 earned the left-handed pitcher a promotion to the Milwaukee Braves. At 19, in his third year as a minor leaguer, he was diagnosed with Type 1 insulin-dependent diabetes which he managed successfully while enduring leg boils and arm and elbow injuries. Hartman took promotions, demotions, illnesses, and recoveries with class and served his hometown of Kenosha, Wisconsin, as a mentor to youth as an athletic director and counselor and as an elected official before bladder cancer took his life in 2010 at age 72.
Robert Louis Hartman was born on August 28, 1937, to Herman and Irene (Schloemer) Hartman. His father was a machinist at American Brass Co. and Eaton-Dynamatic.2 His mother was a homemaker and the couple raised sons Bob and Norman (14 years Bob's senior) on Kenosha's south side. Bob played sandlot baseball and at 13 pitched batting practice to the Chicago White Sox on invitation of White Sox pitching coach Ray Berres, another Kenosha native.3 A year later, Hartman started pitching summer baseball for the semipro Chiefs, who competed for a berth in the annual National Baseball Congress tournament.4 Hartman was an excellent all-around athlete at Kenosha High School. A triple-threat quarterback who ran, passed, punted, and place-kicked, Hartman led the Red Devils to a 9-5 Big Eight Conference record over two seasons. A long-range shooting guard on the basketball team, he earned honorable mention all-conference honors as a junior and second team All-Big Eight as a senior.5
Hartman was arguably the best high-school pitcher in Kenosha history. On April 27, 1954, he pitched a no-hitter in his second start of the season, striking out 14 in a 7-0 victory over Union Grove in the Southeastern Wisconsin baseball tournament. In two starts, Hartman had allowed one hit and recorded 24 strikeouts in 13 innings.6 A pair of three-hit victories followed, the finale in 40-degree weather at Kenosha's Simmons Field.7
Bob Lee, Hartman's closest high-school friend and the second half of Kenosha's left-handed dynamic mound duo in 1955, said Hartman was the best high-school pitcher he had ever seen. "He had poise and confidence that you can't teach," said Lee in 2019. "He was way ahead of his time in terms of high-school pitching — keeping the ball down, throwing strikes. He would throw strike after strike."8
In the Wisconsin Interscholastic Athletic Association sectional baseball final at Milwaukee in 1954, Hartman struck out 20 and walked 10, defeating Menomonee Falls to get Kenosha into the state tournament. In the championship game, Hartman held Oshkosh to three hits and struck out 14 but made three errors. The Red Devils failed to get a hit and lost 5-0.9 Hartman finished the season 12-1, striking out 149 batters in 77⅔ innings.10 In 1955 Hartman captained the Red Devils and pitched another no-hitter, on April 29 at Janesville. Nineteen of 21 outs were strikeouts.11 Another state title run ended when Racine Park edged Kenosha, 2-1, in the district playoffs. Bob Lee left with the game tied, 1-1, and Hartman came in from right field to relieve. His major-league curveball lost the game. "He threw a curve and the catcher couldn't handle it," recalled Lee.12 Two weeks later, Hartman pitched for the Kenosha Chiefs and lost, 2-1, to the University of Wisconsin, allowing four hits and striking out 10.13
Hartman and Lee both spurned University of Wisconsin scholarship offers and signed with the Milwaukee Braves for $4,000 bonuses on June 13, 1955. Hartman could have become a rich "bonus baby" but balked at managers and general managers offering big money to coaches and/or family members to get a prospect to sign with them. "I had handshake deals that I considered, but being a young, wholesome lad from Kenosha it just didn't seem correct to enter into my love of baseball in that manner — it just didn't seem right," he told a reporter. Hartman said he expected to reach the majors in a year or two.14
Hartman began his professional career with the Beaumont Exporters of the Texas League and went 3-5 for a team that lost 110 games.15 In February 1956 Hartman went to spring training with the Braves. Pitching coach Charlie Root put the "can't miss" tag on him.16 "The young kids look great," beamed manager Charlie Grimm, "especially Hartman."17 Then came the biggest challenge of his life. Hartman had pitched one game for Triple-A Wichita when he suffered a diabetic attack on May 3 on a road trip to St. Paul. A doctor examined him at a St. Paul hospital and confirmed the diagnosis. Hartman then received treatment at the New England Deaconess (Joslin Clinic) in Boston. "There I virtually went to school to learn how to live with the disease," he said in a 1958 interview with sportswriter Furman Bisher. Hartman learned to give himself insulin shots and how to restrict his diet.18
A 210-pound phenom who lost 50 pounds in two months slowly got his strength back and returned to Wichita in late July. In August, his pitching elbow popped on a cold day in Minneapolis. "The ball dropped out of my hand when I tried to hold it again, so I'd had it for that year," he said.19 Four days before the 1957 season opened, Hartman joined the Atlanta Crackers of the Double-A Southern Association. "Hartman has fluctuated between greatness and mediocrity during the spring training season," the Atlanta Constitution reported. "He has the equipment to win in the Southern, if he can throw a harness on wayward pitches."20
On April 16 Hartman threw a 6-0 shutout at Nashville, striking out 11 before 3,937 fans at the Sulphur Dell ballpark — the first night shutout there in six years.21 On April 27 Hartman suffered an arm injury at Chattanooga and missed three weeks.22 He returned as a relief pitcher and his record dropped to 3-7. His season turned on Labor Day 1957. Before the largest crowd of the season at Atlanta's Ponce de Leon Park (12,834), Hartman pitched 2⅔ innings in relief to claim a 4-2 victory.23 He relieved four times in the final week as Atlanta climbed from fourth place to win the regular-season championship.24 On September 24 Hartman saved the divisional playoff clincher at Nashville, sending the Crackers to the Dixie Series against the Texas League champion Houston Buffaloes, who beat Atlanta in four games.25
In 1958 the 20-year-old Hartman became the first Crackers pitcher to win 20 games and the youngest in Southern Association history to do so. 26 On May 26 he fired a three-hitter against the Mobile Bears for his 10th win against one defeat, his seventh complete game and his third shutout of the season.27 In his 14th victory, over the Memphis Chicks, Hartman left the game with a pulled muscle.28 He returned on June 20 and won his 15th game against two losses, treating 5,358 Atlanta rooters to his fifth consecutive win, defeating Memphis, 5-3.29 Hartman was on a pace to become the first 30-game winner in league history.30 "He was a good, smart pitcher," said his Atlanta center fielder and Louisville roommate John DeMerit. "He would get guys out by making them hit the ball."31
Then came another test of perseverance. Hartman failed in six tries to win his 16th game, then injured his right heel covering first base at New Orleans on July 26.32 "Hartman wins when he throws low; he loses when he throws high," said Crackers manager Bud Bates after Hartman lost, 4-0, to the Southern Association All-Stars. "Right now, he's not winning because he has a lapse in rhythm, perhaps due to a catch in his shoulder blade, and those high ones are slipping out."33 On July 30 Hartman beat Memphis, 3-1, for his 16th win.34 On August 17 he became the Southern Association's first pitcher that season to win 19 games.35
Number 20 was another elusive target. Hartman lost to Birmingham's Phil Regan on August 21 before 3,608 fans and a local television audience in the Crackers' home finale.36 After two more failures, Hartman finally got his 20th win on September 2 at Chattanooga, 6-4 in 12 innings, hurling a complete game. He was a unanimous choice for the league all-star team.37
On Valentine's Day 1959, Hartman married Audrey Johnson, his high-school sweetheart, at St. Mary's Lutheran Church in Kenosha. The couple spent their honeymoon traveling to and staying in Bradenton, Florida, the spring-training home of the National League champion Milwaukee Braves. Atlanta Constitution sports editor Jesse Outlar believed Hartman had the "glowing credentials" to join "the finest pitching corps in the majors." Hartman was pleased to get a "thorough trial" for the first time. "Buddy Bates helped me with my pitching stride," Hartman said. "It gave me better control." Braves pitching coach Whitlow Wyatt worked with Hartman on developing a changeup.38 "Of course, (Braves manager Fred Haney) will make the decisions," Wyatt said, "but I wouldn't be surprised if he stays with us."39
Hartman was traveling with the Braves to Pittsburgh when he suffered dizzy spells and a blackout, apparently related to his diabetes. He was examined by trainer Bob Feran and sent home for treatment at a Milwaukee hospital.40 On April 26, 1959, Hartman made his major-league debut, against the Cincinnati Reds at Crosley Field. He relieved Lew Burdette in the third inning and faced three batters without recording an out. With the score 3-3, Hartman walked Frank Thomas to load the bases. Ed Bailey singled in two runs and Roy McMillan singled in a third. Bob Rush replaced Hartman, one of four pitchers in the game who failed to retire a batter. The Braves lost, 11-10, on Johnny Temple's single off Warren Spahn.41
A week later the Braves optioned Hartman to the Louisville Colonels of the Triple-A American Association. Hartman pitched six games and had a 1-1 record when the Braves recalled him on June 6 and sent down left-handed flamethrower Juan Pizarro. Three weeks later, they traded places again and Hartman became a stopper in Louisville's starting rotation, with seven victories in the second half of the season and a 10-3 finish.42 After his eighth win, the Colonels put playoff tickets on sale — $1.75 for box seats and 50 cents for kids.43
Hartman's August 27 loss before a record home crowd of 17,067 reduced the Colonels' lead over the Minneapolis Millers to two games.44 But he twice beat the Houston Buffaloes, once with a 2-0 shutout in Louisville's final regular-season home game.45 On September 8 he twirled one of two shutouts of the Fort Worth Cats that clinched Louisville's first regular-season flag in 13 years.46 But the Cats swept the playoff series with the Colonels, Hartman losing the elimination game, 8-3.47
As 1960 spring training opened, Hartman was one of five Louisville pitchers on the Milwaukee Braves' roster. On April 2 the Braves sent him to Louisville.48 When he lost, 2-1, to Houston, Louisville Courier-Journal sportswriter Johnny Carrico wrote an article headlined, "Why Don't the Colonels Hit for Bob Hartman?" The defeat gave Hartman (3-7) the worst record among the starting pitchers but he had the best earned-run average of the group.49 A 2-1 victory over Indianapolis on July 11 brought Hartman's record to 5-8. DeMerit's winning solo homer hit the top of the left-field wall and skipped over for the winning run.50 Tough luck returned in Hartman's next three outings. He worked 14 innings against Minneapolis and 11 at St. Paul that added up to one defeat.51 In between, the Millers' Don Gile hit his third home run of the game off Ted Abernathy and made Hartman a 5-3 loser.52
A 5-3 victory over the league-leading Denver Bears before 2,446 home fans on Family Night August 10 reversed the trend. Hartman threw 137 pitches, 85 for strikes, and drove in Hawk Taylor with a sixth-inning single.53 His two-hit shutout of Indianapolis on August 30 at Louisville took only 78 pitches, put the Colonels in second place, four games behind Denver, and gave him a 7-2 mark since July 1.54 In the September 18 regular-season clincher against St. Paul, Hartman lasted three innings but the Colonels rallied to win, 5-4.55
Heavy work in August apparently had worn Hartman out. In the American Association playoffs, Denver took a 2-0 lead. Hartman worked one relief inning in game two, allowing four hits and two runs.56 The Colonels came back to win the series four games to two and qualify for the Junior World Series against the Toronto Maple Leafs of the International League. The Leafs were supposed to be part of Branch Rickey's Continental League. Jack Kent Cooke owned the team that included future major league managers Chuck Tanner and George "Sparky" Anderson. Don Nottebart won the first game. Toronto's "31-year-old junkman" Steve Ridzik pitched the equalizer. Hartman was one of five pitchers wounded in a 16-hit attack and 10-1 defeat and never pitched again in the series.57 Louisville won two of the next three games and clinched the championship at home.58 Another left-handed hero, Bob Hendley, fired a 5-1 masterpiece before 4,643 fans, who gave him a "roaring ovation."59
Two weeks later, Louisville sold Hartman to the Kansas City Athletics, who returned him to the Colonels for the start of the 1961 season.60 Hartman made 10 relief appearances with no record, then joined Vancouver of the Triple-A Pacific Coast League in early July.61 He won his first three games, including a 9-2 distance win against Salt Lake City, and finished 3-1.62 He returned to the Braves for the rest of the season but did not pitch.
When the New York Mets and Houston Colt .45s started to draft players for the 1962 season, Hartman was a possible choice for New York.63 Instead, he went back to Louisville. On April 21 he went the distance and beat Denver, 7-1, and topped the same club 9-5 on May 2.64 A 2-0 shutout of Oklahoma City on June 2 raised Hartman's record to 4-2.65 Three weeks later, the Cleveland Indians bought him from the Braves and sent infielder Ken Aspromonte to Milwaukee. Hartman's Cleveland debut on June 26, 1962, was amazing but almost didn't happen. Manager Mel McGaha needed a starter for the second game of a twin bill at Detroit's Tiger Stadium, handed the ball to Hartman and said, "You're it." After recording two outs, Hartman allowed a home run, a walk, and a single. One pitch away from the hook, Hartman retired Steve Boros on a popup, then allowed just one hit over the next nine innings. He left for a pinch-hitter and Cleveland won, 3-1, in 12 innings. "It was a brilliant performance," wrote Hal Lebovitz, "one almost impossible to match in the future." "From now on," McGaha said, "we will start him as well as use him in relief."66
Hartman would pitch in only seven more major-league games totaling 7⅓ innings. His last start was a defeat, his only major-league decision. Hartman led 2-1 going into the bottom of the fourth inning at White Sox Park in Chicago. With runners on first and third, right fielder Gene Green dropped a fly ball to tie the score. A single scored the lead run and Hartman was pulled from the game. Chicago built a 7-2 lead and a Cleveland rally fell short, 7-6.67 "If it wasn't for that Gene Green," lamented Audrey Hartman. "I could have caught the ball that he dropped."68
On July 20 the Indians recalled 19-year-old lefty Sam McDowell and sent Hartman to Triple-A Salt Lake City. Hartman had a 1-7 record. He pitched briefly for Jacksonville of the International League. When Cleveland wanted to demote him and cut his salary, Hartman retired from professional baseball. "I had a family, all this up and down stuff wasn't cutting it anymore," he told the Kenosha News's David Marran.69
Bob and Audrey Hartman raised three daughters — Christine (Allemand), Suzanne (Walker), and Allyson (Barnes) — who gave them six grandchildren. Though Hartman never got the chance to pitch a full major-league season, he spent much of his post-baseball life giving Kenosha kids a chance. In 1964 he became athletic director of the Protestant Youth Council, which became the Christian Youth Council that merged into the Kenosha Boys & Girls Club in 2001.70 Hartman started Little Guys football and baseball and, at the urging of his daughters, Little Gals softball for grade-school kids. When the Youth Council needed a new baseball field, Bob found the land and Audrey — who grew up on a vegetable farm in rural Kenosha County — drove the tractor for the excavation.71 From 1971 to 1976, Hartman served as Kenosha County clerk of circuit courts.72
He continued as a Christian Youth Council director through 2001. Beginning in 1992, Hartman served on behalf of Community Impact youth programs as the school liaison officer at Dain Elementary School in the blue-collar section of the city. If a child missed school or was struggling in class, Hartman made home visits to see how he could help. "He took them under his wing," Bob Lee recalled. "He wanted them to know they were cared for." 73
Hartman was a member of the Major League Baseball Alumni Association and served as president of the Greater Kenosha Youth Baseball & Softball Association, and the Kenosha, Wisconsin, and American Diabetes Associations.74 He attended the University of Wisconsin-La Crosse in the fall of 1955.75 Audrey Hartman believed that her husband's diabetes made him a risk to major-league teams. Yet it was bladder cancer that proved fatal, on June 16, 2010. The previous December, doctors told him he had six months to live. His family took him to Cancer Centers of America in Chicago. "He went through every feasible test," Audrey remembered.
Doctors found no cancer but Hartman stayed at a Kenosha rehabilitation center before going back into the hospital. A thin layer of cancer remained but his cause of death was a sepsis, a form of blood poisoning.76 He is buried in Green Ridge Cemetery in Kenosha. Arguably the greatest high-school pitcher in Kenosha history, Hartman was also, as Lee put it, "a champion for the young people."77 Anyone who knew Bob Hartman would say his love of people, especially his dedication and compassion for youth, was his best pitch.
Acknowledgments
This biography was reviewed by Bill Nowlin and Len Levin, and fact-checked by Kevin Larkin.
Notes
1 The Merriam-Webster Thesaurus, 2005, 520.
2 US Census data, January 1940. ancestry.com; Interview, Audrey Hartman, January 8, 2019.
3 David Marran, "Web extra: Remembering Kenosha baseball icon Bob Hartman," Kenosha News.com/sports, April 27, 2016. kenoshanews.com/sports/web-extra-remembering-kenosha-baseball-icon-bob-hartman/article 2943b95c-150e-520c-86f8-6bc4151f3228.html. Accessed January 8, 2019.
4 Marran.
5 "Big Eight All-Stars," Racine Journal-Times, March 26, 1954: 11; Monte McCormick, "Beale, Hackbart Voted Honorable Mention," Wisconsin State Journal (Madison), March 15, 1955: 23.
6 Roger Cantwell, "Versatile Kenosha Star Adds No-Hitter to Achievements," Wisconsin State Journal, April 28, 1954: 28.
7 "Horlick Loses 4 to 1 to Kenosha High," Racine Journal-Times, May 8, 1954: 12.
8 Author interview with Bob Lee Sr., February 26, 2019.
9 "Kenosha Wins Sectional," Racine Journal-Times, June 3, 1954: 22; "Oshkosh Tops Kenosha 5-0 in State Final," Racine Journal-Times, June 7, 1954: 14.
10 Marran.
11 "Bob Hartman Hurls 5-0 No-Hit Game," Janesville (Wisconsin) Gazette, April 30, 1955: 10.
12 "Park Beats Kenosha in District Meet," Racine Journal-Times, May 15, 1955: 27; Bob Lee Sr. interview.
13 "Wisconsin Closes With 2-1 Victory," Wisconsin State Journal, May 29, 1955: 29.
14 Marran.
15 Bob Hartman, Baseball Reference.com, baseball-reference.com/register/player.fcgi?id=hartma002rob. Accessed February 26, 2019.
16 "Root Is High on Bob Hartman," Janesville Gazette, February 28, 1956: 16.
17 "Bunts and Boots," The Sporting News, February 29, 1956: 25.
18 Furman Bisher, "Hartman Hurling at 30-Win Pace as Cracker Ace," The Sporting News, June 18, 1958: 35.
19 Charlie Roberts, "All Heart, Man," Atlanta Constitution, June 10, 1958: 27. Baseball Reference.com
20 Add Cracker News: Get Win, Pitcher," Atlanta Constitution, April 12, 1957: 50.
21 Al Thomy, "Crackers in Dell, 6-0," Atlanta Constitution, April 17, 1957: 33.
22 Al Thomy, "O'Donnell Gets Another," Atlanta Constitution, May 22, 1957: 35.
23 Al Thomy, "Reynolds, Riddle Stop Vols, but Crax Yield in 9-4 Final," Atlanta Constitution, September 3, 1957: 10, 13.
24 Al Thomy, "Playoff Rainout Aids Cracker Mound Staff," Atlanta Constitution, September 10, 1957: 27.
25 "Crackers Shell Vols, Play Texas Winner," Atlanta Constitution, September 24, 1957: 25; "Buffaloes First Texas Team in 32 Years to Retain Dixie Title," The Sporting News, October 16, 1957: 33.
26 Charlie Roberts, "Hartman Grabs Coveted 20th, 6-4," Atlanta Constitution, September 3, 1958: 25, 27.
27 "Southern Association," The Sporting News, "May 14, 1958: 36; Charlie Roberts, "Hartman Zeroes In on Mobile Bears, 6-0," Atlanta Constitution, May 27, 1958: 25, 29.
28 Charlie Roberts, "Hartman Hoists 14th as Crax Wing Chicks," Atlanta Constitution, June 16, 1958: 9.
29 Charlie Roberts, "Hartman Gets Win No. 15," Atlanta Constitution, June 21, 1958: 9.
30 Bisher.
31 Author interview with John DeMerit, January 8, 2019.
32 Charlie Roberts, "MacKenzie Masters Pels, 6-4, for 11th," Atlanta Constitution, July 28, 1958: 9-10.
33 Al Thomy, "Coles' Wrist Ruined Crackers," Atlanta Constitution, July 17, 1958: 36.
34 Al Thomy, "Umbricht, Hartman Corral Docile Chicks, 1-0, 3-1," Atlanta Constitution, July 31, 1958: 29.
35 Charlie Roberts, "Crax Victors, Await Barons," Atlanta Constitution, August 18, 1958: 11.
36 Charlie Roberts, "Barons Sweep Crax Back to Third, 6-5," Atlanta Constitution, August 22, 1958: 27.
37 Charlie Roberts, "Bob Hartman Unanimous Pick on Southern's All-Star Squad," Atlanta Constitution, November 4, 1958: 27.
38 Jesse Outlar, "The Big Chance," Atlanta Constitution, February 19, 1959: 33.
39 Charlie Roberts, "Louisville Sluggers Fell Dried-Out Crax," Atlanta Constitution, March 19, 1959: 33.
40 "Milwaukee Sends Bob Hartman Home," Eau Claire (Wisconsin) Leader-Telegram, April 11, 1959: 9.
41 "Milwaukee Drops to Second Place Behind Dodgers," Wisconsin State Journal, April 27, 1959: Sec. 3: 1,4. retrosheet.org/boxesetc/1959/B04260CIN1959.htm. Accessed February 5, 2019.
42 "Colonels Get Juan Pizarro," Louisville Courier-Journal, June 7, 1959: 40; Johnny Carrico, "Pizarro Beats Hoosiers 4-3; Cols Now Half-Tilt from Second," Louisville Courier-Journal, June 24, 1959: 19; baseball-reference.com/register/player.fcgi?id=hartma002rob. Accessed February 26, 2019.
43 "Cols Trim Millers 5-2, Return Home Tonight 3½ Ahead," Louisville Courier-Journal, August 24, 1959: 19.
44 "Record 17,067 See Colonels Lose 9-5; Lead Is Cut to Two," Louisville Courier-Journal, August 28, 1959: 22.
45 Johnny Carrico, "Hartman Gets Revenge 2-0; Cols Wind Up Home Season," Louisville Courier-Journal, August 31, 1959: 19.
46 "Cols Clinch A.A. Flag with Double Shutout," Louisville Courier-Journal, September 9, 1959: 26.
47 Johnny Morrison, "Cols Bow Out for Season, Losing 4th in Row," Louisville Courier-Journal, September 15, 1959: 24.
48 Johnny Carrico, "Braves Send Haas to Cols; Hartman, Piche Back Too," Louisville Courier-Journal, April 3, 1960: 45.
49 Johnny Carrico, "Cols Bow to Buffs 2-1; Drop to 2nd," Louisville Courier-Journal, June 24, 1960: 26.
50 Johnny Carrico, "DeMerit's Homer Earns 2-1 win for Hartman," Louisville Courier-Journal, July 12, 1960: 19.
51 Johnny Carrico, "Millers Score in 17th to Nudge Cols 2-1," Louisville Courier-Journal, July 26, 1960: 18; Roger Rosenblum, "Saints Nudge Colonels by 1-0 in 11 Innings," Louisville Courier-Journal, August 5, 1960: 38.
52 Bob Beebe, "Don Gile Smashes Three Homers to Lift Millers to 5-3 Win Over Cols," Louisville Courier-Journal, July 31, 1960: 35, 39.
53 "Colonels Move Within 1 Game of Second by Clipping Bears Again," Louisville Courier-Journal, August 12, 1960: 21.
54 Johnny Carrico, "Colonels Blank Indianapolis 4-0," Louisville Courier-Journal, August 31, 1960: 20.
55 "Jones Plates Col Clincher to Nip Saints," Louisville Courier-Journal, September 19, 1960: 19.
56 Johnny Carrico, "Denver Jars Cols Again 9-5 to Take 2-0 Edge in Series," Louisville Courier-Journal, September 22, 1960: 39.
57 "Ridzik Stops Colonels by 10-1 and Toronto Evens Series, 1-1," Louisville Courier-Journal, September 30, 1960: 27.
58 Johnny Carrico, "Colonels Rip Leafs 4-0, Need One More; Nottebart Rescued by MacKenzie," Louisville Courier-Journal, October 3, 1960: 21.
59 Johnny Carrico, "Colonels Champs; Hendley Wins Clincher," Louisville Courier-Journal, October 4, 1960: 20.
60 Hartman Sold to K.C.," Louisville Courier-Journal, October 18, 1960: 21; "A's Cut Roster to 28," Kansas City Times, March 30, 1961: 32; "Deals of the Week," The Sporting News, April 5, 1961: 29.
61 Baseball Reference.com, baseball-reference.com/register/player.fcgi?id=hartma002rob; "Deals of the Week," The Sporting News, July 12, 1961: 44.
62 "Hartman Capitalizes on Chance," The Sporting News, August 23, 1961: 30.
63 "Hill Recruits Seen as Goal for Richards," The Sporting News, September 20, 1961: 2.
64 "American Association," The Sporting News, May 2, 1962: 36; American Association," The Sporting News, May 16, 1962: 35.
65 "American Association," The Sporting News, June 2, 1962: 37.
66 Hal Lebovitz, "Tribesmen Turn Cartwheels Over Hartman's Debut," The Sporting News, July 7, 1962: 33.
67 Bob Hartman, Baseball Reference.com. baseball-reference.com/players/h/hartmbo01.shtml#all_transactions_other. Accessed February 22, 2019.
68 Author interview with Audrey Hartman, January 8, 2019.
69 Marran.
70 Author interview with Ron Stevens, former CYC and Kenosha Boys & Girls Club employee, February 26, 2019; Kenosha Boys & Girls Club, History and Mission, bgckenosha.org/explore/about-the-club/history-and-mission/. Accessed March 5, 2019.
71 Interview, Audrey Hartman.
72 Kenosha County Records, February 26, 2019.
73 Interview, Bob Lee Sr.
74 Obituary for Robert L. Hartman, Proko Funeral Home & Crematory obittree.com/obituary/us/wisconsin/kenosha/proko-funeral-home/robert-hartman/476608/. Accessed March 12, 2019.
75 UW — La Crosse Records & Registration, 1725 State St., La Crosse, WI 54601.
76 Michael Agnes, Editor in Chief, Webster's New World Dictionary — Fourth Edition (New York: Pocket Books, 2003).
77 Interview, Bob Lee, Sr.
Born
August 28, 1937 at Kenosha, WI (USA)
Died
June 16, 2010 at Kenosha, WI (USA)
If you can help us improve this player's biography, contact us.
https://sabr.org/sites/default/files/HartmanBob.jpg
600
800
admin
/wp-content/uploads/2020/02/sabr_logo.png
admin
2019-07-19 00:19:07
2020-04-09 14:37:32
Bob Hartman