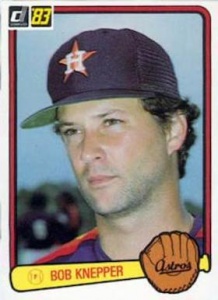 ---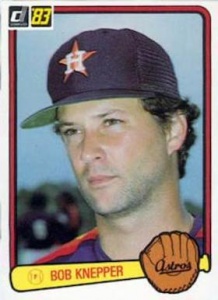 In 1978 Cincinnati Reds' manager Sparky Anderson, referring to the San Francisco Giants' mound corps, said, "That's the best pitching staff in baseball and Knepper is their best pitcher."1 A year later, future Hall of Famer Willie McCovey echoed this sentiment when he compared his club's rotation to the Los Angeles Dodgers' fearsome staffs of the preceding decade. Stretch's teammate, former Giants ace John Montefusco, weighed in as well: "Knepper might be another Sandy Koufax. He's got everything. The guys don't even want to face him in batting practice. A cinch 25-game winner someday."2
The extraordinary exuberance, built upon a successful 1978, evaporated a year later when Knepper and the Giants fell to a disappointing 91-loss season. Knepper's collapse was the start of many on-again, off-again seasons that later prompted the suggestion that "[h]e's either terribly overdue or terribly overrated."3 A remarkably cool and unemotional athlete, the left-handed hurler was often unfairly criticized for a perceived uncaring attitude. "When I'm pitching good, the word is 'unflappable,' and that means good," Knepper said, smiling. "When I'm pitching bad, it's said, 'He doesn't care because he doesn't scream and throw his glove on the ground.'… I see myself as Bob Knepper, the guy with the potential to be a great pitcher."4
Robert Wesley Knepper was born on May 25, 1954, the middle of three children (and the only son) of Adrian Wesley and Barbara Lee (Boyers) Knepper, in Akron, Ohio. The Knepper family had set down roots as farmers in southwest Pennsylvania at the turn of the 19th century. In the early 1800s, the family moved to Ohio.5 Farming remained their tradition until Harry Knepper, Bob's grandfather, became a mechanic. Adrian eventually established himself as a secondary school teacher. On June 18, 1949, he married Barbara (her father, Robert Hayes Boyers, a West Virginia native, was the likely inspiration for Bob's given name). In 1963, the young family moved to Napa Valley, California.6 There Adrian was a teacher at Calistoga High School.
Bob Knepper established a broad athletic résumé at Calistoga High, including football. But proximity to San Francisco's Candlestick Park – the Kneppers lived only 80 miles north – likely influenced their son's future. Bob was heavily scouted by a variety of major league clubs, but the Giants assigned no fewer than four scouts to monitor him at different times. Hall of Fame lefty Carl Hubbell was present when Knepper struck out 22 opponents in a nine-inning game in St. Helena, California. After his high school graduation, Knepper was selected by the Giants in the second round of the 1972 amateur draft (a class rich in pitching talent).7 Signed by scout Gary Hughes, the 18-year-old proceeded to Great Falls, Montana, where he placed among the Pioneer (Rookie) League leaders in nearly every pitching category: 7-1, 1.46, with a league-best 1.059 WHIP.
Knepper spent the next year with two Class A affiliates, posting diametrically opposite results. Initially assigned to the Decatur (Illinois) Commodores in the Midwest League, on May 19, 1973, Knepper foiled the Wisconsin Rapids in a four-hit, 1-0 win. He went 3-0, 0.86, with 16 strikeouts in his last three games before his transfer to Fresno in the California League. Reasons for the transfer are unclear, but it appears the Giants sought to monitor Knepper more closely. He won his first two decisions with Fresno before the bottom fell out. Knepper finished 2-8, 4.06, in 13 appearances.
No such challenges surfaced when Knepper was reassigned to Fresno in 1974. A brilliant start was capped by a 7-0, 2.90 record in his final 11 appearances. He became the California League's first 20-game winner in 13 years. Knepper also led the circuit in starts (30), innings pitched (238), strikeouts (247) and tied righty Mike Parrott for complete games (16). Shortly after his selection as a circuit All-Star, Knepper led the Fresno Giants to a championship with a six-hit shutout on September 5, followed by a relief win in the series clincher three days later. In November the Topps Chewing Gum Company chose Knepper among the nationwide Class A All-Stars. He spent the winter in the Arizona Instructional League.
Knepper was the youngest player on San Francisco's 1975 40-man roster, yet the Giants appear to have strongly contemplated promoting him to the majors: he was not assigned until days before the season started. He was advanced to Class AAA Phoenix, where he spent the bulk of the next two years. A promising start in the Pacific Coast League ensued when Knepper tossed a three-hit shutout against the Tucson Toros on April 29, 1975. Two weeks later, he had a 4-1 record before a sore arm contributed to a middling season (11-11, 4.59).
In 1976 Knepper found much greater success, and far less pain, after manager Rocky Bridges changed his delivery. On May 20 Knepper yielded only a leadoff infield single and a second-inning walk in shutting out the Spokane Indians. Possessing "one of the best curveballs in the business,"8 Knepper placed among the league leaders in a variety of pitching categories as he earned selection to the circuit's All-Star squad. The success earned him a late-season call-up to San Francisco.
On September 10, 1976, Knepper made his major league debut at Candlestick against the defending world champion Cincinnati Reds. He took to the mound not knowing that his father, en route to the game, suffered a heart attack (Adrian survived). Though Knepper surrendered just two runs in seven innings, Pete Rose came within a home run of the cycle as the Reds handed the rookie his first defeat. An identical seven-inning stint against the Dodgers on September 22 resulted in a second loss when Knepper was outdueled by future Hall of Famer Don Sutton. Six days later Knepper, also a capable hitter, drove in the first run of the game against the Braves in Atlanta to capture his first win, a 4-1 victory. Bobby Murcer provided the offense with a solo home run and Chris Speier added two RBIs. Despite two losses, the 22-year-old finished with a 3.24 ERA in 25 innings. But the impressive four-game debut did not assuage the disappointment of a minor-league assignment to Phoenix the following spring.
Giants' pitching coach Herm Starrette explained the rationale behind Knepper's reassignment: "He was too keyed up…He wanted to make the club so bad he was pressing."9 But the challenges Knepper encountered in spring training followed him to Phoenix. On April 26 the Toros kayoed him with five runs in the first inning. He lost five additional straight games, including a 14-4 hammering by the Albuquerque Dukes, followed by five homers by the Salt Lake City Gulls in an 8-6 loss. With a record of 3-6, 7.41 ERA in 10 appearances, a promotion was the last thing Knepper expected.
But on May 26, 1977, John Montefusco suffered a severe ankle sprain and was placed on the disabled list. The big club selected Knepper to fill the vacated roster spot; a decision based more on its dearth of left-handed hurlers. But Knepper continued to struggle: in two starts he pitched a combined 6 2/3 innings while yielding seven runs. The turning point came in Pittsburgh on June 6 when Knepper carried a four-hitter into the ninth inning. Gary Lavelle blew the save, but held on to defeat the Pirates 3-1, in the 12th inning.
Though he did not figure in the decision, the strong outing served to restore Knepper's confidence. Thirteen days later he earned his first major league shutout with a five-hit, 8-0 blanking of the hard-hitting Pirates. Twice he carried no-hitters into the sixth as he collected wins against the Braves and Houston Astros on July 16 and August 9. Excluding miserable starts against the Pirates and San Diego Padres on August 19 and September 25, Knepper finished 7-1, 1.95, in his last 10 appearances to place among the team leaders with 11 wins. At season's end he drew consideration for The Sporting News' National League Rookie Pitcher of the Year. Giants' owner Bob Lurie enthusiastically declared, "Youngsters like [outfielder] Jack Clark and Bob Knepper are our future."10
On April 11, 1978, Knepper matched Tom Seaver, his childhood hero, pitch-for-pitch in a 3-2 win in Cincinnati, in which neither hurler figured in the decision. Again Gary Lavelle blew the save, but picked up the victory, 3-2. Ten days later the same matchup, this time in San Francisco, resulted in Knepper's third career shutout, a 3-0 win, and a career-high 10 strikeouts. On May 26, a ninth-inning home run by Dodgers' slugger Ron Cey robbed him of another shutout. But Knepper still gained a 6-1 victory. In his next start Knepper whitewashed the Astros, 1-0. The May success (4-1, 1.62, with four complete games) earned Knepper National League Pitcher of the Month honors.
Knepper led the league in shutouts (6) while placing among the leaders in nearly every category. His 17 wins led the Giants to their highest win total over a 15-year span as the surprise club held a first place stake through half the season. Batterymate Marc Hill's preseason prediction of 20 wins for Knepper was foiled by lack of run support: in nine starts he had a 2.11 ERA but only a 0-3 record to show for his efforts. During the winter the Giants were busy fending off numerous trade inquiries for the lefty. Before the start of the 1979 season they rewarded Knepper with a three-year, $450,000 pact.
Pennant hopes quickly dissolved in 1979 as the staff accumulated a near-league worst 4.16 ERA. Over the first two months the only mound success came from Knepper and fellow lefty Vida Blue, prompting a clever columnist to coin: "Knepper and Blue – then what do we do?"11 On May 1 Knepper tossed a five-hit 7-0 shutout against the offensively-charged Philadelphia Phillies at Veterans Stadium. Ten days later he delivered an RBI single against Steve Carlton to defeat the Phillies' Hall of Fame lefty 2-1, in San Francisco. Knepper's bat prowess continued on May 25 when his first career homer was one of a major-league record five dingers between two teams in one inning (the fourth). Knepper triumphed, 6-4, over the Atlanta Braves in the slugfest. Two months later he collected a career-high four RBIs while firing a five-hit shutout against the Astros. But August and September brought vastly different results: 1-7, 6.71 in 10 starts. A flaw was later detected in Knepper's delivery; he finished 9-12, 4.64, placing among the league leaders in giving up hits, home runs and earned runs.
Off-field considerations may have contributed to Knepper's late-season collapse. A year earlier he had married his high school sweetheart, Terri. In June 1979 their first child, Jacob, was born, five weeks premature. He was kept in intensive care to correct a lung disorder.
Despite the disappointing season, Knepper remained a target of interest during the offseason. This interest only intensified after the lefty had a brilliant spring training, earning Knepper his only Opening Day start on April 10, 1980 (a 6-4 loss to San Diego). Four days later he carried a one-hit shutout into the seventh until a misplayed fly ball to right resulted in a triple that launched a comeback 6-5 win for the Reds. Another shutout escaped in Knepper's next start (a win) when future Hall of Famer Dave Winfield blasted an eighth-inning homer. Knepper hung on for a 5-2 victory.
But the season collapsed in dismay as hurler and team found ever more interesting ways to lose. In the eighth inning of a tie game against the Pirates on July 15, first baseman Darrell Evans picked up a bunt and attempted to get the lead runner at second. Evans' throw hit Knepper in the head and rolled into centerfield, setting up the Pirates' game-winning score. The Pirates ultimately won, 5-2.
Knepper managed a mere 1-7 record in his last 14 appearances; facing particular season-long challenges away from home: 2-12, 5.55. Delivery issues resurfaced as he hit eight men with pitches, leading the league. He was second in losses with 16. Meanwhile recriminations abounded among his teammates as the club limped to a .269 percentage in September. For the first time in his career Knepper was publicly maligned for his aloof nature (read as indifference, the perception clashed with the intense nature of manager Dave Bristol). Also for the first time the Giants began to solicit offers for Knepper.
Knepper also took heat from teammates and media for his deep Christian faith. Oddly, he became committed to it by teammate Gary Lavelle, who had blown some key saves for Knepper. But Lavelle was the leader of the Giants' "God Squad" of fundamentalists, and Knepper began studying the Bible with and under Lavelle in 1978. When the media would ask Knepper about his performance in the game just pitched, Knepper would say, "It's God's will." Unfortunately for the pitcher, he was quoted as saying that when he served up game-losing home runs – a charge that rankled Knepper decades later.12
The World Series was still underway when rumors surfaced of Knepper's departure to Cleveland for catcher Bo Díaz, followed by a later report of a deal with Texas for shortstop Toby Harrah. Detroit, St. Louis and Philadelphia also emerged as supposed suitors. On December 8, in what many considered a surprise move, Knepper (along with outfield prospect Chris Bourjos) was traded to the Astros for third baseman Enos Cabell.
Houston's success was built upon its trademark pitching, but the staff lacked a left-handed presence. The Astros were unconcerned about Knepper's prior struggles: "Our scouting reports on Knepper were excellent," said general manager Al Rosen. "Some of our people felt he may have had a [correctable] problem with his delivery."13 Frank Robinson, who was hired as the Giants' skipper after the trade, stated he would not have sanctioned moving the lefty whatsoever. Knepper welcomed the move. He was pleased to join a more positive and, as he perceived, strongly spiritual clubhouse. He later assailed the Bay Area as "such a liberal, almost anti-Christian society."14
Whatever tinkering the Houston coaching staff did with Knepper's delivery worked wonders in the strike-shortened 1981 season. He won his first five decisions, four of them via shutouts. When the players walked out in June, Knepper owned a major league leading 1.15 ERA.15 Resumption of play was preceded by the August 9 All-Star Game, held in Cleveland, in which Knepper pitched two innings and gave up one hit. But the two-month layoff affected his return: a combined 10 earned runs in two of his first three starts. Knepper returned to form to finish with a career-best 2.18 ERA (second only to teammate Nolan Ryan for the league crown). He was particularly effective in the Astrodome: 8-2, 1.22. Knepper made his first post-season appearance on October 9 in the NL Division Series.16 Granted the opportunity to dispose of the Dodgers in Game 3 of the best-of-five match, he surrendered three runs in the first inning in a 6-1 loss. Los Angeles swept the remaining contests in their march to the NLCS and the franchise's fifth world championship.
Outpacing Seaver, Knepper earned the 1981 NL Comeback Player of the Year Award. During the offseason the Astros, in an attempt to enhance their flagging offense, shopped the lefty in an unsuccessful bid to secure an established power hitter (one much-discussed rumor involved Knepper and outfielder Terry Puhl for Pirates' slugger Dave Parker).
In February 1982 the Astros signed Knepper to a four-year, $2 million contract. Owner John McMullen came to rue the signing; he actively petitioned Rosen to trade the lefty after Knepper registered a combined 11-28 record over the next two years. At various times the Astros relegated Knepper to the bullpen but were often compelled to retrieve him after injuries to other pitchers. In November 1983 the owner nearly got his wish when the Giants expressed interest in reacquiring the lefty. Convinced Knepper was better than the record reflected, Rosen held his ground.
The general manager's conviction was rewarded beginning in 1984. The inexplicable downturn in 1982-1983 was countered by an equally inexplicable 1984-1986 rebound that re-established Knepper among the mainstays of the Astros' rotation. Each year the durable hurler placed among the league leaders in innings pitched, among the team leaders in wins. Beginning July 4, 1984, the pitcher who did well inside the Astrodome (55-47 throughout his career) realized unexpected success on the road: 11 of 12 wins, including a run of eight straight. On June 29, 1985, Knepper again demonstrated his offensive abilities with a homer and four RBIs in an 8-1 win over San Francisco.17
Yet another major chapter in the lefty's career opened in 1986. In a start similar to 1981, Knepper won his first five decisions and seven of his first eight. On June 10 he became the league's first 10-game winner and appeared a cinch to reach the 20-win threshold predicted by many earlier in his career. On July 18 Knepper tossed the first shutout against the powerful New York Mets, a 3-0 three-hitter. Though his pace slowed in the second half, Knepper finished the year with a career-tying 17 wins (including five perfect innings against the Braves on October 5 in a warm-up to the postseason). He led the league in shutouts (5) while placing among the leaders in complete games (8) and ERA (3.14).
Knepper entered the NLCS with a season mark of 3-1, 1.67, against the opposing Mets. On October 11 he carried a shutout into the sixth inning of Game 3. New York tied the contest with a four-run burst, the key blow a three-run homer by slugger Darryl Strawberry (who was 0-for-10 with five strikeouts, versus Knepper during the regular season). Knepper was lifted in the seventh in an eventual 6-5 loss.
Four days later, with the Astros facing elimination, he got the nod in Game Six, a match that remains one of the most exciting games in postseason history. The usually stoic Knepper was very animated as he carried a two-hit shutout into the ninth. Mets' pinch-hitter Lenny Dykstra lined a leadoff triple to right-center (just moments after centerfielder Billy Hatcher moved a few steps to left-center) to ignite a three-run, game-tying rally. New York went on to a 7-6, 16-inning win. "In that ninth inning, when I just ran out of gas, or lost a little concentration or whatever happened, that was the lowest point in my career. Just the way that inning unfolded, I could look back and see an inch here and a fraction of an inch there, and that whole inning changes and we're in the seventh game," he told author Mike Sowell in an interview for the 1995 book One Pitch Away.
"It was just a real major disappointment for us not to win that ball game. We had worked so hard, we had played so hard, and in the playoffs we had come through so many things that just seemed to be against us. And we felt the Mets had such a psychological thing against trying to hit Mike Scott, who would have pitched Game 7, that if we had won Game 6, we'd have won Game 7 and we'd be in the World Series."18
1987 proved a disastrous year for Knepper. A terrible Grapefruit League performance led to a season in which he struggled to keep his ERA below six through the first half. On May 17, Knepper earned a dubious distinction as the only Houston pitcher to surrender four homers in the Astrodome, in a 6-4 loss to the Chicago Cubs. Mechanics were the culprit, he explained following one of his many early exits: "I was trying too hard to throw the ball hard. I can't pitch that way. I was rushing my delivery."19 Knepper finished with a league-leading 17 losses and an unflattering 5.27 ERA.
Another disappointing season appeared in the offing when Knepper left the Astros' 1988 spring camp suffering a tinge of tendinitis. Just the opposite emerged as the lefty won his first six decisions and eight of his first nine. On July 12 Knepper made his second All-Star appearance. "[M]y mechanics are so much better," Knepper said. "I can put the ball where I want it each time."20
On September 21 he threw the only one-hitter of his career, surrendering an infield single while facing the minimum 27 batters in a 1-0 win over Atlanta. A prime candidate for his second Comeback Player Award (the honor went to pitcher Tim Leary), Knepper finished 14-5, 3.14. Seemingly seeking to sell high during the offseason, the Astros used him as bait in trade proposals to improve the club's offense.21 Suitors were reportedly deterred by Knepper's $1 million contract, which had renewed automatically after 25 starts in 1988.
The Astros intensified their attempts to trade Knepper when the lefty struggled in 1989. After showing signs of rebounding, he faltered to 1-4, 7.36, after May. On July 28, after refusing an assignment to Class AAA Tucson, Knepper was released. A week later the Giants, who were holding on to a slim lead in the NL West, signed their former hurler. On August 22 Knepper tossed his 30th (and last) career shutout, a 5-0 win over the Mets. Three weeks later he beat the Astros, 5-3. Despite an improved record of 3-2, 3.46 in 13 appearances, Knepper was left off the playoff roster in favor of lefty Atlee Hammaker (who had returned from knee surgery).
After the season Knepper filed for free agency, but found no takers. He signed a minor-league contract with the Giants and earned a call-up in May 1990. Knepper made 12 appearances with a 3-3, 5.68 record before being placed on waivers June 25. The 36-year-old retired from a 15-year major league career with final marks of 146-155, 3.68 in 445 appearances.22 Through 2015 the durable hurler remained among the Astros' all-time leaders in wins (93), losses (100), starts (267) and innings (1,738).
Knepper trekked north to the 1,300-acre southwest Oregon ranch he'd purchased in 1982 with his wife and children (another son, Tyler, and a daughter named Heather had followed Jacob). They later resettled south of Denver, Colorado. In 2012 Knepper returned to Houston to attend a 1986 Astros reunion. A year later he participated in a Colorado Springs charity softball game benefiting victims of the horrendous fires that struck the state that year.
Extending himself in charitable endeavors was quite common for Knepper during his career. Days before the 1986 NLCS the "knice guy"23 accompanied two of his teammates to Houston's Texas Children's Hospital. Though he often abstained from the sometimes raucous company of his teammates in favor of the solitude of a good book or his passion in photography, Knepper cared greatly for his fellow players. From 1982-1988 he served as the Astros' "model player representative…informed [and] open-minded."24 In 1989 Knepper's deep Christian faith proved a bulwark of strength for teammate Dave Dravecky when the latter mounted his comeback from cancer.
But it was this same deep faith that plunged Knepper into controversy in 1988 when baseball experimented with a female umpire in spring training. On March 14, he pitched five exhibition innings with Pam Postema behind the plate. Asked afterward how she performed, Knepper expounded upon the role of women in society (based on his fundamentalist Christian beliefs): "I'm not saying she's going to Hell because she chose to be an umpire…But if God is unhappy with her, someday she will have to talk to God about it…I believe God has ordained that there are some things women should do and some things they should not do."25
Emphasizing that he had the utmost respect for women (while at the same time stating that female sportswriters should be banned from locker rooms), he doubled down: "I don't think women should be in any position of leadership. I don't think they should be presidents or politicians. I think women were created not in an inferior position but in a role of submission to men."26
Knepper's opinions drew instant condemnation. When the National Organization of Women began picketing the ballgames he referred "to the organization as 'blowhards' and 'lesbians'… [though he later] maintained that he made the comment in jest."27 The controversy that arose remained vivid decades thereafter and, in many ways, overshadowed Knepper's fine accomplishments on and off the field.
Speaking to Mike Sowell, Knepper looked back on his years in the game with some epiphany, based on his faith, saying, "I learned a lot from (the 1986 NLCS Game Six playoff) game. I learned a lot about myself. I learned a lot about the value and the lasting value – or the lack of lasting value – that the game of baseball has. And I'm not sure I'd give up that lesson for anything.
"It really helped put my life in perspective, to realize what's really important in life. Is it winning a game? Is it pleasing people who really don't care about me at all? The majority of the fans and the press, they don't really care about you as a person. All they care about is how you perform for them. So do I want to put that much emphasis on pleasing those people versus pleasing my God?"28
He added: "By (1993) I was able to just sit down and examine a lot of things about my life, where I just said, 'Hey, you gave it your best shot and came up just short.' You know, that's one of the lessons of life that baseball has showed me.
"There's a saying that if you live long enough, life will trash all your trophies. And that's true. I realized that if I had won that game, it wouldn't make any difference at this stage of my life. What's really important is not how many games I won or how good I pitched in '86 or '80 or whatever year. That's not important. That has no lasting value.
"I've learned that anything you do in baseball – all the records or all the games you've won – really has no lasting value. My relationship with Christ and my relationship with my family, that has lasting value.
"So I think as I worked through all that, I realized that game, it was just a game, I gave it my best shot. And as I got out of baseball, I was able to see things a little more focused, a little more clear, and not be involved so emotionally in it. It was just a matter of coming to the right conclusion."29
Last revised: December 21, 2015
Acknowledgments
The author wishes to thank Rod Nelson, Chair of the SABR Scouts Committee. Further thanks are extended to David H. Lippman for review and edit of the narrative.
Sources
Internet resources (includes online versions of newspaper and magazine articles)
Ancestry.com
Obituary of Bob Knepper's sister Pamela (http://napavalleyregister.com/news/local/obituaries/pamela-heneks/article_eab77b92-3984-11e0-bf89-001cc4c002e0.html)
"Looking at Giant Leftys", Daily Independent Journal (San Rafael, California), April 12, 1975, 11 (http://www.newspapers.com/newspage/70343152/)
George Vecsey, "Religion Becomes an Important Part of Baseball Scene", New York Times, May 10, 1981 (http://www.nytimes.com/1981/05/10/sports/religion-becomes-an-important-part-of-baseball-scene.html?pagewanted=all)
Bill Plunkett, "Dodgers' Greinke dominates Phillies, extends scoreless streak beyond 35 innings", Orange County Register, July 9, 2015 (http://www.ocregister.com/articles/dodgers-671069-ocregister-phillies.html)
Jill Lieber, "Some Say No Leica", Sports Illustrated, June 20, 1988 (http://www.si.com/vault/1988/06/20/117880/some-say-no-leica-astro-lefty-bob-knepper-has-a-decidedly-controversial-focus-on-the-world-but-his-pitching-this-year-is-right-on-target)
"Bob Knepper Should Pitch", The Greatest 21 Days blog, July 31, 2014 (http://www.greatest21days.com/2014/07/bob-knepper-should-pitch-7.html)
Greg Prince, "Sometimes You See the Bullet", Faith and Fear in Flushing blog, "July 26, 2014 (http://www.faithandfearinflushing.com/2014/07/26/sometimes-you-see-the-bullet/)
Bill Chuck, "Sen. Ted Cruz Tops Mike Morgan's Record", Billy-Ball blog, February 7, 2013 (http://www.billy-ball.com/2013/02/sen-ted-cruz-tops-mike-morgans-record/)
Alyson Footer, "The 1986 Astros reunion: celebrating good times and great baseball memories", MLB.com blogs, January 22, 2012 (http://footer.mlblogs.com/2012/01/22/the-1986-astros-reunion-celebrating-good-times-and-great-baseball-memories/)
"Sky Sox Announce Renamed Heroes Classic", Skysox.com, June 18, 2013 (http://www.milb.com/news/article.jsp?ymd=20130618&content_id=50995050&fext=.jsp&vkey=news_t551&sid=t551)
Notes
Born
May 25, 1954 at Akron, OH (USA)
If you can help us improve this player's biography, contact us.
http://sabr.org/sites/default/files/KnepperBob.preview.jpg
600
800
admin
/wp-content/uploads/2020/02/sabr_logo.png
admin
2016-01-13 20:45:27
2016-01-13 20:45:27
Bob Knepper