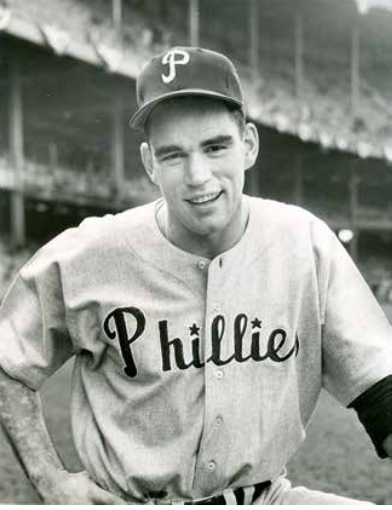 ---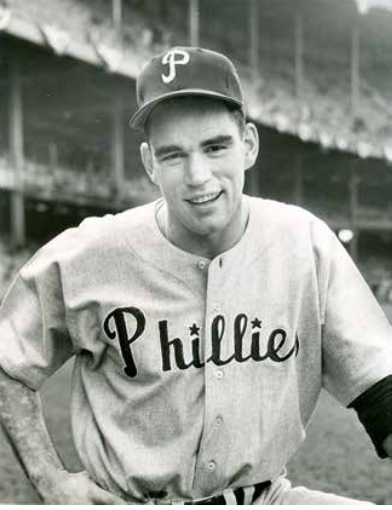 On May 25, 1950, Philadelphia Phillies rookie pitcher Bob Miller shut out the Pittsburgh Pirates on eight hits for his third straight victory of the season. Phillies coach Benny Bengough spoke to the Associated Press after the game about his young hurler: "… He hasn't any trick deliveries but he can hit a dime with that curve of his. And how his fastball fools you. Notice how he kept Ralph Kiner off-balance. His control is so good he can nip the corners and keep the hitters from getting set. He is cool as a cucumber and very good when he's in a tight spot."1
National League umpire Frank Dascoli was equally impressed with Miller, telling reporters, "I have never seen such poise in a young pitcher. And on top of that he is unbelievably fast. His quick one [fastball] takes off about 10 or 15 feet from the plate and shoots off like a bullet."2
Robert John "Bob" Miller was born in Detroit on June 16, 1926. He was one of four children, three boys and one girl, born to Albert Miller, a Detroit policeman, and Helen (Walling) Miller. Young Miller pitched American Legion leagues around Detroit, teaming up with future major-league catchers Stan Lopata and Joe Ginsberg. An all-around athlete, Miller played football, basketball, and baseball at St. Mary's of Redford High School. A standout pitcher, he led his team to the Catholic School finals in his junior and senior years. His feats on the diamond drew the attention of Detroit Tigers scouts, while his skills on the hardwood got him a scholarship offer from the University of Detroit.
After graduating from St. Mary's in June 1944 Miller was drafted into the Army. He saw combat in the Philippines before finishing out his two-year hitch in occupied Japan. There Miller pitched for his regimental and divisional baseball teams. One of his teammates was future major-league shortstop Johnny Logan.            
After his discharge in 1947, Miller enrolled at the University of Detroit. Deciding to forgo basketball, he concentrated on his studies while playing on the school's baseball team. That summer he pitched for an all-star team sponsored by Pepsi-Cola in the National Amateur Federation Baseball Tournament in Youngstown, Ohio. After winning three games in six days of tournament play, he was contacted by scouts from the Reds, Cardinals, White Sox, Tigers, and Phillies, but declined their offers. He also spoke with Philadelphia Phillies scout Ed Krajnik, who had known the 6-foot-3, 190-pound right-hander from his days playing American Legion ball. Krajnik evidently made a good impression, because Miller signed with the Phillies in January of 1948 for a $25,000 bonus. He reported to the Terre Haute Phillies of the Class-B Three I League at the end of the college season. He appeared in 22 games, posting a 6-5 record.
Back with Terre Haute in 1949, Miller was selected to the all-star team and won the league's Most Valuable Player Award after going 19-9 with a 2.72 earned-run average and 207 strikeouts in 255 innings. Called up to the Phillies in September, making three appearances in relief without allowing a run in 2⅔ innings.    
When Miller reported to spring training in Clearwater, Florida, in 1950, he was one of six young pitchers in camp who had received substantial signing bonuses from the team.3 Miller, with his deceiving fastball, sweeping curve, and baffling sinker, pitched his way onto Philadelphia's major-league roster that spring. He appeared in relief in the annual preseason City Series against the Philadelphia Athletics. His first pitch was to outfielder Sam Chapman, who deposited it over the scoreboard in left-center, prompting Miller to say to himself, "Whoa, maybe I'm in the wrong league here." But he settled down and had a successful outing.4      
Miller started the season with two scoreless relief appearances in early April against the New York Giants and Brooklyn Dodgers. These solid outings earned him his first major-league start, on April 29 against the Boston Braves. The right-hander responded by defeating the Braves, 2-1, allowing six hits and one unearned run while striking out seven and walking five. His former American Legion teammate Stan Lopata was his catcher.
Miller started again against the St. Louis Cardinals on May 6, tossing 5⅓ innings to earn his second victory. Two days later he pitched the last three innings of a 6-5 victory over the Cincinnati Reds, earning what is now considered a save.          
In May manager Eddie Sawyer spoke of using his pitchers in situations where they matched up best against their opponents. "I have 11 pitchers now who I consider good starters," he said. "It isn't good baseball to allow them to go stale on the bench. That's why I'm going to judge my hurlers, pick the spots for them. I feel like [former Yankees manager] Joe McCarthy does. I'd rather have eight or nine 12-game winners than one or two 20-game winners."5
Miller then blanked the Pittsburgh Pirates on May 25. He followed that up by shutting out the Reds on June 7 for his fourth victory. On June 18 Miller beat the Reds again, 4-2, for his fifth consecutive win without a loss. Four days later he knocked off the Pirates, 7-4, for win number six. In this game he helped his cause by starting a seventh-inning triple play. With Hank Schenz on first and Ted Beard on third, Gus Bell hit a comebacker to the mound. Miller checked the runner at third before firing to shortstop Granny Hamner for the force on Schenz at second. Hamner then threw to first baseman Eddie Waitkus to double up Bell. Beard made a belated dash for home but was thrown out by Waitkus to complete the triple play.
On June 25 the Phillies split a doubleheader with the Chicago Cubs in Shibe Park. With the annual intercity exhibition game with the Athletics scheduled for the following day, Sawyer sent Miller ahead to Boston for the next series against the Braves. While hurrying to catch his train, the Phillies pitcher took a misstep and threw out his back while carrying his suitcase up the steps at the North Philadelphia Station. According to Eddie Sawyer, Miller "looked like he'd slept in a bathtub" when the team caught up with him in Boston.6 He missed a couple of starts but his attempt to play through the back injury led to shoulder problems that stayed with him for the remainder of the season. In fact, Miller would later admit that even though he pitched another eight years in the big leagues, he was never again really free of his back problem.7
Miller scored his seventh victory on July 1, defeating the Dodgers at Shibe Park, 6-4. He followed that up with his eighth consecutive win, against the Giants at home on July 6. On July 16 he was tagged with his first loss in the second game of a doubleheader against the Cubs at Wrigley Field.
On July 24 Miller and Pirates pitcher Bob McDonald were locked in a pitchers' duel for the first six innings in a game at Pittsburgh's Forbes Field. In the top of the seventh, with the score 2-1 in favor of the Pirates, first baseman Eddie Waitkus belted a two-run homer that gave Philadelphia the lead. Minutes later a torrential rain came down forcing the postponement of the game. The score reverted back to the last complete inning, costing Miller and the Phillies a potential victory. The loss moved the St. Louis Cardinals into a first-place tie with the Phillies.
On July 28 Miller won his ninth game of the season, a complete-game 4-1 victory over the Pirates. He followed that with a 6-4 home win over the Reds on August 1 for his 10th victory of the season. He won what would be his last victory of the season, 6-4 over the Reds, on August 23 in Cincinnati.
Miller continued to pitch until the severity of his injury required him to come out of a game against Cincinnati on September 16. He later recounted, "I went out to pitch the seventh inning and holy geez I had a lot of pain in my right shoulder."8 He wasn't able to pitch again until September 26, when he pitched into the seventh inning of a critical game against the Braves in Boston that the Phillies won, 8-7.    
The Phillies, known as the Whiz Kids because nearly every player on the team was under 30 years old, led the National League on September 15 by 7½ games. Injuries, along with some tough losses, cut their lead to two games by the last weekend of the season. With two games against second-place Brooklyn remaining on the schedule the Phillies needed one more victory to secure first place. If they lost twice there would be a best-of-three playoff with the Dodgers for the pennant crown. With his shoulder still ailing and the pennant on the line, Miller was given the starting assignment against Brooklyn on Saturday, September 30. He pitched four scoreless innings against the Dodgers but gave up three runs in the fifth and was removed from the game. Philadelphia went on to lose, 7-3. The next day Robin Roberts defeated Brooklyn 4-1 in 10 innings to clinch the pennant.
Phillies manager Eddie Sawyer was confident that his team would come out on top, telling reporters, "You'll find a sealed envelope [in my desk at Shibe Park] signed by me and dated April 18. The letter says that the Phillies will win the pennant by 10 games. I never doubted we'd win it and if Curt Simmons hadn't gone in the army and Bob Miller and Emory Church hadn't been hurt we would have won it by 10 games."9    
The Phillies played the New York Yankees in the World Series. After losing three one-run contests, the Phillies were on the brink of elimination. With their backs against the wall, Eddie Sawyer gave the ball to Miller for Game Four at Yankee Stadium. Asked by a sportswriter before the game why he chose to start Miller, Sawyer replied, "I have to just go along with the kid because he has done everything I have asked him to do this year. I'm sure he'll continue to give us good pitching — so now if my hitters get going and we lose our fielding jitters maybe we can show the folks today how good a ballclub we really are."10 Miller's mound opponent was another first-year phenom, Edward "Whitey" Ford. The 21-year-old southpaw had posted a 9-1 record after being called up from Kansas City during the season. Game Four of the 1950 World Series would be the first time in the history of the fall classic that two rookie pitchers would start.
The game off to a bad start for the Phillies when second baseman Mike Goliat misplayed Gene Woodling's grounder leading off the bottom of the first inning. Miller then induced the Phil Rizzuto to ground out but a pair of hits followed by a wild pitch led to two Yankee runs. Sawyer removed Miller in favor of Jim Konstanty. New York went on to win the game, 5-2, and the Series. The Phillies received $4,500 each as their losing share.        
Miller finished the 1950 regular season with an 11-6 record including his eight wins in a row to start the season. He pitched in 35 games, 21 as a starter, and posted a 3.57 ERA in 174 innings. He finished second, behind Boston Braves outfielder Sam Jethroe, in the National League Rookie of the Year voting. He was named to The Sporting News all-rookie team. In an era long before ESPN, social media, and the 24-hour news cycle, Miller didn't find out that he came in second in the Rookie of the Year voting until he read it in The Sporting News almost two years later.11        
In 1951 Miller pitched well enough in spring training to earn the number-three spot in the Phillies starting rotation behind Robin Roberts and Bubba Church. But he was troubled by recurring shoulder problems for most of the year and was sent down to the Wilmington Blue Rocks of the Class-B Interstate League on August 13 with a 2-1 record and a 6.82 ERA. Miller pitched complete-game victories in his first two starts for Wilmington and finished the season for the Blue Rocks with a 3-1 record and a minuscule 0.86 earned run average.  
The Phillies opened 1952 spring training on February 15 with 18 pitchers competing for 10 spots on the major-league roster. When asked about his pitching the previous year, Miller said, "I wasn't bearing down with my head as I was with my arm. Last year I thought that I could get them out by just putting the ball over the plate. I learned that you have to pitch with your head as well."12
On May 8 Miller was assigned, along with infielder Nippy Jones, to the Baltimore Orioles, Philadelphia's affiliate in the Triple-A International League. There, working mainly as a starter, he went 12-9 while finishing third in the loop with a 2.35 earned-run average. On June 18 at Municipal Stadium in Baltimore, he twirled a 12-inning complete-game triumph over the Rochester Red Wings, and drove in the winning run with a perfect bunt with the bases loaded in the bottom of the 12th inning.
Miller earned a roster spot with the Phillies out of spring training in 1953. Manager Steve O'Neill, who had replaced Sawyer the previous June, continued to use the versatile right-hander, who had recently added a knuckleball to his repertoire, as a spot starter and reliever. Against the Dodgers on July 9, Phillies ace Robin Roberts was going for a major-league record 29 consecutive complete-game starts. When Roberts got in a jam late in the game, O'Neill brought in Miller from the bullpen. Fifty years later Miller told Larry Shenk of Phillies.com, "Robbie gave up two runs in the eighth inning, and I relieved him. I walked one and got two fly balls. We scored two in the eighth, and I wound up the winner. We went out to dinner after the game. What a great teammate and leader he was. After our careers ended, we coached against each other. I was at the University of Detroit and Robbie was with [the University of South Florida] in Tampa."13
Another memorable moment in Miller's major-league career happened that season on August 9 at Wrigley Field. In the first game of a doubleheader he earned the win by tossing a six-hit, 7-0 shutout against the Cubs, and went 4-for-5 with two runs scored and an RBI. This rare feat made him the only pitcher to throw a shutout and get four hits in the same game at Wrigley Field.
Steve O'Neill was impressed with how his young pitcher bounced back from his previous shoulder woes, telling The Sporting News in midseason, "Bob Miller has been a pleasant surprise. He has pitched very well and seems to have his old stuff back."14 Miller finished 1953 with and 8-9 record and a 4.00 ERA in 35 appearances, including 20 starts. Along the way he tossed three shutouts.
After the season Bob married Maureen Maher on February 3, 1954, at St. Gemma Catholic Church in Detroit. They had four children — Tommy, Bobby, Patrick, and Mary — plus three grandchildren and (as of 2015) eight great-grandchildren.
Miller briefly held out in 1954 before signing on February 23. One of the holdups was an attendance clause in his contract that noted he would receive a bonus only if the Phillies drew at least 900,000 fans. Miller was eventually given an increase in base pay and a lower attendance number for his bonus. Phillies infielder Granny Hamner also renegotiated his attendance-based bonus clause, telling The Sporting News, "I can't shortstop and keep my eyes on the turnstiles too."15
A few weeks into the season, Miller began experiencing problems with his sacroiliac, a joint in the pelvis. The malady originated from his injury at the Philadelphia train station in 1950. Terry Moore, who replaced Steve O'Neill as manager during the season, continued the practice of using Miller in a variety of roles on the mound. Playing through his back issues, Miller pitched in 30 games in 1954, 16 as a starter, ending the year with a 7-9 record and a 4.56 ERA.
New manager Mayo Smith, who replaced Moore in the offseason, used Miller strictly as a reliever in 1955. On July 30 at Wrigley Field, Miller replaced Curt Simmons when the left-hander experienced arm stiffness after giving up a leadoff single to the Cubs' Dee Fondy. Miller shut out the Cubs, 3-0, on seven hits. He finished the year with an 8-4 record and a career-low 2.41 ERA in 40 appearances, all out of the bullpen.
Miller started out strong in spring training in 1956, allowing only two earned runs in his first 16 innings. Mayo Smith used him out of the bullpen for the first few months of the season. In early August, Smith called upon Miller and fellow reliever Jack Meyer to start games when needed. The two joined a rotation of Robin Roberts, Curt Simmons, Harvey Haddix, and spot starter Saul Rogovin. After back-to-back solid starts against Brooklyn, one away and the other at Connie Mack Stadium, Miller told Art Morrow of The Sporting News, "Starting or relieving makes no great difference to me. The only thing is I'd rather do one or the other, not both. But I realize that this is no time to hold anything back.16 On August 25 Miller, making only his third start of the year, tossed a two-hit, 3-0 shutout against the first-place Milwaukee Braves. For the season he posted a 3-6 record with a 3.24 earned-run average and five saves.
Miller made only one start during the 1957 season. He missed the last 3½ weeks with a fractured right wrist suffered in a fall at his home. A stalwart presence in the Phillies bullpen prior to his injury, Miller pitched in 32 games, going 2-5 with a 2.69 ERA and six saves.    
In February 1958, Miller and his family narrowly escaped serious injury when they were involved in a three-car accident while driving to spring training in Clearwater. Once the season started, Miller never got on track, possibly due to lingering effects from his broken wrist. On August 12, with a 1-1 record in 17 games, he was assigned to the Triple-A Miami Marlins, where he pitched in only three games.
In what turned out to be his final season in professional baseball, Miller was sold to the St Louis Cardinals in February of 1959 on a conditional basis. Former teammate Solly Hemus, then with the Cardinals, suggested to general manager Bing Devine that he should give the veteran moundsman a trial. But after a few weeks in spring training, the Cardinals sent him back to the Phillies, who optioned him to the Triple-A Buffalo Bisons. After appearing in eight games he was released. Signing with the Montreal Royals, he pitched in six games, then was released on July 1, and retired from Organized Baseball. Miller's career major-league pitching mark was 42-42 with a 3.96 earned-run average and 15 saves.      
During the offseason Miller worked as a car salesman and in the insurance business. He later started and insurance agency with former teammate Ted Kazanski and professional boxer Chuck Davey.
Beginning in 1963, Miller was an assistant coach at his alma mater, the University of Detroit [Mercy], under head baseball coach Lloyd Brazil. After Brazil died as the result of an auto accident in April 1965, Miller became the head coach. The former major leaguer held the post for 36 years, compiling a record of 896 wins, 780 losses, and 2 ties. He was elected to the school's Hall of Fame in 1979 and the Michigan Sports Hall of Fame in 1999.
As of 2015, Miller was retired from coaching and living in Detroit where he spent time with his family while continuing to follow sports. Two of his sons, Bob Jr. and Pat, followed in their father's coaching footsteps. Bob became the varsity baseball coach at Redford Union High School in the Detroit suburbs. Pat, who had a six-year minor-league career as a pitcher in the Mets and Brewers organizations, became the assistant baseball coach at Walled Lake Central High School, also in the Detroit area.  
In 1992, at a baseball card show in Philadelphia, Eddie Sawyer asked Miller if he ever wondered why the Phillies kept him on their major-league roster in 1950 after he had played only one full season in the minors. Sawyer then explained, "Your first strikeout [late in the 1949 season] was against [Cincinnati catcher] Walker Cooper and you struck him out with your curveball. Walker Cooper was the best curveball hitter in the National League. When you struck him out, we said, 'We'd better keep this kid.'"17 A few years later, in a book about the Whiz Kids' season, Sawyer was quoted as saying that Miller "got more fellows out on a 3-2 curveball than anybody I ever saw in my life."18
In February of 2011 the University of Detroit honored Miller with the John Conti Sportsmanship Award, named after a university sports hero from the 1940s. Of receiving the award, Miller said "Any award you get is an honor, but to get one with John Conti's name on it is special. John and I go way back to the 1940s in intercollegiate athletics. It was an unexpected honor and I couldn't be happier for it to be associated with my lifelong friend."19
A devoted family man with numerous lifetime accomplishments, Miller's name will be forever etched in Philadelphia baseball lore as a member of the sensational 1950 Whiz Kids. While attending Alumni Weekend at Citizens Bank Park in Philadelphia on August 1-4, 2013, Miller told Larry Shenk of Phillies.com, "There's not one day in my life that I'm not thankful for my time with the Phillies."20
He died at the age of 94 on November 27, 2020.
This biography appears in "The Whiz Kids Take the Pennant: The 1950 Philadelphia Phillies" (SABR, 2018), edited by C. Paul Rogers III and Bill Nowlin.
Acknowledgments
Bob Miller Jr. for contributing information that was of great assistance to me while writing Bob Miller Sr.'s biography. Bob Jr. was also kind enough to arrange my telephone interviews with his father.
Bob Miller Sr. for generously sharing his time in regard to speaking with me on the phone on two separate occasions about his baseball career.
The author's mother, Nancy (Lyston) Keenan, for her diligent proofreading.
Sources
Baseball-reference.com.
Bob Miller Jr., telephone interview with author August 13, 2014.
Bob Miller Sr., telephone interviews with author August 13, 2014 and November 8, 2014.
Enoch Pratt Free Library, Baltimore, Maryland.
Fleischman, Bill. "Ex 'Whiz Kid' Back in Town," Phillies.com, posted April 6, 1993, accessed November 20, 2014.
Hagen, Paul. "Where Are They Now? Bob Miller," MLB.com, posted July 19, 2012. m.phillies.mlb.com/news/article/35204184/ accessed December 3, 2014.
Retrosheet.org.
Riess, Stephen. An Encyclopedia of Major League Baseball Teams (Westport, Connecticut: Greenwood Press, 2006).
Zolecki, Todd. The Good, the Bad & the Ugly: Heart-Pounding, Jaw-Dropping, and Gut-Wrenching Moments From Philadelphia Phillies History (Chicago: Triumph Books, 2010).
University of Detroit Mercy website, detroittitans.com/news/2011/1/26/GEN_0126111315.aspx, accessed October 16, 2014.    
Newspapers and Magazines
Baltimore Sun
Daytona Beach Morning Journal
Deseret News (Salt Lake City, Utah)
Miami News
Milwaukee Journal
Sarasota Herald-Tribune
Southeast Missourian, Cape Girardeau
Spencer (Iowa) Sunday Reporter
Spokane Daily Chronicle
St Petersburg Times
Star-News (Wilmington, North Carolina)
The Sporting News
Notes
1 Associated Press, "Phillies Are Beginning To Believe Old Saying," Milwaukee Journal, May 26, 1950, 2.
2 Oscar Fraley, "Fighting Phils Bank on Young Bob Miller," Spokane Daily Chronicle, June 13, 1950, 17.
3 The Sporting News, March 22, 1950, noted that pitchers Bob Miller, Curt Simmons, Charley Bicknell, Robin Roberts, Milo Candini and Elmer Sexauer had received signing bonuses from the Phillies.  
4 Robin Roberts and C. Paul Rogers III, The Whiz Kids and the 1950 Pennant, 214.
5 United Press, "Sawyer Plans to Start Only Roberts and Simmons Regularly," Reading (Pennsylvania) Eagle, May 19, 1950, 28.  
6 Robin Roberts and C. Paul Rogers III, 228.
7 Ibid.
8 Todd Zolecki, The Good, the Bad & the Ugly: Heart-Pounding, Jaw-Dropping, and Gut-Wrenching Moments From Philadelphia Phillies History, 99.
9 Associated Press, Eddie Sawyer Says He Picked Phils To Win," Southeast Missourian, October 3, 1950, 5.
10 United Press, "Phils Make Last Ditch Stand Today," Reading Eagle, October 7, 1950, 1.
11 Author interview with Bob Miller Sr., August 13, 2014.
12 Stan Baumgartner, "Sawyer High on 12-Story Mound Staff," The Sporting News, March 5, 1952, 8.  
13 Larry Shenk, Whiz Kid Miller Fondly Remembers Time on The Hill, Phillies.com, m.phillies.mlb.com/news/article/56322996/, accessed October 23, 2014.
14 Stan Baumgartner, "Smoky Burgess Bat Blaze Helps to Fire Up Phillies in Steaming N.L. Flag Race," The Sporting News, July 22, 1953, 11.
15 "Major Flashes-Miller Ends Holdout," The Sporting News, March 3, 1954, 31.
16 Art Morrow, "Average of 14,000 Fans Needed; Relievers Bob Miller and Meyer Join Starting Staff," The Sporting News, August 29, 1956, 14.
17 Bill Fleischman, "Ex 'Whiz Kid' Back In Town," articles.philly.com/1993-04-06/sports/25980657_1_bob-miller-eddie-sawyer-pat-miller, posted April 6, 1993. Accessed November 20, 2014.  
18 Robin Roberts and C. Paul Rogers III, 221.
19 The following quote was from University of Detroit Mercy website, detroittitans.com/news/2011/1/26/GEN_0126111315.aspx, accessed October 16, 2014: "The John Conti Letterman of Distinction Award was established by Anheuser-Busch to honor its long-time employee upon his induction into the Titan Sports Hall of Fame in 1984. Conti was the captain of the 1949 U-D football team that won the Missouri Valley Conference Championship. At 6-1 and 300 pounds, he was an Honorable Mention All-American and the biggest man in college football. His spirit and charitable enthusiasm have always seemed to be even larger. In tribute to that spirit, the John Conti Letterman of Distinction Award is presented to former Titan varsity athletes who go above and beyond at work and in the community."
20 Larry Shenk, Phillies.com.
Born
June 16, 1926 at Detroit, MI (USA)
Died
November 27, 2020 at Waterford, MI (USA)
If you can help us improve this player's biography, contact us.
/sites/default/files/MillerBob.png
600
800
admin
/wp-content/uploads/2020/02/sabr_logo.png
admin
2012-01-04 20:45:13
2022-04-04 13:52:30
Bob Miller