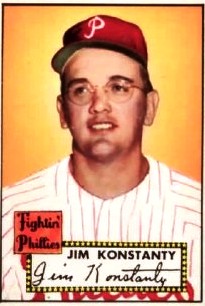 In 1950 Casimir James Konstanty, a sometime gym teacher and baseball nomad, and Edwin Sawyer, a manager who had never played in the big leagues, came together and achieved great things. Konstanty and Sawyer found themselves conjoined in Philadelphia, where the Whiz Kid Phillies were about to surprise the baseball world. The two had college degrees in a day when that was not as common as it became after World War II. Konstanty was a graduate of Syracuse University with a bachelor's degree in physical education, and his manager was a graduate of Ithaca College and Cornell University with a master's degree in biology. Whether their education was a factor in the Phillies' amazing 1950 season may be debated, but the results of their efforts were clear: Sawyer summoned Konstanty from the bullpen 74 times that season; the pitcher won 16 games (he had seven losses), logged 22 saves (which were not an official statistic at the time), and was named the Most Valuable Player in the National League.
Jim Konstanty was born on March 2, 1917, to John and Apolonia Konstanty in Strykersville, New York, a farming community east of Buffalo. Besides farming, his father at times worked in a steel mill. His mother was a homemaker. He had two brothers. Jim starred in sports at Arcade High School in Arcade, New York, then graduated from Syracuse University in 1939. After graduating he taught physical education in St. Regis Falls, New York. He also embarked on a winding career in baseball, starting in 1941 at Springfield (Massachusetts) of the Eastern League, where his efforts were anything but promising – dreadful, in fact; as a starting pitcher he won but four games and lost 19.
In 1942 Konstanty joined the Syracuse Chiefs, a Cincinnati Reds farm team, but pitched in only five games. He was with the Chiefs for the 1943 and '44 seasons, with middling results. With major-league teams losing players to the armed forces, Konstanty was called up to Cincinnati in the summer of 1944. He pitched in 20 games, starting 12 of them, and had a 6-4 record with a fine 2.80 earned-run average. In 1945 Konstanty entered the US Navy.
Back from the Navy in 1946, Konstanty was traded by the Reds two days after Opening Day to the Boston Braves with cash for outfielder Max West. He was with the Braves only long enough to pitch in 10 games, with a 0-1 record. On June 13 the Braves sold him to Toronto of the International League, where he labored through 1948, both starting and relieving, with so-so results (27-32 over the three seasons). The Phillies had purchased his contract before the 1948 season and Konstanty spent enough time in the City of Brotherly Love that season to relieve in six games, winning one, saving two and posting a fine 0.93 earned-run average, due in some part to the fact that while at Toronto he had taught himself to throw the slider and a palmball. In 1949 Konstanty pitched in 53 games for the Phillies, all in relief. He was 9-5 with seven saves and an earned-run average of 3.25. He had stepped into the role that, with the exception of one season, he would fill for the rest of his major-league career.
No one saw it coming in 1950 for the Phillies and Konstanty. Although they were an improving team, not many saw a pennant in their immediate future. But with his nasty slider and palmball, Konstanty, who was now 33 years old, and the young Phils were in the pennant race all season long. Konstanty's slider nipped the corners and his palmball mystified hitters. It was more than Jim's being a reliever, for a few innings. He was able to pitch more innings as if he were a starting pitcher. In his 74 games he pitched 152 innings, an average of more than two innings per appearance.
At one point Jim did not allow a run for 13 games, a span covering 22⅓ innings. His streak ended in Pittsburgh on August 25, in a game in which Konstanty turned in a remarkable performance. He had come in with the score tied 6-6 in the bottom of the seventh inning. In the top of the 10th Andy Seminick homered to put the Phillies ahead 7-6. But in the bottom of the inning Ralph Kiner smashed a homer off Konstanty to tie the score and end the runless streak. The game continued until the 15th inning, when the Phillies scored two runs to win the game, 9-7. Konstanty had gone nine innings for the win.
Three weeks later, on September 15, Konstanty turned in another ironman performance out of the bullpen. He pitched 10 innings against the Cincinnati Reds. He came into the game in the ninth inning and was relieved after the 18th inning. The Phils won the game, 8-7, in 19 innings. The game turned out to be the longest ever played by the Phillies at Shibe Park.
The Phils and Konstanty continued on their way in 1950 toward a pennant. But in September, holding a seven-game lead wtih 11 games to go, they faltered. The lead was down to one game entering the last day of the season. The Phillies prevailed as they beat the Brooklyn Dodgers, 4-1, on Robin Roberts' pitching, Richie Ashburn's life-saving throw to the plate to get Cal Abrams, and Dick Sisler's three-run homer in the top of the 10th inning. Konstanty finished the season 16-7 with 22 saves and an earned-run average of 2.66.
As a hitter Konstanty was like the typical pitcher. For his career, he had 33 hits in 202 at-bats for a .163 average. However, there was one time in the 1949 season that his bat won a game. The Phils were in Chicago on June 16 and fell behind early, 3-0. They battled back in the ninth inning, scoring, a run to win, 4-3. Manager Sawyer let reliever Konstanty bat for himself with one out in the ninth and the pitcher smacked a two-strike single over second baseman Emil Verban's head to drive in the winning run.
Konstanty was named to the National League squad for the 1950 All-Star Game, played at Comiskey Park in Chicago. He pitched one scoreless inning in the game, which was won by the National League, 4-3.
Sawyer startled the baseball world by naming Konstanty to start the first game of the 1950 World Series against the New York Yankees. Robin Roberts, the ace of the starting rotation, was unable to pitch because he had started on the last day of the season.
Konstanty did not disappoint, as he gave up only one run. But the Yankees prevailed, 1-0, as the Phils' bats went mute. Konstanty gave up only four hits in eight innings but the Yankees' Vic Raschi was better; he gave up only two. The Yanks went on to sweep the Phillies in four games.
Konstanty was voted the Most Valuable Player in the National League, winning with a whopping 286 points and 18 out of 24 first-place votes. Stan Musial was a distant second with 158 points. Konstanty was also voted by the Associated Press as the Athlete of the Year.
After the 1950 season Konstanty toured Japan with a group of major-league players. After the trip he told The Sporting News that he had a terrific new pitch. He said, "It breaks about four inches and I think it is unhittable."1 Whether or not Konstanty really had a new pitch for 1951, he did not have the season he had in 1950. He won four games, lost 11, had only nine saves, and his earned-run average went from 2.66 to 4.05. Batters hit about 80 points higher against him than in 1950. The Phils fell to fifth place. In 1952 Konstanty appeared in 42 games, going 5-3 with six saves and an earned-run average of 3.94. In 1953 he was 14-10 with five saves and an ERA of 4.43. Steve O'Neill, who had succeeded Sawyer as the manager the year before, started Konstanty 19 times in addition to his relieving. That season Konstanty reached highs in innings pitched (170⅔) and hits given up (198).
In 1954 Konstanty went 2-3 for the Phillies with three saves and an earned-run average of 3.75. On August 22 he was sent to the New York Yankees on waivers. His career totals with the Phils are 51 wins 39 losses, 54 saves and an earned-run average of 3.64. With the Yankees for the rest of the season, he was 1-1. The next season he was 7-2 (11 saves, 2.32 ERA) with the pennant-winning Yankees. He didn't get into the World Series, which the New Yorkers lost to the Brooklyn Dodgers. He also spent time at the Yankees' Richmond farm team that season. In 1956 Konstanty had no record with the Yankees before being released on May 18. On June 4 he was signed by the St. Louis Cardinals. He was 1-1 with five saves for the Cardinals, who released him after the season. After his release, Konstanty, 39 years old, retired as a player.
In his 11 seasons in the major leagues Konstanty won 66 and lost 48 for a .579 winning percentage. He posted an earned-run average of 3.46 and had 74 saves. For one season he was sensational; for the others he was more of a journeyman pitcher.
After baseball Konstanty was a minor-league pitching coach in the Cardinals' organization. In 1968 he became the director of athletics at Hartwick College in Oneonta, New York, not far from Cooperstown. He held the position until 1972. In 1948 he had opened a sporting goods store in Oneonta, and he operated it until 1973. Three years later, on June 11, 1976, Konstanty died after a brief illness with cancer at the age of 59 at the Fox Hospital in Oneonta. He was buried in the Maple Grove Cemetery in Worcester, New York. His wife, the former Mary Burlingame, whom he had married in 1941, survived him, along with a son, James; a daughter, Helen; five grandchildren; and two brothers. One grandson, Michael Konstanty, played in the Cincinnati Reds organization from 2008 through 2010.
For one year, 1950, glory shone on Casimir James Konstanty. His brilliant relief pitching helped carry the Philadelphia Phillies to their first pennant in 35 years. The Phillies would not win another pennant for 30 years.
Sources
Baseball-Reference.com.
Clayton, Skip, and Jeff Moeller, 50 Phabulous Phillies (Champaign, Illinois: Sports Publishing Inc., 2000).
Lee, Bill, The Baseball Necrology (Jefferson, North Carolina: McFarland, 2003).
Notable Names Data Base, Jim Konstanty, online.
New York Times obituary, June 12, 1976.
Roberts, Robin, My Life in Baseball (Chicago: Triumph Books, 2003).
Westcott, Rich, A Century of Philadelphia Sports (Philadelphia: Temple University Press, 2001).
Notes
1 "Gong Finds Firefighter Jim Ready," The Sporting News, March 7, 1951.