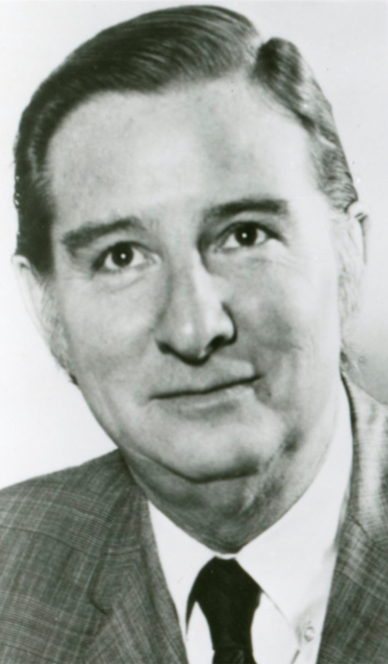 ---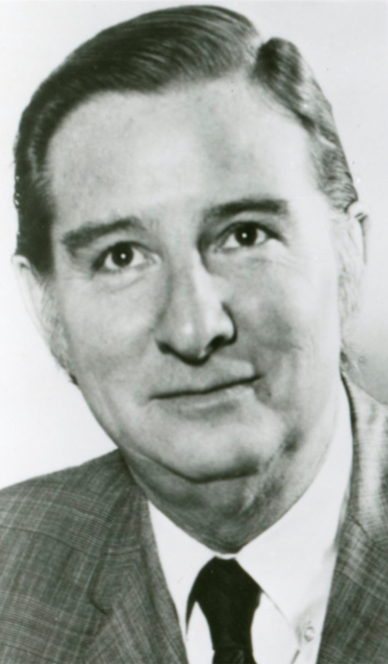 Bob Short was a buyer and a seller. Involved in law, business, and politics, he bought and moved two sports franchises. He earned the ire of the two cities that he left, but earned millions when he sold the teams.
Robert Earl Short was born on July 20, 1917, in Minneapolis. His father, Robert Lester Short, was a fireman, and his mother, Frances (Niccum), was a telephone operator. Two of his grandparents were born in Canada, one on each side, and there was Irish ancestry. Robert had an older sister, Kathryn, and a younger brother, Richard. As a young man Short saw Ted Williams play for the Minneapolis Millers in 1938. "He said he had worn holes in his pants sitting on the bleachers watching me hit," Williams said.1
Short graduated from the College of St. Thomas in St. Paul, then attended law school at the University of Minnesota and Fordham University. He enlisted in the US Navy in 1942, and saw World War II action in the Pacific on the aircraft carrier Intrepid, rising from ensign to commander. While posted as a legislative officer at the US Naval Gun Factory (now Washington Navy Yard) after the war, he met and married Marion McCann of New York in 1947.2 He also graduated from the Georgetown University Law School that year.
Discharged from the Navy, Short moved into law, working as an assistant United States attorney in the District of Columbia, before moving back to Minneapolis and taking the same position there. He began investing in business, borrowing $15,000 to buy an interest in the Mueller Transportation Company, a trucking firm.3 Over the years he purchased several other trucking companies and merged them into Admiral Transit. Through numerous mergers the company, now known as Admiral Merchants Motor Freight, eventually covered the Eastern half of the United States.4
Through the years Short continued investing, and owned real estate in downtown Minneapolis, as well as several hotels. His family grew, too, as he and his wife had seven children throughout the 1950s. His first big investment thrust him into the public eye, where he remained until his death.
The Minneapolis Lakers won five titles in six seasons between 1949 and 1954, but after the retirement of star center George Mikan, they struggled. After a few seasons of poor performance on and off the court, owners Ben Berger and Maurice Chalfen decided to get out. A group from Kansas City, led by former St. Louis Cardinals shortstop Marty Marion, agreed to buy the NBA franchise and move it.5 Berger, loyal to his city, said he would give any local buyers a week to match the offer.
"Short had wanted a major-league sports team in the worst way," former Lakers general manager Sid Hartman said. "He looked at football and baseball, but nothing was available there. Then he and Ryan read that Ben Berger was hoping to sell the Lakers to out-of-town of-town interests."6 Short and college friend Frank Ryan gathered a group of 30 investors in a few days and raised $150,000 to buy the Lakers. Short was named president of the team.
Quickly the new owners discovered how much trouble they were in. They immediately had to inject another $50,000 just to keep the team afloat. The team began trading and selling players to cut expenses, a practice Short would follow for the rest of his career as a sports owner. Not long after, the team needed even more money, and when none of the other owners stepped up, Short purchased the remaining unissued stock of the company for $40,000.7
With the loss of top players, the team fell to the bottom of the league. Fans stopped coming to games at the rundown arena, and the Lakers regularly had crowds of under a thousand. But the luck of the draft saved the Lakers. With the first pick of the 1958 draft, they selected Elgin Baylor. Despite concerns over his signability, Short persuaded Baylor to leave the University of Seattle after his junior season, paying him $22,000 to come play for the Lakers. It was a last throw of the dice. "If Elgin had turned me down, I'd have gone out of business," Short said.8
Baylor paid immediate dividends, earning the Rookie of the Year Award while taking the Lakers to the NBA finals, where they lost to the Boston Celtics. With Baylor spending half of the next season on Army Reserve duty, the team slumped again. This time the Lakers ended up with the second pick in the draft, which they used to select Jerry West. The duo of West and Baylor led the Lakers for the next decade, with each ending up in the NBA Hall of Fame. The team became incredibly successful on the court, going to the NBA finals six times in the 1960s, although they lost every time to the even more successful Celtics.
Off the field, momentous events were happening. The first rumors of moving the team were heard in 1957. Chalfen had watched as the Brooklyn Dodgers moved to California, and wanted to follow suit, but Berger insisted on staying in Minnesota. Now, Short picked up Chalfen's idea. In January 1960, the Lakers headed to California to play games in San Francisco and Los Angeles. Sellout crowds made up his mind, although he appeased Minneapolis by saying that he would stay if he could sell 3,000 season tickets.9
However, in April Short and Ryan asked an NBA owners meeting for permission to move the team to Los Angeles. Not wanting the additional expense of trips to the West Coast, they voted 7 to 1 against the move. By great coincidence, at lunch that day Short saw a newspaper headline. Abe Saperstein, owner of the Harlem Globetrotters, had tired of waiting for the NBA to give him a promised franchise, and announced he was forming the American Basketball League, with a team in Los Angeles. NBA owners immediately realized they did not want to lose that territory, and voted again that afternoon. This time Short won 8-to-0 approval to move the Lakers to Los Angeles.10
Short himself decided to remain in Minneapolis. He hired Lou Mohs to be general manager, and to set up the team operation out west. As with his other operations, Short ran the team in Los Angeles on a shoestring. "Bob Short gave me three specific instructions," Mohs said. "'Go out there and don't let me hear from you; if you have any money left send it back to me; if you need any money forget where you came from.'"11 The team was so poor that Mohs had to borrow chairs just to have something to sit on; his wife, Alice, washed the players' jerseys; and his children counted tickets.12 He created a mailing list of potential season-ticket holders. "Luckily, we got season-ticket orders totaling $150,000," Mohs said. "If that money hadn't come in we would have been through."13
Things started slowly in Los Angeles – just 4,008 showed up to the inaugural Los Angeles Lakers game – but soon picked up. As the team kept winning, the crowds came to see them play, and by the end of the season the Lakers were selling out every night. Making the playoffs every year, they lost the NBA finals to the Celtics in 1962, 1963, and 1965. By that time the team was profitable, making $500,000 in 1965, and Short decided it was a good time to sell.14
Canadian millionaire Jack Kent Cooke approached Short to buy the team. Short initially demurred, then decided to take a long shot. Since the Celtics had been sold for $3 million, Short asked Cooke for $5 million. Surprised when Cooke said yes, Short said he also wanted half of the season-ticket money they'd already sold. "I told him he was holding me up, but I wanted the Lakers, so I agreed to it," Cooke said. That made the final sales price $5.175 million.15
There was still a wrinkle in the deal. "Walter O'Malley … warned me that Cooke was a tough, smart businessman, to be careful," said Ryan. "Walter said we should make him pay cash." They did, and bank guards rolled a cart with the money from one bank to another in New York. After the money was counted, Ryan and Short got a certified check and walked away from the Lakers.16
Short had long been interested in politics. "My Dad always wanted to be a politician," his son Kevin said. "He grew up a poor Irish kid in Minneapolis. And (former Farmer-Labor Governor) Floyd B. Olson was his hero. My dad idolized him."17 In 1946 he ran for Congress in Minneapolis, finishing a distant second in a three-way Democratic-Farmer-Labor (DFL) primary. He worked on several Hubert H. Humphrey campaigns during the 1950s and 1960s.
Short's next attempt at politics came in 1966, when he ran for lieutenant governor. He lost again in a close race, 51 percent to 49 percent, as voters repudiated the efforts of then Vice President Humphrey. Short was not put off politics, though, and became the treasurer of the Democratic National Committee in 1968 for the Humphrey presidential campaign.
In 1978 Senator Humphrey died in office, and a special election was held to replace him. Short barely received the nomination from the DFL Party, squeaking through the primary with 48 percent of the vote to Congressman Donald Fraser's 47.4 percent. Many in the party had voted against his conservative views on abortion and local issues. "There's no doubt (the primary) damaged my dad," Kevin Short said. "It was bloody and divisive. The party had been thrown into such turmoil that it was hard to put back together."18
With the party split and many DFL voters switching sides just to vote against him, Short was trounced by Independent-Republican David Durenberger, gaining just 34.5 percent of the vote. It was part of a huge defeat for the DFL, as Minnesota Republicans gained Senate seats for the first time in almost two decades.
The Washington Senators of 1968 were not the Senators of old. Curiously enough, those Senators moved to Minnesota and became the Twins, just months after Short had moved the Lakers to California. In both cases the owners had cited an inability to make money in their original location. In its wisdom, baseball had decided to put an expansion team in Washington to replace the team that had moved. Now the Senators were struggling again, and Short saw an opportunity very similar to the one he had seen in basketball: a team struggling in one market that would be worth much more elsewhere.
Washington attorney Stanley Bregman was a member of the legal firm that represented the Senators and knew that owner James Lemon was looking to sell the team. Bregman (grandfather of future major leaguer Alex Bregman) had also been a director in the Humphrey presidential campaign, and knew Short from his time as DNC treasurer. Knowing Short had made a lot of money selling the Lakers, Bregman said, "Why don't you use some of that money and buy the Senators?"19 Short agreed on a purchase price of $9.4 million with Lemon. At a luncheon welcoming Short to Washington, his political friend Humphrey joked about it. "I'm sure it's only a coincidence but when Bob Short was our party treasurer, we went into the hole for $9 million. That's just the amount of money it cost him to buy the Washington Senators."20
Later investigations by The Sporting News and others found that Short was very creative in raising the money. First, he got Lemon to agree to keep 10 percent of the team in preferred stock, at a value of $1.1 million. Next, he arranged a bank loan for $2 million, providing securities as collateral. He then added loans secured by the team itself, and, finally, he arranged unsecured loans for the rest of the money, at heavy interest rates.
The Washington Post claimed that Short's total cash outlay for the Senators was just $1,000, and that was used to pay the legal costs of setting up the new company. The Post said that Short's trucking company then loaned the Senators $1 million to cover their operating costs, at a 9.75 percent interest rate. And economists Roger Noll and Benjamin Okner showed that Short's other companies were eligible for tax writeoffs of $4 million over the next five years, due to player depreciation.21
Short denied it was all that cheap for him. He claimed that the collateral he put up was equity. "If the loan goes bad, I can be out $2 million. If that isn't equity, what is?" he said.22 He added that the trucking-company loan was at his risk. And he claimed that the team had $3 million in cash losses from 1969 through '71. The Washington Post analysis showed that much of that loss was in fact depreciation, while other parts of his claimed cash losses were dubious, since he hadn't actually paid the bills. "He was always cash-poor," Bregman said. "Lots of rich men are. But he started having real cash problems here. Slid by for a year or so."23
When Short took over the team after the 1968 season, he appointed himself general manager, and hired Ted Williams to manage the team. Williams at first declined the offer, but Short talked him into it, giving him a five-year no-cut contract, $1.5 million over five years, with an option to purchase 10 percent of the team, and the ability to manage on his own terms. Williams liked Short from the start, calling him "the smartest man I ever met," and saying, "He was not only dynamic, but he was imaginative about baseball, though he had never been involved in it before, and he was damned persuasive."24 Williams took the job "against my better judgment" but was bowled over by the force of Short's personality. "[H]e just happened to be a guy I couldn't refuse. I kept saying 'no' until I heard myself say 'yes.'"25
In its first season, the Senators improved by 21 games, although they still finished in fourth place, 23 games behind the 109-win Baltimore Orioles. They drew 918,106 fans, the second highest attendance of either iteration of the Washington Senators.
The success was short-lived, though, as over the next two seasons the team and attendance both fell back. In 1971 Short began a serious campaign of bad-mouthing the city, in an attempt to win approval to move. He complained that fans wouldn't come to the ballpark because it was in a crime-ridden neighborhood (ignoring the fact that he was charging among the highest prices in the league to see one of the worst teams). He complained that the ballpark contract with the D.C. Armory Board meant that he was losing money. And he complained that the radio and television contracts were among the worst in the league.26
Commissioner Bowie Kuhn later described a late-night phone call he received from Short in April of 1971:
"No one can keep me in Washington, not Nixon, not Cronin, not Kuhn," he said. "I will cannibalize the club if necessary. I own it and I will take it to St. Paul if I want. I have lawyers too. I will move wherever I want. … Ted says Washington is a horseshit town and I've gotta get out. I'll go elsewhere before I'm forced into bankruptcy like Seattle. I know I had my eyes wide open when I went to Washington, but I told the American League that I wouldn't keep it there forever."27
Short was at least partly right about the team's problems, although he deliberately avoided doing the one thing to eliminate them: improve the team. Instead, he seemed to be running it down just so he could move the team to more profitable vistas. Short made several curious baseball decisions, such as trading for Denny McLain,28 a one-sided deal that was later said to be made in order to secure the Tigers' vote for the approaching Senators move.29
By 1971 Short had settled on a destination and was working to be allowed to move there. Arlington, Texas, was a small town midway between Dallas and Fort Worth, and Mayor Tom Vandergriff had decided to attract a major-league baseball team to improve the town's economy. He had been working since the late 1950s to get an expansion team, or persuade someone to move, without luck. He had built a minor-league ballpark designed to be easily expanded to meet major-league requirements. He talked to several teams about moving, and finally got in touch with Short.
Short was easily convinced of the riches waiting him in Arlington. He was promised fans, a ballpark, civic support, broadcasting deals, everything he was missing in Washington. The biggest swing factor was the radio and television contracts. The city of Arlington said it would buy 10 years of broadcasting rights up front, at $750,000 per year. That $7.5 million would pay off all of Short's debts and loans in Washington, ensuring that he would come out with a healthy profit when he sold the team.
In July an American League owners' meeting heard how Short was losing money in Washington, had no possibility of improving there, and wished to move the Senators to the Dallas-Fort Worth area. AL President Joe Cronin decided to research solutions and report back to a joint meeting with the National League in August. They suggested trying to find local buyers, but the price Short demanded included covering all his claimed losses over the last few years. He strung along one buyer to the last minute, but despite some debate, the owners approved the move. Quickly turning into a pariah in Washington, Short got out of town and looked toward the new location. He also persuaded Ted Williams to stay on for another season as manager.
The 1972 season began with a stumble, as the players went on strike to start the season. Short saw his first Opening Day for the newly christened Texas Rangers disappear, but wasn't too worried. He backed the players in the strike, and promised that a million fans would come see the Rangers that season. He was wrong, as the team was terrible, but it drew a few thousand more than the previous season in Washington, which Short claimed as a success.
Williams quit after the season, and Short appointed Whitey Herzog as manager. They described a multiyear rebuilding plan, but that plan received multiple blows, because Short kept trading players for cash. Worse, Herzog had been manager for barely half a season when Short fired him. He hired the newly available Billy Martin, figuring that he would be a good gate attraction. In another shortsighted move, the team acquired high-school sensation David Clyde in the June amateur draft, and rather than send him to the minors to learn, Short brought him to the Rangers for a quick boost to the gate. When Clyde was successful in his first start, Short kept him on, which helped with attendance but arguably destroyed Clyde's long-term viability as a pitcher.
In early 1974, it was announced that Short was selling the team to local businessman Brad Corbett. Despite his previous denials, the sale occurred just a few months after the fifth anniversary of Short's buying the team, lending credence to the accusations that he was just interested in the tax writeoffs that were available for that period.
The purchase price was listed as $9 million, and Short retained 10 percent of the team. He claimed that the price meant he would barely break even, but the 10 years of broadcasting rights had already paid off his debts, so in reality Short made a significant profit.
Short wasn't out of baseball for long. In early 1976, the Stoneham family announced the sale of the San Francisco Giants to the Labatt's Brewery company, which planned to move the team to Toronto. After weeks of legal and financial maneuvering, Short and Robert Lurie, a minor shareholder in the Giants, partnered to keep the team in San Francisco. "Mr. Lurie and Mr. Short are going to make baseball go in San Francisco," Mayor George Moscone said.30
The plan was for each man to put up $4 million to buy the team. While they worked to complete their agreement, things came unstuck. Short said he had assumed that Lurie "would lean heavily on my experience in the operation of two baseball teams."31 The National League owners, wary of Short's history, said they wanted to have one majority owner – and they didn't want it to be Short. Short withdrew, believing that would put pressure on Lurie and the league to bring him back and save the Giants. Instead, Lurie got lucky. Bud Herseth, a Phoenix meat-company owner said he would not only put up $4 million, but he'd be happy to have 49 percent of the team and make Lurie the majority owner. The National League quickly voted to approve the deal.
And that was it for Short. Despite rumors over the years that he would return, including that he would buy back the Rangers in the late 1970s, the attempt to buy the Giants was his last real involvement in baseball. He turned to his other businesses, and had his ill-fated Senate run in 1978. He had joined the Notre Dame Law School Advisory Council in 1974, where he remained until his death. Several of his children attended Notre Dame, earning a total of 10 degrees between them, and a number of his grandchildren also went there. He and his wife also endowed the Robert and Marion Short Chair in Law at the university.
Short contracted cancer and died on November 20, 1982. Marion took over his positions in his companies and on the Notre Dame Council upon his death.
This biography was published in "1972 Texas Rangers: The Team that Couldn't Hit" (SABR, 2019), edited by Steve West and Bill Nowlin.
Notes
1 Ted Williams with John Underwood, My Turn at Bat (New York: Fireside, 1988), 241.
2 Wedding announcement, Washington Evening Star, October 8, 1947: B3.
3 washingtonpost.com/archive/local/1982/11/22/robert-short-ex-owner-of-senators-team-dies/6d6b5733-1445-4e76-8d0e-10b6cab3df29/?utm_term=.3d60d2e72411.
4 Admiral Merchants Motor Freight website, ammf.com, retrieved March 14, 2018.
5 "Looks Like Marion Will Get Lakers," Sarasota (Florida) Herald-Tribune, February 27, 1957: 17.
6 Roland Lazenby, The Show: The Inside Story of the Spectacular Los Angeles Lakers in the Words of Those Who Lived It (New York: McGraw-Hill, 2006), Kindle edition.
7 Ibid.
8 Ibid.
9 Ibid.
10 Ibid.
11 William Leggett, "Growing to Greatness," Sports Illustrated, October 29, 1962.
12 Jim Murray, "Remember Those Early Laker Days?" Los Angeles Times, June 28, 1985.
13 Leggett.
14 Lazenby.
15 Ibid.
16 Ibid.
17 Frank Rajkowski, "Flashback Friday: US Senate Race in 1978 Pitted Johnnie vs. Tommie," kstp.com/news/flashback-friday-david-durenberger-bob-short-us-senate-race-1978-tommie-johnnie/4610390/.
18 Ibid.
19 Ken Denlinger, "Washington's Storied Pastime Includes Unhappy Endings," Washington Post, March 3, 1991.
20 Bob Addie, "Addie's Atoms," The Sporting News, May 15, 1976: 14.
21 "Only $1,000 Cash Needed to Own Senators," Indianapolis Star, December 26, 1971: 74.
22 C.C. Johnson Spink, "Short Gives His Side of Deal for Senators," The Sporting News, February 5, 1972: 33.
23 Denlinger.
24 Williams, 240-41.
25 Williams, 240.
26 Bowie Kuhn, Hardball: The Education of a Baseball Commissioner (New York: Times Books, 1987), 95.
27 Kuhn, 94.
28 The Detroit Tigers traded third baseman Don Wert, outfielder Elliott Maddox, and pitchers Denny McLain and Norm McRae to the Senators for shortstop Ed Brinkman, third baseman Aurelio Rodriguez, and pitchers Joe Coleman and Jim Hannan.
29 Ted Leavengood, Ted Williams and the 1969 Washington Senators (Jefferson, North Carolina: McFarland, 2009), 187.
30 Art Spander, "'Green Plasma' Saves Giants in Last-Hour Heroics," The Sporting News, March 13, 1976: 33.
31 Art Spander, "Meat Packer Brings Home the Bacon for Giants," The Sporting News, March 20, 1976: 32.
Born
July 20, 1917 at Minneapolis, MN (US)
Died
November 20, 1982 at Washington, DC (US)
If you can help us improve this player's biography, contact us.
https://sabr.org/sites/default/files/ShortBob.jpg
600
800
admin
/wp-content/uploads/2020/02/sabr_logo.png
admin
2015-07-26 12:17:07
2015-07-26 12:17:07
Bob Short