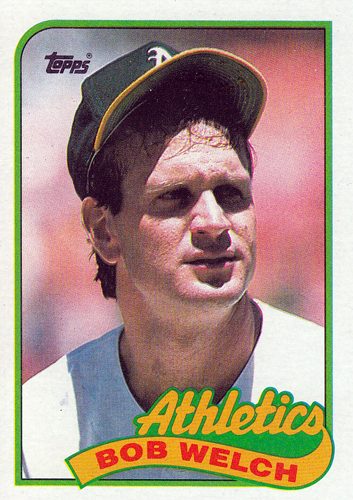 ---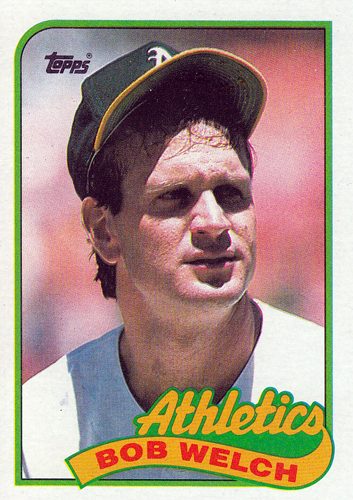 Bob Welch may be most famous for his epic strikeout of Reggie Jackson to end Game Two of the 1978 World Series. He did that as a 21-year-old rookie for the Los Angeles Dodgers. But the tall, lean right-hander enjoyed many other highlights over a 17-year career. He won 211 games, including 27 in 1990, when he earned a Cy Young award while with the Oakland A's.
As a young man, Welch battled with addiction, which he documented in the 1982 best-seller 5 O'clock Comes Early, co-written with George Vecsey. When the popular player died in 2014 at the age of 57, Stan Kasten, president and CEO of the Dodgers, called Welch "one of the greatest competitors to wear the Dodgers uniform."1 A's president Michael Crowley said, "He will always be a significant part of our franchise's history."2
Robert Lynn Welch was born on November 3, 1956, in Detroit, Michigan. His dad, Robert, grew up in Newport, Arkansas, and headed north in 1939, hoping to get a job at one of the many Detroit factories. His mom, Lorine Lunell Mungle, hailed from Paducah, Kentucky. She moved to Michigan in 1942, also to find work. "I'm definitely from Detroit," Welch said once. "But I'd say my roots are southern."3 The Welch family lived in working-class Hazel Park, "a tough neighborhood." 4
Young Bob and his older brother, Donnie, stayed active all year. They played basketball in the driveway at home and hockey at a local rink, even on snow-packed winter days when temperatures plummeted to single digits. Bob and Donnie switched to baseball after the weather warmed. Like the other kids in the neighborhood, they followed the Tigers, Red Wings, Lions and Pistons.
Bob began drinking at the age of 16. Alcohol helped him get dates. "I would get a buzz on and I would stop being afraid of girls," he recounted. "With a couple of beers in me, it was all right."5 Bob starred in basketball and baseball at Hazel Park High School. Every spring, scouts aimed radar guns at his fastball. The readings didn't disappoint. the lanky young man could "bring it." Scouts marked him down as a big-league prospect.
Welch waited for the hometown Tigers to draft him. Instead, the Chicago Cubs chose him in the 14th round of the 1974 MLB June Amateur Draft. Rather than go pro, Welch took a scholarship offer from Eastern Michigan University and earned a spot in the team's starting rotation as a freshman. In his sophomore campaign, he threw a no-hitter against Central Michigan University and a perfect game against the University of Detroit.
Over the summer, Welch played on a team of collegiate All-Stars that traveled to Japan. He started one game and carried a no-hitter into the fifth inning in front of 20,000 fans before giving up a home run. Upset after team coach Rod Dedeaux lifted him for a reliever with a 9-1 lead, Welch "made an idiot"6 out of himself afterward. He bought a few cases of beer, put away several cans, and began kicking down hotel doors. Later that same night, he walked along the narrow ledge of a hotel roof and nearly fell. It was, unfortunately, a typical night for Welch on the tour. "I wish I could say that I remember a lot about Japan," he said, "but the truth of the matter is, I was so drunk most of the time that I remember very little."7
Dedeaux said something that startled Welch. "You've got as much talent as any pitcher I've ever had, but there's one thing you've got to do. You've got to stop drinking. You act like an alcoholic when you've had a drink."8 The comment startled Welch — briefly. "He had enough guts to confront me about it … but he didn't have enough of a hold on me."9
A sore arm bothered Welch throughout his junior year at Eastern Michigan, scaring off many big league scouts. The Dodgers' Ben Wade saw him throw on the sidelines and offered a positive report. Los Angeles selected Welch in the first round—20th overall—of the 1977 amateur draft and assigned him to the San Antonio Dodgers of the Class AA Texas League. The 20-year-old won four games but lost five and had a 4.44 ERA. The following year, Welch went 5-1 with a 3.78 ERA for the Albuquerque Dukes of the Class AAA Pacific Coast League.
He made his big league debut on June 20, 1978, in front of nearly 42,000 fans at Dodger Stadium, pitching two innings of scoreless relief in a 5-3 loss to the Astros, He struck out two and allowed one hit. In his first five appearances, which included a six-inning start against the Reds on June 30, Welch did not allow a run.
The rookie pitched 111.1 innings overall, finishing 7-4 with a 2.02 ERA. He made 13 starts and threw three shutouts, the first on August 5 against the Giants at Candlestick Park. Dodgers manager Tommy Lasorda said Welch reminded him—at least a little bit—of former Brooklyn and Los Angeles great Don Drysdale. "His delivery is a little different, but he's got the temperament, determination, self-confidence and will to win. He's some competitor."10 Dodgers catcher Johnny Oates said Welch hurled "as good a fastball as I've ever caught, as good as Jim Palmer's at Baltimore."11
Welch joined the team's bullpen corps for the postseason and picked up the win in Game One of the National League Championship Series against the Philadelphia Phillies. L.A. won that best-of-five series and headed into the World Series against the New York Yankees.
In Game Two, Dodgers starter Burt Hooton went six innings. In the top of the ninth, reliever Terry Forster gave up a leadoff single and one-out walk. With the tying and go-ahead runs on base, Lasorda summoned Welch to face Thurman Munson and told his young pitcher to just throw strikes. Second baseman Davey Lopes said much the same—but didn't look Welch in the eyes. "I never look him in the eye," Lopes later said. "He has the deepest blue eyes I've ever seen, the biggest pupils. … I just kept my head down and told him, 'You gotta throw as hard as you can for two hitters.'"12
Munson lined a fastball to right field for the second out, bringing up DH Reggie Jackson, one of the game's top power hitters. During the 1977 World Series, also against the Dodgers, Jackson had hit five home runs, including three in Game Six.
The slugger adjusted his glasses, patted the top of his helmet and took a few practice swings. Welch looked in for the sign from catcher Steve Yeager. He started with a fastball right down the middle. "The first pitch could have been the last," Welch said.13 However, Jackson swung and missed. The next pitch sailed up and in. Jackson fouled off the third pitch. "By this time, the crowd was screaming."14 Jackson also fouled off the fourth pitch and the fifth. "At this point, I had to step off the pitcher's mound because the fans [nearly 56,000] were really loud."15 The sixth pitch was outside and the count went to 2 and 2. After Reggie fouled back the seventh pitch, the eighth zipped high and outside; the count went full. On the ninth pitch, Jackson whiffed. Welch recalled, "The force of his swing turned him into a human corkscrew."16 The memorable confrontation lasted nine pitches and more than five minutes.
After the game, Jackson gave Welch his due. "We knew he was a good pitcher. Give the guy credit. He beat me. I'm not proud. I admit it. The man beat me."17 Welch said he "loved every moment" of that battle. "I am a performer, a competitor. I wasn't scared. I wasn't worried. I was stone sober, too," he recalled. "I hadn't gotten around to drinking before a game, particularly before a World Series game—although, given time, I would have."18
L.A.'s veteran players were star struck. Lopes called Welch "the Ice Man. … He's cold out there. I can't really explain it. He does things at his age that a lot of guys never do." Outfielder Rick Monday said, "He's just an ordinary twenty-year-old with a hundred-mile-per-hour fast ball."19
The Yankees came back to win the World Series. Welch pitched in two more games and gave up three runs in four innings, including a homer to Jackson in the deciding Game Six, "on a pitch that just went right down the middle. Stupid on my part."20
Welch turned his 1979 season into a mess. His drinking had gotten out of control. "It all came to a head in San Francisco," he admitted. 21 One afternoon before a game at Candlestick Park, he picked a fight with Giants outfielder Terry Whitfield. Welch yelled, "I want that man!" Rick Sutcliffe, a fellow Dodger pitcher and friend of Welch's, grabbed the pitcher and hurried him into the dugout.
Not long afterward, Welch entered a rehab program in Wickenberg, Arizona. He received support from former Dodger great Don Newcombe, then a team executive, who'd battled alcohol himself and made it his personal mission to help other players who'd developed problems. "The truth is, I was tired of having problems with my drinking, and I wanted to help myself," Welch said. "I didn't want to ruin myself."22 He ended the year at 5-6 with a 3.98 ERA.
Over the next several weeks, Welch spoke to counselors and other addicts about his troubles with alcohol. He attended lectures on how alcohol affects the body and how to better express his feelings. He also wrote letters to his future wife, Mary Ellen (née Wilson). "I am an angel in this environment, and I contemplate leaving, but will try my best to stick it out," Welch wrote in an early letter. Later on, he wrote, "This place is a cuckoo's nest, and I am a member of it. That makes me cry every time I get into the damn shower."23
During spring training, Welch told his story to Lyle Spencer of the Los Angeles Herald-Examiner and a few other reporters. He apologized to teammates and then got ready for the season. He pitched maybe the best game of his career on May 29, 1980, against the Atlanta Braves. Welch tossed a one-hitter, allowing only Larvell Blanks to get on base, with a single in the fourth inning. The Dodgers won, 3-0. Welch said, "That was the best control I've ever had."24 Losing pitcher Phil Niekro said, "That was a no-hit game. I've seen no-hitters pitched that weren't half as good as that."25 Welch earned a spot on the National League All-Star squad and ended the season with 14 wins.
Fernando-mania took over baseball in early 1981. Large crowds packed the ballpark to cheer on the Dodgers' 20-year-old, Mexican-born phenom, Fernando Valenzuela, who went 8-0 before losing. Both fans and Dodger players applauded the young pitcher and his baffling screwball. Welch recalled watching Valenzuela mow down hitters on the road at Candlestick Park. "It was cold in San Francisco. I could have gone to the clubhouse for a whirlpool or something, but I wanted to watch Fernando," Welch said. "He is unbelievable. Every pitch is on the corner of the plate. I just wish I could be as smooth as he is."26
L.A. advanced to the World Series for the second time in Welch's career and, once again, faced the Yankees. Welch started Game Four but faced just four batters, retiring none. He got one of the quickest hooks in World Series history.27 Yet the Dodgers came back to win, 8-7, and took the Series in five games, celebrating the franchise's first championship since 1965.
Welch won 16 games in 1982 and posted a 3.36 ERA with nine complete games and three shutouts. The following year, he won 15 times and lowered his ERA to 2.65, good enough to finish eighth in the NL Cy Young award voting. On June 17 at Dodger Stadium, Welch tossed a 1-0 shutout against the Cincinnati Reds. He also hit a solo home run off Mario Soto, his first "since Little League."28
Welch and Mary Ellen were married on January 19, 1984.29 The Dodgers muddled through that season, finishing in fourth place with a 79-83 mark. Welch went 13-13 and had a 3.78 ERA. Los Angeles rebounded in 1985 and won the NL West, thanks in part to a strong pitching staff that included Valenzuela, Jerry Reuss and Orel Hershiser, in addition to Welch, who went 14-4 with a 2.31 ERA. St. Louis knocked off L.A. in six games in the league championship series. In his only start, Game Three, Welch was knocked out of the box in the third inning and took the loss.
He ran into some bad luck in 1986. Despite posting a solid 3.28 ERA, he managed just seven wins against 13 losses. The next season, while finishing with an almost identical ERA (3.22), he went 15-9 and topped the circuit with four shutouts. He also struck out a career-high 196 batters.
In 1987 the Dodgers traded Welch to Oakland as part of a three-way deal that also included the Mets. Welch teamed up with another former Dodger, Dave Stewart, to form a strong one-two combination on the starting staff. Stew went 21-12 with a 3.23 ERA, while Welch posted a 17-9 won-loss mark and 3.64 ERA. Oakland pummeled the competition, finishing 104-58. Jose Canseco and Mark McGwire—the "Bash Brothers"—combined for 74 home runs. Welch faced his former team in that year's World Series and started Game Three. He piled up eight strikeouts and allowed just one run over five innings in a 2-1 win, but Oakland lost the Series in five games.
Welch won 17 games again the next year and lost just eight times. He lowered his ERA by more than half a run, to 3.00 over 209.2 innings. but completed just one game and did not throw a shutout. The A's went 99-63 and reached the World Series for a second consecutive year, this time against the Giants.
Disaster struck just after 5 p.m. local time on October 17 and lasted for no more than 15 seconds. Seismologists measured the earthquake at 6.9 on the Richter scale. When the quake struck, Welch was warming up in the bullpen at Candlestick Park. He was the scheduled starting pitcher that day. The Series resumed after a 10-day delay. Oakland swept San Francisco to gain the championship. Welch did not pitch in the Series.
The temblor killed 63 people and caused $6 billion in damage, which included a home that Welch had purchased in San Francisco's Marina district. Welch took a walk through the neighborhood and at one point, "with a pained expression on his face, turned to his wife Mary Ellen and gave a 'thumbs down' sign."30 Mary Ellen was holding the couple's 10-week-old son Dylan. "One good thing, we've got earthquake insurance," Welch said.31
The following spring, Welch, as usual, was raring to go. Always full of energy, he set the pace for all the Oakland pitchers during runs in the Arizona desert. Some teammates started calling the pitcher "Wile E. Coyote," after the famous cartoon character who wanted nothing more than to turn the speedy Roadrunner into a tasty meal. "I don't believe [Welch] has ever sat still for more than five minutes in a row," said A's pitching coach Dave Duncan. 32
Welch enjoyed the winningest season of his career in 1990, notching his 20th victory on August 17 against the Baltimore Orioles. No pitcher had reached the 20-win mark faster since knuckleballer Wilbur Wood for the White Sox on July 29, 1973. By season's end, he had posted a 27-6 mark. The last pitcher before him to win that many games was Steve Carlton for the Philadelphia Phillies in 1972 — and no pitcher since has won more than 24 in a season.33
Some superb relief pitching from Dennis Eckersley (48 saves, 0.61 ERA) and a strong offense (third in the American League in runs scored) certainly helped Welch. Also, the pitcher quit trying to hurl fastballs by every batter. He developed a forkball, a pitch that made his fastball look even faster. "He learned how to step off the gas a bit," Duncan said. "He'd be rushing his delivery, trying to jump from the mound to home plate, to hand the ball to the catcher rather than throwing nice and easy."34 Oakland manager Tony La Russa added, "The difference between this season and the ones before is that there were times, maybe once every five or six starts, when something would happen in a game—a bloop hit, a disputed call, a touch of wildness—and Bobby couldn't deal with it. Now he can."35 Writers voted Welch the American League Cy Young award winner. Cincinnati swept Oakland in the World Series. Welch started Game Two and allowed four runs in the Reds' 5-4, 10-inning win.
The veteran pitcher did not come close to matching his Cy Young numbers in 1991. He finished 12-13 with a career-high 4.58 ERA in 220 innings. Even so, he led the AL with 35 starts and completed seven games. He threw the final shutout of his career on June 9, a five-hitter at home against the Red Sox. La Russa compared his starter to a former Oakland Hall of Famer. "I think Bobby and Catfish [Hunter] share a lot," La Russa said. "Bob worked a great pace and had excellent command. And you can't find better competitors than Welch and Catfish."36
In 1992 a sore pitching shoulder and sore left knee kept Welch out of action until May 2. He landed on the disabled list again in August with a sore elbow and made just 20 starts overall. On the surface, the numbers looked good: 11-7 with a 3.27 ERA. But on an ominous note, he struck out just 47 batters in 123.2 innings and walked 43, an unflattering ratio near 1:1.
Welch won the 200th game of his career on April 5, 1993, in Oakland against his hometown Tigers. He pitched five innings and gave up two runs, one of them earned, in his first-ever season-opening assignment. "It was a little bit of everything," he said. "I was nervous. I was excited. But it was an honor, maybe the only time in my life that I'll get to pitch an opening day, and really, just that I get to play baseball is a blessing these days."37 The 36-year-old battled through a rocky campaign, allowing at least five earned runs in nine of his starts.
Late in the season, Welch didn't talk like a pitcher who planned to hang up his cleats. "For 36, I feel wonderful," he told Ray Ratto of the San Francisco Examiner. "It's the greatest game in the world, and I'm still playing. And tomorrow night, when I go to the outfield and shag balls, it's like I'm 9 years old.""38 He also said, "If you can only play when you're physically well, you might as well go the hell home. That's like five, six, seven years ago for me."39 He finished with a 9-11 record and 5.29 ERA.
The struggle continued in 1994. Welch pitched in 25 games, just eight of them starts, and logged only 68.2 innings. He went 3-6 with a 7.08 ERA. The last win of his career came on July 5 at Yankee Stadium. A free agent at season's end, he did not figure to stay with Oakland as a relief pitcher. "There's no question he's more comfortable as a starter," Duncan said.40 Welch opted to retire.
Welch won at least 14 games in eight different seasons, threw 61 complete games and tossed 28 shutouts. He compiled a 3.47 career ERA (106 ERA+) and 1,969 strikeouts. He posted a career WAR (according to Baseball-Reference) of 43.4, higher than Hall of Fame pitchers such as Lefty Gomez and Jesse Haines. Despite that, he never gained any traction for Cooperstown. After getting just a handful of votes in 2002, he dropped off the ballot.
Bob and Mary Ellen Welch eventually divorced. The couple had three children; after Dylan came another son, Riley, and a daughter named Kelly.
After retiring, Welch managed the Valley Vipers of the independent Western League in 2000. The franchise existed only for that season. Welch then served as pitching coach for the Arizona Diamondbacks in 2001, the year that team won the World Series. Yet despite the team's success, Welch did not keep his job. That November, though it hadn't been made official, he knew he wouldn't be back. He called it a wonderful experience and said he'd miss the players and staff.41
Welch also served as pitching coach for The Netherlands during the 2006 World Baseball Classic. Away from baseball, he liked to fish on the fast, cold rivers that run through Idaho, Montana, and other scenic spots in Big Sky Country. The writer Rachel Toor met Welch on one of those trips. The two began dating. Toor wrote about their relationship in an online article titled "Learning to Pitch: Remembering a Summer with Bob Welch."42
She asked Welch what he did with his World Series rings. "My son has all that crap," he said. What did he think about being traded from L.A. to Oakland? He said simply, "After I got traded, I had a good season." In truth, "I don't like to talk about the things I've done. I'll talk for hours about how and when I've screwed up, but when people start going on about the other stuff, I just walk away." Welch, Toor wrote, "was funny. He was quick and witty in a way that kept surprising me. … He paid attention, close attention, picked up on and remembered the smallest details."43
Welch died on June 9, 2014, at his condominium in Seal Beach, California. Paramedics had responded to a call for medical attention and found the former ballplayer's body. After a nearly three-month investigation, the Orange County Coroner's Office determined that Welch broke his neck when he fell in the bathroom. He suffered "epidural hemorrhage due to hyperextension of the neck," according to the report.44
Following Welch's death, A's teammate Dennis Eckersley said, "He touched me. Bobby connected with everybody. You hear people talk about guys being good teammates. Bobby was. He had major energy."45 Another former A's teammate, Mark McGwire, said, "I wish there were more teammates like him throughout the game today. The guy would give you the shirt off his back. Fierce competitor. He was just a special guy."46
Acknowledgments
This biography was reviewed by Rory Costello and Norman Macht and fact-checked by Kevin Larkin.
Notes
1 Antonio Gonzalez, "Former Cy Young Winner Bob Welch Dies at 57, " Santa Maria Times (California), June 11, 2014: B3.
2 Antonio Gonzalez, "Ex-A's Pitcher Welch Dies at Age 57," San Francisco Examiner, June 11, 2014.
3 Bob Welch and George Vecsey, Five O'Clock Comes Early (New York: Fireside, 1991), 37.
4 Welch and Vecsey, 35.
5 Welch and Vecsey, 55.
6 Welch and Vecsey, 67.
7 Welch and Vecsey, 67.
8 Welch and Vecsey, 67.
9 Welch and Vecsey, 68.
10 John Hillyer, "Russell Delivers in Clutch," San Francisco Examiner, August 6, 1978: 36.
11 Scott Ostler, "Welch Comes to Rescue, 2-0," Los Angeles Times, August 6, 1978: 33.
12 Stan Hochman, "Bob Welch: An Icy Dodger with a Fiery Fastball," Philadelphia Daily News, October 12, 1978: 75.
13 Welch and Vecsey, 101.
14 Welch and Vecsey, 101
15 Welch and Vecsey, 101
16 Welch and Vecsey, 102
17 Welch and Vecsey, 103.
18 Welch and Vecsey, 99.
19 Welch and Vecsey, 102.
20 Welch and Vecsey, 106.
21 Welch and Vecsey, 123.
22 Jon Weisman, Brothers in Arms (Chicago: Triumph, 2018), 200.
23 Welch and Vecsey, 168
24 Bob Greene (AP), "Welch Returns to Series Form," Battle Creek Enquirer (Michigan), May 30, 1980: 15.
25 Greene, "Welch Returns to Series Form,"
26 George Vecsey, "Valenzuela: The Legend Begins," Pittsburgh Post-Gazette, April 27, 1981: 27.
27 "Baker Injured in Big O Fight," Montreal Gazette (Quebec, Canada), October 26, 1981: 15. The Washington Senators' Curley Ogden pitched to just two batters in Game Seven of the 1924 Series. He struck out one batter and walked another.
28 Vic West, "Welch Takes Matters into His Own Hands," San Bernardino County Sun (California), June 18, 1983: 41.
29 Ron Fimrite, "1 Pitch at a Time," Sports Illustrated, September 17, 1990.
30 AP, "A's Welch Awakened to Different Priorities," Newport News Daily News (Virginia), October 19, 1989: 76.
31 "A's Welch Awakened to Different Priorities."
32 Kit Stier, "Welch Now Slow Dancing," The Sporting News, August 27, 1990: 7.
33 Justin Verlander won 24 for the Detroit Tigers in 2011. Randy Johnson reached that mark for the 2002 Arizona Diamondbacks and John Smoltz won 24 for the Atlanta Braves in 1996.
34 Bruce Lowitt,"The A's Calm Competitor," Tampa Bay Times, October 9, 1990: 18.
35 Fimrite, "1 Pitch at a Time."
36 Rich Rupprecht, "Welch's Shutout Is a Catfish Impression," Santa Rosa Press Democrat (California), June 10, 1991: 15.
37 Mike Jones, "A's Celebrate Opening Night with Victory," Napa Valley Register (California), April 6, 1993: 7.
38 Ray Ratto, "At 36, Welch Still in There Pitching," August 30, 1993: 31.
39 Ratto, "At 36, Welch Still in There Pitching."
40 Ron Kroichick, "Oakland Athletics,"" The Sporting News, November 14, 1994: 53.
41 Mark Gonzales, "Pitching coach says he's on the way out," Arizona Republic, November 15, 2001.
42 https://www.sbnation.com/longform/2014/6/13/5804568/bob-welch-death-reme…
43 Rachel Toor, "Learning to Pitch: Remembering a Summer with Bob Welch," SB Nation, July 13, 2014. https://www.sbnation.com/longform/2014/6/13/5804568/bob-welch-death-remembrance
44 Toor, "Learning to Pitch: Remembering a Summer with Bob Welch."
45 John Hickey and Elliott Almond, "Bob Welch's Death Ruled Accidental Fall, Authorities Say," San Jose Mercury News, September 4, 2014. https://www.mercurynews.com/2014/09/04/bob-welchs-death-ruled-accidental-fall-authorities-say/
46 Steve Dilbeck, "Pitcher Was Cy Young Winner," Los Angeles Times, June 11, 2014: 10.
Born
November 3, 1956 at Detroit, MI (USA)
Died
June 9, 2014 at Seal Beach, CA (USA)
If you can help us improve this player's biography, contact us.
https://sabr.org/sites/default/files/images/Welch-Bob-Topps.jpg
600
800
admin
/wp-content/uploads/2020/02/sabr_logo.png
admin
2012-01-04 20:29:31
2020-07-06 14:48:22
Bob Welch