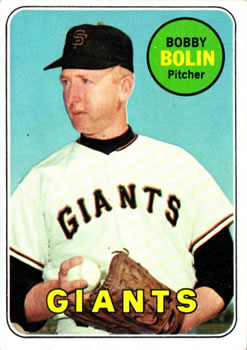 ---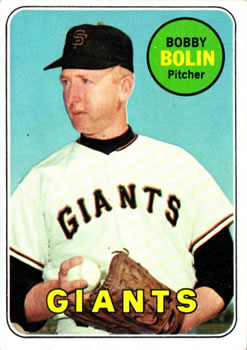 Bob Bolin did not have the decorated career Bob Gibson had, but in 1968, their paths crossed. Gibson's St. Louis Cardinals were World Series champions in 1967 and would eventually make it back to Game Seven of the Fall Classic. Bolin's San Francisco Giants would finish in second place in the National League every year from 1965-68, never quite breaking through.
Gibson had an historic 1.12 ERA in 1968, collecting the N.L. Cy Young and MVP awards in the process. Yet it was Bolin whose 1.99 ERA was second in the N.L. to Gibson. The Giants were in St. Louis for a doubleheader on September 6. Juan Marichal was scheduled to face his fellow future Hall of Famer in Gibson, but instead it was Bolin who got the ball in St. Louis for the first game.
"I didn't think I was pitching, I knew Juan was pitching," Bolin said. "So when (Manager) Herman (Franks) had come up, flipped me the ball, I said, 'What's this for?' He said, 'Ain't no way I'm going to start Juan against Gibson.'" 1
Bolin said the Cardinal fans were not happy that he was chosen to start against Gibson instead of Marichal. He said he was booed for five minutes when it was his name that was announced, but the boos didn't stop there, he said. Bolin said he was booed when he pitched in the first inning and every time it was his turn up to bat.
1968 was the year of the pitcher, and a pitchers' duel took shape in that game at Busch Stadium. The side arm Bolin went 7 2/3 innings, giving up five hits, two runs (both earned), struck out three, and walked two.
Gibson went eight frames and gave up nine hits. He struck out seven and walked none. Like Bolin, Gibson allowed two earned runs, but the Giants also tacked on an unearned run, and the Giants won the game, 3-2. Bolin got the decision as the winning pitcher, while Gibson's name appeared in the loss column.
Bobby Donald Bolin was born January 29, 1939 in Hickory Grove, South Carolina to Blanche and Nelson "Joe" Bolin. He was one of four siblings, with brothers Billy Joe, who would play in the minor leagues in the Orioles organization, and Vinny, along with a sister, Peggy. The Bolin family grew up on a farm and Joe Bolin was a farmer until Bobby was 15.2
Billy Joe and Bobby grew up playing baseball. Bobby grew up hating the Giants team for whom he would spend most of his major-league career, as Billy Joe was a Giants fan and Bobby liked the Dodgers. Some of his favorite players growing up were Duke Snider, Pee Wee Reese, Roy Campanella, Carl Furillo, and Carl Erskine.
The environment that Bobby was in allowed him to get into the game.
"That was about the only thing you could do out on the farm, my high school only had baseball and basketball," he said.3
It was in his senior year in high school that Bolin threw four consecutive no-hitters. Bolin's high school principal, Cecil Ward, reached out to the Charlotte Observer about the things Bolin was doing on the mound. The young right hander received press coverage and the scouts began to follow.
"From then on, it was 14 to 15 scouts at the house with the same deal, 'I'll give you $4,000 and that's it,'" Bolin said, knowing that he was not ready to go pitch in the majors at that time.4
Bolin's first contract was not with the Giants. He was signed by Branch Rickey, who was with the Pirates at that time. The contract, however, was deemed illegal by Commissioner Ford Frick. The Pirates flew Bolin to Pittsburgh before they could give any money to an American Legion player, which Bolin was, as he played for the Rock Hill Legion Post 34 team.
"I said, 'I can't sign this contract because all the other scouts told me they couldn't do anything until after September 10,'" he said. "Old Branch Rickey…he said, 'Kid, either you sign that piece of paper or nobody will ever find you from what I hear where you live.' I said, 'Yes, sir.'"5
Frick's declaration that it was null and void also led to the Pirates being fined and Bolin being free to sign with any team except the Pirates. He had spent the $3,000 bonus he received from them before it was ruled illegal. Bolin spent the money on a car and paying off his father's debts. The Pirates had asked for the money back, but after asking other scouts, he did not, with the scouts telling Bolin Pittsburgh knew what it was doing. He said longtime Pirates general manager Joe Brown never let Bolin live that down after he got to the majors.
"He never would speak to me, I'd walk right behind him at old Forbes Field, every time we was in town because the visiting team went up through the home team's dugout," Bolin said. "I'd say, 'Hi, Mr. Brown. He would never say hi."6
Bolin was selective in the signing process. He told the story of Hall of Fame pitcher Lefty Gomez finding him when Gomez was a scout for the Yankees. "He said, 'I'm Lefty Gomez, I've come down here to talk to you about signing with the Yankees, we want you to play for the Yankees,'" Bolin said. "And I said, 'No, sir, I'm not going to be no Yankee,' and he said 'Alright kid, thank you,' got back in the car and left." 7
The scout who ended up signing Bolin was Tim Murchison of the Giants in 1956. Murchison also signed players such as Gaylord Perry, Dick Dietz, Randy Hundley, and Jim Ray Hart. Bolin told Murchison he wasn't interested in the Giants, just as he wasn't interested in the Yankees when Gomez tracked him down, and he cited his love for the Dodgers as a kid while brother was the Giants fan. That was when Murchison made the pitch.
"'Let me tell you what, do you want to play in the big leagues if you sign? I said, 'Well, sure,'" Bolin said. "He said, 'Okay, let me go over some of the guys the Dodgers have. They got a young guy named Sandy Koufax, they got a young guy named Don Drysdale, they got a guy named Johnny Podres.' He started going through the whole Dodger pitching staff, and he said, 'They're going to be there another 15 years or so, and so it's going to be tough to break in, but now the Giants, that's why I'm out here looking for pitchers.'"8
He said Murchison then asked him which team he would sign with if he wanted to get the majors, and that made more sense to him than anything. Bolin also commended the kind of person Murchison was, saying the Giants scout had a fondness for his mother's peach pie and drinking iced tea on their front porch while discussing everything except baseball. Murchison building a friendship led to Bolin's signing with the Giants.
Bolin started in 1957 with the Michigan City Whitecaps of the Midwest League. He went 15-9 on the season with a 3.53 ERA in 199 innings pitched. It was August 12 of that season that he no-hit the Dubuque Packers, 11-0. It was the first of two no-hitters the righty would throw in the minor leagues.
The second one he recorded was August 23, 1959 with the Eugene Emeralds of the Northwest League. The score was 13-0 against the Lewiston Broncs. It was the first no-hitter the Emeralds ever had.9 Bolin went 20-8 that season with a 2.84 ERA with 271 strikeouts in 225 innings pitched.
Roy Partee had managed the Emeralds in 1959, his only season on the job. Bolin had been struggling during the first half of the 1959 season. Partee was a catcher mostly with the Red Sox, though he spent one year with the Browns. It was he who told Bolin to switch from throwing overhead to throwing sidearm. "Partee helped me more than anybody as far as pitching and I learned how to control the ball a little bit better," Bolin said.10
The 1960 season saw Bolin split time in the minor leagues. He was with the Rio Grande Valley Giants of the Texas in Double A. His numbers consisted of a 10-4 record, 2.78 ERA, with 110 strikeouts against 50 walks in 120 innings pitched. He also appeared for the Triple-A Tacoma Giants in the Pacific Coast League. Bolin's record in Triple A was 2-4. He had a 4.09 ERA in 55 innings, striking out 47 and walking 28.
Bolin broke camp with the Giants in 1961. His major-league debut came on April 18 of that season against the eventual N.L. Champion Reds in a 9-1 loss. He went two innings, striking out two while allowing just one hit and no runs. His first major-league strikeout was against none other than that year's MVP and Hall of Famer Frank Robinson. "I almost had to rope my knees to keep them from shaking," Bolin said. "The first pitch I threw, I threw it over the top of Frank Robinson's head. I thought I'd killed him."11
Most of the 1961 season came in relief. Baseball-Reference credits him with five saves, a hold, and a blown save; saves had not yet become an official statistic. His first of 88 career wins came on June 9 when he came on in relief in the top of the seventh inning. It wasn't a stellar performance. He closed out the seventh and started the eighth, before being replaced. Bolin struck out three Pirates, but the first batter had doubled, driving in an inherited run, and then scored himself on a single. In all, he walked two, and allowed one earned run on three hits. He got the win because the Giants scored six runs in the bottom of the seventh, leading them to a 9-6 victory. He grounded out in his only at-bat. This was the first of two wins he earned that season; the second one would come a little more than two weeks later when he went 1 1/3 innings against the Cardinals in the first game of the June 25 doubleheader, striking out none, walking two, and not giving up a hit. Again, he was in the right place at the right time, the pitcher of record when the Giants scored four runs in the top of the ninth to take a 6-4 lead. He finished 1961 with a 2-2 record and a 3.19 ERA.
He made only one start that season. It was a four-inning no-decision on July 28 against the Phillies. Bolin gave up only four hits, but two of those were home runs. He struck out three Phils, but walked six. He also allowed five runs, all earned, but the Giants prevailed, 8-5, in that game.
According to the 1999 book The Giants Encyclopedia, Bolin said, "I was never classified as a starter or as a reliever, so I mostly sat on a tarp between the bullpen and the dugout because I didn't know which one I'd be doing."12
His roommate with the Giants during spring training in 1961 was Billy O'Dell, a fellow South Carolinian. As of 2018, the two still talk to each other as they both live in South Carolina. Bolin resides in Easley, while O'Dell is a Newberry resident. Bolin said the two used to go bird hunting together, but no longer do.
Most of his time with the Giants during the pennant-winning season of 1962 was once again spent in the bullpen. He made five starts, and had two complete games. The first one was an 11-4 win against the Mets on the Fourth of July, while the second was 19 days later against the other expansion team, the Colt .45s. His final numbers were 7-3 with a 3.62 ERA. He was credited with six saves, two blown saves, and three holds.
1962 was a year in which the Giants and Dodgers held a three-game playoff to determine the winner of that year's N.L. pennant to go onto the World Series. The two teams had tied with each showing a 101-61 record. The Giants won the first game in San Francisco, 8-0 on October 1, but Bolin was tagged with the loss the next day in the second game, an 8-7 loss at Dodger Stadium. His leadoff walk to that season's MVP, Maury Wills, came back to bite the team. Dick LeMay, Perry, and Mike McCormick all came in to pitch, but Bolin was responsible for Wills being on base, having scored the walk off run on a sacrifice fly from Ron Fairly. The pennant would be decided the very next day in L.A.
Marichal started for the Giants that day, while the Dodgers countered with Podres. The Giants took a 2-0 lead in the top of the third, but the Dodgers got a run back in the bottom of the fourth, took the lead with two runs in the bottom of the sixth and tacked on an insurance run in the bottom of the seventh. The Dodgers had the Giants on the ropes with a 4-2 lead at Dodger Stadium going to the top of the ninth. However, the Giants scored four runs, and now it was up to Billy Pierce, who had been roommates with Bolin, to nail it down and give the team its first pennant since the move to San Francisco.
Pierce had a 1-2-3 inning, retiring Lee Walls to secure the pennant. Tommy Davis would have been the next batter if Walls had gotten on base, and Bolin said he was warming up and that he would've been brought in to face Davis. "I was so happy Pierce got that guy [Walls] out," Bolin said. 13
Bolin's first and only postseason appearance came in that year's World Series against the reigning and defending champion Yankees. He appeared in Games Three and Four. Bolin had a 1-2-3 bottom of the eighth in Game Three at Yankee Stadium, retiring Tony Kubek on a pop fly, Bobby Richardson on a fly ball, and he struck out Tom Tresh. The Yankees won, however, 3-2.
Game Four gave Bolin some difficulty even though the Giants pulled off a 7-3 win. He took over for Marichal in the bottom of the fifth and allowed back-to-back singles to the first two Yankees, before retiring the next three batters. He struck out Tresh again to begin the bottom of the sixth, but then gave up consecutive walks. After a fly ball retired Elston Howard, he allowed a pair of RBI singles to Bill Skowron and Clete Boyer. He was yanked for Don Larsen, who became the winning pitcher. That was the last World Series action Bolin saw.
He reflected on the famous final out of the World Series in Game Seven in which the Yankees won, 1-0, after Willie McCovey's liner to Richardson to end it with Felipe Alou and Willie Mays in scoring position for the Giants. "I see Bobby Richardson a lot, I see him every month or so, we're always talking about the line drive by McCovey," Bolin said. "I didn't figure they'd pitch to McCovey, I'd figure they'd walk McCovey with a man on second and third, but they ended pitching to him. They didn't want to pitch to Orlando] Cepeda who was coming up behind him. So they were scared of a wild pitch or something because Ralph Terry threw a lot of curveballs in the dirt. That was the theory behind letting McCovey hit. When he hit, I thought we had won. I jumped up, by the time I fell back on the bench, we had lost the game. It was all over." 14
The Giants remained competitive throughout the rest of the decade. Not once, however, did they return to the postseason. Bolin was establishing himself as both a starter and a reliever, enjoying a 10-6 record with a 3.28 ERA in 137 1/3 innings pitched in 1963, getting more appearances as a starter. San Francisco finished in third place that season, and had to watch the rival Dodgers sweep the Yankees in that World Series. Even though Bolin went 6-9 in 1964, his ERA was 3.25 in 174 2/3 innings. He threw five complete games and three shutouts that year.
The 1965 season delivered both a memorable pennant race and the first of a four-year trend for the Giants. San Francisco had as a lead as large as 4 1/2 games on the Dodgers in the pennant race in September that year. The Giants reeled off 14 straight wins in September 1965 from the 4th to the 16th. Yet the Dodgers went on a winning streak of their own. From September 16 through September 30, Los Angeles won 13 in a row, and their only loss the rest of the season was a 2-0 loss to the Braves on October 1. The Giants went 8-8 after September 16 to close out the year. It was the first of four consecutive seasons that the Giants would finish in second place for the National League pennant.
Bolin joked about combining with Mays to hit 53 home runs in 1965, with Mays hitting 52 of them. He did hit six career home runs as a pitcher, however. Two of them came in 1966. One of them was against Jim Owens of the Phillies in the first part of a doubleheader Aug. 14. The second was the latter game of a doubleheader, September 11, against Curt Simmons of the Cubs. All told, Bolin hit for a career .163 batting average (.232 on-base percentage).
San Francisco had finished two games back of the Dodgers in 1965 and 1 1/2 back of them in 1966. Bolin pitched 10 complete games and four shutouts in 1966 in a career-high 224 1/3 innings. It was the only time in his career that he surpassed the 200-innings plateau. The Cardinals ran away with the pennant in 1967 and 1968, finishing with 10 1/2 and nine games ahead of the second-place Giants, respectively. 1967 had been a year of regression for Bolin, making 15 starts and going 6-8 while posting a 4.88 ERA before his 1968 bounce back.
In December 1969, he was traded to the Seattle Pilots for Dick Simpson and Steve Whitaker. Clyde King was the new manager of the Giants in 1969, and Bolin had anticipated he'd be traded since he said he never saw eye-to-eye with King. This deal to the Pilots was before the move to Milwaukee. According to Bolin, he received a phone call from new manager Dave Bristol about the move, finding out he had been traded before the Giants let him know. It was not yet known until eight days before the season that the team was leaving Seattle and relocating to become the Milwaukee Brewers.
Bolin didn't even spend a whole season in Milwaukee. He went 5-11 with a 4.91 ERA with the Brewers. He was sent off to the Boston Red Sox in September 1970 for player to be named later, who turned about to be Al Yates, an outfielder who played all of 24 games in his major-league career in 1971.
Bolin spent the rest of his career in Boston until his retirement in 1973, recording 15 saves in his final year. He got the save in the final appearance of his career, a 3-2 home win against his old Brewers club on September 30.
Bolin went to spring training in 1974 with the team, but the Red Sox released him on March 26. "I just got in the car and left and I hadn't even gone back into a ballpark for about five years," 15 Bolin said in 2017.
He finished his career with a record of 88-75 with a 3.40 ERA and 51 career saves. Bolin owned a motor home, and went to go fishing in Montana after his release by the Red Sox. He said teams had offered him the opportunity to pitch in the minors until they found out which young pitchers they wanted to keep, but he declined the offers, having had enough of the minor leagues earlier in his career. "I went to Montana and caught trout, it was the best trout fishing you had ever seen," he said. Later on, he would start his own Amway company.
In 2018, Bolin still sees O'Dell, Richardson, and Perry on occasion. He also goes to church with former NFL coach Sam Wyche. Bolin also previously lived in Owasso, Oklahoma from 1975 to 1981 and has been in Easley, South Carolina ever since. He is the father of Brett Bolin and Donna Nations. Bolin has three grandsons: Nathan, Jacob and Blake Bolin, plus a great-granddaughter named Scout. He has been married to Irene White since 1958.
Last revised: May 31, 2018
Acknowledgments
Grateful acknowledgement to Bobby Bolin for his memories in a telephone interview with the author on November 26, 2017.
This biography was reviewed by Bill Nowlin and fact-checked by Kevin Larkin.
Sources
Articles
"Bobby Bolin." Historic Baseball – Baseball Profiles, Stats, and Team Info, www.historicbaseball.com/players/b/bolin_bobby.html.
Quinton, Suzanne, et al. "Robert Crisp: Former Amway Triple Diamond in Oklahoma." Online MLM Community, 4 July 2017, onlinemlmcommunity.com/robert-crisp-amway/.
Spigner, Steve. "Rock Hill Old-Timers Fling Memories around the Baseball Diamond during Annual Gathering," The Herald (Rock Hill, South Carolina), July 16, 2015, www.heraldonline.com/sports/article27428881.html.
Online
Bobby Bolin Baseball Stats by Baseball Almanac, www.baseball-almanac.com/players/player.php?p=bolinbo01.
www.baseball-reference.com/bullpen/Bobby_Bolin.
Baseball-Reference.com
"Bobby Bolin — Pitched for the Giants in the 1962 World Series," www.historicbaseball.com/players/b/bolin_bobby.html
"Emeralds Hall of Fame | Eugene Emeralds Club Information." Eugene Emeralds, www.milb.com/content/page.jsp?sid=t461&ymd=20100511&content_id=9964598&vkey=team4
Videos
Thomas, Robert. "YouTube Bob Bolin: Former Textile League & Major League Pitcher." YouTube Bob Bolin: Former Textile League & Major League Pitcher, May 4, 2013, www.youtube.com/watch?v=sSr18r8ckUL
Notes
1 Bobby Bolin. telephone interview with the author November 26, 2017
2 Ibid.
3 Ibid.
4 Ibid.
5 Ibid.
6 Ibid.
7 Ibid.
8 Ibid.
9 Eugene Emeralds Hall of Fame, milb.com
10 Bolin interview.
11 Ibid.
12 Tom Schott and Nick Peters, The Giants Encyclopedia (Champaign, Illinois: Sports Publishing, 1999), 130.
13 Bolin interview.
14 Ibid.
15 Ibid.
Born
January 29, 1939 at Hickory Grove, SC (USA)
If you can help us improve this player's biography, contact us.
https://sabr.org/sites/default/files/BolinBobby.jpg
600
800
admin
/wp-content/uploads/2020/02/sabr_logo.png
admin
2018-05-31 17:44:47
2020-04-09 14:40:19
Bobby Bolin