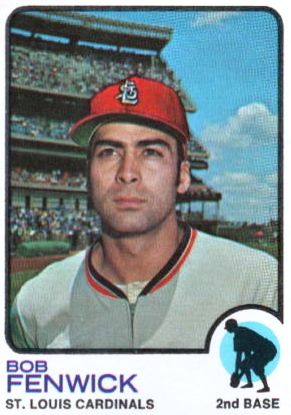 ---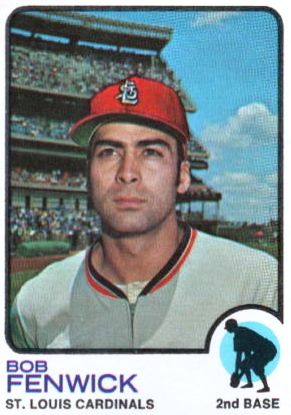 Born in Okinawa, utility infielder Bob Fenwick was the second American of Japanese ancestry in the majors. Like Mike Lum, who arrived five years before Fenwick, he was the son of a Caucasian father and a Japanese mother.[1] Fenwick himself told the story about a month before he made his big-league debut in 1972.
"My mother was of Japanese ancestry, but was an American citizen, born in Hawaii. She was sent by the government to Okinawa to serve as an interpreter. My father was a corpsman in the Navy and they were working in the same hospital and got married."[2]
Fenwick's time at the top level was brief: just 59 at-bats in 41 games during 1972 and 1973. He got just 10 base hits and the unflattering nickname "Bloop." At his best, though, he hit line drives – to the tune of .332 in 1971 at Triple-A Phoenix. His manager there, Jim Davenport, said, "Fenwick can be a pesky man at the plate."[3]
Robert Richard Fenwick was born on December 10, 1946, in Naha, which is Okinawa's main city. In fact, his mother, Miyoko "Mabel" Miyasoto, came from an Okinawan family. Within Japan, Okinawans are viewed – and view themselves – as a separate people and culture. The same held true in Hawaii, where 25,000 Okinawans emigrated between 1900 and 1924. Most of them labored on sugar and pineapple plantations.[4] Wally Yonamine, who became a Japanese Hall of Fame outfielder, is a classic uchinanchu success story.
Bob's father, James Fenwick, was from Minnesota. After the Navy discharged James, he returned home with Mabel (for whom Minnesota winters must have been a shock) and little Bob, who was about a year old. The Fenwicks had two other children, a son named John and a daughter named Elizabeth.
In 1958, after attending seminary school, James was ordained as an Episcopalian minister.[5] He was assigned to a church in Duluth; living there was a formative experience for young Bob. He talked about its impact in April 2010, during an interview with WTIP Radio of Grand Marais, Minnesota. Fenwick credited a man named Don Derbyshire, who sponsored a local organization called the Good Fellowship Club, for first getting him into baseball and learning the fundamentals. He also said, "Minnesota has a tremendous local baseball tradition." In addition, the Rev. Fenwick always encouraged Bob in his pursuit of a career in the game.
From 1960 to 1970, James Fenwick was pastor of Trinity Episcopal Church in Anoka, a town about half an hour north of Minneapolis. Bob starred at Anoka High School, where he also played football and basketball, even though he stood just 5'9" and weighed 165 pounds when fully grown. After hitting .409 as a senior, he won a scholarship to the University of Minnesota in 1964. The baseball coach at Minnesota then was Dick Siebert, whose major-league career spanned 1932 to 1945. "Siebert helped me a lot, especially on fundamentals," Bob recalled in 1973. [6] Fenwick emphasized Siebert's excellence even more strongly in the WTIP interview. "Even without outside practice, when we would go south to play Texas and schools down there, what I recall is that if we played 14 games, we would be 13-1. We were better equipped to know how to play the game than kids from California."
Fenwick said in 1973, "I hit .360-plus, good for No. 2 in the Big Ten, in my first year at Minnesota. But they [scouts] brought up that 'too small' matter." [7] The Chicago White Sox selected him in the 27th round of the June 1966 amateur draft, but he did not sign. As a result, he was eligible for the secondary phase of subsequent drafts. He hit .407 in his junior year, and the San Francisco Giants took him in the first round (16th pick) of the June 1967 secondary draft. "Unlike other coaches, [Siebert] encouraged me when I decided to leave school (after three years) and go into pro ball after I got a good enough offer (from the Giants)."[8]
Although Fenwick played shortstop in college, his preferred pro position was second base. In the WTIP chat, he called his first pro season in the Midwest League with Decatur, Illinois as "a step down from the University of Minnesota – the most miserable summer I have ever spent." It provided him with motivation – he was named the second baseman on the National Association Class A-East all-star team. Fenwick followed up his .279 hitting performance with a .271 average for Fresno in the high A California League. His 31 stolen bases ranked second in the league.
Fenwick skipped Double A and went to Phoenix for 1969. During his first two years at Triple A, he played on a big-league contract. Something else stood out in spring training, as he recalled in the WTIP interview. That was the imposing size of Cincinnati pitcher Wayne Simpson, who threw very hard before hurting his arm. "It looked like he was handing me the ball," Fenwick said.
At Phoenix, Fenwick split time with César Gutiérrez at second and short; Tito Fuentes was also in the mix for part of the year. Fenwick's batting cooled to .258 in 1969, but he lifted it to .311 in 1970 and .332 the following year. The most home runs he ever hit in a season was five, though. He said with a self-deprecating chuckle on the WTIP show, "I am a testament that strength makes a difference!"
The Giants had qualified backup middle infielders such as Bob Heise and Frank Duffy in those years, yet Fenwick never even got a September call-up. In 1972, he speculated that he fell out of favor in the organization because he had his worst game as a pro in a winter rookie league in front of the San Francisco brass. Charlie Fox, the manager of that squad, was embarrassed because he had given Fenwick his endorsement. As luck would have it, Fox became skipper of the big club in 1970.[9]
Fenwick was available in the Rule V draft in November 1971, and the Houston Astros – who had good scouting reports on Bob – picked him up. The Astros had traded Marty Martinez, needed a utility infielder, and viewed Fenwick's skills and attitude as a good fit.[10] In March 1972, Baseball Digest described Fenwick as a "dandy glove man anywhere in infield; almost sure to stick as utility man with Astros."[11] Indeed, the 25-year-old rookie spent the whole 1972 season on the big club's roster. However, playing time behind Tommy Helms at second and Roger Metzger at short was very scanty. He started just 10 games, appeared in 36 overall, and came to the plate just 53 times. Fenwick said on the WTIP show that the biggest difference between Triple A and the majors was the depth of top-quality pitching. He added that the defense was also superior – balls in the hole at short that might have been infield hits became outs instead.
In November 1972, the Astros traded Fenwick with Ray Busse to the St. Louis Cardinals for Skip Jutze and Milt Ramirez. He welcomed the trade because he liked Busch Stadium and the city of St. Louis, and because "I won't have to worry about facing Bob Gibson any more."[12] When talking to WTIP, though, he cited Steve Carlton as the toughest pitcher he ever faced in terms of sheer stuff.
That winter, Fenwick worked for a relative's business, hauling fuel oil to homes and schools in Anoka. He also worked out with another pro from Anoka, catcher Greg Dehn. Fenwick made the Cardinals roster during spring training 1973. He said, "I feel that if I play enough, I should hit around .270 or so and get on base a lot. Tell Ted Sizemore not to get fat or slow down, or else…"[13]
Fenwick appeared in only five games, however, before the Cards sent him down to Triple-A Tulsa in May. That June 12, the St. Louis organization released him – but he returned to the Astros chain as a free agent. After he spent a little less than a month at Triple-A Denver, the Astros in turn cut Fenwick loose. Again he hooked on with an NL team's top farm club; this time it was with Wichita in the Chicago Cubs system.
After the 1973 season, the Cubs sent Glenn Beckert and Fenwick to the San Diego Padres for Jerry Morales. Fenwick was assigned to the Hawaii Islanders, then San Diego's Triple-A club. Previously he had noted, "I was big in Hawaii when I played there in the Coast League. Every time I did something, I'd get big headlines about 'Okinawan did this or that.'"[14]

Fenwick retired after playing just 52 games in Hawaii behind Dave Hilton at second and Héctor Torres at short. He then returned to Minnesota; as of 1973, he and his first wife, Linda, had three sons named Todd, Scott, and Chris.[15] Since at least 2000, Fenwick has been living in Grand Marais, a village on the shore of Lake Superior in Minnesota's far northeastern region, the beautiful Boundary Waters wilderness area. He and his second wife, Jennifer Anderson, had two sons named Jeff and Lucas; he also had a stepson, Jeremiah.
Fenwick served for several years as a Cook County commissioner, and as of 2007 was also President of the Association of Minnesota Counties. In August 2010, however, he lost his seat as commissioner in a primary election. He remained manager of a local forest products company, Sawtooth Lumber. In April 2011, however, he became general manager of the Superior National Golf Course in Tofte, about 20 miles down the shore of Lake Superior from Grand Marais. He remains a member of the Cook County Community Center Steering Committee.

Fenwick kept involved with baseball to a degree, largely as a local umpire, though he told WTIP that the sport's grip on him loosened over a period of several years because it was not part of his day-to-day working life. As of 2010, he didn't watch the game as much as he used to, but he still watched the playoffs intently and enjoyed guessing along with the managers.
In his mid-sixties, Bob Fenwick retained many pleasant memories of the majors. They started with seeing Willie Mays, Willie McCovey, and Juan Marichal in the locker room at his first big-league spring training. Having the locker in between Joe Torre and Tim McCarver in St. Louis was another highlight. He also distinctly recalled how his career was on the cusp of change – for example, he voted against the strike of 1972 and admitted to mixed emotions about the impact of money on the game. Overall, though, he said without hesitation, "I wouldn't have traded it for anything. My dream was to be a Luis Aparicio, and I was lucky enough to achieve at least a part of that."
Updated on January 18, 2017
Sources
Bob Fenwick's personal blog: http://bfenwickhistory.weebly.com/index.html
Bob Fenwick interview with WTIP Radio in Grand Marais, April 25, 2010:
http://www.wtip.org/drupal/content/former-mlb-player-bob-fenwick-talks-baseball
Wilson, John. "Astros See Useful Man in Fenwick." The Sporting News, March 18, 1972: 46.
Russo, Neal. "Cards' Fenwick Swings Strong Bat." The Sporting News, January 6, 1973: 38.
James Fenwick obituary, www.abcnewspapers.com, January 9, 2009.

Topps 1973 baseball card, #567
---
Born
December 10, 1946 at Naha, Okinawa (Japan)
If you can help us improve this player's biography, contact us.
http://bioproj.sabr.org/bp_ftp/images4/FenwickBob.JPG
600
800
admin
/wp-content/uploads/2020/02/sabr_logo.png
admin
2012-01-04 20:09:30
2012-01-04 20:09:30
Bobby Fenwick