---
Few Major League players were traded as often as pitcher Louis Norman "Bobo" Newsom. The name Bobo came about because Newsom never could or would remember anybody's name, so he called everyone Bobo and thus earned that nickname for himself. Barrel-chested, standing six-foot-three and weighing more than 200 pounds, the colorful right-hander was talkative and swelling with confidence. He would brag, "Ol' Bobo is on the mound today and you can put it in the win column." Yet for all his gruffness and posturing, Newsom was a sentimental and kind-hearted guy who just wanted to be loved by the fans and his teammates.
He was 211-222 in his twenty-year Major League career, one of only two pitchers who won more than 200 games but finished with a losing record.1 Many of those losses came from pitching for poor teams like the Philadelphia Athletics, the St. Louis Browns, and the Washington Senators.2 Newsom had five different stints with the Senators. He boasted that he had more terms in Washington than President Roosevelt.3 The well-traveled Newsom also won 146 games and lost 112 in the minor leagues.
When Bobo started a game, he was determined to go the distance no matter what. On May 28, 1935, a third-inning line drive by Cleveland's Earl Averill broke his left kneecap. When Washington manager Bucky Harris reached the mound, Newsom said, "I think it's broke." Harris asked Bobo if he should take him out of the game. "You kidding me? I said it was broke, I didn't say I was dead." Bobo continued to pitch and after every inning would say, "It's broke" His teammates laughed at him, assuming it couldn't be broken because he wouldn't be able to stand up if it was. Following the Senators' 5–4 loss, Newsom was hobbling around the lobby of the hotel, still insisting his kneecap was broken. Finally he went to get an X-ray, and it was indeed "broke."
Newsom was the starter in the 1936 home opener at Griffith Stadium. President Roosevelt was in attendance to throw out the first ball. In the fourth inning of the scoreless game, third baseman Ossie Bluege's throw struck Newsom's jaw. Bluege had made a sensational play, and Bobo was so transfixed he forgot to duck. In true Bobo fashion, he gritted his teeth and completed the game for a win. Newsom, who often spoke of himself in the third person, said: "When the president comes to see Ol' Bobo pitch he ain't gonna let him down."
Newsom always felt the need to express his feelings, often to his detriment. In 1943, when he was with the Brooklyn Dodgers, he had a run-in with manager Leo Durocher. The cause was a difference of opinion between the two over a pitch Newsom threw to Vince DiMaggio. Leo wanted the pitch high and inside. Newsom threw what he considered a high and inside pitch. Leo did not concur. After much debate about the merits of the pitch, Newsom finally said, "With two balls and one strike on the hitter and a man on first base you want me to throw a ball that isn't close to a strike. Why don't you just walk the guy and save time? If you want me to pitch that way, I don't know anything about the racket." Leo disagreed, and the arguing continued until Leo said, "You're suspended for the season." "What the hell for?" asked Newsom. "I haven't cussed you or gone against your orders. You know you can't suspend me for the season and make it stick."4
Newsom's teammates threatened to go on strike unless he was reinstated. The usually reserved and gentlemanly Arky Vaughan was so upset by the argument and subsequent suspension that he rolled up his uniform, handed it to Durocher, and told Leo to shove it up his ass. With the rest of the team ready to walk out in support of Newsom and Vaughan, Durocher relented and Newsom was reinstated.
But despite his bragging, Newsom was always ready to lend a helping hand. According to Hank Greenberg, Newsom was unfailingly kind to rookies, even treating them to dinner occasionally. Bobo, however, was shrewd in contract negotiations, at times gaining an outright release so he could bargain with other teams.
Like many baseball players, Newsom had his superstitions. On his way to the mound, he would scoop up a handful of dirt on the foul side of the first-base line and another on the fair side. The rosin bag had to be one foot behind the mound. When he ended an inning, he would place his glove just five feet outside the foul line and forbid anyone to touch it. The mound had to be completely devoid of paper scraps; Bobo would meticulously pick up any that were there. Players on other teams picked up on that and would strew bits of paper on the mound.
When Newsom was slated to work, umpires had to be ready for frequent debates about pitch location. One night in Cleveland, Bobo had a 2–1 lead and was pitching to Lou Boudreau when he tossed up a blooper pitch. Umpire Bill Summers called it a ball, and Bobo, in a huff, arrived at home plate shortly after the pitch. Summers was not in the mood to debate with Bobo and said to him, "Scram," whereupon Newsom screamed, "Scram! I ain't even had time to unwrap a cuss word."5
Newsom was born in Hartsville, South Carolina, on August 11, 1907, to Quilline Bufkin Newsom, a farmer, and the former Lillian Holmes Hicks. (Bobo's mother was killed in a car accident in December 1924 when he was just seventeen. His father remarried shortly thereafter.) Buck, as young Louis was known in the family, had two sisters and two older brothers, one of whom died in childhood. Along with his siblings, Buck helped on the family farm in nearby Swift Creek, but his goal was to become a ballplayer. He played shortstop on the Hartsville High School team. As captain, Newsom decided one day he would relieve the pitcher, thus starting his pitching career. From Hartsville High, he went to Carlisle Prep School in Bamberg, South Carolina.6
Newsom began his professional career in 1928 with the Raleigh (North Carolina) Capitals of the Class C Piedmont League. After losing his only five decisions, he went to Greenville in the Class D East Carolina League where he was 15-6. Newsom's 19-18 record and 3.87 ERA with the 1929 Macon (Georgia) Peaches in the Class B Southern Association led to a late-season call up to the Brooklyn Dodgers. He made his big league debut on September 11, 1929, going seven innings in a 4–2 loss at Cincinnati's Redland Field. Four days later, he lasted just two-thirds of an inning in a losing start at Wrigley Field against the pennant-bound Cubs. Newsom got one more opportunity to pitch for Brooklyn, losing in relief to the Philadelphia Phillies. His ERA for the Robins was a hefty 10.61 to go along with his three losses.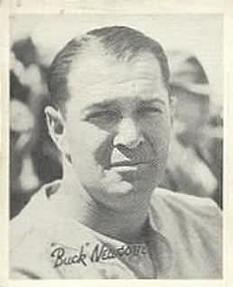 Over the next three seasons, Newsom appeared in two games for Brooklyn in 1930 and one game in 1932 with the Cubs. It all came together for him with the Los Angeles Angels of the Pacific Coast League in 1933, where he went 30-11 and posted a 3.18 ERA. Obtained by the St. Louis Browns in the Minor League draft, he was 16-20 with the sixth-place Brownies in 1934, while leading the league in losses and walks. On September 18, he pitched a nine-inning no-hitter against the Boston Red Sox only to lose, 2–1, on a hit in the tenth inning.
In 1935, Newsom joined the Washington Senators for the first time. On May 7, Washington owner Clark Griffith paid $40,000 for Newsom, despite his 0-6 record with the Browns. Buck had a 28-27 record with the 1935–1936 Senators, and he was 3-4 in 1937 when he was traded to the Red Sox on June 11. Despite winning thirteen games for Boston in just over half a season, the Red Sox traded him to the Browns that winter.
Newsom won twenty and lost sixteen, with a 5.07 ERA for the 1938 Browns, while leading the league in innings pitched, games started, and complete games. He was only the second major-league pitcher to win twenty games with an ERA over 5.00.7 Newsom repeated as a twenty-game winner in 1939. He was 3-1 for St. Louis, and 17-10 following a May 13 trade to the Detroit Tigers. The following season, the Tigers won the pennant by one game over the Cleveland Indians. Bobo had the best year of his career, going 21-5 with an ERA of 2.83.
But tragedy struck Newsom after he defeated Cincinnati, 7–2, in the first game of the 1940 World Series. His beloved father had a heart attack after watching his son pitch, reportedly for only the second time, and died the next morning in his Cincinnati hotel room.8 While his family began the solemn trip back to Hartsville, Newsom remained behind and pitched Game Five, shutting out the Reds, 8–0, on just three hits. With the Series tied at 3-3 Bobo pitched the final game, on one day's rest, but lost, 2–1, to Paul Derringer.
In 1941, Bobo arrived at spring training at Lakeland, Florida, in a flashy new car that had a horn playing "Hold That Tiger" and a sign that flashed "Bobo." But the '41 season was not as good for the Tigers as the previous one. Hank Greenberg was in the Army, and the offense scored 200 hundred fewer runs than they did in 1940. Bobo won only twelve while losing twenty.
Newsom's 1941 salary was $45,000, so he was very unhappy to receive a contract that called for a $22,500 cut in pay from Tigers general manager Jack Zeller. That same year, 1941, Commissioner Kenesaw M. Landis had freed ninety-one minor leaguers from the Tigers farm system because of illegal dealings by the front office. Newsom said to the bald Zeller, "Hell, Curly, you lost ninety players and I don't see you taking no pay cut."9 Zeller sold Bobo to the Senators before the 1942 season began, and in August, Washington sold him to the Dodgers.
Dodgers president Branch Rickey traded Newsom to the Browns after the Durocher fracas, and before the 1943 season ended, he was back with Washington again. Traded to Philadelphia in December, he went a combined 21-35 for Athletics in 1944 and 1945. He was released in June 1946 and immediately went back to Washington. On July 11, 1947, the Yankees purchased Newsom's contract from the Senators; he won seven games with a 2.80 ERA for the pennant-bound New Yorkers.
Bobo started Game Three of the World Series against Brooklyn, but he lasted only only 1⅔ innings and took the loss. Newsom made his last World Series appearance in Game Six, pitching 2/3 of an inning of scoreless relief. The winning Yankees awarded him only a three-quarter share of the World Series money. When he went to a jeweler to get his ring made, he said, "Just make it three-quarters size, that's all I'm worth in this city."
After the Yankees released him, Newsom signed with the New York Giants in April 1948. Released again in June, he played three years in the Class Double-A Southern Association posting a 46-40 record in 102 games. Back in the majors in 1952, at the age of forty-four, he made his final stop with the Senators, lasting ten games before being traded to the Athletics. Retirement finally came in 1953 at the age of forty-six.
Newsom's marriage to Bessie Lucille (Arant) Newsom in Chesterfield, South Carolina, on February 17, 1927, ended in divorce. The couple had two children, Norma Jean and Alan. Newsom was married for a second time to Kay Griffiths. Kay was born Ruth Griffith. She had adopted the stage name Kay when Newsom met her singing at the Wardman Park Hotel in Washington, D.C.
In 1948 Newsom bought and ran a drive-in diner, complete with girl carhops on roller skates. He eventually retired to Winter Park, Florida. He died on December 7, 1962, from cirrhosis of the liver in an Orlando sanitarium. His wife, Kay, daughter Norma Jean Nicolai and son Alan survived him. Newsom was buried in Magnolia Cemetery in his hometown of Hartsville.10
Acknowledgments
The author is indebted to Tallulah Williams, cousin of Newsom, for e-mails and printed material about Newsom.
Sources
Addie, Bob. "Bobo Newsom, 55, Succombs in Orlando." Washington Post, December 8, 1962.
Coffin, Tristram P. The Old Ball Game: Baseball in Folklore and Fiction (New York: Herder and Herder, 1971).
Idea Logical Company. BaseballLibrary.com. Accessed May 20, 2011. http://www.baseballlibrary.com/homepage/
Light, Jonathan Fraser. The Cultural Encyclopedia of Baseball (Jefferson, NC: McFarland, 1997).
Neft, David S., Richard M. Cohen, and Michael L. Neft. The Sports Encyclopedia: Baseball (New York: St. Martin's, 2000).
New York Times. "Bobo Newsom, Colorful Pitcher for 24 Years, Dies in Florida." December 8, 1962.
Ross, Mike. "Hank Greenberg & Bobo." The National Pastime: A Review of Baseball History #22 (Cleveland, Ohio: SABR, 2002), 124–28.
Shatzkin, Mike, and Jim Charlton, eds. The Ball Players. (New York: William Morrow, 1990).
Smith, Red. Red Smith On Baseball. (Chicago: Ivan R. Dee, 2000).
Notes
Born
August 11, 1907 at Hartsville, SC (USA)
Died
December 7, 1962 at Orlando, FL (USA)
If you can help us improve this player's biography, contact us.
http://dev.sabr.org/wp-content/uploads/2012/01/NewsomBobo.jpg
600
800
admin
/wp-content/uploads/2020/02/sabr_logo.png
admin
2012-01-04 20:39:04
2022-05-17 12:56:48
Bobo Newsom