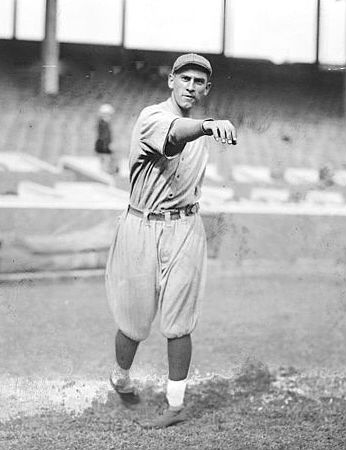 ---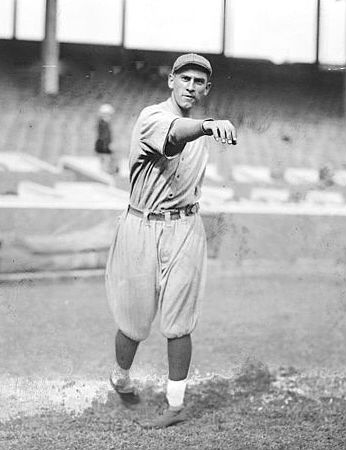 Bruno Betzel had a $7,000 contract to manage the Montreal Royals in 1945. He saw only about $3,000 in take-home pay, though. Dissatisfied with the situation, he resigned. At the baseball convention in Columbus, Ohio, he was offered a managerial job for $6,000. As he pondered that offer, he met Carl Hubbell, who offered him a $10,000 salary to manage Jersey City in the International League. Betzel accepted Hubbell's offer. In a matter of hours, Betzel had earned more money than he had taken home in 1945.1 Leaving the Dodgers' system was a financially sound move, but it cost Betzel — a major-leaguer from 1914 to 1918 — a place in history as Jackie Robinson's Montreal manager.
Christian Frederick Albert John Henry David Betzel was born on December 6, 1894, in Chattanooga, Ohio. The six names were from his uncles who each insisted on being included. In baseball he was known as Bruno; in everyday life he went by Albert. The nickname of Bruno came from a St. Bernard that followed him around as a child.2 He was the first of seven children born to Heinrich (aka Henry) and Sarah Anna (Kessler) Betzel. The parents were both first-generation Ohioans of German Lutheran descent. Six of the children survived into adulthood.
Chattanooga was near the Ohio-Indiana border in Mercer County in west central Ohio. The area was always a major farming region but Henry Betzel did not farm. Over the years he worked as a day laborer, teamster, ice-truck driver, fireman, and security guard. (He labeled it "police" on the census report.) The nearest town of any size was Celina, and Betzel attended school there, completing two years of high school. His name started to appear in newspaper reports about baseball games in 1910 when he was a mere 15. The town had two teams in a varsity- and junior varsity-type arrangement. Betzel played on the younger team until an opening occurred with the top club. He moved up and was expected to play third base, but quickly won the shortstop job.3
Betzel gained a reputation as a swift runner and fine fielder. In July 1911 he left the Celina team for a week and joined the Chillicothe Infants in the Class D Ohio State League. He played five games in the outfield and batted in the bottom of the order. The Infants released him when he "was found wanting"4 after going 4-for-19 overall and making two errors in his final game. He returned to Celina and played into October with the town team.
Betzel kept in shape over the winters by playing basketball. He also worked at odd jobs, including being a bootblack. In March 1912, he was listed as one of seven outfielders on the Chillicothe roster. The Infants released him to the Bristol, Virginia, Boosters in the Class D Appalachian League. Playing for Red Munson, he was a fixture at second base and batted at the bottom of the order.
The Boosters won the regular season, but dropped a postseason series with second-place Knoxville. Betzel's hitting was .164 at midseason and he pulled it up to .185 by the end of the campaign. Nevertheless, he had drawn attention from scouts. "Betzel is a corking good player. He is short (5-feet-9 and 158 pounds), well made, hits hard and covers a world of ground at second base."5 Betzel returned to Bristol in 1913. The team had lost pitchers Nick Cullop and Roy Walker and floundered, but Betzel excelled. He raised his batting average to .289 and had 36 extra-base hits in 377 at-bats.
Betzel's performance earned him an invitation to spring training with the Columbia Comers of the South Atlantic (SALLY) League. They trained in the Tampa area and Betzel easily won a starting spot at second base. He batted in the middle of the order, stole 43 bases and hit a sparkling .312 in 123 games. On June 2 he was purchased by the St. Louis Cardinals for $1,100 based upon a recommendation from Bob Connery. The purchase stipulated that Betzel would join the team at the end of his minor-league season.
Betzel reported to the Cardinals on September 3 and was used as a pinch-hitter for Walton Cruise in the seventh inning. He fouled out to the catcher, then went to second base. He made six more appearances that fall. He scored his first run on September 23 in a 9-0 blowout of the Giants; then made two starts at second base versus the Cubs to end the season. He was hitless in nine at-bats, but did score both times he walked. In November Betzel picked up an extra paycheck. He filed a complaint against the Cardinals for not paying him for travel costs from Columbia to St. Louis. The team settled by giving him two extra days' pay. Years later he brought a claim against Louisville, which fired him in midseason. He appealed to the National Association, the minors' governing group, and was awarded $1,000.6
Betzel joined manager Miller Huggins and the Cardinals in San Antonio for spring training in 1915. As a rookie in a crowded infield situation, he saw very little action on the field. Miller Huggins was in his final season at second, Zinn Beck had won the third base job in 1914, and shortstop was handled by Rolla Daringer and Art Butler.
Betzel sat and learned. He made 10 brief appearances in April and May, finally getting his first major-league hit against the Giants on May 28. Injuries were hitting the team; Beck had a bad knee and Huggins was also laid up. Betzel was sent in to replace Beck on June 1 and responded with two RBIs in a 4-2 win over Cincinnati. Betzel held the job until late June when, even though he was riding a four-game hit streak, he was benched for Beck's bat.
Beck and Betzel would share third the remainder of the season. Beck was considered the superior hitter and supposedly ran the bases better than Betzel. Betzel had the edge in fielding because he "is like a rat terrier after groundballs and nothing gets by him."7 Betzel saw the most action at third that year and his statistics were far better than Beck's in batting average and stolen bases. Betzel closed with a .251 batting average, his best in the majors. The Cardinals finished in sixth place.
Now 21 years old, Betzel went to camp in the spring of 1916 as the heir to Miller Huggins at second base. He and Bob Bescher would split the leadoff duties formerly held by Huggins. The team also welcomed 20-year-old Rogers Hornsby who took over the job at third base. The Cardinals dropped to seventh. Betzel made 40 errors and batted .233 while leading the team in strikeouts with 77. That winter he married Radie May Stemen on November 14 in Celina. The couple would make Celina their permanent residence. They had two children, Albert and Betty.
Betzel opened the next season as the second baseman, but was relieved of full-time duties in June. He became a utilityman, seeing action at second, third, and the outfield. Not only was he uncertain where, or if, he would play, but he was bounced around the lineup, appearing everywhere but ninth. His batting average dropped to .216 and he produced only eight extra-base hits. One of those long hits was a Fourth of July home run in Pittsburgh that helped cement the 4-1 win.
The Cardinals finished third in 1917, but Huggins was tired of the frugal front office and moved on to the Yankees. Jack Hendricks was hired away from Indianapolis to lead St. Louis. In training camp, the coaching staff determined that they had enough offense that a top hitter at second base was not necessary, they could get by with a gloveman. Betzel and Bert Niehoff emerged as the top candidates. Betzel played second on Opening Day, but after that Niehoff played the keystone and Betzel played right field. By mid-May both men were in deep slumps and batting close to their weights. Niehoff was sent to the Giants along with his .179 average. Betzel went to the bench when his average dropped to .111.
Hendricks had seen enough and sent Betzel to Indianapolis. His bat came alive against Double-A pitching; he batted.366 in 18 games, mostly at shortstop. On June 4 Betzel had a single, a home run, and four RBIs in a 5-3 win over Louisville. The Cardinals recalled him on June 21. He served as a pinch-hitter for a month before being given the third-base job. Bob Fisher was brought in to play second and batted .317 the rest of the way. Betzel finished the season batting .222 while the Cardinals finished in eighth place.
Branch Rickey took over as the Cardinals manager in 1919. He sent Betzel and pitcher Dixie Davis to Louisville for catcher Verne Clemons. Betzel spent the next eight seasons with Louisville. The Colonels won pennants in 1921,1925, and 1926. Not surprisingly, those titles correspond to big offensive seasons by Betzel. He had 20 triples and hit .313 in 1921. In the other two title years, he batted .312 and .322. In 1920 he had a 19-game hitting streak that started on June 6. It was stopped by pitcher Dave Danforth of Columbus.
After the 1920 season, Betzel went to Cuba and played for the Marianao team He took May and young Albert along. He played mainly the outfield while Charley Dressen and Mark Koenig covered second and shortstop. Betzel posted a .244 batting average.
By virtue of their three pennants, the Colonels played in three Little World Series. Betzel missed the 1921 postseason because he had broken bones in his ankle and leg in a game on August 10 against Toledo. Louisville rallied to win the last three games to take the title five games to three from Baltimore. In 1925 the Colonels won the first two contests at home, but then dropped five of the next six. Betzel fielded well and went 8-for-26 at the plate. In 1926 Toronto furnished the opposition. On the final day of the season, the Colonels played St. Paul and Betzel injured his wrist in a collision. He was able to play in the series opener, which Toronto took 2-0 on the way to a five-game sweep. The players' share from these series was a nice addition to Betzel's bank account.
Betzel's career took a major turn in December 1926. His appointment to succeed Donie Bush as player-manager of the Indianapolis Hoosiers met with widespread approval. He was praised as a "fighter and hustler" and regarded as the backbone of the Louisville teams. It had been speculated that when manager Joe McCarthy left Louisville, Betzel would succeed him, but the job went to catcher Billy Meyer. Showing his class and teamwork, Betzel never let the situation be an issue.8
The Hoosiers were an aging, veteran ballclub led by 38-year-old Reb Russell, who led the league with a .385 batting average. The only youngsters Betzel had to develop were outfielder Fred Brickell, infielder Rabbit Warstler and pitcher Steve Swetonic. The team struggled to a sixth-place finish far behind Toledo.
The following year, Betzel led the Hoosiers to the pennant. Warstler played like a demon at shortstop, Fred Haney took over at third base. Bud Connally moved in at second base, allowing Bruno to concentrate on managing. Swetonic matured into a 20-game winner and Emil Yde joined the pitching staff and contributed 19 wins. The Hoosiers captured the Little World Series by winning five of seven games against Rochester.
Success has its drawbacks. Haney, Swetonic, and Yde all moved up to the majors in 1929. The Hoosiers finished in fourth place, but played below .500. Betzel was replaced by Red Corriden and took the managerial post with Topeka in the Western League. Betzel had his work cut out with the Senators. The franchise was coming in from Tulsa and there were only six players retained. Betzel did sign 23-year-old Debs Garms and Tot Pressnell as well as 22-year-old Fabian Kowalik. The makeshift roster finished in seventh place.
Over the winter Betzel applied for various managerial positions. He made a serious attempt to land the job at Peoria, but Chick Fraser became manager of the Tractors. Betzel returned to the playing field in the semipro K.I.O. League with the Richmond (Indiana) Blue Sox. He played mostly second base.9 When the Louisville manager's job came open in 1932, Betzel was selected to lead the Colonels.
Betzel spent the next three seasons with Louisville. They finished last in 1932, moved up to tie for fifth in 1933, and were in the second division when he was replaced by Ken Penner in 1934. Overall, he had a 166-218 record with the Colonels. He did help develop two youngsters: Johnny Marcum and Goody Rosen. In 1946 the Louisville Recreation Department decided to name its youth leagues after former Colonels players. Betzel had a league named for him, as did Marcum and Ben Tincup from the 1920's squads.10
It was late March 1935 when Betzel signed on to manage the Fort Wayne (Indiana) Chiefs in the Three-I League. The following year found him at Allentown in the New York-Pennsylvania League. The Brooks were a Brooklyn farm club and Casey Stengel liked the way Betzel handled a team. Allentown produced a 71-68 mark and Betzel was moved up to Brooklyn's Elmira club, also in the NYPL. The Colonels took the crown and then won the playoffs over Wilkes-Barre.
The New York Yankees inked Betzel to manage Binghamton in the Eastern League. He had three winning seasons with the Triplets and guided them to two playoff appearances. In 1940, led by Pete Suder, they defeated Hartford in the championship series.
The Brooklyn Dodgers reassigned Betzel to Durham in the Class B Piedmont League for the next three seasons. In 1941 he was blessed with five .300 hitters, including batting champion Jack Burman, and pitcher Ed Albosta, who led the league in ERA. They finished in first place and won the playoffs handily.
Unlike his years in Double A, Betzel's rosters in the Piedmont League were populated with youngsters. He had seven teenagers on the 1942 squad that finished in fifth place. He was given a whole new crop of youngsters in 1943, including Rex Barney and Gene Mauch. The team limped to a last-place finish with a 44-86 record, the worst mark of Betzel's managerial career.
Managing during the war years was tough. At any moment a draft board could take away your best player, not to mention that the talent pool was already severely depleted. The Dodgers moved Betzel up to Montreal of the International League for 1944. The Royals struggled in 1944, but Betzel put together an excellent roster for 1945. Montreal native Jean-Pierre Roy led the pitching staff; 43-year-old catcher Al Todd gave Betzel all he had left and caught 114 games while hitting .273. 20-year-old Big Ed Stevens supplied power and another Montreal native, Roland Gladu, batted .338. Betzel and Gladu might have had fun comparing birth certificates because the Canadian was christened Joseph Albert Rolland Edouard Gladu, coming in just two names short of Bruno. The Royals took the regular-season crown, but lost to the Newark Bears in seven games in the championship round.
Displeased with his pay north of the border, Betzel signed with the Jersey City Giants. Gabby Hartnett had resigned over frustration from constant roster manipulation by the Giants. Betzel had no idea what was coming. In 1945 Hartnett had 37 total players come through the locker-room doors. With players returning from the war, Betzel welcomed 64 players to the team. Few of that crowd would have much impact in major-league circles. He had a much smaller and more talented team the next season and guided them to the best record in the league. They were swept in the first round of the playoffs by Buffalo.
The 1948 Giants took on a more youthful tone. Hub Andrews was Betzel's only 10-game winner to remain and his powerful hitters were moved into the majors. The result was a second-division finish. Betzel scouted in 1949 before returning to the dugout in 1950 with the Syracuse Chiefs. The Chiefs missed the playoffs in 1950, but reached the finals in 1951 before losing to Montreal. They lost in the first round the following year.
Betzel had one final season as a manager, 1956, when he guided Toronto into the International League finals. The Maple Leafs lost to Rochester in seven games. Thereafter Betzel scouted for Cleveland, Kansas City, the Dodgers, and the Yankees. As a Yankee scout he was watching Steve Bilko, who one night checked his swing "to about one-eighth power" and hit a single that "was harder than anything I ever saw hit in my playing career."11 Betzel scouted until 1960, using his Celina home as his base. In his free time, he was an avid fisherman and hunter. He was known to donate his catch/prey to local orphanages.
At some point Bruno and May became snowbirds. They spent the summers in Celina and the winters in Florida. While on vacation in 1965, he was admitted to the hospital with a perforated ulcer, and he died on February 7, 1965, in West Hollywood, Florida. His body was returned to Celina for burial in the North Grove Cemetery. May died in 1978. She was buried beside Bruno. At her death the couple had nine grandchildren and eight great-grandchildren.12
Acknowledgments
This biography was reviewed by Len Levin and fact-checked by Kevin Larkin.
Notes
1 Raymond Johnson, "One Man's Opinion," The Tennessean (Nashville), December 11, 1945: 16.
2"Betzel Doesn't Have to Make a Name for Himself; His Parents Provided Him Six," St. Louis Post-Dispatch, April 9, 1916. Additional family info can be found at http://karinmillerbennett.com/betzel/tombstone-tuesday-albert-bruno-may-r-betzel/.
3 The Celina Democrat covered the town's games against competition as far away as Dayton.
4 "Around the Circuit," Chillicothe Gazette, July 25, 1911: 3.
5 "Nashville May Get a Star Second Sacker From Bristol," The Tennessean, September 22, 1912: 8.
6 " 'Bruno' Betzel Is Awarded $1,000," Indianapolis Star, January 12, 1935: 12.
7 "Betzel Making 'em Set Up," Celina Democrat, June 11, 1915: 2.
8 Manning Vaughan, "Putting Them on the Pan," Milwaukee Journal, December 3, 1926: 25.
9 "Richmond to Tangle With Middletown Here Sunday," Richmond (Indiana) Palladium-Item, June 6, 1931: 8.
10 "Audubon A.C. Wins Over Douglas 16-0," Louisville Courier-Journal, June 29, 1946: 14.
11 Rochester (New York) Democrat and Chronicle, September 19, 1949: 28.
12 May's information comes from the Karin Miller Bennett website.
Full Name
Christian Frederick Albert John Henry David Betzel
Born
December 6, 1894 at Chattanooga, OH (USA)
Died
February 7, 1965 at West Hollywood, FL (USA)
If you can help us improve this player's biography, contact us.
https://sabr.org/sites/default/files/Betzel%2C%20Bruno.jpg
600
800
admin
/wp-content/uploads/2020/02/sabr_logo.png
admin
2018-02-15 15:27:01
2020-04-09 14:40:23
Bruno Betzel