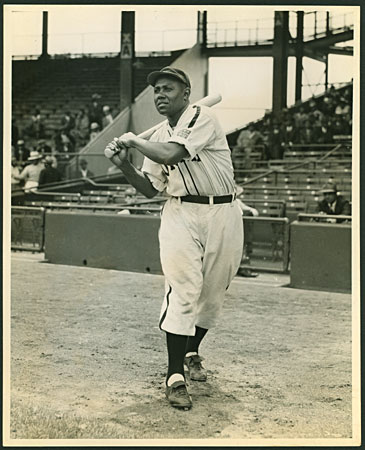 ---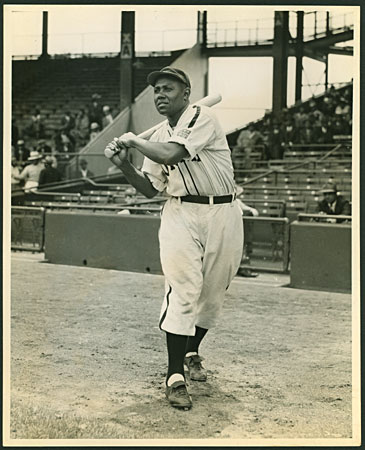 Negro league fans called him "the black Lou Gehrig," putting Buck Leonard in pretty lofty company. It didn't hurt Buck that he followed Josh Gibson, "the black Babe Ruth," in the Homestead Grays' lineup. Was Buck Leonard the equal of Gehrig as a first baseman and hitter? He probably was a better first baseman than the Iron Horse, having acquired a reputation for being very good around the bag, whereas Lou was essentially adequate. Was he the hitter that Gehrig was? Probably not. Leonard's .328 batting average and .532 slugging percentage (as listed in The Baseball Encyclopedia) are impressive, but he's a dozen points behind Gehrig in average and an even hundred short in slugging. More recently, Lawrence Hogan calculates his numbers a bit lower, at .320 and .527. Leonard was an excellent hitter, but Gehrig was in a class almost by himself. Leonard conceded as much when he said, "I considered it an honor to be called the Black Lou Gehrig, but I didn't think I ever measured up to it."1 Moreover, while Buck often faced exceptional talent, it wasn't always major-league caliber. As men of dignity and universal respect, however, Gehrig and Leonard are, in essence, twins.
Walter "Buck" Leonard's road to the Baseball Hall of Fame was no cakewalk. He had to leave the public school system at age 14 because where he lived there was no school for African American boys at the high school level. For the next 12 years until he was 26, he worked as a mill hand, shoeshine boy, and finally shop worker for the Atlantic Coast Line Railroad, from age 16 "putting brake cylinders on boxcars for a railroad shop."2
Buck Leonard was born in Rocky Mount, North Carolina, on September 8, 1907. His father John was a railroad fireman and his mother Emma Leonard (née Sesson) a housewife. Buck Leonard was one of six children, including three sisters (Fanny, Willa, and Lena) and two brothers (Herman and Charlie). His family was religious and attended church every Sunday. Buck wasn't able to go to church as often as he wished while playing baseball, but after his retirement he again became a faithful church-goer every Sunday. Leonard got his nickname "Buck" from his younger brother Charlie. Leonard's parents nicknamed him Buddy, but Charlie had trouble pronouncing Buddy and called him Bucky.
John Leonard died in 1919 from the virulent influenza that came at the end of World War I. After the funeral, Buck's mother told him he would have to get a job after school to help support the family. There were both black and white hosiery mills in the area, and Buck and his oldest sister Fannie went to work at the black mill, working there until the mill closed in 1921. Buck then went to the railroad station and started shining shoes. Since there was no high school for blacks, he finished his schooling at the end of the eighth grade. For the next two years, Buck Leonard shined shoes. There was a black shoeshine stand and a white shoeshine stand, but no one paid attention and shoes were shined at both stands by both blacks and whites. After that he went to work in the shop at the Atlantic Coastline Railroad at age 16.
During the time he was working these various jobs, Leonard was also playing semiprofessional baseball in and around Rocky Mount with the Rocky Mountain Elks and Daughtry's Black Revels, later named the Black Swans. When Leonard was 17, he became the manager of the Black Swans. He initially played the outfield, and then moved to first base. As the manager, he felt first base was more appropriate for him. This position would bring him closer to the umpires in case of bad calls. Leonard's brother Charlie was a pitcher on those teams. Buck lost his job with the railroad in 1932. His only job opportunity during the worldwide Great Depression was in professional baseball. He was hesitant about going into professional baseball because at the time he was already 25 years old. Leonard had never given much thought to playing professional baseball full time and considered his engagement in baseball strictly a pastime.
Fortunately, he was approached by Doc Daughtry of the Portsmouth team, who asked if he would like to play for the team at a salary of 15 dollars a week, not bad for those times. Originally named the Portsmouth Firefighters, they were renamed the Black Revels.
The Baltimore Stars, an independent team, came to Portsmouth to play the Black Revels. Leonard played against the Stars, and after the game Ben Taylor, manager of the Stars, asked Leonard how much money he was making playing for Portsmouth. After Leonard told him, Taylor asked him if he would like to play for the Stars. He told Leonard he wouldn't receive a fixed salary but rather a percentage of the gate. Teammates on the Black Revels told him if he were to go with Baltimore, he would starve to death. Black traveling teams had a hard time scheduling games, but Buck and his brother Charlie signed anyway.
In 1933, with the Baltimore Stars, Leonard was playing right field under manager-first baseman Ben Taylor, who was getting too old to play. Taylor took Leonard under his wing and groomed him to take his place as the first baseman for the Stars. Leonard batted and threw left-handed. He is listed as 5-feet-10 and 185 pounds.
Under Taylor's tutelage Leonard became an excellent first baseman. In 1941, relatively late in Leonard's career, one media source "described four or five sensational stops that were 'way beyond the reach of 99 percent of major-league first basemen.'"3 Sure-handed, with a strong, accurate arm and acknowledged as a smart player who always made the right play, Leonard was a team man all the way. Jim Riley wrote, "A class guy, he was the best-liked player in the game."4
The Stars went bankrupt later in 1933, and Cannonball Dick Redding signed Leonard with the Brooklyn Royal Giants, where Leonard spent the remainder of the 1933 season. In 1934, ex-pitcher Smoky Joe Williams, then tending bar in New York, recommended Leonard to Cumberland (Cum) Posey, owner-manager of the Homestead Grays. The Homestead Grays were situated in an old steel town seven miles outside of Pittsburgh and had been originally formed by a group of black steelworkers known as the Murdock Grays. They played their big games at Forbes Field in Pittsburgh and at Griffith Stadium in Washington, D.C. Leonard said of Posey, "Kind of a quiet guy but he knew baseball. Taught me two or three things I've never forgotten. Taught me how to hit left-handed pitchers, taught me to use an open stance with left-handers. Taught me how to throw the ball when the pitcher's covering first base. And he told me not to try to steal any bases; told me to quit running. I wasn't fast enough to steal bases."5
With the Grays, Leonard teamed with catcher Josh Gibson to form a formidable one-two punch called "The Thunder Twins." While teammate Josh Gibson was slugging tape measure home runs, Leonard — batting cleanup — was hitting screaming line drives both off and over the walls.
A thoroughgoing gentleman, Leonard's steady, reliable demeanor earned him the captaincy of the Homestead Grays until they ceased to exist in 1950.
With the Grays, Leonard teamed not only with Josh Gibson but with Vic Harris, Howard Easterling, Cool Papa Bell, and Jud Wilson. From 1937 through 1945, the Grays won nine consecutive championships in the Negro National League, a record possibly unequaled anywhere in professional sports in America. They also won in 1948, when Leonard was 40 years old.
Buck Leonard married Sandra Wroten of Hertford, North Carolina, on New Year's Eve of 1937. Her first husband, a funeral director, had died in 1935. Buck told her he was not going to run a funeral home and had her sell the establishment.6 Sandra Leonard became a school teacher, and Buck continued to play baseball. Her income from teaching helped keep the family afloat economically, but he also needed to earn money playing winter ball. Married life agreed with Leonard, who had a good 1938 season. In 27 games, he went to bat 99 times, had 33 hits, and scored 21 runs.
In 1942, the Mexican League headed by Jorge Pasquel was luring Negro League stars away from their teams by offering higher salaries. The Homestead Grays lost Josh Gibson to Pasquel's Mexican League. Afraid of losing Leonard to Mexico as well, the Grays paid him $1,000 per game with later increases to stay with the team. At that time, Leonard was called up by his draft board and examined for military duty. According to Lawrence Hogan, he was classified 4F because of a bad back and Josh Gibson was classified 4F due to bad knees. Riley writes that he played in that year's first Negro World Series against the Kansas City Monarchs with a taped broken hand.7
The Monarchs swept the Grays in 1942 but won back-to-back World Series against the Birmingham Black Barons in 1943 and 1944, with Leonard batting an even .500 in 1944.
Leonard was now playing baseball year round. He participated in the winter leagues in Puerto Rico, Cuba, and Venezuela between 1935 and 1955. Moreover, in the fall and winter of 1943, Leonard played on Satchel Paige's all-star team against a team of major-league all-stars in California. He batted .500 in eight games. After the eighth game, Commissioner Kenesaw Mountain Landis ordered the major leaguers to stop.
Major-league owners may have tried to sign both Leonard and Gibson to contracts, but they didn't seem to make much of an effort. The first to approach them was Bill Benswanger, president of the Pittsburgh Pirates. Benswanger promised tryouts for the players in 1939, but it became unclear if Cum Posey put a stop to it or Benswanger never followed through with his promise. In 1943, Clark Griffith of the Washington Senators asked Gibson and Leonard if they would like to play in the major leagues, and if they thought they could make it in the majors. They replied in the affirmative to both questions. Griffith told the two that they would hear from him. They never did. Lacking the courage to challenge the system, white owners feared introducing black ballplayers to the major leagues at that time, while black owners of the Negro National League feared it would destroy their league as it eventually did when Jackie Robinson became the first black baseball player to enter the major leagues in the twentieth century. The Negro National League's demise came after the end of the 1948 season.
Leo Durocher, manager of the Brooklyn Dodgers, put the blame squarely on Commissoiner Landis, who he said prevented him from acquiring black players. Leonard hinted at that but did not explicitly state that it was Landis who put pressure on the owners not to sign black players. Landis always said that there was nothing in the white major leagues that stated that blacks were banned; however, there was a Gentlemen's Agreement that owners were loathe to break. As Leonard put it, "I think they believed we could play major league baseball but everyone hated to be the first."8
Leonard himself wasn't going to lead the fight. "I wasn't in favor of too much agitating toward opening the doors of white organized baseball, but I let them know that I would be willing to join up in the chance was available. And I told them that if I did get the opportunity I would not desire to socialize with the white players after I was through playing the games and that I would be content to find a respectable hotel for coloreds to stay in. You know, if they don't want you in a place, I don't believe you ought to go there. If they didn't want us in Forbes Field, then I don't think we ought to have gone."9
Buck Leonard was a superb hitter and fielder. In the Negro National League, first basemen were often the clowns of the teams. They would make all kinds of contortions and grimaces, anything that would entertain the fans. Not Buck Leonard. "I was strictly business when I was on the ballfield," he later wrote. "I wasn't out there to clown."10 There was no need for him to act the clown.11 Leonard was often called the equal or better of such major-league stalwart first basemen as George Sisler and Hal Chase. As a batter, he was described as a terrific hitter, a man who would literally drive pitchers off the mound. Leonard batted fourth in the Grays lineup, following Josh Gibson. Almost every season saw a battle between Leonard and Gibson as to who would wind up with the most homers and runs batted in. Dave Barnhill, a star Negro Leagues pitcher, said, "You could put a fastball in a shotgun and you couldn't shoot it by him."12 Eddie Gottlieb, an Eastern Booking Agent and former coach of the Philadelphia Warriors of the Basketball Association of America said Leonard "was as smooth a first baseman as I ever saw."13
Monte Irvin agreed: "Buck Leonard was the equal of any first baseman who ever lived. If he had gotten the chance to play in the Major Leagues, they might have called Lou Gehrig the white Buck Leonard."14 For 17 consecutive years Leonard anchored the infield for the Grays at first base. He was voted 12 times to the East-West All-Star Squads. He batted .317 and stroked three homers in the games. In 1948, at the age of 40, without Josh Gibson, he batted a lusty .395 to win the title. The 1948 Grays were his favorite team. The team featured Luke Easter, Sam Bankhead, Luis Marquez, and Wilmer Fields their ace pitcher. They defeated the Birmingham Black Barons (featuring a young Willie Mays) in the Negro World Series.
After the color line was done away with, Bill Veeck tried to sign Buck Leonard who was then 40 years of age. Leonard declined, believing he was too old and being unwilling to risk embarrassing himself. Said Leonard, "We always believed we could have made the major leagues if baseball hadn't been segregated. I'm not bitter. But it was too late for me. When Jackie Robinson came along, I was 40 years old."15 In 1953, at the age of 46, Buck Leonard made his only appearance in organized baseball with the Portsmouth Club of the Piedmont League, hitting .333 in 10 games.
Statistics from the Negro National League are on the thin side. John Holway asserts that "Leonard hit over .400 four times and over .390 six times, the last in 1948, when he hit a league leading .391 and tied Luke Easter for the league home run crown. His lifetime batting average was .355 against black big leaguers and .382 against whites."16 A set of statistics compiled in a project sponsored by the National Baseball Hall of Fame and published in Lawrence Hogan's Shades of Glory showed that Leonard had career totals of a batting average of .320, slugging percentage of .527, in 1427 recorded at-bats, with 471 hits, 60 homers, 73 doubles, 26 triples, 257 walks, 352 runs, and 275 RBIs. Jim Riley writes that "following the 1943 season, Leonard was credited with averaging 43 home runs per year for the past eight years."17 He reports a .341 batting average in league play over the course of his career and a .382 average in exhibition games against major leaguers.18
Racism was rampant when it came to finding accommodations for the night. Leonard recalled that it was tough getting a place to sleep at night while on the grinding city tours. Leonard remembers one particular night when the Grays were on their way north from Florida. "We'd come north from Florida and stopped at New Orleans at the Patterson Hotel. We used to call it a chinch parlor. A chinch is what we called bedbugs. As soon as the lights would go out there, the chinches would come out. We used to get newspapers out and spread them on the bed and sleep on top of them. The bedbugs couldn't crawl up on the paper."19
Injuries were another problem. Injured players turned to each other because the team had no trainer. If someone had a bad back, he would get another teammate to rub him down. Leonard recalled one time when he was scratched up quite a bit. "I got scratched on my leg. I needed three stitches in my leg and they wouldn't put the three stitches in because I was going to lose some games. I just played until it got well. Now it's got thin skin over it, and it gets inflamed. Had I been in the major leagues, I would have had proper attention."20 In addition to his playing duties, Leonard assumed the role of traveling secretary for the Grays and held that position until the team was disbanded in 1950.
Leonard played in the Mexican Leagues during the winters and summers of 1951 through 1955. The first three summers he played with Torreon, in the Main Mexican League, generally considered Triple-A ball, where he batted .322, .335, and .332. The next two years he played with Durango in the Mexican Central League; that league was not considered as good as the main Mexican League. In the winters, he played with Obregon in a Mexican League near the Gulf of California. The next two years he played in Xalapa on a Mexican team. He injured his knee during his last season at Xalapa. A German doctor constructed a knee brace and Leonard went on to become the MVP. After that, Leonard was finished with playing baseball. At 48 years old, his back hurting with arthritis, he decided to hang up his spikes. He went back to Rocky Mount and worked in an automobile garage, where he washed cars and helped out the mechanics.
Later, Leonard worked for 10 years as a truant officer for the Rocky Mount School District and earned a real-estate brokerage license from a correspondence school. He says he also built nine houses from the ground up.21 He was also an executive with the Rocky Mount team in the Carolina League. Leonard said that his one regret in life was that "I didn't get as much formal education as I would have liked," so he returned to school and earned his high school diploma.22
The deeper meaning of the exclusion of blacks from major-league baseball involved opposing forces in ballplayers and the black population as a whole. W.E. B. DuBois in The Souls of Black Folk labeled this dilemma "twoness": "One ever feels his twoness an American and a Negro, two souls, two thoughts, two irreconcilable strivings, two warring ideas in one dark body, whose dogged strength alone keeps it from being torn asunder."23 Rube Foster, a tall imposing African American star pitcher, lived this dilemma. He wanted to protect the newly formed Negro National League from being controlled by whites but at the same time sought the eventual integration of baseball. An intelligent, introspective man, Leonard surely felt this tension.
In The New Bill James Historical Abstract, James ranked Leonard as the best first baseman in the Negro leagues and as the 65th greatest baseball player of all time. James regarded Buck Leonard as his most admirable superstar in the Negro Leagues. Leonard was voted as the 47th best player of the century by The Sporting News. In addition, Leonard was a finalist for the Major League Baseball All-Century Team.
After the Negro leagues folded, most of the black players who played in it were forgotten. Ted Williams, upon his induction into the Baseball Hall of Fame in 1966, said of Negro players: "Baseball gives every American boy a chance to excel. Not just to be good as anybody else, but to be better. This is the nature of man and the name of the game. I hope someday Satchel Paige and Josh Gibson will be voted into the Hall of Fame as symbols of the great Negro players who are not here only because they weren't given the chance."24 In time, Leonard and other former stars of the Negro National League contacted Bowie Kuhn, Commissioner of Baseball, and told him they thought it was about time that some of the stars of the Negro Leagues were put up for election to enter the Baseball Hall of Fame. Kuhn listened and promised to see what he could do, but he did not have the clout that Leonard and the others had hoped for, and Leonard would have to wait a while longer before he received a call from the Hall of Fame. In February 1972, when Leonard finally did receive an announcement that he was to be inducted into the National Baseball Hall of Fame, he was both stunned and elated. He was inducted on August 7, 1972. In his speech Leonard told the crowd, "We in the Negro Leagues felt like we were contributing something to baseball too, when we were playing. We played with a round ball and with a round bat and wore baseball uniforms and we thought we were making a contribution to baseball. We loved the game and we liked to play it. But we thought we should have and could have made the major leagues and all of us would have desired to play in the major leagues because we felt and knew that that was the greatest game."25
A park near Leonard's home in Rocky Mount stands in his honor, along with a historical marker detailing his accomplishments. There is also a street named in his honor.
On April 4, 1986, Leonard suffered a stroke, which affected his right side. He recuperated to some degree, but the stroke curtailed some of his activities such as attending church every Sunday. On July 7, 1986, 20 years after Sarah's death, he was married to his second wife, Lugenia Fox.
In 1994, Leonard was again honored when he was named honorary captain of the National League team at the All-Star Game at which he said, "I met a whole lot of ballplayers and I had a good time."26
Walter Fenner "Buck" Leonard died in his hometown of Rocky Mount on November 27, 1997. He was 90 years of age. He was survived by his second wife Lugenia, sister Lena Cox, stepson Thomas Fox, stepdaughters Florosa Walston, Rose Hunter, and Barbara Fox. Leonard lived a life of accomplishment and left a memory of a life well spent; a good man, a solid citizen, devoutly religious and one hell of a ballplayer. He is buried in The Garden of Gethsemane Cemetery in Rocky Mount.
On November 1, 2008, a Buck Leonard Exhibit was unveiled in Rocky Mount. The exhibit traces the life of Leonard from his humble beginnings through his ascendance to baseball greatness and also focuses on Leonard's role as a community leader. 
This biography appears in "Bittersweet Goodbye: The Black Barons, the Grays, and the 1948 Negro League World Series" (SABR, 2017), edited by Frederick C. Bush and Bill Nowlin.
Sources
In addition to the sources cited in the Notes, the author also consulted:
Clark, Dick, and Larry Lester. The Negro Leagues Book (Cleveland: Society for American Baseball Research, 1994).
Holway, John B. Blackball Stars (Westport, Connecticut: Meckler Books, 1988).
Riley, James A., History of Black Baseball and the Negro Baseball Leagues. Online.
Hogan, Lawrence D. Shades of Glory (Washington, DC: National Geographic Society and National Baseball Hall of Fame and Museum, 2006).
Laverro, Thomas. The Encyclopedia of Negro League Baseball (New York: Facts on File, 2003).
Light, Jonathan, Fraser. The Cultural Encyclopedia of Baseball (Jefferson, North Carolina: McFarland and Company, 1997).
Porter, David, editor. Biographical Dictionary of American Sports, Baseball (New York: Greenwood Press, 1987).
Threston, Christopher. Rocky Mountain Telegram.com. "The Integration of Baseball in Philadelphia." Online
Tygiel, Jules. Past Time: Baseball as History (New York and London: Oxford University Press, 2000).
Notes
1 Buck Leonard with James A. Riley, Buck Leonard, The Black Lou Gehrig: An Autobiography (New York: Carroll & Graf, 1995), 207.
2 Brian Wilson, MLB.com. http://mlb.mlb.com/mlb/history/mlb_negro_leagues_profile.jsp?player=leonard_buck
3 James A Riley, The Biographical Encyclopedia of the Negro Baseball Leagues (New York: Carroll & Graf, 1994, 2002), 476. The "media source" Riley quotes is unknown.
4 Ibid.
5 Editor's note: The exact source of this quotation is uncertain. Ralph Berger's original biography of Leonard, fact-checked and re-edited for this book, contained no endnotes. In his autobiography, Leonard credited Posey as "tops as a teacher of baseball." See Buck Leonard, The Black Lou Gehrig: An Autobiography, 36.
6 Ibid., 91.
7 Riley, Biographical Encyclopedia, 476.
8 John Holway, Voices from the Great Black Baseball Leagues (New York: Dodd, Mead, 1975), 268.
9 Buck Leonard, The Black Lou Gehrig: An Autobiography, 100.
10 Ibid., 116.
11 http://baseballhall.org/hof/leonard-buck
12 James A. Riley, Of Monarchs and Black Barons: Essays on Baseball's Negro Leagues (Jefferson, North Carolina: McFarland & Company, 2012), 129–132.
13 http://baseballhall.org/hof/leonard-buck
14 Riley, Of Monarchs and Black Barons, 129-132.
15 Jean M. White, "Ballpark Figures: The Other League," Washington Post, April 25, 1981: B1. There is another quotation widely attributed to Leonard, but which we have been unable to source: "I was not bitter by not being allowed to play in the major leagues. I just said, 'The time has not come.' I only wish I could have played in the big leagues when I was young enough to show what I could do. When an offer was given to me to join up, I was too old and I knew it."
16 John Holway, Voices from the Great Black Baseball Leagues, 250.
17 Riley, Biographical Encyclopedia, 476.
18 Ibid.
19 Buck Leonard, The Black Lou Gehrig: An Autobiography, 104.
20 Holway, Voices from the Great Black Baseball Leagues, 260.
21 Buck Leonard, The Black Lou Gehrig: An Autobiography, 226-229.
22 Ibid., 263.
23 W. E. B. DuBois, The Souls of Black Folk
24 Ted Williams, 1967 induction speech.
25 Buck Leonard, 1972 induction speech.
26 Buck Leonard, The Black Lou Gehrig, 262.
Born
September 8, 1907 at Rocky Mount, NC (US)
Died
November 27, 1997 at Rocky Mount, NC (US)
If you can help us improve this player's biography, contact us.
http://bioproj.sabr.org/bp_ftp/images4/LeonardBuck.jpg
600
800
admin
/wp-content/uploads/2020/02/sabr_logo.png
admin
2012-01-29 20:43:50
2021-09-17 01:07:18
Buck Leonard