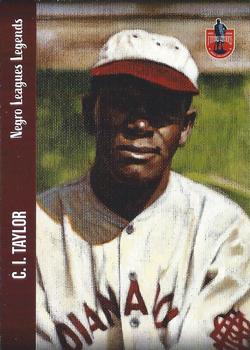 ---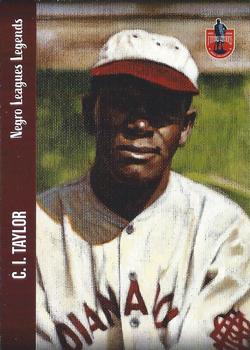 He was the eldest member of a quartet of baseball brothers unparalleled in the history of the game. The youngest, Ben Taylor, is a member of the National Baseball Hall of Fame, his just recognition after a career as one of the dominant first basemen and sluggers of the first part of the twentieth century. "Candy" Jim Taylor was one of the winningest managers in the history of the Negro American League. "Steel Arm Johnny" Taylor was one of the most talented pitchers in the game, excelling mostly in the years preceding the inception of the Negro leagues. But it was C.I. Taylor who was one of Black baseball's finest managers, a mentor of several notable successors, and one of its most important owners. He was a principal in the 1920 meeting in Kansas City that spawned the first organized Negro National League.
Charles Isham Taylor was born on January 20, 1875, to Isham, a farmer and Methodist minister, and Adaline, near Anderson, South Carolina.1 The sixth of what were finally 13 children, he was the first of four boys the couple produced. There is little existing documentation about his early years in northwest South Carolina, but he did join the United States Army and serve as a private with the Buffalo Soldiers of the Army's 10th Calvary during the Spanish-American War.2
Returning from the war in February 1899, the serious and sober Taylor enrolled at Clark College in Atlanta. He joined the college's baseball team as the starting third baseman, against a regional slate of teams including Tuskegee University. One local newspaper went so far as to label him the best third baseman in the Atlanta Intercollegiate League.3
After graduation in 1903, Taylor moved to Birmingham, Alabama, and quickly formed the Birmingham Giants. The negro team played at West End Park (also known as Slag Field at the time), a site abutting what is now Rickwood Field.4 By 1907, the Giants had become one of the top black teams in the South, and at the end of the year lost a best-of-seven series to the San Antonio Black Bronchos, a team featuring one Smokey Joe Williams as a starting pitcher, for the Negro Championship of the South.5
Recruiting heavily at the untapped resources that were local black colleges, he snared his brothers Jim Taylor, soon referred to as "Candy Jim," at third base, and John Boyce Taylor, called "Steel Arm Johnny," as his primary starting pitcher. It was with this team that C.I. Taylor began to develop what came to be recognized as a unique knowledge of the game and a level of tactical brilliance that influenced very many that followed.6
The year 1908 marked not only another successful season for player-manager C.I. Taylor, but also the professional debut of the youngest Taylor, Ben, as a starting pitcher and first baseman. Ben Taylor went on to have what became a Hall-of-Fame career as a hitting star in black baseball, both before and after the formation of organized Negro leagues.
It was in 1909, however, that C.I. Taylor truly began to build the legacy by which he is still remembered. From April 14 to 16, his Giants faced Rube Foster and the Leland Giants in a three-game series. Taylor's squad lost, but it began a tempestuous relationship between him and Foster that would ultimately contribute to the organization of the Negro leagues. Birmingham gained confidence in the series with their Chicago counterparts, and in July Taylor's team met Foster's Giants again in a five-game set in Indianapolis, with the former winning three of the games. Taylor's team finished the year credited with a 79-22 record, leading one paper to observe: "The Giants play like clock works and every man is for the team's interest which generally results in teamwork or cooperation. With C.I. Taylor's field generalship, the Alabamians are about the most consistent players that have ever played at Northwestern Park in some time."7
All the attention, and the environment, led Taylor and his fiancée, Birmingham native Olivia Harris, to move to Indiana in time for C.I. to assume the helm of the West Baden Sprudels for the 1910 season. On June 8, 1910, Taylor married Ms. Harris in a ceremony in Alabama, and although the two never had children, the marriage was a sound and loving union.8
Three days after the nuptials, brother "Steel Arm Johnny" no-hit the Nebraska Indians team in West Baden.9 Taylor had brought John and Ben with him along with his new bride, and although the Sprudels were swept by the Leland Giants in three games in July, the team improved by a vast margin over earlier iterations.10 In 1911, the Sprudels dominated their local rival, the French Lick Plutos 8-411, as well as the larger Indianapolis squad, the A.B.C.s,12 4-3. And in 1912, after defeating Foster's Chicago American Giants in late July, the Sprudels were sufficiently legitimized to earn an exhibition game against the Cincinnati Reds in French Lick.13 That the Sprudels lost mattered little; the team played well enough against big-league competition that they drew national attention. According to the Center for Negro League Baseball's monograph on Taylor:
"…. accounts of the West Baden Sprudels 1912 season were very limited and therefore we don't have the team's complete won-loss record for the season. Currently box scores and primary source documentation has been found for forty-one (41) games played by the West Baden Sprudels during the 1912 season. The Sprudels had a won-loss record of 22-19 (.537) in these 41 games. According to an article published in the Freeman on September 7th of 1912, the West Baden Sprudels are credited with having won the Spring Valley League for the 1912 season. The top team in the West during the 1912 season was Rube Foster's Chicago American Giants."14
As his career played out, C.I. Taylor's teams would enjoy quite a bit of success against the "organized" white teams. "In eighteen (18) games against Major-Minor League all-star teams — five (5) games against the Cincinnati Reds (National League), one (1) game against the Pittsburgh Pirates (National League), one (1) game against Columbus (American Association), two (2) games versus the Indianapolis Indians (American Association) and two (2) games versus the Vincennes Alices (Kitty League) — Taylor's West Baden and Indianapolis ABCs teams compiled an impressive won-loss record of 19-10 (.655)."15
In 1913, however, Taylor began to suffer the inevitable consequences of success, losing both brother "Candy" Jim and pitcher Dizzy Dismukes to other teams. Despite the subtractions, the Sprudels managed to play well against both the Chicago American Giants and the Indianapolis A.B.C.s, and defeated a list of professional teams that included the famous Bloomer Girls, the Chicago Giants, the Chicago Unions, the Indianapolis Reserves, the Kokomo (Indiana) Reds, Green's Nebraska Indians, and the Washington Grays.16
The following year Taylor left West Baden and French Lick to move to Indianapolis, and purchased half interest in the Indianapolis A.B.C.s. In a visionary move by the new owner, he also installed himself as field manager and part-time utility player. The new manager was also shrewd enough to entice brothers Jim and Ben to join the team as well. On May 3, in fact, all four Taylor brothers were in the lineup against a team named the "Special," of Peru, Indiana. The A.B.C.s won 7-1. Within that year, Indianapolis went from also-ran to the Chicago powerhouse teams to a formidable opponent. Taylor used a variety of tactics to both improve the team and its standing in the community. Since three key players and the manager were all educated, refined, and restrained gentlemen, not given to excessive vice of any sort, the entire team ethos matured.
Taylor also instituted local tryouts for the area's black baseball stars in 1913, players without a shot at "organized" baseball. Many of these went as might be expected–fruitless; but he did find and sign infielder Frank Warfield, a player that analyst Bill James later listed as the eighth-best second baseman in Negro League history, in 1914.17 Warfield later became manager of Philadelphia's Hilldale Daisies club, a team that won the Eastern Colored League title in 1924 and 1925, and barely lost the 1924 (inaugural) Negro Series, five games to four, to Kansas City.18
In 1915, Taylor added Bingo DeMoss to the A.B.C.'s roster. Teamed with Ben Taylor and Oscar Charleston, and pitchers Dizzy Dismukes and Dicta Johnson, the team was on a level with Rube Foster's Chicago American Giants. In the offseason, Taylor took a team to Cuba that included Charleston, Dick "Cannonball" Redding, DeMoss, and brother Ben. In the first game of the exhibition series, Taylor's squad defeated Cincinnati Reds pitcher Dolph Luque's Alemendares team, 5-4. They also won the second game of the campaign, but then lost 12 of the remaining 18 against Alemendares, Habana, and San Francisco.19
That winter, in early 1916, the Indianapolis team took up temporary residence in Palm Beach, Florida, and played as the Royal Poinciana Hotel team in the two-team Florida Hotel League. The rival Breakers team had a talented roster as well, notably including Smokey Joe Williams and Spottswood Poles. As Dr. Layton Revel wrote:
"The Florida Hotel League or the Coconut League as it was sometimes called was a two team league in Florida that was comprised of all-black baseball teams representing the Breakers Hotel and the Royal Poinciana Hotel. During the winter black ball players would travel to Florida and take jobs as bellmen, porters, cooks, dish washers and wait staff personnel in the restaurants of the big resort hotels. Each winter season management of the Breakers and Royal Poinciana would form baseball teams and games would be scheduled for the entertainment of the hotel guests."20
After an offseason of top-level baseball, the A.B.C.s roared out of the gate in 1916, and at the end of the season defeated the Chicago American Giants in five games to claim the "Colored Championship of the West." The Giants featured not only Rube Foster but "Pop" Lloyd, Pete Hill, and Frank Wickware, It turned out to be the pinnacle of C.I. Taylor's managerial career. He and his defeated Foster's team in a championship series format and established the 1916 A.B.C.s as one of the great pre-Negro League teams ever fielded.
During the offseason, Taylor kept an eye on several of his players by hiring them to work in his pool hall on Indiana Avenue.21 As the 1917 season started, though, events conspired to wreak havoc on the burgeoning dynasty. Injuries took nine of his players at various times over the year; and on May 18, new federal legislation compelled all men aged 21-30 to register for the military draft.22 It was not a surprise that the A.B.C.s failed to retain their 1916 crown. And in 1918, despite signing John Donaldson to add to a now-healthy roster, the team again failed to reclaim its title. In 1919, Taylor lost seven players, including Dizzy Dismukes, to the Army and military service in Europe.
C.I. Taylor was not one given to simply surrendering to external events, and he embraced the 1920 season as a chance to again topple his rival, Foster. On February 20, 1920, Taylor joined Foster and representatives from six other teams in Kansas City to formally establish the first Negro National League (NNL).
For the season, Taylor acquired seven players from the San Antonio Black Aces, a team that had won the 1919 Texas Colored League.23 The latter had disbanded late in the season, making all of their players available, and Taylor reaped a talent harvest that included Biz Mackey, first baseman Robert "Highpockets" Hudspeth, and third baseman Henry Blackmon, among others. Mackey was a particularly fortuitous pickup, as the young catcher proved to be a future All-Star and 2006 Baseball Hall of Fame enshrinee. But despite the talent infusion, the team managed only a 49-43 record in the inaugural NNL season.
The A.B.C.s finished at .500 in 1921, again only good enough for fourth place, but Taylor was formally named president of the team, as well as Vice President of the Negro National League. His place in the game was firm, almost as solid as that of Foster's, and at age 46 he appeared to have as many years left in the game as he might want. But it was not to be. After a particularly cold week in Chicago, walking to and from NNL meetings, Taylor caught a cold, one that rapidly deteriorated into something much worse.
As Revel and Munoz wrote so eloquently:
"Charles Isham Taylor passed away on February 23, 1922 of pneumonia at his home located at 440 Indiana Avenue, Indianapolis (Marion County), Indiana. He was just 47 years old. Mourners overflowed the Bethel A.M. E. Church at Vermont and Toledo Streets in Indianapolis for his funeral. Three separate eulogies were given during the service. Andrew "Rube" Foster gave his eulogy entitled "C.I. Taylor in Athletics." Freeman B. Ransom, noted Indianapolis civil rights leader, gave a eulogy entitled "C.I. Taylor as a Citizen." Dr. Summer A. Furniss, C.I.'s personal physician, gave a eulogy entitled "C.I. Taylor as Race Man." He was laid to rest in the Crown Hill Cemetery (Lot 55 Section 53) in Indianapolis."24
Over the course of the week before he died, Taylor had met with brother Ben and wife Olivia, and told them both that he wanted Olivia to control 75% of the team and Ben the remaining quarter.25 Olivia held on for a few years, and Ben managed the team in 1922. He gave way to Dizzy Dismukes in 1923, but it was the beginning of the end for the fabled franchise. Ben Taylor jumped to the Eastern Colored League in 1923, and Oscar Charleston departed in 1924. Dismukes left after 1924 as well, following a severe and very public disagreement with Olivia Taylor. Following the 1926 season, that iteration of the Indianapolis A.B.C.s was ousted from the league, and soon thereafter folded.
Charles Isham Taylor's career was prematurely shortened, but his accomplishments could have filled multiple lifetimes. After the on-field successes, the executive brilliance, the leadership in supporting Foster's bid to organize the NNL, and his demeanor and character as a human being, he greatly affected the future of the game. Along with all of the players he influenced, he also helped shape Charleston, DeMoss, Dismukes, Mackey, Dave Malarcher, Otto Briggs, Frank Warfield, and brothers Ben and "Candy" Jim, into some of the finest managers in the history of the entire Negro League enterprise.
In Taylor's 47 years of life, he was player, manager, owner, mentor, colleague, husband and friend. His was a life well lived. His grave sits next to wife Olivia's, and his epitaph, such as it is, adorns the top of his marker: "PIONEER IN PROFESSIONAL BASEBALL."26 It is certainly accurate, but necessarily incomplete.
Acknowledgments
This biography was reviewed by Bill Nowlin and Joe DeSantis and fact-checked by Kevin Larkin.
Notes
1 World War I military draft registration card for Charles I. Taylor.
2 Gravesite marking, online: https://www.findagrave.com/memorial/7872248/charles-isham-taylor. Accessed August 12, 2020 and US, Buffalo Soldiers, Returns from Regular Army Calvary Regiments, 1866-1916, Accessed: August 12, 2020
3 Layton Revel and Luis Munoz, Forgotten Heroes: Charles Isham "C.I." Taylor, Center for Negro League Baseball Research, 2016. This study is an amalgamation of a variety of sources and is one of the most credible documentaries on Taylor's life that currently exist.
4 Bob Carlton, "Birmingham baseball through the years — from the Slag Pile to Rickwood to Hoover Met to Regions Field," online at bhamnow.com and accessed August 12, 2020
5 Seamheads.com, 1907 season. Accessed: July 17, 2020
6 Paul Debono, The Indianapolis A.B.C.s (Jefferson, North Carolina: McFarland and Co., 2007), 32.
7 Indianapolis Freeman, August 14, 1909: 5.
8 Certificate of Marriage, State of Alabama, recorded June 12, 1910
9 Indianapolis Freeman, June 11, 1910: 4.
10 "Between the Giants," Indianapolis Freeman, July 9, 1910: 10.
11 "Resort Nine Clash Again" Indianapolis Star, May 24, 1911: 24.
12 "A.B.C.s Divide Two Games" Indianapolis Star, August 7, 1911: 7.
13 Debono, 34.
14 Revel and Munoz, 7.
15 Revel and Munoz, 32.
16 Revel and Munoz, 8.
17 Bill James, The New Bill James Historical Baseball Abstract (New York: The Free Press, 2001), 183.
18 Seamheads.com Manager Page for Frank Warfield, accessed August 1, 2020
19 This is corroborated by both Revel and Munoz, as well as embedded on various pages at Seamheads.com.
20 Revel and Munoz, 12.
21 Debono, 71.
22 United States Selective Service Act, May 18, 1917.
23 Center for Negro League Baseball Research, accessed August 14, 2020
24 Revel and Munoz, 27.
25 Pittsburgh Courier, February 27, 1923; cited by Revel and Munoz.
26 Charles Isham Taylor, at Find-A-Grave.com
Born
January 20, 1875 at Anderson, SC (US)
Died
February 23, 1922 at Indianapolis, IN (US)
If you can help us improve this player's biography, contact us.
https://sabr.org/wp-content/uploads/2018/01/TaylorCI2.jpg
350
250
admin
/wp-content/uploads/2020/02/sabr_logo.png
admin
2020-10-14 17:06:44
2021-09-17 01:14:36
C.I. Taylor