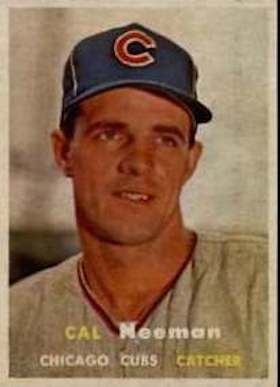 ---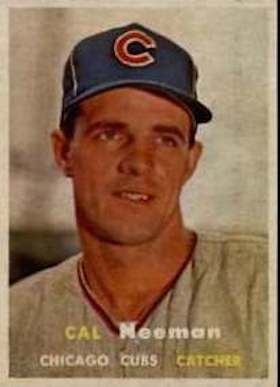 In 1957 The Sporting News selected Philadelphia Phillies pitcher Jack Sanford the National League's Rookie of the Year by an overwhelming margin. The "Baseball Bible" provided an in-depth analysis of the abundant freshman class with kudos extended to players who received little to no votes. When the breakdown reached Cal Neeman, the weekly post raved, "[t]he [Chicago] Cubs came up with a good one in … their regular catcher."1
The acclaim was hardly unexpected. Neeman had shattered the NL record for appearances by a rookie catcher and was well on the way to establishing the major-league record when injury sidelined him over the final 23 games.2 His teammates voted him the most valuable Cub – high praise for a roster that included a 43-homer season from future Hall of Famer Ernie Banks – and The Sporting News selected Neeman to the 1957 All Rookie squad. He was, the paper said, among "the leading candidates for the Wrigley Field hero-worshippers."3 Neeman's explosive power caused Cincinnati manager Birdie Tebbetts to gush, "That big catcher … can hit a ball a mile."4 This was considerable praise for a rifle-armed 28-year-old who was projected as no more than the Cubs' third-string receiver when spring training opened.
But the well-intentioned motives of manager Bob Scheffing (a former major-league catcher himself) to provide more rest to Neeman during his sophomore season had the opposite effect. Neeman played in just 76 games in 1958, his sophomore season, and was labeled "the forgotten man on the club"5 the following year. Neeman retired after 1963 having averaged just 22 major-league game appearances over his final three campaigns; a far cry from the trajectory of his debut season.
Calvin Amandus Neeman was born on February 18, 1929, the eldest of three surviving children of Amandus John and Eleanor (Johanning) Neeman, in the tiny village of Valmeyer, in Monroe County, Illinois,6 25 miles south of St. Louis. Calvin was the great-grandson of Johann Gerhard Neemann,7 an immigrant from Oldenburg in northern Germany who arrived in the United States in 1858. Johann moved to Monroe County, married German native Anna Rebecca Offermann, and took up farming. The couple raised seven children. Agriculture remained a fixture in the lives of his son and grandson. Around 1935, in the teeth of the Great Depression, Neeman's father moved his family to East St. Louis, Illinois, to take a job with the agrichemical giant Monsanto Company. After a later move to nearby Maplewood (now Cahokia), Illinois, Cal attended Dupo Community High School.
Neeman's high-school résumé reads like a who's who of prep achievement: He was in band, dance band, first orchestra, student council, Varsity Club, the Spotters Club (these were World War II-era groups devoted to detecting any enemy aircraft overhead), the National Honor Society, and the Junior Honor Society. Derived from a gifted athletic family (his brother was perceived to be an even better athlete), Neeman also found time for baseball and basketball (the school had discontinued its football program or he might have added this to his long résumé as well). Arguably Neeman was a better athlete on the hardboards. In 1947, his senior year, he led the Dupo High Tigers to a regional basketball title. Neeman received an athletic scholarship to Illinois Wesleyan University in Bloomington and was the Titans' free-throw percentage leader (.647; 88-for-136) in 1948-1949, and among the rebound leaders in both 1947-1948 and 1948-1949. He was later approached by a National Basketball Association team (most likely in a coaching capacity).
But baseball was always Neeman's first love. Though he played in the shadows of four major-league clubs (in Chicago and St. Louis), Neeman went largely ignored. In 1949 he attended a New York Yankees' tryout camp where he caught the attention of Lou Maguolo, a former high-school coach. Against his father's counsel, Neeman gave up his athletic scholarship and signed with the Yankees' Midwest scout. The 20-year-old was assigned to the Joplin Miners in the Western Association (Class C) where another Maguolo find, outfielder Al Pilarcik, was developing his career. Neeman was immediately entrusted with the club's catching responsibilities and over a two-year period he placed among the team leaders with a consistent .293 average (well below the .383 posted by 1950 teammate Mickey Mantle).
Certain promotion appeared in Neeman's future until he was drafted into the US Army on April 9, 1951. Assigned to the 105th Field Artillery Battalion, he trained at Fort Chaffee, Arkansas, then was sent to Korea. Until his discharge in April 1953 he served during some of the hottest periods of the Cold War conflict. Upon his return Neeman was promoted to the Binghamton (New York) Triplets in the Eastern League (Class A), where he handled the bulk of the catching. Despite a middling .239 pace, Neeman's eight homers (third on the team) and rifle arm behind the plate captured the imagination of the Yankees' brass. After Binghamton's season he was promoted to the Kansas City Blues in the Triple-A American Association. In the winter Neeman received an invitation to Yankee manager Casey Stengel's advance training school in St. Petersburg, Florida.
The training kicked off around January 30, 1954, under the star-studded instruction of such Yankee greats as Frank Crosetti and Bill Dickey. Nonroster attendees Neeman and infielder Tony Kubek (another Maguolo discovery) joined Elston Howard and Gus Triandos, who were being converted into catchers. At the conclusion of the advanced training and the full spring camp, the two conversion projects earned Triple-A assignments (Triandos was sent to Kansas City) while Neeman was returned to Binghamton. On the second day of the Triplets' season, a foul tip broke the ring finger of his right hand. A month later Neeman dislocated the same digit. (On this second occasion umpire Tony Venzon offered, "At least rub it in the dirt and take the sting out of it."8) The twice-injured finger affected Neeman's offense as he dipped to a .229-2-39 batting line in 442 at-bats.
Despite these disappointing numbers, Neeman was competing for a backup role behind the Yankees' future Hall of Famer Yogi Berra in the spring of 1955. Elston Howard would not begin receiving significant time behind the plate until 1956, and Triandos had been traded to the Baltimore Orioles. During spring training Neeman was one of five nonroster players spending most of their time with the parent club. The dubious second-string honor – a guarantee of little play behind the durable Berra – went to returning veteran Charlie Silvera while Neeman was advanced to Double A: Birmingham Barons in the Southern Association. Evidencing little problem with his swing from the prior season, in 1955 Neeman exploded with a .367-2-19 line in his first 90 at-bats and maintained a .300 average into June. On July 19 he participated in the All Star game hosted by the Barons. He finished the season at .294, well above the .267 league average.
In 1956 Neeman was advanced to Triple A, though the promotion proved more of a curse than a blessing. Initially assigned to the Denver Bears in the American Association, he shared time with catcher Darrell Johnson. In June Neeman was moved laterally to the Richmond Virginians in the International League, where he encountered another platoon. Though he "gained quite a reputation for collecting base knocks at opportune moments,"9 sporadic play in the two stops produced a middling .255-5-38 line in 310 at-bats. But in the midst of this frustrating campaign, Neeman had captured the attention of minor-league manager Freddie Fitzsimmons. During the offseason the former National League hurler quit the Yankees organization to take a coaching job with the Cubs. When the Yankees left Neeman unprotected in the 1956 Rule 5 draft, Fitzsimmons urged his new employer to grab the backstop.
Though championed by Fitzsimmons, Neeman's acquisition – he was the number-one pick in the December 3 draft – was not nearly as well received in other quarters: "[T]he Cubs … took him because he was the best of what was offered in the rummage sale and not because they thought he would be the answer to all their catching problems," said The Sporting News. "Other scouting reports were not too high on the 26-year-old[sic]."10 In separate transactions eight days later, the Cubs acquired two more catchers (including Neeman's former Yankee competitor Charlie Silvera). At best Neeman was projected as the club's third-string catcher behind Ray Katt and Silvera, while management declared a desire to continue its chase of an established receiver (veterans Stan Lopata, Ed Bailey, and Del Crandall each received prominent mention).
In 1957 the Cubs reported to their spring base in Mesa, Arizona, forced to choose among four catching possibilities. (Minor leaguer Jim Fanning was added to the mix after the pursuit of Lopata et al. proved unsuccessful.) Katt yielded the inside track to Silvera but by late March Neeman attracted attention: "a pleasant surprise … who has demonstrated a rifle arm and the ability to handle himself capably behind the plate."11 As his star rose, the Cubs' new manager, Bob Scheffing, began spending increased time improving Neeman's offense. "He was a terrible-looking hitter when he showed up for spring training," Scheffing said. "Cal was strictly a slap-hitter. I looked at him – a powerful 195-pounder – and said, 'You've never hit with a choke-up style. Why don't you swing from the end of the bat. The ball will at least go places when you meet it."12 On April 9 Neeman responded with a home run, two doubles and four RBIs in an 8-3 win over the Orioles. He finished the exhibition campaign with a .275 average to earn the Cubs' starting role.
On April 16, 1957, Neeman made his major-league debut at home against the Milwaukee Braves. Future Hall of Famer Warren Spahn held the Cubs to two hits before Neeman lined a fifth-inning single to center field. He came around to score the first run of the game on a double by pitcher Bob Rush. One week later Neeman collected his first major-league homer, a 10th-inning drive to deep left field off Braves righty Lew Burdette that provided the winning margin in a 3-2 victory. On May 21 Neeman's walk-off game-winning single beat the New York Giants in a come-from-behind victory. The hit kicked off an 11-game hitting streak (14-for-34, .412) for the right-handed hitter. Neeman struck out often, his 87 whiffs placing among the league leaders and contributing to the Cubs' NL record 989 (shattering the mark of 806 they had set two years earlier). But Scheffing continued relying on Neeman as the rookie catcher placed among the leaders in nearly every defensive category, including a league-leading 36 caught stealing. On August 20 Neeman established a league record 102 games played by a rookie catcher. He was on course to break the major-league record when he fractured the little finger of his right hand on September 4. Though Neeman was not immune from injury – he missed two starts after taking a pitched ball to the head – the finger sidelined him over the remaining 23 contests. (He made one pinch-hit appearance on the last day of the season.) He finished with a .258-10-39 line in 415 at-bats13 to earn selection to The Sporting News' All Rookie squad.
Anxious to build on his success, Neeman was among the first players to sign a contract in 1958. Though the Cubs acquired three more catchers during the offseason, he had little to fear regarding loss of play' the Cubs' express purpose was to provide additional rest for the much-used backstop. But Scheffing abruptly reversed course when the season opened. Despite a solid .316 average in the first five games Neeman was forced to yield the starting role to newly acquired receiver Sammy Taylor over the next 18 games. Taylor was a left-handed hitter and Scheffing instituted a traditional lefty-righty platoon. Neeman was used primarily against lefties until the end of the season, when Taylor was hurt. Despite Neeman's plunging numbers (.189 combined in May and June; .186 in August) Scheffing "insist[ed] the Cubs have the best backstopping in the circuit."14 Surprisingly, Neeman managed a career-high 12 homers, two more than he collected in 1957 despite less than half as many at-bats. One such pop included a dramatic extra-inning game-winning drive against the San Francisco Giants on August 15. Neeman's home-run yield contributed to a club record 182 dingers in Wrigley Field.
In 1959 Neeman's limited play was exacerbated by the acquisition of Earl Averill and the increased use of Taylor behind the plate. The decision appears to have been based solely upon the combined .258-23-77 yield of Taylor and Averill. The perception that Neeman did not fit among this offensive surge was belied by his .473 slugging percentage in 1958. But it proved a self-fulfilling prophecy when with little play Neeman struggled out of the gate in 1959. (He did not collect a 25th at-bat until the one-third mark of the season.) In August Neeman was reinstated as the starter when the pairing of Taylor and Averill proved costly on defense; their lapses contributed to a major-league-leading 108 stolen bases surrendered, and a tie for errors committed (18). Neeman got nearly as many plate appearances in August and September (60) as he did in the four preceding months combined. With little to show offensively in limited exposure, Neeman hit an extra-inning walk-off home run against San Francisco on September 23 that proved one of the final nails in the Giants' failed pennant pursuit. Three months earlier the slow-footed backstop collected an inside-the-park home run, a feat that went unmatched by a Cubs catcher until Geovany Soto's inside-the-park drive on May 19, 2008.
In November the Cleveland Indians approached the Cubs about Neeman's availability though nothing came of this. Two months later he was one of three contract holdouts for the Cubs. (He was one of the first signers in each of the two preceding years.) Neeman's holdout appears to have been a ploy to negotiate more play, a challenging stance when the Cubs used no fewer than eight catchers in 1960. Neeman made nine appearances (four starts) in the first 19 games of the season before he was traded with infielder Tony Taylor to the Philadelphia Phillies for first baseman Ed Bouchee and pitcher Don Cardwell. Neeman was acquired primarily as a tutor to youngsters Jimmie Coker and Clay Dalrymple, but his contributions were felt immediately at the plate. He collected five hits and a home run in his first 15 at-bats while yielding just one stolen base in his first four games. (The Phillies had surrendered seven thefts in the preceding four games.) Neeman began receiving the bulk of the catching responsibilities before a horrid slump overtook him in July. After the season he was assigned to the Buffalo Bisons in the International League (Triple A) after finishing with a .113 average in his final 62 at-bats. "[He was] too much of a burden to the Phils' powder-puff attack."15 Neeman spent the winter in the Puerto Rican League and nearly retired when he was offered a job with Ponce's Commonwealth Refinery. During the offseason the Orioles expressed interest in Neeman to no avail.
Thoughts of retirement had dissipated by the time Neeman reported to the Phillies' spring training in 1961. Despite a severe injury to his right hand that sidelined him for two weeks (the result of a foul tip in a Grapefruit League exhibition against the Pittsburgh Pirates), Neeman earned a roster spot with the Phillies. But his first start behind the plate seemingly epitomized his fate. On April 14 Neeman came to the plate in the seventh inning with the bases loaded and one out against Giants pitcher Mike McCormick. The first pitch was high and Neeman ducked. The ball struck his bat and rolled weakly to McCormick, with the pitcher turning a double play. Over the next two months Neeman earned sporadic play as starter Clay Dalrymple struggled through the first half. But in June the Phillies promoted Jimmy Coker and reassigned Neeman to the Bisons. Neeman's contributions through the second half of the season led Buffalo to the league championship. In September his name surfaced as a projected target of the New York Mets in the expansion draft. Instead, in October Neeman was sold by the Bisons to the Columbus Jets, the Pirates' Triple-A affiliate in the same circuit.16
In February 1962 Neeman, a nonroster invitee, was one of six catchers competing for the backup role behind Pittsburgh's veteran receiver Smoky Burgess. Assigned to Columbus, Neeman quickly resurfaced after Burgess was sidelined by injury. The 35-year-old All Star struggled with injuries throughout the season, affording Neeman an opportunity to remain with the club. On June 17 he connected off Milwaukee righty Carl Willey for a two-run homer in a 7-3 Pirates win. The home run proved to be Neeman's last in the majors. In October he was reassigned to Columbus. During the winter he played with the Caracas Lions in the Venezuelan League.
On February 14, 1963, Neeman was traded to the St. Louis Cardinals for 24-year-old utility player Bob Burda. Once again invited to spring training as a nonroster player, Neeman was assigned to the Cardinals' minor-league camp. He bounced between Triple-A Atlanta and Double-A Tulsa until the Cleveland Indians, hampered by injury to their catching corps, acquired Neeman on June 2. A month later he was reassigned after the Indians catchers returned from the disabled list. Yet another injury offered opportunities to Neeman. On August 10, three days after Washington catcher Hobie Landrith suffered a career-ending broken hand, Neeman was traded to the Senators. He made 14 appearances and on August 26 collected his last major-league hit. Following a minor league assignment in October, Neeman retired.
Three months later Neeman celebrated his 10th wedding anniversary. In 1953, while playing for the Binghamton Triplets, he had met area native Mary Ann Minchik. The daughter of Czechoslovak immigrants, Mary Ann worked in a soda fountain that Neeman frequented (his daily order: apple pie with a slice of cheese). The casual acquaintance blossomed into romance and they married in Winchester, Virginia, on January 6, 1954. The union produced five children; three boys and two girls.17
After baseball Neeman returned to Illinois and worked as a railway switchman while resuming his college education. He attended Southern Illinois University in Edwardsville, 25 miles northeast of St. Louis, and earned a teaching degree. Neeman launched a new career as a high-school history and physical education teacher and an athletic coach. Seemingly ahead of his time, he also opened a health-food store touting organically grown food. Years later he abandoned these pursuits to take a job as a school-supply salesman for the Nystrom Company. Neeman enjoyed golfing and was deeply religious (a lifelong Lutheran). After retiring, he and his wife wintered in Florida and Arizona.
In 1982 Neeman suffered the first of a series of heart attacks. Health problems plagued him throughout the rest of his life. He underwent bypass surgery. On October 1, 2015, four months shy of his 87th birthday, Neeman was felled by congestive heart failure. He was buried in Our Lady Cemetery in Lake St. Louis, Missouri. He was survived by his wife, Mary Ann, and their five children.
Neeman concluded a seven-year major-league career with a .224-30-97 batting line in 1,002 at-bats, much of which was accomplished in his first two years. Assigned to a platoon in a well-intentioned move to provide rest to a hard-working catcher, Neeman's career spiraled south. A seemingly greater career was extinguished in a backup role thereafter.
Acknowledgments
The author wishes to thank Mary Ann Neeman and Ashlie R. Way, Neeman's widow and cousin respectively, for details pertaining to the family history. Further thanks are extended to Len Levin for review and edit of the narrative.
Sources
Besides the sources cited in the Notes, the author consulted the following:
Ancestry.com.
koreanwar.org/.
examiner.com/article/cal-neeman-86-former-major-league-catcher-who-broke-with-mickey-mantle.
markhodapp.com/2012/07/17/cal-neeman-reflects-on-his-big-league-career/.
iwusports.com/custompages/MBB/CAREER-M/HTML/HISTSEAS.HTM#STL.FCA.
perfectgame.org/Players/PlayerProfile.aspx?ID=459647.
Notes
Born
February 18, 1929 at Valmeyer, IL (USA)
Died
October 1, 2015 at Lake St. Louis, MO (USA)
If you can help us improve this player's biography, contact us.
/sites/default/files/NeemanCal.jpg
600
800
admin
/wp-content/uploads/2020/02/sabr_logo.png
admin
2016-02-09 14:21:53
2016-02-09 14:21:53
Cal Neeman