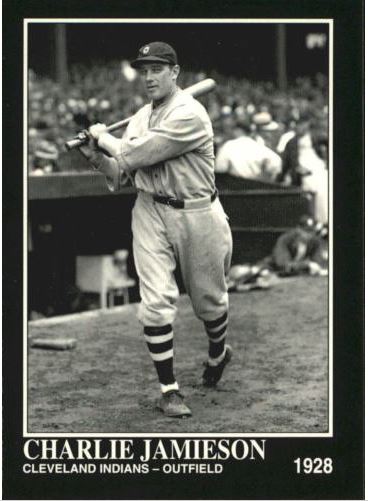 ---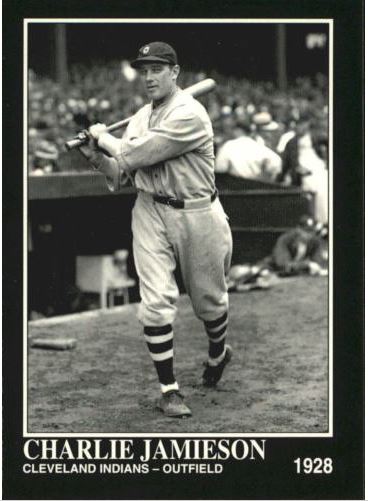 Charlie Jamieson was a star American League outfielder during the 1920s. In a career spanning 1915-1932, the speedy singles hitter achieved a .303 batting average with 1,990 hits in 1,779 games. In addition to being a very good leadoff man, he also had a fine reputation in the field.
Jamieson initially struggled to find his niche in the big leagues. Though not a power hitter, he emerged during baseball's transition from the Deadball Era to the offensive explosion of the 1920s led by Babe Ruth. He was a vital contributor to the 1920 World Champion Cleveland Indians. At his best, he was a strong contender for the League Award, as the Most Valuable Player honor was called from 1922 through 1929. He placed sixth in the American League voting in 1923 and third in 1924.
Away from the diamond Jamieson was a self-effacing family man. After he played his last professional game in 1933, he never held a job in organized baseball. Nonetheless, he stayed close to the game in his hometown of Paterson, New Jersey. He maintained lifelong friendships with former teammates and opponents.
Lawrence Ritter interviewed Jamieson while writing his celebrated book, The Glory of Their Times. Although Jamieson was not included in the book, his tape-recorded interview and its edited transcription show another lively firsthand account of baseball history.1
Charles Devine Jamieson was born on February 7, 1893. He was the sixth of 10 children born to James A. Jamieson and his wife Agnes (née Devine).2 The powerful waterfalls of the nearby Passaic River led Paterson (22 miles from New York City) to become a silk manufacturing center in the United States.3 James Jamieson worked in the silk industry and Agnes was a co-worker.
From an early age Charlie too worked in Paterson's silk trade. By age 17, he supervised a crew of "workers and liners" including 28 men and 14 women.4 In 1913 Jamieson married one of the workers he supervised, Edith Van Kirk. She was a masterful seamstress. At the time of Jamieson's marriage, his success as a pitcher led him to be identified in the Paterson press as a "Kid Twirler."5 They remained together for nearly half a century, until Edith died in 1962.
James Jamieson loved baseball – family lore has it that he played semi-pro with John McGraw and/or Honus Wagner.6 Charlie Jamieson got his start in baseball as a lefthanded pitcher on the sandlots of Paterson.7 By age 16 he was with the Paterson Lafayettes, which he called a "heavy semi-pro team" because "they were big fellows, married men, like that."8
Jamieson turned professional in 1912, signing to pitch for the Buffalo Bisons of the International League. This top-tier minor league franchise, then managed by George Stallings, included 15 players who had or would have big-league experience. Jamieson played four seasons in Buffalo. His batterymates included Wally Schang (1912) and Hank Gowdy (1913), who opposed each other in the 1914 World Series. Gowdy's Boston Braves were managed by Stallings. Schang's Philadelphia A's were led by Jamieson's future skipper, Connie Mack.
In both 1912 and 1913 Jamieson pitched over 200 innings. His combined won-lost record of 27-17 was very good, and his ERAs were respectable, just below 3.00. But he gave up more hits than innings pitched and was somewhat wild, walking 4.0 batters per 9 innings in 1913.
1914 marked Jamieson's transition to the outfield. He pitched only 86 innings with a dismal record of 3-8 and 4.60 ERA. In contrast, his performance at the plate was healthy. He batted .308 in 221 at bats.
Jamieson became a full-time outfielder in 1915 (though he continued to pitch on occasion in the majors). He batted .307 in 522 at-bats for the Bisons. Teams in the established American and National Leagues were looking at him, as was the upstart Federal League, which had a team in Buffalo.9 Jamieson also recalled considering an offer from a league in Maryland where Home Run Baker eventually played.10
Jamieson thought of not signing with the established leagues, but he heard talk of players being banned if they went with the Feds. By this time he was a family man with much to consider. During a limousine ride that he, his wife, and infant son Charles, Jr. took with Bisons manager and former major league star Patsy Donovan, he decided not to go with the Feds.11 Of course, that league folded after 1915. Jamieson – always a financially conscious man – mused, "They took everyone back, I could've made $10,000."12
At the end of the International League season, Buffalo sold Jamieson and Joe Judge to the Washington Senators. They made their major-league debuts in a home game on September 20, 1915.
The duo had left Buffalo, separating to visit family over the weekend (Jamieson's in Paterson, Judge's in Brooklyn). They met up in New York on Monday morning, taking the train to Washington for the 3:00 p.m. game. They were delayed when the train broke down in Baltimore. As they scrambled into the clubhouse, Washington captain George McBride virtually threw their uniforms at them, saying they were each in the starting lineup, and the game was being held up pending their arrival! On this hectic but memorable day, Jamieson in left field went 1-for-4 and Judge at first base was 2-for-3 as Washington won 6-0.13
Down the stretch in 1915, Jamieson played in all 17 of the team's remaining games and hit .279. However, Washington was stocked with outfielders. In 1916 center fielder Clyde "Deerfoot" Milan was in his prime. Manager Clark Griffith used veteran Howard Shanks as his second outfielder, leaving Elmer Smith, Sam Rice, Henri Rondeau, and Danny Moeller vying for time with Jamieson. Rice would emerge as an all-time Washington great and future Hall of Famer. Jamieson's marks in 64 games were only comparable to the league average.
Jamieson enjoyed his time with Washington. He reminisced to Lawrence Ritter about what a fine fellow Walter Johnson was. This didn't stop "The Big Train" from tricking Jamieson into buying ice cream sodas for the entire team at a shop in Philadelphia.14 He also liked Griffith, recalling that on the road the team ate breakfast at the hotel, where they had a meeting each morning. If a player was late, the fine was a box of cigars. Jamieson and Walter Johnson were late one morning and instead of cigars brought a box of candy. For some reason this evoked howls of laughter from Griffith and the players. Jamieson also noted that Griffith was a "good mixer" with the players and was captain of their duckpin bowling team.15
By 1917, though, it was clear that Jamieson wasn't in Washington's future plans. In July, he was waived, and Connie Mack got him for the Philadelphia A's, an interesting collection of Deadball Era players who at 55-98 finished last. Mack made Jamieson leadoff hitter in 80 and right fielder in 83 of Philadelphia's remaining 86 games. He played well, hitting .267 (lifting his overall average to .258), when the league average was .248. At the conclusion of 1917 Charlie Jamieson had the inside track to be a major-league regular. He was also a proud family man with a wife and two-year-old son.
Yet as it developed, 1918 was a trying year for Jamieson. To start, the A's were almost broke.16 In spite of their financial troubles and America's participation in World War I, Mack managed to field a roster for opening day in Boston. Jamieson was in right field, going 0 for 4 against Babe Ruth. On June 12, he was hitting just .181 when he received word that his son was ill with diphtheria.17 In great despair he traveled east from Detroit to be with his wife and son. Charles Jamieson, Jr. died on June 17, 1918.18
Upon returning to the A's, Jamieson fared poorly. He improved a bit as the season wore on, but needed a 4-for-8 run over the last two games to clear .200. Yet in the midst of the turmoil of 1918, Jamieson had a game which harked back to his days as a pitching prospect. On August 6 the beleaguered A's were in St. Louis on the final leg of a 19-game road trip, having played 13 games in the previous 11 days. Mack resorted to Jamieson as his starter, and he pitched a complete game, beating Browns ace Allen Sothoron, 6-4. Jamieson yielded 11 hits, walked four, and struck out none. However, he held the Browns scoreless over the first six innings and held future Hall of Famer George Sisler to 1-for-4.
On March 1, 1919 Larry Gardner, Elmer Myers, and Jamieson were traded from the A's to the Cleveland Indians for Braggo Roth. Jamieson's subsequent development into a star led Connie Mack to call the deal "one of the worst mistakes I ever made."19 But it happened largely because of Jamieson's hard bargaining and Mack's low budget. "He wouldn't pay a dollar," Jamieson exclaimed to Ritter.20 Jamieson actively supported the efforts of Players Fraternity president Dave Fultz to organize against the owners.21 He wanted out of Philadelphia and Mack obliged. In reporting the trade, the Cleveland Plain Dealer noted that "at the close of the American League season Jamieson joined the Steel League team and threatened to stick to that circuit if forced to remain a member of the Athletics."22
Jamieson's first season as an Indian, 1919, was strange. Through mid-July he'd gotten into just 20 games with a meager 12 at-bats. Five of those at bats came during the four pitching appearances Jamieson made in 1919, all while Lee Fohl was managing the team. Jamieson resented Fohl, who called him his "utility player."23
On July 18 the Indians were up by three runs in the ninth inning against the Red Sox, who proceeded to load the bases. Fohl brought Fritz Coumbe in to face Babe Ruth. As Jamieson remembered it, "Coumbe delivered a curve to Ruth, who was waiting for it and boy did he belt it, over the fence for a home run."24 Jamieson further recalled, "We were all mad, you know, about getting beat like that because we were fighting for the pennant… the next morning Tris Speaker came into the clubhouse and said, "Come on, boys, we'll hold a meeting. There's a change now, I'm the new manager of the ball club and there are going to be some changes… Jamieson, you're leading off and playing left field."25
Jamieson inaccurately recalled becoming a regular immediately upon Speaker's ascent. In fact, he got into only nine of Cleveland's remaining 61 games, mostly as a pinch runner – he got only five at-bats. Yet despite flux on the diamond, there was personal joy: Edith Jamieson gave birth to a daughter, Ethel Lois.26
Charlie Jamieson established himself as a major-league regular in 1920. He became a main cog for the World Champion Indians and participated in many of the events for which they are remembered.
He got in the lineup on May 26 when Jack Graney, the Indians' primary left fielder since 1910, had to have his tonsils removed. Jamieson hit safely in all ten games he played through June 5. He played primarily against righties with Joe Evans playing against lefties.27 So efficient were they that when Graney returned on June 5, the Plain Dealer noted, "He will be ready to play within a few days but will not have to hurry as Jamieson and Evans are putting up a great article of ball." 28 Graney wouldn't play again until July 22 and would start only seven more games the rest of the season.
On August 16, 1920, against the Yankees at the Polo Grounds, family, friends, and fans from Paterson came to the game for a "Charlie Jamieson Day" as thanks for his donations to a fireman's widows' fund.29 In the top of the fifth inning, Carl Mays fatally struck Ray Chapman in the head with a pitch. Jamieson recalled that a doctor from the Paterson contingent came down from the stands to lend assistance. He also said that following the incident neither his mother nor sister ever attended another game.30
On September 27, 1920 Jamieson had a superb game, going 4-for-5 and hitting the first home run of his big-league career in an 8-4 victory over the Browns. The Indians kept a half-game lead over the White Sox with only six games left. The Plain Dealer reported: "Jamieson was a firebrand … He walloped two singles, a double and a home run over the right field wall scoring two men… Right hand pitching has no place in the game with Jamieson up. Speaker and Sisler look like pigmies in comparison with him today."31
After winning the AL pennant, Cleveland faced the Brooklyn Dodgers in the World Series. Jamieson tied for the series lead in batting at .333 in six games.32 He was on third base in Game Five on October 10, when Elmer Smith – Jamieson's former teammate in Washington and now Cleveland's right fielder – hit the first grand slam home run in World Series history. In the seventh and final game of the series, played in Cleveland on October 12, the Indians led 1-0 in the bottom of the fifth. With one out, Jamieson reached on a dribbler in front of the plate. He stole second and scored on Speaker's triple. His trip around the bases was photographed in sequence. The Plain Dealer's caption noted, "The camera man must've had a hunch Jamie would score."33 Jamieson's run was crucial in the clinching 3-0 victory.
In 1921 and 1922, while still in a platoon with Joe Evans, Jamieson was the predominant left fielder for the Indians. In 1921 he played 140 games and hit .310; in 1922 it was 145 games and .323. He batted almost exclusively leadoff, and his high on-base percentage made him well suited to the job. On a personal note, he and Edith welcomed a second daughter, Edith Jean, in 1921.34
In January 1923, the Indians traded Joe Evans, thus ending the platoon in left field. Jamieson batted against seven southpaws during spring training in New Orleans, including future Hall of Famers Rube Marquard and Eppa Rixey. The Plain Dealer noted that "Jamieson's good eye, his speed in getting away from the plate, and his faculty of pulling the ball should enable him to bat with fair success against portsiders…with Evans gone, a steam derrick could not move Charlie out of the field."35
After going 1-for-5 on Opening Day, Jamieson never fell below .321 over the rest of the 1923 season. Following the first game of a July 7 doubleheader against Boston where Jamieson went 3 for 6 and scored 4 runs, he'd hit in a career high 23 straight games. The next day his performance was celebrated in the Plain Dealer with a vivid description:
"A ball is hit towards left field. In a far flung arc it rides toward the bleacher fence. The sun glistens on the lenses of a pair of smoked glasses under a long visored cap, as a stocky young man races back with incredible speed. He nears the fence, still going fast, and with his hands over his head, catches the ball. Thousands of fans shriek their approval and then settle down once more in their seats. 'The greatest left fielder in baseball' is the verdict from the judges. Charlie Jamieson!"36
The same Plain Dealer article described Charlie's evolution as a big-leaguer: "Yes, the greatest left fielder in baseball: one of its fastest runners and best hitters…Yet four seasons ago he was thrown in to make a trade good and the year previous to that he was passed from one club to another on waivers. He couldn't hit. Experts said he never would. So they thought. Charlie Jamieson now is 30. But he is as fast as ever and is hitting many points in advance of everything he ever did before."37
On July 17 Jamieson went 5-for-5 in a 13-0 drubbing of Carl Mays and the Yankees. The Plain Dealer noted, "Jamie has been having a great race of late with Babe Ruth for the runner up position in the American League batting averages, and yesterday jumped past his batting rival by a margin of almost five points."38
Jamieson and Ruth, who first met in 1914 as opponents in the International League, maintained a warm friendship. Jamieson recalled that he, the Babe, and Goose Goslin got good-hearted chuckles by filling each other's gloves with grass and peanut shells back when the players left them on the field between innings.39 Following their careers, when Ruth came over to Paterson to take in a sporting event or enjoy the offerings of a local tavern, Jamieson would join him.40
Jamieson finished 1923 with a career-high 222 hits, tops in the AL and second in the majors to Frankie Frisch's 223. He tallied more hits than 28 future Hall of Fame position players who appeared that season.41 His .345 average and.422 on-base percentage far exceeded the league averages of .283 and .351. Jamieson hit leadoff in each of his 152 games, and led the majors with 746 plate appearances.
1924 was Jamieson's other peak season. He reached a career high .359 batting average, good for second in the league, behind only Babe Ruth at .378. Ever the contact hitter, Jamieson struck out only 15 times in 663 plate appearances. His 213 hits were second in the American League behind Sam Rice at 216, but ahead of Ty Cobb at 211.
From 1925 to 1930, his last season playing over 100 games, Jamieson's batting averages were quite consistent, ranging from .291 to .309. These were good numbers even for the first group of lively ball batsmen, but a drop-off from the years 1920-1924. Jamieson attributed this to being a "scratch hitter," meaning he'd get lots of infield hits, so when his legs began to slow it affected his offense.
Jamieson's hustle made him a favorite in Cleveland, as the Plain Dealer noted in 1929: "The place Jamie holds in the hearts of the Cleveland fans isn't his just because he is a fine ballplayer, but because he has always been one member of the Indians who never quit … never in all the years … has there been a boo or hiss or a hoot from the bleachers for Jamie."42
As Jamieson's career wound down there were two more "Days" in his honor. The first took place in Cleveland on May 11, 1929 as part of a game against the now mighty Philadelphia A's. Connie Mack paid tribute to Jamieson before the game, stating, "Back in 1918 I never knew he was going to hit… but now there are 100 batters I would rather see at the plate against us with the game on the line ahead of Jamie." 43 The other "Charlie Jamieson Day" took place at Yankee Stadium on August 3, 1929. Again, a contingent of Paterson fans came out for the celebration.
By 1931, the Indians were grooming local Cleveland prospect Joe Vosmik to take over for Jamieson in left field. Anticipating this, Henry P. Edwards of the Plain Dealer reminisced about what an exciting player he'd been:
"If there has been a better fielding left gardener during the last thirty years than Jamieson, this writer failed to get a look at him … If there was a leaping one-hand catch to be made Jamieson could be depended upon to make it. If it were necessary to dash into the bleacher or pavilion wall, take a foul fly with one hand and yet be in a position to throw a runner out at the plate, Jamieson could and would turn the trick. And if any outfielder had that diving shoelace catch, which necessitated a complete somersault copyrighted, Charley Jamieson, Cleveland's famous 'rubber man,' was and is the man… Jamieson never failed to run out a hit in his life."44
Jamieson became a seldom-used reserve in 1931, yet although he had only 43 at-bats, he hit .302 with just one strikeout. He was offered the manager's job in Toledo of the American Association for 1932. He told Lawrence Ritter that he turned it down, wanting to be home with his family, which had added son John in 1931. Jamieson was still active with the Indians at the start of 1932. However, he got into only 16 games, the last on July 18.
Jamieson signed to play in 1933 with the Jersey City Skeeters of the International League. He injured an ankle early on, and the manager insisted that he keep playing. He would have none of it and left the squad. Jamieson recalled that as he walked out of the clubhouse, the team owner said, "Come by anytime and see the games for free." Jamieson replied, "I have a lifetime pass to any big league ball game I want."45
By the end of his career Jamieson owned two houses in Hawthorne, New Jersey, a small town bordering Paterson. Unfortunately, he and his family were not immune to the Great Depression. The banks defaulted on a portion of his money and foreclosed on one of his houses, forcing him to move his family to the other, which he'd been renting for income. Even with this misfortune, the family made do. Edith Jamieson added income by sewing and making clothes. Jamieson tried his hand at selling automobiles as well as a bowling alley enterprise.46
During World War II, Jamieson worked as a Bergen-Passaic County Security Policeman for Wright Aeronautical Company. His daughter Ethel served as a WAVE in the Pacific, where two of his nephews served with honor as Marines.47
In 1949 the Cleveland Indians hosted an Old Timers' Game reunion of the 1920 World Champions. It was memorable for Jamieson, who brought his family to the event. During the celebration, Jamieson hobnobbed with star centerfielder and future Hall of Famer, Larry Doby. Just like Jamieson a generation before, Doby learned baseball on the diamonds of Paterson. The Paterson press reported that Jamieson and Doby had both actually lived at the same residence, 186 12th Avenue.48
Through the 1950s Jamieson took pride in his family and their accomplishments. His daughters raised families. He loved spending time with his grandchildren. Jamieson's son John served as an X-ray technician for a M*A*S*H unit during the Korean War.49 Upon returning from the service, he too started a family and enrolled in Rutgers University School of Engineering. John's achievement in earning an engineering degree was a source of great pride for Jamieson, whose formal education was limited because of working from an early age.50 Jamieson worked as a school crossing guard in his later years, enjoying the antics of the youngsters he'd help.
Ritter and his valued associate Barbara Neuwirth interviewed widower Jamieson at his Hawthorne home on September 6, 1963. Jamieson was initially reticent but was soon gleefully reminiscing (Ritter had a knack for drawing this out). During the interview Ritter remarked that he'd just received a letter from Joe Wood, who'd sent him some pictures.51 Jamieson remarked that Wood was the best pool player in baseball during the years that they were teammates in Cleveland and that he was second best.52 It is said that Jamieson's nickname "Cuckoo" came from a trick shot he mastered. Jamieson told Ritter that he often drove up to Pennsylvania to spend time hunting with Wood.53
Ritter also mentioned that he'd recently visited with Goose Goslin. Jamieson lit up at the mention of his old pal. He hadn't seen Goslin in years, but knew that he was running a boat leasing business on a lake near Salem, New Jersey.54
Ritter asked Jamieson about the 1919 World Series fix and remarked that during his travels he'd been reading a book about it. Ritter expressed doubts about the book's premise that the players threw the series because of White Sox owner Charles Comiskey's miserly ways. Jamieson agreed with Ritter, noting that "Comiskey paid pretty good."55
One of the highlights of the interview came when Jamieson brought out his old glove. Poignant moments included mention of Charles, Jr. and when Jamieson recounted that his father was in the stands during the 1920 World Series, but couldn't see the games because diabetes had stolen his vision.56
In his seventies, Jamieson still enjoyed reminiscing with old teammates and opponents. He loved being a part of Old Timers' Games at Yankee Stadium. The last time he gathered with the ballplayers of his day came in August 1968 when he went to Cooperstown to celebrate the Hall of Fame induction of his buddy Goose Goslin. Jamieson basked in the Glory of Their Times with Sam Rice, Ray Schalk, Frankie Frisch, Joe Cronin, Zack Wheat, Pie Traynor, Lefty Grove, and others who stopped by. When Edd Roush approached, Jamieson characteristically remarked that Roush had held out a whole year to get more money, which helped Jamieson get a raise too.57
Jamieson's trip to Cooperstown was covered by Chuck Pezzano of the Bergen Record, who observed, "For him, the visit to Cooperstown was a reliving of the past. For those with him, it was a new look at baseball history, a living look at baseball and the men in the game the past 60 years."58
Charlie Jamieson passed away from heart problems (a cause of death that ran among his brothers) on October 27, 1969. That July, he had been named the Indians' all-time left fielder as part of a poll conducted by the Cleveland Press and the team.59
In 2016, he received the long overdue honor of induction into the Indians Hall of Fame.
Acknowledgments
Special thanks to Charlie Jamieson's son, John W. Jamieson (1931-2011) and his daughter-in-law, Joan Jamieson. Much of the background information about Jamieson's family and life after baseball came from them. In 2010 I sent them a copy of the Ritter/Jamieson audio. They greatly enjoyed it. Thanks also to Jay A. Jamieson, M.D., great-nephew of Charlie Jamieson, and SABR member Gerald Wood, who helped me get in contact with the Jamiesons.
This biography was reviewed by Rory Costello and fact-checked by Thomas Nester.
Sources
Books
Jeff Carroll, Sam Rice: A Biography of the Washington Senators Hall Of Famer, Jefferson, North Carolina: McFarland & Company, 2008.
Charles Fountain, The Betrayal:The 1919 World Series and the Birth of Modern Baseball, New York: Oxford University Press, 2016.
Bill James, The New Bill James Historical Baseball Abstract, New York: Free Press, 2001.
Jay A. Jamieson, M.D., Once a Marine: Honoring the Life of My Father Captain Roger Jamieson, U.S.M.C. R (Ret.), Indianapolis, Indiana: Dog Ear Publishing, 2008.
W.R. Jamieson & S.A. Wolter, The Baseball Career of Charlie Jamieson, Santa Ynez, California: 1999. Roger Jamieson, Charlie's nephew, assembled this document for the consideration of the National Baseball Hall of Fame. It was not intended for publication. The Jamieson family graciously provided a copy of this collection of photos, commentary, and news articles at the beginning of my research.
Jack Kavanaugh, Walter Johnson:A Life, South Bend, Indiana: Diamond Communications, 1995.
Neal McCabe and Constance McCabe, Baseball's Golden Age:The Photographs of Charles M. Conlon, New York: Harry N. Abrams, Inc., 1993.
Jim Reisler, Babe Ruth: Launching The Legend, New York: McGraw-Hill Books, 2004.
Lawrence S. Ritter, The Glory of Their Times, New York: MacMillan, 1966.
Mike Sowell, The Pitch That Killed: Carl Mays, Ray Chapman and the Pennant Race of 1920, New York: Collier Books, 1989.
Mike Vaccaro, The First Fall Classic: The Red Sox, The Giants, and the Cast of Players, Pugs and Politicos Who Reinvented the World Series in 1912, New York: Doubleday, 2009.
Newspapers/magazines/Internet resources
Cleveland Plain Dealer historical archive (Cleveland.com)
rt23.com, "Silk City" – Paterson, New Jersey
Proquest Historical Newspapers: The New York Times (1851-2010). search.proquest.com, accessed via syossetlibrary.org, Syosset Public Library website.
Digital Library Collection – Baseball Magazine (1908-1920), accessed via search.la84.org
"SB Nation Let's Go Tribe Top 100 Indians: #51 Charlie Jamieson," accessed via letsgotribe.com
"Triple Play Feature As White Sox Win," New York Times, May 1, 1929
"Speaker Tops Tribe Poll," Cleveland Press, May 28, 1969. (Reprinted in The Baseball Career of Charlie Jamieson.)
William Devine, "Charles Devine Jamieson", essay on Jamieson's career. It was written by a relative of the family's and never published. The version used was revised in August 2001.
Jack Devries, "Charlie Jamieson: The Ball Hawk Remembered," Game Face: The Indians Scorebook Magazine, April 1997. (Reprinted in The Baseball Career of Charlie Jamieson.)
Joe Gooter, "Here's One Old Major Star Who Finds Today's Brand of Ballplayer Better Than Ever," Bergen Record, May 19, 1963. (Reprinted in The Baseball Career of Charlie Jamieson.)
Harry Levenstein, "Babe Ruth Called Chuck Jamieson 'Ball Players' Ball Player,'" Paterson (New Jersey) Evening News, October 29, 1969. (Reprinted in The Baseball Career of Charlie Jamieson.)
Chuck Pezzano, "An Old Indian Visits the Shrine," Bergen Record, August 3, 1968. (Reprinted in The Baseball Career of Charlie Jamieson.)
Jim Smith, "Paterson's Jamieson Left Star's Mark." W.R. Jamieson couldn't confirm the source or date for this article. He only identified the Evening Record as a possible source. The article was apparently written close to, or right after Jamieson's death, since it references his selection as the Indians all-time left fielder. (Reprinted in The Baseball Career of Charlie Jamieson.)
Bob Whiting, "Time Out," "That House on 12th Avenue Sent Two To Major Leagues." Most likely from the Paterson (New Jersey) Morning Call, sometime after 1948 and most probably in 1949. (Reprinted in The Baseball Career of Charlie Jamieson.)
Other
John W. Jamieson biographical e-mail, October 16, 2010. Biographical and anecdotal information regarding life and family of Charlie Jamieson provided by his son (augmented with telephone consultations).
Notes
Born
February 7, 1893 at Paterson, NJ (USA)
Died
October 27, 1969 at Paterson, NJ (USA)
If you can help us improve this player's biography, contact us.
https://sabr.org/sites/default/files/JamiesonCharlie_Conlon.jpg
600
800
admin
/wp-content/uploads/2020/02/sabr_logo.png
admin
2017-08-03 17:47:53
2020-04-09 14:40:33
Charlie Jamieson