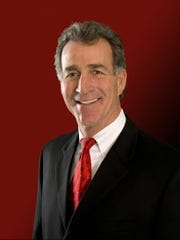 ---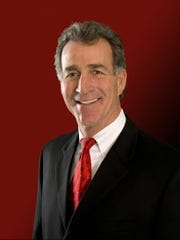 Chris Welsh was a prodigal son who returned as a journeyman southpaw pitcher for his hometown club. When his days on the mound ended, he ventured into the booth and gradually transformed himself into a broadcast fixture in Cincinnati.
Born in Wilmington, Delaware, on April 14, 1955, Welsh was the third of four children and the only son. His father, Dan, was a chemical engineer; his mother, Kaye, worked as a nurse until the children came. Dan moved the family to the Queen City when Welsh was 5 years old, to open an office for selling plastics to Midwestern molding companies.
Pete Rose of the Reds became Chris's sports hero. Every player on his youth team wanted to emulate "Charlie Hustle's" headlong play. "But our coach wouldn't let us, because we had these beautiful, new embroidered 'Cardinals' on the front of our jerseys, and he didn't want us ripping them up," Welsh recalled. "So, here we were, all these Pete Rose wannabes, and we had to slide feet-first."1 His eighth-grade Catholic Youth Organization team played for the city championship in 1969. "We lost the game, but I have great memories of playing at Crosley Field."2
Welsh attended St. Xavier High School the next year, despite living within walking distance of powerhouse Moeller High School. He pitched for St. Xavier and in the city's strong summer leagues. Welsh received no professional or college offers at graduation in 1973 but walked on at the University of South Florida (USF). The school hired former Phillies star Robin Roberts as coach in Welsh's senior year.
Roberts told his left-hander that his pitching approach wouldn't work in professional baseball. Welsh objected, saying he had gone 10-3 the previous season with an enviable ERA and 10 complete games. "I'm telling you, son, it's not going to work in pro ball," the Hall of Famer insisted. Roberts remade Welsh's delivery and convinced him to throw something other than a curveball. The collegian's pitching stats dipped his final season, but his overall worth climbed. Decades later he said of Roberts, "He was one of the guys who got me to the major leagues."3
Welsh had turned down $500 from the Yankees his junior year when chosen in the 24th round of the amateur draft. New York drafted him again in 1977, in the 21st round, and signed him at age 22. Welsh got no money, "just a plane ticket to Oneonta."4 He moved steadily up through Oneonta, West Haven, Fort Lauderdale, and Columbus, on his way to collecting "a whole pocketful of rings" from minor-league championships.5 Welsh was the final player sent down from the Yankees club in 1979. "He wasn't about to beat out Ron Guidry, Tommy John, or Luis Tiant, but his effort was noteworthy," Murray Chass wrote in the New York Times.6
The team dispatched Welsh, pitcher Tim Lollar, and outfielders Ruppert Jones and Joe Lefebvre to San Diego at the start of the 1981 season. Sportswriter Furman Bisher wrote that the trade "virtually restocked the Padres in exchange for Jerry Mumphrey and a pitcher to be forgotten," i.e., John Pacella.7 Bill Conlin added in The Sporting News that Jack McKeon, the Padres' wily general manager, "stole the Yankees blind."8 McKeon met his new pitchers in Phoenix. "Lollar, you're the (number-5) pitcher, Welsh, you're (number 4)," he told them. "Bus leaves tomorrow, you guys are in the rotation."9
Welsh posted a 14-15 record during his first two seasons in San Diego. Padres infielder Tim Flannery offered him a bit of advice: "There are two kinds of baseball players — the ones who have been humbled and the ones who are about to be humbled."10 Welsh learned the lesson firsthand in 1983 during a clash with manager Dick Williams.
The left-hander was 0-2 when he made his first start of the year during the second half of a doubleheader in Pittsburgh. The Pirates were scoreless in the third inning but had runners Johnny Ray at third base and Lee Lacy at first. Worried about a double steal, Williams called for a play: Catcher Doug Gwosdz would fake a throw to second if Lacy broke, then throw instead to third. (Williams later remembered it as a simple pitchout intended to nab Lacy.)
The pitcher was never supposed to throw to first, but Welsh did so twice. Gwosdz went to the mound on orders from the bench to tell him to stop. Welsh again threw to first, bringing out pitching coach Norm Sherry to reiterate the message. "If you don't like the way I'm doing it, get someone else out here," Welsh snapped.11 He later said he thought he could pick off Lacy, ending the possibility of a steal followed by a two-run single. Lacy reached second anyhow on a wild pitch, but Welsh got out of the jam by getting Lee Mazzilli to fly out.
Williams was irate. He yanked Welsh when he returned to the dugout, and banished him from San Diego. The left-hander would "never pitch here again as long as I'm the manager," Williams declared.12 The Padres quickly sold Welsh's contract to Montreal. "When I was through dealing with him," Williams later wrote, "the Padres realized that we play only to win and only as a team. Or we get the hell out. … And after all, Chris Welsh wasn't Cy Young."13
Although never to be one of Williams's admirers, Welsh was contrite and insisted that he wasn't a troublemaker. "I feel bad for my wife because we had just gotten our feet on the ground in San Diego and she likes the community," he said. "You don't want to live like a nomad. I know what I did was wrong. From now on, I'll be the most coachable player in America."14 He acknowledged that he was fortunate still to be employed in the major leagues. "I'm just not good enough to be a jerk and get away with it," The Sporting News quoted him saying. "The Padres could have sent me to the Dominican Republic or somewhere. I never would have been heard from again."15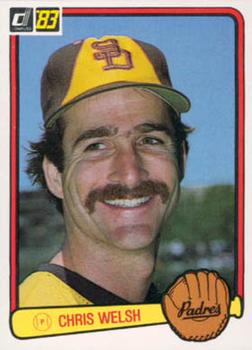 The published remark compounded Welsh's problems. "What does he think this country is, Alcatraz? Devil's Island?" a Dominican demanded to know in a letter to the editor. "Apparently he views this country as the last place on earth."16 Welsh himself then wrote to The Sporting News, pointing out that the San Diego Union had correctly quoted him saying the Padres could have sent him to San Salvador, not the Dominican Republic. "Of course, by mentioning San Salvador, I was referring to a city in a country that is barren of major league baseball, with no reference to its geographical, cultural or political environment," he explained.17
Welsh made 16 appearances with the Expos during 1983, mostly in relief. He spent the following season as a productive starter with the Indianapolis Indians, Montreal's affiliate in the Triple-A American Association. Montreal traded him to the Texas Rangers in November 1984 for first baseman-designated hitter Dave Hostetler. Welsh began 1985 with the Oklahoma City 89ers in the American Association, going 6-1 in eight games before Texas called him up. The Rangers were awful that season, finishing 62-99 and last in the AL West. They released Welsh, 2-5, that November. "It's a blow to your ego to get released by the (worst) baseball team in the universe," the pitcher said.18
Without a contract, Welsh contacted everybody he knew as the 1986 season approached but got no interest. He learned that Pete Rose, the Reds' player-manager, was filming a TV commercial at the USF stadium. Welsh drove over and got a warm greeting from Rose, who asked where he would be pitching that season. Welsh first bluffed and said he would be with Cincinnati, then confessed that the Reds' general manager wanted nothing to do with him. "I run the show around here, not Bill Bergesch," Rose said with a curse. "You get down there tomorrow at Al Lopez Field at 8 A.M. I will have a uniform with your name on it in the locker."19
Charlie Hustle kept his word, and something special happened when Welsh first donned a Reds uniform. "It was in spring training, and walking out on the field, it was surreal," he wrote. "It was an indescribable feeling of nervousness, elation, satisfaction."20 He couldn't quite believe who his new manager was. "As a kid I dreamed of playing with Pete Rose, and I ended up playing for Pete Rose."21
Welsh pitched well in camp but began the season in the American Association with the Denver Zephyrs. He knew he lacked a proper major-league fastball. "They measure it with a sundial," he joked. "It's probably in the low 80s if I have a good tailwind." But he also had a sinker, a slower sinker, a cut fastball, and a slow curveball. When Cincinnati called him up in late May, hitters struggled to adjust to him amid harder-throwing Reds relievers. "I'm just a guy who has learned how to get by in the major leagues with junk," Welsh said.22
Rose thought his veteran southpaw could be valuable. "He's the type of guy you love to face 10 times a game," Rose said, "but you go back to the dugout eight times. Then the time you're ready for him, he throws the ball by you."23 Welsh left 35 tickets for family and friends at his first home Reds game, June 1. "I was more nervous in that game than any game I had ever pitched in my life," he said years later.24 He pitched well over seven innings but lost 2-1 to the Cardinals.
Cincinnati was unusually rich with local talent that year. "The Reds can now start a lineup with a half-dozen homegrown Cincinnatians: Pete Rose at first, Ron Oester at second, Barry Larkin at short, Buddy] Bell at third, Dave Parker in right and Chris Welsh pitching," Peter Gammons noted in Sports Illustrated.25 The six players posed together for a spread in US magazine with Reds owner Marge Schott and her dog, Schottzie. Welsh went 6-9 in 1986 in 24 appearances. The highlight if his season came versus the Phillies, July 5, when he hit his only major-league home run. He rounded third base to see boyhood hero Rose waiting at the plate with his jacket.
Welsh's sole season with the Reds was nearly the end of the line. He signed with Montreal as a free agent for 1987. The left-hander briefly retired when released during spring training, but later signed with the Charlotte O's, Baltimore's Double-A Southern League affiliate. Welsh went 1-1 in four appearances before appearing in an exhibition game in Rochester versus the Orioles. "I got clobbered and decided to go home for good."26 His record during five major-league seasons was 22 wins, 31 losses, no saves, and an ERA of 4.45.
With a degree in marketing, Welsh returned to Florida and with friends started a company to provide payroll and insurance services for small businesses. The former pitcher found the daily grind stressful and exhausting. He launched The Thinking Pitcher, a newsletter about pitching for college and high-school coaches. The publication didn't turn a profit but kept him connected to the game. In 1990 he made five appearances for the St. Petersburg Pelicans in the short-lived Senior Professional Baseball Association.
Three years later his father sent him a Cincinnati Enquirer clipping about WLWT, Channel 5, needing a Reds television analyst. Dan Welsh had grown up a baseball fan in New York City, where he had followed Yankees pitcher Waite Hoyt, who had later worked as a Cincinnati radio broadcaster (1942-1965). As a boy the elder Welsh also had seen the Brooklyn Dodgers play at Ebbets Field. One day pitcher Don Newcombe had uncorked a wild pickoff attempt that let a runner score. The error so astounded and agitated young Dan that he accidentally overwound his watch and broke it. He kept the useless timepiece for decades.
Chris Welsh took the lesson with him into the booth. "What I took away from it … was how that little watch sitting in his drawer would take him back to an important memory of his younger years, and how things can make you remember moments," he said long afterward.27 His father had often recorded Hoyt's broadcasts and kept score. Chris would inherit boxes of reel-to-reel tapes and old scorebooks following Dan's passing in 2006.
The analyst's opening in Cincinnati in 1993 changed Welsh's life. He called the TV station, made his own audition tape, and sent it north. A few weeks later he landed the job without an interview or an audition. "I almost fell off the chair with surprise," he said.28 He began working over-the-air games for Channel 5. After the sudden death of broadcaster and former Red Gordy Coleman the following spring he began to work cable games as well.
The strong Cincinnati broadcast team included former Reds pitcher Joe Nuxhall and future Frick Award winner Marty Brennaman. Welsh credited these broadcasters for helping him to make a smooth career transition. Being a former player and Red helped, too. "He occasionally pitches Reds' batting practice, as radio voice Joe Nuxhall did for years," the Cincinnati Enquirer noted in 1995.29 Welsh learned to spend time before games talking with players and other broadcasters, including longtime Padres broadcaster Bob Chandler. "Whenever the Reds are in San Diego, we usually laugh about an incident in 1983, when Chris played for the Padres," Chandler wrote, referring to the Williams incident.30
Welsh sparked a brief controversy in April 2019 with an on-air comment that Atlanta Braves second baseman Ozzie Albies, who had signed a seven-year, $35 million contract, "may not know the difference between $35 million and $85 million."31 As with the earlier San Diego incident, Welsh quickly acknowledged his mistake. He apologized privately to Albies the next day, and said in his broadcast that his words had been "uninformed and they were wrong. … In 27 years, it's never happened before. Will not happen again."32
The broadcaster earned several nicknames from his partners over the years. These included the Crafty Lefthander, for his playing days, and the Creeper, for his old slow fastball. He worked with former ESPN announcer George Grande for 17 years. Grande's semi-retirement after the 2009 season ended the longest broadcast partnership in Reds history, although the pair worked together occasionally as late as 2018. During later seasons Welsh generally shared the booth alternately with broadcasters Thom Brennaman and Jim Day.
Welsh became part owner of Champions Sports Academy, a Cincinnati indoor baseball and softball training facility and the founder and owner of Baseball Rules Academy, an interactive website. Welsh splits the offseasons between the Cincinnati area and Arizona. He and former wife, Deborah, had five children. The youngest son, Mac, a right-hander, pitched in the Chicago White Sox' minor-league system in 2019.
"On TV the 'crafty lefthander' appears friendly and potentially approachable if you'd see him on the street or at the ballpark," an Ohio sportswriter wrote of Welsh in 2018. "This accurately defines the Cincinnati native who … now resides in northern Kentucky."33 Grande believes his former partner is one of the Reds' best-ever sportscasters. "Marty and Joe are at the top of that list," he said in 2013, "but Chris Welsh is on that list, too."34
Last revised: February 4, 2020
Acknowledgments
This biography was reviewed by Bill Nowlin and Len Levin and fact-checked by Kevin Larkin.
Sources
In addition to the sources cited in the Notes, the author also consulted Retrosheet,org and Baseball-Reference.com.
Notes
1 John Erardi, "Other Reds Followed Pete Rose Head First," Cincinnati Enquirer, September 12, 2010.
2 Chris Welsh email to author, November 8, 2019.
3 Jason Gargano, "Covering Home," Cincinnati CityBeat, August 28, 2013.
4 Chris Welsh email to author, November 8, 2019.
5 Bill Lack, "Interview with Chris Welsh, Part I," Redleg Nation, June 5, 2006, redlegnation.com.
6 Murray Chass, "Rookie's Dream Ends Amid Yankee Cuts," New York Times, March 29, 1979.
7 Furman Bisher, "Lollar Strikes a Blow Against the DH," The Sporting News, August 9, 1982.
8 Bill Conlin, "Designated-Hitter Rule Suffers Major Defeats on Four Fronts," The Sporting News, December 26, 1983.
9 Lack, "Interview."
10 Hal McCoy, "Gennett: The Aftermath Is Still Shocking," Dayton Daily News, June 7, 2017.
11 "Pitcher Pays Price," New York Times, May 3, 1983.
12 Bill Conlin, "Elia Wraps Up Foot-in-Mouth Prize," The Sporting News, May 16, 1983.
13 Dick Williams and Bill Plaschke, No More Mr. Nice Guy: A Life of Hardball (San Diego: Harcourt Brace Jovanovich, 1990), 244.
14 Phil Collier, "Williams, McKeon Working Together," The Sporting News, May 16, 1983.
15 Stan Isle, "Caught on the Fly," The Sporting News, May 30, 1983.
16 Lionel Senior, "Taking Exception," The Sporting News, July 4, 1983.
17 Chris Welsh, "Quote, Unquote," The Sporting News, July 25, 1983.
18 "Insiders Say," The Sporting News, April 14, 1986.
19 Embedded video, "If it weren't for @PeteRose_14, we probably wouldn't know @thinkpitch as well as we do today," @FOXSportsOH, Twitter feed, June 17, 2017.
20 Joe Heffron and Jack Heffron, The Local Boys: Hometown Players for the Cincinnati Reds (Birmingham, Alabama: Clerisy Press, 2014), 211.
21 Heffron and Heffron, The Local Boys, 210.
22 "Reds Find a Spot for Welsh's Junk," The Sporting News, June 23, 1986.
23 Gene Wojciechowski, "Sax Extends Hitting Streak in Dodgers' 8-3 Loss," Los Angeles Times, September 13, 1986.
24 Lack, "Interview."
25 Peter Gammons, "Inside Baseball," Sports Illustrated, August 31, 1986.
26 Chris Welsh email to author, November 8, 2019.
27 Carrie Ann Welsh, "'My Dad Has Made a Vocation of Telling Baseball Stories,'" espnW.com, June 15, 2017.
28 John Kiesewetter, "Young Left-hander Chris Welsh Happy to Be Home as Reds TV Analyst," Cincinnati Enquirer, June 5, 1995.
29 Kiesewetter, "Young Left-hander."
30 Bob Chandler with Bill Swank, Bob Chandler's Tales from the San Diego Padres Dugout: A Collection of the Greatest Padres Stories Ever Told (New York: Sports Publishing, 2012), 161.
31 "John Fay, "Reds Analyst Chris Welsh Will Address the Ozzie Albies Controversy on the Air," Cincinnati Enquirer, April 25, 2019.
32 "John Fay, "Reds Analyst Chris Welsh Offers Apology Over Ozzie Albies Comment," Cincinnati Enquirer, April 26, 2019.
33 Dave Ross, "Spring Training Report: Tech-Talk with Chris Welsh," Sidney (Ohio) Daily News, March 1, 2018.
34 Gargano, "Covering Home."
Full Name
Christopher Charles Welsh
Born
April 14, 1955 at Wilmington, DE (USA)
If you can help us improve this player's biography, contact us.
https://sabr.org/sites/default/files/WelshChris_0.jpg
600
800
admin
/wp-content/uploads/2020/02/sabr_logo.png
admin
2020-02-04 11:09:41
2020-04-09 14:37:27
Chris Welsh