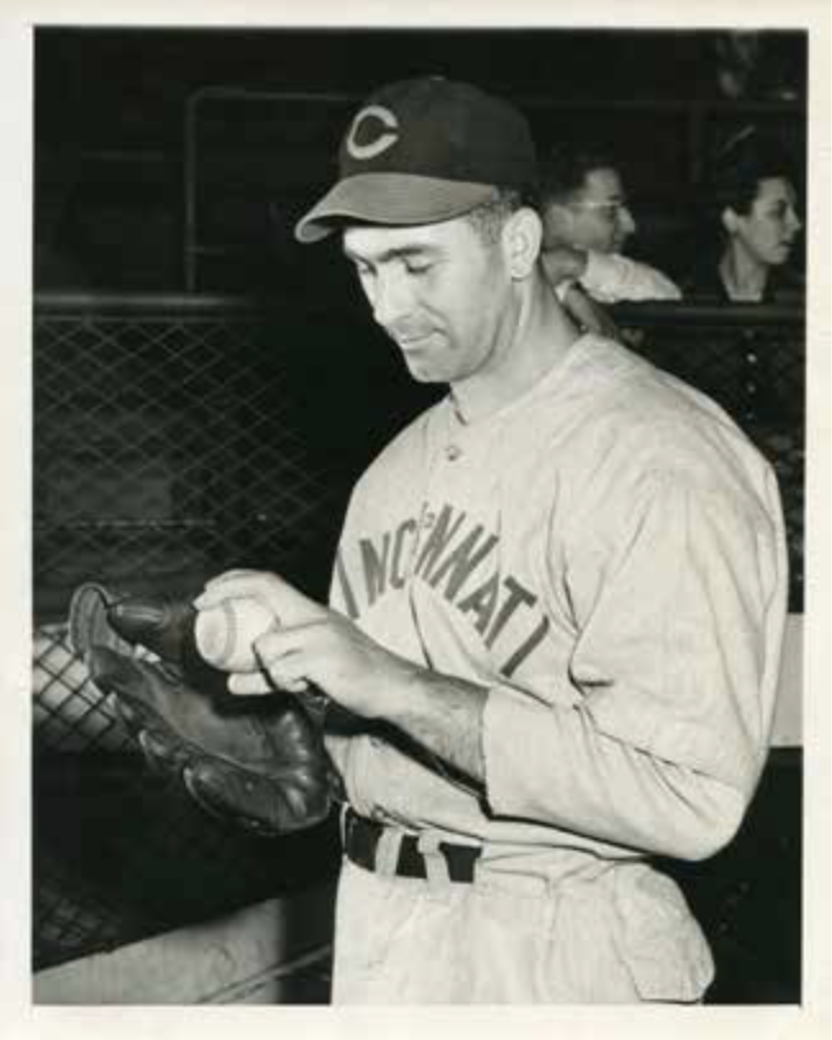 ---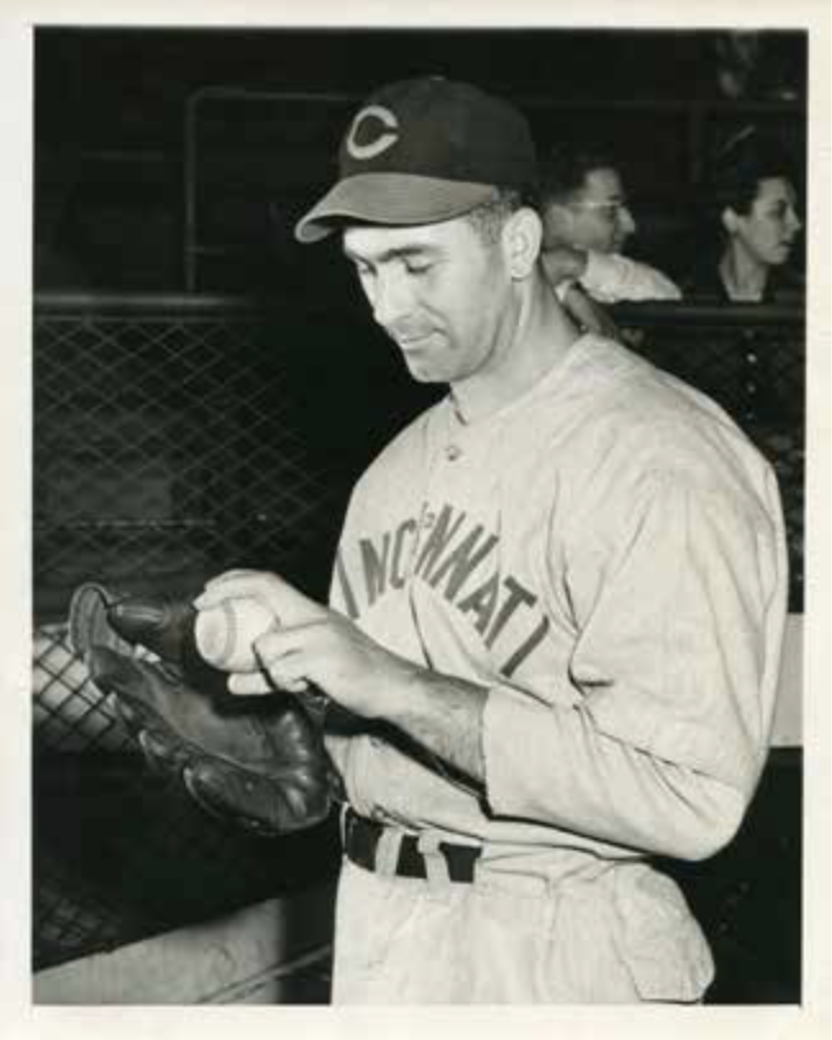 Left-hander Clyde Shoun played for the Braves near the end of a long 14-year career in the majors that saw him make all but the last 16 of his 454 appearances in the National League. Typically used in relief, he started just 85 contests and posted a 73-59 lifetime record with a career 3.91 ERA. Shoun threw 34 complete games, three of them shutouts — and one of those was a no-hitter, just missing a perfect game by the smallest of margins (one base on balls). Above all else, he was a gamer, rebounding several times when it appeared his career was washed out.
At first glance, Shoun's birth and death data look as if they must be wrong. He's listed as being born on March 20, 1912, in Mountain City, Tennessee, but is listed as dying on the same day — and in Mountain Home, Tennessee. And yet he is buried at Sunset Cemetery in Mountain City. This is indeed all correct. Shoun did indeed die on his birthday, at age 56 on March 20, 1968. He actually passed away in Johnson City, but it was at a Veterans Affairs Medical Center named Mountain Home. The hospital maintains its own ZIP code and mailing address, and it is indeed Mountain Home, TN 37684.
Shoun's family originated in the Alsace-Lorraine region of the Volunteer State, but the oldest ancestor today's family has traced actually arrived in Philadelphia, Pennsylvania by ship in the late 1600s. These forbearers settled in Loudoun County, Virginia, but moved to the east Tennessee county now known as Johnson County when Leonard Shoun was given a land grant. Leonard and his wife, Barbara, arrived in 1792, Barbara pregnant at age 17 and Leonard toting an ax, a pick, and a bundle of clothing. He was 19. They had a large homestead at Shoun's Cross Roads where they farmed — and raised 17 children. When he died, Leonard was said to be one of the most well-to-do men in the county, maybe the wealthiest.
It was good farmland and the Shouns worked the land, with the help of "several slaves" that he owned. Leonard also owned a country store and an iron forge at Shoun's. A Shoun family history written by Carl Neal reports that Leonard's store hauled goods in from Baltimore, and that the pig (or raw) iron came from Lynchburg. Despite being illiterate, he devised a system of symbols to keep his mercantile accounts. He apparently once charged a customer for a cheese when the man had purchased a grindstone, and a bitter argument ensued until the parties realized it was simply that Leonard had neglected to draw a hole in the center of the circular symbol he used to denote the commodities.
Clyde Shoun's father, Leonard's grandson, was a farmer and a logger, working both the fields and the forest on the land. Clyde himself, his niece Dane Brooks remembers, was always known as Hardrock: "They worked hard. It was a different time. Uncle Hardrock was the fifth child of nine living children. There were four that died as infants. There would have been 13. Twelve siblings of Hardrock's, had they all lived. Everybody called him Hardrock. That's all anyone around here ever said. No one ever called him Clyde."
Some interest in sports ran in the family. Clyde's brother Miles played professional basketball for the Firestone Rubber Company team before World War II and the emergence of the NBA. Hardrock, of course, played baseball. "The story is that he could throw a ball so hard that they just called him Hardrock," said his niece. "Before he went there [to the major leagues], he played with some of the local teams here. They were ball players; that's what they did."
Shoun was a southpaw, standing 6' 1" and with a playing weight of 188 pounds. He first turns up playing semipro ball in South Carolina's Textile Baseball Leagues at Chester, S.C., in 1934, and was signed by Bill Pierre of the Birmingham ball club. Working in the Southern Association during his first year in the pros (1935), he performed very well, with a record of 12-8 and a 3.83 earned run average in 169 innings of work — excellent numbers considering that Birmingham finished seventh in the eight-team Southern Association. He led his team in victories, and the pennant-contending Chicago Cubs purchased Shoun's contract for the stretch drive (a contemporary column in the Chicago Tribune said he was nicknamed "Duster").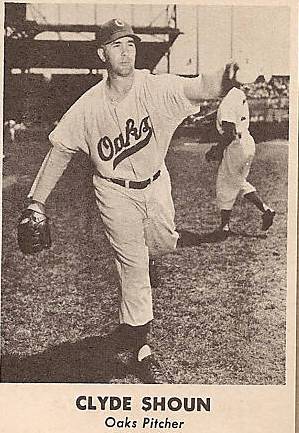 In his August 7, 1935 debut he threw the last two innings of a game the Cubs lost 6-0 to the visiting Pittsburgh Pirates; Shoun allowed one hit and struck out two. He got his first start on August 19, facing the Phillies in Philadelphia. He gave up a run in the bottom of the first, but then pitched scoreless ball through the next six innings. Philly's Joe Bowman had a no-hitter through six, but began to falter in the seventh. Ken O'Dea batted for Shoun in the top of the eighth and doubled. Billy Herman drove in two, the Cubs took (and held) the lead, and Shoun got the win. Overall, he worked 13 innings during the remainder of the season, and finished with a 1-0 record and a 2.84 ERA. The Cubs won the pennant, and Shoun was eligible to play in the World Series. He did not see action, however, in the six-game showdown with the Detroit Tigers — which the Cubs lost.
In 1936, Shoun began the year with the NL champs, but was released back to Birmingham in mid-May. He had appeared in four games and thrown just 4 1/3 innings for Chicago, giving up three hits, six walks, and six earned runs. In the Southern Association he got back on track, and was able to get in 17 complete games and over 200 innings of work for manager Riggs Stephenson, post a 15-11 record, and establish an earned run average of 3.44. Birmingham made it to the Dixie Series finals but was eliminated by Tulsa, which scored five runs off Shoun in the first two innings of the deciding game.
For the next 11-plus years, though, Hardrock remained in major league ball. The 1937 season saw him post a 7-7 record and a dismal 5.61 ERA (worst on the staff) for second-place Chicago.
Then came 1938, and things weren't looking that good when Cubs manager Charlie Grimm left Shoun in to be pounded for 11 runs on 15 hits in five innings during a March 21, 1938, spring training game against the Pirates. It was a sign of what was to come. Just before the season opened, the Cubs made a play for former 30-game winner Dizzy Dean of the Cardinals, sending Shoun to St. Louis, along with Curt Davis, Tuck Stainback and — oh, yes — $185,000, one of the largest cash sums in a baseball transaction at the time.
The Cubs won the pennant; the Cardinals finished sixth. St. Louis, however, got the best of the deal. A sore-armed Dean went 7-1 that year in limited duty, but his career was essentially over after that. Shoun, meanwhile, became a dependable workhorse for the Cards. His record in 1938 was balanced again, at 6-6, but with a considerably improved 4.14 ERA. He started in just 12 of his 40 games, increasingly being used in relief. And in '39, he was used almost exclusively out of the bullpen, appearing in a league-leading 53 games and earning a league-leading nine saves. He was 3-1, 3.76, and the 53 outings set a new major league record for pitchers, and helped the Cardinals to a strong second-place standing in the NL just 4.5 games behind the pennant-winning Reds.
It was apparently at some point in this second year with the Cards that Shoun made an impression on a future sports broadcaster, Art Rust, Jr. A young boy at the time, Rust approached him for an autograph at the Polo Grounds and was called a "black bastard." In 1976, Rust wrote about this and a couple of other incidents, "These humiliations really shook up this 11-year-old."
Hardrock got a lot of work in 1940, leading the league in appearances again with a record 54, but also earning 19 starts and throwing 13 complete games for third-place St. Louis. He won 13 games and lost 11, with a 3.92 ERA, not bad considering the inconsistency of his use as a starter on some days and a reliever on others. August was the most interesting month. On the 13th, he threw a seven-hitter, holding his former Cubs to one run, while he drove in two at the plate. On August 26, he committed a balk without even touching the baseball. The Cardinals were hoping to pull off a hidden ball trick at second base, with the shortstop holding the ball. Shoun took the mound — and was immediately called for a balk for taking his position without the ball in his possession.
For reasons unclear to us today, Shoun was unsigned as late as February 1941. He lost three weeks to a sprained ankle that year, and was never fully effective, though he still made it into 26 games. His record was 3-5, with only 70 innings pitched, compared with 197 1/3 in 1940. His earned run average had shot up, too, to 5.66. His off-year came at a most inopportune time, as the Cardinals seemed finally poised to win a pennant and held first much of the season before finishing just 2.5 games behind the champion Dodgers.
He faced only seven batters for St. Louis in 1942 before being sold to Cincinnati. There, once again, he rebounded in a major way, putting up a sterling 2.23 ERA over 36 games and 72 2/3 innings despite an uninspiring record of 1-3.
The next year — 1943 — was most unusual. Shoun started only five games, but won 14 while losing just five. This gave him the league lead in winning percentage among pitchers with 15 or more decisions (.737). Hardrock appeared in 45 games and his ERA was a good 3.06. He also helped himself at the plate by batting .310, his second straight year over .300. The only drawback was that his old teammates in St. Louis went to the World Series in this and three of the next four years through 1946, while Shoun and Cincinnati were never really in contention.
With World War II well under way, Shoun was accepted for service into the Navy after passing his physical in March 1944, but he was not called for duty until after the season — which was a good one. He was 13-10, with an ERA of 3.02 in 202 2/3 innings of work, starting 21 games in his most active season ever. In addition, he entered a very exclusive club by throwing a no-hitter against the Boston Braves on May 15 in Cincinnati. He faced just one more than the minimum, a perfect game spoiled only by a third-inning walk to Boston pitcher Jim Tobin (who himself had pitched a no-hitter just 18 days earlier). Shoun struck out only one batter in a 1-0 game won by third baseman Chuck Aleno's home run in the fifth inning; Tobin scattered just five hits himself. Aleno saw no action in the field, not an assist and not a putout, while first baseman Frank McCormick made eight putouts. The win pulled the Reds into second place, but Cincinnati eventually finished third.
On January 9, 1945, Hardrock was sworn into the Navy at Fort Oglethorpe, Georgia. Not surprisingly, Shoun quickly wound up at the Great Lakes Naval Station playing for the training center baseball team under coach Bob Feller. He was sent to the Pacific, to join Bill Dickey's Navy ballteam in Hawaii. This squad of servicemen athletes featured the likes of Yankee star Joe Gordon at short, future A's standout Ferris Fain at first, and Cards 20-game winner Johnny Beazley on the mound. But despite his inclusion on such a team, which routinely routed other military clubs, Shoun would initially have a tough time regaining his old form after the war.
Back with the Reds after his discharge, Hardrock had a difficult year in 1946. His record was just 1-6, with an ERA of 4.10. He had only five starts and threw just 79 innings. He saw almost no action in the early weeks of 1947, and was sold to the Boston Braves in a cash deal on June 7. He was 5-3, 4.40 with third-place Boston, his best game an 8-0 shutout against his old Cincinnati mates on September 10. When Hardrock arrived in Boston, he was reunited with manager Billy Southworth, for whom he had played in 1940 until he was sold to Cincinnati during the 1942 season. Shoun was certainly not the only Braves player in this boat; so many of Southworth's former St. Louis players joined the Braves during this period, they came to be known as the "Cape Cod Cardinals."
In the pennant-winning year of 1948, wearing number 26, Shoun ran up a 5-1 record primarily in relief (he started just three games) with an ERA of 4.01. His first start came on June 18, and he pitched a complete game against the Reds, winning 5-4. He later beat the Red again in late September, and also notched four saves for the NL champs. Though eligible for the 1948 World Series, he was not called upon in the six-game loss to Cleveland.
On May 11, 1949, it was back to Chicago for Shoun, this time to the White Sox in a cash deal. It was the first time he'd pitched in the American League, and his stay there wouldn't last long — just 23 1/3 innings over 16 contests. Shoun compiled a lackluster 5.79 ERA for the Pale Hose, but his final big league game on July 19, 1949 proved memorable. He entered as a left-hand specialist to face Ted Williams in the top of the ninth in a 3-3 game. Two men were on base and nobody out, but Hardrock got Ted to hit a high pop fly to short leftfield. The Red Sox got lucky, though, as Steve Souchock tried to one-hand the ball and missed it entirely. The bases were now loaded with Vern Stephens due up, so Shoun was taken out for a righty, Max Surkont. He promptly gave up a game-winning two-run single.
A week later, when the White Sox left Chicago to travel to Boston, Hardrock was left behind. According to a news story, Sox GM Frank Lane said that Shoun would "remain in Chicago pending disposition of his contract." A few days later, it was announced that he had signed with the Indianapolis Indians as a free agent. The AP dispatch assigned him a third nickname: the predictable "Lefty."
Overall Shoun was 1-1 in major league play in 1949, with a 5.55 ERA, and finished out the year in Indianapolis with an identical 1-1 record (though with a more respectable 3.15 earned run average.) And while his big-league days were gone, he had one more comeback in him. In 1950 and 1951, he pitched for Oakland in the competitive Pacific Coast League, getting a major amount of work the first year (233 innings, 16-10, 4.56 ERA.) Playing for the Oaks under Charlie Dressen, he helped the team to a first-place finish in the PCL. In 1951, though, he just didn't have it. He started the season 2-4 with a 5.49 ERA, and decided to call it a day. By late May, he'd returned home to Mountain City.
Shoun had a first wife, Anna Mary (her surname was Mary), and they had two daughters — Anna Mary and Linda. Shoun worked the family farm, largely raising tobacco, and owned and operated a commercial dog kennel. The Shouns later divorced and Hardrock married a woman named Pearl.
Niece Dane Brooks recalls her father, Leonard, taking her to a few local exhibition ball games and seeing Uncle Hardrock pitch. Clyde Shoun also served as a city councilman in Johnson City, but he died early of liver problems, after eight months of illness, at the age of 56.
This biography originally appeared in SABR's "Spahn, Sain, and Teddy Ballgame: Boston's (almost) Perfect Baseball Summer of 1948" (Rounder Books, 2008), edited by Bill Nowlin.
Sources
Interview with Dane Brooks by Bill Nowlin, December 11, 2006.
The Art Rust quotation comes from the New York Times, May 9, 1976.
Thanks to Matt Hill.
Born
March 20, 1912 at Mountain City, TN (USA)
Died
March 20, 1968 at Mountain Home, TN (USA)
If you can help us improve this player's biography, contact us.
/sites/default/files/Screen%20Shot%202019-10-01%20at%202.42.53%20PM.png
600
800
admin
/wp-content/uploads/2020/02/sabr_logo.png
admin
2012-01-04 20:45:17
2012-01-04 20:45:17
Clyde Shoun