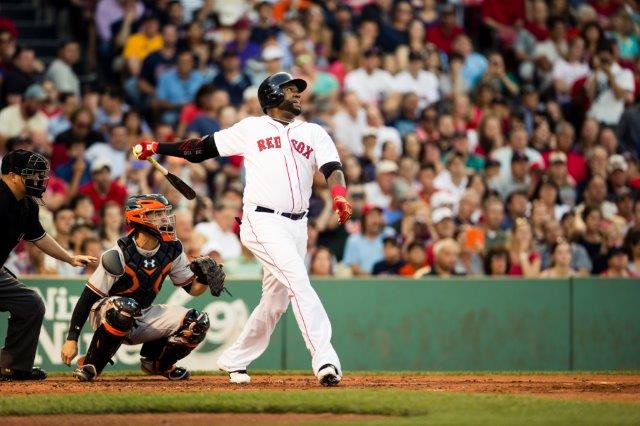 ---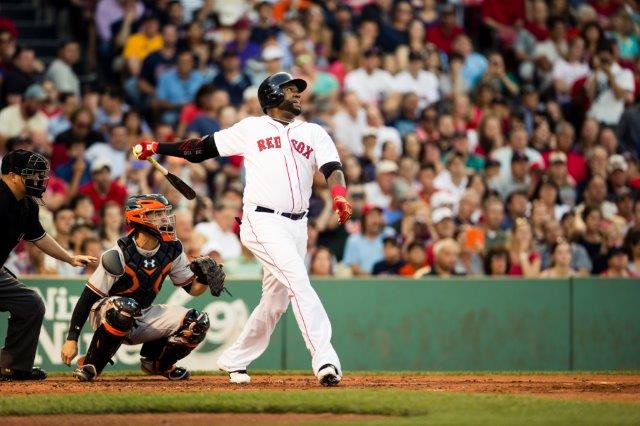 "He's a superhero without a cape. That's the way we see him." — Alex Cora1
Several of the biggest base hits in Boston baseball history came off the bat of "Big Papi," David Ortiz. He sports three world championship rings and then wrapped up his career with one of the best final seasons any player has ever enjoyed. Within months of leaving the game, he was honored by the Red Sox, who retired his jersey number 34. He had already become an instant icon in Red Sox Nation.
Had he done no more than lead the 2004 team to triumph over the Yankees and then the Cardinals, he would still go down in team history for his key role in helping them win their first World Series in 86 years. But he came up big again in 2007 and was overpowering in 2013. His postseason exploits were a key reason why he was elected to the Baseball Hall of Fame in his first year of eligibility in 2022, receiving 77.9 percent of the writers' vote.
Ortiz hit 541 home runs in the course of his major-league career, and 632 doubles. The only two batters before him to hit 500 homers and 600 doubles were Hank Aaron and Barry Bonds.
And Ortiz was, as a New York Times subhead once said, "a maestro in the statistics-defying art of clutch hitting."2
The toast of the town in Boston, David Americo Ortiz Arias came from the humblest of backgrounds. He was born in Santo Domingo, Dominican Republic, on November 18, 1975, but from around the age of 14 grew up in the community of Haina, on the southern coast just west of the capital. The city of around 84,000 people has been dubbed the Dominican Chernobyl and is considered to be one of the most polluted cities in the world. "According to the United Nations, the population of Haina is considered to have the highest level of lead contamination in the world, and its entire population carries indications of lead poisoning."3 The problem almost certainly emanated from the Baterías Meteoro battery plant, a now-closed automobile battery recycling smelter. David Ortiz himself said, "Piles of batteries, some as high as three-story buildings, could be found in the city. That alone put our lives in danger. … [B]attery acid and lead would seep into the soil."4
As if that weren't enough, the city was plagued with "Shootings. Stabbings. Drugs. Gangs. …We were poor and our neighborhood was teeming with violence and crime." One day on his way to the bodega, young David saw a man murdered right in front of him.5 Had it not been for the values instilled in him by his parents, Enrique and Angela, he might have grown up to a different life entirely — or lost his own life at an early age. Enrique worked at automotive repair, "from parts to repairs to sales," though he rarely had more than a moped himself. Angela originally worked as a secretary for the Department of Agriculture in Santo Domingo, but she "was always taking on jobs to pick up extra money. She would sometimes travel to other parts of the Caribbean, as far away as Curaçao and St. Thomas, to buy clothes and sell them to tourists at local hotels."6 They worked hard, sacrificing to help provide for David and his younger sister, Albania.
David had talent at sports, basketball as well as baseball, with his father pushing hard for him to pursue baseball. David spent a lot of time at the Florida Marlins facility but elbow inflammation cropped up and they let it be known he wasn't being seen as a prospect. A buscón7 named Hector "Machepa" Alvarez took David under his wing and a week and a half after David turned 17, he signed with the Seattle Mariners for $7,500 to $10,000.8 He was sent to play rookie ball in Peoria, Arizona, in the summer of 1994. His salary was $59 per week.9 He was far from home, in an alien environment, and he struggled. Had it not been for his sense of obligation to his parents and a competitive fire within himself, he might not have persevered. That first summer he played in 53 games and batted .246. In the summer of 1995, however, he bumped his average up to .332.
Ortiz was left-handed and grew to stand 6-feet-3 to 6-feet-4, listed at 230 pounds.
In his third year, Ortiz was assigned to the Class-A (Midwest League) Wisconsin Timber Rattlers in Appleton, Wisconsin. There he had five roommates, all Dominican, living in a two-bedroom home. (Until he made the majors, David always played professionally as David Arias, not David Ortiz.) That summer of 1996 saw him begin to hit for power as well as average, with 18 homers and 93 RBIs (both leading the team by a considerable margin), and a .322 batting average. Primarily a first baseman, he was now making $400 a week. He was voted the best defensive first baseman in the league.10
He also met a young woman from Kaukauna, Wisconsin, named Tiffany Brick. She was a photography student in Madison, and a fast-pitch softball player who had been voted "Most Athletic Girl" in her high school. They hit it off immediately and within two weeks, he says, the word "marriage" first came up.11
The Timber Rattlers made the 1996 league playoffs, but lost out in the final round.
On September 13 that year, Ortiz became the player to be named later in a trade with the Minnesota Twins, completing a deal made on August 29, when the Mariners acquired Dave Hollins in what may well have been a cost-cutting move for the Twins.
Ortiz played for four teams in 1997. First he was sent to Fort Myers to play in the Twins Class-A Florida State League team there. He hit .331 in 61 games, earning him a promotion to Double-A ball (with the Eastern League's New Britain Rock Cats in New Britain, Connecticut). There he hit 14 homers (.322 BA) in 69 games. He was promoted to Salt Lake City of the Triple-A Pacific Coast League and appeared in 10 games there, then became a September call-up to the Twins.
Ortiz's first two major-league at-bats came as a pinch-hitter during interleague play at Chicago's Wrigley Field. On September 2 he hit a fly ball out to deep left-center field. On September 3 he doubled to deep right-center for his first major-league base hit. He was 2-for-5 with his first run batted in on September 8 and, by season's end, had made a bit of a mark with just one home run, but with 16 hits in 49 at-bats (.327).
As a youngster, the first player who had made an impression on him, watching the 1991 World Series on a simple TV in the Dominican Republic, was Kirby Puckett. As soon as he was able, Ortiz took the number 34 in tribute to Puckett. But the Twins were no longer the team that had inspired him back in 1991. Not since 1992 had they won as many as half their games; they played in the uninspiring Metrodome, and they were near the bottom of the league in terms of attendance. Ortiz also had a difficult relationship with manager Tom Kelly.12
Through the first games of the 1998 season, Ortiz was hitting over .300 with 20 RBIs, and second on the Twins in slugging, but a broken right wrist saw him unable to play from May 9 to July 9, and hampered his power numbers for the year. (Interestingly, he'd stayed in the game after breaking his wrist, and even homered later in the game.)13 He hit .360 in 18 September games, finishing with a .277 batting average. For the year, he drove in 46 runs despite missing two months; no one else on the Twins drove in more than 77.
In 1999, although the Twins were clearly in need of a big bat, Ortiz was one of the first players cut in spring training and he spent most of the year back in Salt Lake City. He put up some big numbers there, batting .315 with 30 homers and 110 RBIs. When called up in September, however, he was playing with a torn ACL and proved a very disappointing 0-for-20 at the plate, with 12 strikeouts.
There followed something of a journeyman season in the year 2000. Ortiz appeared in 130 big-league games, mostly as a DH, batting .282, and driving in 63 runs. His RBI total placed him fifth on the Twins; he ranked third in slugging percentage.
In 2001 he appeared in only 89 games, almost all as the DH. Another wrist fracture sidelined him for 2½ months. Though he hit 18 homers in the end (from August 9 through August 12, he homered in four consecutive games), he hit for only a .234 average, driving in 48 runs. He'd started off really hot, with 15 RBIs in his first 16 games, and was hitting .311 at the time of the injury. He clearly never fully recovered that season. He had shown plate discipline; in both the 2000 and 2001 seasons, he drew enough walks to add another 82 points to his on-base percentage. The Twins payroll in 2001 was the lowest in the majors when the season began.14
On New Year's Day 2002, tragedy struck; Ortiz's mother, Angela Rosa Arias, was killed in an automobile accident. Those who have watched David Ortiz hit home runs over the years will recall that, ever after, when he crossed the plate he would point heavenward to share the moment with his beloved mother.
The year 2002 was Ortiz's first exclusively in the major leagues, and he appeared in 125 games. (A mid-April surgery to remove bone chips in his knee cost him almost a month on the DL.) Ortiz hit .272, with 20 homers and 75 RBIs, totals that would have both been higher had he not missed so many games. Even then, he ranked third on the Twins in the latter two statistics. He appeared in 15 games at first base, but was typically the DH. The Twins made the postseason and Ortiz's ninth-inning double drove in the game-winner in the final Division Series game against the Athletics. The Twins lost the ALCS in five games to Anaheim; Ortiz hit .313 but drove in only a pair of runs.
Still skimping on payroll, the Twins weren't prepared to pony up the money needed to sign Ortiz to a new contract and they didn't want to go to arbitration with him, which might have forced them to pay him double the $900,000 or $950,000 he was being paid.15 They tried to trade him, but every team in baseball passed, and so they simply released him on December 16, 2002.16 Hard as it may be to believe today, the man who soon became perhaps the best DH in history and one of the most fearsome clutch hitters in postseason play was simply released. He was a man without a team. Notably, though, Tiffany Ortiz's response was, "Good. Now we can apply for a job in Boston."17
And Red Sox pitching ace Pedro Martinez (who was dining in the same restaurant in Santo Domingo the evening Ortiz got the word that he had been released) got to work, peppering the Red Sox front office with phone calls and telling them they simply had to sign David Ortiz. They did, with new Boston GM Theo Epstein offering a one-year deal for $1.25 million. It wasn't a big commitment at the time, and the pursuit of Ortiz barely made the Boston papers. The team had Shea Hillenbrand, and was engaged in negotiations to sign Kevin Millar and Jeremy Giambi. But Ortiz put on something of a show in Dominican Winter League ball, batting .351 with 23 RBIs in 20 games.18 The Dominican team won the Caribbean Series, and Ortiz was named MVP.19
The signing itself was famously dubbed an example of the Red Sox "shopping at Wal-Mart."20
Indeed, Epstein had proven a thrifty shopper, spending $5.3 million and landing David Ortiz, Kevin Millar, and Bill Mueller.21 Millar fired up the ballclub with his "Cowboy Up!" movement in 2003 and his "Don't Let Us Win Tonight!" mantra in 2004. Mueller hit .326, good enough to win the American League batting title in 2003. And Ortiz, well, within three years he was being compared to Babe Ruth and described as "one of the all-time baseball bargains."22
Ortiz was expected to contend for the first-base slot. Epstein sent scout Dave Jauss to look him over and said, "He showed good hands and feet around the bag. Jauss gave a really good report. We're comfortable with him defensively, and more than comfortable with him offensively."23
It wasn't that Epstein needed Pedro Martinez and Manny Ramirez to speak up for Ortiz; he had already been tracking him back when Epstein was working for the Padres.24
Ortiz was given the locker next to Manny Ramirez. In both his autobiographies, Ortiz talked about the wholly different approach to the game (and the different atmosphere) he felt he encountered in the Red Sox organization and clubhouse. "I felt like I just got out of jail, bro," he wrote. I felt like I could hit the way I wanted to hit."25
Ortiz got off to a slow start with the 2003 Red Sox, hitting only one homer in April and batting just .200 as of May 1. He homered only once in May, but brought his batting average up to .272. Ortiz was still being passed over for others, until Pedro Martinez took the unusual step of telling Red Sox manager Grady Little that he wanted Ortiz in the lineup whenever he was pitching. Hillenbrand had been traded, and Giambi suffered numerous injuries and, ultimately, shoulder surgery. The job fell to Ortiz by default.
It was during this first season with the Red Sox that Ortiz acquired the nickname "Big Papi," bestowed on him by Red Sox broadcaster Jerry Remy.26
He homered only twice in June. But he added eight in July as he started to get on a roll. He hit two home runs in a July 4 game at Yankee Stadium and then two more in the next day's game as well, the first visiting player to ever do so.27
His first game-winning hit for the Red Sox was a pinch-hit single in the bottom of the ninth on July 26 against the Yankees. That one at-bat was described at length and in context by Jackie MacMullan of the Boston Globe.28 From July 27 through August 7, 12 consecutive base hits were all extra-base hits (five doubles, two triples, and five homers). There were several games in which he seemed to make all the difference, such as a 5-4 win in 10 innings in Chicago, when Ortiz drove in four of the runs, including the game-winner.
By the end of the season, one which saw the Sox reach the playoffs, Ortiz had 31 homers and 101 RBIs. His .592 slugging percentage was tops on the team. He ranked fifth in league MVP voting.
Boston dropped the first two games of the 2003 ALDS to Oakland, but then took the next two. Ortiz hadn't had a base hit until the bottom of the eighth in Game Four, but he doubled and drove in two runs, winning the game for the Red Sox, 5-4, and sending the Series to Game Five, where the Red Sox prevailed. In the American League Championship Series against the archrival Yankees, Ortiz hit a two-run homer to kick off Game One. The next runs he drove in were in Game Six, his two-run single in the third making the score 4-1, his three RBIs in the game proving the margin in Boston's 9-6 win.
Ortiz's solo homer in the top of the eighth in Game Seven extended the Red Sox lead to 5-2 and it looked like a trip to the World Series was in the cards … until Grady Little asked Pedro Martinez, to return to the mound and pitch another inning — only to see Pedro cough up three runs, see the game become tied, and watch the Red Sox lose it in the 11th. Any trip to the World Series would have to wait until 2004.
Ortiz said the 2003-04 offseason was full of sleepless nights for him. "The Game 7 loss to the Yankees had torn me up, knowing that we were just five outs away from going to the World Series. Anytime I got close to contentment, I'd feel the sting of that loss."29
He worked hard and came back better than ever. In 2004, now secure as a starter (34 games at first base, 115 as DH), he put up bigger numbers than ever: 41 homers (second in the league only to teammate Manny Ramirez's 43), 139 RBIs, a .301 batting average. Ortiz and Ramirez were a potent combination in Boston's batting order. Six times that season, they went back-to-back; on August 22 in the eighth inning of a game at Comiskey Park, they homered on consecutive pitches –first Manny off Freddy Garcia, and then Ortiz off reliever Damaso Marte. Two teammates both hitting 40 homers, driving in 100 runs, and hitting for at least a .300 average had been done only eight other times since Babe Ruth and Lou Gehrig did it in 1931.
Ortiz was rewarded by being named to the American League All-Star squad for the first of 10 times. He homered in the All-Star Game. In May he had been signed to a new two-year contract with a team option for 2006.
The Red Sox finished second to the Yankees in the AL East. As the wild-card team, they took the first two games from Anaheim in the ALDS. In the bottom of the 10th in Game Three, after the Angels had overcome a 6-1 deficit to tie the game, Ortiz came up with two outs and homered to the opposite field off Jarrod Washburn to advance the Sox to the ALCS — where they faced the Yankees again. In the ALDS, Ortiz was 6-for-11 with four RBIs and five walks.
He drove in two runs in Game One against the Yankees, but the Red Sox lost the first three games, Game Three an embarrassing 19-8 beatdown in Boston. The story of Game Four and all that followed has been told at great length elsewhere.30 The game went into the bottom of the ninth with the Yankees leading, 4-3. Two of the three Red Sox runs had been knocked in by Ortiz in the fifth. With Mariano Rivera on the mound, Kevin Millar walked, pinch-runner Dave Roberts stole second, and Bill Mueller drove Roberts in to tie the game. With the bases loaded, Ortiz popped up to second and the game went into extra innings. But Rivera wasn't going to be around if Ortiz got up again and, he said, "I liked my percentages against anyone who wasn't him."31
In the bottom of the 12th inning, with the score still tied, Ortiz got another opportunity. Paul Quantrill was pitching and Manny Ramirez singled to left field. Ortiz, as a DH not needing to play the field, studied Quantrill on video, and he was ready. He homered into the right-field stands, winning the game 6-4 and sparing the Red Sox the ignominy of being swept. And "David Ortiz became the only player in baseball history to hit two walk-off home runs in the same postseason" while the Red Sox became the first team since the 1910 Chicago Cubs to be the only team down three games to none and win Game Four in extra innings.32
No team had ever come back after losing the first three and won it all, but simply the reprieve of taking Game Four offered some salve to Red Sox fans.
Next up was Game Five. The fourth game had ended after midnight, in the early hours of October 18. The fourth game started that evening. Ortiz drove in the first run of the game, in the first inning. The Yankees took a 4-2 lead into the eighth, and Ortiz homered to make it 4-3, then watched a Jason Varitek sacrifice fly off Rivera tie the game. Ortiz led off the bottom of the 10th and struck out. Facing reliever Esteban Loaiza in the 12th, he walked but was caught stealing.33 The game went into the 14th inning, Loaiza still on the mound. He alternated strikeout, walk, strikeout, walk, then faced Ortiz again. It was a 10-pitch at-bat. On that final pitch, Ortiz singled to center, driving in Johnny Damon, and for the second time on the same calendar date, he'd given the Red Sox a sudden-death, extra-inning walk-off win.
Suddenly this was a different Series entirely. Both teams went back to Yankee Stadium for Game Six. With four runs in the fourth, three on Mark Bellhorn's three-run homer, the Red Sox took that one, setting up another Game Seven.
One could well say the Red Sox were giddy with success with the Yankees uptight and maybe panicked. Ortiz hit a two-run homer in the top of the first. Damon drove in six runs. The Red Sox won it easily, 10-3. Ortiz had driven in 11 runs in the ALCS and was named MVP. In back-to-back ALCS against New York in 2003 and 2004, he had homered five times and driven in 17 runs.
After winning four in a row to overtake the Yankees, the Red Sox won the next four games, too, sweeping the St. Louis Cardinals in the 2004 World Series. For the first time in 86 years, the Red Sox were world champions.
Ortiz had driven in four runs, all in Game One, the first three coming on a three-run homer in the first inning.
And everyone knew he had come through in the clutch when the Red Sox were in the depths.
In the summer of 2005, Mariano Rivera stated what had become evident. Ortiz had developed as a hitter. "He used to have holes on the inside. You'd go outside. Holes? Now they're not there anymore."34 Ortiz's work with video became legendary, it being written, "David Ortiz of the Red Sox does not look like a computer nerd, but he is. Ortiz is a slave to the laptop, hunkering over it several times a day, especially during games, to analyze at-bats. He wants to see how pitchers approached him, how he reacted and whether they had a counter-response."35
With Ortiz as a designated hitter, the Red Sox were always faced with a choice when playing in a National League ballpark, for interleague play or in the World Series: Do they play him at first base and thus keep him in the lineup, or do they opt for a perhaps improved defense by using their regular first baseman, whoever he may be at the time? The decision was easier because Ortiz was a very good fielder, with decent range. Over the course of his 20 seasons in the big leagues, he handled 2,169 chances with only 22 errors — a .990 fielding percentage. He also recorded 164 assists, a particular one a highlight indicating good situational awareness. It came in Game Three of the 2004 World Series, the first game in St. Louis. It was only the second game Ortiz had started at first base since July 22, and it had rained earlier in the day so he had been unable to take infield practice. But when the moment came, he was ready. In the bottom of the third inning, with the score 1-0 in Boston's favor, Cardinals starting pitcher Jeff Suppan led off and singled. After Edgar Renteria doubled to right field, the Cardinals had runners on second and third with nobody out. Larry Walker grounded to second base, and Mark Bellhorn threw to first base to get Walker. Ortiz recorded the out, but alertly had his eye on Suppan, who had indecisively headed toward home but then decided to retreat to third, only to be caught when Ortiz took a couple of steps toward third and fired the ball across the infield for a double play. The Cardinals failed to score in the inning.
Although the team enjoyed no postseason success in 2005, David Ortiz had a very good regular season. He led the majors in runs batted in, with 148. He upped his home run total to 47 but again finished second. He hit an even .300 and walked 102 times, just barely edging his OPS over a magic mark — to 1.001. His best single day was probably an August 12 game against the White Sox; he was 4-for-5 with two homers and drove in six runs. The Red Sox won, 9-8. After a game on September 6, when a solo Ortiz home run beat the Angels in the bottom of the ninth, 3-2, Red Sox ownership presented him with a plaque they had prepared and held for the right moment, proclaiming him the "Greatest Clutch Hitter in the History of the Boston Red Sox."36 They couldn't have known how much history was yet to be written.
The Red Sox did make the postseason, but it was the White Sox' turn to break an even lengthier curse than the Red Sox had suffered. They swept Boston in three games in the Division Series; Ortiz hit .333 with one homer. The White Sox beat Houston and won their first World Series since 1917.
Early in 2006, Ortiz played for the Dominican Republic team in the World Baseball Classic. He hit three home runs (and walked once with the bases loaded) but Japan won the tournament and four players either matched or exceeded Ortiz's three homers.37 In April he agreed to a four-year extension of his contract with the Red Sox, for an amount thought to be $52 million.38
In 2006 Ortiz had 31 home runs before the All-Star break. He set a franchise record with 54 home runs, this time leading the league. (Jimmie Foxx had held the Red Sox record, with 50 homers in 1938.) Ortiz's 137 RBIs also led the American League, as did his 355 total bases. It was a year that Boston finished third, however, and out of the postseason.
And speaking of clutch performances, in just the four-year stretch from 2003 through 2006, Ortiz had 15 "walk-offs" — two in 2003, five in 2004, three in 2005, and five in 2006.
The Red Sox had finished in second place eight years in a row, 1998 through 2005, and then third in 2006. In 2007 they were in first place from April 18 on and never once relinquished the spot.
The team won another world championship in 2007, again by a sweep (this time over the Colorado Rockies). Ortiz hit a career-high .332 batting average, and his .445 on-base percentage led the league. He homered 35 times and drove in 117 runs. His 1.066 OPS was the highest of his career; this was the third year in a row he topped 1.000.
After homering and driving in two runs to help beat the Angels 4-0 in Game One of the Division Series, the Angels walked him four times in Game Two. He homered again in Game Three, and Boston swept that series with Ortiz batting .714. It took the full seven games to beat Cleveland in the ALCS. Ortiz contributed three RBIs and seven runs scored; he hit .292. In the World Series, he drove in four runs and scored four. He was 5-for-15 with three doubles.
An amusing story surfaced in April 2008. It turns out that Gino Castignoli, a member of the construction crew building the new Yankee Stadium, had buried a Red Sox jersey bearing Ortiz's number 34 in concrete. When the story emerged, the team ordered jackhammers to work to remove the offending jersey.39 (The jersey was later placed on auction on eBay to raise money for the Jimmy Fund, and fetched $175,110.)40
The next two times the Red Sox reached the postseason, Ortiz was unable to match his high standards of production. In 2008 he had a difficult year; playing in only 109 games, he hit .264 with 23 homers and 89 RBIs. He became an American citizen in June, but a serious left wrist injury on Memorial Day weekend made an already difficult season (due to a slow start) even more so. The team beat the Angels in four Division Series games with just one RBI from Ortiz, an insurance run on a single in Game One. They were down one game to three to Tampa Bay in the Championship Series with Ortiz even driving in one run, and with manager Joe Maddon employing a fairly dramatic defensive shift when Ortiz came to bat. Game Five was at Fenway Park, and when the Red Sox came up to bat in the bottom of the seventh, they were losing 7-0 and on the brink of elimination. After Dustin Pedroia drove in one run, Ortiz hit a three-run homer and put them back in the game. They scored three more runs in the eighth to tie it, and J.D. Drew won the game with a two-out RBI single in the bottom of the ninth. Ortiz knocked in the fourth run of a 4-2 win in Game Six, but the Rays prevailed in Game Seven. Ortiz had hit just .154 in the ALCS.
Shifting against Ortiz was often effective, though he had a significant number of opposite-field hits and was even known to lay down a successful bunt toward third base on occasion.
In the midst of the 2009 season, a story in the New York Times reported that both Ortiz and Manny Ramirez had turned up in 2003 on a list of players who had tested positive for steroids. That year was the first year of testing for steroids, and all tests were meant to be anonymous.41 Ortiz vehemently denied ever knowingly taking any substances that might have resulted in a positive test, and said he believed that all players should be tested. If anyone was found guilty, he suggested a penalty greater than any ever employed: "Ban them for the whole year."42
Ortiz has reportedly never been informed as to the substance for which he reportedly tested positive, and thus remains in the dark. Given that it was the first year of testing, the tests may also have been faulty. The same article said that Barry Bonds had not tested positive, but a later retest did show the presence of steroids. Years later, Commissioner Rob Manfred announced on October 2, 2016, that there were "legitimate scientific questions about whether or not those were truly positives," acknowledging that the tests were flawed, and that it was "entirely possible" that, in reality, Ortiz had not truly tested positive.43 In the 13 seasons after 2003, and the 7½ seasons after the Times article, Ortiz was tested numerous times and no positive test ever occurred.
The Angels swept the Division Series in 2009. Ortiz was 1-for-12 (.083) with a single. During the regular season, he'd suffered a very slow start and at one point did not homer for 149 at-bats. He came to feel he might have been over-thinking his approach to batting and decided to "act like I was in Little League" — just to play to have fun, and unclutter his mind.44 In the end, he hit for a .238 average but he had found his stroke and done damage: he drove in 99 runs. He homered 28 times.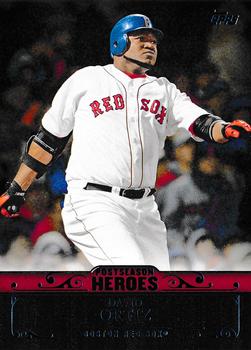 The Red Sox didn't see the postseason again until 2013.
Ortiz's batting average picked up in 2010 and 2011 (.270 and .309). He'd had a very slow start in 2010 (.143 at the end of April, with one homer, and not passing .200 until May 14) and some became alarmed, thinking age had caught up with him. By the end of the season, though, he had 32 homers and had driven in 102 runs — numbers most players would give anything to attain. The team finished in third place.  
In 2011 the Sox finished third again. Ortiz hit steadily throughout the season, falling four RBIs short of the 100 mark, homering 29 times.
In 2012, signed to just a one-year deal, he had a very strong first half, but a severely strained right Achilles tendon saw him only appear in one game after July 16. He played in only 90 games, though he drove in 60 runs, homered 23 more times, and hit .318. Under manager Bobby Valentine, the Red Sox finished in last place. Though not something we want to dwell on here, Ortiz absolutely shredded Valentine in his book Papi: My Story.
The year 2013 was a magical year, though it started with the horrible tragedy of the Boston Marathon bombing. It was April 15 — Patriots Day — and the Red Sox, per local tradition, started the game at 11:05 A.M., timed to end around the time the first runners of the Boston Marathon crossed the finish line, just two subway stops from Fenway Park. Ortiz was not in the game, but he was at the ballpark. He was still rehabbing from the Achilles problem, and didn't play his first game until April 20. The Patriots Day game ended at 2:08, and the team dressed to head for the charter going to Cleveland for the next day's game. At 2:40, two bombs exploded 12 seconds apart and three young people were killed, including 8-year-old Martin Richard. Dozens were injured and the city was under a "shelter in place" situation later in the week after the bombers killed an M.I.T. police officer and drove off without being caught. Ortiz was in Greater Boston all the time, and lived through what area residents experienced.
The team seemed to draw on the sense of togetherness, embodied in the "Boston Strong" movement, and in a powerful speech before the next Fenway game, an unfiltered Ortiz said, "This is our fucking city. And nobody is going to dictate our freedom. Stay strong."
Ortiz opened his season with a 2-for-4 game, kicking off a 15-game hitting streak. After the first nine games, at the end of April, he had 15 RBIs and was batting .500. He rarely missed a game after he got started, appearing in 137 games and batting .309, with 103 RBIs and 30 homers. The Red Sox rocketed from worst to first, from a 69-93 record in 2012 to 97-65. They beat Tampa Bay and then Detroit, and played the St. Louis Cardinals in the World Series. One of the most celebrated home runs of his career came in Game Two of the ALCS. The Tigers had won the first game, 1-0, and were leading 5-1 heading into the bottom of the eighth inning in Game Two.
Three and a half months earlier, on June 23, Joaquin Benoit had struck out Ortiz in the ninth inning of a game in Detroit. Ortiz filed the pitch away in his mind and was waiting for another chance to attack it. With Boston baserunners loading the bases, manager Jim Leyland called on Benoit to pitch to Ortiz. Big Papi was waiting.45 Swinging at Benoit's first pitch, Ortiz hit a grand slam into the Red Sox bullpen to tie it. The Sox won it in the ninth. Clutch? No fan would say otherwise.46
There was no certainty the Red Sox would win the World Series. The Cardinals were up two games to one, and the score was 1-1 at the midpoint of Game Four. "We were playing like zombies," Ortiz said later. "Quiet, no emotion, a little stiff."47 So he called a quick meeting right then and there in the dugout and basically gave them a pep talk, telling them how rare it was to get to the World Series, that they were better than St. Louis, and it was time to get going. A Jonny Gomes three-run homer in the top of the sixth followed, and the team never looked back.
Ortiz hit a spectacular .688 in the World Series (11-for-16), with eight bases on balls giving him a .760 on-base percentage. It was the highest batting average in World Series history. He drove in six runs and scored seven (two on his own home runs). The Red Sox won it in six games, and Ortiz collected his third world championship ring in 10 years (2004, 2007, and 2013). He was named Series MVP.
And after the Series, owner John W. Henry called on Ortiz, offering him a contract that in effect offered him a player option for as long as he wanted — a contract for the life of his playing career.48
In each of his next three seasons — his last three as a ballplayer — Ortiz drove in more than 100 runs, each season knocking in more runs than the season before. In 2014 he had 35 homers and drove in 104 runs. In 2015 he had 37 homers and drove in 108 runs. And in his final season — 2016, having announced his retirement before the season began — he had perhaps the best year any player has ever had in his final season. Playing in 151 games, he hit for a .315 batting average, led the major leagues with 48 doubles, led the American League with 127 RBIs (tied with Edwin Encarnacion), and led all of baseball in slugging (.620) and OPS (1.021).
It would have been nice to say Ortiz went out with another ring, but the Cleveland Indians swept the Red Sox in the ALDS. Ortiz was 1-for-9, the one hit a double. After the season, Ortiz was recognized for the second time with baseball's Hank Aaron Award (the first time had been in 2005). He won his seventh Silver Slugger Award.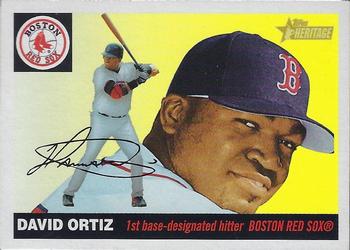 Retirement awaited, though Ortiz was often seen around Boston during 2017. David and Tiffany Ortiz continued to maintain their principal residence in Massachusetts, with their three children, Jessica, Alexandra, and D'Angelo. There had been a time early in 2013 when the couple had separated, but in time they reconciled. Tiffany later told him, "As clutch as you were on the field, you did that and more to win me back and put our family back together again."49
For David, his number 34 was retired during the summer. He had a street named after him, as was the bridge that spans the Mass Pike as people leave Kenmore Square to go to Fenway Park. And he became Dr. David Ortiz when Boston University bestowed an honorary degree on him in May 2017.
Ortiz was active in charitable endeavors, and also saw his second autobiography published. Following a very moving visit to a Dominican hospital in February 2005 where he encountered children recovering from heart surgery, he established the David Ortiz Children's Fund in 2007 and partnered with Massachusetts General Hospital and CEDIMAT, the first Diagnostics and Advanced Medicine center in the Dominican Republic. The Fund sponsors an annual golf tournament in La Romana, DR, and has raised more than $2 million. It reckons to have "saved over 500 lives in the Dominican Republic" and helped others in New England.50
For his career as a whole, Ortiz hit better against right-handed pitchers, batting .294 for his career against them as opposed to .268 against lefties. He faced more right-handers, of course, but hit 421 homers off them as opposed to 120 off left-handers. Against Blue Jays pitching, he homered 62 times; against the Orioles, 55 times, and against both the Rays and the Yankees, 53. As the season progressed, he seemed to hit more home runs. In May: 79. In June, he hit 86. In July: 95. In August: 105. And in September/October, he hit 102. More of his home runs were hit on the road (300) than at home (241). Conversely, he drove in more runs at home (953) than away (815).
On September 13, 2017, the Red Sox announced a mutual long-term commitment between the ballclub and Ortiz: "In his new role, Ortiz will act as a mentor for current players, participate in recruitment efforts, make a variety of special appearances for the club, and work in a business development capacity for Fenway Sports Management and its partners."51
David Ortiz was shot in the back on June 9, 2019, while seated outdoors at the Dial Bar and Lounge in Santo Domingo. Within the first 10 days after the shooting, 11 suspects were arrested with several more still at large, but on June 19, prosecutors announced that Ortiz had not been the intended target of a contract killing, but that the gunman had been after another man who was seated near Ortiz. Many Dominicans were skeptical.52 In the meantime, reportedly suffering injuries to both intestines, his gall bladder, and liver, he had been brought to Boston for medical treatment, where he underwent multiple surgeries over a period of more than a month at Massachusetts General Hospital. He was released from the hospital on July 26.
On September 9, before the Monday evening game against the Yankees, David Ortiz bounded up the steps of the Red Sox dugout and out onto the field to throw out the game's ceremonial first pitch. He spoke a few words, thanking the fans in Boston for their support and thanking a couple of the Yankees for making the time to come visit him. He had his big smile, was full of energy, and sat in seats next to the dugout for most of the game — at one point giving the jersey he had worn to a youngster seated several rows behind him. Big Papi was back.53
Last revised: January 25, 2022

A postscript on walk-offs
Following up on walk-offs, the number any player can have is limited by the fact that you can have only one in a home game. David Ortiz had 20 in regular-season play. Two players had more: Frank Robinson (26) and Dusty Baker (21). No player in history had ever had more than two walk-offs in the postseason — but David Ortiz hit three of them in 2004.
David Ortiz's walk-off hits
For the Twins:
April 4, 2000: tie-breaking single in the ninth
July 31, 2002: single in 10th
September 25, 2002: home run in the 12th
For the Red Sox:
July 26, 2003: single off the Wall in the ninth, against the Yankees
September 23, 2003: HR in the 10th
April 11, 2004: HR in the 12th
June 11, 2004: single in the ninth
October 8, 2004: HR in bottom of the 10th to clinch a win in the ALCS against the Angels
October 17, 2004: home run in the 12th to win Game Four of the ALCS against the Yankees
October 18, 2004: single in the 14th to win Game Five of the ALCS against the Yankees
June 2, 2005: Three-run HR in the ninth to come from behind and beat the O's
September 6, 2005: HR in the ninth
September 29, 2005: single in the ninth
June 11, 2006: Three-run HR in the ninth to overcome a 4-2 deficit
June 24, 2006: two-run homer in the 10th
June 26, 2006: single in the 12th
July 29, 2006: single in the ninth
July 31, 2006: three-run homer in ninth to overcome two-run deficit
September 12, 2007: two-run homer in the ninth to overcome one-run deficit
August 26, 2009: tie-breaking solo homer in the ninth
July 31, 2010: three-run double in the ninth to overcome two-run deficit
June 6, 2013: three-run tie-breaking homer in ninth
May 14, 2016: double in the 11th
Sources
In addition to the sources noted in this biography, the author also accessed the Encyclopedia of Minor League Baseball, Retrosheet.org, and Baseball-Reference.com.
Notes
1 Peter Abraham, "Ortiz Was All That Mattered at Fenway," Boston Globe, June 10, 2019: C4.
2 Jack Curry, "An Island of Calm in a Sea of Doubt: Ortiz's Clutch Hitting Keeps Red Sox Moored Despite Struggles," New York Times, September 17, 2005: D1.
3 worstpolluted.org/projects_reports/display/50.
4 David Ortiz, with Michael Holley, Papi: My Story (Boston: Houghton Mifflin Harcourt, 2017), 2.
5 Papi: My Story, 2-3.
6 Papi: My Story, 9, 125. David's father's name was Americo Enrique Ortiz and he had wanted to be a ballplayer himself. That aspiration was one of the reasons he worked closely with David, and encouraged him every step of the way. See David Ortiz, with Tony Massarotti, Big Papi: My Story of Big Dreams and Big Hits (New York: St. Martin's, 2007), 20-23.
7 A buscón in the Dominican Republic is a free-lance scout and agent. The word is Spanish for searcher.
8 In Big Papi, he said it was $7,500. In Papi: My Story, he said it was $10,000.
9 Papi: My Story, 13.
10 David Ortiz, with Tony Massarotti, Big Papi, 69.
11 Papi: My Story, 18.
12 In both of his autobiographies, Ortiz expresses his dissatisfaction with Kelly.
13 Gordon Edes, "Sox Officially Bring in Ortiz," Boston Globe, January 23, 2003: E3. Also see Big Papi, 95-96.
14 Murray Chass, "Surprising Twins Give Foes a Run for Their Money," New York Times, April 24, 2001: D1.
15 Bob Hohler, "Epstein Negotiating for Millar," Boston Globe, January 18, 2003: F3.
16 See, in particular, Big Papi, 191-192. The Associated Press said Ortiz was "released … before the draft to make room for shortstop Jose Morban." See, for instance, AP, "Anderson Released by Pirates," Augusta (Georgia) Chronicle, December 17, 2002: C4.
17 Papi: My Story, 38. David and Tiffany had sealed their longstanding relationship with marriage on November 16.
18 Bob Hohler, "Epstein Negotiating for Millar."
19 Joe Burris, "Opportunity Knocks for Sox' Ortiz," Boston Globe, June 12, 2003: C8.
20 Gordon Edes, "Sox Officially Bring in Ortiz."
21 Tyler Kepner, "Red Sox Trying to Picture the Parade," New York Times, February 8, 2004: SP1.
22 Harvey Araton, "New Babe in Boston Has Torre Looking for the Right Move," New York Times, October 1, 2005: D1.
23 Araton.
24 Gordon Edes, "Smashing Success," Boston Globe, September 12, 2003: E1.
25 Big Papi, 128.
26 Ricky Doyle, "Where Did David Ortiz's 'Big Papi' Nickname With Red Sox Come From?' NESN.com, October 3, 2016. See nesn.com/2016/10/where-did-david-ortizs-big-papi-nickname-with-red-sox-come-from/.
27 The last Yankee to do so was Roger Maris, hitting two homers in each game if the June 25, 1961 doubleheader. Gloria Rodriguez, "After a Boom, the Red Sox Go Bust," New York Times, July 7, 2003: D3.
28 Jackie MacMullan, "Ortiz's Bat Does Talking in the Ninth," Boston Globe, July 27, 2003: D1.
29 Papi: My Story, 62.
30 The author's admittedly biased preference is the oral history of the season as told by 59 players, coaches, support staff, and others in Allan Wood & Bill Nowlin, Don't Let Us Win Tonight: An Oral History of the 2004 Boston Red Sox's Impossible Playoff Run (Chicago: Triumph Books, 2014).
31 Papi: My Story, 80.
32 Don't Let Us Win Tonight, 137.
33 Ortiz did steal 17 bases in his regular-season career. He was caught nine times.
34 Jack Curry, "Big Guy, Big Numbers, Big Smile," New York Times, July 14, 2005: D1.
35 One of the better articles on Ortiz's work with video is Jack Curry, "A Scientific Hitter in the Computer Age," New York Times, October 12, 2007: D1.
36 Chris Snow, "A Blast, Like the Past," Boston Globe, September 7, 2005: F1.
37 Seung-Yeop Lee, KOR — 5; Adrian Beltre, DOM — 4; Derrek Lee, USA — 3; Hitoshi Tamura, JPN — 3; and David Ortiz, DOM — 3.
38 Associated Press, "Ortiz Agrees to Four-Year Extension," Register-Star (Rockford, Illinois), April 11, 2006: 27.
39 Karen Matthews, Associated Press, "Sox Shirt Found in Yanks' New Stadium," Daily Northwestern (Evanston, Illinois), April 14, 2008: 15.
40 Joshua Robinson, "Ortiz Jersey Cemented at the New Yankee Stadium Brings $175,110," New York Times, April 5, 2008: D3.
41 Michael S. Schmidt, "Stars of Red Sox Title Years Are Linked to Doping," New York Times, July 30, 2009: A1.
42 Schmidt.
43 Alex Speier, "Commissioner: 'Entirely Possible' Ortiz Did Not Test Positive in 2003," Boston Globe, October 2, 2016.
44 Jack Curry, "To Enjoy the Game Again, Ortiz Tries Playing It as if He Were a Boy," New York Times, September 26, 2009: D5.
45 See Ortiz's description in Papi: My Story, 195, 200.
46 Benjamin Hoffman of the New York Times, however, wrote an article entitled "Ortiz's Consistency Comes Across as Clutch." See the newspaper on October 15, 2013: B12. The eighth-inning homer saw Tigers right fielder Torii Hunter make a valiant effort to catch the ball before it landed in Boston's bullpen. He fell into the pen, both legs upraised behind him, forming something of a "V" while City of Boston policeman Steve Horgan, stationed in the bullpen, raised both of his arms in a celebratory "V" — creating an iconic image captured by Boston Globe photographer Stan Grossfeld. See, for instance, https://sports.yahoo.com/blogs/mlb-big-league-stew/boston-cop-fenway-bullpen-celebrates-david-ortiz-grand-132350182–mlb.html.
47 Papi: My Story, 204.
48 Papi: My Story, 207. Henry told Ortiz it was "a contract that allows you to play as long as you want to."
49 Papi: My Story, 205.
50 davidortizchildrensfund.org/.
51 Media release, Boston Red Sox, September 13, 2017. The actual description of his duties was vague in the extreme, so much so that Craig Calcaterra ran a piece headlined, "David Ortiz Will Be Doing … Um, Stuff and Things for the Red Sox." See nbcsports.com/2017/09/13/david-ortiz-will-be-doing-um-stuff-and-things-for-the-red-sox/. Chances were thought to be his work would be in a "player development consultant" role, along the lines of Carl Yastrzemski and Dwight Evans, but with Ortiz perhaps more active.
52 Danny McDonald, David Abel, and Aimee Ortiz, "David Ortiz Was Not Intended Target in Shooting, Officials Say," Boston Globe, June 20, 2019: A1. See also David Abel, "Many Are Skeptical of Mistaken-Identity Explanation," Boston Globe, June 20, 2019: A8. A detailed summary of the story, informed by a visit to the Dominican Republic, is Danny Gold, "David and the D.R.," Sports Illustrated, July 29 – August 5, 2019.
53 In his first comments to an English language publication, he talked about the experience to the Boston Globe. See Bob Hohler, "Near Death, Ortiz Pushed Through Despair," Boston Globe, September 15, 2019: 1, C9.
Full Name
David Americo Ortiz Arias
Born
November 18, 1975 at Santo Domingo, Distrito Nacional (Dominican Republic)
If you can help us improve this player's biography, contact us.
https://sabr.org/sites/default/files/OrtizDavid.jpg
600
800
admin
/wp-content/uploads/2020/02/sabr_logo.png
admin
2019-09-17 13:49:59
2022-11-07 11:49:16
David Ortiz