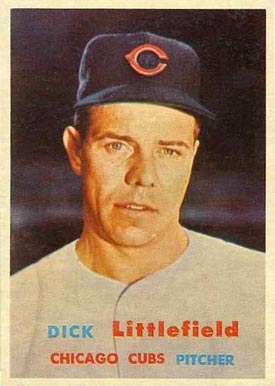 ---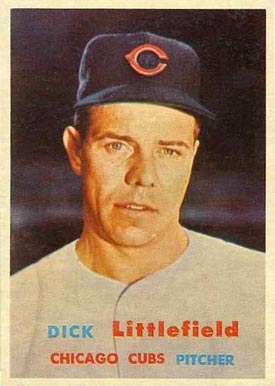 In nine years of major-league baseball, left-hander Dick Littlefield pitched for nine different major-league clubs – though it wasn't as neat as each season being with another team. One could even argue that he played for 10 clubs, in that he was with the St. Louis Browns in 1952 and 1953 and then with the Baltimore Orioles in 1954 after the franchise moved from St. Louis to Baltimore. He could have had a display of the different big-league jerseys and caps he wore, and they would total 10. At one point, he was called "Baseball's Leading Gypsy."1
Littlefield worked the most for the Pirates, going 15-23 over three seasons. He pitched for 11 teams in the minors. His professional career began only after his service in the United States Navy (March 1944 to May 1946) was done. It was quite a year – 1946: mustered out of the Navy, beginning his pro ball career, and in October marrying Naoma Clark. They had met on a blind date.2
Richard Bernard Littlefield was born in Detroit on March 18, 1926. His parents, Beatrice and Raymond, were both Michiganders by birth. Raymond worked as a truck driver for the city in 1930. Ten years later, the 1940 census shows him employed as a foundry worker for one of the automobile manufacturers in Detroit. Dick had an older sister, Mary Jane.
He went to the Detroit public schools, the Guest School and Cooley High School, leaving after 11 grades. By 1941, he was playing amateur baseball in Detroit. He reported his signing in a handwritten note on the back of a player questionnaire he returned to the National Baseball Hall of Fame: "I was pitching amateur baseball in Detroit 3 years before I went into the Navy, and when I was discharged I came back and started again. I was signed after 4 or 5 weeks by Maurice DeLoof, a Red Sox scout who lives in Detroit and I was sent to Oneonta in the Canadian American League."
Littlefield was six feet tall and listed at 180 pounds. He'd also been a good amateur hockey player in Detroit.
He got his feet wet, with 12 starts and three relief appearances for the Class-C Oneonta Red Sox. He was 3-7, with a 5.45 earned run average.
Dropped down to Class D in 1947, and pitching for Wellsville in the Pennsylvania-Ohio-New York League, he had an exceptionally good season, 13-4 with a 1.97 ERA. He got into a couple of games for Oneonta, too, and was 1-1.
In 1948 he was assigned to the Roanoke Red Sox in the Class-B Piedmont League. There he was 15-11 (3.29). Jumped to the Single-A Scranton Miners (Eastern League) in 1949, Littlefield was 12-8, 3.40. On September 30, 1949, it was announced that he had been signed to a Boston Red Sox contract and invited to join the team for spring training.
He spent the first half of 1950 with the Birmingham Barons before being called to Boston and given a start on July 7. He'd been called up the same day as Willard Nixon from Louisville. The 1950 Red Sox set a franchise record for runs scored that still stands, but cycled through a number of pitchers. Nixon was 10-2 for Louisville and Littlefield was 10-3 (2.90) for the Barons. At the same time, in a general housecleaning, the Red Sox sent Charley Schanz to the Browns and Al Papai to the Cardinals (both on waivers), optioned Jim Suchecki to Louisville, and gave Earl Johnson his outright release, removing him from the active list but keeping him on the payroll for another 11 days so he could qualify for a pension as a 10-year man.
Littlefield didn't know manager Steve O'Neill was giving him the start, but Mel Parnell's knee was stiff and sore and O'Neill had been told that Littlefield pitched better in night games. It was a Friday night and Littlefield received his big-league baptism in front of 58,375 at Yankee Stadium. Two pitches did him in. He seemed to be having difficulty getting his footing on the mound at first, reported the Boston Globe, and walked leadoff man Phil Rizzuto on four pitches.3 The next man up, Gene Woodling, tagged him for a home run which just barely made it into the right-field stands. Littlefield then settled down until tiring in the sixth. A walk, again followed by a home run to right field (this time by Cliff Mapes) gave the Yankees a 4-0 lead. They won the game, 5-2.
Six days later, his second start was less successful. He surrendered five earned runs in 3 2/3 innings against the White Sox. He worked out of the bullpen from that time on. In all, he appeared in 15 games, winning two of them, with an ERA of 9.26.
On December 10 he was traded for the first time – from the Red Sox (with Joe Dobson and Al Zarilla) to the White Sox, for Ray Scarborough and Bill Wight. He lasted a full season, but not a full year. With Chicago, Littlefield was 1-1 (8.38). After May 13, he spent the rest of the season pitching (13-11) for their Memphis farm club. He tied a Southern Association record with 17 strikeouts in the June 12 game against the Birmingham Barons.
On November 27, 1951, he was part of an eight-player swap with the St. Louis Browns: Littlefield, Joe DeMaestri, Gordon Goldsberry, Gus Niarhos, and Jim Rivera went to the St. Louis Browns in exchange for Sherm Lollar, Tom Upton, and Al Widmar. Before he played for the Browns, however, he pitched 28 games for his hometown Detroit Tigers. That was the result of another trade, less than three months after the one that had sent him to St. Louis. Before spring training began, on Valentines Day 1952, he was packaged in another multi-player deal: from the Browns to the Tigers. It was four-for-three: Matt Batts, Cliff Mapes, and Ben Taylor joining Littlefield, for Gene Bearden, Bob Cain, and Dick Kryhoski.
As a Tiger, he pitched exclusively in relief, with a 4.23 ERA and a record of 0-3. And then, six months to the day, the same two ball clubs executed another seven-player trade – and Littlefield was on his way back to the Browns via waivers on August 13. He was the only one from the two teams who was involved in both trades.
St. Louis had him work more as a starter and he threw three complete games in the seven games he worked (five of them starts.) He was 2-3, with a 2.72 ERA.
In 1953 he spent the full season with the Browns, again starting much of the time – 22 starts in 36 appearances, most of them in the first half of the season. As of July 24, he was 4-9 with a 5.62 ERA. From that point on, he was only accorded five more starts. He finished 5-12 (5.08). After the season, he pitched for Cienfuegos in Cuban winter league ball. His 132 strikeouts (in 25 games) led the league, and he was tied for the league lead in wins (13) and complete games (12.)
Like the rest of the Browns, he traded in his uniform for a Baltimore Orioles one when the franchise moved east. He wasn't with the O's long, however (working only six innings, two in each of three games in May 1954) before he switched teams. This time he switched leagues, the Pittsburgh Pirates picking him up on May 25 in a waiver deal "which sent Cal Abrams to the American League."4 GM Branch Rickey had been surprised to find Littlefield available and contacted the other American League clubs to find out why Baltimore had been offering him on waivers. The Pirates were short on left-handed talent. He stuck for almost two full years. With the season well along, he had lamented, "As bad as the Orioles seems to be, I just couldn't break in with them this spring. They have some good looking pitchers and apparently I was the forgotten man. I never have been very good in the spring and this didn't help me at all. When I came to the Pirates," he continued, "I knew this might be my last effort. So I decided to quit throwing the ball past the batters and concentrate on mixing up my deliveries and fooling the hitters."5
With the '54 Pirates, he won a career-high 10 games (losing 11), starting in 21 of 23 appearances, with seven complete games. One of the games he won with his hitting, a 6-5 win over Cincinnati on September 13, thanks to a run-producing single in the eighth. It was one of 10 RBIs in his major-league career. He was a .145 batter.
He recorded a very good 3.60 ERA. All told, it was one of his best years. After the season, it was reported that he had been "in great demand among the various major-league clubs."6
The Pirates used him about 50/50 in '55 – 17 starts, and 18 relief appearances. He was 5-12, with a 5.12 ERA.
He started the 1956 season with the Pirates but was traded (along with Bobby Del Greco) to the St. Louis Cardinals for Bill Virdon on May 17. The day before the trade deadline, on June 14, he was traded again, part of a nine-player deal with the New York Giants. The Giants also got Jackie Brandt and Red Schoendienst, and the Cards got Al Dark, Whitey Lockman, and three others. With the Pirates, he'd been without a decision; with the Cardinals, he was 0-2, and with the Giants he was 4-4. His 4.08 ERA in 97 innings with the Giants was his best of the year, with seven starts and 24 relief appearances. He was 4.37 overall.
On December 13, 1956, he was traded (with $30,000 or $35,000) to the Brooklyn Dodgers for Jackie Robinson. "Is nothing sacred?" succinctly asked columnist Marion E. Jackson of the Atlanta Daily World. 7 Regarding Robinson, Alan St. James of the New York World-Telegram wrote that day that the Giants were "the team he loved to hate."8 Indeed, Robinson had no desire to join the Giants and elected to retire instead, taking a job as vice president of Chock Full o' Nuts coffee.9 The trade was therefore voided, Littlefield saying in the immediate aftermath, "Now I don't know what to do. I guess I'll just have to wait for some official word."10 Sometime later he said, "My first chance with a champion and it's called off. Oh well, the way I moved around maybe there'll be another."11
Littlefield was back with the Giants – in some respects "a man without a team" – until April 16, when he was traded to the Chicago Cubs, packaged with Bob Lennon for Ray Jablonski and Ray Katt a half-hour before the season began. Littlefield being a left-hander was the key to his inclusion in the deal. The Cubs sorely were in need of one, and the Giants hadn't thought he'd showed enough in spring training.12
On joining the Cubs, Littlefield tied Bobo Newsom who, at the time, was the most traveled player in big-league history, It had taken Newsom 18 years to play for nine different teams. Littlefield was now with his ninth team, and in only nine years – not counting the Dodgers since that trade was voided. Littlefield joked at the time, "When I phone my wife, she's always afraid I'm calling her to tell her I've been traded again." He added, remembering February 1952, "But sometimes she hears the information before me. I was going down the front steps of our home in Detroit for the station to board a train for the Browns' training camp in San Antonio, when she called me back. Heard on the radio I had been traded to the Tigers and they train in Lakeland, Florida."13 He also recalled the time they'd rented a house in Pittsburgh, for them and their three children, then he got traded two days later. His oldest daughter had one day in her new school before they had to pack up to join the Cardinals.
He told another paper, "Every time I'm traded, they call me in and say how sorry they are to see me go. They really wanted to keep me, but the other club demanded me, or the whole deal was off. Makes you feel wanted, huh?"14 He mused about starting an art gallery with a picture of himself in every uniform he'd worn, but then added "Just once, you know what I'd like? I'd like to be with one club a long while, three or four years, and show what I can do."15 Hal Middlesworth dubbed him "the Marco Polo of the major leagues."16i He was surprised and hurt by the first deal, but since that time had grown used to it. He'd very much been looking forward to playing for the Dodgers, where he'd felt he would have a chance to pitch.
In 1957, he was 2-3 for the Cubs, with an elevated 5.35 ERA. He appeared in 48 games, all but two in relief. He was dealt again, on March 30, 1958 – purchased by the Milwaukee Braves. This was his chance to pitch for a champion. Most of his career had been with second-division clubs. "They say I've always been a potential 20-game winner. Well, you can't win 20 if the club you're with only wins 50."17 He was 32 at the time, and had accumulated only 33 major-league wins. Given that he'd gone from the cellar to 1957's World Champion Braves, he was full of optimism. He said he'd never tried to break travel records but he did want to beat some of Warren Spahn's records.18 But the Braves really didn't feel they needed him.
He never added another win. He was 0-1 for the Braves, appearing in only four games, his last on May 30. He spent most of the year in Wichita, and was 13-4 with a 2.93 ERA, but he was not brought back up and his time in the major leagues was over. In 1959 he pitched for Louisville, 86 1/3 innings, and in 1960 he pitched for both Louisville and Indianapolis. In 1961 he both pitched and coached for the Dallas-Fort Worth Rangers and in 1962 he managed the team before hanging them up. His last season gave him a winning record, 2-1, with a 2.74 ERA. The team was 69-90. He hadn't lasted the season, though. He was fired on July 16.
Littlefield's pitching career showed him 33-54 in the majors (4.71) and 91-69 (3.55) in the minor leagues.
After baseball, Littlefield worked in a tool and die factory.
Littlefield died in the city of his birth, Detroit, on November 20, 1997.
Sources
In addition to the sources noted in this biography, the author also accessed Littlefield's player file and player questionnaire from the National Baseball Hall of Fame, the Encyclopedia of Minor League Baseball, Retrosheet.org, Baseball-Reference.com, Rod Nelson of SABR's Scouts Committee, and the SABR Minor Leagues Database, accessed online at Baseball-Reference.com.
Notes
Full Name
Richard Bernard Littlefield
Born
March 18, 1926 at Detroit, MI (USA)
Died
November 20, 1997 at Detroit, MI (USA)
If you can help us improve this player's biography, contact us.
http://sabr.org/sites/default/files/LittlefieldDick.jpg
600
800
admin
/wp-content/uploads/2020/02/sabr_logo.png
admin
2016-06-29 13:45:31
2016-06-29 13:45:31
Dick Littlefield