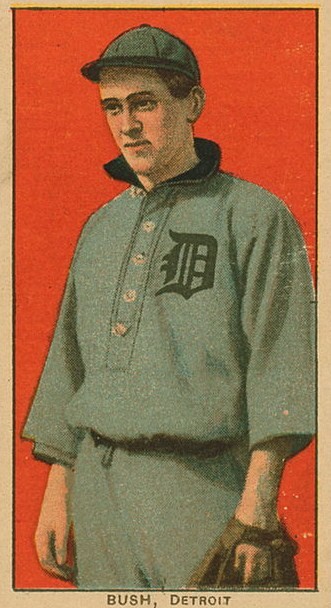 ---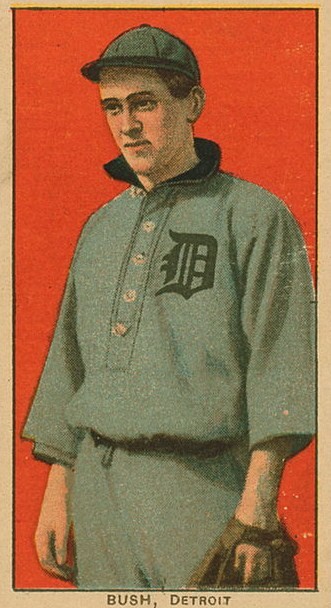 One of the greatest defensive shortstops of the Deadball Era, Donie Bush used quick feet and soft hands to lead the American League in assists five times and putouts three times, and his 425 putouts in 1914 established an American League record and tied a major league mark which has never been broken. At the plate, the diminutive 5'6″ 140-pound switch-hitter utilized all his tools to set the table for Detroit's powerful offense. Though he batted just .250 with little power during his career, Bush scored more than 100 runs four times, thanks to his patience at the plate and ability to work the count. Bush led the league in walks five times during his 16-year-career, including every season from 1909 to 1912. Bush was also a gifted bunter, leading the league in sacrifices twice, and an excellent base-stealer, swiping 406 bags in his career and stealing forty or more bases in a single season four times. Despite these achievements, Bush's offensive skills remained largely overlooked in an era when fans and commentators focused mostly on batting averages. "Just why fans have relegated Bush to the 'poor-hitting class' is beyond me," Baseball Magazine's J.C. Kofoed remarked in 1915. "Donie gets on base, and scores more often than any of his slugging mates on the Detroit club."

Owen Joseph Bush was born on October 8, 1887 in Indianapolis. His father died at an early age, and Bush was cared for by his mother. The pint-sized Hoosier left his mother and Indianapolis pals when he departed for the woodlands of southern Canada. Bush first displayed his skills in 1905 with Sault Ste. Marie, Ontario, in the Class D Copper Country League. He split the 1906 season between three teams in the lower minors: Saginaw, Michigan, and Dayton and Marion, Ohio.

Moving closer to his Indianapolis home, Bush landed with the South Bend Greens to start the 1907 campaign. He found his stride in the Hoosier town. Displaying his excellent defensive skills, Bush also began hitting better, and finished the season with a .279 batting average and the reputation as the fastest, best all-around shortstop the Central League had ever seen.

In addition to his part ownership of the Tigers, Frank Navin held a minority interest with the South Bend club. Before the 1908 season, Navin sold Bush to Indianapolis Indians of the American Association, with the stipulation that the Tigers would retain the first option on Bush's services. Sure enough, when veteran Tiger shortstop Charley O'Leary was sidelined with an injury late in the 1908 pennant race, Navin quickly summoned Bush from Indianapolis. The normally tightfisted Tiger owner shelled out $6000 to purchase Bush, a princely sum for the era but a sale that would prove to be a major bargain for Navin and the Tigers. When the sale was announced, a telegraphic error had the Tigers purchasing "Donie" Bush from Indianapolis, a perversion of "Ownie," the name by which his closest friends knew him. The new moniker would stick with Bush throughout his baseball career.

Bush's impact was felt immediately. Donie made his debut with the Tigers on September 18, 1908 and proved to be the extra spark that would take Detroit to their second American League pennant in a row. In addition to giving Navin's crew a defensive stopper, Bush was also a pleasant surprise at the plate. Appearing in the final twenty tension packed games of the season Bush batted a more than respectable .294 and swiped the first two of his 400 stolen bases while wearing a Tiger uniform.

Navin's only regret in signing Bush for the stretch run was that he didn't bring Bush to Detroit before September, which would have made the shortstop eligible for the upcoming World Series against the Chicago Cubs. With Bush relegated to the sidelines, the Tigers lost the Series in five games.

In 1909 Bush proved that his superior play down the stretch in 1908 had been no fluke. The scrappy Bush led all American League shortstops with 567 assists. At the plate, Bush drew a major league-leading 88 walks, and also led the majors with 52 sacrifices, which also remains the fourth highest total in major league history. Combined with his solid .273 average, Bush posted a stellar .380 on base percentage and scored 114 runs, second in the league to teammate Ty Cobb. After the season, Alfred Spink described Bush, "the midget shortstop," as "one of the best players that ever filled that position….Bush, the grand little Detroit short-stop, has in a single year won a reputation that other stars well may envy. No member of the Tiger nine is more respected by opposing teams." The Tigers won their third consecutive American League pennant, but once again fell short in the World Series, losing to the Pittsburgh Pirates in seven games. For the Series, Bush batted .318 with a .483 on base percentage, though he also committed five errors in the field.

It was to be Bush's only appearance as a player in the World Series. Over the next decade, Donie continued to set the table for Detroit's powerful offense. Though his batting average steadily declined from 1910, when he batted a respectable .262, to 1916, when he batted just .225, Bush continued to find ways to get on base and score runs. He led the league in walks every year from 1909 to 1912, and again in 1914. His highest walk total in the major leagues actually came in 1915, when he drew 118 free passes, but that figure was one short of Eddie Collins's league-leading mark. Thanks to his remarkable ability to find ways to get on base, Bush ranked among the league leaders in runs scored every year from 1909 to 1915. In 1917, when his batting average rebounded to a solid .281, Bush led the American League in runs scored for the only time in his career, with 112.

Meanwhile, Bush continued to distinguish himself in the field and on the base paths. He regularly ranked among the leaders in most major fielding categories, and in 1914 tied a major league record, which has yet to be broken, with 425 putouts. Following the 1915 season, Baseball Magazine declared Bush the greatest shortstop in the American League. "Since Jack Barry moved over to second base, 'Donie' is the best man in his position that the American League can boast," J.C. Kofoed declared. "He hasn't an equal as a fielder, save only George McBride. Chapman is credited with being a far harder hitter, but Bush gets on base more often than the burly Clevelander, and scores many, many more runs."

Though he continued to get on base and score runs consistently through the end of the Deadball Era, Detroit management concluded that his speed and defensive skills were on the wane, and in August 1921 waived him to the Washington Senators, where he finished his career as a part-time player. However, Washington owner Clark Griffith instantly took a liking to Bush's knowledge of the game and installed Donie as the team's manager for the 1923 season. Bush improved Washington's position from sixth to fourth place but inexplicably was not retained for 1924. Griffith looked like a genius when his new skipper Bucky Harris piloted the Senators to their first and only world championship.

Donie returned to his home town of Indianapolis to take over the reins of the local American Association club. Three straight second place finishes earned Bush a return trip back to the big leagues, where he served as manager of the Pittsburgh Pirates. Bush piloted the Pirates to the National League championship but had the misfortune to run into the 1927 New York Yankees and get swept in the World Series. Bush's most controversial move as manager came that year when he used future Hall of Famer Kiki Cuyler sparingly for the rest of the season and the World Series after Cuyler failed to perform a take-out slide on a double-play ball during an August 6 game. Donie continued to manage the Pirates through the middle of the 1929 season, after which he had two more managerial stints in the big leagues with the Chicago White Sox (1930-31) and the Cincinnati Reds (1933), but in both cases was saddled with mediocre talent and finished deep in the second division.

Thereafter Bush returned to the minor leagues, where he briefly managed the Louisville Colonels and Minneapolis Millers of the American Association. With Minneapolis, Bush was credited with helping a young Ted Williams become a more complete ball player; in 1938, the year he was managed by Bush, Williams' batting average went up 75 points.

Upon hearing of the passing of his former skipper in 1972 Williams had kind words of praise for Donie: "I've been in the game for 36 years and nobody has any closer affection to my heart than Ownie." Williams remembered Bush as "fiery as a man could be…a man who tried to be tough but was as soft as a grape."

Bush, who never married and had no children, was a pillar of strength in Indianapolis from 1941 until his passing in 1972 at age 84. First as a manager, and then as president of the club, Bush was known as Mr. Baseball in his home town. In 1967 the city fathers in Indianapolis renamed Victory Field, the local ballpark, Bush Stadium in his honor. When he passed away on March 28, 1972, shortly after attending spring training as a White Sox scout, the brown casket that was Donie's final resting place was put into a funeral hearse which led a procession one final time around Bush Stadium, before the body was driven to Holy Cross Cemetery for burial.


Note

This biography originally appeared in David Jones, ed., Deadball Stars of the American League (Washington, D.C.: Potomac Books, Inc., 2006).


Sources

For this biography, the author used a number of contemporary sources, especially those found in the subject's file at the National Baseball Hall of Fame Library.
Born
October 8, 1887 at Indianapolis, IN (USA)
Died
March 28, 1972 at Indianapolis, IN (USA)
If you can help us improve this player's biography, contact us.
http://bioproj.sabr.org/bp_ftp/images2/BushDonie.jpg
600
800
admin
/wp-content/uploads/2020/02/sabr_logo.png
admin
2012-01-04 20:00:34
2012-01-04 20:00:34
Donie Bush