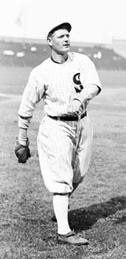 ---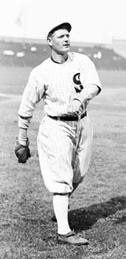 The First World War was winding down but fighting still raged in the Argonne. The 28th Infantry regiment was on the front line and on November 9 they were ordered to advance. Among the doughboys who left the trenches that morning was Tom Quinlan. He had been in Europe for only a month and had just recently been sent to the front.
Quinlan was known as a speedy outfielder and had major-league experience with the Cardinals and White Sox. On this morning "we fought from one shell hole to another. Shells, high explosives and gas fell all about us."1 A high-explosive shell burst near him, throwing him to the ground and shattering his left (throwing) arm. More shells tore up the ground and covered Quinlan with dirt. The dirt and gas penetrated his wounds starting the infection process.
No litter carrier found Quinlan and he was forced to make his way to a field station nearly a mile away. Medics immediately rushed him to Mobile Hospital 8, where surgeons amputated his arm and removed his left eye. Through the long recovery process, Quinlan kept his optimism, telling a reporter, "I know that Uncle Sam will take care of me in the line of a job."2
Quinlan did some public relations for the military, but the job he expected from Uncle Sam actually came from the voters of Lackawanna County, Pennsylvania. He spent most of his working days as an elected official. When he retired in 1949, he was earning $14,000 a year.3 Nowadays the salary equivalent would be more than 10 times the amount.4
Thomas Aloysius Quinlan was born on October 21, 1887, in Scranton, Pennsylvania, to Michael and Mary (Evers) Quinlan. He joined a brother and sister in the Irish Catholic family. Michael Quinlan died and Mary married Bart Fenton, who would leave her a widow again after the birth of two sons and a daughter. Thomas left elementary school after four years and went to work in the coal mines. When he left Scranton for his baseball career, he was a crane operator at the mines.
The Catholic churches of Scranton sponsored a temperance movement to combat drinking. Part of their efforts was the temperance baseball league. Quinlan was a lefty all the way and became a pitcher and outfielder. As he grew older and more skilled he played with teams in the County League. Some of the teams he played for in Scranton and the county were the Minooka Blues, Jermyn, and the Choctaws. Teammates included future major leaguers Chick Shorten, Steve O'Neill, and Mike McNally. Quinlan graduated from the County League to the Susquehanna League in 1910.
In addition to baseball, Quinlan was active during the winters playing basketball. At 5-feet-8-inches tall and 150 pounds, he used his quickness to harass opposing ball handlers. He played for a variety of teams, including the South Scranton Athletic Club. He was a deadly marksman with a basketball and was known to win bets with his accuracy.
On July 6, 1908, Quinlan joined the Scranton Miners of the Class B New York State League for one game. He played center field and went 1-for-4 at bat with a sacrifice. In the field he had a putout and an assist in the 9-4 win over Johnstown-Gloversville. After that he returned to the semipro ranks until 1911.
Wilkes-Barre of the New York State League gave Quinlan a tryout in 1911 before sending him to Reading in the Tri-State League. Quinlan got into a salary squabble with Reading and returned to Scranton. Miners manager Monte Cross signed him and optioned him to Steubenville in the Class C Ohio-Pennsylvania League. The Steubenville Stubs were a new franchise and struggled to create a pitching staff. Twenty-one players were sent to the mound, including Quinlan, who absorbed three losses in three appearances. Otherwise he played center field. He batted .257 and led the team with 10 triples. The team disbanded on August 20 and Quinlan was supposed to report to Mansfield in the same league. It is unclear if he did, but by August 27 he was back in Scranton and working out with the Miners. He played in the September 3 game with Utica, again going 1-for-4. In the field he made an error but showed off his speed with a stolen base.
The 1912 Miners were managed by Buck Freeman. Training camp was in Scranton, where in the first exhibition they took on the Toronto Maple Leafs of the International League. Quinlan opened the scoring by reaching on an error, stealing second, and riding home on a single. The Miners won, 2-1, and Quinlan was on his way to making the roster.
Quinlan opened the season in right field. On May 5 he slammed a home run, a double, and a single to pace the Miners to an 8-1 win over league-leading Elmira. Quinlan was switched to left field late in May and installed as the cleanup hitter. The Miners started very slowly and spent more than a month in the cellar before ending the year in fifth place. Quinlan played in 131 games and batted .273. According to league statistics, he finished fourth in the league with 37 sacrifices.5 He also paced all outfielders with a .988 fielding average.
The Miners brought back only three players for the 1913 season. Quinlan held out for about a week before signing for $150 a month.6 It quickly became clear that Quinlan was the best-conditioned man in camp and the most skilled with the bat and glove. It turned out that he had little competition; the Miners had assembled a weak collection of talent for Class B ball. Quinlan manned right field and batted leadoff.
Manager Dick Smith lasted only half a season. His replacement at first base was a 20-year-old named Wally Pipp. The malaise that plagued the Miners affected Pipp, who hit .220. Quinlan played the most games of anyone for the last-place Miners. He hit .283, which was second on the team for anyone with 100 at-bats or more, but was well off the league pace.
On June 21 Quinlan made headlines when he hit three doubles at Syracuse. One of the drives ricocheted off the ballpark's Bull Durham sign, which earned him a check for $50. It had been two seasons since anyone had hit the sign.7 The American Tobacco Company presented Quinlan and Troy outfielder Otto Wagner with $50 checks on August 1 before their game in Troy. (Wagner had hit the Bull Durham sign in Elmira.)
Major-league scouts started to follow Quinlan. The Detroit Tigers were especially interested in him. The Athletics and Cardinals were also known to be interested. The Cardinals offered Scranton $2,000 and the sale was finalized on August 8. Quinlan closed out the season with the Miners, even taking the mound on September 1 in Wilkes-Barre. The Miners were down 9-0 in the seventh when Quinlan was brought in from the outfield to pitch. He went 1⅔ innings of hitless ball, walking one and striking out two.8
Quinlan made his major-league debut on September 6 in Pittsburgh. Cardinals outfielder Ted Cather had played with Quinlan at Scranton in 1912. The hope was that Cather could mentor Quinlan, but he broke his ankle before Quinlan arrived. Finners went 1-for-4 in the 4-2 loss to the Pirates.
Manager Miller Huggins gave Quinlan 10 more starts after his debut. On September 10 against the Phillies, he had two singles and a walk. He scored once in the 2-1 victory. The local scribes praised Quinlan's hitting while noting that his stance and mannerisms at the plate resembled those of Lee Magee of the Phils. They took him to task for a lack of hustle on a ball in the gap that allowed Magee to get a double rather than single and score the Phils only run.9 He closed out the year with 50 at-bats and a .160 average. Huggins had seen enough. He sent Quinlan home rather than use him in the postseason series against the Browns. On December 12, Huggins sold Quinlan to Oakland in the Pacific Coast League.
The next spring Quinlan hitched a ride west on the White Sox' chartered train. He quickly endeared himself to press and fans with his batting eye and speed. He opened the season in left field and batting leadoff. Quinlan again found himself a star on a lackluster team as the Oaks finished last. For his part, Quinlan batted .290 and was second on the team in doubles and triples behind first baseman Jack Ness. He sat out three games in June under suspension for a display of temper. The incident cost him $25. In August he sprained an ankle and missed time. As a result of the suspension and injury he played "only" 180 games.
Quinlan's performance drew plenty of major-league interest. Fearing they would lose him in the draft, the Oaks swung a deal in August with the White Sox. Chicago sent shortstop Scotty Alcock to the coast and the Oaks sold Quinlan to Chicago for "fall delivery."10 The deal hit a snag when Quinlan turned down Comiskey's 1915 offer, saying, "I'm not ready to sign any next year's contract right now no matter what the proposition may be." Quinlan wanted to keep his options open in case the Federal League came calling.11
Quinlan's resistance put the deal on hold until the second week of September. Finally, Comiskey agreed to send Alcock and take his chances with signing Quinlan. Alcock took his time reporting. He got into 14 October games. Quinlan finally inked a White Sox contract in mid-March and reported to camp. He was projected to be Pants Rowland's leadoff hitter.12
Quinlan won the left field job and batted leadoff. The White Sox opened the 1915 season in St. Louis against the Browns and Quinlan had a great series. He went 6-for-15 with a couple of doubles as the teams split the series. Those games were the high point of his season. An 0-for-16 skein dropped Quinlan's average to .175 and brought his stretch of 20 consecutive starts to an end. Fellow rookie Happy Felsch took over the top of the order. Quinlan had a second chance to reclaim his spot in the lineup when Felsch injured an ankle on May 30. In seven starts he went 5-for-24 and was relegated to the bench when Felsch returned.
On July 20, when the White Sox left for an extended road trip, they left Quinlan behind. A week later he was sold to Salt Lake City. He had appeared in 42 White Sox games and batted .193. The Bees were determined to make a run at the PCL pennant and acquired slugger Bunny Brief at about the same time. The Bees were in last place when the pair reported. They debuted on July 31, when another player, second baseman Joe Gedeon, returned from a family emergency. The new additions paid immediate returns. Quinlan smacked two doubles and played superb defense in center. Brief added a double and two RBIs in the 6-3 win over Los Angeles.
During the game, Quinlan attempted to steal home and was called out due to Brief's interference. In the eighth, teammate Billy Orr stole home and appeared to be safe, but was called out. This brought 800 Bees fans to their feet and umpire Jimmie Toman was lucky to get out of the park safely after the game.13
Quinlan's hot start continued. After eight games he had four doubles and two stolen bases and was batting .322. Five weeks after Quinlan's arrival, the Bees pulled their record to .500. On September 5 he added to his reputation by scoring from second on an infield grounder to third.14 When the Bees took a twin bill from league-leading San Francisco on October 3 it ran their record to 93-86. The Bees closed out the season at 108-89. They played at a .687 pace with Quinlan on hand, but they were unable to catch San Francisco.
The Salt Lake newspapers raved about Quinlan's contributions. He was regarded as the finest-fielding center fielder in the league, but the scribes noted that he did not have the consistency at the plate that would make him an all-star. He posted a .306 batting average in 71 games. The Salt Lake City fans eagerly awaited his return for the 1916 season.
They were not disappointed. At season's end the local paper simply said, "[E]veryone knows he is easily the best flychaser in the league. His .313 hitting (makes him) the superior of all outfielders in the league." The writer went on to praise Quinlan's alertness and aggressiveness and dubbed him a "never-exhausted pepper box."15
Quinlan was joined on the All-Star squad by teammates first baseman Brief, who led the circuit with 33 homers, outfielder Buddy Ryan, utilityman Billy Orr, and pitcher Bill Piercy. Despite that array of talent, the Bees finished well behind Los Angeles. Besides the .313 average, Quinlan had a league-leading 241 hits and smacked 49 doubles to tie Ryan on the team and place third in the league. His .399 slugging average placed him in the top 10 for players with 100 games. He scored 99 runs and stole 27 bases, according to contemporary reports.16
Even in an all-star season there can be a low point. The Bees were in Oakland on June 17 and had fallen behind 9-0 after five innings. Quinlan coaxed manager Cliff Blankenship into letting him take the mound. Quinlan finished out the game allowing two runs on four hits, two walks, a wild pitch, and a balk. The writers came to his defense and said that if the "fielding support had been up to snuff" Quinlan would not have given up the runs.17
Quinlan returned to his home and was honored with a banquet in South Scranton in November. He played basketball for the Minooka team that winter along with catcher Steve O'Neill. In February 1917 the Bees sent a contract with a cut in pay and transportation money for him. Quinlan was quick to announce that after his last season he was seeking a substantial pay increase. The two sides wrangled for 10 days before the Bees offered the same pay as in 1916. Quinlan accepted18 but was very slow to report to training camp in Proctorville, California.
He arrived in shape courtesy of his basketball and a copious amount of hunting. Hurt feelings from the initial contact offer lingered. Quinlan butted heads with manager Bill Bernhard and lost his center-field spot to Jack Tobin. When the season opened, Quinlan found himself on the bench. Issues came to a head on April 11, when Quinlan's signed contract still had not arrived. Bernhard suspended him. The two sides resolved the matter the next day and Quinlan started in right field on April 13.
Quinlan played in 182 games, but the mystique from 1916 was tarnished. Where once the newspapers praised his range and circus catches, the word "muffed" appeared more and more. He batted fifth most of the season while Tobin led the league in runs and hits from the leadoff spot. Finally, in October he was returned to the top of the lineup. He missed the season's final game because word had come that his mother was very ill.
Quinlan returned to Scranton and his mother's health recovered. He took a job in the shipyards in Chester, Pennsylvania. Salt Lake traded his rights to Columbus in the American Association for Larry Chappell. Quinlan refused to report to Columbus. In the summer he enlisted in the Army and was sent to Fort Lee, Virginia, for training.
The 1st Division was one of the first US units to land in France. The 28th Infantry Regiment of that division was involved in the first significant battle involving American forces. It occurred on May 28, 1918, near the village of Cantigny.19 When Quinlan was sent to France he was assigned to Company K of the 28th. It is unclear if the attack in which he was injured was his first action. He did say that "I lasted only one inning in the big game."20
Quinlan returned to Scranton in March 1919. In October a charity baseball game featuring local stars like Chick Shorten and Steve O'Neill plus players like Bucky Harris and Joe Wood raised $1,413.20 for him.
In the fall of 1919, Quinlan ran for county commissioner in Lackawanna County against the wishes of the Democratic leaders in the county. They tried to get him to back out of the race in favor of their choice, but Quinlan stuck with it. The same local ballplayers who helped with the charity baseball game campaigned for him.
Quinlan emerged as the leading vote-getter. The voters of the county were honoring him for his sacrifice while acknowledging their belief in him. On December 8, 1920, he wed Louise Wilhelmina Leyh. The couple would have one daughter.
Quinlan was re-elected in 1923. In 1927 he faced opposition and the campaign trail took its toll on him. He fell ill and was bedridden much of the final two weeks of the campaign. He faced John Healey for the position of minority (Democrat) commissioner. When the local papers went to press after the election, Quinlan had a lead. However, the next day he had fallen behind by 500 votes. Quinlan immediately hired lawyers and petitioned for ballot boxes to be impounded in precincts that showed unusually unbalanced results like 266 to 34 and 145 to 18 for his opponent.21 He conceded the race a week later.
In 1929 Quinlan ran for the Scranton City Council and was elected. In 1933 he ran for Registrar of Wills and won. He held that post until 1949, when he announced on June 1 that he would not seek election for a fifth term. He and Louise moved to Moscow, Pennsylvania, nine miles south of Scranton, and lived quietly. She succumbed to diabetes complications in 1960. Finners passed away from pneumonia on February 17, 1966. He was buried at St. Catherine's Cemetery in Moscow.
Acknowledgments
This biography was reviewed by Len Levin and fact-checked by Kevin Larkin.
Notes
1 "Baseball Hero Gives Arm and Eye to Country and Doesn't Regret the Sacrifice," Detroit Times, March 8, 1919: 9.
2 Ibid.
3 "Finners Quinlan Will Quit Politics," Times Leader, Evening News (Wilkes-Barre, Pennsylvania), June 2, 1949: 28.
4 saving.org/inflation/inflation.php?amount=14,000. The exact equivalent value is $143,208.96.
5 "Official New York State Batting and Fielding Averages," Scranton Truth, November 25, 1912: 9.
6 "Trainor Signs Stars Contract," Scranton Truth, March 15, 1913: 8.
7 "Finners Quinlan Gets $50 for Hitting Bull," Evening News (Wilkes-Barre), June 24, 1913: 9.
8 'Barons Clean Up the Series," Scranton Truth, September 2, 1913: 9, 12.
9 W.J. O'Connor, "Bill Doak Wins Home with Fans: Quinlan Pleases," St. Louis Post-Dispatch, September 11, 1913: 17.
10 Billy Fitz, "Oaks Sell Quinlan for Sox Shortstop," Oakland Tribune, August 14, 1914: 18.
11 "Quinlan Balks at 1915 Sox Contract," Oakland Tribune, August 16, 1914: 38.
12 "Rowland Gets LeadOff Man," Chicago Tribune, March 15, 1915: 13.
13 "Gedeon, Brief and Quinlan Strengthen the Salt Lake and Help Break Losing Streak," Salt Lake Herald-Republican, August 1, 1915: 18.
14 "Bert Hall Shuts-Out Oaks; Yields but Six Clouts," Salt Lake City Tribune, September 6, 1915: 9.
15 "All-Star Club Selected from Coast Players," Salt Lake City Tribune, November 5, 1916: 39, 42.
16 "Coast League Leaders — 1916," Salt Lake Telegram, November 5, 1916: 11.
17 "Salt Lake Handed a Good Wallop by the Tailenders," Salt Lake Telegram, June 18, 1916: 4.
18 "Quinlan Given Boost; Will Join Salt Lake," Scranton Republican, March 9, 1917: 12.
19 worldwar1.com/dbc/pdf/battle_of_cantigny.pdf.
20 Ibid.
21 "Quinlan Asks Ballot Boxes be Impounded," Scranton Republican, November 10 ,1927: 3.
Born
October 21, 1887 at Scranton, PA (USA)
Died
February 17, 1966 at Scranton, PA (USA)
If you can help us improve this player's biography, contact us.
/sites/default/files/QuinlanFinners.jpg
600
800
admin
/wp-content/uploads/2020/02/sabr_logo.png
admin
2018-05-17 14:00:07
2020-04-09 14:40:20
Finners Quinlan