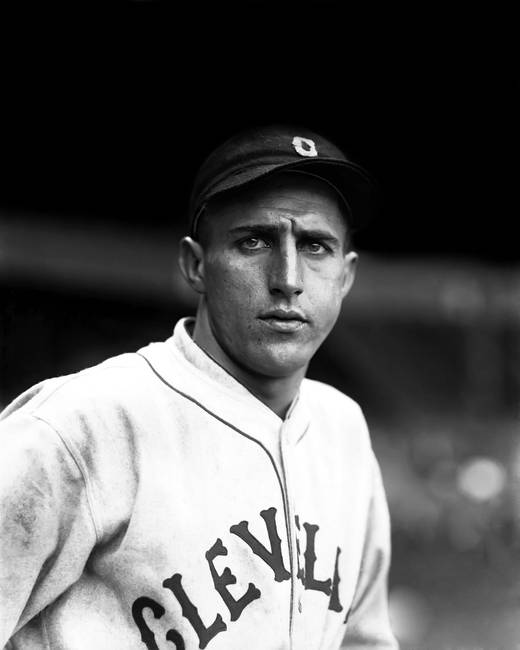 ---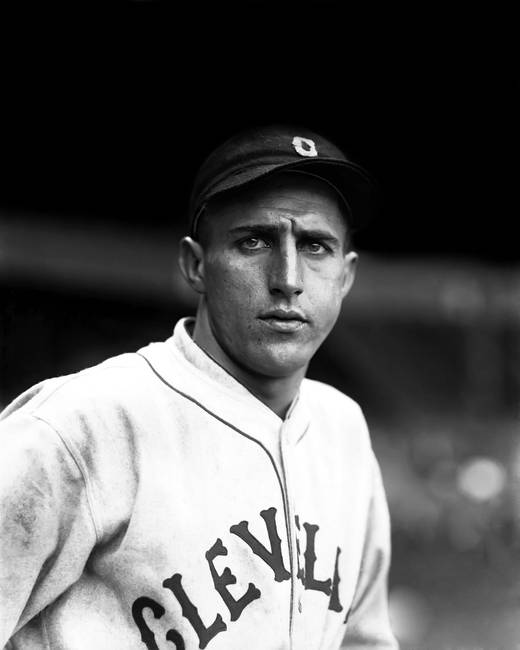 The 1924 Cleveland Indians were mired in the second division and put out the call for talent. Eventually they looked at 43 players. Infielder Freddy Spurgeon was brought to town with seemingly no minor-league background. He had been a high-school and college multisport athlete in Michigan, but his name appeared nowhere in baseball annals in 1923-24. Writer Stuart Bell solved the mystery when he revealed that Spurgeon had played the early part of 1924 as "Fred Jackson" with the New Orleans Pelicans.1
Fred Spurgeon was the fourth child (third son) born to Charles and Anna (Sexton) Spurgeon. He joined the family on October 9, 1901, in Wabash, Indiana. The surname Spurgeon is English, but Fred always claimed that he also had Native American ancestors. He claimed that an ancestor in the 1700s had married a tribal princess.2
Charles Spurgeon had recently left the US Army, in which he served as a lieutenant during the Spanish-American War. He was working as a carpenter at the time of Fred's birth, but moved the family to Kalamazoo, Michigan, soon after. There he found work in a paper mill.
Spurgeon graduated from Central High School in Kalamazoo. He was tall, six feet, and thin, 150 pounds, but this did not keep him from excelling in football, basketball, and baseball. In football he played end and caught two touchdown passes in the 1919 season opener. The following season he upped the ante with a three-touchdown performance.
The 1920 team nearly claimed the mythical state title, finishing with a 7-1 record. One of its victories was over the South Bend, Indiana, squad in a game dubbed the Polar Championship because it was played in below-zero temperatures on November 13. Its lone loss was to Muskegon, 7-6. Spurgeon's missed extra-point kick was the difference.
In basketball Spurgeon played on the reserve team before being elevated to the first squad. He had marvelous ball-handling skills which he used to kill the clock in close games. He was also adept at making long-range baskets. He became a starter in February 1920 when a teammate graduated after the first semester. The team was one of the best in the state, winning its Class A District final by a score of 42-10. It was denied a chance for the state title when two of its players were deemed to have violated their amateur standing.
The following season Spurgeon moved from guard to center and was named captain of the team. The highlights of the year came in wins over two Detroit schools and Battle Creek. Spurgeon was hailed as all-state material by local writers.
In baseball, Kalamazoo Central fielded a team in only Spurgeon's last two years. Before high school he had earned a reputation as a fine outfielder, but in his high-school years he was used in the infield. By his senior season he had settled in at shortstop and batted fourth. In addition to playing for the school, he played summer ball for the Knights of Pythias and the Goodale Eagles. The Knights lost the city championship in 1919.
After graduation, Spurgeon enrolled at Kalamazoo College and continued his three-sport work. The school captured the six-team Michigan Intercollegiate Athletic Association (MIAA) title for football in 1921. Its overall record was 7-2 with the losses being lopsided shutouts by Notre Dame and Indiana. Playing fullback or wing, Spurgeon was a threat as a receiver and was named to the first team all-league.3
Spurgeon went from the gridiron to the court and took over as center on the basketball squad. His long-range shooting helped destroy Adrian, 56-13, and garner two wins over Notre Dame. He was unanimously named all-league by the coaches. The team posted a 21-2 regular-season record and was invited to the March 1922 National Intercollegiate Basketball Tournament in Indianapolis. Kalamazoo defeated Idaho University in the first game, then beat Grove City (Pennsylvania) College. Wabash College trounced Kalamazoo by 20 points in the finals.
The 1922 baseball team went only 3-7 in the MIAA. Spurgeon, a right-handed hitter and thrower, batted in the middle of the lineup but was forced to alternate between third base and shortstop in an unsettled infield. His home run helped bring a victory over Alma, one of the few highlights of the season.
The 1922 gridiron team finished at 4-4-1 and in third place in the MIAA. A cracked collarbone forced Spurgeon to miss the league loss to Alma. He recovered sufficiently to play the fourth quarter against Albion 10 days later and kicked a 23-yard field goal for the tie. That closed out Spurgeon's athletics at the college. In December it was announced that he was ineligible until he improved in Spanish.4 The basketball team dropped to 17-8 without him. He left Kalamazoo College and enrolled at Valparaiso University.
The 1923 Dubuque Climbers in the Class D Mississippi Valley League were managed by 52-year-old Joe McGinnity. They got off to a slow start and were in last place when it was announced that Fred Spurgeon of Valparaiso University would soon join the team.5 Spurgeon's name never appeared in the box scores, but on May 26, 21-year-old Fred Jackson joined the team at shortstop. Jackson was a superb fielder and strong hitter. With his addition and the signing of Leo "Chief" Meyers at catcher, the Climbers went on a winning streak and were in first place by mid-July.
Fred Jackson was actually Fred Spurgeon. Uncertain whether he would continue to play college athletics at Valparaiso, he hid his identity to preserve his amateur status. This was not his first use of the Jackson moniker. He had played some professional football the previous fall.6 He may also have played in the Michigan-Ontario League in 1922. The only Jackson listed in the league was a pitcher. If Fred did play there, it was for fewer than 10 games and did not make the published records.
Jackson batted .320 to lead the Climbers to the league championship and placed third in the league in hitting (for players with 400 at-bats or more). His .939 fielding average and 5.33 range factor were easily the best marks among league shortstops. He was especially adept at covering the shallow outfield for Texas League popups.
In September, after being scouted by numerous clubs, Spurgeon was sold to the New Orleans Pelicans of the Southern Association and ordered to report in the spring.7 Fred returned to college and played halfback and kicker for Valparaiso that fall. The team posted a 5-2-1 record and won its homecoming game over Lewis University by the obscene score of 110-0. Spurgeon was majoring in business but whether he graduated from Valparaiso is uncertain.8
Spurgeon reported to New Orleans and quickly claimed the shortstop job. He maintained the Jackson identity, possibly thinking of a return to the gridiron in the fall. The Pelicans won 93 games but finished third behind Memphis and Atlanta. Jackson batted .278 and hit five home runs among his 20 extra-base knocks. His rights were sold to Cleveland on July 24. He reported to the Indians when the season ended.
Spurgeon made his debut on September 19 at home against the Boston Red Sox. He played second base and handled seven chances cleanly while going hitless at the plate. He was pulled for a pinch-hitter in the ninth and watched as the Tribe lost 5-3 in 12 innings. He played both ends of the doubleheader the next day. In the opener he swatted a double off Howard Ehmke for his first hit. He was a spectator for the final four games of the year.
Second base was crowded in Indians' spring-training camp in 1925. Chick Fewster had won the job from Riggs Stephenson the previous season with superior glove work. Stephenson was still on the roster in 1925 and hoped his hitting would win him a spot. Youngsters Joe Klugmann and Spurgeon were also vying for a piece of the action.
Spurgeon played well in the spring. When third baseman Rube Lutzke developed health issues Spurgeon won the starting spot at third base. Because he was superior at bunting and the hit-and-run, he took over the second spot in the lineup. Fewster dropped to the bottom third of the order.
Spurgeon played the first 20 games as the starter at third. He had a .329 average when Lutzke returned. Spurgeon became the utilityman, seeing action at short, second, and third. The Indians struggled to a 70-84 record. Fred closed out the season with a .287 batting average in 107 games. He showed little power, with only 12 extra-base hits, but filled his role as the two-hole hitter by dropping down 15 sacrifices.
Fans and the front office were pleased with Spurgeon. Fewster was placed on the trading block. There were rumors that the Yankees liked Spurgeon and Miller Huggins was supposedly going to make an offer. Nothing materialized, and Spurgeon prepared for the next spring by playing and officiating basketball in Kalamazoo.
Tribe President Ernest Barnard set the stage for the coming season by saying of Fred, "Here's the type of young ballplayers that scouts and managers fancy most of all. I mean the smart, reliable type, that comes along naturally – but keeps coming all the time."9 Spurgeon was the first fielder to arrive in camp. He checked in and then hit the golf course while awaiting the arrival of his teammates.
Spurgeon should have had an open shot at the second-base job, but the Indians brought in slick-fielding Guy Lacy to compete with him. Lacy made the roster but would start only five games during his lone major-league season. Spurgeon served notice he was ready for full-time duty when his bat suddenly started to deliver extra-base hits in the spring. He closed out March by launching a drive over the left-field wall in Waycross, Georgia, for a grand-slam and a 7-4 win over Rochester.10
Freddy and the Tribe both opened the 1926 season on fire. In the first 11 games, Spurgeon got hits in 10 and was sporting a .420 batting average. The team stood 8-3 and was tied with the Yankees. Four consecutive losses to the White Sox from April 29 to May 2 dropped Cleveland into third place. Arguably Spurgeon's best offensive showing came on May 4 against the St. Louis Browns. Facing Elam Vangilder and then Ernie Wingard, he singled and scored in the first. Later in the game he smacked a triple, double, and single that all drove in runs. He finished the game scoring twice and driving in four runs in the 11-3 win.
Spurgeon's most memorable day of the season came on May 24. He married Dorothy Heiser of Cleveland at the Old Presbyterian Church in the morning, celebrated with a wedding breakfast, then headed to Dunn Field. The Indians lost 8-5 but Freddy poked a double. He and Dorothy had met at the ballpark in 1925. Spurgeon had kept the romance going over the winter by sending daily letters. He even sent notes on Sundays through special delivery.11
Spurgeon appeared in 149 games and batted .295, which placed him in the top 25 of the league. Doubles were easy in League Park; Tribe first baseman George Burns led the AL with 64. Tris Speaker and Joe Sewell added 52 and 41 respectively. All three hit many more doubles at home than on the road. Spurgeon had 31 doubles to finish tied for 19th in the circuit. Surprisingly, he had more doubles on the road (16) than at home (15). In the field Spurgeon played more innings, handled more chances, and made more errors (2 more than Bucky Harris) than any other American League second baseman.
Despite Spurgeon's excellent season, the Indians brought in competition at second base the following spring. Lew Fonseca, "slugger extraordinary of the Newark club," was brought in for his bat. Spurgeon had 34 extra-base hits in 1926. Fonseca set the International League afire with 40 doubles, 11 triples, and 21 home runs.12The biggest issue facing Cleveland in 1927 was the absence of Tris Speaker in center field. His loss weakened both the defense and offense.
The Lakeland, Florida, area had suffered through a frost in January and the economy needed the boost from the Indians' training camp. The team train from Cleveland, carrying George Uhle, Spurgeon, Lutzke and others, made a stop in Jacksonville to pick up additional players and then traveled to Lakeland. Spurgeon battled illness for a couple of days, but his bat never seemed to recover. When the team broke camp for the exhibition tour heading north Spurgeon was batting .186. Fonseca led the team with a .518 average.13
Spurgeon's bat showed signs of life on the way north; he even hit a homer in an intrasquad match. He opened the season playing second and batting second. In the season opener, a 3-2 win over Chicago, he delivered a double and scored a run. He sprained his left wrist against the Tigers in the next series. The injury, combined with cold, miserable weather, became an issue and Spurgeon was sidelined in midgame on April 23. He returned to the field a week later but fell into a 0-for-22 slump and saw his average bottom out at .132.
Spurgeon saw limited duty for a month before returning to the lineup. On June 12 versus the Yankees, he banged out three hits, plated two runs, and scored twice himself in the 8-7 victory. A month later he touched up the Yankees again, banging his only career home run in a 5-3 loss. That game was number three in a 14-game hitting streak that ended July 30. The wrist injury was manageable, but a shoulder injury virtually sidelined him for the rest of the season.
After the season Spurgeon was driving back to Kalamazoo, where he was going to move into a new home built during the summer. He was involved in an automobile accident near Adrian, Michigan. Swerving to miss a car that was backing out in front of him, he flipped his vehicle and badly fractured his left elbow and arm. He was hospitalized in Kalamazoo, but in December he was sent to Cleveland for surgery by a specialist.
It was eight months before Spurgeon could return to on-field workouts. He was placed on the voluntarily retired list, which meant that he drew his regular pay from the team. He did rejoin the Indians in mid-August, but no effort was made to return him to the diamond until 1929. He was reinstated by commissioner Kenesaw Landis, then sold conditionally to the Kansas City Blues in the American Association.
The Blues were a veteran squad; half of Spurgeon's mates were older than his 27. The team piled up 111 wins on its way to the American Association title. Spurgeon wrestled the second-base job away from former Indian Bill Wambsganss. Fred played 127 games and batted .262. His fielding range was superior to that of the 35-year-old Wamby who batted .295.
In 1930 the Blues dropped into the second division and Spurgeon became a utilityman as Norm McMillan claimed the keystone with his .326 average and .479 slugging. Spurgeon returned to the Blues in 1931 but he was getting by with "alertness and intelligence." The veteran knew what to do in all situations, he was aggressive on the baselines, and was never a whiner.14 Sadly he no longer had the bat or arm to play at a high level. He was sold to Little Rock (Southern Association) on June 30. There he played in 66 games and tied for the league lead in sacrifices.
Spurgeon went to camp with Little Rock the following spring but was dealt to the Springfield Cardinals in the Class C Western Association in mid-April. Springfield literally ran away with the pennant. Led by Spurgeon's 63 thefts, the team stole 201 bases. The Caerdinals defeated Bartlesville in the best-of-nine playoffs. Spurgeon was released at the end of the season.
Fred returned to Kalamazoo and the family. He and Dorothy would have three children, Jean, Beverly, and Fred E. The couple divorced in January 1951. Over the years, Spurgeon worked as a salesman for various firms and was a supervisor in a paper mill. He kept in shape bowling and playing golf. More importantly, he carved out a 37-year career as an official in high school and college basketball, baseball, and football. He finally gave that career up when he realized the basketball game had become too fast for him.
Spurgeon took a second wife, Gladys Ann Coburn, in July 1951. They continued to live in Kalamazoo. He was the state sales representative for Gooderham and Worts, well-known Canadian distillers, when he developed cancer. He was eventually hospitalized in Kalamazoo and died there on November 5, 1970. Burial was in the Grand Prairie Cemetery. Gladys joined him there in 1995.
Spurgeon was a member of the local Presbyterian church and the Elks Lodge. He was a frequent entrant in Elks bowling and golfing tournaments. As a game official and former player, he was greatly involved with the local sporting scene. Upon his death it was requested that memorials be made to the Westwood Little League.
Acknowledgments
This biography was reviewed by Len Levin and fact-checked by Stephen Glotfelty.
Notes
1 Stuart M Bell, "Indian Papooses Lose to Red Sox," Cleveland Plain Dealer, September 20, 1924: 14. Writer Ed Hebert had "outed" Spurgeon in late August in the New Orleans Times-Picayune.
2 "Quite an Athlete – This Spurgeon," Cleveland Plain Dealer, May 2, 1926: 23.
3 "All M.I.A.A. Team Made Up of Stars of Three Schools," Saginaw News, December 4, 1921: 27.
4 "College Will Open Season Here Tonight," Kalamazoo Gazette, December 16, 1922: 7.
5 "Valparaiso Star to Join Dubuque M.V. Ball Club," Dubuque Telegraph-Herald, May 23, 1923: 2.
6 Ed Hebert, "Is This Freddie Jackson? It Is and Then It Isn't," New Orleans Times-Picayune, August 24, 1924: 16.
7 "Jackson Sold to New Orleans," Dubuque Telegraph-Herald, September 9, 9123: 24.
8 Valparaiso came under Lutheran control in 1925 and many of the records from those transition years were lost. Staff at the Valparaiso University Archives Department provided yearbook information on Spurgeon.
9 James E. Doyle, "Indians Chief Forecasts Big Year for Freddy Spurgeon at Second Base," Cleveland Plain Dealer, February 22, 1926: 15.
10 Henry P. Edwards, "Levsen Pitches Faultless Six Innings as Indians Whip Rochester, 7-4," Cleveland Plain Dealer, April 1, 1926: 22.
11 "Cupid Now Batting for Spurgeon, 2B," Cleveland Plain Dealer, May 25, 1926: 1.
12 Norman E. Brown, "Fonseca's Bat May Cost Job for Spurgeon," Herald-Press (St. Joseph, Michigan), March 12, 1927: 6.
13 Henry P. Edwards, "Lew Fonseca Leads Indians in Spring Camp Hitting," Cleveland Plain Dealer, March 29, 1927: 22.
14 "The Sport Dial," Kansas City Star, March 27, 1931: 22.
Born
October 9, 1901 at Wabash, IN (USA)
Died
November 5, 1970 at Kalamazoo, MI (USA)
If you can help us improve this player's biography, contact us.
/sites/default/files/SpurgeonFreddy.jpg
600
800
admin
/wp-content/uploads/2020/02/sabr_logo.png
admin
2018-11-06 12:12:36
2020-04-09 14:38:39
Freddy Spurgeon