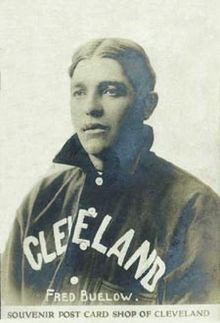 ---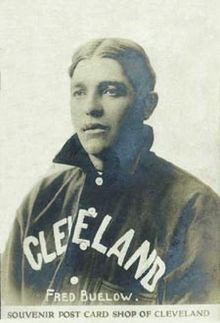 Fritz Buelow exhibited many positives. A "hard working and conscientious backstop"1 with a strong arm, he was popular with teammates and kept them on their toes as a prankster. "His humorous quips and quick repartee irked umpires," but made him a fan favorite.2 He was a student of the game and was used frequently as a base coach. Sadly, the minuses overshadowed the plusses. He was dogged with injuries and ill health, suffering from a condition called locomotor ataxia, which attacked the control of his arms and legs. Most egregious was his inability to hit major-league pitching. Of all the players who have had 1000 at bats or more, only five have a worse lifetime batting average than Buelow3. His career .192 not only falls below the "Mendoza line," but it is 23 points below Mario Mendoza's career .215 average.
Frederick William Alexander Buelow was born February 13, 1876, in Berlin, Germany, the first of four sons born to Carl and Ernestine (Timm) Buelow. The family emigrated to America in 1881 and settled in Cleveland where his two youngest brothers were born. His father worked as a laborer. The 1900 census lists him as an iron ore dock worker for the huge ore carriers that populated the Great Lakes. The children all attended school although the exact duration is unknown.
Buelow learned his baseball on the sandlots; in 1895 he was recruited to play for Columbus in the unclassified Interstate League. It started as an eight-team league and slowly dwindled down to four franchises before disbanding. Buelow caught and usually batted eighth. The Columbus franchise folded in mid-July and he joined an independent team in Columbus.
The following spring, he went east and joined Brockton, Massachusetts, in the eight-team Class B New England League. The league was a hitter's paradise with young Nap Lajoie of Fall River leading the way with his .429 batting average and .726 slugging average. The Brockton Shoemakers were paced by Ed Breckenridge, who smashed a league-record 25 home runs and hit .402.
Buelow spent much of the season batting in the middle of the lineup. His best performance came on June 23 against Pawtucket when he slammed two triples and two singles. His .256 batting average seems impressive compared to his major-league stats, but his catching partner Nap Shea batted .344. Indeed. Buelow's average placed him 76th in the league in hitting. Six teams survived the season with Bangor winning the pennant and Brockton coming in third.
Buelow returned east in 1897 but joined manager Phenomenal Smith with the Pawtucket Phenoms. Batting seventh, he opened the season with his bat ablaze. Pawtucket won the first game of the year, 19-3; Buelow had four hits, including a double, and stole two bases. Ten days into the season he had two doubles and three home runs. By the end of July, he had poled 13 dingers.4 He moved up to sixth in the batting order. The Phenoms ended the year in third and Buelow was passed in the home run race by teammate Tom News, who hit 17 to Buelow's 14.
Buelow batted .324 which put him 18th in the league. He was still a spry 21; injuries and illness had not sapped his strength, and he stole a career high 18 bases. Judging from box scores he struck out more frequently than his teammates. Strikeouts would be an issue for him and even led him to once bet on a race horse named "Strike Out" at the Windsor race track. Upon losing he remarked, "I have struck out a million (sic) times in my life; I wish I had done so just once more."5Fielding statistics are not available, but his bat overshadowed his biggest fault, which was inconsistency behind the plate.
The Phenoms returned five regulars including Buelow in 1898.The league floundered, then collapsed. On July 17 he joined Detroit in the Class A Western League. The Tigers had some up and coming pitchers in Noodles Hahn and Rube Waddell, but very little offense. Catching hard throwers was tough on catchers, so Detroit carried three. This would be the norm for the remainder of Buelow's career. Because of his quickness, he was also used in the outfield in eight games. His batting average fell to a more characteristic .206 as the Tigers finished well off the pace.
George Stallings had taken over the Tiger leadership partway through the previous year and returned in 1899. Buelow was teamed with Al Shaw and utility man Jack Ryan behind the plate. Shaw batted .294 while Buelow hit .267 according to league statistics published after the season.6 Buelow's fielding frustrated Stallings. Detroit's catching was the worst in the league and he was the worst of the trio. Buelow led the circuit in passed balls and was second in errors, making 24 in only 52 games, many of them on wild throws. He tied Shaw for team leadership with 60 assists but fielded .907 (the league leader fielded .982). The Tigers led the league in batting, but finished well behind Indianapolis.
Late in the season, Buelow was left behind when the team went east. Stallings fined him $25 and suspended him for not being in top playing condition. Upon their return, he was reinstated and even pitched in an exhibition game in Portland, Michigan. He won, 11-8. There had been rumors that Cincinnati and Boston wanted him, but Stallings sold him, pitcher Tom Thomas and third sacker Pat Dillard to St. Louis for "more than the drafting price."7
St. Louis put him in the lineup versus Louisville and Rube Waddell on September 28. Having caught Waddell and then played against him, Buelow knew what to expect in his debut. He smacked a single and a triple in the 7-3 victory. That performance earned him a start on September 30 versus the road weary Cleveland Orphans. He went three-for-four and helped Tom Thomas earn his first big league win, 10-3. Buelow appeared in seven games: four as catcher, twice in left field and once as pinch-hitter. He batted .467 and fielded flawlessly although he did have trouble with base stealers; he caught only one of four.
Buelow went to spring training with St. Louis in 1900 as one of three catchers. In mid-March after some exhibition appearances, he became seriously ill with a sore throat. It caused him to lose sleep and to have little appetite.8 His tonsils were removed, and he was back in action by April 2.
With his health improving, Buelow returned to action and inked a contract for $1,350.9 He saw his first action on May 28 when regular Lou Criger came down with boils. Buelow played poorly in the 11-4 loss to Philadelphia, making an error and a passed ball. After that he languished on the bench, seeing the field as a pinch-hitter and base coach. He made one brief appearance in the outfield. The press reported in July that he and pitcher Tom Thomas had been given a "leave of absence" from the team and were touring the Midwest appearing for semi-pro or amateur teams.10 The writers also pointed out that playing a youngster one day a month would not prepare him to play when needed.
Manager Oliver (Patsy) Tebeau of St. Louis finally optioned Buelow to Denver in the Western League, which was managed by George Tebeau, Oliver's brother. Buelow had enjoyed his "leave" because it allowed him to spend time in Detroit courting a Canadian named Agnes Miller. He complained about the assignment, but went west and played 35 games with Denver, batting .312. When Denver's season concluded, Buelow joined St. Louis in Boston, making a spectacular return on September 11. He singled and scored and threw out three base stealers. The joy ended soon after when the team returned home and Buelow was suspended. He was fined $50 for an unrevealed violation of team rules.
When the season ended, Buelow gladly returned to Detroit and the "girl with flaxen hair, sweet blue eyes" and a "fair and peachy" complexion.11The couple were wed and honeymooned in Canada. Sadly, Agnes would have medical issues most of the marriage, brought on by chronic intestinal obstruction. She died on August 4, 1918. The couple was childless.
The American (formerly Western) League went from minor-league status to major-league for the 1901 season. There was a considerable amount of raiding for talent and St. Louis lost catchers Criger and Wilbert Robinson. Buelow was not anxious to play in St. Louis after the late season suspension and a characterization in the newspapers that he was irresponsible and unreliable. But the Perfectos were anxious to hold on to him. He returned unsigned contracts forcing business manager Louis Heilbronner to pay him a visit. Heilbronner had levied the fine the previous year and Buelow had no intention of being an easy signee. Heilbronner's offer climbed from $1,500 to $2,000 and then $2,100. Buelow refused to budge. He signed with Detroit soon after.12
The Tigers used Buelow, Al Shaw and utilityman Sport McAllister at catcher on their third-place team. The season opener against Milwaukee found the Tigers losing, 13-3, going into their last at bat. The team rallied for 10 runs, Buelow walked and scored in the rally. On April 29 he launched the first triple at the newly rebuilt South Side Park in Chicago. Buelow fielded brilliantly. His .967 fielding percentage was tops for any catcher with over 500 innings of work. He threw out more than half of the base stealers he faced. In an era of low batting averages his .225 was acceptable. He caught 69 games but the workload took its toll on him. He was left behind when the team went east in mid-September because of his battered condition.
Buelow was hard-working but inconsistent. His next three seasons in Detroit are indicative. His batting average dropped each season, bottoming out at .110 when he was sold in 1904. His defense was tops in 1901, dropped to .927 (nearly the worst), then jumped back to .961 (slightly below average) in 1903.
Detroit sold Buelow's contract to Cleveland on July 27, 1904. The Naps were desperate for a catcher because of injuries to Harry Bemis and Fred Abbott. He played 42 games the rest of the way and batted .176. Buelow remained with the team through 1906 showing occasional signs of defensive brilliance and very little offense. Just before spring training in 1907, Cleveland swapped him for infielder Pete O'Brien of the Browns. Buelow closed out his major league career with the Browns that year. He posted a .983 fielding mark, but hit a lowly .147 and struck out 15 times in 75 at bats.
After the Browns released him, he played 25 games with the Minneapolis Millers. That winter he got into an altercation with the driver of a Detroit streetcar. The normally amiable Buelow swatted the man in the jaw and was arrested.13 He paid a five-dollar fine. In 1908 he teamed with Bruno Block and Boileryard Clarke behind the plate with the third-place Millers. He moved on to Montreal of the Eastern League in 1909. He was injured early in the season and had to be hospitalized. When he was activated he played 10 more games before being released. In mid-August he was coaxed from his home to manage the Bay City team in the Class D Southern Michigan League. He took the job and proclaimed, "This is my first attempt as a manager. A place in the first division is all that has been asked of me. I believe the team can land that."14The team briefly reached the first division but closed out the season in fifth.
Buelow hung up his spikes and grabbed a lunch pail. He worked in a Chalmers Auto factory until his physical issues became too much. He was well loved by Detroit fans and teammates, who organized a benefit game for him. The Tigers took on an all-star team composed of minor-leaguers from across the Midwest and former big-leaguers Frank Owen and Ed Siever. The Tigers won, 10-3, and Ty Cobb had some fun taking the mound in relief. The benefit netted $1,000 (possibly more — accounts vary) towards visits to a specialist in Chicago.15
When Buelow's condition precluded him from doing factory work, he was given a job at Navin Field. Even on days he was not working, he was in attendance and had scores of friends. Eventually paralysis hit his legs, but he retained his sense of humor through the pain, the death of Agnes and his infirmities. He passed away on December 27, 1933, in Grace Hospital. He was buried in Detroit's Woodlawn Cemetery. His lone survivor was his younger brother Carl.16 Players who lived in the Detroit-area like Frank Owen, Doc Casey, Davy Jones and Joe Yeager were in attendance for the funeral.17
Acknowledgments
This biography was reviewed by Norman Macht and checked for accuracy by the BioProject fact-checking team.
Notes
Full Name
Frederick William Alexander Buelow
Born
February 13, 1876 at Berlin, (Germany)
Died
December 27, 1933 at Detroit, MI (USA)
If you can help us improve this player's biography, contact us.
https://sabr.org/sites/default/files/BuelowFritz.jpg
600
800
admin
/wp-content/uploads/2020/02/sabr_logo.png
admin
2018-01-10 22:01:00
2020-04-09 14:40:27
Fritz Buelow