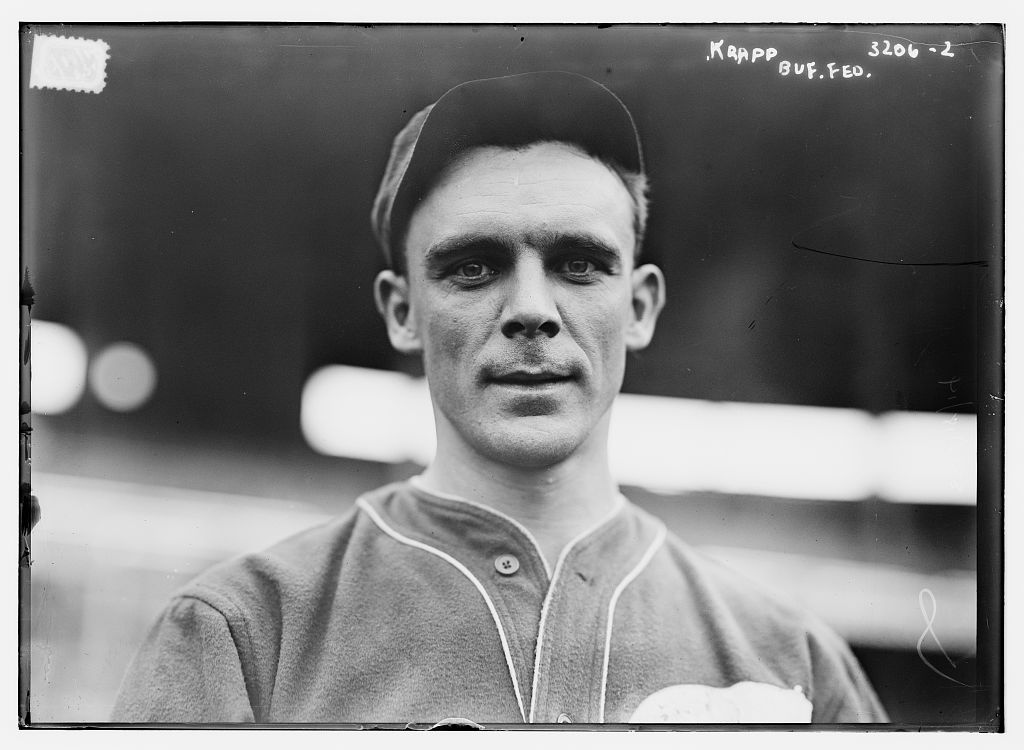 ---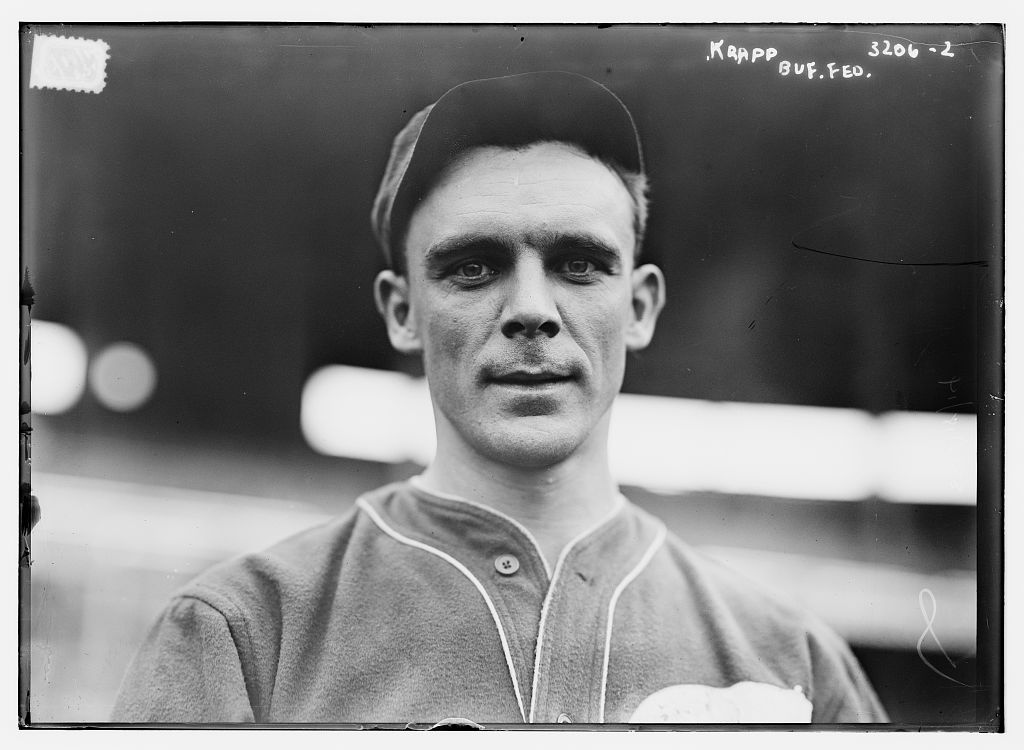 Gene Krapp, a diminutive right-handed spitballer, holds an iconic spot in the legendary halls of baseball journalism. Celebrated baseball writer Fred Lieb wrote in his memoir about the influence that writer Charley Dryden had upon Lieb's career. Lieb was especially impressed with Dryden's ability to occasionally slip a double entendre past an editor.
Lieb wrote, "In the 1920's, when Dryden worked in Chicago, the Cleveland club came up with a pitcher named Eugene Krapp. The name intrigued Dryden. He was proud of this one, which he got by the editor: "Krapp squeezed his way out of a tight hole when, with the bases full, he induced Rollie Zeider to line to Bill Wambsganss for an inning-ending double play."1This priceless example of literary chicanery has appeared in numerous books and articles since then. Sadly the gem of a tale suffers from the fact that Krapp played with Cleveland in 1911-12 meaning Wambsganss was never his teammate.2
Eugene Hamlet Krapp was born to Frederick "Fritz" and Bertha (Hettig) Krapp on May 12, 1887 in Rochester, New York. His father was born in Wurtemberg, Germany in 1854 and came to the United States three years later. His mother was a native New Yorker whose family had come from the same area in Germany. Bertha gave birth to 12 children, seven of whom survived to adulthood. Gene was the sixth child and the fourth son. The elder Krapp was a cigarmaker in Rochester and later in Detroit where Gene went to school. Two of his older brothers worked in the cigar business in 1900, the other was a machinist. Gene was in school in 1900, but it is unknown if he graduated from high school.
Standing 5-foot-7 and weighing 165 pounds, Krapp was far from an imposing figure. He began his career as a pitcher just as the spitball was gaining popularity. In later years he also experimented with the emory board and scuffing the ball. The spitball was notoriously hard to control. Scuffing the ball produced a break the opposite of most spitballs. Krapp also delivered his pitches both overhand and underhand. One of his catchers, Gus Fisher, claimed that the ball would actually break in two different directions in the course of flight.3 It is little wonder that Krapp's career was plagued by control problems.
Krapp played amateur ball in Detroit and moved up to semi-pro in 1905. In 1906 he joined the Tecumseh Indians in the Class D Southern Michigan League. The team struggled, but Krapp established a reputation on the hill and the base paths. On August 10 he beat Mt. Clemens 2-1 in 12 innings and scored both runs for Tecumseh. In later years with the Cleveland Naps he batted .250 and was considered one of the fastest runners on the team, almost as swift as Joe Jackson.
The Southern Michigan League expanded to eight teams in 1907. Tecumseh got off to a strong start on their way to the title. Krapp was beaned in early June and released by Tecumseh. He was signed soon after by the Flint Vehicles who were in last place and winless. Krapp made his first start for them on June 8 and beat Battle Creek to make the team's record 1-16. In July he tossed back-to-back shutouts against Tecumseh and Bay City; and authored scoreless streaks of 25 and 27 innings during the season. Besides pitching he played outfield. Krapp was credited with the longest home run of the season at Athletic Park in Flint with his June 29th blast.
In 1908 the Vehicles moved up to seventh place with Krapp as staff ace and more frequent outfielder. He played 79 games and batted .232, better than four of the regulars. In 1909 the team added 41-year old John Roach to the pitching staff. Roach had been playing since before Krapp's birth and still had enough left to win 16 games as part of a four-man rotation. Relieved of playing the outfield, Krapp focused on his pitching and led the league in wins with 23 as Flint barely missed beating out Saginaw for the pennant. Portland in the PCL drafted him for 1910.
Portland manager Judge Walter McCredie remade his pitching staff for 1910. He invited 13 pitchers to camp, 10 rookies and three holdovers. Bill Steen, Red Wright and Bert Hall got the most attention of the new men. Krapp was overlooked in the press, but McCredie thought he had the goods. The team trained in Santa Maria, California and the start of camp was disrupted by a washout on the Southern Pacific tracks. Full workouts began March 8. The Beavers played a series with the White Sox and intrasquad games to prepare. Krapp cemented his spot in the rotation in the March 28 intrasquad game when he tossed a three-hit shutout and hit a two-run homer.
Krapp's first appearance came April 1 in San Francisco; he shutout the Seals 3-0 and drove in the first run when he coaxed a base-loaded walk in the seventh. The movement on his pitches won praise and his fielding was superb. He followed that performance with a four-hitter against Vernon for a 10-1 victory. His streak reached five before being shutout by Oakland's Slim Nelson. In the midst of Krapp's streak, Vean Gregg was optioned to Portland by Cleveland. Gregg's first start was a shutout of Oakland.
The Beavers now had a pitching staff of Krapp, Gregg, Bill Steen and Tom Seaton. The quartet piled up 1583 innings and won 105 of the Beaver's 118 victories. Gregg led the league with 376 strikeouts and 14 shutouts. Krapp allowed only 4.7 hits per nine innings. Even with walking 177 batters his WHIP was a team-best 0 .919 and was best in the league for pitchers with 150 or more innings. He hit 22 batters but later confessed that, "I am only a little fellow and some of those husky hitters crowded the plate so hard. The "bean ball" certainly helped me…"4
Portland and Oakland were locked in the pennant race with Portland ahead by percentage points. In an odd quirk of the schedule the teams did not meet the last 6 weeks of the season. Playing against the second division clubs, the Beavers hurled nine consecutive shutouts (including a tie) totaling 82 innings from October 7 through October 15, Krapp pitched three of them leading Portland to the pennant . The Cleveland Naps acquired Krapp, Gregg, Steen and shortstop Ivy Olson for the 1911 season.
Krapp joined the Naps entourage in Alexandria. Louisiana in early March. It was necessary for manager Deacon McGuire to rebuild the pitching staff. Cy Young was 44 and no longer useful. Addie Joss was ill and died in April. McGuire eventually kept four holdovers while adding Krapp, Gregg, Hi West and George Kahler.
Krapp made a good first impression in camp, but the wear of 442 innings the previous season led to a sore arm in mid-March. It did not stop him from playing infield in intrasquad games. After a respite from the mound, Krapp showed his stuff and earned a spot on the first team. Catcher Gus Fisher summed up Krapp's talent this way, "I have caught…other pitchers (who) had a faster ball or a better curve, but none the combination of sheer stuff that he had."5
Krapp was regarded as a fine fielder. Quickness is essential for a pitcher to either avoid or field line drives and grounders back through the box. Krapp was lightning fast in his reactions and was also skilled at getting off the mound to field bunts. He led the Naps in assists by a pitcher in 1911 and the Buff Feds in 1914-15. Unfortunately, his issues with control led to him making throwing errors especially in hurried bunt situations.
Krapp made his major-league debut April 14 against the Browns. With a 4-0 lead Willie Mitchell lost sight of the plate in the seventh and walked four straight batters. Krapp was rushed to the hill without much warm-up. He proceeded to toss a wild pitch and then walked Jimmy Austin. A double and sacrifice fly followed to put St. Louis up 5-4. Krapp gained his composure and pitched two strong innings including striking out the side in the ninth. The Naps rallied to win 7-5 giving Krapp his first win.
He spent five weeks in the rotation, then went to the bullpen for a month and a half. He rejoined the rotation in July and went 4-4. That stint included a 1-0 shutout of the Athletics. He pitched 222 innings and had the equivalent of a save to go with 13 wins. His 138 walks led the league. The following year he was plagued with a sore arm and posted a 2-5 mark.
Judge McCredie told writers in December that he expected Krapp to be waived by Cleveland. He announced, "If Gene Krapp is on that sheet…I will grab the midget."6McCredie's hunch was correct; he had Krapp back on the payroll before Christmas. The Beavers held spring camp in Visalia, California. Krapp was not having arm soreness but he had little control in the early going. He finally gave notice he was ready with four innings of two-hit ball against the White Sox on March 18.
McCredie went with a six-man rotation, but made certain that Bill James and Irv Higginbotham worked with their regular rest. Krapp, Hi West, Harry Krause and Rip Hagerman comprised the rest of the staff. The Beavers took the pennant by seven games over Sacramento. Krapp led the squad in walks while going 12-13.
Krapp was a holdout in 1914. He had been paid $300 a month the previous year and wanted $400. McCredie claimed he had "outgrown his usefulness." There was little surprise when word came that Krapp signed with Buffalo in the newly formed Federal League7The Buff Feds recruited Russ Ford, Fred Anderson, Earl Moore and Krapp as their starters. Young Al Schulz and Harry Moran would also see their share of starts as manager Larry Schlafly used his pitchers interchangeably.
Krapp opened his season with four shutout innings in relief against Baltimore, then defeated the Orioles, 4-2, for his first victory five days later. The team struggled, but a series of three-game win streaks put them in a first-place tie on June 15. They lost three straight to the eventual champion Indianapolis Hoosiers and never threatened again. Krapp finished June at 6-5 then lost seven decisions in July. He closed out the year 14 (?)-14.8
After training in Virginia in 1914, the Buff Feds went to Athens, Georgia in 1915 for spring training. Krapp injured his back but did not let that deter him from taking his spot in the rotation. He started the second game of the season against the Brooklyn Tip-Tops. Buffalo jumped out to a 3-0 lead, but Krapp allowed two hits and four walks in the second before heading to the showers. Schlafly started him two days later against Baltimore and he surrendered eight hits while walking nine.
Krapp picked up a win on April 21 versus Baltimore and then on May 6 he beat Kansas City. Those were his only victories in the first three months as he ended June with a 2-10 mark. He found his groove finally and closed out the year at 9-19 for the sixth-place team. The Buffalo writers took a liking to Krapp and supplied the fans with insight into his personality. They provided stories about his cigarmaking talents even though he did not smoke cigars. He also was fond of singing in his baritone voice which a writer likened to a hyena and a washing machine full of bricks.9
After the Federal League folded in December 1915, the National Commission took until March 1916 to determine the fate of the league's players looking for new pastures. If a player had not been signed by March 1, then their contract reverted to the last team with which they had a valid (non-Federal) contract. This meant Krapp was under the control of Portland. The Beavers passed, making him a free agent. On March 23 he signed with manager Kid Elberfeld's Chattanooga team in the Southern Association. They dropped him in mid-May.
He quickly found a place with Talladega in the Class D Georgia-Alabama League. He debuted on May 17 with a victory. His tenure with the team ended after he surrendered 11 runs in a June 23 game with LaGrange. He posted a 5-3 record in 77 innings with the Tigers.
In early July, Krapp signed with the Bradford Drillers in the Class D Interstate League. In his first appearance on July 9 he went 12 innings for a 4-3 win over Warren. The Drillers released him after a 13-0 loss to Ridgway on August 22.
In 1917 Krapp returned to the semi-pro game as a member of the Detroit Hupmobiles in the Detroit Amateur Baseball Association. In the feature game of the season, he suffered a 5-1 defeat against a pitcher named Eddie Standish who struck out 19. The newspaper coverage of the game called Krapp by his nickname of "Rubber."10 Some current sources indicate his nickname was "Rubber Arm" but contemporary newspapers simply used "Rubber."
Krapp left the Hupmobiles and joined Lemp's Falstaffs. The Falstaffs advanced to the semi-pro championships in Cleveland where they faced White Autos from Cleveland. In a September 9 double header, Tommy Atkins of the Autos won both games by shutout eliminating the Falstaffs.
Krapp's next team was run by Uncle Sam and located at Camp Custer, home of the 85th Army Division. Camp Custer was built specifically for World War 1 training and was located near Battle Creek, Michigan. Unlike many teams on other military bases, Krapp was the lone former major leaguer on the team. He did have some teammates with minor league experience.
Krapp was assigned to the 160th Depot Brigade. On May 5 he wed Chloe Hunter on base. The wedding was officiated by Dr. Kraft Krapp, a relative of the groom.11 The couple had a one-day leave for honeymoon and then Krapp returned to the base. He was never called for service overseas and was discharged on March 6, 1919.
Back in civilian life meant a new home for Chloe and himself. They settled in Grosse Pointe Farm Village outside of Detroit. He worked with the family automobile sales business and played baseball. He was joined by his brother Al (aka "Cubby") on Acacia in the Masonic League. Gene (called "Rubber" in the Detroit Free Press and listed as R. Krapp in some box scores) pitched and Cubby played outfield.
It was noted that Gene had a new vigor and was pitching as well as he ever had. In July his Acacia team was undefeated and met the undefeated Detroit Masons. Krapp pitched a no-hitter, doubled and scored in the 3-0 win.12 Krapp also pitched for the River Rouge team. He would accompany them on their unsuccessful quest for a National Baseball Federation crown.
In 1920 he was hired as manager of the Battle Creek Custers in the Class B Michigan-Ontario League. The team was young and not very talented; the facilities were substandard, but the team managed to avoid the cellar. Krapp pitched sparingly and had a 2-5 record. The team suffered financial woes and in July cut down the roster to save money. Krapp resigned in August citing mutual dissatisfaction by the owners and himself. In 1921 he was back playing in the Detroit sandlots.
The following season he was found to be suffering from cancer of the bowels. His playing days were ended. In 1923 he was elected as an election commissioner for his village, but never had a chance to serve. He underwent surgery on March 31 for an intestinal blockage. The surgery was unsuccessful, and he died on Friday April 13 in the hospital. He is one of several ballplayers buried in Woodmere Cemetery in Detroit.
Last updated: January 25, 2021 (ghw)
Acknowledgments
This biography was reviewed by Norman Macht and fact-checked by Alan Cohen.
Notes
1 Lieb, Fred, Baseball As I Have Known It, (New York: Coward, McCann & Geoghagan,Inc., 1977): 20.
2 Box scores of Krapp vs Chicago in 1911 and 1912 revealed no DP hit by Zeider, although he was on the end of several turned by the Sox. Wambsganss joined Cleveland in August 1914. It should be noted that references to the story do not appear in any of Dryden's obits, including a lengthy piece by Grantland Rice.
3 L.H.Gregory, "Gene Krapp, Greatest of Fielding Pitchers, is Dead," Oregonian, April 15, 1923: 24.
4 "Gene Krapp Uses Bean Ball Intentionally," Plain Dealer, March 4, 1911: 8.
5 L.H. Gregory ibid.
6 "Beavers Will Take Barnstorming Trip," Oregonian, December 14, 1912: 7.
7 "Krapp Will Play in Outlaw League," Oregonian, March 10, 1914: 7.
8 Baseball Reference https://www.baseball-reference.com/teams/BUF/1914.shtml lists him at 16-14, but the Game Log on Krapp's page https://www.baseball-reference.com/players/gl.fcgi?id=krappge01&t=p&year=1914 has him 14-14. The 16-14 first appeared in league stats in 1914. Why BR has never noticed the discrepancy is a mystery. December 9, 2017.
9 Jack Yellen, "With the Buff-Feds 'Way Down South," Buffalo Enquirer, March 22, 1915: 7.
10 "Standish Won From Rubber Krapp in a Pitching Duel 5-1," Jackson Citizen (Jackson, Michigan), June 17, 1917: 11.
11 "Gene Krapp Weds Detroit Girl at Army Camp," San Francisco Chronicle, May 19, 1918: 8.
12 " "Rubber" Krapp in Balldom's Hall of Fame," Detroit Free Press, July 6,1919: 22.
Born
May 12, 1887 at Rochester, NY (USA)
Died
April 13, 1923 at Detroit, MI (USA)
If you can help us improve this player's biography, contact us.
https://sabr.org/sites/default/files/Krapp%20Gene.jpg
600
800
admin
/wp-content/uploads/2020/02/sabr_logo.png
admin
2018-03-22 10:52:24
2021-01-25 17:24:20
Gene Krapp