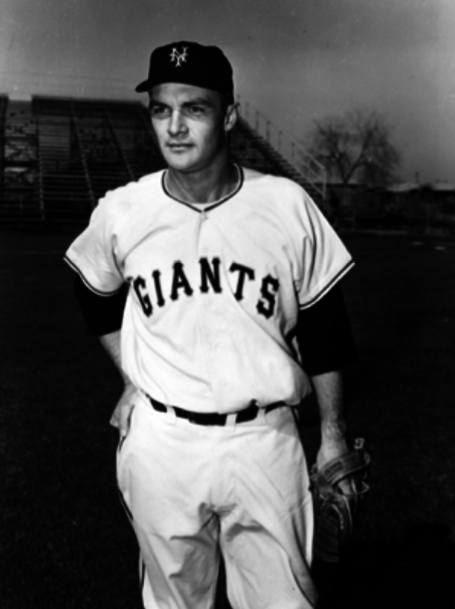 ---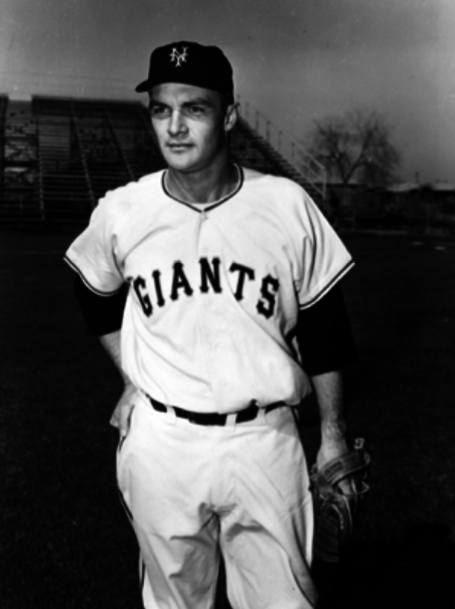 As one of the last surviving members from the 1951 National League champion New York Giants, former right-handed relief pitcher George Spencer could speak with candor about his playing career and the current state of baseball.
"My playing days are long gone, but the memories are still there. It's a great game, it seems like it's a shame it has gotten to where it has," he said during a January 2012 phone interview from his home in Ohio.
George Elwell Spencer was born in Columbus, Ohio, on July 7, 1926, the son of Croin and Ethel Spencer. His father listed his work at the time of the 1940 census as "home insulator."1
"Where baseball is today, I'm very disenchanted, Spencer said in 2012. "… I see the little leaguers when they hit a game-winning home run, they all gather at home plate and hit each other and smack each other and throw helmets in the air, and that's little league," he lamented.
He said major leaguers, expected to play the game with a higher standard of conduct on the field, have become more juvenile. "Instead of it being big league down, the little league has gone to the big leagues. I see them in their uniforms and it looks like half of them are getting ready to go to bed, with their pants down over their shoes. It's a sight to behold," Spencer lamented.
Well before the advent of players celebrating on the field for every diving catch, stolen base, or home run, Spencer was a two-sport star at Ohio State University, where he played quarterback on the football team. He earned his chops playing quarterback for the Great Lakes Naval football team during World War II, but when he arrived at Ohio State in 1946, he was initially an afterthought, placing fourth on the depth chart, and not traveling with the team to away contests.
Spencer's fortunes changed during his freshman season, after the Buckeyes had difficulties with Purdue and Wisconsin early in the season. Coach Paul Bixler, looking for a spark to his offense, reached down to the depths of his roster and promoted Spencer to the starting position. Wasting neither time nor opportunity, Spencer reeled off three consecutive victories, against Minnesota, Northwestern, and Pittsburgh. Sportswriters predicted a promising future for the Buckeye who a few weeks earlier wasn't even considered good enough for varsity status.
"Now the early season 'scrub' is one of the squad's brightest stars and a conference title may develop from his skill," wrote one sportswriter.2
The team finished 4-3-2, and Spencer played baseball at Ohio State during the spring of 1947.3 When it came time for football in the fall, Spencer called it quits, choosing to focus on his baseball career.4 More than 60 years later, he had no regrets over his choice of profession.
"I played football and baseball. I had two quarters, one for football and one for baseball, and neither one of them took!" Spencer chuckled. "I picked the right sport anyway. I can still walk and get around fairly decent."
On the recommendation of a Columbus area scout, Marty Purtell, Spencer was invited to New York during the tail end of the 1947 baseball season for a workout with the Giants. "After the workout, they wanted to sign me to a contract and that's when I signed," he said.5
The person who put the contract in front of Spencer was Hall of Famer Mel Ott, who was finishing his last season as an active player-manager. "I always wondered if I was the last player that Mel Ott ever signed, as this was shortly before he was replaced," Spencer said. He signed for $6,000, which was the maximum bonus one could receive without being classified a "bonus baby" and being required to stay on the major-league roster for two years.
The Giants sent Spencer to Jacksonville (Class A South Atlantic League) in 1948, but he did not stay there long. "I reported to Jacksonville first for about a week or ten days," he said. "Then they sent me to Knoxville." Spencer finished the 1948 season in Knoxville (Class B Tri-State League), and returned to Jacksonville in 1949. During those two seasons, he compiled a pitching record of 23-20, mostly as a starter. The Giants then gave him a big promotion, sending him from Class A to their Triple-A team in Jersey City in 1950.
"That was an experience for me," he said. "Chet Laabs [former American League outfielder] was on that team. It really impressed me to be able to play on a ballclub [with him] at that stage of my life. He was just a good all-around guy. He busted his fanny and played the game he had been taught all his life. It was an education for me."
He must have received a wonderful education in Jersey City, as he was summoned to the majors in August 1950, albeit much to his surprise.
"You won't believe this, I won my first eight games in Jersey City," [After that] I lost either three or four in a row. I can't remember where we were on the road, but Joe Becker, the manager, called me over. He said to me, 'George, you're going to the big leagues.' I said, 'Yeah, I sure as hell am, Joe, I just lost four in a row and I'm going to the big leagues!' He said, 'I'm serious, you're supposed to join them in Philadelphia.'"
Spencer did join the Giants in Philadelphia and quickly found out that things were a bit more intense on major-league soil. "We went to fist city three times in the game," Spencer recalled. "That's when Eddie Stanky was standing on second base waving his arms. He and Andy Seminick, the Philly catcher at the time, went ape over the doggone thing.
"We cleared out; I was out of that bullpen three times. I was out there fighting and I can remember looking on my right and Tookie Gilbert is down on the ground and some cop has the billyclub right over him, ready to swipe him. Somebody grabbed his arm so Tookie didn't get hit. I thought if this is the big leagues, I'm a lover, not a fighter. What an experience!"
A few days later at the Polo Grounds, Spencer toed the rubber in relief in his debut against the Giants' crosstown rivals, the Brooklyn Dodgers. After getting through a scoreless seventh inning, Spencer received another major-league lesson.
"I'm facing the Dodgers and Gene Hermanski is the hitter," Spencer said. "I got him a nice fastball right over the plate and he hit a ball to the right field side of dead center.  Bobby Thomson was playing center field and it was a one-hopper to the fence out there.
"I finally got the side out and I come back in the dugout and Bobby comes back in and says, 'Darn, I didn't get a jump on that ball, that ball should have been caught.' I said, 'Bobby, if that ball should have been caught, this is where I should be pitching.' I didn't pitch there very long, but that's where I should have been pitching."
After posting a 2.49 ERA and a 1-0 won-loss record in ten games his rookie season, Spencer returned for a full year with the club in 1951, and made the most of the opportunity given by manager Leo Durocher. He emerged as one of the most reliable relievers in the National League with a 10-4 record in 57 appearances. He garnered consideration for National League Rookie of the Year, earning one vote from the United Press.6 Spencer's case for top rookie would have been stronger except that his strongest competition came from within his own clubhouse – from Willie Mays. "In my opinion, he was the best all-around ballplayer I ever saw," Spencer said. "He's the only outfielder that I can remember seeing that could (throw to) any place on the infield and it was a one-hopper to the catcher."
In addition to vying for Rookie of the Year honors with Mays, Spencer found himself with a front-row seat to some of baseball's most legendary spectacles, including watching Bobby Thomson flatten the hopes of Brooklyn faithful, and pitching in the World Series.
During the playoff game in which Thomson hit "The Shot Heard 'Round the World," Brooklyn Dodgers ace Don Newcombe almost dashed his World Series hopes, Spencer recalled.
"In the eighth inning when Newcombe was still pitching and they had the lead," he said, "it looked like he was throwing nothing but BB's. I visually saw dollar bills flying out the window because we were going to get knocked off by him, because he looked like he had way too much."
The bullpen let out a sigh of relief when Dodgers manager Charlie Dressen went to the mound.
"Everyone on our team was pleased that they decided to make the switch," he said, "any switch to get Newcombe out of there. The way it ended up, it was all to our liking. I don't think they were too happy with it, but that's the way it goes. That's baseball."
Thomson's home run propelled the Giants to the World Series against the New York Yankees, who featured the soon-to-retire Joe DiMaggio. Spencer was summoned in relief of Larry Larry Jansen in the seventh inning of Game Two, trying to hold the Yankees to their one-run lead. Standing across from him as he walked to the mound in his World Series debut was the famed Yankee Clipper.
"The first guy I had to face was number five," he said. "I think I got about two-thirds of the way to the mound from the bullpen and I looked at the scoreboard and it said number five up there and I immediately thought, 'What in the hell am I doing here pitching to this guy?'"
Even though Spencer gave up seven runs in his two World Series appearances (six of those runs came in Game Five when the Yankees were already up 7-1), he had a clean slate against DiMaggio the two times they squared off.
"I always thought I was a big contributor to his retirement in 1951 because I faced him twice and I got him out both times," Spencer said. "He must be saying, 'If I can't hit that guy, I must be through.' That's the story I always told. I don't think I ever heard him have any comment of how tough of a pitcher I ever was. I look at it a little differently."
Spencer remained with the Giants through the 1955 season, shuttling between the major-league club and Triple-A. He pitched in six games for the 1954 World Series champs, contributing a 1-0 record during the regular season, but wasn't on the roster for the World Series.
"Joe Garagiola and I came up with a few weeks left in the season," he said. "They were going to the World Series and they kept me and Joe for batting practice."
Despite his inclusion as a batting-practice pitcher during the 1954 World Series, Spencer and Garagiola had to watch the games with the rest of the crowd.
"We weren't in the dugout," he said. "We were on the ineligible list, out in the stands. I think everybody was pretty happy with the way it went; everybody but Cleveland."
The St. Louis Cardinals purchased Spencer's contract from the Giants in 1955, and for the next three seasons he pitched exclusively in the Triple-A American Assosciation, first with Omaha and then with Indianapolis after the Cleveland Indians bought his contract at the end of the 1955 season. He had winning records all three years, going 21-10 in relief from 1955 through 1957. It was during this stretch in the minor leagues that Spencer was part of another championship team.
"I played on the 1956 team in Indianapolis that won the championship," Spencer recalled. "We beat Rochester in the Little World Series." His team won in dominant fashion, sweeping Rochester in four games and using only five pitchers in the process. Spencer was not among the five.
Spencer went 5-4, pitching in 50 games for Indianapolis in that 1956 season, almost exclusively in relief. Even though he didn't get the opportunity to pitch in the Little World Series, he found that team to be the most enjoyable of his career.
"As a team," he said, "that was the best team I ever played on in my career. I'm not talking about baseball; I'm talking about just guys. We were a team and that's what it was."
One of the youngsters who ignited the Indianapolis club was Spencer's roommate, Roger Maris. "I lived with Roger for the summer," he said. "He was quite a guy. All he wanted to do was play."
The future home-run champ, who was in his fourth season in the minor leagues, but new to Triple-A was almost demoted early in the season.
"He was so close to being sent off that club," Spencer said. "I'd say two weeks into the season, he hadn't been playing, and then they started playing him about a month into the season. He improved more in one month than any player I ever played with. He just became a good all-around ballplayer from then on out to the end of the season."
Maris went on to win back-to-back American League Most Valuable Player Awards in 1960 and 1961. During the 1961 season, he eclipsed Babe Ruth's single-season home-run mark by hitting 61 home runs. As Maris more closely approached Ruth's record, the less tolerant he was to the media attention he received, something that wasn't a surprise to Spencer.
"I know what he went through in New York," he said. "I know he had to be unhappy as the dickens. He didn't want all the hassle off the field. Just let him play ball and leave him alone."
Spencer resurfaced in the majors with the Detroit Tigers for cups of coffee in 1958 and 1960. He made his last appearance in the majors on September 26, 1960, pitching one scoreless inning in relief against the Chicago White Sox. He played in the minors through 1963, primarily with Seattle of the Pacific Coast League, before retiring.
"I would have to say that I enjoyed the tail end of it in Seattle," Spencer said. "Johnny Pesky was our manager. He was as good of a manager and a good of a guy as I ever played for. If I had to pick one guy that I played for, he had to be my top pick."
Spencer then became a pitching coach in the Detroit Tigers and Cincinnati Reds organizations for four years, taking the mound one last time as a player-coach in 1966 while coaching in Statesville, North Carolina.
"I had been released from Seattle in 1964," he said. "I was still interested in being in baseball. I wanted to stay in it and got a call from Jim Campbell [the Tigers' general manager], whom I played with in college. He asked me if I would like to be a minor-league pitching coach in the Detroit organization. We got together something agreeable and that's how that took place."
Spencer was assigned to multiple minor-league clubs in Detroit's organization, keeping him away from his family for great periods of time. "I'd make a trip, stay a week, come home, have a highball or something, get in the car and go someplace else," he said. "My wife and I didn't see too much of each other the three summers I was minor-league pitching coach. I enjoyed it. That was more fun than playing."
Moving on from professional baseball, Spencer worked in a sheet-metal factory for 20 years. "Baseball retired from me; I didn't retire from baseball," he said. For his major-league career spanning all or parts of eight seasons, he compiled a 16-10 won-loss record with a 4.05 ERA. Primarily a relief pitcher, Spencer started nine games in his total of 122 appearances.
As of early 2014, Spencer lived in Galena, Ohio, with his wife, Billie, who was very instrumental in arranging the interviews with her husband and sparking some of the memories of the people and places in his career.
Throughout all of his travels during his 17 years in baseball, nothing matched the rivalry between the two New York National League teams during that 1951 season.
"When the Dodgers and Giants played each other, it was war," he said. "Every time we went to Brooklyn, you knew what you were going to get there and when they came to the Polo Grounds, they knew what they were going to get, too. It was a thrill to be a part of that."
Spencer passed away peacefully on September 10, 2014. He was survived by his wife Billie, daughters Jackie and Lynne and their son, Greg.
This biography appears in "The Team That Time Won't Forget: The 1951 New York Giants" (SABR, 2015), edited by Bill Nowlin and C. Paul Rogers III.
Sources
Two telephone interviews with the author, on January 11, 2012 and November 11, 2013. Unless otherwise indicated, all quotations from George Spencer are drawn from these interviews.
Thanks to Rod Nelson for his assistance.
Notes
Born
July 7, 1926 at Columbus, OH (USA)
Died
September 10, 2014 at Galena, OH (USA)
If you can help us improve this player's biography, contact us.
https://sabr.org/sites/default/files/SpencerGeorge.png
600
800
admin
/wp-content/uploads/2020/02/sabr_logo.png
admin
2013-01-04 20:49:55
2022-05-29 17:14:17
George Spencer