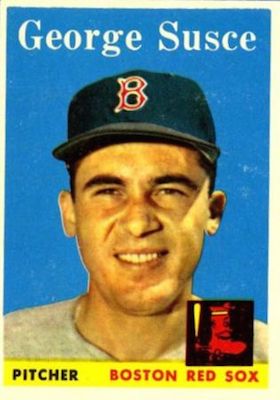 ---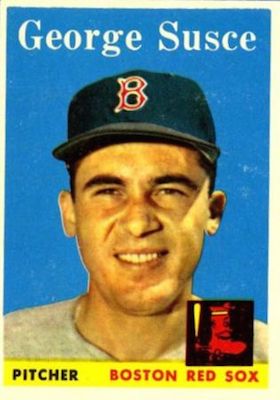 Labeled "a right-handed Eddie Lopat … [George Susce] was regarded as a junkman, just like the great [New York] Yankee lefthander."1 The son, brother and uncle of professional baseball players who made their mark collectively over seven decades, Susce dreamed of reaching the big leagues ever since his days as a child selling scorecards and pencils at Cleveland Stadium. Seemingly poised to make the largest splash in the family business, arm problems limited the promising youngster to a five-year major league career — far short of expectations.
George Daniel Susce (aka Junior) was born on September 13, 1930, the eldest of six children of George Cyril Methodius and Anna Theresa (Pendro) Susce in Pittsburgh. Of Slavic ancestry, Susce's paternal grandparents were born in Austria-Hungary in the second half of the 19th century and emigrated from the crumbling empire to the United States in 1902 (they married that same year). In 1929 their youngest son — George's father — launched an eight-year major league playing career from behind the plate and moved into the coaching ranks with the Cleveland Indians 11 years later. Junior grew up less than a mile from Pittsburgh's Forbes Field but came to know Cleveland Stadium far better while visiting his father during the baseball seasons. He attended Schenley High School — his father's alma mater — in Pittsburgh's North Oakland neighborhood where, like his father, he excelled at sports.
Unlike his father, Susce did not resist the appeals of the Schenley Spartan coaches to turn him into a pitcher. Under their tutelage he developed an effective curveball and change to accompany his fastball. In May 1947 the baby-faced sophomore struck out 14 while leading the varsity squad to a 2-0 win over Washington (Pennsylvania) High School. The 16-year-old began attracting attention from major-league scouts after delivering two-, three- and four-hit wins while helping his own cause with a batting average over .400. Susce contemplated entering the professional ranks as an outfielder or third baseman and it appears the scouts viewed him similarly. During the summers he was frequently invited to work out at Cleveland Stadium —often accompanied by his equally proficient younger brothers — and the Indians made no secret of their desire to sign their bullpen coach's son.
Susce graduated from Schenley High in 1949 and spent the remainder of the year in the semipro Greater Pittsburgh League while contemplating his future. In January 1950, to the ire of the Indians brass, he signed with the Boston Red Sox for a reportedly smaller bonus than that offered by Cleveland. The thinking behind the decision was never fully revealed; Susce's father, who was released by the Indians shortly after the signing, said he left the choice completely to his son ("I felt his career was the one which counted, rather than my own,"2 he later explained). However, it appears the youngster saw a quicker path to the majors in Boston (anchored by future Hall of Fame hurlers Bob Feller and Bob Lemon the Indians possessed the best staff in the majors). "[My son is] a pretty good hitter," Junior's father reasoned. "[I]f he fails to make the grade as a pitcher, the Red Sox might be interested in giving him a shot at that left field wall of theirs."3 A month after the signing, the father was rewarded with a managerial position in the Red Sox' farm system.
But Susce was unable to launch his professional career in 1950. Weeks before signing the youngster broke his leg in a pickup football game with his brothers and friends. It wasn't until April 3, 1951, that a healthy Susce made his debut in a spring training exhibition against the AAA Toronto Maple Leafs. Holding the International League club scoreless over five innings, Susce's impressive opening contributed to the organization's decision to assign him to their top minor league affiliate, the Louisville Colonels in the American Association. Three weeks later Susce made his official debut with a six-hit win over the Minneapolis Millers. But far less success ensued as he lost his next four decisions. In June Susce was optioned to Scranton (Pennsylvania) in the Class-A Eastern League where he continued to struggle. He finished the season with a record of 2-8, 5.72 in 19 appearances (just 85 innings) for the two teams.
In 1952 Susce's ambitions to further his career were interrupted by a call from Uncle Sam. He made just four appearances with the Albany (New York) Senators in the Eastern League before being inducted into the Army's Medical Replacement Training Center at Fort Pickett, 60 miles southwest of Richmond, Virginia. Susce was eventually transferred to Brooke Army Medical Center in San Antonio, Texas, where one of his base teammates was Brooklyn Dodgers All-Star righty Don Newcombe. In September 1953 the pair participated in the Army's baseball tournament of military camps worldwide, hosted at nearby Fort Sam Houston.
On leave from the Army in spring 1954, Susce joined the Red Sox and requested an assignment in the field. He was given a two-game trial at third base before management convinced him to move back to the mound. Reassigned to the Louisville Colonels, on April 26 Susce surrendered just one hit over four innings of relief in a 4-3 win against Minneapolis. Shortly afterward Susce left the team and returned to San Antonio to secure his formal release from the service. Reunited with the Colonels on May 24, Susce toiled with mixed success until a July 19 near no-hitter against the Kansas City Blues turned his season around. He won 10 of his last 11 decisions, a run that included a July 25 three-hit shutout against the first-place Indianapolis Indians (believed to be his first professional whitewash). Susce placed among the league leaders in wins (14), ERA (3.02) and WHIP (1.159) while registering career marks in strikeouts (74) and BB/9 (2.5). For the first time in eight years, Louisville advanced to the Junior World Series, where they defeated the Syracuse Chiefs in six games. Inexplicably, Susce, who anchored the Colonels rotation alongside fellow righties Ike Delock and Ben Flowers, made just one appearance in the Series—a mere two-thirds of an inning of relief. After the triumph Susce ventured to the Venezuelan League, where he recorded further success.
In 1955 Susce was one of the last players to report to Red Sox spring training following prolonged contract negotiations (the rookie's entrenched stance was most likely influenced by his father who, two years later, insisted that the Kansas City Athletics offer a three-year contract to his younger son Paul when the All-American hurler graduated from Auburn University). One of three nonroster invitees whose fathers had played in the majors,4 Susce stood out among this trio because of the club's desperate need for pitching (in 1954 the Red Sox' 4.01 ERA trailed only the Athletics for the worst mark in the AL). He was added to the major-league roster and made his debut April 15, 1955, in Fenway Park against the New York Yankees. Entering the ninth inning trailing 6-4, Susce walked the first batter he faced, future Hall of Fame shortstop Phil Rizzuto, before retiring the side. Over the next week Susce made two additional relief appearances without surrendering a run, an impressive beginning that earned him an April 30 starting assignment in Comiskey Park against the Chicago White Sox. He surrendered just one run and three hits over the first six innings but required help in the seventh after walking the bases loaded. Two runs scored in the inning to hand Susce his first major-league loss. He returned to the bullpen where, a month later, he earned his first win with 4⅔ innings of relief against the Washington Senators.
On June 7 Susce relieved lefty Mel Parnell after the former Red Sox ace was lifted in the first inning against Cleveland. Susce struck out catcher Hank Foiles to end the three-run rally and held the home team to two runs on three hits the rest of the way to capture a 9-5 win against the Indians.5 The notable outing could not have been timelier as days earlier starter Delock, who had advanced to the parent club alongside Susce, was sidelined with a sore shoulder. Susce was moved into the rotation, where he remained through most of the season's remainder. In a 4-1 win over the Baltimore Orioles on July 2 he collected his first complete game; a first-inning error by second baseman Billy Goodman robbing Susce and his first career shutout. That first came 19 days later when, after surrendering a first-inning leadoff single to Kansas City first baseman Vic Power, Susce held the Athletics to four walks and no more hits in a 6-0 whitewash. His father, now the Athletics' bullpen coach, had a front-row seat while Susce's mother and siblings proudly watched the gem from the stands. Until the White Sox touched him for a run in the sixth inning on July 24 Susce collected a string of 21 consecutive scoreless innings. He finished with a record of 9-7, 3.06 in 144⅓ innings including a remarkable 5-2, 2.30 away from the cozy confines of Fenway Park. The 6-foot-1, 180-pound righty was not afraid to stake his claim to the inside part of the plate, a posture that contributed to a tie with fellow righty Tom Brewer for the team lead in hit batters despite 48⅓ fewer innings. One such hit-by-pitch came in Yankee Stadium on September 17, when Susce beaned Rizzuto and, in spite of Susce's reputation as a soft tosser, the 37-year-old's batting helmet was split down the middle.
In pennant contention through most of the year, the Red Sox collapsed with a 4-14 finish to end the season in fourth place. Despite the dispiriting conclusion, club owner Tom Yawkey took solace in the performance of the team's improved pitching. "Our young pitchers have now been tested under the heat of competition," he said. "They should improve. Certainly, they won't get worse."6 Unfortunately the future Hall of Fame executive's projections would be proven wrong in regard to Susce when injuries began taking their toll on the young right-hander.
This toll started in March 1956 when Susce became the Red Sox' first spring training casualty after taking a vicious line drive to his right ankle off the bat of teammate Frank Malzone. The injury, combined with the club's offseason acquisition of veteran Bob Porterfield and the emergence of rookie Dave Sisler, forced Susce back to the bullpen at the start of the season. On May 13, nearly four weeks into the campaign, he collected the club's first road win of the year with four innings of one-hit relief against the Senators. Sadly, this proved to be one of the few highlights to Susce's season as he wrestled with a ghastly 14.54 ERA over his previous three appearances covering 8⅔ innings. Things took a turn for the worse when, following a June 10 appearance at home, Susce entered Boston's Santa Maria Hospital with "a mysterious arm swelling."7 Initially diagnosed as phlebitis, doctors later determined it was a circulatory problem. Susce returned to the club five weeks later but was used sparingly, finishing the season with a disappointing record of 2-4, 6.20 in just 69⅔ innings. Meanwhile, the long-term effect of the arm problem became evident in the ensuing years as Susce never approached the triple-digit innings thrown in his rookie season.
In late 1950 or early 1951 Susce, still a young man of 19, had moved from Pittsburgh to Sarasota, with his parents and siblings. For six years Florida remained his home until he fell in love. During an August 1956 road trip to Washington, Susce spotted a striking brunette walking past the Red Sox bullpen and it was love at first sight. One report suggests that teammate Dave Sisler played matchmaker but, by whatever means, Susce was introduced to Joanne Louise Marchetti. A rabid Red Sox fan from Wellesley, Massachusetts — her father was a season ticket holder in Boston — Joanne was studying at Lasell College in Newton, Massachusetts, to become a medical technologist and was staying with an uncle in D.C. while pursuing her clinical practice at Doctors Hospital in Washington. It was the uncle — a fellow Red Sox fan — who had suggested taking in the ballgame at Griffith Stadium. Joanne put her studies on hold and on February 23, 1957, two days before Susce he had to report to spring camp, they married in Sarasota. The young couple settled in Needham (next door to Wellesley) where they raised three children, a boy and two girls. Their son George inherited the skills handed down by his father and grandfather, excelling in baseball at Providence College and in the amateur Boston Park League.
During the winter of 1956-57 Susce added a screwball to his repertoire that contributed to his successful Grapefruit League season the following spring. Used primarily in relief in 1957, Susce proved quite effective out of the bullpen, posting a record of 6-0, 3.14 through 43 innings before tiring at the end. The late collapse began on his 27th birthday, when Susce was one of four Red Sox hurlers bombarded by the Indians in a 16-3 loss on September 13.
A second strong Grapefruit League season—including a brilliant outing on March 13, 1958, against the Yankees in Sarasota, Florida—seemingly spelled continued success for Susce. But when the regular season opened he saw little gain in his first two appearances, surrendering six hits and four runs over just two innings. Susce became the forgotten man in the Red Sox dugout. In May, when the club was required to reduce its roster to 25 players, they placed Susce on waivers, where he was picked up by the Detroit Tigers.
Having finished in the first division just once in the preceding seven years, the Tigers were very active on the trade front during the offseason — a trend that did not slow with the start of the 1958 campaign. Lacking a reliable fifth starter, manager Jack Tighe looked to Susce to fill the void. Assigned to pitching coach Willis Hudlin, Susce's efforts paid off when, three weeks after the waiver acquisition, Tighe complimented the righty's improvement under the former 16-year veteran: "Susce has worked mighty hard on his breaking stuff," he said. "He's earned a chance for starting assignments."8 On June 8 Susce made his debut start with the Tigers against the Senators and surrendered only one earned run over six innings; he did not figure in the decision. Two weeks later Susce collected his first complete game win in three years as he defeated the Baltimore Orioles 3-1. On July 30 Susce garnered his last major league complete game — while in the process extracting a measure of revenge — by defeating his former Boston teammates 2-1. Though he struggled in August, eventually losing his spot in the rotation, Susce finished with a respectable record of 4-3, 3.98 over 92⅔ innings. An interesting side note to this season was Susce's consent, after much cajoling from club management, to fly with the team (at least on a part time basis). He and teammate Dave Philley, who joined the Tigers midseason, represented a dying breed of players who refused air travel, having followed their teammates by rail — in seasons past. Joanne Susce said it was her understanding that her husband had to pay his own way to take the train.
The success Susce discovered in 1958 was nowhere to be found the next season. Following a challenging spring training he opened the season on an encouraging note with four innings of one-hit relief (two appearances). But this proved small consolation to what followed as Susce struggled to keep his ERA below 10. On May 6 he entered the seventh inning of a blowout against the Red Sox and yielded six runs over 1⅓ innings. The disastrous outing proved to be his last in the major leagues. But when the Tigers optioned him to AAA Charleston in the American Association, Susce refused to report. Tigers GM Rick Ferrell eventually persuaded him to accept an assignment to the Toronto Maple Leafs in the International League.9 Susce surrendered six home runs in his first three innings as a Maple Leaf before finally settling down. On July 24 he delivered a two-hit complete game win against the Richmond Virginians but the outing was one of few highlights to an overall miserable campaign. When the season ended he called it quits.
Like his father, Susce always ascribed a great deal of importance to family. As a child he enjoyed playing sports with his brothers and developed a passion for fishing. In 1954, while pitching in the Venezuelan League, Susce nearly left the circuit when he became homesick. "My dad was a simple, generous, and quiet man," Susce's daughter explained years later.10 His generosity was exhibited in countless ways, including the many youth baseball clinics in Florida in which he served as an instructor alongside his father. He was also an extraordinary cook. In 1960 Susce entered the construction business, eventually forming his own company. Twenty-six years later he retired to Florida, residing in the fishing community of Matlacha 12 miles west of Fort Myers. A former smoker, Susce contracted chronic obstructive pulmonary disease while living in Florida and died from the lung ailment on May 8, 2010, four months from his 79th birthday. He was buried at Woodlawn Cemetery in Wellesley. In lieu of flowers his family requested donations to The Jimmy Fund in Boston.
In Susce's rookie season he posted a promising record of 9-7, 3.06 in 144⅓ innings. Arm problems surfaced the next year that prevented him from reaching the 100-inning plateau through the remainder of his five-year major league career—a career that appeared to offer much more.
Acknowledgments
The author wishes to thank SABR members Bill Mortell for his valuable research. Further thanks are extended to Mark Pattison for review and edit of the narrative.
Sources
Ancestry.com
Joanne Susce interview, July 8 and July 16, 2016
Notes
Born
September 13, 1930 at Pittsburgh, PA (USA)
Died
May 8, 2010 at Matlacha, FL (USA)
If you can help us improve this player's biography, contact us.
http://sabr.org/sites/default/files/SusceGeorgeD.jpg
600
800
admin
/wp-content/uploads/2020/02/sabr_logo.png
admin
2016-09-22 11:25:26
2016-09-22 11:25:26
George Susce