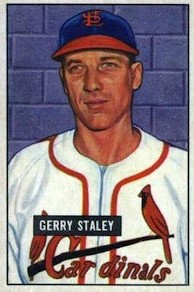 ---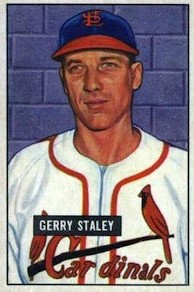 On September 22, 1959, with one out and the bases loaded in the ninth inning at Cleveland's Municipal Stadium, Chicago White Sox manager Al Lopez signaled to the bullpen for his top reliever, Jerry Staley. (Although his first name was Gerald and he was commonly referred to as "Gerry" both during and after his career, Staley preferred to known as Jerry.) With the game and the American League pennant on the line, the White Sox needed a double play. A sinkerball pitcher with good control who also threw a good fastball, a slider, a changeup, and sometimes a knuckler, Staley could get the job done. As he would later recall about pitching for Chicago in 1959, he grew a little fatigued by September. The fatigue caused him to throw the sinker a little slower, making the ball drop better when it reached the batter — the perfect pitch for starting a ground-ball double play.
Staley entered the game to face Cleveland's right-handed batting Vic Power. A good contact hitter, Power swung at Staley's first pitch, the trademark sinkerball, and, sure enough, bounced the ball to smooth-fielding shortstop Luis Aparicio, who started the game-ending double play. With that clutch pitch from Staley, Chicago clinched the AL pennant over second-place Cleveland — its first in 40 years.
A veteran hurler who pitched his first eight years for the St. Louis Cardinals, Staley fashioned a career mark of 134-111 with a solid 3.70 ERA. He enjoyed five double-digit winning seasons for the Cardinals, peaking with 19, 17, and 18 victories from 1951 through 1953. Beginning in 1957, he became a relief specialist. It was a role in which Staley excelled. Between 1957 and 1960, Staley's 2.43 ERA and 30 relief wins led all American League relievers, and his 38 saves during that period ranked second only to Ryne Duren (42).
Born to lumberman Adelbert Randolph Staley and the former Clementine Steelman on August 21, 1920, in Brush Prairie, Washington, Gerald Lee Staley grew up in Clark County outside Vancouver in southern Washington. Like many youths during the 1920s, he played baseball. "Both of my older brothers were better ballplayers than I was," Staley recalled in a 2003 interview. "But they just never got the break that I got."1
Staley attended high school in nearby Battle Ground. After graduating in 1938, the young man worked for two years at Alcoa Aluminum in Vancouver. On the weekends he played baseball in a sandlot league against teams from nearby towns and from across the river in Portland, Oregon. Staley, a six-footer with a strong arm, often played shortstop because he could make the long throw to first. In his third season he also pitched. That led to the "break" he mentioned, signing a contract to play minor-league ball in the Class-C Pioneer League in 1941.
"I was working for Alcoa in 1940," Staley remembered in 2003, "and I was working with a fella who had played [Pacific] Coast League ball. And he knew Jim Keesey, who was going to manage the Boise Pilots in the Pioneer League. The two were friends, and they talked over the situation, whether there were any ballplayers in the area that had a chance to go play for them. The fella I was working with asked me if I wanted to go and try out, and I did. Jim Keesey got several fellas together early in the spring of 1941, and we played three or four games. I wasn't old enough to sign a contract, so Jim Keesey talked to my parents. I had two older brothers who had played sandlot ball too, and they all wanted me to go play pro ball. So I quit the aluminum plant and went to spring training with Boise, and I made the club. I played two years with Boise, and I did pretty well."
Staley made an excellent start, going 22-8 with a 2.79 ERA for first-place Boise in 1941. He led the league in games (39), innings pitched (261), and in wins. The right-hander was named as one of two pitchers on the league's All-Star team. Probably because the club's owner wanted too much money to sell Staley, the right-hander returned for the 1942 season, the first year of World War II for the United States. Again pitching well, he went 20-10 with a 2.73 ERA as Boise finished second.
After the season, Staley was inducted into the Army at Fort Lewis, Washington. "I was in the Army's Medical Corps," Staley recalled. "I spent most of my time in the South Pacific." According to the New York Times, Staley pitched five no-hit, no-run games while overseas. 
"After the war, St. Louis had an agreement with Sacramento of the Coast League," said Staley. "St. Louis could take one serviceman who came back from the war in payment for the Sacramento franchise going independent. They had a half-dozen players to choose from, and the Cardinals picked me. That's how I ended up with St. Louis."
Staley pitched for Sacramento in 1946, producing a 13-12 record with a 2.94 ERA. In 1947, he went to spring training with the Cardinals and made the club. But the Redbirds had a veteran ballclub which had defeated the Boston Red Sox in the 1946 World Series, and on July 23 the Redbirds sent the right-hander to Columbus of the American Association. Pitching for fifth-place Columbus, he contributed six wins while losing once. Recalled to St. Louis late in the year, the rookie started once in September, pitching a complete-game victory. Overall, he worked 29⅓ innings in 18 games for the Cardinals, posting a 1-0 mark with a 2.76 ERA.
In 1948 Staley returned for his first full season. The talented Cardinals again fielded a good ballclub, led by National League Most Valuable Player Stan Musial. Staley, big and strong at 190 pounds, appeared in 31 games, starting three times. He finished with a 4-4 mark, losing one of his three starts. While his ERA rose to a career-high 6.92, the sinkerballer enjoyed a highlight day on Monday, July 5. Playing under intermittent rain and sunshine at Sportsman's Park in St. Louis, the Cardinals defeated the Chicago Cubs twice, and the Washington native won both games in relief.
"I didn't become a regular in 1948, because they still had their pitchers from the year before," Staley recalled. "So I pitched mostly in relief. I became a regular in 1949 when they sold Murry Dickson to the Pirates. That deal opened the way for me."2  Eddie Dyer's veteran club finished in second place for the third straight year in 1949, losing the pennant to the Dodgers by a one-game margin. Staley produced only a 10-10 record, but his 2.73 ERA paced St. Louis pitchers.
In 1950, the Cardinals — the NL's powerhouse team of the 1940s — slipped to fifth place. Staley produced his second season of double-digit wins, going 13-13 and adding three saves, but his ERA rose to 4.99. On May 30 he again won both ends of a twin bill, this time over the Pirates at Forbes Field.  Staley's clutch hurling made him the first reliever in the history of baseball to win both ends of a doubleheader twice.
The Cardinals finished third in the NL in 1951 and 1952, and tied for third in 1953, Staley's peak years as a starting pitcher. He came through with records of 19-13 in 1951, 17-14 in 1952, and a career-best 18-9 in 1953. Thanks to those good seasons, he made the NL All-Star team in 1952 and 1953, although he didn't pitch in either game.
Asked about his best pitches, Staley said, "I always did have a knuckleball, but I just used it once in a while. I'd throw a knuckleball on a good hitter after I got ahead of him by throwing the sinkerball, which was my main pitch. But I'd use the knuckleball for a change-of-pace. Basically, I was a sinkerball pitcher, but you changed speeds on the sinker. You'd also throw a curveball and a slider every now and then, just to let 'em know that you had one. If I got ahead of the batter with two strikes and no balls, I could come in with the knuckleball. But the knuckler breaks so much that you had a hard time getting the darn thing over the plate!"
The Cardinals gave Staley a certain home-field advantage at old Sportsman's Park (renamed Busch Stadium in April 1953 when August Busch purchased the Cardinals, but commonly called Sportsman's Park for years). In the year 2000 Carl Erskine of the Dodgers recalled that in St. Louis the infield was very hard, except on nights when Staley pitched. On those occasions, the grounds crew would wet down the area in front of home plate so opposing batters would beat that sinker into soft turf for easy ground balls.3
Another strong suit for Staley was good control. As he explained to Brent Kelley in 1991, he often worked games where he threw less than 100 pitches: "There were a lot of games I was in the 80- to 90-pitch range. I had pretty good control and they were hitting the first pitch or the second pitch all the time, which is a great help for any pitcher."4
But fame is fleeting in the major leagues. In 1954 the Cardinals fell to sixth place, and Staley saw his ledger slip to 7-13 and his ERA soar to 5.26. "Three years in a row I had pretty good years," Staley recalled in 2003. "But in 1954 I'm not sure what went wrong. I didn't have any arm trouble, or anything like that. I think it was one of those years where the opposing batters weren't hitting the ball hard, but they were hitting it out of reach of everybody."
Given his performance, Cardinals management figured the 34-year-old sinkerballer was past his prime, and on December 8, 1954, St. Louis swapped Staley and third baseman Ray Jablonski to Cincinnati for reliever Frank Smith. In 1955 Staley finished with a 5-8 record as a starter for Cincinnati, but according to Staley, the way he pitched was no different from when he won big for St. Louis in 1953. Speaking to Brent Kelley in 1991, Staley said, "The year I was in Cincinnati, it seemed that everything they hit –  no matter whether they hit it hard or soft or what — was just in a hole. They just weren't hitting the ball at anybody. That can make a heck of a lot of difference."5
On September 11 of the 1955 season, the Yankees, looking for bullpen help, bought Staley from the Reds for the waiver price. But the right-hander did not get any decisions for New York and didn't make the club's World Series roster.
The two-time All-Star's career took an unexpected turn for the better on May 28, 1956, when the Yankees waived him to the White Sox. Chicago's manager Marty Marion –  formerly the Cardinals' fine shortstop and later the club's manager for the 1951 season –  knew Staley's strengths and figured he could still do the job. Marion was right; over the remainder of the season Staley posted an 8-3 record, hurling five complete games in 10 starts and going 1-1 in relief.
In 1957, Al Lopez became manager of the White Sox, and he elected to use the veteran right-hander strictly out of the bullpen. Thereafter, Staley's career enjoyed a major rebirth.
"The year that Marion was there," Staley told Bob Vanderberg for his 1982 book Sox: From Lane and Fain to Zisk and Fisk, "I started a lot of times (10 of his 26 Sox appearances were starts). Then the next year, Lopez came and he figured he needed some people in the bullpen. They were loaded with starters — (Billy) Pierce, (Jack) Harshman, (Dick) Donovan, (Jim) Wilson, (Bob) Keegan. He needed to work somebody into the bullpen, and he needed somebody there who wouldn't take too long to warm up, and who wouldn't come up with arm trouble, and — after one or two pitches — I'd be ready to go in."6
Speaking in 2003 about the way Chicago employed him, Staley said, "We didn't have 'closers' in those days. How much I pitched depended on the game. If the starter got into trouble in the third, fourth, or fifth inning, I would come in. Several times I finished up a whole game. As long as you were having good luck and holding the other team down, you stayed in the game." In 1957 Staley made 47 appearances, all in relief, and finished with a 5-1 record and a 2.06 ERA. In 1958 the rubber-armed hurler went 4-5 with a 3.16 ERA in 50 games.
Lopez, meanwhile, developed the "Go-Go" White Sox, building his club around base hits, speed, heads-up base running, the hit-and-run, good defense, and solid starting and relief pitching. The whole mixture came together in 1959 when the ChiSox outdistanced the Indians by five games and won the franchise's first pennant in 40 years. The 38-year-old Staley, who led the majors with 67 appearances in 1959 — all from the pen — posted an 8-5 mark with a fine 2.24 ERA and 14 saves. Staley and Turk Lown anchored a bullpen which produced 37 saves and a 2.80 relief ERA, both figures best in the major leagues that season.
Reflecting in 1982 on the Cleveland game in which Chicago clinched the 1959 pennant, Staley observed, "As a reliever, you're coming in to close ballgames with men on base. So you've got to keep the ball low so they don't hit it out of the park. In the spot I came into that night, the situation is that you're gonna try to make the guy hit the ball on the ground." Asked if he threw Vic Power a good sinker, Staley laughed and said, "Well, evidently. When he hit it, I knew it was on the ground. And it was headed in the right direction — to Aparicio. As long as he fielded the ball clean, we were at least gonna get one out and we'd still be one ahead."7
The White Sox entered the World Series against the resurgent Dodgers, a club that tied the Milwaukee Braves for first place in the regular season with an 86-68 record, then defeated the Braves in a best-of-three playoff series. At Chicago's Comiskey Park for Game One of the fall classic, the Pale Hose, fueled by Ted Kluszewski's two homers and RBI single, blasted the Dodgers, 11-0. Early Wynn started and pitched seven shutout innings, and Staley blanked LA over the last two frames.
The Dodgers came from behind to win Game Two in Chicago, 4-3. The Series then moved to cavernous Memorial Coliseum in Los Angeles for Game Three. Right-hander Don Drysdale pitched a strong game for the Dodgers, and longtime Dodgers star Carl Furillo delivered a key two-run pinch single off Staley in the seventh inning, and the Dodgers won, 3-1. Dick Donovan started for Chicago and pitched shutout ball for 6⅔ innings. Relieving Donovan with the bases loaded in the seventh, Staley gave up Furillo's game-winning hit. In a disappointing outing, Staley pitched 1⅓ innings, allowing two more hits and another run.
Game Four was a heartbreaker, the White Sox losing, 5-4, when another longtime Dodger hero, Gil Hodges, homered off Staley, clearing the screen in left field — where the distance from home plate to the foul pole was only 251 feet. Hodges' homer broke a 4-4 tie, and Larry Sherry, working two scoreless innings in relief of right-hander Roger Craig, saved the victory. Staley recalled, "Hodges hit a little fly ball to that short left field. It was really a football field. Evidently I made a bad pitch. That hit would have been an out in Comiskey Park." Chicago rebounded and won Game Five, 1-0, but back in Chicago, the Dodgers wrapped up the Series with a 9-3 victory. Staley worked three shutout innings in the finale, but by then the Dodgers held an 8-3 lead.
Undaunted, Staley came back with a fine 1960 season, leading the AL in relief wins with 13 and relief losses with eight. To go with his 13 victories and 2.42 ERA in 64 games, the sinkerballer added 10 saves, after having saved 14 games in 1959. Making the All-Star team in 1960, Staley didn't pitch in the first of two games played that July. In the second contest he worked the sixth and seventh innings, allowing one run in the NL's 6-0 victory — a solo homer by his old teammate, Stan Musial. Still, Chicago slipped to third place in 1960, 10 games behind pennant-winning New York.
By then Staley was nearing the end of his career. On June 10, 1961, the 40-year-old hurler was traded to the Kansas City Athletics, and on August 2 of that year the A's dealt Staley to the Detroit Tigers, who were involved in a tight pennant race with the New York Yankees. Staley pitched respectably for the Tigers of the last two months of the season, going 1-1 with a 3.38 ERA and two saves in 13 games. But his only loss with the Tigers was crucial. It came in the finale of a make-or-break three-game series between the Tigers and first-place Yankees at Yankee Stadium September 1-3. The Tigers entered the series only a game and a half out of the lead, but the Yankees won the first two games of the series to increase their margin to 3½ games.
Detroit desperately needed a win in the September 3 finale to close the gap, and the Tigers called on Staley to hold a 5-4 lead as the Yankees came to bat in the bottom of the ninth. The veteran reliever, who had come through in this sort of situation so many times in the past, couldn't do it one more time. The first batter Staley faced, Mickey Mantle, homered to tie the game, and Yogi Berra followed with a single. Ron Kline then took over for Staley and, with two on and two out, gave up a game-ending three-run homer to Elston Howard to hand the Tigers a crushing 8-5 defeat which put them 4½ games out. The Yankees eventually won the pennant by eight games over Detroit.
Released by the Tigers in October of 1961, Staley went home and served as pitching coach for Triple-A Portland of the Coast League. He also pitched on occasion, posting a 2-4 mark. The sixth-place Beavers played home games at Multnomah Stadium, which stood across the Columbia River about 15 miles from Staley's longtime home.
Staley had married Shirle A. Lockhart in May 1947; they would have two sons and a daughter. Once the season was over, he'd work in his family's lumber mill. Following his baseball career, Staley served as superintendent of the Clark County Parks system for 17 years, retiring in 1982. Recognizing his stellar achievements in baseball, the Washington Sports Hall of Fame inducted him in 1977.
"I was fortunate to play in an era where there was a lot of good ballplayers," Staley reminisced. "They didn't have so many teams, and the teams were all congregated more closely than the teams are today. We had a lot better teams to play with and against than they do today. "I got to play with and against a lot of great-name ballplayers, from Stan Musial and Enos Slaughter to Nellie Fox and Ted Kluszewski, to name a few. I was fortunate enough to be on All-Star teams in both leagues, and I played in a World Series. I couldn't ask for much more."
An underrated pitcher and a modest big leaguer who earned the distinction of being a stellar starter and also an ace reliever, three-time All-Star Jerry Staley enjoyed several first-rate seasons for several very good Cardinal and White Sox clubs.
Jerry Staley died of natural causes in his home in Vancouver, Washington, on January 2, 2008. He was 87 years old.
An earlier version of this biography originally appeared in SABR's "Go-Go To Glory: The 1959 Chicago White Sox" (ACTA, 2009), edited by Don Zminda.
Sources
This essay about Gerald "Jerry" Staley's baseball career is based on statistics from The Baseball Encyclopedia (Macmillan, 9th edition, 1993); minor-league stats from profile furnished by Pat Doyle, creator of the Professional Baseball Player Database (version 6); clippings from the Staley file in the National Baseball Hall of Fame's Library; a variety of newspaper game stories from ProQuest, mainly for his Cardinal seasons; interviews with Jerry Staley, July 2003; letters from Staley, August 10, 2003, January 25, 2007; "Gerry Staley: A Sinker to Vic Power," chapter in Bob Vanderberg's Sox: From Lane and Fain to Zisk and Fisk (Chicago: Chicago Review Press, 1982), pp. 203-208; Brent Kelley, "Gerry Staley: Forerunner to Today's Dennis Eckersley," Sports Collectors Digest, July 12, 1991; John Lawrence, "Nuggets Galore at [Washington] Hall of Fame Banquet," Tacoma News Tribune, February 6, 1977.
Notes
1 Author interview with Jerry Staley, July 2003. All quotations attributed to Staley are from this interview unless otherwise indicated.
2 Staley interview.
3 Clipping from Staley player file, National Baseball Hall of Fame (exact source unknown).
4 Brent Kelley, "Gerry Staley: Forerunner to Today's Dennis Eckersley," Sports Collectors Digest, July 12, 1991.
5 Kelley.
6 Bob Vanderberg, Sox: From Lane and Fain to Zisk and Fisk (Chicago: Chicago Review Press, 1982), 205.
7 Ibid., 207.
Born
August 21, 1920 at Brush Prairie, WA (USA)
Died
January 2, 2008 at Vancouver, WA (USA)
If you can help us improve this player's biography, contact us.
http://bioproj.sabr.org/bp_ftp/images5/StaleyGerry.jpg
600
800
admin
/wp-content/uploads/2020/02/sabr_logo.png
admin
2012-01-04 20:46:38
2021-09-26 10:16:02
Gerry Staley