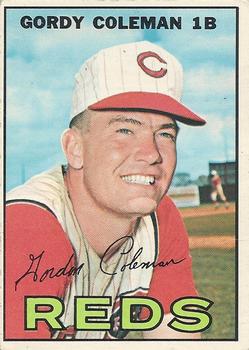 ---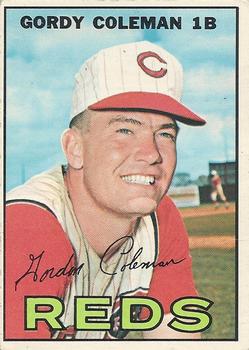 In high school he starred in four sports, and drew the most plaudits for his exploits in basketball and football. He received a football scholarship from a prominent university, but Gordy Coleman deserted the gridiron to pursue a career in professional baseball. A successful career it was, with nine seasons in the major leagues, most of them with the Cincinnati Reds. He is a member of his high school Athletic Hall of Fame and the Reds Hall of Fame, but Coleman is best remembered in Cincinnati for his work on behalf of the Reds after his playing days were over.
Gordon Calvin Coleman was born July 5, 1934, in Rockville, Montgomery County, Maryland, just outside the District of Columbia. He was the second child and only son of Gladys Auterback and Thomas Benjamin Coleman. During Gordy's early childhood his father was a clerk for a steam railway; later he worked for many years in several capacities for Montgomery County government.
Gordy was a star athlete at Richard Montgomery High School in Rockville, lettering in baseball, basketball, football, and track. An excellent baseball hitter and pitcher, he won more accolades in basketball and football. In his senior year he led his basketball team to the finals of the state tournament. He won All-State honors in football and was given a football scholarship to Duke University.
During his freshman year at Duke, Coleman played both baseball and football, but he did not return to compete at the varsity level. Before the 1953 baseball season began he signed with the Cleveland Indians as an amateur free agent. He was assigned to the Reading Indians of the Class A Eastern League. The 18-year-old got into only 13 games that season, and was demoted to the Class B Tri-State League the following season. He hit .318 for the Spartanburg Peaches. In 1955 he was assigned to the Keokuk Kernels of the Class B Illinois-Indiana-Iowa (Three-I) League, where he posted a.349 average. This earned him a shot at Class AAA ball with the Indianapolis Indians of the American Association.
Four games in the Hoosier State were not enough for him to prove he belonged at that level, so in 1956 Coleman was moved down one notch to the Class AA Southern Association Mobile Bears. He had started his professional career as an outfielder, but the Bears converted him to a first baseman, and he played exclusively at that position the rest of his career.
By 1956 Coleman had established that he had major-league potential, but his entry into "The Show" was delayed by a two-year stint in the United States Army. He missed the entire 1957 and 1958 seasons due to military service, much of which was spent at Fort McPherson on the outskirts of Atlanta, Georgia.
Upon his discharge from the Army, Coleman spent most of the 1959 season with Mobile, where he won the Triple Crown by hitting .353, clubbing 30 home runs and batting in 110 runs. He also led the league in slugging with an average of .606 and in OPS with a remarkable 1.071. Quite naturally he was voted the Southern Association's Most Valuable Player. You can't keep them down on the farm with numbers like those. The performance certainly merited a September call-up.
Coleman made his major-league debut on September 19 at the age of 25. He stood 6-foot-3, weighed 208 pounds, and batted from the left side, but threw with his right hand. His first big-league appearance came in the fifth inning of a game at Kansas City's Municipal Stadium. Coleman pinch-hit for George Strickland and hit a triple off Bob Grim and scored on a single by Jack Harshman. What a great beginning to what turned out to be a long and productive major-league career! Coleman got into five more games in the final days of September, and continued his hot hitting, ending the season with a batting average of .533. Of course, no one hits .533 over an extended period of time, but Coleman clearly proved that he was a major leaguer.
Cleveland already had a first baseman. Vic Power, a .288 hitter and the best fielding first baseman in the American League, was not going to be dislodged from his position. On December 15, 1959, just before the midnight deadline for trading between the two leagues, the Indians traded Coleman, infielder Billy Martin, and pitcher Cal McLish to the Cincinnati Reds for star second baseman Johnny Temple. Obtaining Coleman turned out to be quite beneficial to the Reds. Frank Robinson, the future Hall of Famer, had played first base for the Reds in 1959. The acquisition of Coleman enabled Robinson to return to his normal outfield position and gave the Reds a solid replacement for him at first base.
Coleman was the Reds regular first baseman for seven years. An excellent fielding first sacker, in 1961 he led the league in fielding percentage and assists, and ranked third in putouts, as he helped the Reds win their first pennant in 21 years. He had his best year at bat in that same season, hitting .287, with 26 home runs and 87 runs batted in. In the World Series Coleman had what he later called his biggest thrill in all his years of playing baseball.1
In the fourth inning of Game Two at Yankee Stadium, with Ralph Terry pitching for the Yankees in a scoreless game, one out and Frank Robinson on first base, Coleman hit a drive over the fence in deep right-centerfield to give the Reds a 2-0 lead. The Reds went on to win the game, 6-2, for their only victory of the Series.
Coleman nearly matched his 1961 numbers again in 1962, with a .277 batting average, a career-high 28 homers, and 86 ribbies. Injuries slowed him somewhat in 1963 and plagued him the rest of his playing career. As injuries limited his playing time, he shared first base duties with others, most notably Deron Johnson and Tony Perez, and was eventually replaced by Lee May. In that era ballplayers needed to supplement their salaries by taking offseason jobs. Coleman sold season tickets and did promotion for the Reds—good preparation for his full-time employment after retiring from the playing field.2
Throughout his career Coleman had been used frequently and with great success as a pinch hitter. When he retired he held a major-league record that still has never been broken. Among all players in the history of baseball who had pinch hit at least 100 times, Coleman has the highest batting average. His 49 hits in 145 times at bat gave him an average of .338.
He played his last major-league game on May 3, 1967, at the age of 32. Batting cleanup in recognition of the power hitter he had once been, he went hitless in four trips to the plate against Ray Washburn and the St. Louis Cardinals at Busch Stadium. The Reds sent him to the Buffalo Bisons of the Class AAA International League where he hit .198 in 34 games.
Later in 1967 Coleman wound up his playing career with the Spokane Indians in the Class AAA Pacific Coast League, where he again hit below the Mendoza Line in his final 38 games as a professional ballplayer. In addition to playing, Coleman also did some coaching for Spokane.  He remembered one incident. "I was coaching third base and we were playing Hawaii when Jim Fairey attempted to steal third base. Larry Holmes, the Hawaii catcher, threw the ball and it hit Fairey in the ear and drew blood. He was out cold. My instant reaction was to grab him. As soon as I put my hands on him I knew he was out. I had him on third base and the umpire called him out for coach's interference."3
In 1972 Coleman was elected to the Cincinnati Reds Hall of Fame. The Hall's member directory contains this tribute by Tim McCarver, the long-time catcher who called pitches for the St. Louis Cardinals during Coleman's heyday, ""Willie Mays and the Reds' Gordy Coleman were the only two guys you didn't throw curveballs to."4
After retiring as a player, Coleman returned to Cincinnati and worked for the Reds the rest of his life. He helped organize the Speakers' Bureau. which he directed for many years. He was on the road six months every year, covering the four states of Ohio, Indiana, Kentucky, and West Virginia, driving as many as 40,000 miles per year and making around 200 speeches or personal appearances. In 1984 he told an interviewer, "I never really left baseball. I'm still around the guys. I still talk baseball…. But every February when people around here begin packing up to go to spring training, I get the bug. It's hard not to when for 18 years of your life, you were going South to the palm trees and the crack of the bat."5
In comparing the game of the 1980s to baseball of his playing days, Coleman said, "The game is faster today. The players on the average run better."6 But he felt some players were rushed to the majors before they were ready. Expansion of the major leagues meant many more players were needed at that level. At the same time, the number of minor league clubs declined. He said, "Youngsters miss out on the seasoning they used to gain in the minors. If a kid is almost ready now, he is brought up much sooner than he would have been 20 years ago."7
From 1990 through 1994 Coleman provided analysis and color commentary on the Reds TV network. He also appeared on telecast of Reds games on the now defunct SportsChannel Cincinnati. His knowledge of baseball and his enthusiasm for the game, combined with his affable personality and his gift for gab made him a popular telecaster, just as they had served him so well with the Speakers' Bureau.
In addition to his responsibilities with the Reds, Coleman found time to engage in community activities in Cincinnati. For example, he supervised the trampoline at the former Williams YMCA on McMillan Street in the late 1960s.8
Gordy Coleman was a strong family man. On October 12, 1955, at the age of 21, he married Marian Huggins, a young woman of about the same age. The couple had one son Shawn, born in 1960. Gordy often served as a bench coach for Shawn's teams in youth baseball. In a 2002 interview Shawn said. "It was tough because the expectations were so much higher. If your father is a major leaguer, you have to be a star in your own right. The expectations were a little unrealistic."9
Fred Engh, president of the National Alliance for Youth Sports, echoed Shawn's comments. "It is very difficult, regardless of what anyone says, when you are coaching your own son. They know a lot of people are king over their shoulder, so they are sensitive to that. They really are tougher on their own kid."10 Nevertheless, Shawn must have found the experience worthwhile. He coached his own son, Shane, in youth baseball.
The building in which Coleman had attended high school was demolished in 2008 and replaced by a larger, more modern structure. Athletic fields were constructed on the site of the older building. On April 4, 2009, the baseball field was dedicated in Gordy's honor and named the Gordy Coleman Field. In 2012 the Richard Montgomery Athletic Hall of Fame was established. Among the first inductees was Gordy Coleman. Unfortunately, Coleman did not live to enjoy these honors.
Gordon Calvin Coleman died suddenly, unexpectedly, of a massive heart attack at his home in the Cincinnati area on March 12, 1994, as he was looking forward to another baseball season. At the age of 59, a productive life was cut down far too soon. His final resting place is in Arlington Memorial Gardens in Mount Healthy, Ohio, about 15 miles north of downtown Cincinnati. He shares a memorial marker with his wife Marian, who survived him. The inscription reads "Together Forever."
Notes
Born
July 5, 1934 at Rockville, MD (USA)
Died
March 12, 1994 at Cincinnati, OH (USA)
If you can help us improve this player's biography, contact us.
https://sabr.org/sites/default/files/ColemanGordy.jpg
600
800
admin
/wp-content/uploads/2020/02/sabr_logo.png
admin
2012-01-04 20:37:58
2021-09-22 19:26:29
Gordy Coleman