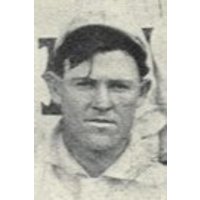 ---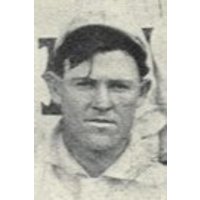 It was hard work to be a catcher in the Deadball Era. Equipment was not fully developed. The shin guard was a new addition to the tools of ignorance. Ironman catchers like the Giants' Chief Meyers were few. The Portland Beavers had the ironman of the PCL in Gus Fisher, who spent 8 seasons (1909-10, 1912-17, and 1921) there and played 1,153 games back of the plate. His total would have been higher had he not missed two months with a broken leg. Regarded as a fine handler of pitchers and an excellent thrower, he also carried a .285 batting average during that span.
Augustus Harry Fisher was born in Pottsboro, Texas, 75 miles north of Dallas, on October 21, 1885. His parents, John Henry Fisher and his wife, the former Mary Bensen Thomason, were both from Virginia. After their marriage around 1880, they moved to Texas, where the elder Fisher was a preacher. The couple and their six children moved to Graham, Texas, 120 miles west of Dallas, where Augustus and his siblings attended school through high school.
Graham was a farming community specializing in wheat and cotton. Gus found work in the fields and in cotton yards. He also had ample time to play baseball on the weekends, traveling east to Terrell and west to Throckmorton to catch for their teams.1He began his professional career with Waco in the Texas League on August 12, 1906, against Dallas, poking a single and handling nine chances without error. He played 20 games that season and "made a favorable impression."2
He returned to the Navigators in 1907 and became an iron man behind the plate, appearing in 128 of 139 games. His .259 batting average was second on the team. Tris Speaker of Houston led the league with a .314 average, but was the only player with over 100 games to break the .300 barrier. Fisher's average placed him in the top 20 of the league. Waco barely escaped the cellar. Over the winter, Fisher was drafted by Toledo of the American Association.
He went to spring training with the Mud Hens and was assigned to the Zanesville Infants in the Class B Central League just before their season opener. After beating Dayton, 1-0, they dropped their next four. They never could escape the second division and ended the season in sixth place. Eleven batters had at least 100 at bats for the Infants. Fisher's .281 was the second highest average in that group. Fisher split a finger and missed 10 games in August. Shortly after he healed he was recalled by Toledo. When Toledo's season ended he returned to Graham and worked with a cotton buyer. In January he went to Tucson, Arizona, to play winter ball.
In 1909, Fisher again went to spring training with Toledo. Because Charles Somers owned both the Cleveland Naps and the Mud Hens, there was speculation that Fisher might make the majors. He stayed with the Hens until the end of May. Walter "Judge" McCredie of the Portland Beavers had injury issues with his catchers and convinced Toledo to option Fisher. He joined the team on May 31. The move reunited Fisher with Howard Guyn who had been at Waco and Zanesville.
The plan was for Fisher to split time with Charlie Armbruster. Fisher was 5-foot-10 and weighed 175 pounds, roughly the same size as Armbruster, but had a much stronger bat. Joining the team late, Fisher played 123 games and batted .258 for the second-place team. He was third on the team in hitting behind Otis Johnson's .293.
After the season, Fisher wed the "popular and attractive" Dessie Amend on November 7. The couple had been introduced at a social event earlier in the year and were wed at the home of the bride's sister.3 They traveled to see family that winter and then settled in the Portland area.
McCredie lost pitchers Jack Graney and Spec Harkness over the winter but effectively replaced them with Vean Gregg, Gene Krapp and Bill Steen, the youngest staff in the league. Fisher was called upon to keep the fire-balling Gregg on target and to focus Krapp, who threw a combination emery ball and spitter. Under Fisher's guidance the trio all had ERAs under 2.00 and combined for 88 victories. The Beavers edged Oakland for the title. Krapp led the circuit in ERA and Gregg was second in wins. If the staff had a fault it was with their control. Fisher was given credit for his work with the men, but Krapp and Gregg were still first and second in walks and Steen was fifth in the league.
The left-handed hitting Fisher was an offensive force. Of Beavers' players with over 200 at bats he was second in batting average, doubles, triples and home runs while leading in slugging. He played in 163 games, getting a rest only when a left-hander threw for the opposition.
Cleveland secured Fisher, Gregg, Krapp and infielder Ivy Olson from Portland in December 1910. The Sporting Life article labeled Fisher as a "hard-hitting, peppery player with a good wing, but is inclined to be a little stubborn at stages."4 Gregg and Krapp paced the pitching staff. Fisher joined Syd Smith, Grover Land, Ted Easterly and a late season-addition in Steve O'Neill as the catching corps. Smith and Easterly had the best bats and Smith's fielding statistics were better than Fisher, but Gus saw the most action behind the dish.
Harry Davis was named the Naps manager in October and when the players gathered for spring training in 1912 it was clear that he considered O'Neill and Easterly superior to Fisher. In March, Fisher asked to be assigned to Portland. He had property there, his wife had been left behind in the Northwest and his pay in the majors was not much more than on the coast. Cleveland sold him to the New York Highlanders on April 9. After just four games with New York he was sold to Portland. He was back with Dessie by May 20.
The Beavers had won the league in 1911, but were struggling when Fisher returned. Batting averages around the league were rising and the Portland pitching staff was hit hard. After 113 wins in 1911 they dropped to 85 in 1912 and a fourth-place finish. McCredie retooled the pitching staff for 1913 and entrusted Fisher with keeping them running smoothly. Bill James won 24 games and led the league in strikeouts as Portland copped the pennant by 7 games over Sacramento. Fisher played 139 games and batted .292.
Fisher not only was an ironman behind the plate, but he had his own unique style. After a split finger early in his career he developed the technique of curling his right hand to protect the fingers and hiding it slightly behind the cushioned mitt. He also used shin guards sparingly. He felt they hindered his range of motion.
Portland got off to a slow start in 1914, in fourth place after 85 games (44-41). Behind Fisher's fine performance as clean-up hitter and Irv Higginbotham's pitching, the team rallied and finished 113-84 to beat out Los Angeles. Fisher played 139 games and led the team with a .355 average. Fisher's average was the highest in the league, but with only 440 at bats some sources recognize Los Angeles's Harry Wolter and his .328 mark in over 800 at bats. Gus played his finest against Los Angeles. In 32 games he piled up a .406 average5. He was rewarded with the Britten Bowl, a massive silver bowl, as the MVP of the team, edging out Irv Higginbotham and Bill Rodgers.6
In 1915 the team lost Dave Bancroft, Walt Doan, Art Kores, Bill Rodgers and Buddy Ryan, leaving Fisher as the lone veteran holdover. He weighed offers from the Federal League, but chose to stay home. The pitching staff added Stan Coveleski, but the loss of offense and leadership was too much. The team fell to last place.
Judge McCredie had an eye for talent and was constantly on the search for up-and-coming players. In 1916 he added Allan Sothoron to the pitching staff and watched him win a league-leading 30 games. Billy Southworth had 100 at bats in 1915 and was given fulltime work. He responded with a .300 average and 12 home runs. Lou Guisto was brought in from wine country and popped 14 homers.
Fisher suffered his first serious injury when he broke his leg just above the ankle on August 19 in Los Angeles. The team had been struggling on a losing streak when they put on an eighth inning rally. Fisher singled in Southworth, then stole second base. He was safe, but turned his ankle and snapped the bone. He was carried from the field and taken for x-rays. The leg was cast and he was back at the team hotel that evening.7The Beavers scored once more after Fisher's injury for a 5-4 win. Fisher had been having a "down" year for him, batting under .300 and having no triples or home runs in 98 games. The team finished in fifth place. McCredie was worried that Fisher might not recover and tried to trade him during the off-season without success.
Coming off the broken leg, Fisher never found his stride and suffered through his poorest season. He hit a mere .226 with only 15 extra base hits in 123 games. He shared the catching duties with Red Baldwin and Dink O'Brien as the Beavers finished fourth. McCredie sold eight players including Fisher to Sacramento for $3,000 in January 1918. The season was cut short by World War One and Fisher only played 36 of 96 games for the Senators. He returned to Portland and became a ship's carpenter in the Portland shipyards.
With the war over, baseball returned in 1919 and Fisher was welcomed back in the state capital. His days as an iron man were over as Sacramento used him along with Hick Cady, Dan Murray and Les Cook. Sacramento finished fourth in the now eight-team league. He was farmed out to the Class B Pacific Coast International team in Spokane the next season. He played 107 games and hit .311 which earned him a return to Portland in 1921.
The Beavers struggled. Fisher regained his focus and played in 124 games. His batting-eye returned as he hit .288, fifth on the team. He was teamed with Del Baker and the tandem was one of the few bright spots in a last-place season. On January 7, 1922, he was given his release by Portland so that he could sign as manager of Oklahoma City in the Class A Western League. Fisher was removed as manager in July and then released as a player on August 10, which wrapped up his career. He batted .314 in 77 games.
Fisher found farm work for the next 10-15 years in addition to doing carpentry. He listed himself as a house painter on the 1940 census. During World War II, he returned to the Portland shipyards and made use of his carpentry skills. He was also active in charity work, most prominently with the Red Cross.
Fisher was very active in local baseball and with the various old-timers' associations. On the 50th anniversary of Beavers baseball, he was named as the second team catcher. The first team spot went to Mickey Cochrane.
Dessie passed away in 1960 as the result of a heart attack. The couple had moved to Oregon City by that time. Fisher felt her loss deeply. Towards the end of his life he was placed in a nursing home. He became reclusive and stopped attending old-timers' events and accepting visitors. He died on April 8, 1972, and was buried in River View Cemetery in Portland along with Dessie.
Acknowledgments
This biography was reviewed by Norman Macht and fact-checked by Alan Cohen.
Notes
1 "Gus Fisher at Terrell," Graham (Texas) Leader, May 10, 1906: 7.
2 Dallas Morning News, August 18, 1908: 12.
3 "Catcher of Portland Baseball Club and Popular Young Women Wed," The Oregonian (Portland), November 12, 1909" 11.
4 Ed. F. Bang, "Cleveland Recruits," Sporting Life, December 24, 1910: 17.
5 "Gus Fisher Raised Havoc with Angels Twirlers," Oregonian, November 1, 1914: 4.
6 "Gus Fisher Winner of Britten Bowl as Most Valuable Man," Oregon Journal (Portland), September 24, 1914: 12.
7 "Walter McCredie's Beavers Check Their Losing Streak 5-4," Oregon Journal, August 20, 1916: 16.
Born
October 21, 1885 at Pottsboro, TX (USA)
Died
April 8, 1972 at Portland, OR (USA)
If you can help us improve this player's biography, contact us.
https://sabr.org/sites/default/files/FisherGus.jpg
600
800
admin
/wp-content/uploads/2020/02/sabr_logo.png
admin
2018-01-10 21:55:31
2020-04-09 14:40:27
Gus Fisher