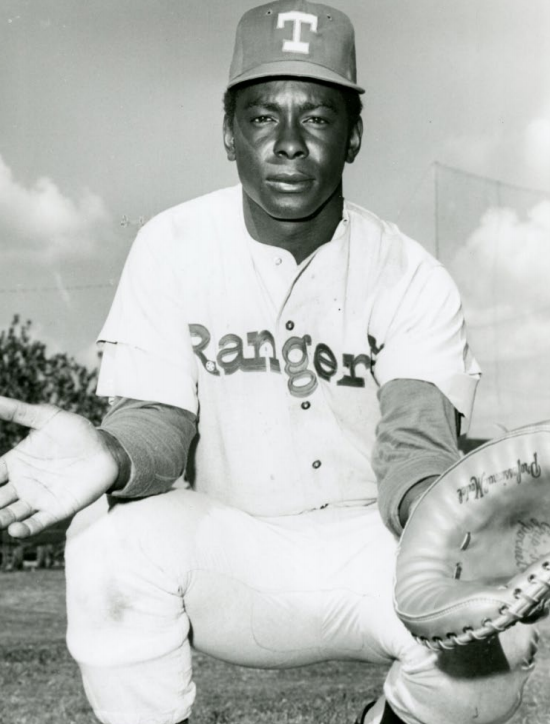 ---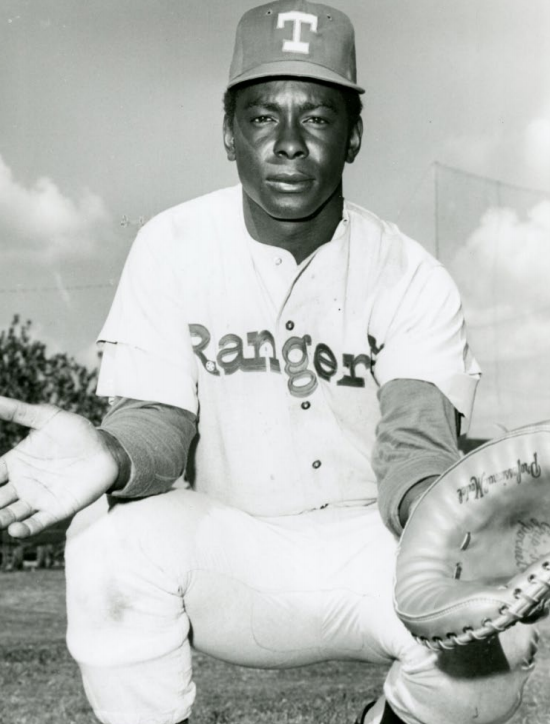 In the late 1960s and early '70s, Hal King defined the moniker of journeyman catcher. A left-handed hitter with some pop in his bat, King played for the Houston Astros, Atlanta Braves, Texas Rangers, and Cincinnati Reds for parts of seven seasons. Never quite consistent enough with either bat or glove to keep a starting job, King worked hard and could always be counted on to contribute with a solid effort. At times, however, he delivered in spectacular fashion. King never played in more than 89 games in a major-league season and only 322 games for his career. He is notable for being the first major-league player to appear for both Texas teams, but perhaps most famous for a 1973 pinch-hit home run that sparked a Reds winning streak which resulted in a divisional title.
Born February 1, 1944 in Oviedo, Florida, Harold "Hal" King was one of 14 children, nine of whom were boys. "Four of my brothers also played baseball seriously," said King in 2015. "There wasn't much else to do back then in a small town like Oviedo except play baseball."1
After high school in 1962, Hal followed his brother John and tried out for the barnstorming Indianapolis Clowns, the same organization with which Hank Aaron had his start. Both brothers signed with the club and traveled the country, playing games against local teams wherever they could be scheduled. John King eventually left but Hal remained and in 1964 caught the eye of scouts for the Los Angeles Angels. Seeing great potential in the young catcher, the Angels purchased King's contract from Ed Hamman and Syd Pollock, owners of the Clowns, for $8,000.2
For the 1965 season, the Angels assigned King to Quad Cities in the Midwest League. There, in his first season of Organized Baseball, he played 90 games and hit .241 with 6 home runs. He was even called on to pitch an inning in three games. Promoted to El Paso in the Texas League in 1966, King saw less playing time. With catching prospects Tom Egan and Elrod Hendricks also on the roster, there was little room for him to make an impact and he hit only .156 in 96 at-bats. With other players ahead of him, King was left unprotected in the Rule 5 draft after the season and was selected by the Houston Astros.
The Astros assigned King to the Asheville Tourists of the Class-A Carolina League for the 1967 season. There he found his swing and hit .288 with 87 RBIs while leading the league with 30 home runs. That display of power earned King a September promotion to Houston. He made his major-league debut at age 23 on September 6 with an eighth-inning pinch-hit groundout against future Hall of Famer Gaylord Perry. His first hit came four days later with a single off the Dodgers' Bill Singer. Later in the game he notched both his first triple and first run batted in, also against Singer, driving in Rusty Staub. In all, King appeared in 15 games for the Astros and showed promise with a .250 average, 11 hits, and 6 RBIs.
After the season he went to San Pedro de Macoris in the Dominican Republic to play winter ball. "That was my first time out of the country and it was a real awakening," said King in 2015. "It was like the lights were turned on for me that winter, it was so different. There were some great players, though, and the people were nice."3
King reported to Astros spring training in 1968 ready to battle for a big-league roster spot. Not only did he make the roster, but he was named the starting catcher on Opening Day. On the second day of the season, batting third between Joe Morgan and Rusty Staub, King went 3-for-4 with an RBI and two runs scored.
On April 15, King was involved in a record-setting game between the Astros and New York Mets at the Astrodome. Starting behind the plate, he ended up catching the complete 24-inning marathon that lasted 6 hours and 6 minutes. At 1:37 A.M. the Astros finally scored to win, 1-0. No game had ever gone longer than 20 innings without a score. At the plate in that game, King went 1-for-9 with a double off Mets starter Tom Seaver.
"I think I set a record in that game for going 24 straight innings with no passed balls and no errors. I couldn't do that now," said King with a laugh in 2015. "But when you're 24 years old you don't feel it in your knees so much."4
The Astros eventually decided to stick with their established catching combination of John Bateman as starter and Ron Brand as his backup that season. King played in 27 games for Houston with 10 starts behind the plate but he spent most of the season in the minors. He played in 56 games for Dallas-Fort Worth in the Double-A Texas League and 43 games for Triple-A Oklahoma City.
In 1969 King made the short trip from his home in Oveido to the Astros' spring-training facility in Cocoa, Florida. It was a short stay, however. On March 11 he was traded to the Boston Red Sox for minor-league pitching prospect Mark Schaeffer. King reported to Winter Haven and was in contention for a big-league roster spot but the Red Sox went with Russ Gibson and Jerry Moses behind the plate. Sent to Triple-A Louisville, King hit .322 with 9 home runs in 342 at-bats but he never got the call to Boston. Instead, the Red Sox promoted a promising young catcher from Double A at the end of the season. His name: Carlton Fisk.
Opportunity smiled on King that December when he was selected by the Atlanta Braves in the Rule 5 draft. "Boston didn't protect me and the Braves took me. I was happy to go, though," recalled King. "I had a really good season in Louisville and they still didn't protect me."5
King made the Braves roster out of spring training in 1970 as the backup to veteran Bob Tillman. It would prove to be his best year in the major leagues. Appearing in 89 games (51 of them as the starting catcher), King posted a .260 batting average with 11 home runs and 30 runs batted in. After the season he played winter ball in Venezuela. There, playing for Navegantes del Magallanes, he hit .300 with 7 home runs and 32 RBIs in 57 games.6
With the trade of Bob Tillman to Milwaukee, King looked to be in the running for the starting catcher job in Atlanta in 1971. A rookie backstop named Earl Williams had other plans, however. In spring training, King, Bob Didier, and Williams, who had made his big-league debut the previous September, battled for the job. King won the job and got the start on Opening Day, a game in which he went 2-for-4 with a double and a run. He started the first 11 games of the season but eventually became the second choice to Earl Williams, who would win the National League Rookie of the Year Award that season. In total, King played in 86 games, starting 48 behind the plate, and hit .207 with 5 home runs and 19 RBIs.
Over the winter of 1971-72, King returned to Navegantes del Magallanes in Venezuela. Again he played well, hitting .297 with 8 home runs and 33 RBIs, in 59 games.7 Back in the States, King had yet another major-league organization's spring training to report to: the Texas Rangers, the franchise just relocated from Washington.
King reportedly caught Ted Williams's eye during spring training in 1971 and during the winter meetings the Rangers acquired him for catcher Paul Casanova. Though Casanova had more major-league experience, he was never a power hitter and had batted only .203 in 1971. King was a similar type player but his left-handed bat made him a better fit for the Rangers.
When asked about the trade by an Associated Press reporter during 1972 spring training, Williams replied, "I don't think anybody has allowed King to catch as much as he should have in the past. All the reports on him were the same, good hit, no glove. But heck, no one ever gave him a chance to get some experience behind the plate. So far he hasn't been the butcher behind the plate he was cracked up to be. He's not the most graceful catcher you'll ever see, but he hustles and gives you a workmanlike job each day and he's improving. His bat will be a big help to us, especially since he hits from the left side, where we needed some punch. Right now I plan to use him as a starter against all right-handed pitchers and use Dick Billings against lefties."8
Said King in the same article, "This camp is just as tough as all the others I've been to, I've run just as much as anywhere else, but I've run harder because I'm happy to be here playing for Williams."9
On April 15, 1972, the club played its first official game as the Texas Rangers and Hal King was the starting catcher. He walked twice and had one of only two hits off Angels starter Andy Messersmith in the 1-0 loss. By late July, Dick Billings was getting much of the playing time behind the plate and the Rangers decided to give a look to another young left-handed-hitting catcher, Bill Fahey. King and fellow catcher Ken Suarez were sent to the Triple-A Denver Bears. King had appeared in 50 games with Texas and hit .180 with 4 home runs and 12 RBIs. With Denver he hit .283 in 23 games.
On December 1, 1972, King was traded by the Rangers along with utility infielder Jim Driscoll to the Cincinnati Reds for pitcher Jim Merritt. It was a move that did not bode well for King's playing time. With All-Star (and future Hall of Fame) catcher Johnny Bench firmly entrenched behind the plate in Cincinnati, and Bill Plummer his established backup, it left little room for another catcher.
King began the 1973 season at Triple-A Indianapolis but after 38 games got the call to report to Cincinnati. He made his debut on June 20 against the Giants. Starting at catcher (Bench played outfield in that game), he drew a walk in the second but in the fourth connected on a solo homer off starter Elias Sosa.
On July 1 King hit one of the most famous home runs in Reds history. Entering the first game of a doubleheader at Riverfront Stadium, the Reds trailed their National League West rivals the Los Angeles Dodgers by 11 games. King came to the plate as a pinch-hitter for fellow catcher Bill Plummer with the Dodgers and pitcher Don Sutton one out away from a win. With Tony Perez and Darrel Chaney on base, King slugged a three-run homer for a 4-3 Reds win. "It was a changeup," said King in 2015. "I still remember the pitch Don Sutton threw."10
Ignited by King's homer, the Reds rapidly made up ground on the Dodgers. They followed that win with a 3-2, 10-inning victory in the second game of the doubleheader. The next night the Reds won yet another thriller over the Dodgers, 4-2, on Tony Perez's walk-off homer. King contributed two more pinch-hit home runs down the stretch, including a grand slam on July 9 against the Montreal Expos and a 10th-inning game-winner against the New York Mets on August 17. King played in 35 games (only nine as catcher) but his contributions were huge in the Reds' drive to take the NL West championship.
In the NLCS, King played in three games against the Mets. He singled in the Reds' Game Three loss and in Game Five, pinch-hitting for Ross Grimsley, drew a ninth-inning walk. He was on second base when Dan Driessen grounded out to end the Reds' dream of a pennant. "I thought for sure I'd get a ring that year. We had a great team and I thought surely we'd beat the Mets," said King in 2015.11
Over the winter of 1973-74, King decided to go back to Venezuela. He joined Aguilas del Zulia and in 47 games hit .255 with 7 home runs and 22 RBIs.12 He reported to spring training with the Reds' catching situation the same as it had been in 1973; with Bench and Plummer ahead of him there was little chance of big-league playing time. As in the previous season, King was assigned to the Indianapolis Indians. Splitting his time between catching and serving as designated hitter, he turned in a .256 average with 10 home runs and 35 RBIs in 69 games.
Recalled to Cincinnati in midseason, King again primarily served as a pinch-hitter and caught in only five games. With just 17 at-bats, he hit .176 with 3 RBIs. On October 1, King played what would prove to be his final big-league game; pinch-hitting in the seventh inning for relief pitcher Pat Darcy, he struck out against Buzz Capra.
Another chapter in Hal King's baseball career began after the 1974 season. "The Reds sold my contract, that's how I ended up in Mexico," he recalled in 2015. "It wasn't that bad but I think I could have had three or four more years in the big leagues as a DH for someone. The fans were good in Mexico but the worst thing was the long bus rides."13 King had several successful years in the Mexican League. The 1975 season was split between the Cordoba Cafeteros and Puebla Pericos while the next two were with the Coahuila Mineros. In 1978 he signed with the Saltillo Saraperos. With that team in 1979 he hit .320, slugged 19 homers and led the league with 124 walks.14
At the end of the 1979 season, King hung up his spikes and returned home to Oviedo. He eventually went into business for himself and started a power-washing and home-maintenance business. He remained active in the local sports community, and served as president of the athletic boosters club of Oviedo High School when his son was on the football team. With his bat traded for a set of clubs, King turned his focus to the game of golf.15
As for Hal King's baseball-playing family, younger brother Nate King signed with the Minnesota Twins in 1964. He spent six seasons in the minors and made it as high as Charlotte in the Southern League but was out of professional baseball after the 1969 season. Brother Johnny, who had barnstormed on the Indianapolis Clowns, also signed with a major-league organization and spent part of the 1966 season in the Chicago Cubs system. A nephew, Brion King, was drafted by Baltimore in 1995 and spent a couple of seasons in the farm systems of the Orioles and the Toronto Blue Jays. Said King in 2015, "My son preferred football but Brion has a couple of young sons who look like they could be fantastic baseball players."16
"The secret to success in the major leagues is you've got to get relaxed," King said in reflecting on his career in 2015. "You've got to settle down. I'd say I only got relaxed somewhat. If I could have completely, I think my career would have been very different."17
This biography was published in "1972 Texas Rangers: The Team that Couldn't Hit" (SABR, 2019), edited by Steve West and Bill Nowlin.
Notes
1 Telephone interviews with Hal King in December 2015.
2 Alan J. Pollock, Barnstorming to Heaven: Syd Pollock and His Great Black Teams
(Tuscaloosa: The University of Alabama Press, 2006), 336-338.
3 Telephone interviews with Hal King in December 2015.
4 Ibid.
5 Ibid.
6 Estadisticas Beisbol Profesional Venezolano (purapelota.com).
7 Ibid.
8 Associated Press, "King Trying to Shake Tag He Can't Catch," Gadsden (Alabama) Times, March 27, 1972.
9 Ibid.
10 Telephone interviews with Hal King in December 2015.
11 Ibid.
12 Estadisticas Beisbol Profesional Venezolano (purapelota.com).
13 Telephone interviews with Hal King in December 2015.
14 Bill Weiss and Marshall Wright, "Top 100 Teams – #75: 1979 Saltillo Saraperos," The Official Site of Minor League Baseball (milb.com/milb/history/top100.jsp).
15 Telephone interviews with Hal King in December 2015.
16 Ibid.
17 Ibid.
Born
February 1, 1944 at Oviedo, FL (USA)
Died
March 23, 2019 at Oviedo, FL (USA)
If you can help us improve this player's biography, contact us.
https://sabr.org/sites/default/files/KingHal_0.jpg
600
800
admin
/wp-content/uploads/2020/02/sabr_logo.png
admin
2012-01-04 20:50:24
2022-04-04 13:52:24
Hal King