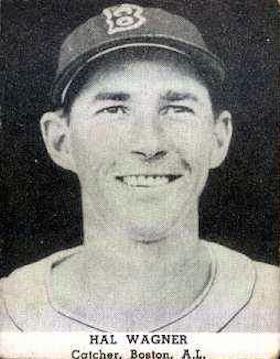 ---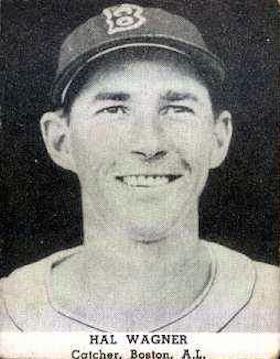 Catcher Hal Wagner spent 12 years on major-league teams, but five of his stints were for five games or less. He did play in over 1,000 games, 672 of them at the big-league level, and amassed a .248 career batting average in the majors. A two-time All-Star, Wagner was something of a sure-handed catcher with a career .981 fielding percentage, but at the same time he twice led the league in passed balls and once in stolen bases allowed. Wagner batted left-handed, but threw right-handed. He was an even 6 feet tall and is listed at 165 pounds. Hal Wagner was later described by pitcher and scout Tom Ferrick as "a journeyman with the attitude of a champion" who "made the most of what he had."1
Harold Edward Wagner was born July 2, 1915, in East Riverton, New Jersey, to William and Emma Hubbs Wagner. His father, a trolley conductor, was a New Jersey native, though both of his parents had come from Germany. At the time of the 1920 census the family was living in Emma's father's home at Cinnaminson, New Jersey, a township next door to East Riverton. Emma's father, Frank Hubbs, worked as a laborer in a dye house. In 1930 William Wagner was working as a driver for a bakery and Emma was employed in packing at a nursery.
Hal Wagner seems to have attended both Riverton High School and Palmyra High, graduating from Palmyra High in 1934, with letters in baseball and basketball.2 Late In 1942 he recalled, "Being so close to Philadelphia, the A's were the same to us as our home team. We kids, playing high school ball over on the Jersey side, knew every move of that famous team, and naturally fellows like Cochrane, Simmons, Grove, Foxx, Earnshaw, Miller and Bishop were our tin gods. We could only dream that someday we would wear the big 'A' of the Athletics. Well, it happened to me."3
A note in Wagner's Hall of Fame player file says that Palmyra resident Russell "Lena" Blackburne had seen him pitch for East Riverton and invited him to Shibe Park, where Connie Mack "liked him and advised him to go to Duke."4 Wagner did indeed matriculate at Duke, where he played baseball under coach Jack Coombs, leaving after his junior year to join the Athletics. During some of his summers while at Duke, he worked out at Shibe Park when the team was home, under the tutelage of Blackburne, Connie Mack himself, and Earle Brucker.5 He also played some semipro ball in the local Burlington County League.
In the summer of 1936, he joined a semipro club in Kinston, North Carolina.6 After returning to Duke, he played another season under Coombs, then became one of three Duke players signing contracts in late May 1937: second baseman Wayne Ambler, pitcher George Barley, and Wagner.7 Wagner at the time was assigned the nickname Hans. Ambler and Wagner were signed by the Athletics, Barley by the New York Yankees. Ambler's father was a close friend of Athletics manager Connie Mack.
Wagner had been a center fielder originally and played as such his freshman year at Duke, before being converted to catcher. He had hit .380 for Duke in 1937. Wagner was farmed out to the Portsmouth (Virginia) Cubs in the Class-B Piedmont League. He appeared in 28 games, batting .286 with one home run in 42 at-bats. He spent much of the summer at Spartanburg, not until the following year a part of the official minor leagues.
And then he had the opportunity to put his toe into major-league waters, appearing on October 3, 1937, in an abbreviated five-inning game at Shibe Park, the second game of a doubleheader, a game that only lasted an hour and six minutes. Earle Mack was the manager that day, the last game of the season. The Washington Senators won, 4-3, having scored once in the top of the fifth and holding Philadelphia scoreless before the game was called due to darkness. Wagner took over for Earle Brucker, who was 1-for-1, but did not have a plate appearance. He recorded a putout in the only chance he had, helping turn a double play.
The 1938 Athletics planned to feature five Duke alumni — Ambler, Wagner, Chubby Dean, Ace Parker, and Bill Werber — in an April 8 exhibition game against Duke itself, but the game was rained out.8 Wagner made the team – briefly – and came in to give catcher Frankie Hayes a spell on April 19, the second game of the season. He got one at-bat, making an out. Washington scored 21 runs in its first two games against Philadelphia. On April 27, Wagner was optioned again to Spartanburg, now part of the Class-B South Atlantic (Sally) League, where he played in 63 games and hit .326.
He was recalled to the Athletics and appeared in the August 9 game, but his first complete game was not until August 24. His first hit was a pinch-hit against the Yankees on August 20. In the game on the 24th, he was 2-for-5 and drove in his first run in an 11-2 pasting of the Detroit Tigers. Wagner played pretty regularly for the rest of the season, ultimately appearing in 33 games with eight RBIs and batting .227.
The year 1939 saw another brief stint in the majors – five games, though they were spread from beginning of the season to June 9. It was only on that final day that he got his first (and only) hit of the year, a single in one at-bat. He was .125 (1-for-8) for the 1939 Athletics. Most of his year was spent playing for the Newark Bears; he appeared in 62 games hitting .274. On October 28, 1939, he married Jean Norris Rieger at Riverton. Jean worked at first as a stenographer for a building contractor.
Wagner played the full decade of the 1940s in the big leagues, not returning to play minor-league ball until 1949. Frankie Hayes remained Philadelphia's first-string catcher in 1940 and 1941, but Wagner was #2 on the depth chart. He appeared in 34 games (.253, with 10 RBIs) in 1940 and in 46 games (.221, 15 RBIs) in 1941. In the last game of the 1941 season, the second game of a doubleheader at Shibe Park, all attention was on Ted Williams, who went 6-for-8 and raised his batting average from .399 to .406. But it was a big day for Hal Wagner, too. Friends from Burlington County, New Jersey, had proclaimed it "Hal Wagner Day" and presented him with a wrist watch and several other gifts.9 And he hit his first big-league home run, off Boston's Earl Johnson.
Connie Mack was sufficiently impressed with Wagner's readiness that he traded Hayes to the St. Louis Browns on June 1, 1942, and Wagner was made the number one man. He played in 104 games, batting .236 with 30 RBIs. The Yankees' Bill Dickey was the American League's catcher for the 1942 All-Star Game, but a shoulder injury prevented him from participating and Wagner was named in his place, but he saw no duty. Birdie Tebbetts played the game.
In 1943, he more or less reprised the season with 111 games, hitting .239 and driving in 26. He'd been hitting well over .300 through July, and was still at .300 in mid-August, but then cooled off considerably. Wagner attributed the improvement to a slight change in his batting stance suggested by Lena Blackburne, still taking an interest in him. Blackburne suggested holding his hands a little higher and a little further from his body, to help him quicken his swing.10 It may have paid off more in 1944 than in what remained of 1943.
World War II was on in earnest. Wagner was working at a defense plant, with a 2-B draft deferment. He'd begun the work after the 1942 season, at the American Engineering Corp. plant at Frankford, Pennsylvania, as a turret lathe and engine lathe operator.11 Earlier in 1942, he and Jean had their first child, Sally.
Over the winter of 1943-44, he was called for a pre-induction physical and he came up with a plan for the 1944 season – to keep working in a Riverside, New Jersey, defense plant and play in home games for the Athletics, making weekend road trips only when the team was scheduled to play in Washington or New York. He'd be a "part-time performer."12 Connie Mack consented to the idea. Late in March, Commissioner Kenesaw Mountain Landis approved the plan.13 But on May 2, Wagner was called to take a pre-induction physical at Camden, New Jersey. On May 5 it was announced that he had enlisted in the Navy and been accepted, though he had not been informed as to when he should report. Two days later, he was traded to the Boston Red Sox for Ford Garrison. He'd had four plate appearances on the season for Philadelphia and was 1-for-4.
Why would the Red Sox trade Garrison for Wagner? Both were 1-A in the draft, though the Red Sox had reportedly been assured that Wagner wouldn't be called until August.14 Within a month, the local Christian Science Monitor wrote, "Hal is the spark of the club on the field, and several times at bat he has come through with hits that have driven in the winning run."15 Indeed, he was hitting so well that as late as August 22, he was leading the American League in batting average, .327 to teammate Bobby Doerr's .325. And the Red Sox were in second place, in a tight pennant race.
Both Wagner and Tex Hughson were finally ordered to report on August 28 in Boston to be inducted into the service. On that day, Wagner was enrolled into the United States Army at Fort Devens. The prior announcement of his enlistment in the Navy had apparently been premature. As late as September 2, the Sox were just a game and a half out of first place, but the loss of Wagner, and Hughson, and Doerr did them in. They collapsed in the standings and within the month were in fourth place, 12 games out of first.
Wagner had enjoyed a terrific year for the Red Sox. He had hit .332, with 38 RBIs, in his 68 games between the trade and his departure for the Army.
On October 9, 1945, the Red Sox announced that Wagner had been released from the Army and would be able to rejoin the team in time for the 1946 season. Coming back as well were Ted Williams, Johnny Pesky, Dom DiMaggio, Tex Hughson, and many more. Wagner was seen as Joe Cronin's first choice for catcher, and that he was – though he ended up batting more than 100 points below his 1944 figure. The team as a whole, however, shot off to a 21-3 start and never looked back.
Wagner appeared in 117 games; Roy Partee was in 40 games, second-most among the other catchers. Wagner's 52 RBIs ranked him fifth on the 104-win team. He hit a career-high six home runs. He brought a fiery presence to the game. Ed Rumill of the Monitor wrote, "If he thinks one of his mates is not hustling or making enough noise, he yells at him. Hal gets 'mad' the instant he steps into the clubhouse and stays that way until the game is over…He hates to lose, and when he does, he comes back just a little harder the next day."16 He started off hitting well, and was still over .400 by May 4, leading the American League after the 18th game of the season, but tailed off to .230 by season's end.
The Red Sox won the pennant, finishing 12 games ahead of second-place Detroit. Without tough competition in the final weeks of the season, they may have fallen a bit out of fighting form. The St. Louis Cardinals gave them a battle in the 1946 World Series and took it to Game Seven, which they won in dramatic fashion.
Wagner was an offensive disappointment in the Series, going 0-for-13, and was removed for a pinch-hitter in the top of the eighth in Game Seven. Rip Russell singled in his stead, starting off a rally and scoring the first run as the Red Sox came back to tie the game. Backup catcher Roy Partee got 10 at-bats himself, but only one hit.
Wagner may have worked too much during the season. The following spring the Boston Globe's Harold Kaese wrote, "He had little left physically when the series arrived."17 Kaese also noted that the pitchers felt he did a fine job catching, and that Ted Williams himself had a poor World Series at bat.
He started off 1947 slowly and there were rumors circulating he might be traded. Joe Cronin denied there were any trades in the works on May 1, specifically one for Tigers catcher Birdie Tebbetts. On May 20, however, the trade was consummated: Tebbetts for Wagner. Hal Wagner was batting .231 at the time. It wasn't a trade with offense alone in mind; Tebbetts was only batting .098. The two managers felt that both players might better succeed in the other home ballparks. Indeed, Wagner hit .288 for the Tigers for the rest of 1947 and Tebbetts hit .299 for the Red Sox.
Wagner had appeared in 71 games for Detroit, but was second to Bob Swift. In 1948, Swift got the bulk of the work again, more so because Wagner was weaker when batting. He struggled all season long, the first time he reached .200 only coming on August 13. A month after that, Wagner was placed on waivers. He was passed over by all the AL clubs and selected by the Philadelphia Phillies, who paid the $10,000 waiver price. He was batting .202 at the time. With the Phillies, he only got into three games, two in pinch roles, and wound up with a .195 batting average.
He played his last major-league game on April 19, 1949, going 0-for-3 against the Boston Braves. On May 17 he was sent to the Toronto Maple Leafs, where he hit .260 in 95 games.
Wagner finished his baseball career with the Dallas Eagles in 1950, batting .212 in 89 games,
He retired from baseball, taking a position as a national sales representative with G. & W. H. Corson Co., a building materials manufacturer of Plymouth Meeting, Pennsylvania. He worked for Corson until his retirement in 1977.18
Wagner continued to live in Riverton. He died at Zurbrugg Memorial Hospital in Riverside on August 4, 1979
Sources
In addition to the sources noted in this biography, the author also accessed Wagner's player file and player questionnaire from the National Baseball Hall of Fame, the Encyclopedia of Minor League Baseball, Retrosheet.org, Baseball-Reference.com, Rod Nelson of SABR's Scouts Committee, and the SABR Minor Leagues Database, accessed online at Baseball-Reference.com.
Notes
Born
July 2, 1915 at East Riverton, NJ (USA)
Died
August 4, 1979 at Riverside, NJ (USA)
If you can help us improve this player's biography, contact us.
http://sabr.org/sites/default/files/WagnerHal.jpg
600
800
admin
/wp-content/uploads/2020/02/sabr_logo.png
admin
2016-03-16 11:27:47
2021-09-26 11:52:25
Hal Wagner