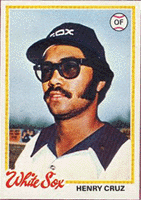 ---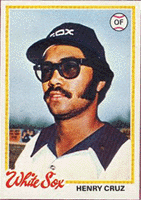 Born in Christiansted, St. Croix, Henry Cruz is one of 13 big-leaguers (as of 2016) who entered the world in the U.S. Virgin Islands. But he is really a Puerto Rican. The reserve outfielder for parts of four seasons (1975-78) is the flip side of catcher Valmy Thomas. Valmy's mother bore him in a Santurce hospital and then immediately returned to their lifelong home, St. Croix. Conversely, the Cruz family was on that island until Henry was just two or three months old. They then returned to his father's roots in Fajardo, Puerto Rico's easternmost city.
On February 27, 1952, Enrique Cruz and Francisca Acosta welcomed their newest child (they eventually had four boys and a girl). Henry already had an older brother named Enrique, so the parents gave him the English version of the name. Enrique Sr., an agricultural worker, had moved to St. Croix in the late 1940s seeking employment. Francisca had been living there for many years with her family, who originally came from the island of Vieques, east of Puerto Rico.
Like most local youths in his day, Henry grew up playing baseball. He graduated from the Fajardo high school, Dr. Santiago Véve Calzada, in 1969. He then attended La Universidad Interamericana de Puerto Rico, which also has a campus in his hometown. The Los Angeles Dodgers signed the outfielder in 1970, but it was in the local amateur league where Cuban scout Corito Varona spotted the prospect.
"A lot of scouts saw me and invited me to workouts. But Corito was the one who said, 'I'll sign you.' I said, 'OK, if you've got the money!' It was $15,000. I reported in 1971, but I didn't get to play in the minors that year. I was hurt and went on the DL. I blew out a knee when I went for a steal and didn't slide or stop right."
After he recovered, Henry began his minor-league career in 1972. He notes that he actually started at Double-A, with El Paso of the Texas League, where he hit no homers and drove in 2 runs with a .265 average in limited action. Moving to Bakersfield of the Class A California League, he went 8-56-.281. The next year, he began at Double-A with Waterbury of the Eastern League (2-20-.262), then rose to Albuquerque in the Class AAA Pacific Coast League (2-16-.262).
Cruz got another year of seasoning at Triple-A, hitting .304 with 6 homers and 50 RBI in 1974. He contended strongly for a job with the big club in spring training 1975 but was one of the last cuts in early April. A couple of weeks later, though, he was called up after Juan Marichal retired. (Few remember that the high-kicking Dominican Dandy finished his career in Dodger blue.) The need arose as Bill Buckner, playing outfield at that point in his career, and Tom Paciorek got hurt. [1] Buckner had a severely sprained ankle — the first of many such injuries that left him notoriously immobile.
In his debut on April 18, Henry pinch-hit for light-hitting shortstop Rick Auerbach. He flied out to center field against John "The Count" Montefusco of the Giants. Cruz played two innings in center the next day and then made his first start on April 20. He delivered two singles in six at-bats and made the game's best fielding play — a running, shoestring catch of Chris Speier's sinking liner in the 12th inning. [2] Then on April 21, the lefty pulled a double down the right-field line off Atlanta's Buzz Capra with two out in the 9th inning, making his first major-league RBI a game-winner. [3]
Although Cruz generally performed well in backup duty, the Dodgers were desperate for more power. In late June, they called up another rookie, John Hale — who did hit a career-high six homers. [4] Henry returned as rosters expanded in September and finished his first big-league season with no homers, 5 RBI, and a .266 average. At Albuquerque, he went 7-41-.310.
In 1976, Cruz made the Opening Day roster. On April 25, he belted his first big-league homer, a three-run shot off Chicago's Ken Crosby at Dodger Stadium. The game was much better known for an incident in that same fourth inning: Henry's opposite number in center field, Rick Monday, saved the American flag. Unemployed Missouri man William Errol Thomas and his son sprinkled lighter fluid on the Stars and Stripes and sought to set it ablaze before Monday's patriotic charge to the rescue. [5] Oddly enough, though, Cruz does not have a clear memory of the day.
All of Henry's four homers in '76 came against the Cubs. On May 4, after a two-run blast off Burt Hooton, he observed, "I have a lot of friends on the Cubs — Manny Trillo, Dave Roselló, and José Cardenal. I like to look good when I play, especially in front of my Chicago friends." [6]
He topped that the very next afternoon with his only two-homer game in the majors. It was one of those days at Wrigley Field when the wind was blowing out — at 36 miles per hour with gusts up to 46. But his manager, Walter Alston, thought that most of the Dodgers' seven homers were hit well enough to go out under any conditions. [7] Cruz remembers going deep off Rick Reuschel's brother Paul and also that the seven HRs set a new club record (which lasted until 2002).
Overall, though, Henry was still relegated to spot duty and his hitting suffered. He went back to Albuquerque in August after posting a .182 average in just 88 at-bats. He hit .305 with a homer and 12 RBI and was not recalled in September.
Cruz remained in the PCL in 1977, hitting .353 with 18 homers and 88 RBI in Albuquerque, a noted haven for hitters. That September, the Chicago White Sox claimed him on waivers for $20,000 — part of owner Bill Veeck's low-budget wheeling and dealing. In 21 at-bats, Henry hit .286 with 2 homers and 5 RBI.
The next spring, Cruz came north with the White Sox. Again in a reserve role, he went 2-10-.221 in just 77 at-bats. In early August, he was outrighted to Triple-A Iowa as Chicago called up 19-year-old Britt Burns. His last major-league appearance came on July 30, leaving him with career totals of 8 homers, 34 RBI, and a .229 average in 280 at-bats over 171 games. He drew 25 walks, lifting his on-base average to .291, and stole just one base while getting caught four times.
"'I didn't have the chance I was looking for,' Cruz said softly as he departed. 'I had no chance at all with the Dodgers, I thought I'd have one here.' He was the victim of a numbers game in the outfield. 'Too many lefthanders here,' he said. 'I thought I did my job very well. But I just couldn't do it enough. I need to work. When you sit on the bench, you get down.'" [8]
Henry felt that being out of options might have been a break for him, since he was eligible for the Rule V draft that winter. "At Iowa, at least I will have a chance to swing the bat." [9] He did so effectively (5-18-.270), but no other club took a flyer on him. Tony La Russa, Henry's manager with the Oaks in 1979, said he could definitely help a major-league club. He did perform well that year (17-79-.281), yet it was not enough to warrant a callup. The 1980 season was an injury-marred one (1-11-.197); Cruz recalls, "I blew out my other knee."
Midway through the season, he went to the Detroit organization in a minor-league deal, playing with their Triple-A Evansville club. "I was going to go to Japan, but they [the Nippon Ham Fighters] took Tommy Cruz [brother of José; no relation] instead." He remained in Evansville through 1981, making a modest comeback (6-30-.296).
After that, Henry played in the Mexican League from 1982 through 1985. He batted over .300 every year, first with Reynosa, next with León, and then in his last two summer seasons at Saltillo. Never before had the line-drive hitter connected for over 20 homers — but he notched 25 and 27 for the Saraperos. His overall totals were 79 HRs, 307 RBI, and a .310 average in 1,581 at-bats over 447 games.
"Mexico was a good experience. The only thing was that bus riding. It could be six to seven hours up to 21-22 hours. With the peso devaluation, they couldn't fly us."
"I had my family with me there. Everywhere I went, that was the first thing I tried to negotiate after the money. But four years, that was enough." When asked if he attracted any renewed attention from the majors, Cruz notes, "One time Milwaukee was interested and they came. But I never got a call."
"Papo" (a common Puerto Rican nickname meaning "Junior") also spent 13 seasons in the Puerto Rican Winter League, 1972-73 through 1985-86. He missed only the winter of 1980-81 as he was recovering from his knee injury. "They let me coach that year because I couldn't play, which was nice." Except for 1981-82 with the Bayamón Vaqueros, his only team at home was the Arecibo Lobos, who retired his number 36 in an emotional ceremony in December 2005.
Cruz counts Arecibo's PRWL championship in 1982-83 as a career peak. It was a hard-won first for the franchise and a great feeling for the city and its people. That club, which finished 28-32 in the regular season, came together in the playoffs and also went on to win the 1983 Caribbean Series in Caracas, Venezuela. Teammate Candy Maldonado, whose number is on the outfield wall next to Henry's at Estadio Luis Rodríguez Olmo, credited Cruz as a father figure and spiritual leader. [10]
Henry's Puerto Rican career concluded with 46 homers — including a high of 9 during the 1982-83 title season — and 213 RBI. He posted an average of .249 in 613 games, led by a .306 mark in 1978-79. Of his decision to retire, he observes, "My knees were too sore, they didn't respond the way I would like. I was afraid to slide. I could have played five more years in Mexico, they wanted me. But besides those rides, if I couldn't play 100%, I wasn't going to play."
Cruz then took a job with Pall Hydraulics in Puerto Rico. "I started on the production line and moved up to front office supervisor over five years. I worked for some different companies after that, but then I had a chance to get back into baseball." He joined the Indians as a part-time scout covering Puerto Rico in 1997 and was put on the full-time payroll later that year.
Henry has also been batting coach with the Carolina Gigantes of the PRWL since the 2004-05 season. He served as first-base coach for the Puerto Rican team against the Dominicans in the fourth annual Interleague All-Star Game that took place in December 2006. He has rejoined the Dodgers organization and will be the hitting coach in 2007 for their rookie-league team in Ogden, Utah.
"The Dodgers, they teach me how to play this game. The Dodger Way, that's what I've been carrying with me all these years. I can develop the kids this way."
The soft-spoken six-footer, who weighed 175 pounds in his playing days, has put on only a moderate amount of weight. Featuring a mustache and sideburns in the '70s, he sported a salt-and-pepper beard for his ceremony in Arecibo. He still wears glasses, as he did while playing. He experimented with contacts as a Dodger, but "I couldn't stand them, I had to go back."
Henry has been married to Zulma Díaz since 1973. Her father, José "Pacholo" Díaz, played ball with teams in the city of Humacao. They still live in Fajardo and are the parents of three children: son Henry Jr. and daughters Zuleima and Zurima. Henry Jr. has been a minor-league coach and director of player personnel with the Newark Bears of the Atlantic League; he is now director of the Puerto Rico Baseball Challenge program. Says Henry Sr. today:
"Knowing my family loves baseball the same way that I do, it's so important to me. Baseball was everything for us. That was the way I fed my family. Everything I own right now, I owe to baseball. And having the opportunity to teach the kids, what else could I ask for?"
Notes
[1] Jeff Prugh, "Dodgers' Thin Blue Line Falls in 13 to Giants, 6-3", Los Angeles Times, April 21, 1975, p. C1.
[2] Ibid.
[3] "Rookie's hit in 9th wins for L.A.," Chicago Tribune, April 22, 1975, p. C2.
[4] Jeff Prugh, "Dodgers Send Out SOS," Los Angeles Times, June 30, 1975, p. C1.
[5] "It's 'Flag Day' as Cey Singles to Beat Cubs," Los Angeles Times, April 26, 1976, p. D1.
[6] "Dodgers Win 10th in Row," Washington Post, May 5, 1976, p. D1.
[7] Ross Newhan, "Dodger Homers Blow Down Cubs, 14-12," Los Angeles Times, May 6, 1976, p. D1.
[8] Richard Dozer, "Sox call up 19-year-old pitcher, drop Cruz," Chicago Tribune, August 3, 1978, p. C1.
[9] Ibid.
[10] Pachy Rodríguez, "Elevan a posteridad el 36 de Henry Cruz," El Norte (Arecibo, PR), December 27, 2005.
Sources
Telephone interview with Henry Cruz, February 12, 2007.
www.retrosheet.org
www.baseball-reference.com
Professional Baseball Player Database V6.0
Private database of José Crescioni (Puerto Rican statistics)
Enciclopedia del Béisbol Mexicano (Mexican statistics)
Photo Credits

Topps Company
Born
February 27, 1952 at Christiansted, St. Croix (V.I.)
If you can help us improve this player's biography, contact us.
http://bioproj.sabr.org/bp_ftp/images2/CruzHenry.gif
600
800
admin
/wp-content/uploads/2020/02/sabr_logo.png
admin
2012-01-04 19:49:15
2012-01-04 19:49:15
Henry Cruz