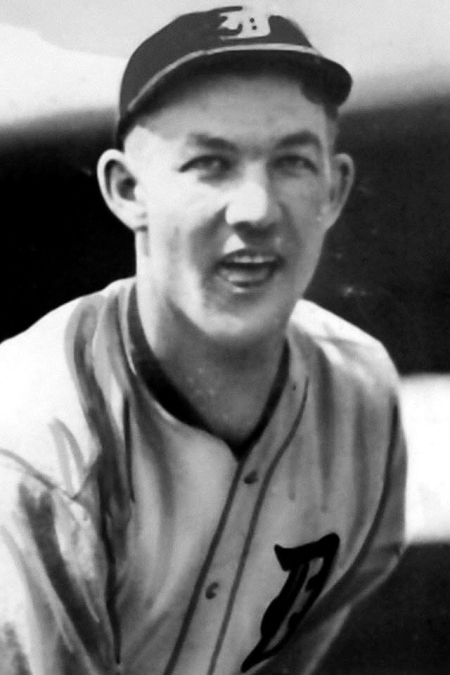 ---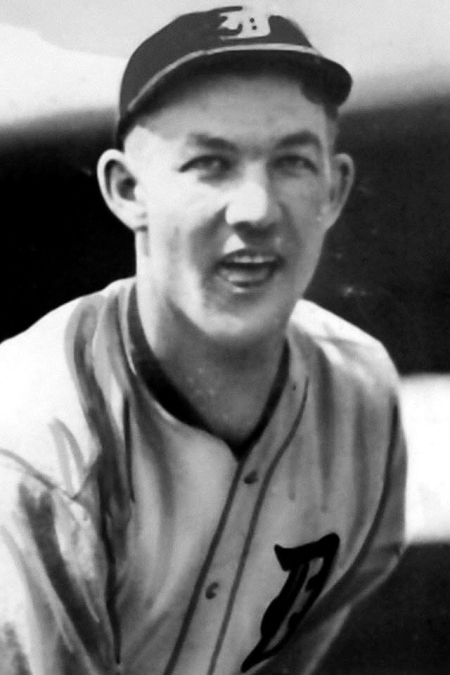 Herman Pillette pitched professionally in four decades, from 1917 to 1945, and won 34 games for the Detroit Tigers from 1922 through 1924. The two major-league clubs he played with were managed by future Hall of Famers: Christy Mathewson (Cincinnati) and Ty Cobb (Detroit). He was a legend in the Pacific Coast League for 23 seasons, and became known as Old Folks.   The right-hander logged 226 victories in the circuit, and is a member of the PCL Hall of Fame. His son, Duane, also pitched in the major leagues, and the two hold the distinction of being the only father-son combination to lead the American League in losses for a single season.
Herman Polycarp Pillette was born on December 26, 1895, to Edward Xavier and Dorothy Krechter Pillette, in the French Catholic community of St. Paul, Oregon. Herman was the first of six children (four boys and two girls) in the family, and after completing the sixth grade began working full time on the farm operated by his father. The strapping youngster spent his free time on the local baseball diamonds, and grew into a promising pitcher. By 1916 he was playing semipro ball in the neighboring towns of Newberg and Woodburn, and was invited to work out with the professional Portland Beavers.
The Pacific Coast League team didn't sign Pillette that year, but offered him a contract in 1917. The Beavers sent him up the coast to Tacoma of the Class B Northwestern League, where he worked 166 innings in 20 games, winning 12 and losing six. By agreement with the National Association, the league ceased operations on July 15, and the Cincinnati Reds acquired Pillette's services. Reds skipper Christy Mathewson used the 6-foot-2, 190-pound right-hander only once; on July 30 Herman pitched the ninth inning against Brooklyn and gave up two runs on four hits in a 7-3 loss. He finished the season at Richmond, Indiana, in the Class B Central League, where he posted a 1-5 mark in 12 games.  
In 1918 Pillette was back with Tacoma, but the new Pacific Coast International League bit the dust on July 7, due to Word War I. The Tacoma Tigers disbanded even earlier, on May 26, with a won-lost record of 13-9. Pillette hurled in 11 contests, with five wins, four losses, and a 2.50 ERA. In 1919 he hooked on with Des Moines in the Western League, going 6-5 in 16 games, and the next year he went to Regina in the Western Canada circuit, where he threw 224 innings in 26 games, with a 2.25 ERA and a won-lost mark of 14-9. His final game with Regina was a gem: a no-hit, no-run game against Moose Jaw. He wound up the season with Portland in the PCL, pitching in five games and racking up a trio of defeats.
In 1921 Herman was busy in his personal life as well as on the mound. Early in the year he married Irene Woodward, of Olympia, Washington; the couple had met at a Northwest logging camp where Irene worked as a waitress in the kitchen facility operated by her parents.
Pillette was a workhorse on the Portland pitching staff in '21, hurling 326 innings in 55 games. And all he had to show for it was a won-lost mark of 13-30! The losing record was attributable to the woeful Beavers' season; the club finished in the PCL cellar with 51 wins and 134 losses. December brought good news, however; in searching for pitching talent, the Detroit Tigers ignored Portland's dismal record and traded five players and $30,000 to obtain a pair of Beaver hurlers. In the eyes of the Tigers, Sylvester Johnson, a 20-year-old right-hander with a 12-26 record in 1921, was the key acquisition; Herman Pillette was labeled a "throw-in."
Ty Cobb took over as Detroit skipper in 1921. With a heavy-hitting lineup featuring Harry Heilmann, Bobby Veach, and the Georgia Peach, the club finished in sixth place. Pitching was the key to improving the club's position in 1922, and the door was open for Johnson and Pillette to join holdovers Howard Ehmke, Hooks Dauss, and Red Oldham in the starting rotation. Syl Johnson broke a wrist in spring training, however, giving Pillette a leg up.
Herman's pitching motion had changed from overhand to sidearm at the suggestion of Christy Mathewson at Cincinnati and Bill Speas at Regina. The semi-crossfire delivery concealed the ball from the batter and made Pillette's best pitch, the sinker, more effective. It gave the appearance of coming straight at right-hand hitters, while his secondary pitch, the screwball, or fadeaway, broke in on right-handers, and away from left-hand batters.
The Tigers got off to a miserable start in '22, losing the first six games, but stopped the losing streak at home against Cleveland, whipping the Indians, 15-7. Pillette saw action as a reliever the next day; entering the game in the eighth inning with the score tied at 2-2, he blanked the Indians in the final two frames. He was rewarded with his first major-league victory when the Tigers pushed across a run in their final at-bat. He made his first start the next afternoon, went 8⅔ innings and gained credit for the 4-3 win, his second in two days. The rookie allowed two earned runs, scattered 11 hits, and issued five walks.
Detroit fans were treated to a classic performance by an opposing pitcher on April 30, when rookie right-hander Charlie Robertson of the White Sox retired all 27 Tiger batters. The perfect game defeated Pillette and the Tigers, 2-0. Pillette went the distance, giving up seven hits, with Chicago scoring its two runs in the second inning.
 In Detroit on July 24, Irene Pillette made the season of 1922 even more memorable for Herman when she presented her husband with a son, Duane Xavier. The newborn joined 5-year-old Verlie in the household; she was Irene's daughter from a previous marriage, and had been adopted by Herman. Duane and Verlie were the only children for Herman and Irene.
Taking a regular turn in the pitching rotation, Pillette ended the 1922 season with a 19-12 mark. He led Tiger moundsmen in victories, and was denied a 20th win in his final start on September 30, losing at Cleveland, 4-1. His 2.85 ERA was second in the American League to the 2.81 of Chicago's Red Faber. Pillette threw four shutouts, three of them two-hitters, completed 18 of 37 starts, and totaled 274⅔ innings in 40 games. His 19 wins were the most by a major-league rookie in 1922; neophyte Dazzy Vance of Brooklyn won 18 times in the National League. The Tigers moved up to third place in the American race, but 15 games behind the New York Yankees, the pennant-winner by a single game over St. Louis.
Detroit won four more games in 1923 than in the previous year and moved up to second, still 16 games in arrears of the Yankees. Pillette's performance fell off considerably; he was victorious 14 times, but his 19 losses tied Philadelphia's Eddie Rommel for the league high. The 14 wins were second on the Tigers' staff to the 21 posted by Dauss. Pillette completed 14 of 36 starts, hurling 250⅓ innings in 47 games overall, with an ERA of 3.85, a full run higher than the previous year. His performance was hampered when he was hit in the knee by a line drive early in the campaign. 
Pillette continued to have problems in 1924; affected by a sore arm, he lost his spot in the rotation. Used sparingly in relief for most of the season, he didn't get a start until the final month of the season. On September 18 he pitched six innings and lost to the Philadelphia Athletics, 5-3. Four days later he recorded his final major-league victory, a complete-game 9-1 four-hitter over the Boston Red Sox. Rookie Charlie Gehringer made his major-league debut at second base that day for the Tigers, and was on the front end of two double plays.
Pillette's last big-league game came on September 24 at Chicago; he left in the fourth inning of a 10-10 tie, having surrendered seven runs (two earned) on eight hits. At the plate he was 2-for-2 and scored a pair of runs. Over the 1924 season he worked just 37⅔ innings, with a 1-1 record and a 4.78 ERA.   Pillette finished his career in the majors with 34 wins, 32 losses, and a 3.45 ERA in 107 games. In 563⅔ innings, he gave up just 14 home runs.
For the next 21 seasons, 1925 through 1945, Pillette pitched exclusively in the Pacific Coast League, accumulating 213 victories and 202 defeats, mostly with second-division clubs. Between 1926 and 1933 he pitched regularly for the Mission Reds, based in San Francisco; his best year came in 1929, the only pennant-winning season for Mission. He won 23 games, lost 13, and hurled a no-hitter on October 5 in his final start of the campaign, a 4-0 gem over Seattle.   One of his teammates with the Mission Reds for four seasons was a younger brother, Ted. A right-hander, Ted compiled a record of 116-152 in 12 minor-league seasons.
Favorable weather conditions in the West made it possible for the PCL to play extended schedules; until World War II teams played at least 175 games a year, topping the 200 mark in several seasons. The extra contests padded individual statistics considerably in the period from 1925 through 1935; Tony Lazzeri of Salt Lake City hit 60 homers and knocked in 222 runs in '25, both all-time PCL marks. In four seasons the individual hits leader topped 300, and batting titles were won with five times with averages of .400 or better. Pillette was one of the benefactors of teammate Ike Boone's phenomenal 1929 season; the Mission outfielder led the PCL in batting (.407), hits (323), RBI (218), and home runs (55).
Mission released Herm in 1934; he was picked up by the Seattle Indians, and won 17 games. He turned in a memorable effort on August 10 against Sacramento, pitching a 12-0 four-hitter and hitting his only PCL home run. He was released by late in 1935, and he caught on with the Hollywood club, a franchise that was moved to San Diego in '36.
Forty-two years old and now called Old Folks, Pillette took on a new role with the San Diego Padres; he worked with the young hurlers on the staff, saw considerable duty as a reliever, and made some spot starts. Used in 31 games in 1936, he pitched 191 innings, won 11 games and lost eight, with a 3.16 ERA. In a notable game on September 2 at San Diego's Lane Field, he beat the Sacramento Solons, 11-1. The Padres lineup that night included four youngsters on their way to "The Show": 17-year-old Ted Williams in left field, Vince DiMaggio in right, Bobby Doerr at second base, and George Myatt at shortstop.
Pillette remained with San Diego through 1942, coaching and hurling occasionally in relief; he went 23-18 with the Padres from 1937 through 1942, and moved on to Sacramento in 1943, his final stop. He served as pitcher-coach there under manager Earl Sheely, a longtime friend and former teammate. Old Folks won six and lost six through the '45 campaign, throwing his last pitch just three months short of his 50th birthday. (The next season, 1946, his son Duane began his career in professional baseball.) During Herman's stay with the Solons, two of the club's left-handed hurlers moved up to the major leagues after leading PCL pitchers in earned-run average: Alpha Brazle (1.69 in 1943) and Clem Dreisewerd (1.61 in '44).
After hanging up his uniform, Pillette spent several seasons as a scout for the Pittsburgh Pirates, and was employed for 13 years by the State of California in its Sacramento printing office. He retired as press foreman, and continued to enjoy golf and fishing. While on a fishing excursion in the spring of 1960, he was taken ill with pneumonia. After suffering several strokes, he died from a cerebral embolism on April 30 at Mercy Hospital in Sacramento. Herman Polycarp Pillette was 64 years old, and was buried at St. Mary's Cemetery in Sacramento. Survivors included his second wife, Philomena; son, Duane; daughter, Verlie; and two grandchildren. He was predeceased by his first wife, Irene.
November 1, 2011
Sources
In preparing this biography, the writer used clippings from the Baseball Hall of Fame, and a telephone interview with Duane Pillette on March 5, 2010. Also helpful were Encyclopedia of Minor League Baseball; The Grand Minor League, An Oral History of the Old Pacific Coast League; Retrosheet-org; Baseball-Reference.com; geneologybank.com; minor-leaguebaseball.com; and SABR member Ray Nemec.
It should be noted that Herman Pillette's birth year in most reference material is 1896.   This is in contradiction to a copy of a questionnaire on file at the Baseball Hall of Fame, filled out by the pitcher in 1922, in which he listed his birth date as December 26, 1895. This date was later confirmed in a telephone interview with Duane Pillette and by minor-leaguebaseball.com.
Born
December 26, 1895 at St. Paul, OR (USA)
Died
April 30, 1960 at Sacramento, CA (USA)
If you can help us improve this player's biography, contact us.
http://bioproj.sabr.org/bp_ftp/images5/PilletteHerman.jpg
600
800
admin
/wp-content/uploads/2020/02/sabr_logo.png
admin
2012-01-04 20:37:55
2020-09-18 17:54:44
Herman Pillette