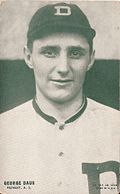 ---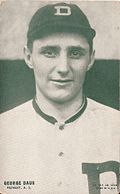 George "Hooks" Dauss used to tell other retired ballplayers in the St. Louis area that he was never a great pitcher, nor had he ever pitched any memorable games. He was, however, proud that he did manage to win quite a lot of games in his 15-year major league career with the Detroit Tigers. Often overshadowed by the offensive stars in Detroit's outfield, which during Dauss' career included Hall of Famers Ty Cobb, Sam Crawford and Harry Heilmann, Dauss gradually emerged as the workhorse of the Tigers' pitching staff in the latter part of the Deadball Era. He won more than 20 games three times and eventually eclipsed George Mullin as the winningest pitcher in Tigers history, with 223 victories.
Despite being of average height and looking a bit frail at 168 pounds, the right-handed Dauss was remarkably durable and versatile, pitching over 200 innings 11 years in a row and making 150 relief appearances during his career, closing out games in 120 of them. He pitched 245 career complete games, finishing in the top ten in the league nine times. Nicknamed for his best pitch, "Hooks" or "Hookie" used excellent control of his signature curveball to compensate for an average fastball. Dauss was known to have an easygoing nature, even on the mound, yet he led the league in hit batsmen three times and as of 2013 still ranked in the all-time top 50 in that category.
George August Daus was born in Indianapolis on September 22, 1889 to Annie and John Daus, a local machinist. As a child, George–who later added an extra 's' to his surname–attended the local elementary school with his brothers Raymond and Edward, and later spent a year studying at the Manual Training High School in Indianapolis, where he attracted some local attention as a talented right-handed pitcher on their baseball team. The next year, at age nineteen, he landed a spot on his first professional team, South Bend (Indiana) in the Central League. Aggie Grant, the manager of the South Bend team, thought Dauss was "too small" and released him before ever allowing him to pitch in a game. Before he left the team, however, Dauss convinced Grant to let him pitch an exhibition game against Duluth (Minnesota) of the Northern League. He pitched a shutout and Duluth promptly signed him for the 1909 season.
Dauss went 19-10 for Duluth in 37 games that year, and then was ejected in the first inning of the Minnesota-Wisconsin League championship game for uncharacteristically arguing balls and strikes. Apparently, several of Dauss' teammates agreed with him and they subsequently kicked and beat the umpire, before they too were ejected. At the end of the season, Duluth sold his rights to St. Paul of the American Association, but he was subsequently returned to Duluth to play in 1910 and then was sent to Winona (Minnesota) of the same league in 1911. At the end of the 1911 season the Pittsburgh Pirates bought his rights, but sent him back to St. Paul for the 1912 season, where he defeated the Pirates in a preseason game. He went on to post a disappointing record of 12-19 that year, despite having a low earned run average. It was while pitching for St. Paul that season, that Dauss impressed Tiger scout "Deacon" Jim McGuire. Detroit bought his rights in late August.
Dauss would not have to wait long to make his major league debut. On September 28, 1912, Dauss overcame nervous wildness to win his first major league game. He walked eight batters and hit three others, but gave up only four hits in a darkness-shortened 6-2 win over Cleveland. His performance impressed his catcher, Oscar Stanage, and was enough to convince manager Hughie Jennings to install him into his regular rotation in 1913. In his first full season in the major leagues, Dauss won 13 games, tied for the second most on the team, and posted an excellent 2.48 earned run average. After the season, his performance drew the attention of the Federal League team forming in his hometown of Indianapolis. Tiger owner Frank Navin wisely came to terms with Dauss before he could accept the Hoosiers' offer. Dauss rewarded him in 1914 with an 19-win campaign in which he pitched more than 300 innings for the first time in his career. That year Dauss finished fifth in the league with 150 strikeouts, and led the majors by hitting a career-high 18 batters. He also made ten relief appearances.
The 1915 season was the closest Dauss ever came to being on a pennant-winning team. Dauss, along with teammates Harry Coveleski and Jean Dubuc, made up an impressive trio, winning 63 games between them, as the Tigers went on to win 100 games for the first time in team history and finish 2½ games behind the Boston Red Sox. Also, for the first time, Dauss led the team in wins with 24 and once again pitched ovier 300 innings. He posted an excellent earned run average of 2.50 and often pitched in relief when needed. It also was a watershed year for Dauss personally. He married Ollie Speake in mid-season, without missing his start in the pitching rotation. When the team arrived in St. Louis on May 29, Dauss quietly slipped away to attend a double ceremony where both Ollie and her sister Jessie were married. Later that afternoon, he beat the Browns at Sportsman's Park, 7-1.
As he moved into the prime of his career, Dauss became known as a good fielding pitcher, topping 100 assists four times, usually with a fielding percentage among the league leaders. He did, however, also earn a reputation as a weak hitter, managing only a .189 batting average for his career. In a game against the Senators in 1916, Dauss banged out a ninth-inning walk-off triple to defeat a young pitcher named Sam Rice, who would one day be inducted into the Hall of Fame as an outfielder. Rice was so discouraged that he lost the game to "probably the worst hitting pitcher in baseball," that he decided to give up pitching altogether.
In 1916, the Tigers once again battled the Red Sox for the pennant, but fell four games short. Coveleski won 21 games and Dauss was right behind him with 19 wins, but the Tigers' brief period of pitching depth was all but over. After 1916, Dubuc was sold to the minors and Coveleski won only four more games before retiring. Despite Dauss posting a career best 2.43 earned run average in 1917 and winning 17 games, his team slid into mediocrity. In the war shortened season of 1918, Dauss lost more games than he won for the first time in his career, laboring for a Tiger team that finished next to last in the AL. Dauss rebounded well with a 21-9 record in 1919, as the Tigers finished in the first division with a winning record. However, in 1920, they sunk back to next to last in the AL again and Dauss lost 21 games, despite posting a respectable 3.56 earned run average. Like many pitchers of the late Deadball Era, Dauss saw his earned run average rise with the introduction of the "lively" ball in 1920. In fact, Dauss' earned run average after 1920 was almost a full run a game higher than it had been up to that point in his career.
1921 brought another major change; Ty Cobb replaced Hughie Jennings as the Tigers' manager. Cobb has often been criticized for his erratic use of his pitching staff, and his use of Dauss as both a starter and a reliever–although Jennings had used him the same way–produced somewhat disappointing results over the next two years. However, in 1923, erratic use turned to overuse as Dauss became perhaps the only Tiger pitcher Cobb had any confidence in. It also marked the last big statistical year for Dauss, as he won 21 games and pitched a grueling 316 innings in a career high 50 games. In 1924, Cobb wanted to use Dauss mostly in relief, but the inconsistency of Detroit's starting pitching caused him to spot start Dauss throughout the season before reinserting him into the starting rotation in 1925. In the spring of 1926, Dauss developed a sore arm for one of the few times in his career. Increasingly during that season, he experienced the symptoms of an irregular heartbeat. Despite his health problems, he still led the league with 11 relief wins. When his heart ailment was fully diagnosed at the end of the season, Dauss decided it was time to hang up his spikes.
After his playing days were over, Dauss retired to his 320-acre farm near his wife's hometown of St. Louis. Limited in how much manual labor he could perform, his brother-in-law provided the day-to-day management of the farm. Dauss eventually took a job at Pinkerton's National Detective Agency office in St. Louis. True to form, his co-workers described him as "likeable, dependable and sturdy." Eventually, his heart condition worsened, and on July 27, 1963, he died at age 73 of a ruptured aorta after an extended illness. He was buried at Sunset Memorial Park in the St. Louis suburb of Affton, Missouri, and was survived by his wife and two brothers.
Note
This biography originally appeared in David Jones, ed., Deadball Stars of the American League (Washington, D.C.: Potomac Books, Inc., 2006).
Sources
F.C. Lane. Baseball Magazine. April 1925.
The Sporting News. August 10, 1963.
John Drohan. Boston Traveler. May 13, 1926 (newspaper clipping in the HoF file)
Tom Gage. Detroit News. May 28, 2001.
Misc newspaper clippings in the HoF file.
New York Times. September 12, 1911; April 5, 1912; October 27, 1913; January 11, 1914; December 3, 1924; January 2, 1927.
Washington Post. September 4, 1909; August 20, 1911; September 24, 1912; September 29, 1912; April 4, 1913; December 13, 1913; May 22, 1924; January 18, 1925; January 2, 6 and 8,1927; January 24, 1963.
Baseball Encyclopedia 10th Edition, 1996, ISBN 0-02-860815-1
David Porter. Biographical Dictionary of American Sports, 2000, Library of Congress.
Al Stump. Cobb–A Biography. Algonquin Books, 1994.
Sabermetric Baseball Encyclopedia – 2003 (CD)
John Thorn and Pete Palmer. Total Baseball, 4th Edition. Viking Press, 1995.
BaseballLibrary.com (internet), http://www.baseballlibrary.com/
Baseball-reference.com (internet), http://www.baseball-reference.com/
Thebaseballpage.com (internet), http://www.thebaseballpage.com/
The Deadball ERA (internet), http://the deadballera.crosswinds.net/
Born
September 22, 1889 at Indianapolis, IN (USA)
Died
July 27, 1963 at St. Louis, MO (USA)
If you can help us improve this player's biography, contact us.
http://bioproj.sabr.org/bp_ftp/images2/DaussHooks.jpg
600
800
admin
/wp-content/uploads/2020/02/sabr_logo.png
admin
2012-01-04 20:09:58
2021-09-30 12:51:58
Hooks Dauss