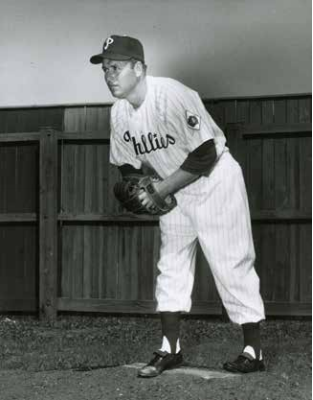 ---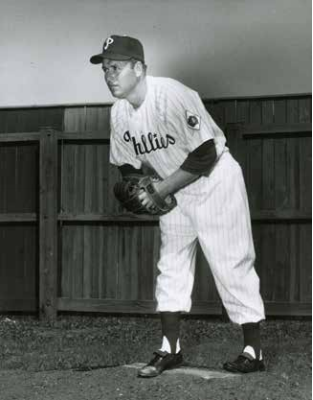 Jack Brittin's future looked bright. As a starting pitcher for the University of Illinois in 1947, he led his team to the inaugural College World Series. Two years later, he was the Most Valuable Player of the Interstate League. One year after that, he was playing for the pennant-winning Philadelphia Phillies.
But the onset of multiple sclerosis sapped strength from the most vital part of a pitcher's body — his legs. Brittin felt the effects in the late 1940s and, by 1954, though still undiagnosed; he found it hard to even get the ball within 10 feet of home plate, ending his professional baseball career.1
Despite the disease's debilitating effects, Brittin managed to rise to the highest level of baseball — the major leagues. Though he played in only six games over two seasons for the Phillies, the fact that he made it at all was a testament to his ability and will.
John Albert Brittin was born on March 4, 1924, in Athens, Illinois, the sixth of 11 children born to John Harrison and Mae (Smock) Brittin. John H. Brittin was a farmer. After Jack's birth, the family moved twice before settling in Morrisonville, Illinois, when Jack was a sophomore in high school.2
Brittin was a two-sport star athlete playing basketball and baseball at Morrisonville High School. But it was in baseball that he really shined. In his three years at Morrisonville, his pitching record was 50-8, including four no-hitters.3 He was also chosen to an amateur all-star team organized by Jack Rossiter, who had not yet opened his famous baseball school in Florida.4
The red-headed Brittin, who stood 5-feet-11 and weighed 175 pounds, threw mostly fastballs but also had a very good curve. Occasionally, he'd lob up a knuckleball as well.5
After Brittin graduated from Morrisonville in 1942, he moved on to pitch for Coach Wally Roettger, the former major leaguer, at the University of Illinois. Brittin, who went by "Johnny" in college, was Roettger's number-two pitcher as a freshman behind ace Andy Phillip.6 Phillip, a member of Illinois' famed "Whiz Kids" basketball team, went on to have an 11-season career in the NBA as well as play minor league baseball. Brittin helped the 1943 Illini to an 8-6 record and a third-place finish in the Big Ten Conference. After the season, he played in the Springfield Municipal League for the Rossiter's Boosters and made the all-star team along with future Phillies teammate Robin Roberts.7
With World War II raging, Brittin enlisted in Navy V-12 officer candidate training school at DePauw University in Greencastle, Indiana, on July 1, 1943.8 While there, Brittin pitched and played second base for the V-12 unit.9 He remained stationed at DePauw through 1944 but in 1945 he was shipped out to Ie Shima Airfield, an island off Okinawa.10 There he participated in the invasion of Okinawa as an ensign aboard a Landing Ship, Tank (LST).11
After the war Brittin was discharged from the Navy on July 18, 1946. By the fall he was back at the University of Illinois, participating in baseball practice. The following spring he was on the mound for the Illini pitching for a powerhouse team. Roettger had collected a formidable group of players. Brittin wasn't even the team's ace pitcher — that designation belonged to future major leaguer Marv Rotblatt.12 Other teammates included future National Basketball Association player-coach Phillip; future National Football League player Julie Rykovich; and future minor leaguers Bob Wakefield, brother of Detroit Tiger Dick Wakefield, and Lee Eilbracht.13
Illinois went 22-6 with a 9-3 record in the Big Nine, capturing the league championship. Brittin recorded a 7-2 mark including a two-hitter victory over the University of Michigan. He also pitched a no-hitter in an exhibition game after the regular season ended over an African-American club, the Cincinnati Crescents.
By virtue of its Big Nine championship, Illinois was invited to be one of eight teams to play in the first College World Series. In its first game against New York University, Roettger selected Rotblatt as his starter in the single-elimination tournament. Rotblatt pitched well but the game was rained out after five innings and replayed the next day. Instead of sending Rotblatt out again, Roettger gave the ball to Brittin. Brittin was outdueled, 2-1, by NYU pitcher Roy Teasley, who pitched a three-hitter despite having pitched the night before.
Less than a week after the loss, Brittin was on the mound for the Davenport Cubs of the Class-B Three-I (Illinois-Indiana-Iowa) League. The Chicago Cubs signed both Brittin and teammate Lee Eilbracht after the College World Series game and assigned them to Davenport. Brittin had one more season of eligibility left but decided to make the jump to Organized Baseball.
However, Brittin's stint with Davenport was short. The Cubs gave up on him after little more than a month. Philadelphia Phillies scout Eddie Krajnik acted quickly, signing Brittin to a contract and sending him to Davenport league rival Terre Haute, where he finished out the season.14 Between the two teams, Brittin had a 4-5 record with a 6.83 ERA. In the offseason, he was an assistant basketball coach for University High School in Normal, Illinois.
Years later, Brittin blamed an injury for his up-and-down season. "I had a bad arm in '47," he said. "After I got out of the Navy I tried to pitch too soon and pulled a shoulder tendon."15
For 1948, the Phillies sent Brittin back to Terre Haute. He was used in relief to begin the season but transitioned to a starter as the season progressed. By season's end, Brittin compiled a record of 6-7 with an ERA of 3.62. Ironically, on August 6, Brittin found himself on the wrong end of a no-hitter thrown by former Illini teammate Marv Rotblatt. After the season ended, Brittin headed back to college and graduated from Illinois.
Pitching for the Class-B Wilmington Blue Rocks of the Interstate League in 1949, Brittin had a breakout season. He ran out to an 8-0 record before finally losing a game on June 21. By season's end, he was 21-7 with a 2.92 ERA and was named to the league's all-star team by a poll of league managers. But most importantly, the Interstate Sportswriters' & Broadcasters' Association named him the league's most valuable player.16
"Everybody agrees he is the smartest pitcher in our league," said Wilmington manager Jack Sanford. "He doesn't overpower the hitters — he beats them with a fine curveball that he controls marvelously."17
The Phillies promoted Brittin to Toronto of the Triple-A International League for 1950. It was during the season with the Maple Leafs that Brittin really was hindered by numbness in his legs, probably the first signs of the onset of multiple sclerosis. He missed two months of the season but eventually returned to Toronto and pitched well.18
The Phillies, meanwhile, were in the midst of a pennant race when they lost the services of three pitchers, Curt Simmons, Bubba Church, and Bob Miller. On September 12 Philadelphia called up Brittin along with Paul Stuffel and Jocko Thompson.19
Three days later, in the second game of a doubleheader, Brittin made his major-league debut when he relieved his old Springfield, Illinois, all-star teammate, Robin Roberts, in the eighth inning against the Cincinnati Reds. He pitched a perfect inning, striking out one, before giving way to Jim Konstanty in the ninth. The Phils eventually won the game in 19 innings, 8-7.
Brittin made two more relief appearances before the end of the season. With both Miller and Church back with the Phils, he wasn't carried on Philadelphia's World Series roster. Despite that, he was given a partial share of $300 of the World Series earnings after the Phillies were swept by the New York Yankees.20
In spring training in 1951, the Phillies needed a pitcher to replace Curt Simmons, who was spending the entire season in the military. Philadelphia was hoping that Brittin would be the pitcher to step up in Simmons' place.21 Despite what at the time was diagnosed as shin splints, Brittin pitched well in spring training and solidified his place on the team when he and Bob Miller combined to shut out the Boston Braves on four hits on March 30.22
But instead of going north as a starting pitcher, Brittin was used by the Phillies as a reliever. He made it into three games, the last on May 13. On May 16 the Phillies needed to cut two players to get down to the 25-man limit. With manager Eddie Sawyer barely using Brittin, he was an easy cut to make. The Phils sent Brittin to Baltimore of the International League.
Brittin pitched poorly for the Orioles, experiencing soreness in his legs.23 On July 21, his record was 3-7. But as the season wore on, he pitched better. On August 6 he pitched a one-hitter against Ottawa. He finished the season with a 7-10 mark and an ERA of 4.44. On the strength of his August outings, Brittin was invited back to Phillies spring training for 1952.
In the offseason, Brittin continued working with high-school athletes, this time at Williamsville (Illinois) High School.
But leg soreness continued to hamper Brittin. In a spring training game against the Washington Senators, he was forced to retire from the game in the first inning because of his legs. The Philadelphia Inquirer remarked that Brittin had been handicapped in camp with his leg soreness.24
On April 11 the Phils sent Brittin to Baltimore on option. He pitched one game for the Orioles and was shelled, giving up six runs in two innings. On April 12 Baltimore sold Brittin for $5,000 to Atlanta of the Double-A Southern Association.
Atlanta didn't use Brittin as a starter until mid-June. But once he was back starting, Brittin responded with his best season since 1949, going 14-6 with a 3.60 ERA and earning a spot on the Southern Association all-star team.25
In November he traveled to Venezuela to play in the Venezuelan Winter League. Playing for the team "Venezuela," Brittin had a good season, going 8-5 in 18 games.
While he was in Venezuela, Atlanta traded Brittin to the Milwaukee Braves for first baseman Harold Pfeiffer.26 The Braves in turn sent Brittin to Toledo of the Triple-A American Association for spring training. In May 1953, Toledo sold Brittin back to Atlanta.
Brittin didn't have as good a season with the Crackers. He posted a 5-8 mark with 7.09 ERA.
In 1954 he reported to Jacksonville, Florida, for Atlanta's spring training but was dealt to Miami Beach of the Class-B Florida International League in April. After pitching seven games with the Flamingos, he was picked up by Macon of the Class-A South Atlantic League. In mid-June Macon released Brittin after five appearances. It was the end of his Organized Baseball career.
Brittin continued pitching though, hooking up with the semipro Huron (South Dakota) Elks of the Basin League. He played through the 1956 season, when he was finally diagnosed with MS.27 He retired completely from baseball after the season.
After leaving baseball, Brittin took a job teaching physical education at Butler Elementary School in Springfield, Illinois, but was forced to resign in 1958 because of his deteriorating health. In 1962 he was able to return to work with the Office of Public Instruction of the Illinois State Board of Education. He later worked for the Teachers' Retirement System and the State Board of Education in special education until retiring in1989.
Meanwhile, in 1963, Brittin married Wilma Oschwald, a former classmate from Morrisonville with whom he reconnected after a gap of 23 years.28 In the 1990s, Brittin was inducted into the Springfield Sports Hall of Fame.
On January 5, 1994, Brittin died of a heart attack brought on by his MS at Memorial Medical Center in Springfield, Illinois. He was 69 years old and was survived by his wife, Wilma. He was buried in Brittin Cemetery in Cantrall, Illinois.
This biography appears in "The Whiz Kids Take the Pennant: The 1950 Philadelphia Phillies" (SABR, 2018), edited by C. Paul Rogers III and Bill Nowlin.
Notes
1 Undated article in Jack Brittin's Hall of Fame file.
2 Illinois State Journal (Springfield), August 19, 1939.
3 Wisconsin State Journal (Madison), March 28, 1951.
4 The Sporting News, December 31, 1952.
5 Trenton (New Jersey) Times-Advertiser, March 18, 1951.
6 Illinois State Journal, April 20, 1943.
7 Robin Roberts and C. Paul Rogers III, The Whiz Kids and the 1950 Pennant (Philadelphia: Temple University Press, 1996), 203.
8 Daily Illini, July 9, 1943.
9 Daily Illini, July 28, 1943.
10 Illinois State Journal, October 4, 1945.
11 Illinois State Journal-Register, September 4, 1949.
12 Benton Harbor (Michigan) News-Palladium, April 25, 1947.
13 Illinois State Journal-Register, June 28, 1947.
14 The Sporting News, April 2, 1952.
15 Trenton Times-Advertiser, March 18, 1951.
16 Elbert Chance, The Blue Rocks — Past and Present: Wilmington's Baseball Team 1940-1999 (Wilmington, Delaware: Cedar Tree Books, 2000), 231-32.
17 Illinois State Journal-Register, September 4, 1949.
18 Robin Roberts and C. Paul Rogers III, 294.
19 Baton Rouge Morning Advocate, September 13, 1950.
20 Sacramento Bee, October 13, 1950.
21 Wisconsin State Journal, March 28, 1951.
22 Philadelphia Inquirer, March 3, 1951; Dallas Morning News, March 7, 1951.
23 The Sporting News, March 26, 1952.
24 Philadelphia Inquirer, April 13, 1952.
25 The Sporting News, January 21, 1953.
26 The Sporting News, December 10, 1952.
27 Robin Roberts and C. Paul Rogers III, 294.
28 Robin Roberts and C. Paul Rogers III, 350.
Born
March 4, 1924 at Athens, IL (USA)
Died
January 5, 1994 at Springfield, IL (USA)
If you can help us improve this player's biography, contact us.
https://sabr.org/sites/default/files/jack%20brittin.png
600
800
admin
/wp-content/uploads/2020/02/sabr_logo.png
admin
2012-01-04 19:49:56
2012-01-04 19:49:56
Jack Brittin