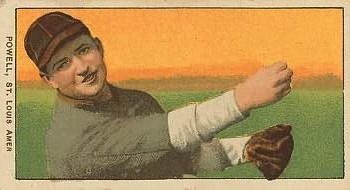 ---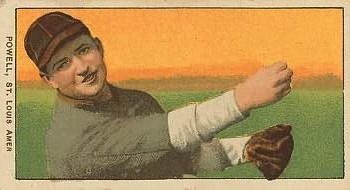 Jack Powell, a stocky righthander who pitched for the St. Louis Browns in ten of his 16 major league seasons, was labeled a "nothing" pitcher because neither his fastball nor his curve impressed many people. He threw the ball with an easy sidearm motion that caused many fans to say, "I could hit Jack Powell," but his delivery put little strain on his arm and helped him earn a reputation as a workhorse. Powell led the National League with 40 complete games in 1899, and pitched more than 300 innings in six of seven seasons from 1898 to 1904. He played much of his career for mediocre teams, but won nearly 250 major league games by changing speeds, hitting the corners, and trusting his defense to make plays behind him. He lost more games than he won and never played for a pennant winner, but made a valuable contribution to pitching staffs that included such Hall of Famers as Cy Young, Rube Waddell, and Jack Chesbro.
John Joseph Powell was born in Bloomington, Illinois, on July 9, 1874, the fourth of five children of Elijah and Mary Powell, English immigrants who had arrived in the United States prior to the Civil War. The Powell family was working class–Elijah worked a number of blue-collar jobs during his life, including stints as a boilermaker and coal miner, and his children left school early to help support the family. At some point during Jack's childhood, the family moved to Chicago, where young Jack starred in the semipro ranks during the mid-1890s, and often threw batting practice for Cap Anson's Chicago Colts at the West Side Grounds. Powell dreamed of pitching for the Colts, but Anson was unimpressed with Powell's fastball. The Chicago manager declared, "He hasn't anything," and declined to sign the young pitcher.
In 1896, George Tebeau, manager of the Fort Wayne Farmers of the Inter-State League, signed Jack to his first professional contract. Powell, with future major leaguer Lou Criger catching most of his games, helped the Farmers to a second-place finish. At the conclusion of that season, the National League's Cleveland Spiders, managed by George Tebeau's brother Patsy, bought Powell's contract. The Spiders planned to move pitcher-outfielder Bobby Wallace to third base in 1897, and counted on Powell to fill Wallace's spot in the Cleveland rotation behind 20-game winners Cy Young and George (Nig) Cuppy.
Perhaps no player in history experienced a more difficult major league debut than Jack Powell. He joined the Spiders in May of 1897, and saw action at first base in a game at Cleveland on Sunday, May 16. Sunday baseball was illegal in the city of Cleveland at that time, but team owner Frank Robison defied the local ordinance and scheduled the game on the Christian Sabbath. The local authorities called Robison's bluff, and after one inning was completed, police invaded the field and arrested all the players on both teams, plus umpire Tim Hurst. They were soon released on $100 bail each, but the authorities decided to prosecute one participant in the contest to test the validity of the law. Powell, an easily expendable rookie, was the only Spider charged with violating the ban on Sunday ball, and remained in Cleveland to await trial while his teammates embarked on a road trip. In June, Powell was tried and convicted of playing ball on Sunday. He was fined five dollars, with an additional $153 tacked on for court costs.
Following the trial, Tebeau put Jack into the starting rotation for the injury-riddled Cleveland ballclub. He made his pitching debut for the Spiders on June 23, 1897, and threw a three-hitter, "two of them of the scratch order," in an 18-1 romp over the Louisville Colonels. He also pitched the first two legal Sunday games ever played in Cleveland, on July 11 and July 18. Powell made 26 starts and compiled a 15-10 record in his rookie season. In 1898, a sore arm drove Nig Cuppy to the sidelines, but Powell solidified his position as Cleveland's number two starter behind Cy Young with a 23-15 mark for a fifth-place team. It was a difficult season for the Spiders as Robison moved most of the team's home games to other cities. The Spiders endured a three-month road trip, playing 39 of their final 42 games away from home, but Powell still managed to tie for the National League with six shutouts.
Powell, who stood 5′ 11″ and weighed about 200 pounds, bore a physical resemblance to his Cleveland teammate Cy Young, though Young was taller and threw a harder fastball. Powell was one of the few pitchers of the Deadball Era who threw without a windup, and his quick delivery caught some batters napping at the plate. Umpire Billy Evans, an admirer of Powell's, stated, "All he seems to do is make a quick hitch, and the ball is on top of the batter before he realizes it." He could warm up quickly, and his managers often called on him to finish games. Long after Powell's death, baseball researchers discovered that he had led his league in saves three years in a row from 1901 to 1903.
When Cleveland owner Robison bought the St. Louis ballclub (soon to be renamed the Cardinals) in early 1899, he transferred Jack Powell and all the other Cleveland stars to St. Louis. Jack threw 373 innings and won 23 games that year, second on the team behind Cy Young's 26 wins. After compiling a 17-16 record for the 1900 Cardinals, Powell became the team's leading pitcher when Young signed with the Boston club of the new American League in 1901. Powell led St. Louis in starts and innings pitched, posting a 19-19 mark.
After the 1901 season, Powell's former Cleveland teammate Jimmy McAleer induced Jack and six of his teammates (including future Hall of Famers Bobby Wallace and Jesse Burkett) to leave the Cardinals and join the new St. Louis Browns of the American League. The Cardinals filed suit to prevent Powell and the others from playing for the Browns, but the suit proved unsuccessful, and Powell joined Red Donahue on the starting corps for the new club. Both Donahue and Powell won 22 games in 1902 for McAleer's second-place Browns.
Jack made his home in St. Louis for the remainder of his life. In 1902 he married Nora O'Connor, the sister of former and future teammate Jack O'Connor, and the two brothers-in-law opened a saloon in St. Louis. The Powells had a son named Jim before the marriage ended in divorce in 1907. Jim Powell eventually followed his father into professional ball, playing for and managing several minor league teams, though he never advanced to the majors.
The Browns turned a profit in 1902, and Jack demanded a substantial raise for the following season. Browns owner Robert Hedges demurred, prompting Powell to hold out during the spring of 1903. He threatened to sign with an independent team in Sheboygan, Wisconsin, rather than return to St. Louis, but the threat proved hollow, and Jack rejoined the Browns shortly before the season began. The Browns fell to sixth place in 1903 as Jack posted a 15-19 mark.
Powell's holdout caused some hard feelings between the pitcher and team owner Hedges, and on March 5, 1904 the Browns traded Jack to the New York Highlanders for pitcher Harry Howell and $8,000 cash. Clark Griffith, manager of the Highlanders, put the hard-working righthander to the test. Powell, who made a career-high 45 starts that season, and spitballer Jack Chesbro, who started a league record 51 games, nearly pitched New York to the pennant by themselves. Chesbro won 41 games, losing only 12, while Powell posted a 23-19 log as the Highlanders challenged for the flag in a wild race with the Boston Americans. The New Yorkers lost the flag to Boston on the last day of the season when Chesbro's wild pitch let in the winning run in the penultimate contest. Powell never again came close to playing for a pennant winner.
Jack Powell pitched 390⅓ innings in 1904, but the heavy workload took its toll, and he began the 1905 campaign with a sore arm (as did Chesbro, who threw 454 innings in 1904). Powell fell to an 8-13 mark for New York and was sold back to the Browns in September of that year. He never again pitched more than 256 innings in a season, and struggled to stay above the .500 mark for a weak St. Louis team. He went 16-13 in 1908 as the Browns, sparked by 19 wins from lefthander Rube Waddell, rose to fourth place, but Powell's won-lost records fell as the Browns sank to the bottom of the standings in the next few seasons. In 1910 Jack's former brother-in-law Jack O'Connor succeeded Jimmy McAleer as manager of the Browns, but the team dropped to last place as Powell struggled to a 7-11 mark. Another of Powell's old Cleveland teammates, Bobby Wallace, became manager of the Browns in 1911, but Wallace was unable to lift the Browns out of last place. Powell posted a record of 8-19 in 1911, leading the American League in losses, and closed his major league career with a 9-17 mark in 1912.
Powell's lifetime won-lost record stood at 209-191 after the 1908 season, but his total of 36 wins and 63 losses from 1909 to 1912 dropped his career mark to 245-254. No other pitcher in history has won as many games as Powell while losing more games than he won. He won 20 or more games in a season four times and never managed to lose 20, though he lost 19 games in five different seasons. His 254 losses are the eighth highest total in history, and he led his league in home runs allowed four times. Powell is the St. Louis Browns' all-time leader in games started, innings pitched, strikeouts, losses, and shutouts, and ranks second behind Urban Shocker in wins with 117.
He pitched for Louisville in the American Association in 1913, winning 17 games at the age of 38, and played for Venice of the Pacific Coast League in 1914. He pitched semipro ball for several years afterward, and made an unsuccessful comeback attempt with the Browns in 1918 when major league rosters were depleted by the military draft of World War One. Jack Powell was 70 years old when he died in Chicago on October 17, 1944.
Last revised: September 20, 2021 (zp)
Note
This biography originally appeared in David Jones, ed., Deadball Stars of the American League (Washington, D.C.: Potomac Books, Inc., 2006).
Sources
David Porter, editor. Biographical Dictionary of American Sports: Baseball. Greenwood Press, 1987.
New York Times, November 17, 1912.
Bill James. The New Bill James Historical Baseball Abstract. Free Press, 2001.
Peter Golenbock. The Spirit of St. Louis: A History of the St. Louis Cardinals and Browns. William Morrow, 2000.
Born
July 9, 1874 at Bloomington, IL (USA)
Died
October 17, 1944 at Chicago, IL (USA)
If you can help us improve this player's biography, contact us.
http://bioproj.sabr.org/bp_ftp/images2/PowellJack.jpg
600
800
admin
/wp-content/uploads/2020/02/sabr_logo.png
admin
2012-01-04 20:39:49
2021-12-24 10:27:03
Jack Powell