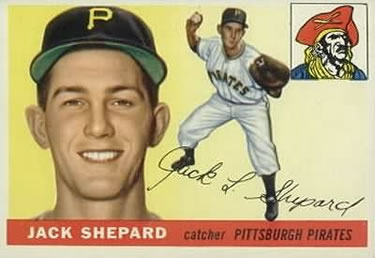 ---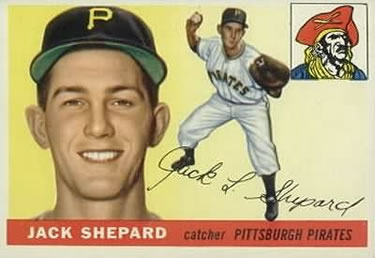 In Good Enough to Dream,1 Roger Kahn lyrically recounts the 1983 Utica Blue Sox' remarkable run to the New York-Pennsylvania League (NYP) championship as an unaffiliated mélange of minor-league castoffs and free agents.2 Remarkably, despite their season of success, none of the Blue Sox ever attained the reality of the major leagues for as much as a September call-up.3
But, as Kahn entertainingly describes, the Blue Sox showed they were good enough to dream of playing at the top level. Thirty years before, Jack Shepard, a Stanford University All-American catcher, lived the dream the Blue Sox all aspired to, the reality of the majors—then changed directions, pursuing a different course. Shepard had spurned offers to sign major league contracts as he progressed to his education degree at Stanford, but on graduation in June 1953 he signed with the Pittsburgh Pirates. His "September" came early, a pair of games with the big club later that month, followed by a dominant half-season with the Denver Bears of the Western League.
Shepard never played in the minor leagues again and was a useful member of the Pirates from 1954 through 1956—but then, with a 1957 contract agreement and essential assurance of the Bucs' No. 1 catching spot, he left baseball for a different dream at age 25, younger than a few of Kahn's Blue Sox. Marriage, a family, and an opportunity with an institution that would remain a part of his life forever replaced baseball as his reality.
Jack Leroy Shepard was born on May 13, 1931, in Clovis, Fresno County, California. He was the only child of Arthur E. and Bertha E. (Sharer) Shepard, both native Californians. His ancestry was "Scotch-Irish-Dutch-German-English," according to a Pittsburgh Pirates' publicity piece;4 his grandfathers, Artemus E. Shepard and Marcus "Mark" E. Sharer, were mid-westerners, hailing from Missouri and Illinois respectively.5 By 1910, both families had relocated to the Fresno area in central California's agriculturally rich San Joaquin Valley. There, Mark Sharer owned a fruit farm and Artemus Shepard was a mechanical engineer and foreman for the Sun-Maid Raisin Growers Association and involved in the development of equipment for the dried fruit industry, according to his obituary in the December 26, 1944, Fresno Bee. His son Arthur, Jack's father, followed in those footsteps; he was listed as a mechanical engineer employed by a fruit company in the 1940 U.S. census. Jack's mother, Bertha, was not employed outside the home.
But for Shepard's athletic prowess, he might have been a third-generation San Joaquin Valley fruit industry engineer, since he told Pittsburgh Press writer Les Biederman for a 1955 profile, "If I hadn't gone into baseball, I believe I'd be working as an engineer with my dad now."6 Instead, although he told Biederman he also enjoyed golf, hunting, and fishing—as well as good books, his baseball skills landed the lanky (6'2", 195 pounds) Shepard a spot on the Stanford University baseball team at nearby Palo Alto.
Under collegiate rules then in effect, Shepard, who both batted and threw from the right side, couldn't play varsity ball as a freshman in 1950, but as a sophomore in 1951 he made a big splash as an outfielder. He hit .368, was named the team's MVP, and earned NCAA all-district honors.7 As a junior he caught and played first base and continued to hit well. By his senior season in 1953, Shepard, now catching full-time and serving as team captain, hit .360, was named a collegiate All-American,8 and led Stanford to Omaha, Nebraska, and the school's first-ever College World Series appearance.9 In the Omaha double-elimination format, Stanford lost to eventual winner Michigan, beat Houston, then fell to Lafayette, 4-3, with all the Stanford runs coming on a Shepard home run.10
Even with major league scouts hovering around him, Shepard was a true scholar-athlete. He earned his Bachelor of Arts degree in education from Stanford in 1953, then started graduate work there. Although 13 of the then-16 major league teams had expressed interest in signing the collegian11 and the days of "bonus babies" were in full bloom, Press scribe Biederman summed up Shepard's level-headed attitude in signing with the Pirates: "You have the bonus boys who want the money first, the opportunity last. Then sometimes you have the boys who'll reach for the opportunity first and take their chance on the money that will follow when they make good. Such a youngster is Jack Shepard, the 22-year-old the Pirates plucked out of Stanford University last June."12
Shepard explained: "There were three factors that sold me on Pittsburgh. I believe I'd have the best chance to make good with the Pirates. The opportunity for advancement was here and that's what I wanted. Most of the major league teams offered me more money than the Pirates but I didn't want to be a bonus baby and sit on the bench."13
Pirates' scout Bob Fontaine signed Shepard on June 16, 1953. Consistent with the futility the club experienced through the early and mid-1950s, Pittsburgh stood seventh in the National League at 19-39 when Shepard signed, affording an opportunity to reward the prospect with a taste of the majors before posting him to the minors as mutually agreed. The Pirates had dropped to eighth place and were on the road in St. Louis when Shepard made his major league debut on June 19, replacing Mike Sandlock behind the plate in the fifth inning. The new signee failed to reach base in his first plate appearance in the sixth inning, but in the eighth, after apparently shutout-bound Cardinals' starter Vinegar Bend Mizell walked two of the first three Pirate batters, Shepard singled, moving the runners to second and third. Johnny O'Brien singled them in two batters later to give the Pirates their only runs in a 10-2 loss.
The Pittsburgh road trip continued to Milwaukee, where Shepard saw playing time against the Braves on June 25. After Pittsburgh's Johnny Lindell hit a three-run, pinch-hit home run to tie the game at 4-4 in the top of the ninth inning, Shepard entered the game at catcher, again in relief of Sandlock. This time, he struck out in each of two at-bats against Bob Buhl as the game moved into the twelfth inning. The Pirates toughed out a satisfying 6-4 win with Shepard finishing the game behind the plate.
Then, as planned, Shepard reported to the Denver Bears in the Class-A Western League on June 27. Manager Andy Cohen put him right to work. "He caught the first games of double headers on June 28 and 29, and then caught 82 games in succession, including 12 double headers. In one stretch, from August 31 through September 3, Shepard caught seven games in four days. He kept his batting average above .400 for his first 34 games, finally dropping below that mark on August 1."14 Shepard finished the Denver season at .324 in 306 at-bats and fielded at a .986 rate with only seven errors in 84 games. Although he hadn't joined the Bears until late June, Shepard's performance earned him spots on the Western League All-Star team and an "all-prospect" team selected by the league's managers.15
While Shepard was excelling at Denver, back in Pittsburgh Branch Rickey told reporters that despite the collection of catchers the Pirates would have available for the 1954 season, Shepard would receive "a thorough trial."16 Showing further encouragement, the Pirates added Shepard to their extended major-league roster in September 1953,17 although he didn't get into another game that season.
Shepard spent the 1953-54 offseason back at Stanford in graduate school and getting a taste of alumni outreach with the university's development office,18 then reported to Pirates' spring training in Ft. Pierce, Florida. He picked up where he had left off in Denver, and "inserted himself into the catching situation with his hitting."19 He broke camp with the 1954 Pirates and got his first major league start on April 18 in Pittsburgh's fifth game of the season at Philadelphia. Batting eighth in the order, he walked once in four at-bats; illustrating the Pirates' youth, Shepard was one of five rookies to start two days later against the Giants at the Polo Grounds.20
As manager Fred Haney worked the 23-year-old Shepard into a catching platoon with 30-year-old lefty-swinging Toby Atwell, the rookie began to hit with authority. Commencing with the five-rookie game against the Giants on April 20, Shepard hit safely in eight consecutive starts through May 12; five of the games were multi-hit. He was going so well that a two-for-five effort in the last game of the string dropped his batting average from .429 to .424. The Shepard-Atwell duo warranted praise from Pittsburgh sportswriter Jack Hernon, stringing in The Sporting News: "Here and there a bright spot shows in the Pirates' drabness. There are the 'platoon boys,' Toby Atwell, the southpaw swinger, and young Jack Shepard, who splits the job with the Virginian."21
Shepard stroked his first major league home run, which he later called his "biggest kick" in baseball, at Connie Mack Stadium on August 14 against the Phillies' Jim Konstanty.22 His lofty batting average had fallen to as low as .265 on August 7, but a dog-days-and-beyond surge lifted him to .304 for the 1954 season over 265 plate appearances in 82 games, second on the team to veteran outfielder Sid Gordon's .306.23 Defensively, Shepard threw out 23 of 57 would-be base stealers (40%) against a National League average of 44%.
These accomplishments earned the rangy Shepard, "built like Bill Dickey and possessing a mighty promising bat as well as arm," the catching slot on the combined 1954 National League-American League Rookie All-Star team selected by The Sporting News. Nine of the 13 honorees were from the National League, including Shepard's fellow 1954 rookies Henry Aaron and Ernie Banks.24
The following spring Biederman was enthusiastic about Shepard as a heady ballplayer: "If I were to pick one man out of all the Pirates who someday will be a big league manager my choice would be Shepard. He has most of the qualities right now and he'll acquire the others as he moves ahead. Shepard is an unusual young man of 23. He's a corking catching prospect with a good arm, a good head and good hands. At bat he carries a respected weapon. And yet he's had just one year in the big leagues and only a year and a half in organized baseball. Shepard has a keen mind. He's always asking questions. He wants to know what he did wrong after each game. Wants to know if he called the right pitches, whether he handled the pitchers correctly. He's never satisfied. He feels every performance can be improved upon."25
The columnist went on to quote Clyde Sukeforth,26 "a Pirate coach and a good catcher in his day. 'This boy has tremendous potential. He's eager. When he sees me on the street after a game he doesn't stop to pass the time of day. He wants to talk baseball. He asks me questions about the game that's just been played. It's all baseball and all business with him. He has the will to win and a good head on his shoulders.'"27
Atwell had edged Shepard in playing time with the 1954 platoon. He started the first two games in 1955, but Shepard then took over as essentially Pittsburgh's everyday catcher until June 1, when "he learned a lesson the hard way. He tried to block the plate against the Cardinals at Forbes Field and was hit so hard by Ken Boyer, a Cardinal rookie, that he never fully recovered."28 The collision tore a tendon in Shepard's right foot. He immediately missed 13 games, then "tried to return to action before the [injury] had properly healed. He found he couldn't bat properly, couldn't throw, and naturally couldn't run."29
From his less-than-fully-recovered return on June 16 through the end of the season, Shepard played in only 53 more games and hit an anemic .214. He'd been at .263 at the time of the injury; the drop-off left him at .239 for the 1955 season. Through it all, however, he played in 94 games to Atwell's 71, as Harding Peterson and Nick Koback filled in. And despite his pain and offensive woes, Shepard threw well enough to collar 52% of attempted base thieves against him, bettering the 1955 National League average of 46%.
The 1955-56 offseason offered Shepard a chance to fully heal while he continued his graduate studies and development office work at Stanford. He also took a step which would have a major future impact when he married his Stanford sweetheart, the former Sonia Wakefield, in Los Angeles on October 8.
The 1955 Pirates had improved to a 60-94 record and promoted an impressive 21-year-old rookie, Roberto Clemente, pried by Rickey from the Brooklyn organization,30 but it wasn't enough to escape the National League cellar. For 1956, Rickey ceded the club's general manager spot to Joe Brown and moved aside to serve as a consultant.31 Haney was out as manager, replaced by Bobby Bragan.
Shepard remained as Pittsburgh's primary catcher in 1956. Twenty-seven-year-old Hank Foiles came over from the Cleveland Indians in a May trade for Preston Ward, bumping Atwell, who had suffered injuries to his hands in 1955, down a notch. Shepard admitted, "I surely must have looked pitiful last summer when I tried to play with this bad foot."32 He muscled up to hit two home runs in a game for the only time in his career on April 29 at Ebbets Field, driving in five runs in a 10-1 Pirate romp over the defending World Series "Boys of Summer" champions. Righty Don Drysdale had started but Shepard's shots came off a pair of relief pitchers— Jim Hughes, a right-hander, and a legend-to-be, lefty Sandy Koufax. In camp, Shepard had asked Bragan, who had never seen him play before 1956 spring training, for "a fair shot,"33 and Bragan was impressed with Shepard's straightforward confidence about hitting right-handed pitching. "He went from No. 4 catcher to No. 1 in [that] one afternoon," Bragan said.34
Near the end of the 1956 season Shepard engineered a nine-game hit streak, then capped the year with a three-hit game at Brooklyn on September 30. For the season Shepard hit .242 with seven of his career 12 home runs and again defended well; he fielded at a .990 clip and caught 44% of attempted base stealers against a league average 40%.
The 1956 Pirates had been tied for first place as late as June 3 and stood sixth on September 25 before losing three straight in Brooklyn to drop to seventh. Still, they had improved to 66-88 and escaped the National League cellar for the first time since 1951. Going into 1957 the nucleus of the 1960 team that shocked the Yankees in the World Series was starting to take shape.
Presumably, Shepard, only 25 during the 1956 season, would have been an experienced veteran presence still under age 30 and at the height of his baseball skills four years later when the Pirates pulled off what still remains one of the epic World Series wins in baseball history. But 33-year-old Smoky Burgess was the primary catcher for that 1960 Pirate team. It wasn't Shepard, because of something "that caught everybody else in baseball by surprise"—Shepard's sudden announcement of his retirement from baseball on the eve of 1957 spring training.35 Less than a week prior to his announcement, Shepard had told reporters from his winter home in California that the Pirates would "finish no lower than fifth this season and had a great chance to end up fourth."36 He had even accepted the Pirates' terms for a 1957 contract in a telephone conversation with general manager Joe Brown just before he reversed himself and wired Brown to communicate his retirement decision.37
Brown "did everything possible to change Shepard's mind. [He] offered him a raise,38 despite a .242 batting average last season and even promised him a job, not only in the off-season, but possibly after his career was over."39
For his part, Shepard never said anything other than that the Pirates' offer was "very generous," and Bragan was "an up and coming manager and will be a fine one in the major leagues," but "I think there is more security in the business world. The longer you stay in the game, the less time you have to embark on a solid business career."40
Even the baseball lifer, Clyde Sukeforth, who had spoken so highly of Shepard as a ballplayer, was philosophical: "Now that I look back, maybe it didn't come as too much of a surprise. [Shepard] kept hinting about retirement last summer but I thought he was merely discouraged. He probably figures he can advance more quickly in business than in baseball."41
Shepard, inducted as one of the initial 34 members of the Stanford Athletics Hall of Fame when it was founded in 1954,42 had worked part-time in the Stanford development office each winter during his professional baseball career while he did graduate work. During the 1956-57 off-season the opportunity for a leadership position in development had opened for him at Stanford. This afforded Shepard the benefit of remaining close to home with his wife and seven-month-old son43 and prompted his abrupt retirement from baseball. He had lived the major-league baseball dream that none of the Blue Sox ever realized and had succeeded at it. But circumstances and his business acumen had interceded, producing a new dream. It quickly became reality.
Shepard took over as Stanford's full-time development director in 1957 and served in that capacity until 1967. Then, through 1980, he was chairman, president, and chief executive officer of Granger Associates, a Silicon Valley telecommunications firm. After his retirement from Granger, Shepard formed a management consulting firm, then used his knowledge of baseball to serve as chairman of Athletic Training and Equipment Co. (ATEC) in Sparks, Nevada. The firm manufactured pitching machines and other baseball training equipment and franchised indoor baseball and entertainment centers.44
In addition to being a successful university administrator and businessman in his life after baseball, Shepard was active in his community. He chaired several organizations, including the Stanford University Medical Center Friends, the Stanford Athletic Board, the Palo Alto YMCA, and the Atherton Little League. He also served on the boards of Menlo School and College, Family Service Mid-Peninsula, Castilleja School (Palo Alto), and the Los Altos Parks and Recreation Commission.45
Shepard died of pneumonia, a complication arising from underlying cancer, in Atherton, San Mateo County, California, on January 31, 1994. He was 63 and survived by his wife. Sonia and four sons, Bradford, Roderick, David, and Christopher.46
And he was a Stanford man to the end. Jack Shepard's lifetime remembrance service was held at Memorial Church on the Stanford campus.47
Afterword
This biography was originally published in January 2018. In a lengthy letter dated November 5, 2020, Roderick Shepard, one of Jack Shepard's sons, who had come across the biography in a routine Internet search of his father's name, wrote me: "I would like to thank you for the article you authored on my father, Jack L. Shepard, for the Society for American Baseball Research. I know my father would have appreciated it. It has provided his grandchildren with many answers [about] a grandfather they hardly knew."
The letter goes on to provide insight from a family perspective, nuancing Jack Shepard's outlook and life after his self-determined brief career in baseball. Roderick Shepard observes,
"While my father made the decision to leave baseball in favor of business, he never doubted he would have been a top player had he not retired. His confidence, ability, and ambition were probably responsible for the far-reaching success he enjoyed in his shortened life. The simple story that he told family about his retirement was that after finishing his MBA at Stanford, he felt the application of those learned skills would provide security that a career as a player couldn't. [Yet] he said he may not have retired if he had been made the player/manager of the Hollywood Stars in 1957. This would have given a path to a post-playing career in baseball management. Apparently, Joe Brown felt it essential that he remain on the Pirates' major league roster and wouldn't offer the desired position."48
He continues, "In 1958 Roy Campanella was seriously injured in an automobile accident. The Dodgers, who had just moved to Los Angeles, and my father had some discussions about his coming out of retirement. While the new West Coast base of the Dodgers was appealing, my father ultimately decided his original decision was for the best. [But] he never really left baseball. My brother's godparents were Bob and Betty Prince.49 [And] he was fortunate to have had uniquely great mentors. His baseball coach at Stanford, Everett Dean, helped him refine his natural leadership qualities. They maintained a life-long friendship even after Coach Dean retired to Indiana. Branch Rickey was generous with his time and advice even after my father's retirement from baseball."
And, referring to his father's work with Granger Associates in the nascent days of cyber communication, he says: "David Packard, who was a trustee at Stanford when my father was leading the development efforts at the university, was instrumental in guiding him into leadership roles in the technology world of what would become the Silicon Valley."
He concludes, "As you may have guessed by my taking the time to write 25 years after his death, he was an exceptional father as well. He was loving, demanding, and wise and provided us with tools we could use to become successful in this ever-more complex world."
Roderick Shepard's thoughtful letter enclosed a copy of "a family favorite" poem by Ogden Nash from the September 5, 1955, issue of Life magazine, titled "The Big Brain – Jack Shepard, Pirates."50
Acknowledgments
This biography was reviewed by Norman Macht and fact-checked by Kevin Larkin.
Sources
In addition to the sources cited in the Notes, I used the Baseball-Reference.com and Retrosheet.org websites for box scores, player, team, and season pages, pitching and batting logs, and other pertinent material. Retrosheet provided a useful deduced play-by-play for Jack Shepard's debut game. I obtained information on the Shepard and Sharer families at Ancestry.com through the resources of the Transylvania County Library, Brevard, North Carolina, and various issues of the Fresno (California) Bee accessed through Newspapers.com. Items from The Sporting News were accessed through PaperofRecord.com. My SABR colleagues Gabriel Schechter and Kevin Larkin were my conduits for access to Jack Shepard's file in the Giamatti Research Center at the Baseball Hall of Fame. As noted in the Afterword, Roderick Shepard provided invaluable family insight on Jack Shepard's life after baseball. My thanks to each.
Notes
1 Roger Kahn, Good Enough to Dream (Garden City, New York: Doubleday & Co., 1985). Kahn was president of the Blue Sox in 1983 and very much an everyday presence with the team.
2 The Blue Sox batters averaged 23.1 years old against a league average of 20.9. The Elmira Pioneers, an affiliate of the Boston Red Sox, were the youngest team in the NYP, at an average age of 19.2, nearly four years younger than Utica.
3 The New York-Pennsylvania League was short-season Class A and stood fourth in the listed hierarchy of minor league baseball in 1983. While league champion Utica had no players reach the majors, the league's 11 other franchises had a combined 41 players who did.
4 Undated press release in Jack Shepard file, Giamatti Research Center, National Baseball Hall of Fame and Museum, Cooperstown, New York.
5 Shepard's maternal grandmother, Nancy "Nannie" Rayburn Sharer, was also a native of Missouri.
6 Les Biederman, "The Scoreboard," Pittsburgh Press, May 8, 1955: 71.
7 Stanford Daily (Palo Alto, California), July 3, 1951.
8 American Baseball Coaches Association Baseball Award winners entry, NCAA.org, accessed June 7, 2017.
9 1953 College World Series entry, BR Bullpen.com, accessed June 2, 2017; Future major leaguer Chuck Essegian was also a member of the Stanford's 1953 College World Series team.
10 Chester L. Smith, "The Village Smithy," Pittsburgh Press, June 17, 1953: 34.
11 Only the Brooklyn Dodgers, Washington Senators, and Cleveland Indians reportedly didn't pursue Shepard. "Shepard Had 13 Bids—He Took Bucs' $6,000 'To Be With Developing Club,'" The Sporting News, June 9, 1954: 17.
12 Les Biederman, "The Scoreboard, Pittsburgh Press, May 9, 1954: 68.
13 Ibid. Shepard signed for just under the $6,000 bonus cutoff in effect in 1953; a player signing for more was required to remain on the signing team's major-league roster for two seasons before he could be optioned to the minors. Pittsburgh under general manager Branch Rickey was actively pursuing college players in 1953 and had signed three of them for in excess of the bonus amount—the O'Brien twins, Johnny and Eddie (Seattle University), and Vic Janowicz (Ohio State), another catcher. At the time Pittsburgh signed Shepard, the club also signed yet another college catcher, Pete Naton (Holy Cross) as a non-bonus player. Jack Hernon "Four 'High Aptitude' Aces on Rickey U. Roster," The Sporting News, July 1, 1953: 5; "Shepard Had 13 Bids—He Took Bucs' $6,000 'To Be With Developing Club,'" The Sporting News, June 9, 1954: 17.
14 The Sporting News, July 8, 1953: 10; November 1953 Pittsburgh Pirates fact sheet in Jack Shepard Baseball Hall of Fame file.
15 November 1953 Pittsburgh Pirates fact sheet, Jack Shepard Baseball Hall of Fame file.
16 The Sporting News, August 12, 1953: 34; The Sporting News, October 28, 1953: 22. Shepard was one of seven catchers on the early Pittsburgh roster for 1954, joining Toby Atwell, Bill Hall, Vic Janowicz, Nick Koback, Pete Naton, and Mike Sandlock.
17 The Sporting News, September 16, 1953: 24.
18 Shepard ultimately earned Master's degrees in education and business administration from Stanford and assisted with coaching the freshman and varsity baseball teams while doing his graduate work. Undated Pittsburgh Pirates fact sheet in Jack Shepard Baseball Hall of Fame file.
19 The Sporting News, March 24, 1954: 36.
20 The Sporting News, April 28, 1954: 28.
21 Jack Hernon, "Backstopping Among Bucs' Bright Spots," The Sporting News, June 7, 1954: 17.
22 Les Biederman, "The Scoreboard," Pittsburgh Press, March 27, 1955: 67.
23 Shepard caught both games of a doubleheader on September 14, then returned to graduate school at Stanford as Toby Atwell (6 starts) and September call-up Nick Koback (2 starts) finished out the final eight games of the season behind the plate. Unattributed clipping dated September 29, 1954, in Jack Shepard Baseball Hall of Fame file; Baseball-Reference.com batting logs.
24 C. C. Johnson Spink, "Nine Freshman of Giles Circuit Named to The Sporting News All-Star Squad," The Sporting News, November 24, 1954: 5.
25 Biederman, "The Scoreboard," March 27, 1955.
26 Clyde Sukeforth had worked closely with Branch Rickey in signing and developing Jackie Robinson in 1945-46 and bringing him to the majors in 1947. James Lincoln Ray, "Clyde Sukeforth," SABR Biography Project, sabr.org, accessed September 22, 2017.
27 Biederman, "The Scoreboard," March 27, 1955.
28 Les Biederman, "Shepard Shakes Off 1955 Injury," Pittsburgh Press, March 8, 1956: 24.
29 Ibid.
30 Stew Thornley, "Roberto Clemente," SABR Biography Project, sabr.org, accessed September 22, 2017.
31 Andy McCue, "Branch Rickey," SABR Biography Project, sabr.org, accessed September 22, 2017.
32 Biederman, "Shepard Shakes Off 1955 Injury," March 8, 1956.
33 Les Biederman, "Shepard Talked Self into New Lease on Life," Pittsburgh Press, May 1, 1956: 31.
34 Ibid.
35 Les Biederman, ""Pirates Still Puzzled by Shepard Retirement," Pittsburgh Press, February 25, 1957: 21.
36 UPI, "Jack Shepard Predicts Fifth Place for Bucs," Hartford (CT) Courant, February 17, 1957: 139.
37 "His Future Too Uncertain," Pittsburgh Press, February 24, 1957: 81.
38 Jack Shepard's player page at Baseball-Reference.com reports his 1956 salary as $9,000 a reduction from his reported $10,000 salary in 1955.
39 Biederman, "Pirates Still Puzzled by Shepard Retirement," February 25, 1957.
40 UPI, The Times (San Mateo, CA), February 25, 1957: 10.
41 Les Biederman, "Shepard's Reasons Seen," Pittsburgh Press, March 2, 1957: 6.
42 UPI, "34 Cards Named to Hall of Fame," The Times (San Mateo, CA), December 21, 1954: 22.
43 Jack and Sonia Shepard's first child, Bradford, was seven months old in February 1957. Photo cutline, Petaluma (CA) Argus-Courier, February 28, 1957: 6.
44 Jack Shepard obituary, SFgate.com, January 4, 1995, accessed May 8, 2017.
45 Ibid.
46 Ibid.
47 AP, Jack Shepard obituary, January 3, 1995, from Jack Shepard Hall of Fame file.
48 The Hollywood Stars of the post-World War II open-classification Pacific Coast League were an affiliate of the Pittsburgh Pirates in 1946. The clubs maintained either an affiliation or a close association through the 1957 season. In 1958 the Hollywood franchise moved to Salt Lake City in the re-classified AAA Pacific Coast League, but Salt Lake City remained affiliated with the Pirates. Joe L. Brown was the general manager of the Pirates from the 1956 season through 1976.
49 Bob Prince was the longtime, legendary, radio voice of the Pirates through flagship station KDKA.
50 Nash's poem, written in 1955 when Shepard had completed the second of his three full seasons in the majors, was accompanied by a photo of a studious Shepard in white shirt and tie, fingertips to left temple with pen and paper ready, at a desk piled with opened books: "Jack Shepard, a brainy Pirate is he; a grad of Stanford, '53. With a Master's degree in Education, He wants one in Business Administration, So when he's not behind the bat, The library is where he's at. A loyal Alpha Tau Omega, He is both an Ivy and National Leaguer.
Born
May 13, 1931 at Clovis, CA (USA)
Died
December 31, 1994 at Atherton, CA (USA)
If you can help us improve this player's biography, contact us.
https://sabr.org/sites/default/files/ShepardJack.jpg
600
800
admin
/wp-content/uploads/2020/02/sabr_logo.png
admin
2018-01-09 02:42:05
2020-11-23 12:59:24
Jack Shepard