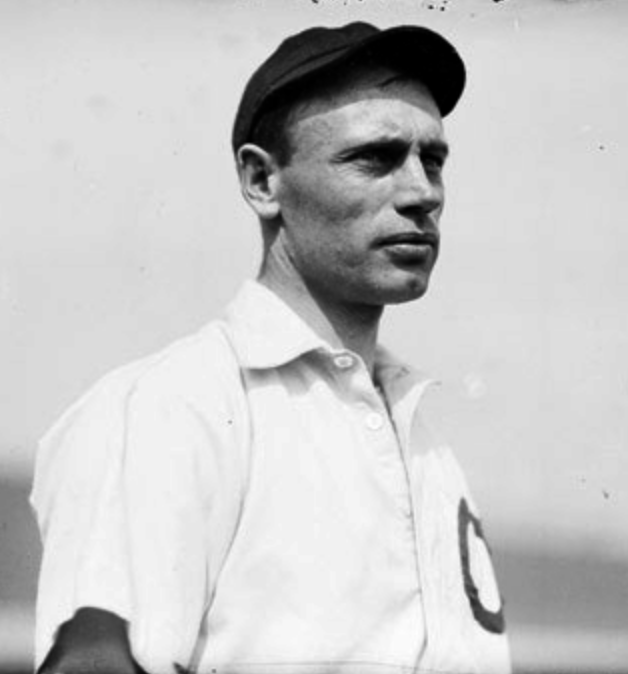 ---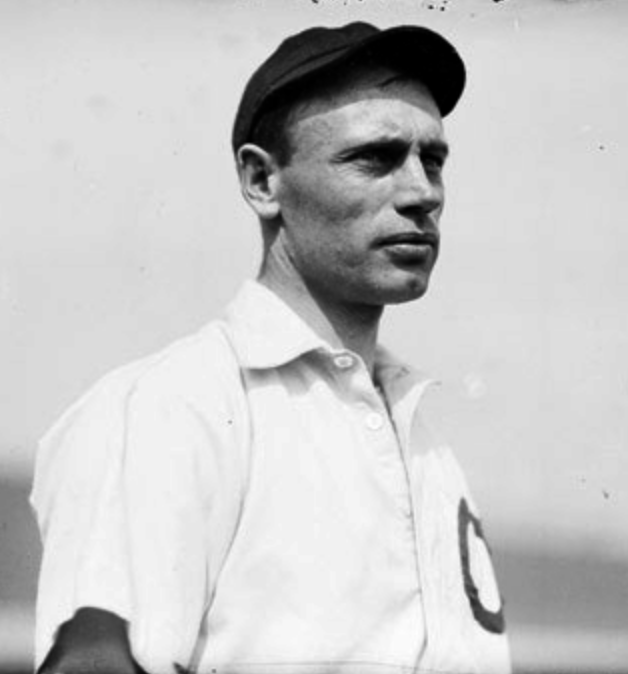 The Deadball Era's Jack Taylor — not to be confused with "Brewery Jack" Taylor, who died in 1900 — was the greatest "iron man" pitcher of the 20th century, hurling 187 consecutive complete games from June 20, 1901, to August 9, 1906. Pitching mostly for losing teams, Taylor relied on pitch location and guile to compile a lifetime record of 152-139 with a 2.66 ERA.
"Corner working is his forte," wrote one reporter. "He mixes up pitches. Fast and slow come along with almost the same motion." Ed Reulbach, who played with Taylor on the 1906-07 Cubs, claimed that his veteran teammate had a mastery over Honus Wagner. "Had Wagner been obliged to bat against Old Jack Taylor all through a season his average would have shrunk to .150," said Reulbach. "No other pitcher had Wagner's number as Taylor did. He would make Wagner so sore that the Dutchman frequently shifted and tried to hit left-handed. Honus simply could not guess Taylor right and he knew it."
John W. Taylor was born on January 14, 1874, in New Straitsville, Ohio, in the southeast corner of that state. He later moved to nearby Nelsonville, and first achieved baseball notoriety pitching for semipro teams in Marietta, Ohio, and Parkersburg, West Virginia. Late in the 1896 season, Connie Mack's Pittsburgh Pirates played an exhibition in Parkersburg and Taylor beat the big-league club. Mack was impressed. When he left Pittsburgh the following year to take the helm of the Milwaukee Brewers in Ban Johnson's Western League, he signed Jack to his first professional contract. Aided by Mack's guidance, Taylor blossomed into a star with Milwaukee. His 1897 season was cut short by a broken arm, but the following year he pitched in 44 games, compiling an impressive 28-14 record with 41 complete games. Taylor tied for the league lead with four shutouts and finished third in wins.
The National League's Louisville Colonels held an option on Taylor, but in a move that puzzled observers at the time, the Colonels relinquished their rights and allowed him to go to the Chicago Orphans for a late-season trial. (It was later learned that Louisville received pitcher Walt Woods as compensation from Chicago.) In his NL debut against Pittsburgh on September 25, 1898, Taylor pitched a complete game to defeat Bill Hart, 7-4. The rookie appeared four more times that season, each a complete-game victory, two of them against Louisville. In light of his sensational 5-0 debut, Taylor's first full major-league season was a little disappointing. He ended up with an 18-21 record and a 3.76 ERA (the league ERA was 3.85), though his 39 complete games was just one behind the league leaders. One of the season's highlights occurred on April 16 when our Jack Taylor (known as "Jack Taylor II") out-pitched Cincinnati's "Brewery Jack" Taylor (known as "Jack Taylor I") for an 8-4 victory.
The fortunes of the Chicago team continued to decline in 1900, as the club finished only five games ahead of the last-place New York Giants. Despite his record of 10-17, Taylor actually pitched well, finishing third in the NL with a 2.55 ERA. In 1901 he improved his record to 13-19, though his ERA rose to 3.36, slightly above the league average. On June 13 of that season, Taylor lasted only four innings against the Giants. It was the last time that he was relieved until August 13, 1906. During that span Jack completed all 187 of his starts, including both ends of a doubleheader on one occasion, and finished an additional 15 games in relief. Given the changes in the game over the last century, it is a record that is sure to stand the test of time.
Jack Taylor was the National League's best pitcher in 1902. Finishing at 23-11 for a team with a losing record, Taylor led the NL in ERA (1.29) and ranked third in innings pitched (333⅔), fewest hits per game (7.51), fewest walks per game (1.19), and shutouts (8). On June 22 he handed the Pittsburgh Pirates a rare defeat, holding Wagner hitless in eight at-bats and beating Deacon Phillippe, 3-2, in 19 innings, the second longest game in National League history to that point. Taylor had another fine year in 1903, going 21-14 for the rapidly improving Cubs (as they were known by then) even though his ERA rose to 2.45. Again he ranked third in the NL in fewest hits per game (7.98) and fewest walks per game (1.64). That season marked the end of the three-year "war" between the rival leagues, and the Cubs agreed to play their American League counterpart, the Chicago White Sox, in a City Series after the conclusion of the regular season. Coming off a fine year, Taylor naturally was the choice to start the first game, and he handily mastered the seventh-place White Sox by a score of 11-0. In his other three starts, however, he lost by scores of 10-2, 9-3, and 4-2.
Suspicious of Taylor's work during the series, Cubs president Jim Hart traded him and rookie catcher Larry McLean to the St. Louis Cardinals during the off-season for pitcher Mordecai "Three-Finger" Brown and catcher Jack O'Neill. In early 1904 Taylor made his first visit to Chicago as a Cardinal. Responding to jeers from the stands over his poor performance in the city series, Jack stated, "Why should I have won? I got $100 from Hart for winning and I got $500 for losing." At that point Hart went public with his charges of dishonesty, but no immediate action was taken against Taylor. In July, however, Jack was accused of throwing a game against the Pirates. This time Garry Herrmann, chairman of the National Commission, declared that Taylor was "not an honest ball player," but he was allowed to continue playing and finished the 1904 season with a 20-19 record and a league-leading 39 complete games.
After the season a hearing was held to consider the charges against Taylor. Jack testified that he and teammate Jake Beckley had been on a drinking and gambling spree the night before the game in question. He credited his poor performance to wildness rather than dishonesty. On February 15, 1905, the National League Board of Directors handed down its verdict: Taylor was acquitted of the charge of throwing games, but he was found guilty of bad conduct and fined $300. Jack angrily refused to pay, saying, "They had no case against me for crookedness over in Pittsburgh." In a letter to Garry Herrmann discussing the case, Pittsburgh club secretary W. H. Locke made a prophetic statement: "If Taylor escapes punishment the crusade will be a difficult one, as gamblers will be convinced that the league is only bluffing."
The next month Taylor was called before the National Commission for a hearing on the charges from the 1903 Chicago City Series. At the hearing Hart submitted three affidavits from people who overheard Taylor's statement about being paid $500 to lose, and stated that he could provide many more affidavits along the same lines, but the Commission held that "the evidence submitted, alleging that the player made certain remarks relative to the post-season game of 1903, is insufficient to find him guilty of conduct detrimental to the welfare and good repute of the game." Following his acquittal, Taylor resumed pitching for the Cardinals, finishing the 1905 season with a 15-21 record and a lousy 3.44 ERA. He was again accused of throwing games during the 1905 City Series between the Cardinals and St. Louis Browns, won by the Browns, five games to two, but no action was taken on those charges and he returned to the Cardinals for 1906.
Jack Taylor got off to a solid start that season, going 8-9 with a 2.15 ERA, but on July 1 St. Louis traded him to the Cubs, of all teams, for pitcher Fred Beebe, catcher Pete Noonan, and cash. (It should be noted that at that point Hart was no longer connected with the Cubs.) Finally joining a pennant-winning outfit, the 32-year-old Taylor finished out 1906 in superb form, going 12-3 with a 1.83 ERA to give him a combined record of 20-12 for the season. It proved to be his last hurrah in the major leagues. Taylor managed only a 7-5 mark with a 3.29 ERA for the 1907 Cubs before drifting to the minors, appearing with Columbus, Grand Rapids, Kansas City, Dayton, Evansville, and Chattanooga.
Retiring from baseball after the 1913 season, Jack returned to Ohio and settled in Murray City where he worked as a coal miner until his health failed. The former "iron man" died at age 64 on March 4, 1938, at White Cross Hospital in Columbus, where he was being treated for cancer.
An earlier version of this biography appeared in SABR's "Deadball Stars of the National League" (Brassey's, 2004), edited by Tom Simon.
Last revised: June 21, 2021 (zp)
Sources
For this biography, the author used a number of contemporary sources, especially those found in the subject's file at the National Baseball Hall of Fame Library.
Born
December 13, 1873 at New Straitsville, OH (USA)
Died
March 4, 1938 at Columbus, OH (USA)
If you can help us improve this player's biography, contact us.
https://sabr.org/sites/default/files/TaylorJack-CDN.png
600
800
admin
/wp-content/uploads/2020/02/sabr_logo.png
admin
2012-01-04 20:00:54
2022-06-02 05:50:06
Jack Taylor