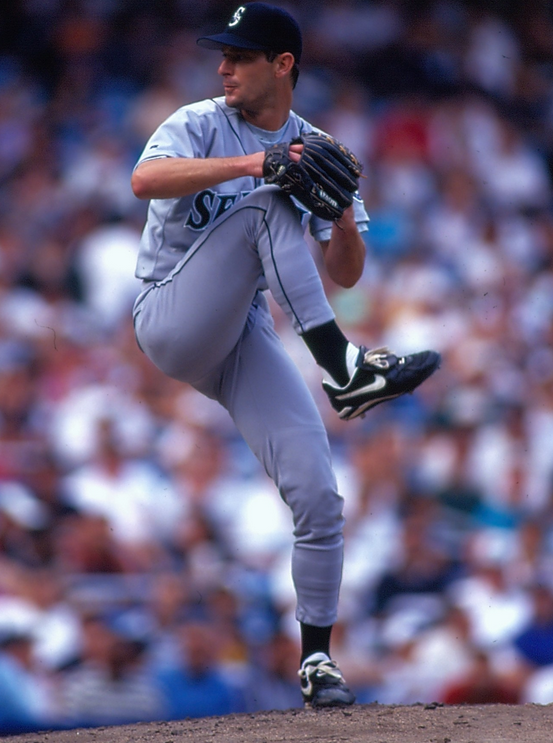 ---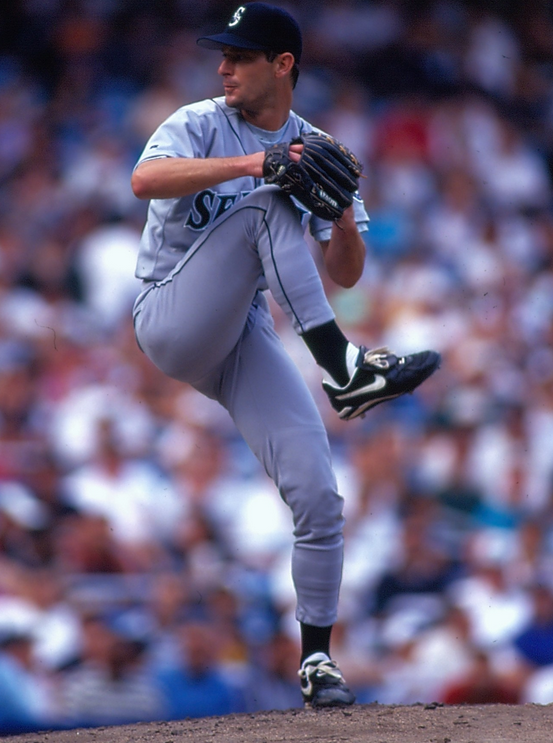 In November 1990, Texas Rangers general manager Tom Grieve released pitcher Jamie Moyer six days prior to his 28th birthday, telling him, "We don't see you helping us."1 St. Louis Cardinals manager Joe Torre echoed those words in 1991 when he informed Moyer, whose record was 0-5 at the time, that he was being sent to the minors and told him, "We don't win when you pitch."2 After rejoining the Chicago Cubs, his original team, for spring training in 1992, Moyer was released again. He then signed with the Toledo Mud Hens and worked on mastering the mental aspect of pitching with well-known sports psychologist Harvey Dorfman.
Moyer reestablished himself as a major leaguer with the Baltimore Orioles in 1993 and later signed with the Boston Red Sox in 1996. After Boston traded him to the Seattle Mariners mid-season, his new manager, Lou Piniella, greeted him by saying, "We brought you here to pitch. We need pitching. We think you can help us."3 And help he did. Moyer won 145 games with the Mariners between July 1996 and August 2006, twice becoming a 20-game winner, and was a vital cog in three Seattle playoff teams. He also won the AL West division-clinching game in 2001, as the Mariners won a record-tying 116 games.
At age 45, Moyer won 16 games with the Philadelphia Phillies, his favorite team from his youth, as the franchise won the 2008 World Series. Rather than retire and 'go out on top,' as many observers thought he might do, Moyer continued to pitch. His passion for baseball was so great that, after undergoing Tommy John surgery, he made a comeback with the Colorado Rockies in 2012. On April 17, Moyer became the oldest pitcher to win a game; at 49 years and 150 days old, Moyer eclipsed former record-holder Jack Quinn by 80 days. When his career finally ended in July 2012, after 25 seasons, Moyer had faced 8.9 percent of all batters in major-league history,4 and his 269 wins placed him at number 35 on the all-time list.
Jamie Moyer was born on November 18, 1962, in Sellersville, Pennsylvania, to Jim and Joan Moyer. Jamie grew up in Souderton, 35 miles north of Philadelphia, and developed an obsession with baseball early in life, thanks to his father. The elder Moyer had played shortstop and had aspired to a career in professional baseball; however, in separate spring training camps, he had failed to catch on with either the Phillies or Cardinals. Realizing that baseball would not be his livelihood, Jim Moyer bought his family's dry cleaning business from his father. He pursued his love for baseball by playing fast-pitch softball, umpiring semipro games, and coaching Jamie's teams through American Legion ball. Jamie pitched to his father in the driveway every night and often practiced with his older sister Jill and his mother at the local ball field.
By the time Moyer reached Souderton High School, all the workouts with his dad paid off as he used his fastball-curveball repertoire to post a 22-3 record. In his junior year, he went 10-0 and hurled three consecutive no-hitters. Despite his dominance, Moyer went undrafted after his senior year due primarily to what became the ongoing theme of his entire career: the lack of speed on his fastball. He attended a tryout camp held by major-league scouts for American Legion players. There, he had one insult heaped upon another due to a name mix-up: another Jamie Moyer from a different high school was chosen to advance by mistake.5
Moyer received offers from Temple University and St. Joseph's University, two Philadelphia schools, choosing the latter because he would have the opportunity to start as a freshman. It turned out to be a good decision as he became St. Joseph's star pitcher. As of 2017, he still ranks high on the institution's all-time list, placing fourth in wins (16), third in career ERA (1.99) and seventh in strikeouts (170); his 1.82 ERA in 1984 ranked 12th in the nation among college pitchers.6 During his university career, Moyer learned to throw a changeup – the pitch that eventually made him a major-league success – under the tutelage of Kevin Quirk, a former Yankees draftee who had graduated during Moyer's freshman year and who returned to help out his alma mater's ballclub.7
On the heels of his successful 1984 college season, the Cubs drafted Moyer on June 4, and he signed with the team three days later. He was immediately assigned to Geneva of the short-season, Class-A, New York-Pennsylvania League, where he went 9-3 with a 1.89 ERA and 120 strikeouts in 104 2/3 innings. Moyer continued to move through the Cubs' minor-league system in 1985, going 8-2 with a 2.30 ERA at Class-A Winston-Salem and 7-6 with a 3.72 ERA for Double-A Pittsfield. He appeared to be on a fast track to the parent club.
Moyer returned to Pittsfield at the beginning of 1986 and posted a 3-1 record with a 0.88 ERA before being promoted to Triple-A Iowa, where his ledger was 3-2 and his ERA was 2.55. He soon was promoted and made his major-league debut on June 16 at Chicago's Wrigley Field. As if having his parents and former college coach George Bennett in attendance were not enough excitement, Moyer faced his beloved Phillies and his boyhood idol, Steve Carlton. Moyer pitched 6 1/3 innings, allowing five runs (four earned), which was good enough to earn his first victory while Carlton took the loss.
Though Moyer won his debut, there were warning signs as he was consistently behind in the count and hit two batters. Cubs pitching coach Billy Connors observed, "I don't think Jamie had good command of his pitches today. This kid knows how to change speeds, and today he was just behind hitters and he was in trouble . . . He usually has great command of his pitches and can get everything over," while also noting, "He's a tough kid and he kept his composure."8 Moyer finished his rookie season at 7-4 in 16 starts, but his 5.05 ERA indicated he had a winning record despite his performance rather than because of it.
Moyer started the 1987 season with a bang against the Phillies on April 13, striking out 12 batters and taking a no-hitter into the ninth inning before tiring and giving way to reliever Lee Smith as the Cubs prevailed, 5-2. Unfortunately, it turned out to be the high point of his season as his 5.10 ERA was almost identical to that of his rookie year, while his record dropped to 12-15 over 33 starts in 35 appearances. He allowed 114 earned runs, the most by any National League pitcher that year, and he surrendered 28 home runs in 201 innings pitched. Years later, Moyer realized he had, in effect, unintentionally sabotaged his early career by losing confidence in his most effective pitch, the changeup. Once he reached the majors, "He started nibbling and being cautious with it, which led him to get behind in counts, which led him to throw fastballs when they were most expected."9 When Moyer threw his mid-80s fastball to a batter who anticipated the pitch, it often ended up landing in the outfield seats.
Moyer's record fell to 9-15 for a Cubs team that finished 77-85 in 1988. However, he lowered his ERA dramatically to 3.48 over 202 innings, which was not much higher than ace Greg Maddux's 3.18 and lower than former Cy Young-winner Rick Suttcliffe's 3.86 and Calvin Schiraldi's 4.38 among the team's top four starting pitchers. If the 1988 season was a mixed bag for Moyer, the same could be said for the offseason.
The positive event was his marriage to Karen Phelps, daughter of legendary Notre Dame basketball coach Digger Phelps, on October 29. Moyer and Phelps had met via the Cubs' television announcing team one year earlier. As Moyer recalled, "She was an intern with WGN, working for Harry [Caray], Steve Stone and Arne Harris in the truck. It was kind of a joke between Harry and Steve all summer that they would introduce her to a player and her last day of work they introduced us."10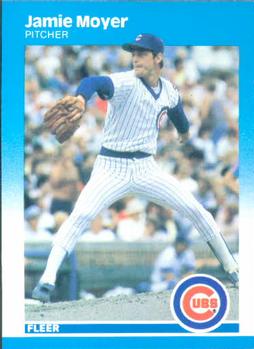 On December 5, the negative episode occurred when the Cubs sent Moyer to the Texas Rangers in a nine-player trade. The Moyers made their first move as a couple – the family would move more than 20 times over the remainder of Jamie's career – and Moyer began his first year with the Rangers in good form. However, on May 30 against the Orioles in Baltimore, he suffered a pulled muscle in the back of his shoulder – a lat strain – which shelved him for a significant amount of time. When the 1989 season ended, he had made only 15 starts, putting up a 4-9 record with a 4.86 ERA.
The Rangers lost confidence in Moyer as a starter during the 1990 season; of his 33 appearances, only 10 were starts, and he pitched only 102 1/3 innings with a 2-6 record and 4.66 ERA. On November 13, Grieve informed Moyer that he was being released and told the press the pitcher "didn't fit into our [Rangers'] 1991 plans."11 Moyer conceded, "I didn't do what was expected of me, but I still think I can pitch in the big leagues. I just need to get in a rhythm."12
The Cardinals were willing to find out if Moyer could still be a major-league starter and signed him as free agent on January 9, 1991. His stint with St. Louis was a brief and unmitigated disaster. Over seven starts and one relief appearance, Moyer was 0-5 with a 5.74 ERA. He was demoted to Triple-A Louisville, where his ERA improved to 3.80 but his win-loss record remained dismal at 5-10, and St. Louis released him on October 14.
The Cubs then decided to take a second look at Moyer, signing him to a minor-league contract with an invitation to spring training in January 1992. He failed to make the team but was offered a job as a minor-league pitching coach within the organization. Moyer was 29 years old now, an age at which most players have revealed whether their talents are truly of the major-league level. Nevertheless, he still believed he could contribute to a team's success as a pitcher and was prepared to sit out the year while he continued to work on overcoming the mental roadblocks that Dorfman had shown him were impeding his success.
In May, the Tigers contacted Moyer's agent, Jim Bronner, to inquire if the pitcher would be amenable to a role as a mop-up reliever for their Triple-A affiliate in Toledo. The Tigers hoped to get an inexpensive-but-experienced innings eater and potential tutor for their young pitching prospects while Moyer viewed a minor-league stint as an opportunity to put his new mental theories into practice in a low-stress environment. He signed with the Mud Hens on May 24, and posted a 10-8 record with a sparkling 2.86 ERA. As Moyer described the situation in 2012, "something worked out with Toledo . . . and [I] had a decent year and became a free agent . . . I got called up to the big leagues [the next year] and the rest was history."13
However, it was not immediately evident that Moyer was about to turn his career around. He again became a free agent and, in December, signed a contract with Baltimore, which was willing to take a chance on him after his performance with Toledo. As spring training began in March 1993, The Sporting News summed up Moyer's situation, stating, "Jamie Moyer, 30, has had significant major league experience with the Cubs, Rangers, and Cardinals, but he is fighting to keep his career alive."14 He was a non-roster invitee to the Orioles' training camp and ended up being sent to the team's minor-league camp on March 20.
Moyer began the season with the Triple-A Rochester Red Wings. He showed vast improvement at Rochester, going 6-0 with a 1.67 ERA in eight starts. He earned a call-up to Baltimore in the latter half of May as a replacement for injured starter Arthur Rhodes but promptly bombed out again. After surrendering seven runs in just 1 2/3 innings to the California Angels in Anaheim, he was 0-3 with a 5.74 ERA, and it looked as though he might be finished as a major-league pitcher.
Moyer even turned to superstition in the hope that anything might turn around his fortunes. An old high school friend, inspired by the movie Bull Durham, sent Moyer a garter belt to wear underneath his uniform so he might channel the same control of his pitches as the movie's pitcher, "Nuke" LaLoosh. Though superstition flew in the face of everything that Dorfman had taught him, Moyer wore the garter belt when he earned his first major-league victory in three years against the Boston Red Sox on June 10. He continued to wear the garter belt on days when he pitched, although he later admitted, "But I was really concerned because it was purple – purple and black. I was really concerned that you were going to be able to see it through my white pants."15
In truth, a more aggressive approach against batters, recommended by Orioles pitching coach Dick Bosman, helped him to find his groove. A mid-July profile of Moyer noted, "Moyer is again throwing the way he did his first two years with the Cubs" and quoted Sutcliffe – Moyer's former Cubs and current Orioles teammate – describing Moyer's changeup as "so nasty that in a bunting drill they had for the pitchers, we couldn't even get a bat on it."16 The changeup was back and, after Moyer's disastrous start with the Orioles, he finished the 1993 season at 12-9 with a 3.43 ERA in 25 starts. He also pitched three complete games, including his first shutout in three years against the Royals in Kansas City on July 6.
The July article also reported, "While Moyer would like his career to finish in Baltimore, he knows that he may be somewhere else next season."17 Indeed, Moyer's travels were far from over. Although he remained an Oriole for two more seasons, he failed to duplicate his initial success in Baltimore. In 1994, he had a 5-7 record and 4.77 ERA in 23 starts. The following season, he made only 18 starts and 9 relief appearances, finishing at 8-6 with a high 5.21 ERA. Moyer was granted free agency after the 1995 season, and he signed with the Red Sox in January 1996.
In Boston, he again alternated between starting and relieving while putting up a 7-1 record and a 4.50 ERA. Moyer was unhappy with his role and the team seemed undecided on how best to use him, so they traded him to Seattle on July 30. After his experience in Boston, Piniella's initial greeting greatly encouraged Moyer, and he rewarded his new manager's confidence via a 6-2 record and 3.31 ERA in 11 starts for the Mariners, who finished second in the AL West behind Texas.
Moyer had finally found a baseball home in Seattle, where he would spend 11 seasons (nine full and two partial) and win 145 games. The relationship paid dividends for both sides as soon as 1997, when the Mariners finished 90-72 and won the AL West by six games over the Angels. Seattle's starting staff was heavy on left-handers that year, with future Hall-of-Famer Randy Johnson (20-4, 2.28), Jeff Fassero (16-9, 3.61), and Moyer (17-5, 3.86) all finishing among the top ten in wins among AL pitchers. Moyer got his first taste of playoff baseball in the ALDS against the Orioles – the team with which his successful major-league comeback had begun – but he suffered the loss in Game Two and Seattle was eliminated in four games.
The Mariners regressed to a 76-85 record and third-place finish in 1998, but Moyer continued his career resurgence. After Johnson was traded to the Houston Astros at the end of July, Moyer took over as Seattle's top pitcher, finishing with a 15-9 record and 3.53 ERA over 234 1/3 innings; his three shutouts put him in a three-way tie for second place among AL pitchers (behind New York Yankee David Wells' five).
The 1999 season brought more of the same as Moyer led Seattle's starters in ERA (3.87) and innings pitched (228) while his 14 victories were outpaced only by Freddy Garcia's 17 for a 79-83 team that again finished third in its division. The Mariners improved to 91-71 in 2000, good enough for second place and a trip to the postseason as the AL Wild Card team. Moyer's ERA climbed to 5.49, though he still managed a 13-10 record over 26 starts. However, in a practice session immediately before the postseason, a line drive struck and broke his kneecap. Without him, Seattle beat the Chicago White Sox in the ALDS before losing to the Yankees in the ALCS.
In 2001, both the Mariners franchise and Moyer had their best seasons to date. Although Seattle had lost numerous superstars in recent years – Johnson in 1998, outfielder Ken Griffey Jr. (traded to Cincinnati in 2000), and shortstop Alex Rodriguez (signed as a free agent with Texas in 2001) – they signed future stars in second baseman Bret Boone and Ichiro Suzuki, a right fielder from Japan who became the AL Rookie of the Year and Most Valuable Player in 2001. The powerful Mariners' offense finished first in batting average (.288) and runs scored (927) to support a pitching staff led by Moyer (20-6, 3.43) and Garcia (18-6, 3.05) as the team set an American League record – and tied the 1906 Chicago Cubs' major-league record – with 116 regular-season wins.
The Mariners were 40-12 by the end of May, and they never looked back. The Oakland Athletics won 102 games that year, giving them the second-best MLB record, but had to settle for the AL Wild Card as they finished a distant second. Moyer pitched six shutout innings against the Angels on September 19 to earn his 18th victory as the Mariners clinched the division title. Toward the end of the season, a headline in The Sporting News trumpeted, "Moyer proves that some things get better with age."18
Moyer continued to shine in the postseason as he went 2-0 with a 1.50 ERA in a tough ALDS against the Cleveland Indians, which the Mariners won in five games. Seattle's quest for its first World Series title, which had seemed inevitable all season long, came up short against the three-time defending champions, the Yankees. Moyer earned the win in ALCS Game Three, but it was the Mariners' lone victory in the series.
Seattle won 93 games in each of the next two seasons but finished second in 2002 and third in 2003, and never again reached the playoffs during the remainder of Moyer's tenure with the team. Moyer pitched to a 60-47 record for the Mariners from 2002 through mid-August 2006. His best season came in 2003 when he was 21-7 with a 3.27 ERA and received the only all-star nod of his career.
Moyer's record stood at 6-12 in August 2006, and he had become disenchanted with the nonchalant attitude many of his new Seattle teammates exhibited. He told his wife, "I can't do this anymore. It's too draining. I'm going to retire at the end of the year."19 However, he quickly changed his mind after Seattle general manager Bill Bavasi asked him if he would accept a trade to the Phillies.
As had been the case in Seattle, Moyer again joined a team on the verge of great accomplishments, and he won five of his eight starts as the Phillies finished in second place in the NL East with an 85-77 record in 2006. The following year, a now 44-year-old Moyer won 14 games as Philadelphia won its division with an 89-73 record. The best was yet to come.
The 2008 version of the Phillies put the pieces together, finishing first in the NL East at 92-70 and eliminating the Milwaukee Brewers and Los Angeles Dodgers to advance to the World Series against the upstart 97-win Tampa Bay Rays. Leading the way on the Phillies' pitching staff was Old Man River himself, Moyer, who paced the team in wins (16) and was second only to fellow lefty Cole Hamels in ERA (3.71 to 3.09) and innings pitched (196 1/3 to 227 1/3).
After his fine regular season performance, Moyer was unable to replicate his postseason success from 2001, losing one game in both the NLDS and NLCS and receiving a no-decision in his World Series Game Three start. Fortunately for the Phillies, Hamels emerged as an ace, winning the MVP award for both the NLCS and the World Series, and led the franchise to only the second World Series championship in its 126-year history. Game Five began on October 27, but was delayed by inclement weather and was concluded on October 29, resulting in Moyer becoming a World Series champion on the day of his and Karen's 20th wedding anniversary.
Moyer, who had skipped school to watch the victory parade after the Phillies had won their first World Series in 1980, was so overjoyed he decided to claim the pitching rubber from the Citizens Bank Park mound as his personal trophy. The Phillies' grounds crew initially begged off, telling Moyer that MLB wanted the rubber, but then relented and helped Moyer to obtain his prize. Moyer placed the rubber on a mantel in his bedroom upon moving his family to San Diego in 2011, so that "upon rising every morning, the first thing he'd look at would be his World Series pitching rubber."20
The Phillies returned to the World Series in 2009, though they lost their title to the Yankees in six games. Moyer pitched to a 12-10 record with a 4.94 ERA, but surgery for a torn groin late in the year cost him any postseason action. An injury also derailed his 2010 campaign, when Philadelphia again won the NL East but succumbed to the San Francisco Giants in the NLCS. Moyer's pitching line stood at 9-9 (4.84) when, on July 20, he uttered the most ominous words of his career to Phillies manager Charlie Manuel and pitching coach Rich Dubee as he returned to the dugout after pitching the first inning of a game against the Cardinals in St. Louis and told them, "I can't throw."21
The injury caused Moyer to miss the postseason for the second consecutive year and third time in his career, but things got worse for the aging pitcher in the fall. Moyer went to the Dominican Republic to play for a team managed by former MLB outfielder Moises Alou in an attempt to come back from his injury; instead, he tore both his ulnar collateral ligament and flexor pronator as he delivered a pitch. Such injuries can be devastating to young pitchers, but a successful recovery for a 47-year old major-league pitcher was without precedent.
Moyer underwent Tommy John surgery and began the lengthy rehabilitation process to regain his arm strength and control. In December 2011, ten scouts watched Moyer throw an impressive bullpen session. The Orioles eventually offered a minor-league deal, but the Rockies upped the ante by offering Moyer a $1.1 million contract and the opportunity to compete for the fifth starting spot in their 2012 rotation.
At the age of 49, Moyer went to the Rockies' training camp in Scottsdale, Arizona, to battle against players half his age for a spot on the team's roster. While many players, reporters, and fans marveled at his determination, there were also detractors who questioned whether Moyer simply did not know that it was time for him to retire. In response to the doubters, Moyer said, "If I came here and found out I really didn't have the desire or I didn't have the stuff, then I'd know. But if I didn't try it, I think I'd always be wondering. And I don't like living my life that way."22
Moyer not only pitched his way onto the Rockies' rotation, he started the team's second game of the season on April 7 against the Astros in Houston. Perhaps it was a case of the jitters on Moyer's part that resulted in Houston's leadoff batter, Jordan Schafer, blasting his first pitch deep into the right field seats for a home run. However, surrendering homers had long ceased to faze Moyer – he holds the MLB career record with 522 home runs allowed – and he pitched five innings in which he allowed a total of four runs (three earned). He was saddled with the loss as Colorado was defeated, 7-3.
Moyer's second attempt to become the oldest pitcher to win a game came on April 12 against the Giants at Coors Field. Moyer dueled against Madison Bumgarner, the Giants' young star who had not even been born at the time of Moyer's major-league debut; however, the Rockies' shaky defense resulted in Moyer allowing four runs – only two earned – and taking his second loss.
The third time turned out to be the charm when the Rockies hosted the Padres on April 17. Moyer pitched seven innings, allowing two unearned runs, and exited to a standing ovation from the home crowd before the bullpen preserved a 5-3 victory. Rockies catcher Wilin Rosario said of his record-setting batterymate, "He's a guy that likes to fight. He likes to have fun. He enjoys playing. We can learn from him."23
Moyer did not get to stay with the Rockies long enough to tutor his teammates on the finer points of the game. His last shining moments on a major-league diamond occurred on May 16 in Denver. Moyer allowed only one (earned) run over 6 1/3 innings to earn his second win of the season. He also captured another record – oldest MLB player to record an RBI – when he lashed a fourth-inning single that drove in Jordan Pacheco and Dexter Fowler. Exactly two weeks later, the Rockies designated him for assignment and then released him on June 4. Jim Tracy, Colorado's manager, echoed Rosario's comments when he said, "There is no difference in the man, there's no difference in his will to compete."24 However, Tracy pointed out there was also insufficient difference in speed between Moyer's fastball and off-speed pitches, and he claimed the Rockies did not think Moyer could be effective any longer.
Moyer's brief stint with Colorado resulted in a 2-5 record and 5.70 ERA over 53 2/3 innings pitched in 10 starts. His love of the game led him to equally brief stints with two Triple-A teams, the Norfolk Tides (Orioles) and Las Vegas 51s (Toronto Blue Jays). After being roughed up by the Reno Aces in his second start for Las Vegas, Toronto released him on July 6 and he finally decided to call it a career.
Since leaving baseball, Moyer has enjoyed spending time with Karen and their eight children, the two youngest of which are adopted. Moyer's baseball celebrity had brought him into contact with sick children who wished to meet him. Due to the impact such children had on the Moyers' lives, Jamie and Karen created the Moyer Foundation to help children deal with their grief over the loss of a loved one. In speaking of his charitable organization in 2014, Moyer said, "We now have 46 camps around the country. One in every MLB city. A couple in Canada. We are able to serve more than 2,800 kids annually through this type of camp."25
Moyer achieved a 269-209 major-league record (a .563 winning percentage) and 2,441 strikeouts in 4,074 innings pitched. Once he truly found his way in the majors, he averaged 14 wins per season from 1997 through 2010. Had he sustained that average over the course of his entire 25-year career he would have won over 300 games and would be a no-doubt, first-ballot Hall of Fame selection when voting results are announced in January 2018.
As it is, Moyer is highly unlikely to become a Hall of Famer due primarily to his career 4.25 ERA and the fact that some voters view him as a 'compiler' who added to his career totals by hanging on too long.26 However, in an era when the Hall of Fame's 'character clause' is invoked in discussions of numerous candidates, there are no questions about Moyer's conduct. He serves as an inspiration to many people, both in and out of baseball. During his career, he won the Branch Rickey and Roberto Clemente awards for community service as well as the Hutch Award for best exemplifying the fighting spirit of Fred Hutchinson, a major-league pitcher and (later) manager who died of cancer in 1964. The perseverance that allowed Moyer to endure the many ups and downs of his lengthy career, along with his family- and community-mindedness, show him to have a Hall of Fame make-up as a player and a person, no matter his final statistics.
Last revised: September 14, 2017
Notes
Born
November 18, 1962 at Sellersville, PA (USA)
If you can help us improve this player's biography, contact us.
https://sabr.org/sites/default/files/Moyer-Jamie-NBHOF.png
600
800
admin
/wp-content/uploads/2020/02/sabr_logo.png
admin
2017-09-14 17:04:31
2020-04-09 14:40:31
Jamie Moyer