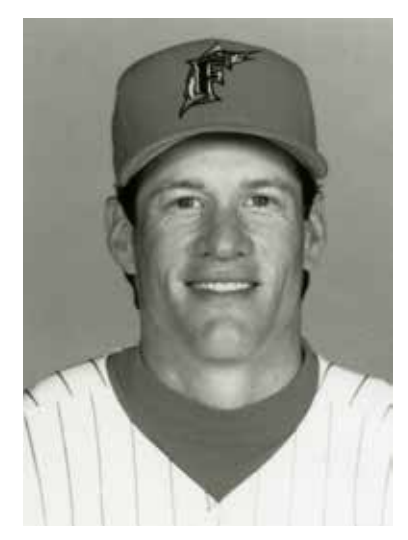 ---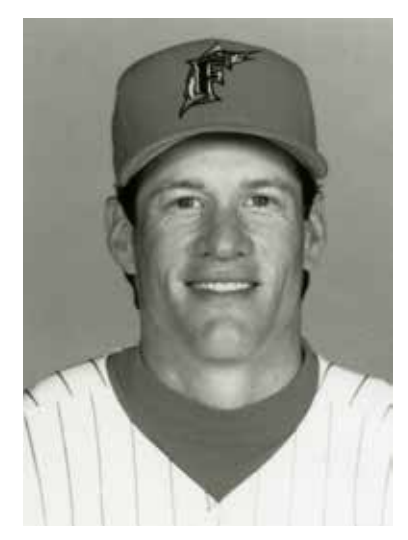 All across the world, when it comes to moments in baseball there are various scenes that play out in the minds of boys and girls. Most will think of hitting a home run to win the World Series a la Bill Mazeroski off Ralph Terry or Joe Carter off Mitch Williams or even Warren Morris off Robbie Morrison. However, for a select few that moment in the World Series or on a grander scale in the playoffs can come on the defense, which would end the game and the Series itself.
On October 4, 2003, Jeff Conine lived that singular baseball dream. The 2003 season looked like another lost season for the Florida Marlins. On May 10, with a record of 16-22, they fired manager Jeff Torborg and hired 72-year-old baseball lifer Jack McKeon to be the manager.1 After a six-game losing streak ended on May 23, the Marlins went an incredible 72-42 to finish 20 games over .500 at 91-71. Two moves the Marlins made helped them toward this magical season. The first was the acquisition on July 11 of Texas closer Ugueth Urbina to solidify the bullpen;2 the second acquisition was Jeff Conine. His was something of an under-the-radar acquisition necessitated by an injury to starting third baseman Mike Lowell. It brought back one of the original Marlins and the starting first baseman of the 1997 World Series champion team.
On October 4, 2003, in Game Four of the National League Division Series, Marlins manager McKeon put his faith in his closer Urbina to close out the game against the 100-win San Francisco Giants, after the Marlins had put together a two-out rally in the bottom of the eighth to take a 7-5 lead. A win would give them the series and they would advance to the National League Championship Series.
The Giants' Jeffrey Hammonds stepped to the plate with base runners on first and second and two outs. At this point the Pro Player Stadium crowd of 65,464 had cheered for over three hours and had their hearts in their throat as they had seen their team already blow a 5-1 lead and faced the prospect of having their team lose the game and then be forced to go back to San Francisco for a deciding Game Five.
On the first pitch of the at-bat, Hammond hit a blooper into left field, where Jeff Conine fielded the ball cleanly and in one motion threw home to try to cut down J.T. Snow at the plate. Conine's throw was up the left-field line but two factors were working in his favor. One was that Snow was not known as a particularly fast runner. And his catcher on the play was Ivan Rodriguez, who had won 10 consecutive Gold Gloves, arguably the premier defensive catcher in baseball. Rodriguez caught the ball and braced for impact as Snow, the son of Notre Dame All-American and longtime Los Angeles Rams wide receiver Jack Snow, was barreling down on him. In one motion Rodriguez tagged Snow with his glove and in the subsequent collision was able to hold onto the ball. The Marlins won the game (which was later voted as number 19 on a list of the 20 greatest games in major-league baseball playoff history3), then beat the Cubs in a memorable series in its own right, and then moved on to win the World Series over the New York Yankees in six games.
Jeffery Guy Conine was born on June 27, 1966, in Tacoma, Washington, to Pam and Gerald Guy Conine. Gerald was a trade-show installer, who had been a two-way football lineman for three years and a wrestler at Washington State.4 After graduating from college, Jerry Conine qualified for the US team in the men's light heavyweight division in the 1964 Tokyo Olympics, where he placed sixth.5 After finishing his wrestling career, Jerry Conine took up handball and by 1976 had placed second for the US handball championship, and competed in handball championships well into his 60s.6
Jeff Conine's brother Jerry was also a two-sport standout at Washington State in both wresting and football.7 Jeff first showed a talent not in baseball but racquetball, and if not for racquetball he might have never gained the body and reflexes to play professional baseball.
When Jeff was 13 years old he was 5-feet-2 and weighed 190 pounds; as he would later say, "I wasn't chubby I was fat."8 To get in shape, Jeff took up racquetball, and by July of 1980, he had lost 25 pounds and grown 6 inches. However, during this transformation, Conine had a severe health scare when he was diagnosed with a condition known as chondramalatia, also called runner's knee, which occurs when the undersurface of the patella deteriorates and softens.9 Rehabilitating from this injury by playing racquetball, Conine became an expert at the angles, to the point where two years later, he was playing in open tournaments and beating players who had been playing racquetball for years.10
Conine was also a standout baseball player at Dwight D. Eisenhower High School in Rialto, California. His baseball prowess saw him recruited as a pitcher at the University of California Los Angeles. While at UCLA, Conine played baseball and racquetball. In 1985 as a sophomore, he won the US Junior National Championships, and received a spot on the US National Racquetball Team.11
Conine had a difficult time adjusting to college baseball; in his first three seasons (1985-1987) he had an earned-run average of 6.06, and as his first pitching coach at UCLA, Guy Hansen, said, "he had limited potential & in fact probably had the straightest fastball that I had ever seen."12 In the only at-bat Conine had at UCLA, he was hit by a pitch. However, Hansen recognized Conine's athleticism. He not only played racquetball, but also played beach volleyball and during batting practice Conine would hit long home runs out of Jackie Robinson Stadium. Hansen left UCLA for a scouting position with the Kansas City Royals and persuaded the Royals to draft Conine. The Royals selected Conine in the 58th round of the June 1987 draft — as a first baseman.
Another life-altering event happened in December that year. While playing in a professional racquetball tournament, he met a fellow competitor, Cindy Doyle. In October of 1993 they were married.13
During his first five years in professional baseball Conine not only played first base, but also third base and the outfield, a position that would later serve him well in the majors.
In 1988 and 1989, Conine played for the Royals' Class-A Florida State League team in Baseball City (Davenport, Florida), where in 1988 he hit .272 with 10 home runs, 59 RBIs, and 26 stolen bases, and a year later hit 14 homers and had 32 stolen bases. In 1990 he was advanced to the Double-A Memphis Chicks (Southern League), where he hit .320/15/95 with 21 stolen bases. Conine had established himself as the top prospect in the Royals organization. He earned a September call-up to the Royals and debuted on September 16, 1990, collecting his first base hit the next day. In nine games he hit .250.
In 1991, Conine spent the whole season with Triple-A Omaha, where in an injury-shortened year (he twice needed surgery on his left wrist), he played in 51 games and batted .257. Healthy again in 1992, Conine had a bounce-back season, hitting.302 with 20 home runs. He was called up to Kansas City in early August and batted .253 in 28 games.
After the 1992 season an expansion draft was held for the National League's Florida Marlins and Colorado Rockies. As Conine was effectively blocked as a first baseman by future Hall of Famer George Brett and former All-Star Wally Joyner, the Royals left him unprotected in the draft, With the 22nd pick of the first round he was chosen by the Florida Marlins.
In Florida, Conine switched from first base to left field to accommodate the arrival of slugger Orestes Destrade, a home-run slugger for the Seibu Lions of the Japanese Pacific League.14 Conine etched himself in the minds of South Florida fans when in the Marlins inaugural game he went 4-for-4 against the Los Angeles Dodgers and helped lead his team to a 6-3 victory. (Before the game, ESPN sportscaster Chris Berman bestowed on Conine the nickname "Jeff Conine the Barbarian" — a play on the Arnold Schwarzenegger movie Conan the Barbarian.)
During the 1993 season Conine was the only Marlin to play all 162 games, and — with Gary Sheffield — one of the team's first stars. Conine hit .292 with 128 homers and 79 RBIs. He finished third in National League Rookie of the Year balloting behind Mike Piazza of the Dodgers and Greg McMichael of the Atlanta Braves.
After the season Jeff and Cindy were married, and as part of their honeymoon they competed in the 1993 mixed doubles of the US Racquetball Championships. During the tournament the Conines, unseeded, upset the second-seeded team en route to the semifinals, where they lost a close match.
Over the next three years, Conine was one of the constants on the Marlins, improving on his 1993 campaign by playing in all 115 games of the strike-shortened 1994 season and hitting .319 with 18 home runs and 82 runs batted in. In 1995 he hit .302 with 25 homers and 105 RBIs, and in 1996 he hit .293/26/95.
During the early years of the Marlins, Conine and Gary Sheffield were the most recognizable stars of the Marlins. In 1994 and 1995 Conine was a National League All-Star. In the 1995 All-Star Game, he created one of the first big moments in Marlins history. Pinch-hitting for Reds outfielder Ron Gant, he hit the game-winning home run off Oakland A's pitcher Steve Ontiveros. Conine was named the game's MVP.15
On December 21, 1995, Cindy gave birth to their daughter Sierra.16
In 1996 Marlins owner Wayne Huizenga issued an edict to team management: He wanted to the Marlins to start winning. The Marlins had tried the free-agent route in 1995 with little success as the signings of Andre Dawson, John Burkett, Terry Pendleton, and Bobby Witt did not work out. However, before the 1996 season the Marlins signed two pitchers and an outfielder who would be keys to the team's immediate future: Devon White, Al Leiter, and Kevin Brown.
In 1996, in the middle of an 80-82 season, the Marlins fired the team's inaugural manager, Rene Lachemann, and replaced him with interim manager John Boles. This move set the wheels in motion for what would be the first great team in Marlins history. After the season the Marlins hired former Pittsburgh Pirates manager Jim Leyland. They also acquired a number of high-priced players with the singular goal of winning the World Series. Those players acquired included Bobby Bonilla, John Cangelosi, Jim Eisenreich, Alex Fernandez, and Moises Alou.
Alou had been an All-Star left fielder with the Montreal Expos. He took over left field for the 1997 Marlins, with Eisenreich as his backup, and Conine was moved to first base to replace Greg Colbrunn. Conine hit only .242/17/61. The Marlins finished the season 92-70, good enough to capture the National League wild card. They beat the Giants in the Division Series and the Braves in the NLCS. Conine hit .364 and .111 respectively. During the Marlins' World Series triumph over the Cleveland Indians, Conine played in six of the seven games and batted .231. Throughout the postseason, he was without a home run and drove in only three runs. One of them, however, was the game-winner in the 2-1 Game Five NLCS victory over the Braves.
On June 11, 1997, Cindy gave birth to a son, Griffin Riley Conine.17
After the Marlins' thrilling 1997 World Series win, club owner Wayne Huizenga, claiming financial losses, ordered the team dismantled. General manager Dave Dombrowski was to trade all of the high-priced players. Conine was not immune to this "fire sale" and the Marlins traded "Mr. Marlin" to the team that originally drafted him, the Royals, for minor-league pitcher Blaine Mull. At the time of the trade Conine was the Marlins franchise leader in games played, hits, and runs batted in.18
In 1998, Conine suffered through an injury-plagued year for the Royals and played in only 93 games, batting .256 with 8 home runs and 43 RBIs. After the season he was on the move again, traded from the Royals to the Baltimore Orioles for pitcher Chris Fussell.19 In his first year with Baltimore, he enjoyed a bounce back season, batting .291 with 13 home runs and 75 RBIs, and followed up with three more fine offensive seasons.
On July 31, 2000, Cindy gave birth to a second son, Tucker.20
In 2003, the Marlins, under new owner Jeffrey Loria, were in the hunt for a wild-card spot. On August 31, the Marlins acquired Conine from the Orioles for pitchers Don Levinski and Denny Bautista.21
Over the last month of the season, Conine played in 25 games and took over in left field for Miguel Cabrera, who moved to third base for the injured Mike Lowell. Conine batted .238 with 5 home runs and had 15 runs batted in. He had key hits and RBIs in the Division Series, the Championship Series, and the World Series, in which the Marlins topped the New York Yankees in six games.22
Conine was a solid, steady offensive force for the Marlins in 2004 and 2005. But after the latter season, the Marlins began yet another market correction and traded their veteran free agents or let them sign with other teams. They traded Carlos Delgado, Paul Lo Duca, Josh Beckett, Mike Lowell, and Juan Pierre, and let A.J. Burnett and the 39-year-old Jeff Conine leave in free agency.
Over the last two years of his career Conine played for four teams. In 2006, at the age of 40, he played in 142 games, the first 114 with the Baltimore Orioles, batting .265, then after a trade, for the Philadelphia Phillies, for whom he hit .280 in 28 games.23 After the season the Phillies signed Jayson Werth and traded Conine to the Cincinnati Reds. The Reds hoped he could provide veteran leadership as a backup first baseman. The Reds struggled, and after playing in 80 games, on August 20, the Reds traded Conine to the New York Mets for two minor leaguers. It was the second consecutive year and the third time in his career that Conine was traded after the nonwaiver trade deadline.24 Conine played sporadically for the Mets, who lost the NL East crown to the Phillies on the last day of the season.
After the season, Conine was a free agent but remained unsigned. On March 28, 2008, he signed a one-day contract with the Marlins. With that he ended his playing career. Conine became a special assistant to Marlins President Dave son. In that capacity he traveled to Cuba, Japan, and elsewhere on behalf of the Marlins. Conine spent time on Fox Sports Florida, filling in for Tommy Hutton along with Rich Waltz on the Marlins' television broadcasts in 2008. In 2016 he was a TV color commentator along with Eduardo Perez, Al Leiter, and Preston Wilson, alongside Rich Waltz.25 From 2015 to 2017 he also helped host the Marlins pregame show with Carl Pavano, Preston Wilson, and Craig Minervini.
During the 2015 amateur draft, the Marlins drafted Conine's son Griffin in the 31st round out of the Pine Crest School in Weston, Florida. Griffin chose not to sign and accepted a baseball scholarship to Duke University, where he was tabbed as one of baseball's hottest prospects.26 Daughter Sierra excelled in lacrosse at Pine Crest and Tucker in track and field at St. Thomas Aquinas.27
Outside of baseball, Conine began training to enter triathlons and in 2008 became the first major league player to compete in the Ironman World Championships in Kona, Hawaii.28 In training for this Ironman competition, Conine competed in the St. Anthony Triathlon in St. Petersburg, Florida, and the Ford Ironman at Walt Disney World.29 In 2014, Conine, his 18-year-old daughter, Sierra, and his friend Sean Swarner climbed Mount Kilimanjaro, the highest mountain in Africa.30
In 2017 Jeffrey Loria sold the Marlins to a group led by Bruce Sherman and Derek Jeter, and it appeared that Conine's long association with the Marlins might be over. The new ownership initially fired Conine and the other Marlins special assistants. In a sudden reversal the owners offered Conine a different job within the organization, with a pay cut and a lesser role. Conine rejected the offer.31
This biography appeared in "Time for Expansion Baseball" (SABR, 2018), edited by Maxwell Kates and Bill Nowlin.
Notes
1 United Press International, "Marlins Replace Torberg (sic) with McKeon," May 11, 2003. upi.com/Marlins-replace-Torberg-with-McKeon/26451052696791/.
2 assets.espn.go.com/mlb/news/2003/0711/1579625.html, Associated Press, July 11, 2003; updated July 12, 2003.
3 https://mlb.com/video/20-greatest-games-19/c-13084227.
4 Joe Strauss, "Conine's Father Quite a Hitter, Too," Baltimore Sun, June 26, 1999. https://articles.baltimoresun.com/1999-06-26/sports/9906260064_1_jeff-conine-handball-racquetball.
5 https://sports-reference.com/olympics/athletes/co/gerald-conine-1.html.
6 Strauss.
7 https://sports-reference.com/olympics/athletes/co/jerry-conine-1.html.
8 Strauss.
9 "Runners' Knee — Chondromalatia Patellae" physiobook.com/disease/orthopedic-and-sports-injuries/runners-knee-chondromalatia-patellae.html.
10 Strauss.
11 Tom Verducci, "Jeff and Cindy Conine," Sports Illustrated, November 1, 1993. https://si.com/vault/1993/11/01/129726/jeff-and-cindy-conine.
12 I bid.
13 Ibid.
14 Gordon Edes and Ed Giulotti, "Translating Success/Baseball Players Such as Orestes Destrade Rekindle Careers in Japan . But Not All Can Keep the Fire Going in the U.S." Sun Sentinel (Fort Lauderdale, Florida), March 17, 1993. https://articles.sun-sentinel.com/1993-03-17/sports/9301310189_1_orestes-destrade-japanese-teams-marlins.
15 https://baseball-reference.com/allstar/1995-allstar-game.shtml.
16 https://imdb.com/name/nm1246331/bio.
17 https://goduke.com/ViewArticle.dbml?ATCLID=210614961&DB_OEM_ID=4200.
18 "Marlins Unload Conine on Royals for Mull," Buffalo News, November 20, 1997. https://buffalonews.com/1997/11/20/marlins-unload-conine-on-royals-for-mull/.
19 Associated Press, "Baseball: Spring Training — Baltimore; Hoiles Dumped for Conine," New York Times, April 3, 1999. https://nytimes.com/1999/04/03/sports/baseball-spring-training-baltimore-hoiles-dumped-for-conine.html.
20 Joe Strauss, "O's Conine Acquires Proper Prospective," Baltimore Sun, March 19, 2001. https://articles.baltimoresun.com/2001-03-19/sports/0103190098_1_jeff-conine-cindy-fort-lauderdale.
21 CBC Sports, "Conine Traded Back to Marlins," September 1, 2003. https://cbc.ca/sports/baseball/conine-traded-back-to-marlins-1.389157.
22 https://baseball-reference.com/players/c/coninje01.shtml#all_batting_postseason.
23 "Phillies Get Conine from Orioles," Lewiston (Maine) Sun Journal, August 28, 2006; https://sunjournal.com/phillies-get-conine-orioles/.
24 Associated Press, "Conine Traded to Mets," August 21, 2007. https://tbo.com/sports/conine-traded-to-mets-168600.
25 Barry Jackson, "Fox Drops Marlins TV Play-by-Play Man Rich Waltz, Two Former Marlins," Miami Herald, November 22, 2017. miamiherald.com/sports/spt-columns-blogs/barry-jackson/article186032833.html.
26 "Griffin Conine #9 Outfielder"; https://goduke.com/ViewArticle.dbml?ATCLID=210614961.
27 Walter Villa, "Mr. Marlin's Son Was Not Recruited Locally. But Now He Projects as a First Round Pick," Miami Herald. March 15, 2018.
28 Pete Williams, "Starting his Retirement with a Splash," New York Times, April 23, 2008. https://nytimes.com/2008/04/23/sports/othersports/23conine.html.
29 Brentley Romine, "Jeff Conine Goes from Major League Baseball to Triathlon Circuit," Orlando Sentinel, May 22, 2008. https://articles.orlandosentinel.com/2008-05-22/sports/advlead22_1_conine-ironman-world-championship-triathlon.
30 Juan C. Rodriguez, "Miami Marlins: Ironman Jeff Conine Now a Mountain Man as Well," South Florida Sun Sentinel (Fort Lauderdale, July 19, 2014. https://articles.sun-sentinel.com/2014-07-19/sports/sfl-marlins-jeff-conine-mountain-blog-20140719_1_mountain-man-mount-kilimanjaro-cancer-patients.
31 Barry Jackson and Clark Spencer, "Derek Jeter Offered Mr. Marlin Less Pay and a Diminished Role. He Said No Thanks," Miami Herald, October 26, 2017. https://miamiherald.com/sports/spt-columns-blogs/barry-jackson/article181131891.html.
Born
June 27, 1966 at Tacoma, WA (USA)
If you can help us improve this player's biography, contact us.
https://sabr.org/sites/default/files/Screen%20Shot%202019-10-23%20at%202.33.30%20PM.png
600
800
admin
/wp-content/uploads/2020/02/sabr_logo.png
admin
2012-01-04 20:29:11
2012-01-04 20:29:11
Jeff Conine