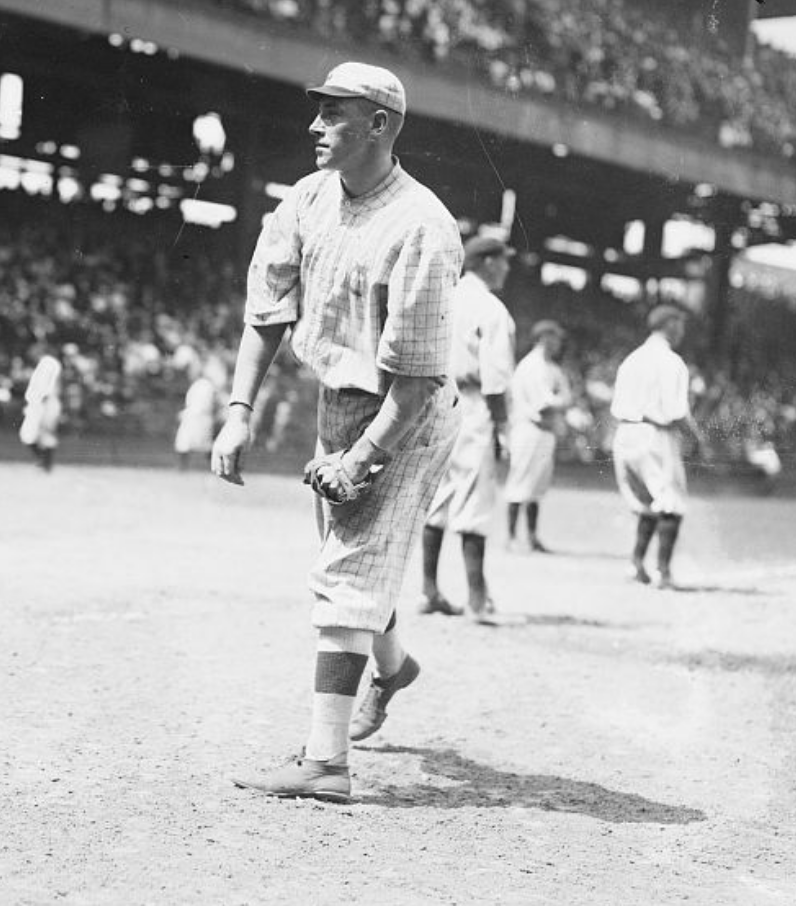 ---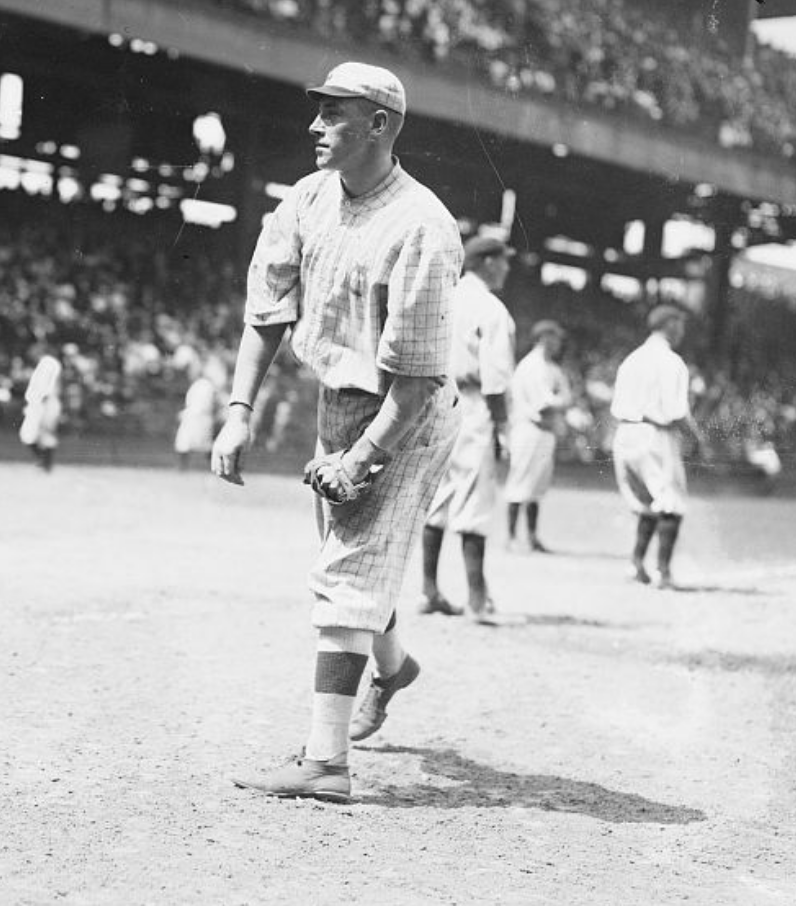 The rough and tumble world of early 20th century baseball demanded powerful men on the mound, and Edward Pfeffer possessed all of the necessary attributes. Strong, big, and durable, Big Jeff had every quality of the heavyweight champion who lent him a nickname. Over a professional career that spanned twenty seasons, Pfeffer took no quarter, whether it was his opponents, teammates, owners, or the batboy.
Edward James Pfeffer was born in Seymour, Illinois, on March 4, 1888, the youngest of seven sons. All of the Pfeffer boys were strong athletes. At one time, four of them started for a local semi-pro team. It would be the last two sons who would go on to have the greatest athletic success. Francis X. "Big Jeff" Pfeffer switched from football to baseball at the University of Illinois and went on to pitch five seasons for Boston and Chicago in the National League. On May 8, 1907, Frank pitched his way into history by throwing a no-hitter against the Cincinnati Reds.
Ed's older brother would also be responsible for the nickname that he would make even better known. Bearing a striking resemblance to heavyweight boxing champ Jim Jeffries, Frank earned the moniker Big Jeff. The similarly featured younger sibling would also be tabbed with the nickname, shortly after beginning his own pitching career for the St. Bede's College team in 1907. Pfeffer would leave his college team after two years to play for the Lacrosse team in the Minnesota/Wisconsin league. He won 18 games in 1909 and moved to Fort Wayne in the Central League the next year. After winning 29 games over two campaigns, the St. Louis Browns purchased Pfeffer's contract near the end of the 1911 season.
Pfeffer pitched only 10 innings in relief and was hit hard to the tune of 7.20 ERA. The Browns gave up on him, and he wound up first in Denver and then back in the Central League in 1912, this time for the Grand Rapids club. It was here that he would blossom into a star, winning 25 games in 1913 and gaining the attention of legendary Giants scout Dick Kinsella. Sinister Dick passed on Pfeffer, preferring his teammate Cy Pieh, who would win a grand total of 9 big league games. The Brooklyn Robins were quick to take advantage of Kinsella's gaffe and signed Big Jeff on August 6, 1913. He would only pitch in five games for the balance of the season, but better days lay ahead.
The Brooklyn team Pfeffer joined was coalescing into a contender. The pitching staff had been headed by aging veterans Nap Rucker and Ed Reulbach, but in 1914 Pfeffer would rapidly become its ace. Although the team remained in the second division, Jeff Pfeffer was one of baseball's outstanding pitchers that season. Finishing with a 23-12 record and 1.97 ERA, the big right-hander threw 315 innings as both a starter and reliever. Among his 27 complete games was a 19-inning loss to the Cubs. The 1915 season would bring more of the same, as Pfeffer won 19 games with a 2.10 ERA and 6 shutouts.
Pfeffer quickly developed a reputation as an intense competitor who would let no one get an edge. An intimidating presence at 6'2″ and a listed (although likely much greater) weight of 210 pounds, he refused to let any batter dig in at the plate. He would hit a total of 50 batters from 1915-1917, leading the league twice in that category. Big Jeff did not limit his belligerence to opposing hitters, either. Decades later, George Daubert, the team's batboy and son of first baseman Jake Daubert, was terrorized by Pfeffer, who would chase him out of the dugout following Brooklyn losses. Team owner Charles Ebbets would have his own contract tussles with Pfeffer, once trying to convince him that because many players were getting pay cuts, Pfeffer's new contract for the same total as the last season was actually a raise.
This competitive attitude, however, did not prevent Pfeffer from maintaining a sense of humor. During a heated card game, a caustic teammate wisecracked that one of the team's southpaws had played a hand poorly, or just like a right-hander. Without looking up from his cards, Pfeffer replied, "So, you think lefthanders are pretty smart, do you?" The teammate took the bait and replied, "Well, you don't see any of them digging a ditch, now do you?" Pfeffer quietly answered, "That's because they want the ditches dug straight."
In 1916, the long struggling Robins rewarded their patient fans with a surprising first place finish, in spite of a 26-game winning streak by the hated rival Giants. Big Jeff played an integral role in the team's pennant drive. Pfeffer enjoyed his greatest season, winning 25 games with a 1.91 ERA and batting .279. In 1915, he had urged the team to sign lefthander Sherry Smith, with whom he had played in the minors, and helped tutor the young pitcher to a fine season. On October 3, Smith started against the Giants in an attempt to clinch the pennant, but was knocked from the box in the early going. Pfeffer came through with a strong performance in relief, earning his 25th victory and the National League championship with a 9-6 win.
However, Wilbert Robinson would ignore Jeff as a candidate to open the World Series against the Red Sox, preferring to use his left-handed starters. Relegated to the bullpen, Pfeffer pitched only one inning in the first two games, and was again passed over when Robinson chose veteran Jack Coombs to start Game 3. The big right-hander would play a crucial role in the game, relieving Coombs in the 7th with his team clinging to a 4-3 lead. Pfeffer shut down the BoSox in order the rest of the way, striking out three of seven hitters and saving Brooklyn's only victory of the series. In Game 5, with Brooklyn facing elimination, Robinson finally turned to his ace, but it was too little, too late. Pfeffer pitched admirably for 7 innings, limiting Boston to just 6 hits. However, he was betrayed by bad defense and negligible offensive support (Ernie Shore allowed Brooklyn just 3 hits), and took a tough 4-1 defeat.
The 1916 season would prove to be the high tide of Pfeffer's Brooklyn career. Although still posting a fine 2.23 ERA, he slumped (along with the rest of the team) to a lowly 11-15 record in 1917. After the season ended, Pfeffer announced plans to join the Navy. Brooklyn owner Charles Ebbets took money from a fund he had sent up for dependents of ballplayers in the military and bought Pfeffer an engraved wristwatch, as a token of gratitude for his baseball and Navy service. However, Ebbets was chagrined to see Pfeffer in the Hot Springs camp in 1918, in uniform (Brooklyn's, that is) and proudly displaying the watch. As it turned out, Pfeffer had opted for a more convenient post in the Naval Auxiliary Reserves. In the end, the pitcher's unit was activated, and he only pitched in one game in 1918, a 2-0 shutout over the eventual pennant-winning Cubs. Pfeffer rebounded to win 33 games in 1919 and 1920, but he was no longer on his owner's good side. After again being passed over in the 1920 World Series (he made only one three-inning relief appearance), Pfeffer's dissatisfaction with the Dodgers became open, and he actively lobbied for a trade that winter.
Pfeffer started poorly in 1921 and was bounced from the rotation with a 1-5 mark by Memorial Day. With the watch incident still in his memory, Ebbets finally dealt away his onetime ace on June 13, 1921, to the St. Louis Cardinals for pitcher Ferdie Schupp and infield Hal Janvrin. Neither player would be in baseball by the end of the 1922 season, but Pfeffer experienced a rebirth of his career. Finishing 1921 with a 9-3 record, he won 19 games in 1922 with the Cardinals, pitching in a career-high 44 games. This fine season would be his major league swan song; after slipping to an 8-9 season in 1923, he was traded to Pittsburgh in July 1924 and was out of the majors for good by the following spring. After pitching for three seasons in the minors with the San Francisco Seals (1925) and the Toledo Mud Hens (1926-1927), he retired from pitching for good. Pfeffer finished his major league career with a 158 wins, including 28 shutouts, 194 complete games, and a 3.13 ERA.
Pfeffer remained in organized baseball for several seasons as an umpire in the American Association. He returned to farm in his native Illinois, and also took a turn as a restaurant owner in the Chicago area. A quiet man who had always let his pitching do his talking, Pfeffer lived a solitary bachelor life, enjoying the outdoors as an avid hunter and fisherman. His later years were spent as a security officer at the Drake Hotel in Chicago. A few years before he passed away on August 15, 1972, Pfeffer answered a questionnaire from The Sporting News about his days in baseball. When asked about whether he would play pro ball if he had to do it all over again, Big Jeff's answer was simple: Yes.
Note: An earlier version of this biography appeared in Tom Simon, ed., Deadball Stars of the National League (Washington, D.C.: Brassey's 2004).
Sources
Jeff Pfeffer files at the National Baseball Hall of Fame in Cooperstown, New York, and The Sporting News.
Cohen, Stanley. Dodgers: The First 100 Years. New York: Carol Books, 1992.
Goldstein, Richard. Superstars and Screwballs. New York: Dutton, 1991.
Born
March 4, 1888 at Seymour, IL (USA)
Died
August 15, 1972 at Chicago, IL (USA)
If you can help us improve this player's biography, contact us.
http://sabr.org/sites/default/files/PfefferJeff-Edward.png
600
800
admin
/wp-content/uploads/2020/02/sabr_logo.png
admin
2012-01-04 20:01:05
2012-01-04 20:01:05
Jeff Pfeffer