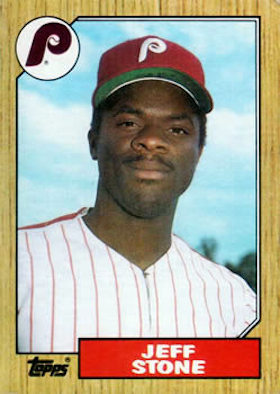 ---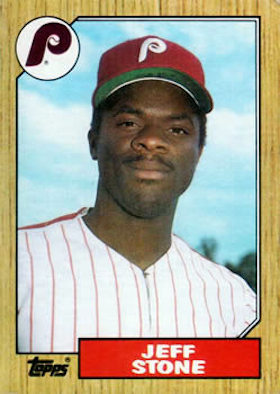 Few players have exited the major league stage with more unrealized potential than did Jeff Stone in 1990. Nine years before, the lightning-fast outfielder was being compared to future HOF base stealer Rickey Henderson after setting the professional single-season record for stolen bases with the Spartanburg (South Carolina) Phillies in the South Atlantic League. "Get ready for one of the best running, best hitting and all-around hysteria-creating shows in baseball," said Bill Mazeroski's Baseball Players Guide in the spring of 1985. "He's still raw as a green apple and innocent as Barney Fife. But, man, this guy can play. … If Jeff Stone doesn't win a batting title someday, then Astro Turf isn't green."1
But batting titles would not be in Stone's future. Nor at-bats, for that matter. Over the course of his eight-year major league career Stone garnered no more than 264 at-bats in any one season after "[b]ig-league pitchers quickly determined that more often than not, Stone would get himself out by failing to wait for strikes."2 The "Stone Age"—a clever marketing ploy the Philadelphia Phillies trotted out in 1985 when the fleet-footed athlete appeared poised for a breakout season—came to an abrupt end.
Jeffrey Glen Stone was the first of twin sons born on December 26, 1960, to Lee and Eliza Stone in Kennett, Missouri. This small city is four miles east of the Arkansas border in Missouri's southeasterly corner, the Bootheel. Jeff's parents were Mississippi natives who arrived in Missouri around the middle of the 20th century. Jeff grew up in Pemiscot County, where large portions of the population lived in crippling poverty. Unable to escape these dire circumstances, Jeff, who was one of 15 children (nine boys), often joined his parents and siblings chopping cotton for food money. Exhausted from the grueling 10-hour work days, at night he crawled into a bed he shared with up to five of his brothers. When Jeff reached his teens he vowed, "I ain't going to live like this."3
With all those siblings, Jeff often found it possible to form a sports team solely with them. When spare time afforded, he and his twin brother Jerome, an outfielder in the Phillies farm system in the mid-1980s, started playing ball using rocks for baseballs and broomsticks for bats. These crude instruments served to train the brothers well. Playing with real bats and balls years later, the pair led their American Legion team to the state tournament. The boys were also standout athletes at North Pemiscot High School in Wardell, Missouri. Taken under the wing of the school's coach, father-figure and lifelong mentor Bob McCullough, the boys continued to hone their skills.
Jeff, a pitcher with 90-mph stuff, soon caught the attention of Phillies scout Don Williams. Impressed more with the speed of Stone's legs than his pitch velocity, the former minor league infielder convinced the youngster to move to the outfield—hardly a difficult sell, since Stone's childhood idol was St. Louis Cardinals outfielder Lou Brock. On August 26, 1979, shortly after he graduated from high school, the youngster signed with the Phillies.4
In 1980 Stone was assigned to the Central Oregon Phillies in the Northwest League (short-season Class A). Despite a large number of strikeouts (nearly one for every four at-bats), Stone stole 32 bases in just 55 games to place behind future NL All-Star second baseman Juan Samuel for the club lead. With a tendency to crowd the plate, Stone also placed among the league leaders in being hit by pitches, a trend that would continue throughout his career. Stone quickly made opposing pitchers pay for any errant pitch that put him on: he would steal second base. But his time in Oregon was hard for the 19-year-old, who had never ventured far beyond southern Missouri and was "so raw he didn't know how to use a shower or dial a long-distance call." He grew extremely homesick. His yearning for home only got worse after hearing of his father's death.5
The next year Stone was promoted to the Phillies' Spartanburg affiliate (Class-A). Despite missing seven games in June 1981, following the loss of his mother, the leadoff hitter and phenomenal drag bunter compiled 123 stolen bases to shatter the professional baseball record Los Angeles Dodgers prospect Alan Wiggins had set one year earlier.6 "[H]e was really down for about 10 games after he returned [from his mother's funeral] or his total could have been considerably higher," said Spartanburg GM Rick Jacobson.7 Stone's presence on first drove opposing pitchers to distraction. The number-two hitter, Ken Dowell, for example, led the league with 114 walks. In one instance in August, Greensboro Hornets pitcher Freddie Toliver threw over to first base 25 times over a 15-minute span trying to pick off the base-stealing threat. Stone led the league in runs scored (108) and HBP (15) while placing among the leaders in hits (143) and triples (9)—but he did commit 15 errors in the outfield, a matter the organization sought to correct that winter in the Florida Instructional League. The circuit honored him as its August Player of the Month and with an All-Star selection. During the offseason the Topps Chewing Gum Company placed him on its nationwide Class-A All Star squad.
In 1982, a lateral move placed Stone with the Peninsula (Hampton, Virginia) Pilots in the Carolina League (Class-A). Pilots manager Bill Dancy got an early glimpse of the assets his newest charge brought on April 28, when Stone laid down squeeze bunts to drive in runs in both ends of a doubleheader sweep of the Winston-Salem Red Sox (including the game-winner in first game). Pacing the Pilots to their last pennant in the 17-year professional history of the club, the rock-solid Stone led the league in several offensive categories: games played (137), plate appearances (619), at-bats (559), triples (13) and stolen bases (94) while placing among the leaders in runs scored (110—one behind teammate Juan Samuel), hits (166) and total bases (216). During the offseason Stone played in the Venezuelan League, where his .328 average (second highest in the league) and blazing speed drew praise from Maracaibo manager and Phillies bench coach Bobby Wine.
Dubbed "one of the Phils' brightest prospects"8 by sportswriter Hal Bodley, in the spring of 1983 Stone was invited to Clearwater, Florida, to work out with the parent club as a non-roster invitee. With little chance of making the club—known as "The Wheeze Kids," Chicago Cubs announcer and former AL All Star pitcher Steve Stone (no relation) cracked that the veteran-laden Phillies "may OD on experience"9—the youngster succeeded in making a strong impression upon the club's brass. Assigned to the Reading Phillies in the Eastern League (Class-AA), Stone was the catalyst to an offensively-charged club deemed by baseball historians Bill Weiss and Marshall Wright as one of the greatest minor league teams in history.10 During the week of August 15-21 Stone won Player of the Week honors, hitting .415, stealing 11 bases, and scoring 14 runs to lead his club to a perfect 9-0 record. Chosen the Eastern League's Most Valuable Player at the close of its season, Stone was among the Phillies' late season call-ups.
Three years removed from its first world championship, in the last months of the 1983 season manager Paul Owens succeeded in wringing the most from his aging veterans. Te Phillies won 26 of their last 35 games and captured the NL East Division flag. In the midst of this run, The Sporting News columnist Bill Conlin quipped that with long-in-the-tooth stars such as Pete Rose, Tony Perez "and a frequently limping Joe Morgan . . . [n]o team has more guys who require a pinch-runner."11 Having captured the stolen base crown in two separate minor leagues, Stone was perfectly positioned to fill this need. On September 9, 1983, he made his major league debut in Pittsburgh's Three Rivers Stadium against the pennant-chasing Pirates. In the ninth inning Stone replaced Bo Diaz on first base after the catcher lined a two-out single to left field. He moved into scoring position with a steal of second but was stranded when shortstop Ivan de Jesus struck out. Stone was lifted in favor of backup catcher Ozzie Virgil as the Phillies went on to a 4-3 13-inning win.
Four days later Stone made his first plate appearance pinch-hitting for pitcher Tony Ghelfi. He beat out a bunt single but was picked off moments later by Mets rookie hurler Walt Tererll. Stone made six additional pinch-running appearances and stole three more bases. He got his first opportunity in the field on October 1 at home against the Pirates. In the fifth inning of a meaningless game—the Phillies had clinched the division flag four days earlier—Stone replaced Greg Gross in centerfield. Though he did not record an out, Stone's two triples (including a two-run game winning blow in the eighth) provided the margin in the Phillies' 5-3 come-from-behind win.
During the offseason Stone attracted a great deal of national attention in an emerging rookie class that included future All-Stars Dwight Gooden and Joe Carter. Sports Illustrated, picking up on the name of the popular movie released in 1984, dubbed Stone "The Natural."12 But the electrifying youngster still faced the challenge of breaking into a solid outfield, a task made all the more challenging after the Phils acquired Glenn Wilson from the Detroit Tigers in the offseason. During spring training, the Phillies contemplated moving centerfielder Von Hayes to first base to make room for Stone before opting instead to send him to the Portland Beavers in the Pacific Coast League (Class AAA).
In June, on pace for another stolen base title, Stone was plucked from the Beavers roster following a rash of injuries to the big league club. On June 19, 1984, he got his first major league start in Shea Stadium against the Mets, where he went hitless in four at-bats. The next day Stone connected for a first-inning single that launched him onto a sizzling 25-for-50 run, including nine multi-hit games through July 3. Three days later he was removed from a game after aggravating a pulled groin muscle. Initially sustained in the PCL, the injury landed the .433 hitter on the disabled list, and it would continue to plague Stone throughout the remainder of his career. Stone returned to the lineup after a 30-day layoff and on August 11 he connected for his first major league home run, a first inning leadoff shot against Cardinals ace Joaquin Andujar. But when the Phillies, seeking a boost in a hoped-for late season drive to the pennant, acquired veteran outfielder Al Oliver from the San Francisco Giants, Stone was optioned to Portland. Called up to the big club in September, Stone stole 19 consecutive bases in the final weeks to finish among the club leaders with 27. Interestingly, of the 67 hits Stone got in limited play throughout the season, fully 40 percent came on bunts or infield hits. His half-season accomplishments did manage to earn him one vote in the balloting for NL Rookie of the Year—seventh place in the landslide polling in favor of Gooden, the Mets ace. Stone, despite his deficiencies, still appeared to be a key player in the Phillies future. Shortly after the season, the Cubs, equally impressed with Stone's potential, reportedly bid for the youngster in a proposed multi-player trade that the Phillies rejected outright.
During the offseason the Phillies hired John Felske to replace manager Paul Owens. This change would prove devastating to the 24-year-old prospect. Felske was a hands-on manager, a sharp contrast to Owens's nurturing guidance and patience. Relations between the young outfielder and the rookie skipper started off well enough: Stone opened the 1985 season hitting .300 in April, including a career-high two-homer, five-RBI performance on April 20 to lead the Phillies to a 7-6 win against the Mets. Echoing Bill Mazeroski's sentiments, another future Hall of Famer Mike Schmidt confidently predicted a batting title for his teammate. But Stone soon ran out of gas, stumbling into a 5-for-43 slump in May. Felske was disenchanted with Stone's outfield play, Felske frequently replaced Stone in the late innings with defensive specialist Garry Maddox. On June 4 against San Diego Stone misplayed a drive by second baseman Tim Flannery that resulted in two Padres runs. Nine days later he was optioned to Portland. "I'm kind of shocked," Stone confessed. "I guess everybody expected me to bat over .300. When I didn't, I wasn't doing my job."13 Although the subject of some trade rumors arose in July, Stone returned to the Phillies in August. Stone's more-than-respectable .290 average in 100 at-bats at season's end did little to bridge the divide with his manager. The guy was "a fun player to watch, and he can hit some," Felske said, "but you're not going to win a pennant with him playing."14
In October Stone returned to Venezuela for another season of winter ball while his name swirled in a seemingly endless stream of trade rumors—the Detroit Tigers and Toronto Blue Jays were highly interested in the fleet-footed athlete, whilst the Phillies were reportedly offering Stone, pitcher John Denny, and others in dickering with Boston for slugger Tony Armas and reliever Bob Stanley. But the acquisition of other outfielders more directly affected Stone's future with the Phillies. In December the club acquired speedsters Gary Redus and Milt Thompson from the Cincinnati Reds and Atlanta Braves, respectively, in two multi-player trades. Possessing many of the attributes Stone brought, but far more reliable in the field, the new additions sent a strong signal that the Phillies weren't thinking about Stone in their future plans. Sure enough, Stone was returned to Portland before the start of the 1986 season.
Stone set a sizzling pace in the PCL with a .339 average and 14 stolen bases in 31 games. Recalled by the Phillies when outfielder Joe Lefebvre's comeback attempt after four knee operations ended in failure, Stone was used sparingly, especially over the last six weeks of the season when he got just 18 at-bats, attributable in equal parts to an August 11 knee injury (courtesy of a Gooden fastball) and the addition of September call-up Chris James to the team's congested outfield. One of Stone's few highlights was an August 19 game winning two-run pinch-hit home run against Giants right-hander Scott Garrelts in the eighth inning in a 6-5 Phillies victory. Stone finished his abbreviated season with a .277/.341/.406 slash line with career high marks in home runs (6), RBIs (19), and total bases (101).
The Phillies' busy offseason included the addition of left-handed hitter Mike Easler from the New York Yankees, another outfielder in an already crowded stable. But on May 6, 1987, injury sidelined the aging veteran, and Stone, who had been assigned to the AAA Maine Guides in the International League, was recalled. Stone hit safely in 11 of his first 14 games, only to be shoved into a platoon when Easler returned from the DL. Stone took his own turn on the disabled list on June 15 when Cubs reliever Frank DiPino hit him on the hand with a pitch. He returned healthy but played far less. Thirty-five of his last 42 appearances came as a pinch-hitter.
In 1988 Stone was out of options and the Phillies, who appeared no more inclined to retain his services than in years past, actively shopped the speedster on the trade circuit. Consequently, Stone went to the Baltimore Orioles in a March 21 multi-player trade. "Stone can add a dimension to this club which we can utilize in many different forms," said Orioles GM Roland Hemond. "He's the kind of player who can open up many possibilities for a manager."15 But in only his second opportunity to establish himself as an everyday player, Stone—and the Orioles as a whole—started the year disastrously. Collecting just one hit in his first 32 at-bats, Stone's feeble showing helped the club lose a record-setting 21 games at the start of a season. "It was the most miserable thing I ever went through," Stone said later.16
Unfortunately, offensive challenges weren't his only difficulties. On April 14, Stone let a ninth inning drive from Kansas City second baseman Frank White get by him and roll to the left field wall, a costly error that allowed the first-base runner to score the winning run in a 4-3 Orioles loss. Two weeks later Stone dislocated his finger in an unsuccessful stolen base attempt. Placed on the 15-day DL, he accepted an assignment to the AAA Rochester Red Wings in the International League when the finger healed. Although he started slowly in Rochester, he finished strongly and was called up to the O's in September. His ninth-inning pinch-hit single on September 23 contributed to a 5-4 comeback win against the Tigers. But Stone got only 10 at-bats through the closing weeks of the season, and in December Baltimore released him.
Over the next two years Stone managed just 53 additional major league at-bats as he bounced between AAA and the majors in the Rangers and Red Sox organizations. His introduction to Boston was far from inspiring: a thief broke into his vehicle while he was checking into his hotel. But on September 28, 1990, Beantown would come to appreciate the Missouri native in what fans affectionately recall as "The Jeff Stone Game." In his only hit of the season following a September call-up, Stone lined a ninth-inning, bases-loaded single to right-centerfield to deliver a walk-off win against Toronto. It was a crucial victory that prevented the Blue Jays from tying the first-place Red Sox with just five games left in the season. Hailed as a hero, Stone was shocked when the club released him two months later. He spent the balance of his baseball career bouncing between four AAA affiliates from 1991-92 before he hung 'em up.
Stone returned to Missouri and, after a year of adjusting to life outside of baseball, went to work as a law enforcement officer with the city of Caruthersville. After two months and dodging 16 bullets in the small crime-infested community, Stone quit his policeman's gig for a relatively safer occupation in a nearby steel mill. Rapidly promoted to a shipping department inspector, in 1995 Stone used his vacation time to return to the Phillies' Clearwater, Florida, training site as a replacement player when the 1994 major league players' strike rolled into the following spring. On March 28, 1995, the owners and players reached a settlement. Finding that his passion for the sport had faded, Stone declined offers to sign a minor league pact and returned to his job in the steel mill.
In 2001 Stone suffered a broken hip and shattered ankle in a severe automobile accident.17 The injuries left Stone with a permanent limp. That same year the shy 40-year-loner married the former Linda Shirl Brunson. Living with Linda proved to be more perilous than being a cop. In January 2002, she was charged with first-degree assault after stabbing Stone numerous times with a knife at their Portageville, Missouri, home.18 "It was a situation that got out of hand," Stone explained, "and we both lost our tempers." Declining to press charges, he added "[i]f you love someone, you forgive them."19 Happily—although perhaps more guardedly—the marriage survived the harrowing incident.
A seemingly can't-miss prospect at the beginning, Stone compiled only an ordinary .277/.327/.375 line with 75 stolen bases in 1,022 plate appearances over an eight-year major league career. Stone's "rapid descent shattered a romantic baseball illusion . . . of a backwoods"20 athlete who, overlooked in the MLB amateur draft, once possessed the potential to set the baseball world on fire.
Decades removed from the majors, Stone is best remembered for some of the Yogi Berra-like observations he left behind:
In 1984, while dining with his Phillies teammates, Stone was asked if he wanted an order of shrimp cocktail. "No thanks," he replied. "I don't drink."21
In Pittsburgh a year later Stone, at the time mired in a horrible slump, was having trouble sleeping at night. A teammate suggested that he try counting sheep, to which Stone replied, "They don't have sheep in Pittsburgh."22
Returning to the United States from Venezuela after a season of winter ball, Stone explained that he left his television behind "because it only had Spanish stations."23
Perhaps like reported Yogi-isms of years past, one would be right in questioning the authenticity of these amusing anecdotes. But there's no questioning the determination Stone displayed in rising out of the poverty-stricken conditions of his cotton-picking youth to make his mark on the major league scene. Perhaps no one captured Stone's essential character better than his first big league manager, Paul Owens. "People thought [Stone] was dumb, but he wasn't," the patient skipper told Sports Illustrated in 1992. "He was naïve, but beautifully naïve."24
Last revised: October 27, 2016
Acknowledgments
I wish to thank SABR members Bill Mortell for his valuable research. Further thanks are extended to Tom Schott for review and edit of the narrative.
Sources
Ancestry.com
Notes
Born
December 26, 1960 at Kennett, MO (USA)
If you can help us improve this player's biography, contact us.
http://sabr.org/sites/default/files/StoneJeff.jpg
600
800
admin
/wp-content/uploads/2020/02/sabr_logo.png
admin
2016-10-27 14:16:31
2016-10-27 14:16:31
Jeff Stone