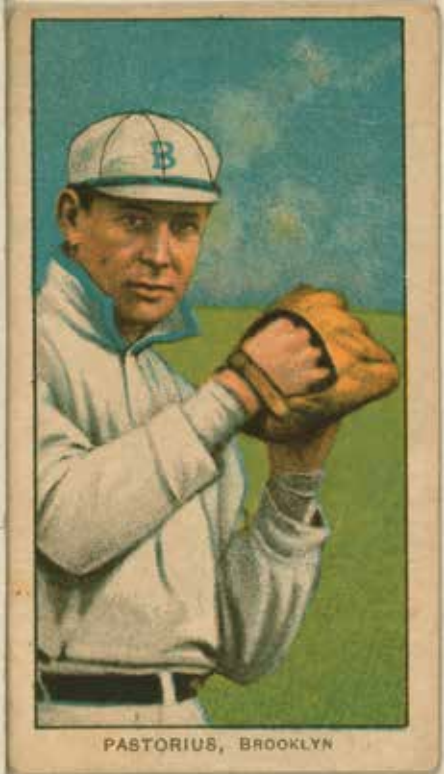 ---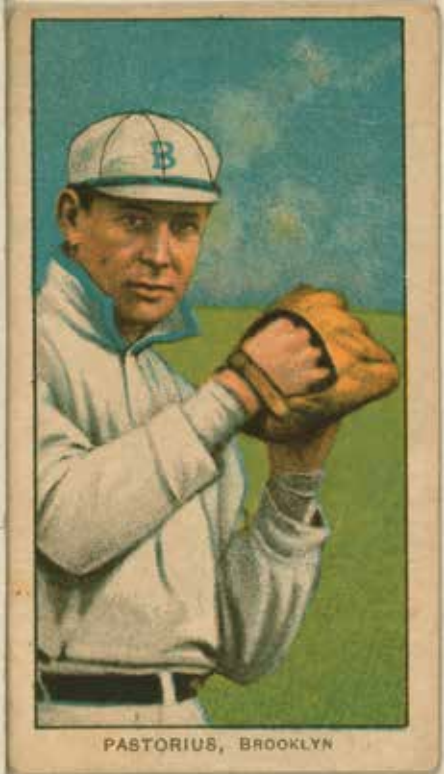 The numbers look as gloomy as an April rainout. Sunny Jim Pastorius compiled a career won-loss mark of just 31-55 in four seasons with the Brooklyn Superbas. That equated to a modest .360 winning percentage. He endured 20 losses in 1908.
During one awful streak, Pastorius lost a team-record 15 straight games. The left-hander posted a humbling 5-29 record in his final two campaigns. Brooklyn, having seen enough, released him, effectively ending his major-league career.
Grim stuff, right? But wait. The story of Sunny Jim's baseball life is not simply one of hanging curveballs, bases on balls, and tough defeats. Pastorius enjoyed many big moments while on the pitcher's mound. The 5-foot-10-inch, 165-pound hurler with a mop of dark hair went a respectable 26-26 in his first two seasons. He did this for teams that finished a combined 38 games below .500 and 90 games out of first place. He even led the Superbas in wins one year. Yes, Sunny Jim had some talent. He posted a career 3.12 ERA over 727 innings, completed 57 games, and tossed 10 shutouts.
James Washington Pastorius was born on July 12, 1881, in Pittsburgh, the son of Robert and Martha Jane "Jenny" (Woods) Pastorius. Young Jim grew up in a brawny city that flexed its industrial muscle. The Edgar Thomson Steel Works had opened near the Monongahela River in 1872. Soon enough, business tycoon Andrew Carnegie merged Thomson and other companies into US Steel. Pittsburgh, already famous as an iron maker, would soon be known as America's Steel City. Robert Pastorius was employed as a puddler, working with molten iron, an occupation known for producing a short life expectancy. Robert (1844-1882) died the year after James was born. James appears to have been the youngest of six children born to Robert and Jenny.
At a young age, Jim Pastorius worked as a laborer in a Pittsburgh mill, according to the 1900 census. He began his professional baseball career in 1902 with the Albany Senators of the Class-B New York State League. He pitched there from 1902 through 1905 and appeared in 122 games. (He probably acquired the "Sunny Jim" nickname about this time. Jingle writer Minnie Maud Hanff invented morose Jim Dumps and happy-go-lucky Sunny Jim in 1902 to advertise Force, a new wheat-bran cereal. One bowl of Force and Jim Dumps turned into Sunny Jim. Figures of Sunny Jim appeared in magazines, on billboards and trolley cars, and elsewhere.)1
Among Pastorius's best efforts with Albany: He knocked off the Amsterdam-Gloversville-Johnstown Jags 7-1 on July 27, 1905. Sunny Jim struck out eight and walked just one in going the distance. Losing hurler Frank McPartlin gave up 13 hits and all seven Albany runs. According to Sporting Life, "Pastorius had the locals completely at his mercy, while McPartlin's riddles were easily solved by the Senators."2 Sunny Jim earned a promotion to Brooklyn in the spring of 1905.
The Superbas needed help. They had suffered through a franchise-worst record of 48-104 in 1905, settling into last place, 56½ games behind the pennant-winning New York Giants. Right fielder Harry Lumley led the team with a .293 batting average and seven home runs. William "Doc" Scanlan went 14-12 on the mound with a 2.92 ERA to anchor the pitching staff. Ned Hanlon, Brooklyn's manager since 1899 and known by some as Foxy Ned, lost his job after that sorrowful season. Owner Charles Ebbets hired Patrick "Patsy" Donovan, a native of Queenstown, Ireland, as the team's new skipper.
A 24-year-old Pastorius pitched his first major-league game on April 15, 1906, against the Boston Beaneaters. Irving Melrose Young opposed Sunny Jim. A left-hander like Pastorius, Young was in his second year in the majors. He had gone 20-21 for Boston in 1905. Some reporters had taken to calling Irv Young "Cy the Second," and "Young Cy" after the great hurler Denton True "Cy" Young. (Irv Young never quite lived up to his nickname. He went 63-95 in six big-league seasons.)
It was a soggy Sunday afternoon in Brooklyn. The bad weather kept attendance down to about 5,000 fans at Washington Park. Pastorius made it through five innings. He gave up a run in the second inning and two apiece in the fourth and fifth. Young allowed a solo home run to Lumley in the fourth and two tallies in the ninth. The Brooklyn Daily Eagle described Lumley's homer as "a perfect drive, straight as a bird's flight out of sight."3 The Superbas lost 5-3 and dropped to 0-4 in the young season. A tough-minded reporter called Pastorius "something of a disappointment," but added, "Still with the slippery ball, he was greatly handicapped, and it is well to suspend judgment on his abilities until a better day."4
The young pitcher responded. He beat the Cincinnati Reds 4-1 on May 23 in Brooklyn and "was remarkably steady throughout."5 Sunny Jim allowed just five hits, fanned three and walked one. Only one Reds player reached base after the first inning. According to Jack Ryder of the Cincinnati Enquirer: "As the confident Reds were about to reach out and grab a seventh victory, a youth with a name that sounds like a patent medicine got in their way and blocked them off."6 Ryder added: "The young giant (Pastorius) is a southpaw who belonged in Brooklyn last year but needed some more of that valuable article known as experience. … It will be a long time before he has to go back for more."7
Pastorius lost 4-1 on June 15 to his hometown Pittsburgh Pirates. A Daily Eagle writer blamed the defeat on tired Superbas bats, though, not Sunny Jim. "'Lefty' Pastorius twirled well enough to win ordinarily, but Donovan's men have lost their batting eyes lately," the Eagle opined.8 Claude Ritchey drove in two Pittsburgh runs. Jim Nealon banged out a double and a triple, both times with two strikes against him. "Later, Pastorius got revenge by striking him out on a wide offshoot," according to the Eagle. "Barring some lightning fielding, the game was devoid of thrill and was over in eighty-two minutes."9 Brooklyn dropped to 21-33.
The 1906 Superbas finished in fifth place with a 66-86 mark, 50 games behind the powerhouse Chicago Cubs (116-36). On the upside, it was an 18-game improvement for them over the previous season. Lumley batted .324, while first baseman Tim Jordan knocked 12 home runs (the most in the National League) and drove in 78 runs. Once again, Scanlan topped the team in wins, going 18-13. Pastorius ended up 10-14 (a .417 winning percentage) with a 3.61 ERA in 211⅔ innings. He pitched in 29 games, started 24, and completed 16. Pastorius fanned 58 and walked 69.
Pastorius apparently spent some time in the offseason getting medical attention. Doctors straightened a ligament in his back, making him "much better on his feet in the pitching box" and "much better than formerly at picking up bunts."10
In early March of 1907, Pastorius, along with several teammates, boarded the steamship Comanche in Manhattan, bound for the Superbas' spring-training camp in Jacksonville, Florida. Some players, though, opted to travel by train. At least one newspaper report speculated that the sea air might be more fit for sailors than for ballplayers. "The club management, however, seems to think that the innovation will be a pleasing one and be very helpful to the health of the men," the writer concluded.11
Apparently no player suffered from lingering seasickness or any other malady after the three-day ocean voyage. By late March, the Superbas had enjoyed "more than two weeks of good, honest practice behind them" and were "probably more advanced than any other club in the league."12 Brooklyn team treasurer Henry Medicus liked the team, especially its pitching staff. "(George) Bell and (Nap) Rucker look especially good to me, while Pastorius is wonderfully improved," he said.13 Medicus predicted that with a good start "I don't think anyone can stop us."14 He reported, with an air of optimism that shines like the Florida sun, "We have as good a chance for the pennant as anybody."15
It didn't work out that way. The Superbas did not get off to a good start. Really, they did not get off to a bad start, either. No, the Brooklyn Superbas of 1907 got off to a disastrous start. They were 1-16-1 after their first 18 games. That probably ended any talk of future pennant glory.
Brooklyn began the season by losing its first four games. It was Pastorius who put finally put the Superbas into the win column. He shut out the New York Giants, 3-0, on April 18 at Washington Park. Pastorius surrendered just two hits in a pitchers' duel with Luther "Dummy" Taylor, a deaf-mute from Kansas who would win 116 games in the big leagues. Brooklyn broke through with two runs in the seventh and one in the eighth. "It was a pitcher's battle all the way," reported the Daily Eagle, "with Pastorius going like a well-oiled bit of machinery."16
Pastorius pitched many other fine games. He beat the Boston Doves (the former Beaneaters) 7-1 in the opening game of a doubleheader on May 28 in Boston. Pastorius gave up a solo homer to Clarence "Ginger" Beaumont in the first inning and blanked Boston the rest of the way. He scattered eight hits. "The weather was intensely cold" and "Pastorius was in excellent form."17 Pastorius helped Brooklyn sweep a doubleheader against the Philadelphia Phillies on June 22 at Washington Park. He allowed one run on six hits as the Superbas won 5-1. He "pitched brilliantly and the Phillies were fortunate to avoid a shut out," the Daily Eagle boasted.18
Pastorius scattered 11 hits on July 19 in a lopsided win at home against the Cincinnati Reds. Brooklyn managed just two more hits than the Reds, but the Superbas made them count. They led 4-0 after two innings and won 8-1. "Jimmy Pastorius shines resplendently," the Daily Eagle announced in a subhead.19 Pastorius even added three hits of his own. He struck out two Cincinnati batters and walked one. "Pastorius took things easy after his Superbas had secured a safe lead, depending on his fielders to pull him out," the Daily Eagle reported.20
Brooklyn played nearly .500 baseball after that debacle of a beginning and finished 65-83, in fifth place, 40 games behind the first-place Chicago Cubs. Lumley led the team with 9 home runs and 66 RBIs. Pastorius fashioned a 16-12 won-loss record. At one point, he was 11-5 (.688 winning percentage) before going 5-7 down the stretch. It was his best season in the majors. The 25-year-old led the team in wins and posted what was a career-low ERA (2.35). He set career highs for innings pitched (222), complete games (20), and shutouts (4). Pastorius started 26 games and relieved in two others.21
Pastorius surely hoped to build on that solid 1907 campaign. However, not much went right for the pitcher or the team in '08. The Superbas mostly struggled and finished just 53-101 (.344). They ended the season in seventh place. It was Brooklyn's worst showing during the Sunny Jim Pastorius era.
Brooklyn's record stood at a modest 15-26 on June 6, following an 8-2 drubbing by the Reds. The Superbas had lost three straight games and eight out of 10. Pastorius took the ball on June 8. Cincinnati scored three early runs, and that was enough. Brooklyn managed just two tallies. The sloppy Superbas committed five errors. After the last out, "the gloom that pervaded the directors' office after the game could hardly be penetrated."22 How could the Superbas turn things around? The Daily Eagle reported that Ebbets would not sell any player, "but was ready to make any swap calculated to strengthen the outfit."23
The losing also started to wear on Pastorius. The Pittsburgh Pirates' Albert "Lefty" Liefeld beat him 2-0 on July 21. Pittsburgh scored one run in the first inning and another in the fifth. "Jim never faltered, but kept right on working," the Post-Gazette reported. "Yet when he realized the game was slipping away from him for good, he began to show signs of uneasiness and irritation."24 Pastorius did not care for the umpiring. In the eighth inning, he was called out on strikes and "entered a vigorous protest." Later, he showed his disapproval of ump Bob Emslie's judgment by "chewing the rag" continuously. "All the same," the writer decided, "he pitched a great game."25 (The Post-Gazette referred to Sunny Jim as the "South Side glass worker," apparently hinting at an offseason career in his hometown.26)
Pastorius hooked up again with Irv Young, now with the Pirates, for an epic duel on August 22, 1908. Young Cy and Sunny Jim put up goose eggs for 16 straight innings. According to the Daily Eagle, they "worked like Trojans and seemed to grow stronger as the minutes sped away."27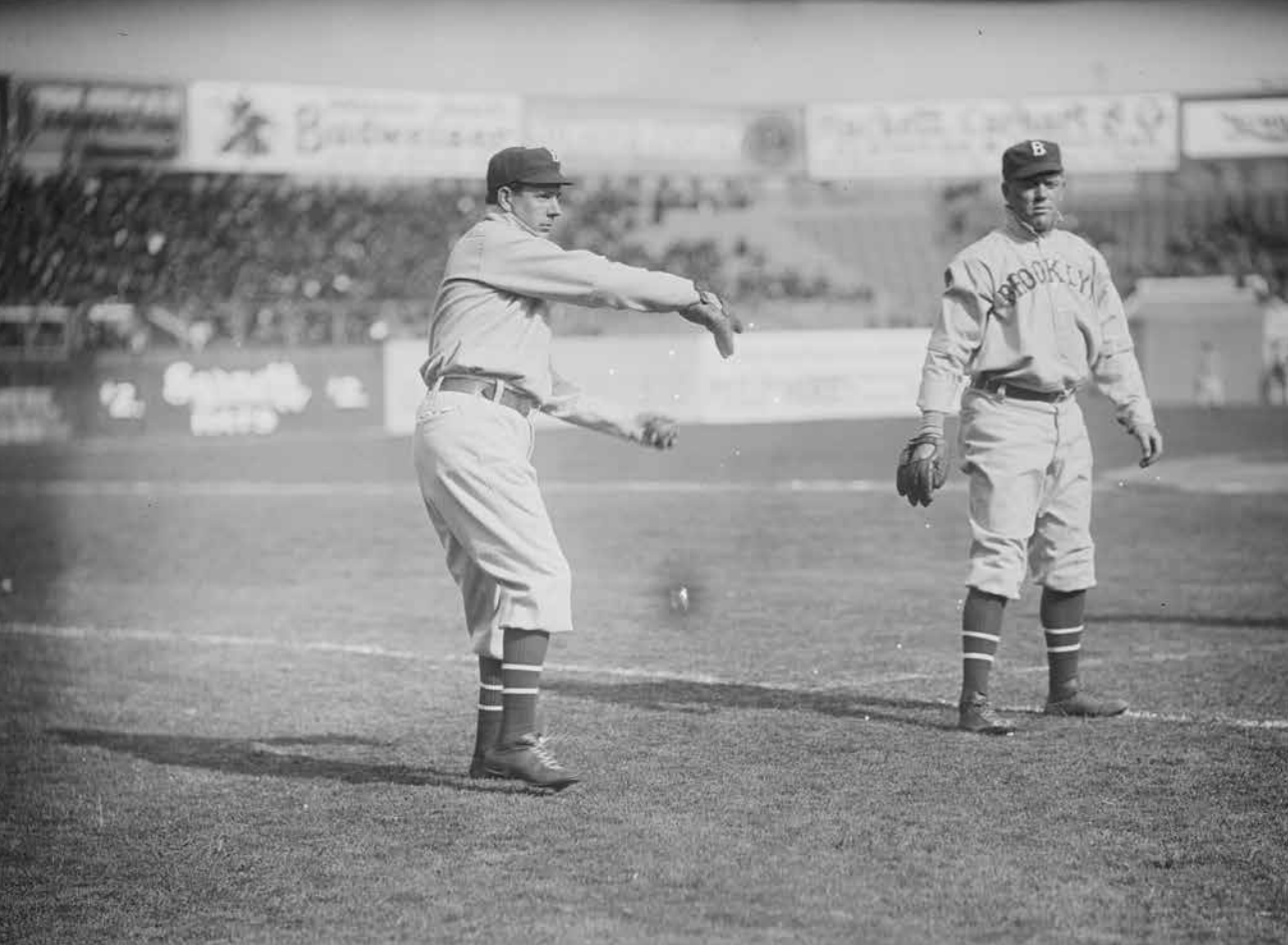 Pittsburgh scored the winning run with two outs in the 17th inning. Young had singled and raced to third on a Roy Thomas base hit. Pastorius walked Tommy Leach to load the bases. Danny Moeller knocked a ball over second base, bringing home Young. Pastorius scattered 11 hits, Young gave up nine. Brooklyn dropped to 40-68.
Pastorius took the mound September 26 in the second game of a doubleheader against the Chicago Cubs. His won-loss record stood – or had slumped to – a humble 3-19. The Cubs won the first game of the double dip, 5-0, behind Ed Reulbach, who struck out seven batters. Ruelbach, playing the role of workhorse, also started the second game. Chicago scored a single run in the third inning following a Johnny Kling hit and an error by Tommy McMillan. The Cubs added two runs in the eighth. Ruelbach walked with two out, and Jack Hayden singled to put runners on first and second. Johnny Evers followed with a liner to center field. Brooklyn outfielder Al Burch's throw sailed away from Joe Dunn, allowing both runners to score.
Pastorius gave up the three runs and five hits, struck out two, and walked three in picking up the loss. "While Reulbach was puzzling the Superbas, (Irving "Kaiser") Wilhelm and Pastorius were doing their best with the poor support which was accorded them. Ed Reulbach was the whole procession yesterday afternoon."28 Reulbach pitched a total of 18 innings, gave up no runs, nine hits, and two walks, and struck out 11.
The Daily Eagle praised the Superbas' fan support: "For a tail-end team, the crowd of close to 15,000 shows how popular the national game is in this borough. There was considerable enthusiasm, and as both teams pulled off some remarkable fielding stunts, there was ample opportunity to applaud."29
Sunny Jim Pastorius, who lost 15 consecutive games at one point, managed to win his final start of the year. Brooklyn nipped Boston 3-2 on October 2. Boston scored both its runs in the third inning on an error by Al Burch and led 2-1 going into the eighth inning. In that late frame, Brooklyn's Tim Jordan doubled home John Hummel to tie the score and raced home on Tommy Sheehan's base hit. "Pastorius had one of his good days, and outside of that (third) inning, the Bostons were neatly blanked."30 Pastorius allowed seven hits, struck out four, and gave up a walk. He ended the season with a 4-20 record. The pitcher completed 16 games, blanked two teams, and had a 2.44 ERA.
Jordan led the Brooklyn offense in '08 with 12 homers (the most in the NL) and 60 RBIs. He didn't get much help. Brooklyn batted just .213 as a team. No major-league team has ever hit fewer doubles than the 110 the Superbas got in 1908. (The 2008 Texas Rangers hold the major-league record for most doubles in a season, 376. The 1930 St. Louis Cardinals own the NL record with 373.)31 On the mound, Rucker led the team with 17 wins. He lost 19, though. The Superbas nearly had four 20-game losers in 1908. Besides Pastorius, Wilhelm (16-22) and Harry McIntire (11-20) also reached that mark. Maybe not surprisingly, Ebbets fired Donovan as manager after three seasons and hired Lumley to run the team.
The 1909 Superbas, though, did not look much different from Brooklyn teams of the recent past. They didn't make a run at the pennant, won just 55 games, lost 98 and ended up in sixth place, 55½ games behind the pennant-winning Pirates. This would be Pastorius's final season in the big leagues.
Not much went right for Sunny Jim in 1909. He won just one of 10 decisions and finished with a sky-high ERA of 5.76 in 79⅔ innings. He did, however, pitch one of the best games of his career. Pastorius nearly no-hit the Philadelphia Phillies on July 28 at the Baker Bowl. Philadelphia catcher Leon "Doc" Martell broke up the no-no with a one-out triple in the ninth inning and with Brooklyn ahead, 4-0. The hit annoyed infielder George McQuillan so much that he "threw his glove in the air and jumped on it when it came down."32
Pastorius, who walked four, got the final two outs and kept the shutout. He secured his first and only win of the season. The Philly fans had been rooting for Pastorius as the opposing pitcher took the mound in the ninth. "A cry of disappointment went up from the stands when Martell made the hit," the Eagle reported.33
Pastorius struggled in many of his starts. He allowed nine free passes and eight runs in a 9-1 loss to the Pirates on August 3. Pastorius, the Pittsburgh Daily Post decided, "gave the wildest exhibition seen here in years."34 A few weeks later, on August 23, the St. Louis Cardinals lit up Pastorius, again by a 9-1 score, in the second game of a doubleheader at Washington Park. The Cards scored four runs in the first inning; the home crowd, unsympathetic toward their pitcher's woes, began yelling "Take him out!"35 The Eagle sympathized with Pastorius. "Pitchers are only human, although the baseball fan doesn't seem to realize it," the newspaper opined.36
During his final campaign, Pastorius allowed 58 walks in 79⅔ innings, or 6.6 per nine innings. To make matters worse, he surrendered 91 hits. His WHIP that season soared to 1.870, the highest of his career by far. Brooklyn released the 28-year-old to the Louisville Colonels in the American Association on August 28. He later pitched for the Kansas City Blues and the Milwaukee Brewers, also in the American Association, before being let go in 1911.37
At the time of his 1918 registration for the World War I draft, Pastorius was employed as a machinist's helper, but by 1920 he had found work as a county roads inspector. Pastorius spent more than 20 years with the Allegheny County Highway Department and worked his way up to foreman. He kept active in baseball by helping young ballplayers who lived on Pittsburgh's south side. Pastorius suffered from diabetes and died on May 10, 1941, at St. Joseph's Hospital in Pittsburgh, at the age of 59 due to complications from an infection of the veins leading to venous thrombosis.38 He had been sick for about six weeks. Divorced at the time of his death, Pastorius left behind one son, Dr. George J. Pastorius, plus a brother and a sister. Sunny Jim is buried in the city's South Side Cemetery.
The name of Sunny Jim Pastorius popped again in 1987. Pitcher Rick Honeycutt was suffering through a miserable season for the Los Angeles Dodgers. He lost 11 straight games at one point. The question began to circulate in newspapers: Would Honeycutt break Pastorius's all-time Dodgers record for most consecutive losses? Alas, with that dubious streak still intact, the Dodgers traded Honeycutt to the Oakland A's in August. Sunny Jim's record was safe.
This biography is included in "20-Game Losers" (SABR, 2017), edited by Bill Nowlin and Emmet R. Nowlin.
Sources
In addition to the sources cited in the Notes, the author also consulted Baseball-Reference.com and the Pastorius player file at the National Baseball Hall of Fame.
Notes
1 Eileen Margerum, "A Case for Sunny Jim: An Advertising Legend Revisited," The Journal of Salem State College, Fall 2001/Spring 2002.
2 Sporting Life, Volume 45, No 23, 1905.
3 Brooklyn Daily Eagle, April 16, 1906: 6.
4 Ibid.
5 Cincinnati Enquirer, May 24, 1906: 4.
6 Ibid.
7 Ibid.
8 Brooklyn Daily Eagle, June 16, 1906: 8.
9 Ibid.
10 Washington Evening Star, March 31, 1907: 62.
11 Pittsburgh Press, March 4, 1907: 12.
12 .Pittsburgh Press, March 27, 1907: 18.
13 Ibid.
14 Ibid.
15 Ibid.
16 Brooklyn Daily Eagle, April 19, 1907: 22.
17 Brooklyn Daily Eagle, May 29, 1907: 20.
18 Brooklyn Daily Eagle, June 23, 1907: 58.
19 Brooklyn Daily Eagle, July 20, 1907: 12.
20 Ibid.
21 The Superbas team was not, as it may be evident, always superb. Founded originally as an American Association club in 1884, the Brooklyn Base Ball Club was known by several unofficial nicknames throughout its history. Some called them the Atlantics or Grays and by 1888 the team was referred to the Grooms or Bridegrooms. The Superbas moniker became fashionable starting in 1899 when Brooklyn won the National League championship. The Superbas repeated that feat in 1900, and the team nickname stuck, at least for a while. Another name that was common (ca. 1895) was Trolley Dodgers, later shortened to Dodgers. They were known as the Robins, for their manager Wilbert "Uncle Robbie" Robinson from 1914 to 1931. The club has been officially known as the Dodgers since 1932, and the name was first inscribed on their uniforms beginning in 1933. But as Brooklyn fans could have told you, the team was also referred to as "Dem Bums." See John Thorn, ed., Total Baseball 6th Ed. (New York: Total Sports, 1999), 34-35; "Brooklyn Dodgers," baseball-reference.com/bullpen/Brooklyn_Dodgers; "Dodgers Uniforms and Logos," losangeles.dodgers.mlb.com/la/history/uniforms_logos.jsp.
22 Brooklyn Daily Eagle, June 9, 1908: 22.
23 Ibid.
24 Pittsburgh Post-Gazette, July 22, 1908: 9.
25 Ibid.
26 Ibid.
27 Brooklyn Daily Eagle, August 23, 1908: 42.
28 Brooklyn Daily Eagle, September 27, 1908: 49.
29 Ibid.
30 Brooklyn Daily Eagle, October 3, 1908: 20.
31 baseball-almanac.com/rb_2b2.shtml.
32 Brooklyn Daily Eagle, July 29, 1909: 18.
33 Ibid.
34 Pittsburgh Daily Post, August 4, 1909: 7.
35 Brooklyn Daily Eagle, August 24, 1909: 18.
36 Ibid.
37 Jim Pastorius's Hall of Fame player file.
38 Commonwealth of Pennsylvania Certificate of Death.
Full Name
James Washington Pastorius
Born
July 12, 1881 at Pittsburgh, PA (USA)
Died
May 10, 1941 at Pittsburgh, PA (USA)
If you can help us improve this player's biography, contact us.
/sites/default/files/Screen%20Shot%202018-10-11%20at%202.20.38%20PM.png
600
800
admin
/wp-content/uploads/2020/02/sabr_logo.png
admin
2012-01-04 20:43:02
2012-01-04 20:43:02
Jim Pastorius