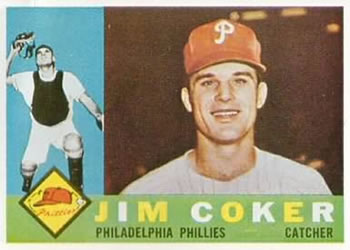 ---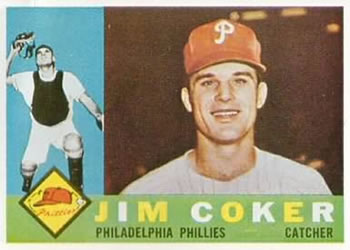 In September 1959, after the Buffalo Bisons, the Philadelphia Phillies Triple-A affiliate, captured the International League pennant, The Sporting News noticed Jimmie Coker, the club's All Star catcher. He "has the assets to become … the top catcher produced in the International League since Roy Campanella graduated from the Montreal Royals," Cy Kritzer predicted in the baseball bible. Kerby Farrell, the Bisons skipper, agreed: "Coker is going to be the best catcher in the [National L]eague."1
But success eluded Coker in the big leagues. After opening the 1960 season as the Phillies starting catcher, he was deployed in a three-man platoon by midseason before eventually being relegated to a backup role for the rest of his nine-year career. In March 1968, he retired to become "a real, live, honest-to-goodness cowboy."2
Jimmie Goodwin Coker was born on March 28, 1936, the youngest of seven children of David Mack and Lydia Leola (Gibbons) Coker, in Holly Hill, South Carolina, a small town 50 miles northwest of Charleston. Jimmie had ancestral roots in the Palmetto State dating to the 1700's. His grandfather, Mack Ira Coker, raised his family in the Cades community of Williamsburg County, about 60 miles northeast of Holly Hill. In 1892, Mack's eldest child, David, was born in this unincorporated community. Two decades later he married fellow Williamsburg County native Lydia Gibbons. David's farming pursuits supported his growing family before The Great Depression necessitated a move to Holly Hill.
The Coker children attended Holly Hill (now Holly Hill-Roberts) High School in Orangeburg County. Born into an athletic family, Jimmie developed into a star athlete in baseball, basketball, and especially football.3 In 1954, he earned All-State honors as a fullback and got an athletic scholarship to play football at Furman University in Greenville, SC. (Coker's high school coach, a Furman alum, had a large hand in this decision.) But Coker quickly abandoned the gridiron during his freshman year after suffering a severe shoulder injury in a game. "I figured one more injury might finish me as a baseball player, and that's what I aimed to be since I was 10 years old," Coker recalled years later. "So I gave up my football scholarship."4 He switched to basketball and baseball where he captured the attention of Phillies scout Wes Livengood. On February 19, 1955, the North Carolina native and former major league hurler signed the 19-year-old to a $4,000 bonus contract.
Assigned to the Class-D Mattoon (IL) Phillies in the Mississippi-Ohio Valley League, Coker's bat provided immediate and dramatic assistance with a game-winning homer in his first game, in the 11th inning. He finished the season among the league leaders in nearly every offensive category, with the only blemish, a considerable one, being a league high 22 errors at catcher (tied with Clinton Pirates backstop Clement Yaskowitz). Despite praise for his strong arm behind the plate, Coker's defensive deficiencies would plague him throughout the remainder of his career.
In February 1956, Coker was invited to the Phillies advance training school in Clearwater, FL. (In the first of his three consecutive winters attending, Coker was teamed alongside some of the club's prized prospects including Ed Bouchee, Turk Farrell, Dallas Green, and Bobby Wine.) Initially projected for placement with the Triple-A Miami Marlins in the International League, Coker struggled in spring training, and so was assigned instead to the Class-B Wilson (North Carolina) Tobs in the Carolina League. Coker placed among the Tobs leaders in hits (121) as well as slugging percentage (.438) and by virtue of leading in every kind of extra base hit—doubles (20), triples (4), homers (16)—and total bases (197) also.
Advanced to the AA Tulsa Oilers in the Texas League in 1957, Coker's average slipped to .243 due in part to the exhaustion of establishing a circuit record 145 games played behind the plate. This total could have been even higher had Coker not been sidelined in June with a split finger on his right (throwing) hand. He was still among the club leaders in power categories: 26 doubles, 14 homers and 61 RBIs. In September, the Texas League Baseball Writers Association selected him as the circuit's Rookie of the Year while, in a poll of Tulsa fans, the solid 5-feet-11, 195-pound right-handed hitter was also voted the Oilers' most popular player.
In 1958, Coker was promoted to Miami where he spent the season platooning with former major league backstop Johnny Bucha. Used only sporadically, Coker struggled offensively throughout most of the season before unleashing a .325 tear with half a dozen home runs in August. And, for the first time in his career Coker was affiliated with Kerby Farrell, a longtime minor league skipper who soon became one of the youngster's biggest cheerleaders. In September, on the strength of Farrell's recommendation, the Phillies selected Coker among their late-season call-ups.
On September 11, 1958, Coker made his major-league debut at Philadelphia's Connie Mack Stadium as the Phillies starting catcher. His first major-league hit came in the fifth inning, a one-out line drive single to centerfield against Los Angeles Dodgers left-hander Johnny Podres. He ended up stranded on second. Three innings later, Coker was lifted for a pinch-hitter during a Phillies three-run rally in a 4-3 comeback win. He finished 1-for-3 while playing flawlessly behind the plate. The next day, Coker started once again, this time against the San Francisco Giants in the second game of a doubleheader. He went 0-for-3 against Giants left-hander Johnny Antonelli and allowed two passed balls, only one of which hurt but was hardly consequential amid the Phillies 19-2 loss. Coker did not appear in the remaining 13 games of the season.
Coker spent a portion of the offseason at Lackland Air Force base in San Antonio, Texas, as a member of the Air Force reserve. In January, he learned that he had been added to the Phillies 40-man roster, the club's youngest position player behind infield prospect Lou Vassie. But Coker's chances of making the club had little to do with his age and much to do with the Phillies veteran catching corps, which had been bolstered by the December 3 acquisition of 33-year-old backstop Valmy Thomas from the Giants. Perhaps anticipating these challenges, in the spring of 1959, after the Phillies moved their Triple-A affiliate from Miami to Buffalo, Farrell petitioned Gene Martin, the franchise's farm director, to let him take Coker with him to New York if he did not make the parent club. (Bucha was left in Miami when the team became a Baltimore Orioles affiliate.) Accordingly, in April, Coker was assigned to the Buffalo Bisons.
The 1959 season did not start out well for Coker. Struggling offensively (.255 through July 1), he was sidelined for several weeks with bursitis in his right elbow that eventually required treatment at Johns Hopkins Hospital in Baltimore. Upon his return from the DL in July, Coker received special attention from his manager. Farrell advised him, a perennial pull hitter, to cut down on his swing and hit to right field. Except for a 1-for-11 drought at the very end, Coker finished the last two months of the season with a .330 average, a performance that prompted Farrell to declare him "the team's most indispensable player."5 He finished among the club leaders in every offensive category while his late surge helped lift the Bisons to their first flag in 10 years. Selected as the circuit's All Star catcher, Coker was also the runner-up to Richmond backstop Darrell Johnson in a post-season poll of league managers for the best arm behind the plate. In October, The Sporting News, perhaps anticipating the Phillies pending trade of catcher Carl Sawatski, suggested that Coker "could take over the first-string Phils' catching post" in 1959.6 Coker spent the offseason playing for the Oriente Indians in the Venezuelan Association, his first venture into Latin American baseball, alongside fellow Phillies prospects Jim Owens and Don Landrum.
In the 1960 spring training, Phillies manager Eddie Sawyer assigned hitting coach and Hall of Famer Paul Waner to work with Coker and announced that the youngster would be his number one catcher. "I know the job is ready and waiting for me," enthused Coker. "[T]his is the chance I've been working and waiting for."7 Though Sawyer's tenure with the Phillies ended just one game into the new season, Gene Mauch, the club's new skipper, appeared pleased with Coker's work behind the plate. On April 23, the youngster rewarded his confidence by delivering a 13th inning walk-off double to defeat the Cincinnati Reds 3-2. The next day Coker blasted a grand slam homer into the upper deck of Connie Mack Stadium's left field seats, capping a seven-run eighth inning rally for a 9-5 comeback win over the Reds.
But Coker's offensive promise got soon overshadowed by defensive woes. Through the first nine games of the season Coker allowed nine stolen bases. By season's end he had surrendered 55, the most in the majors. Rookie Clay Dalrymple, the Phillies backup catcher, wasn't much better. "Several defeats . . . could be laid directly to poor throws by" the young receivers, The Sporting News would later determine.8 Feeling "that someone experienced was needed to take the pressure off the youngster[s]," on May 13 the club acquired veteran backstop Cal Neeman from the Chicago Cubs in a four-player transaction. According to The Sporting News, Mauch and GM John J. Quinn were both certain Coker would "regain his rating as the No. 1 receiver in time."9
Coker did not return to the lineup on a regular basis until August. Evidently rusty, he managed just five hits in 40 at-bats through the end of the month. He rebounded slightly in September but finished the season with a disappointing .214/.289/.329 line in 252 at-bats. Despite this underwhelming ledger, Coker's only major league season with more than 121 plate appearances, the Topps Chewing Gum Company selected him as the catcher on their 1960 All-Rookie team. "What happened to him . . . wasn't all his fault," Mauch later explained. "Some of our pitchers didn't hold the runners very well and Jim couldn't have tossed them out no matter what he did. He started pressing, lost his natural way of throwing and also lost his confidence."10
In April 1961, Coker was assigned to Buffalo after Dalrymple earned the Phillies starting catcher job; Neeman and Choo Choo Coleman, acquired during the offseason in the rule 5 draft, got the backup spots. In Buffalo, Coker rebounded under his mentor, Kerby Farrell, and was recalled by the Phillies in June. He got a hit in each of his first four starts and on July 4 delivered a seventh inning game winning three-run homer against St. Louis Cardinals reliever Craig Anderson. The next day Coker lifted his batting average to .429 after going 3-for-3 and scoring a run against future Hall of Famer Warren Spahn in the Phillies 5-4 extra-inning loss to the Milwaukee Braves. But Coker stumbled in some other key areas, stolen bases allowed and, according to Mauch, handling the pitchers. On July 9, he was returned to Buffalo to make room for Darrell Johnson, signed as a free agent that same day. Coker helped lead the Bisons to a playoff berth but missed out on the club's march to the Junior World Series title after suffering a fractured finger on his throwing hand on August 26.
On November 7, with tensions high between the United States and Soviet Union after construction of the Berlin wall, Coker was recalled to his Air Force reserve unit. He was assigned to Tinker Air Force Base in Oklahoma City, OK where, among his regular duties, he coached the servicemen's basketball team to an inter-service championship title. On September 3, 1962, a week after his military discharge, Coker elevated to the Phillies active roster after a minor surgical procedure benched Sammy White, the club's backup catcher signed as a free agent before the season.. Coker made just five pinch-hit plate appearances before the close of the season. On November 21, while he was playing winter ball in the Puerto Rican League, Coker was sold to the Baltimore Orioles "for a sum slightly in excess of the $20,000 waiver price."11
Coker's tenure with the Orioles proved brief: on December 15, the club traded him to the Giants with pitchers Jack Fisher and Billy Hoeft for catcher John Orsino and hurlers Mike McCormick and Stu Miller. The trade to San Francisco was presumably disappointing. In Baltimore, there was a likelihood of regular play for a club that had used no fewer than six players behind the plate during the 1962 season. No such turmoil existed for the NL champion Giants. On May 14, 1963, after making two unsuccessful pinch-hit appearances in April, Coker was optioned to the Triple-A Toronto Maple Leafs in the International League.
Coker hit safely in his first 11 games with the Maple Leafs and followed this up with an eight-game streak through June 2. Atop the circuit standings with a .431 average after 144 at-bats, Coker continued to set the pace at a .353 clip through July 31. Named the International League Player of the Month for June, two months later, he was selected as the circuit's All Star catcher. Coker, part of a five-player platoon at catcher, for the first time in his career, was used in the outfield in 34 games as Maple Leafs manager Bill Adair sought to keep his sizzling bat in the lineup. Coker earned selection as the Topps AAA-East All Star catcher after finishing the season with .309/.373/.473 in 349 at-bats. Called up by the Giants in September, he made just two appearances before the season ended. Then, on October 1, he was traded to the Cardinals for left-handed reliever Ken MacKenzie.
But once again he did not stay long. On April 9, five days before the start of the 1964 season, he was traded with outfield prospect Gary Kolb to the Milwaukee Braves for catcher Bob Uecker. Coker and Kolb were immediately assigned to the Triple-A Denver Bears in the PCL. Coker rebounded from a slow season start and was eventually selected as the circuit's co-All Star catcher alongside Arkansas Travelers backstop Pat Corrales.
On August 23, the day after Reds receiver Johnny Edwards suffered a split finger on his right hand, Cincinnati acquired Coker from the Braves for $35,000. "We paid darn good money for him," Reds GM Bill DeWitt said. "Actually, I tried to get him earlier, but Denver was still in the Pacific Coast League race and didn't want to part with him."12 Coker arrived in time for a four-way competition for the NL pennant, the Reds in a tight tussle with the Cardinals, Giants, and Phillies. On October 1, he was the pivotal figure in Cincinnati's 5-4 win over Pittsburgh, scoring two runs and driving in two more on three hits including a game winning home run—not to mention throwing out two base runners. Though the Reds lost the pennant the next day, Coker's performance since his callup in late August (.313/.371/.469) solidified his role as the team's behind-the-plate backup over the next three seasons.
From 1965-67, Coker shared catching duties with veteran receiver Don Pavletich. Both players received more play when Edwards, a former mainstay in the Reds lineup, began struggling offensively in 1966. On July 28 Coker hit his second and last big league grand slam, off left-hander Curt Simmons in a 7-5 win over the Cubs. In the midst of summer in which he was getting some playing time, Coker said: "I love the game. "I'm having the time of my life."13
Coker's last big league appearance came on September 12, 1967, when he delivered a fifth inning run scoring pinch-hit single against Pirates reliever Dennis Ribant in a lopsided 15-7 Reds win. Johnny Bench had made his debut a month earlier, signaling the future for Cincinnati catching for the next 20 years. Although he reported to the club's 1968 spring training, Coker recognized the writing on the wall, and announced his retirement in early March.
On July 11, 1956, while playing for the Wilson Tobs, Coker married 18-year-old hometown native Mary Ellen Benton. The union produced a son, Jimmie Jr., before ending in divorce a few years later. During the 1958-59 offseason, while stationed at Lackland Air Force Base, Coker met elementary school teacher and Texas native Nel Rey Daws, and the couple married on October 10, 1959. Their daughter Lerey arrived the following year. Coker quickly bonded with his father-in-law, who owned a cattle ranch in the small town of Throckmorton, some 125 miles northwest of Fort Worth. (Indeed, Coker's experience of having grown up on a farm helped him defeat Mets pitcher Al Jackson in a pre-game cow milking contest at Shea Stadium in late September 1964.) He eventually joined the board of directors of the Texas and Southwestern Cattle Raisers Association in Throckmorton. Coker's marriage to Nel also ended in divorce in September 1991. Only a few weeks later, on October 29, five months past his 56th birthday and exactly seven weeks after the divorce had been finalized, Coker, a lifelong smoker, died of a heart attack in Throckmorton. He was buried in the Throckmorton Cemetery.14
Coker never reached the heights forecast when, in 1959, he drew comparisons to Hall of Fame backstop Roy Campanella, He finished his nine-year major league career with 137 hits, 16 homers and 70 RBIs in 592 at-bats.
Acknowledgments
This biography was reviewed by Tom Schott and fact-checked by Alan Cohen.
Sources
In addition to the sources cited in the Notes, the author consulted Ancestry.com and Baseball-Reference.com. The author wishes to thank Steven James Coker, a family historian and cousin of the ballplayer, for his assistance. Further thanks are extended to SABR member Tom Schott for review and edit of the narrative.
Interviews with Jincy Coker Myers and Nel Rey Coker, the ballplayer's sister and second wife, respectively, April 25, 2017.
Notes
Born
March 28, 1936 at Holly Hill, SC (USA)
Died
October 29, 1991 at Throckmorton, TX (USA)
If you can help us improve this player's biography, contact us.
https://sabr.org/sites/default/files/CokerJimmie.jpg
600
800
admin
/wp-content/uploads/2020/02/sabr_logo.png
admin
2017-05-22 18:22:53
2017-05-22 18:22:53
Jimmie Coker