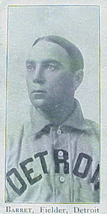 ---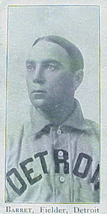 Jimmy Barrett arrived in the majors with a brilliant one-month trial in 1899 and followed with five years as scintillating outfielder, superior batter, and speed darling of fans in Cincinnati and Detroit. Prior to injuring his knee in 1905, Barrett was called the finest throwing outfielder and the fastest man to first base in his league. During his five healthy seasons, he led the majors in outfield games, putouts, and double plays by small margins and collected 30 more assists than any other outfielder in baseball. Upon his retirement, the Washington Post observed that Barrett "could go back as fast and as far on a fly ball as any man in the game… He was a wonder at throwing, and none can remember where Barrett made the wrong play after grabbing the ball; he always knew where to throw it." Foot speed was crucial to Barrett's offensive production. With superior bunting ability and the lefty's advantage, it made him a great slap hitter. Beating out grounders and bunts drew comparisons of a young Barrett to Willie Keeler and later, a young Ty Cobb to Barrett.
James Erigena Barrett was born on March 28, 1875, in Athol, Massachusetts, near Vermont, and he lived in that region until moving to Detroit as the Tigers' biggest star. His father died when he was four years old and his mother when he was six, and Jimmy was raised by several uncles. Listed at 5'9″, 170 pounds, he was probably shorter. At 21 he played in Brattleboro, Vermont, 20 miles from Athol, professionally by one later report. When the New York State League expanded to Utica and Oswego in 1898, Barrett applied to both clubs. Oswego's manager, James Sayer, received more than 800 letters and selected Barrett as one of three shortstops among only nine fielders on a team of 18 that would be cut to 12 after practice. Barrett impressed quickly, especially with his throwing, but he could hit and run, too, which yielded two triples and a homer in an exhibition against the Cuban Giants. Correspondent Fred Fayette called him a sure major leaguer within two years.
After six errors in two games, Barrett was shifted to third. In a month at third and a month back at short, he committed about one error per game. When the New England League went out of business after Independence Day, Sayer picked up two men from its Taunton, Massachusetts, team, putting one of them at shortstop and moving Barrett to right. From there Barrett developed into one of the league's best players, leading the league in games, at-bats, and hits while finishing ninth in batting average (.332) and slugging almost .500. He notched 20 assists in 53 outfield games and made speed his trademark.
No National League club drafted him that fall, so when Barrett became available to the Class A minors on January 1, George Stallings selected Barrett for Detroit of the Western League. The young outfielder starred for the 1899 Tigers, scoring 117 runs and batting .331. At the end of August, Stallings sold Barrett to Cincinnati, and Jimmy made his major league debut two weeks later.
Joining the team a few days after Sam Crawford, Barrett was an immediate sensation. Installed as the club's right fielder and leadoff batter, he scored 30 runs in 26 games while hitting .370 with a .477 on-base percentage. Barrett secured the leadoff and right field roles the next spring, but moved to center after 30 games and finished the year with 114 runs scored and 44 steals, both third best in the league, and a .316 batting average with 72 walks.
Beside his statistical achievements, Barrett's speed and aggressive style contributed to his popularity with fans and thus to his stature in the lucrative labor market that soon opened with the emergence of the American League as a major league. He was most popular in Detroit, which quickly signed him for $3,000, $600 above the NL ceiling. For the next four seasons, Barrett remained a fixture as the club's center fielder, eventual leadoff batter, and best overall player. He led the Tigers in runs and walks each year, three times led the club in on-base percentage, and twice led the team in home runs.
During Barrett's four years with the club, Detroit posted a winning record only once, in 1901, finishing a surprising third in Stallings' last campaign. After the season, Barrett joined Joe Cantillon's "All-American Team" of AL stars touring from Massachusetts to Texas and Win Mercer's successor team that played in California for a month. Cincinnati threatened legal action to regain him for 1902 but also offered him a new contract to return in 1903. Barrett, however, spoke out against NL enticements and signed a two-year deal with Detroit in mid-August, 1902.
Barrett's best season came in 1903. He led the league in walks and on-base percentage (.407); ranked fourth with a .315 average and tied for third with 95 runs; and led in assists for the second time in three seasons. Yet manager Ed Barrow, who thought Barrett too cocky, "didn't think too much of his ball playing," according to reports, and in 1904 tried to trade him to the New York Giants for Art Devlin, though the deal was vetoed by Tigers Secretary Frank Navin. Barrett survived the controversy to post another outstanding season, as he once again led the league in outfield assists and walks. Under the new 154-game schedule, Detroit played ten ties, of which eight were replayed for a total of 162 games. Barrett played every single game, establishing a major league record that would remain out of reach until the season expanded to 162 games in 1961.
In the top of the ninth on April 26, 1905, Barrett went down with a twisted knee, an injury from which he tried to come back too soon, according to one observer. "If the kneecap had been broken he might have been saved many playing days but as it was a sprain it caused Barrett to be careless. He got back into the game before the injury had properly healed, and there was a recurrence." Although his "torn knee tendons [were] still in bad shape," in early July he returned to the lineup, but before long his leg gave out again, relegating Barrett to a part-time role and forcing the Tigers to call-up an 18-year-old Ty Cobb at the end of August. In Barrett's absence the team charged to third place, generating optimism for 1906. Cobb was a keeper in the majors, as other clubs would not waive claims. That offseason the Tigers also secured Davy Jones, a dominating player in the American Association and another capable centerfielder. In the Tigers' now-crowded outfield, the limping Barrett became expendable.
A leg specialist in Ohio gave Barrett encouraging words, so he planned to exercise in the winter by walking and hoped to train with the team in the spring. In fact, mid-February 1906 found him still in a plaster cast. He stayed in Detroit during spring training and a physician advised him to rest all year. At the beginning of April, he was finally ready to report at Bennett Park when the team returned home. One of five outfielders on the official roster, he practiced with the team but didn't play.
Cincinnati finally reacquired its 1899 phenom by conditional purchase in May 1906 for an amount reported as $2500 or $3500. Cincinnati never paid a dime, however, returning Barrett to Detroit after Jimmy, looking slow, went hitless in 12 at-bats. A few days later Barrett agreed to become player-manager for Dayton of the Central League, where he served less than a month before drawing his release. Three weeks later, Barrett signed with Rochester of the Eastern League, where, remarkably, he played 74 games in 74 days, batting .277 and scoring 42 runs. In the field, his range was below average but mitigated by 24 assists. After the season, the Boston Red Sox picked him up for two years at a $3000 salary with a $2000 bonus.
Reinjuring his bad knee prior to the 1907 season, Barrett went home and rejoined the team only upon its first arrival in Detroit late in May. He served as the team's regular left fielder for the next four months, running the bases cautiously and generally fitting in well on a weak team. He hit .244 with enough walks and extra bases to be an average batter in the trough of the Deadball Era. For 1908, however, the Red Sox acquired several promising outfielders. Barrett's leg was still unreliable and that was enough to let him go on May 15.
Within a week, Barrett was back in the Eastern League with Providence, then in last place. Manager Hugh Duffy put him in right and batted him sixth. A Buffalo writer soon praised him for "walloping the horsehide at a .260 clip," a welcome average, if not hoped for. His main problem noted locally was cautious play, especially conservative base running. But the team climbed to first place by mid-July and Barrett would be remembered for his role. At least twice he scored on the front end of a double steal, which shows he had regained some nerve. His season came to an abrupt end on August 17, however, when he reinjured the leg sliding into home. His .251 average and 55 runs in 82 games were not bad but he was not reserved for 1909.
Barrett finished his professional career with three years in Milwaukee. Joining the Brewers late in June, 1909, he was the regular left fielder for a month, then a sub. Incredibly, given his injury history, he returned to shortstop for the first time since 1898, playing that demanding position poorly for three weeks in August and another in late September. The following spring he won a regular outfield job. Hitting .400 and scoring 19 runs in 21 games, he slowed moderately before his season ended June 12, once again by leg injury, after a painful slide into home. Recent rumor had him going to the White Sox by trade; instead, he went home to rest.
Named manager of the club for 1911, Barrett guided the team to a fifth place finish while occasionally playing center. The club did not rehire him or reserve him for 1912, so he was a free agent. Postseason reports said Barrett would scout for the Tigers or manage Des Moines if he and Charles Comiskey could agree to terms (White Sox veteran Frank Isbell got the job). In February 1913 he announced his retirement in Detroit, where he had leased office space to begin a regular business career as "agent for the Scripps motor engine." He became senior partner in the real estate firm Barrett & Walsh with one of his in-laws and died in their office of a stroke on the morning of October 25, 1921, at age 46. Former teammates served as pallbearers when he was buried in Mount Olivet Cemetery. His wife, the former Margaret Walsh (whom he had married in 1904), inherited an estate worth more than $400,000.
Note
This biography originally appeared in David Jones, ed., Deadball Stars of the American League (Washington, D.C.: Potomac Books, Inc., 2006).
Sources
For this biography, the author used a number of contemporary sources, especially those found in the subject's file at the National Baseball Hall of Fame Library.
Born
March 28, 1875 at Athol, MA (USA)
Died
October 25, 1921 at Detroit, MI (USA)
If you can help us improve this player's biography, contact us.
http://bioproj.sabr.org/bp_ftp/images/BarrettJimmy.gif
600
800
admin
/wp-content/uploads/2020/02/sabr_logo.png
admin
2012-01-04 20:00:47
2021-09-05 14:28:01
Jimmy Barrett