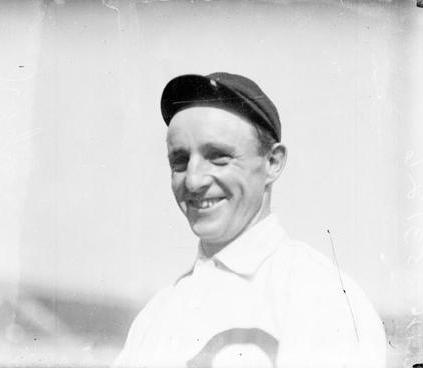 ---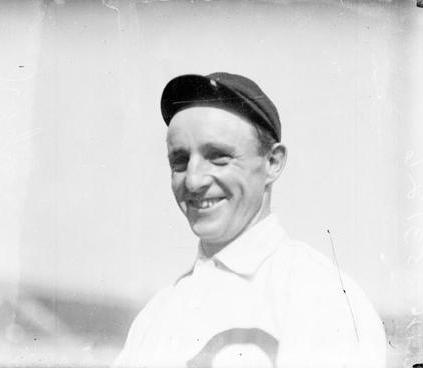 He was known as Shorty, The Rabbit, or sometimes The Mosquito. He used his short stature, his speed, and his pesky nature as a hitter and runner to advantage. These traits earned him the center field slot for one of the best baseball teams in baseball history, the 1906-1908 Chicago Cubs. At 5-foot 6-inches1 and 144 pounds, Jimmy Slagle threw right-handed and batted left. His short stature and smaller strike zone earned him many walks at the plate. His speed on the bases made him an ideal lead-off batter.
Slagle broke into the big leagues on April 17, 1899, at age 25. During a 10-year major-league career, he played for the Washington Senators, the Philadelphia Phillies, the Boston Beaneaters and the Chicago Cubs. As a major-leaguer he accumulated a batting average of .268 that, added to 619 walks, yielded an on-base percentage of .352. Over his career, he walked roughly every ninth time at bat and stole 274 bases. He stole six bases off the Detroit Tigers in the 1907 World Series, including a steal of home in the seventh inning of Game Four.
James Franklin Slagle was born July 11, 1873, in Worthville, a small town in Jefferson County in the northwest corner of Pennsylvania. He was second of four children born to Peter Dietrich and Jemima Slagle. Peter was a Civil War Veteran, wounded twice while serving as a member of Company G of the 105th Regiment of the Pennsylvania Volunteers. The company's first sergeant at war's end, Peter worked as a miller and as a shoemaker during Jimmy's youth.
Slagle played amateur baseball for the nearby Clarion, Pennsylvania, team from 1888 to 1893. In 1894 he played his first professional baseball for the Franklin (Pennsylvania) Club of the Iron and Oil League in 1894. Various reports assert that Jimmy also played college ball during this period. A newspaper story summing up his career stated that he played for Ohio Wesleyan University in Delaware, Ohio, but his name is not included among OWU players who made it to the major leagues. Another source stated that he attended the University of Kansas. Again, as with OWU, his name is not listed among Kansas players who became major leaguers. That he did attend college for two years is confirmed by census records.
In 1895 Slagle was sold to the Omaha Omahogs, a Class B team in the Western Association. In 1896, he transferred to the Houston Buffaloes of the Texas League. As the Buffs centerfielder that year he sizzled at the bat, leading the league in hits and stolen bases, hitting .367 and scoring 171 runs in 131 games. More than a century later, in 2013, the Texas League recognized Jimmy's stellar year by selecting him to the Texas League Hall of Fame.
Although Boston purchased his contract in 1897, he went on loan that year to Grand Rapids of the Western League, batting .325 and stealing 40 bases. In 1898, playing for the first-place Kansas City Blues of the Western League, Jimmy led the league in batting average, runs, and hits, hitting .378, scoring 137 runs and logging 206 hits in 133 games.
In a 1944 Chicago Daily News article by Francis J. Powers, Slagle said that "I wasn't much of a hitter and some seasons I used to get as many bases on balls as I did hits. I was only 5-foot-6 and batted left-handed and when I crouch[ed] over the plate, there wasn't much for a pitcher to throw at. In fact, I used to walk so often that (former teammate) Carl Lundgren, one of our pitchers, once said that I was the only player he saw who stole first base."
In his first year in the majors, playing for the Washington Senators, he batted .272 and stole 22 bases. After the 1899 season the National League contracted from 12 teams to eight with Washington one of the teams eliminated. Jimmy was traded to Philadelphia where he joined an elite group of sluggers that included Ed Delahanty and Nap Lajoie. In 1900 Slagle hit .287 for the Phillies and walked 60 times. Following a slow start in 1901, he was released by the Phillies in June and picked up by the Boston Beaneaters.
In Boston he impressed Frank Selee, the Hall of Fame manager who won 1,000 games with the Beaneaters before leaving Boston for the Chicago Orphans (soon to be the Cubs) in 1902. In1901, when Jimmy had suffered a broken finger, Selee released him outright, but anticipating becoming Chicago's manager in 1902, he told him not to sign with anyone for the next year. As planned, Selee convinced Cubs' co-owner James Hart to sign Jimmy. He would play for Chicago for the rest of his major league career, batting leadoff and playing center field. He was considered a good teammate, a "scientific" player, and a prospective minor league manager.
In 1902 at age 32 and in his first year with the Cubs, Slagle had one of his best years at the plate, hitting .315, stealing 41 bases (just short of Honus Wagner's league-leading 43) and walking 53 times. Notwithstanding Jimmy's success both at bat and in the field, Chicago had a losing season. It would be the Cubs' last losing season until 1915. Although Jimmy never again hit over .300, he remained a foundation piece of a remarkably stable lineup that dominated the league during the remainder of his playing years.
By the end of Selee's first year in Chicago, five of the eight regulars of the 1906 pennant-winning season were on board: catcher Johnny Kling, first baseman Frank Chance, shortstop Joe Tinker, second baseman Johnny Evers, and Slagle.2 Selee was not around to see the results of his work in building a champion, having left the team in mid-1905 due to illness; Frank Chance became the player-manager. Selee died in Arizona in 1909 from consumption (tuberculosis).
On May 24, 1906, in the middle of one of his best seasons, Slagle married Ethel McCulley, a Michigan native 15 years his junior. The couple had no children and were married just two weeks short of 50 years.
The 1906 Cubs won 116 regular season games, finishing the season with an amazing run of 50 wins against only eight losses and besting the second place Giants by 20 games. Slagle's batting average had dropped to .239, but he gained 63 bases on balls while earning a .976 fielding percentage in center field. Following a late-season injury in a game at Cincinnati, Slagle was unable to play in the 1906 World Series.
The 1907 Cubs won 107 games and led the runner-up Pittsburgh Pirates by 17 games. Slagle was healthy for the entire year. Hitting .258 and stealing 28 bases, he was second on the team with 71 runs. The Cubs won the World Series against the formidable Detroit Tiger team led by 20-year old Ty Cobb. Uniquely, the first game of the series ended in a 3-3 tie with the game called on account of darkness. The Cubs won the next four games and their first World Series. In the first, tie game Slagle had two hits and two stolen bases. He had a vivid memory of that game, because he had a chance to win the game in the bottom of the 10th when he tried to score on a wild pitch. As he recalls in the 1944 Daily News article3 by Francis J. Powers:
"I hit a sharp bounder toward the bag that skidded off Donovan's glove, and I beat it out for a hit. I felt pretty good when I hit the bag, but pretty cheap a second or so later when Wild Bill [Donovan] picked me off first. But in the run down, [Germany] Schaefer failed to tag me, and Umpire Jack Sheridan called me safe at second. [Claude] Rossman really made a bad throw so it wasn't all Schaefer's fault. [Jimmy] Sheckard fanned but Chance drew a pass. Then Chance and I worked the double steal while Donovan held the ball. I might mention that while Chance was a big man and not too fast, he was one of our best base runners.

"That put it up to [Harry] Steinfeldt, our cleanup hitter. Donovan gave 'Steiny' two of his blistering fast balls for strikes and then tried to make Harry bite at a bad pitch. I guess it was a curve for the ball got away from Schmidt who had a terrible day, and I tore out for the plate. I think I would have scored easily and that would have won the game, only for Steinfeldt.

"Donovan rushed in to cover the plate and as he did Steinfeldt jabbed his bat in front of Bill and also bumped me off the plate. Umpire Hank O'Day called Steinfeldt out for interference and when Chance and the Cubs started to argue, he chilled them with the statement, 'It was the rawest piece of interference I ever saw.' So I didn't get to be a hero after all and after about the most confusing trip around the bases any player ever made."
Neither team scored in the 11th inning, and the game was called on account of darkness. Had there not been interference on Slagle's attempt to score in the tenth, the game would have ended then with a Cub win. This incident, described in Jimmy Slagle's own colorful language encapsulates the traits that made him an offensive asset: adept at the plate, speedy on the base paths, able to rattle the pitcher and hurry the catcher, and quick to take advantage of any opportunity.
"His steal of home occurred in the seventh inning of the fourth game. With two out, Slagle was on third and player-manager Frank Chance was on first with Wild Bill Donovan pitching. Chance intentionally got himself caught in a rundown and avoided the tag long enough for Slagle to steal home."4
In 1908 Injuries and mishaps hampered the Cubs outfield. Called the Sigmas by the Chicago writers, Wildfire Schulte, Jimmy Slagle, and Jimmy Sheckard "formed one of the better outfields in the game, but poor health held down their production in 1908 . . . Slagle covered center skillfully but hit only .222."5 Near the end of the season, suffering from an arm injury that was to end his major league career, and slumping at the plate, he was replaced in center field by Solly Hofman. The arm injury and batting slump kept him out of the 1908 World Series and resulted in his release from the Cubs and ending his major league career.
Slagle played the 1909 and 1910 seasons for the minor league Baltimore Orioles, where he was a fan favorite for his center field play. Continuing arm trouble made him a defensive liability, and he called it quits at the end of the 1910 season.
Information about Slagle's life after baseball is sparse. He returned to Chicago after quitting baseball. His draft registration card and census reports listed him as owner of a machinery business and operator of a laundry. From time to time, he returned to Worthville and maintained contact with former baseball associates. In 1953 he was named president of Western Pennsylvania Old Time Baseball Players group.
Jimmy Slagle died at home in Chicago on May 10, 1956, of coronary thrombosis, his death apparently unmentioned by Chicago media except for a three-line death notice in the Chicago Tribune that did not refer to his baseball career. Ethel died in 1982 and is buried beside him in Oakridge-Glen Oak Cemetery in the Chicago suburb of Hillside.
On October 19, 2007, a century after Chicago swept the Detroit Tigers in the World Series, a memorial to Jimmy Slagle was erected in his home town of Worthville. A bronze plaque mounted on a 600-pound sandstone rock, the memorial listed his accomplishments and noted that it was "dedicated to the memory of a country boy who made his mark on the world."
Acknowledgments
This biography was reviewed by Jan Finkel and fact-checked by David Kritzler.
Sources
Seth Hamill, "Now They Know Jimmy Slagle Played Here." New York Times, November 6, 2007.
Baseball Hall of Fame Library, player file for Jimmy Slagle
US Census Bureau, 1880, 1920, 1940
www.ancestry.com
www.baseball-almanac-com
www.baseball-reference.com
www.findagrave.com
Notes
1 Listed in most baseball references as 5'7", Jimmy claimed to be only 5'6" tall. "My Biggest Baseball Day," As Told by Jimmy Slagle to Francis J. Powers (Chicago Daily News, January 28, 1944).
2 Bernard A. Weisberger, When Chicago Ruled Baseball (New York: William Morrow, 2006), 49.
3Powers, "My Biggest Baseball Day."
4 John Snyder. The World Series Most Wanted, The Top Ten Book of Championship Teams, Broken Dreams, and October Oddities (Washington, DC: Brassey, Inc, 2004), 184.
5 David W. Anderson, More than Merkle (Lincoln: University of Nebraska Press, 2000), 65.
Born
July 11, 1873 at Worthville, PA (USA)
Died
May 10, 1956 at Chicago, IL (USA)
If you can help us improve this player's biography, contact us.
https://sabr.org/sites/default/files/SlagleJimmy.jpg
600
800
admin
/wp-content/uploads/2020/02/sabr_logo.png
admin
2019-02-28 17:14:58
2020-04-09 14:37:35
Jimmy Slagle