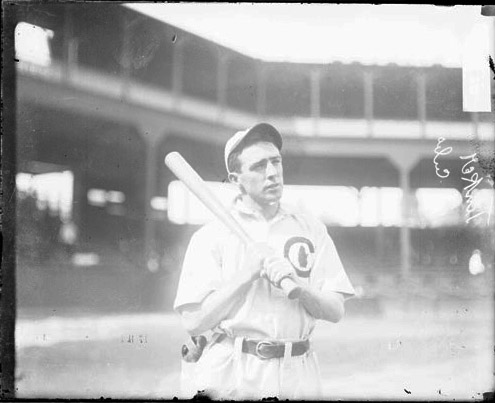 Renowned for his ability to execute the hit-and-run play and deliver clutch hits in big games, Joe Tinker compiled a lifetime batting average of .266 and stole 336 bases in 13 full seasons in the majors, but he is best known for anchoring the defense of a team that many consider the greatest of the Deadball Era, if not of all-time. "It is impossible to speak of the great deeds which made the Cubs of 1906 the most formidable team in the history of the game without due mention of their peerless shortstop, Joe Tinker," wrote F. C. Lane in Baseball Magazine. "The shadow of Hans Wagner has long obscured the deeds of the short-field men, and the great Dutchman will go down in history as the most incomparable shortstop who ever played the game. But it is hardly fair to make comparisons where Wagner is concerned. Admit that he is in a class by himself, a most obvious statement, and then state what is equally obvious, that the head of the shortstop department outside the Flying Dutchman clearly belongs to the Chicago star."

The son of a contractor, Joseph Bert Tinker was born on July 27, 1880, in Muscotah, Kansas, a tiny village 36 miles north of Topeka. Joe's twin sister died at an early age, leaving him an only child. When he was two his family moved to Kansas City where he got his start in baseball at age 14, playing for his school team, the Footpads. Two years later Joe joined a semipro club called the John Taylors, playing against future Cubs teammate Johnny Kling of the Schmeltzers. He won a city championship with Hagen's Tailors in 1898, and in June of the following year he left Kansas City and joined a semipro outfit called the Paragons from Parsons, Kansas. After that club disbanded, Tinker played for Coffeyville, a town on the border of Oklahoma Territory that soon became famous as Walter Johnson's off-season home. Joe played third base alongside Billy Hulen, a shortstop who had played 19 games for the Washington Nationals earlier that summer, and caught his break when Hulen recommended him to George "White Wings" Tebeau, who was managing Denver of the Western League.

Tinker didn't last long in Denver, playing out of position at second base and batting just .219 in 32 games, but Tebeau sold him to Great Falls of the Montana State League in June 1900. Tinker's manager in Great Falls was John McCloskey, the former Louisville Colonels manager. With his team in financial straits, McCloskey sold Joe to Helena for $200 and Joe Marshall, who also went on to the majors. After batting .322 in a combined 57 games for Great Falls and Helena, Tinker played the entire 1901 season for Portland, batting .290 with a league-leading 37 stolen bases for the Pacific Northwest League champions. Both the Cincinnati Reds and Chicago Orphans were interested in the young third baseman, but Joe requested that he be sold to the Orphans on the advice of outfielder Jack McCarthy, who claimed that he had been treated poorly in his two seasons with the Reds.

At spring training in 1902, new Chicago manager Frank Selee tried out a dozen shortstops in his quest to find a replacement for Barry McCormick, who had jumped to the American League's St. Louis Browns. Ultimately he settled on Tinker, who reluctantly agreed to switch from his preferred position at third base. Joe proved a surprisingly adept hitter, batting .261 as a rookie before reaching a mark of .291 with 70 RBIs in 1903, but he also led all NL shortstops with 72 errors in his first season. His fielding improved dramatically over the next several years, however, and in 1906 he led all NL shortstops with a .944 fielding percentage. Joe went on to lead the league in that category five times, and he also led the NL in range factor four times and double plays twice.

Tinker and Cubs second-baseman Johnny Evers worked so well together that Lane called them the "Siamese twins of baseball" because "they play the bag as if they were one man, not two." Off the field, however, they didn't get along; though Evers told a different story, Tinker attributed their enmity to a 1905 argument over a cab fare. Joe always downplayed his problem with Evers, believing that the press made too much of the story. "They make a great deal of such differences among ball players, but this is pure exaggeration," he said. "You cannot expect to be on intimate terms with everybody on your club and there is no reason why you should be, so long as you are playing the game." Tinker and Evers remained estranged until 1938 when both, unbeknownst to each other, were invited to help broadcast the World Series. The old keystone partners ended up embracing after a moment's strained silence.

It was during the 1908 season that Joe Tinker became a household name. Playing in all 157 games, Tinker held the Cubs together during a rash of injuries that forced several of his teammates to miss significant portions of the season. He batted .266 and led the Cubs in hits (146), triples (14), home runs (6), RBIs (68), and slugging percentage (.391), and his outstanding defensive play drew frequent mention in the newspapers. Joe also had key hits in the two biggest games of 1908. On September 23, in the so-called "Merkle Game," he hit a home run off Christy Mathewson for the only Cubs run in a game that was declared a 1-1 tie. In the one game play-off against the Giants on October 8--arguably the most famous game of the Deadball Era--the Cubs defeated Mathewson, 4-2, with Tinker's triple the key hit in a four-run third inning. The great Giants pitcher was at his best that season, establishing a career high with 37 wins, but Tinker was his personal nemesis. The Cub shortstop hit over.350 against Matty over his career, but he hit over .400 against him in 1908.

In his 1912 book Pitching in a Pinch, Mathewson mentioned Tinker in the opening paragraph, describing him as "the worst man I have to face in the National League." The great pitcher explained that Joe had a short, chopping swing during his first two years in the league, making him susceptible to slow curves over the outside corner. Then Tinker made an adjustment: He got a long bat and took to standing far back in the batter's box, reaching out to drive outside pitches to the opposite field. "Ever since the day he adopted the new 'pole' he has been a thorn in my side and has broken up many a game," wrote Mathewson. "That old low curve is his favorite now, and he reaches for it with the same cordiality as is displayed by an actor reaching for his pay envelope. The only thing to do is to keep them close and try to outguess him, but Tinker is a hard man to beat at the game of wits."

While other key Cubs got old and fell victim to injuries over the next several seasons, Tinker was just entering his prime. Despite batting in the lower part of the order, he drove in 69 runs in both 1910 and 1911. In 1912 Joe batted .282 and set career highs in runs (80) and RBIs (75), finishing fourth in the Chalmers Award voting for the National League's MVP. After the season, however, Cubs owner Charles Murphy appointed Evers to replace Frank Chance as player-manager. Tinker wasn't keen on playing under the command of a man with whom he wasn't on speaking terms, and on December 15, 1912, the Cubs traded their shortstop of 11 years to the Cincinnati Reds in an eight-player deal. The 32-year-old Tinker became Cincinnati's player-manager in 1913, but the Reds got off to a poor start when the Ohio River flooded Redland Field early that season. On a personal level, however, Joe continued to excel. "I believe I am playing the best game of my career right now," he told Lane. Though the Reds fared poorly as a team, finishing with a 64-89 record, Tinker played in 110 games and established career highs in batting average (.317), slugging percentage (.445), and fielding percentage (.968).

Tinker was a players' manager. "Because a man is placed in charge of a club does not make it necessary for him to be a taskmaster or a tyrant," he told Lane. "In my opinion he ought to be as lenient with his club as circumstances allow, and the less he interferes with the personal liberties of the men the better." When owner Garry Herrmann informed him that the Reds intended to send a spy on road trips in 1914 to report on the activities of the players, Joe balked and refused to sign a contract. The Reds tried to sell him to Brooklyn but he ended up jumping to the Federal League instead, becoming the first big-name player to throw in with the upstart league. Tinker was instrumental in obtaining other players--he even signed Walter Johnson to a contract, but other AL owners supplied funds to Clark Griffith to keep Johnson in Washington. Joe enjoyed great success as player-manager of the Chicago Whales. Playing in their brand-new ballpark, Weeghman Field, the Whales finished a close second in 1914 and won the Federal League pennant the following year, outdrawing the Cubs in both seasons.

When the Federal League folded after the 1915 season, Whales owner Charles Weeghman purchased the Cubs and brought Tinker with him as manager. Joe lasted only one season, leading his old team to a fifth-place finish. In 1917 he became part owner and manager of the Columbus team in the American Association. Due to his wife's health problems, Joe sold his interest in 1920 and moved to Orlando where he became owner-manager of the Orlando Gulls of the Florida State League. He became one of Orlando's leading citizens, investing in real estate and building a racetrack, dog track, and ballpark. Tinker lost his wealth during the Great Depression. In his remaining years he worked as a scout for the Cubs and operated a successful billiard room in Orlando. Joe suffered from diabetes but lived long enough to enjoy his election into the National Baseball Hall of Fame in 1946. Joe Tinker passed away in Orlando on his 68th birthday, July 27, 1948. He is the namesake of Tinker Field, which remained the home of minor-league baseball in Orlando until 2000.


Note: A slightly different version of this biography appeared in Tom Simon, ed., Deadball Stars of the National League (Washington, D.C.: Brassey's, Inc., 2004).

Sources

For this biography, the author used a number of contemporary sources, especially those found in the subject's file at the National Baseball Hall of Fame Library.