---
Joe Girardi had the big hit in the deciding game of the 1996 World Series, caught a perfect game, won a Manager of the Year Award with one team, and skippered another to a World Series win. An above-average major leaguer for 15 seasons, Girardi will be remembered most for his time helming the post-Joe Torre Yankees. As one observer put it, "Girardi was often a proxy for the Yankees' ideals. There he was, year after year: jaw squared, hair closely cropped, relentless pursuing championships, no matter how broken down or unproven the roster would become."1
Girardi inherited his determination from his father. Born on October 14, 1964, the fourth of five children, he grew up in Peoria, Illinois. "His father … was … a salesman, but … [Gerald Girardi] ran a restaurant, tended bar, even laid bricks. … [Mother] Angela Girardi … work[ed] full-time as a child psychologist."2 After long battles, his mother died of ovarian cancer, and his father of Alzheimer's. Of his father, Girardi reminisced, "I think about all the things he taught me about hard work, and fighting through adversity, and toughness. I carry all the things that he taught me as a little boy growing up."3
Joe Girardi started catching at 12, "because they didn't have anybody else," he said. "I tried to go back to being a shortstop when I was 13 but they didn't let me."4 Girardi had three brothers, two of whom played baseball. "[I]f you're a ballplayer, it's great to have older brothers," Girardi said. "My brothers always brought me to play with the older kids. Any time you play at a level that's higher than your level, you're going to get better."5
At Spalding Institute, a Catholic high school in Peoria, Girardi, Class of 1982, was an All-State selection in baseball.6 He attended Northwestern University before the Cubs drafted him in 1986 and sent him to Single-A Peoria. He got off to a hot start "hitting near .330 … despite an air splint on his ankle from a hairline fracture suffered at Northwestern …"7
Girardi's bat cooled as he advanced through the minors. He hit .309 with Peoria, .280 with Carolina in 1987, and .272 with Double-A Pittsfield in 1988. Going into the 1989 season, Cubs manager Don Zimmer considered keeping Girardi with the team to spell Damon Berryhill. "We're not talking about a kid here," Zimmer said. "He came out of college … at 22 and has played a few years."8
Girardi debuted on April 4, 1989, against the Philadelphia Phillies in the season opener for both teams. In his first plate appearance, he singled off Floyd Youmans. A single by Jerome Walton scored Girardi with the first run of the Chicago campaign. Girardi finished 2-for-3 with a walk, made an error, but also threw out the only runner (Bob Dernier) attempting to steal as the Cubs won, 5-4.
Chicago won the NL East in 1989. Girardi played 59 games in the regular season and four NLCS games. He also authored an article for his hometown paper during the playoffs, writing, "It's great to be on a winning club, especially to be a part of the club you always dreamed about playing on as a little kid. I worshipped the Cubs as a little kid, I followed them very closely and whenever you're winning it's a lot of fun."9
Bill James thought little of Girardi's prospects after his rookie year: "Looked solid as an emergency call-up. There are worse catchers in the majors; could platoon with Berryhill. No star potential."10
In fact, Girardi beat out Berryhill in 1990, a year in which Girardi established career highs in games (133), doubles (24), and defensive Wins Above Replacement (1.5). He led the NL in throwing out base stealers with 47, but tied for the league lead in passed balls with 16. Zimmer praised his receiver, stating, "When it comes to throwing, I rate Girardi No. 1 or No. 2 with (San Diego's) Benito Santiago."11
Girardi played less in his next two seasons in Chicago than he had in 1990 alone. Staggered by a bulging back disc and a broken nose, he played in only 21 games in 1991 and in 91 games in 1992 before leaving Chicago, where he developed a sense of professionalism that would lead to a lengthy career. In 1998, New York Times columnist Claire Smith opined, "Joe Girardi was reared right, by his parents, by … Zimmer, by his former teammates Andre Dawson, Rick Sutcliffe, Scott Sanderson, Vance Law and Greg Maddux."12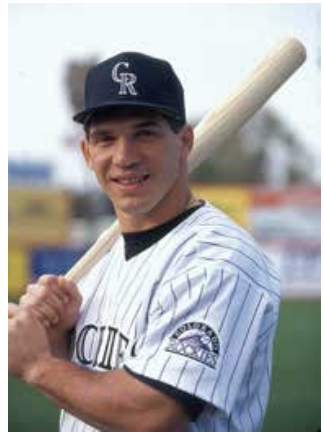 The Colorado Rockies selected Girardi in the fall 1992 expansion draft. He started the first game in franchise history and batted seventh. Moving from a friendly hitters' park to the friendliest one, Girardi set career highs in triples (5), slugging (.397), and OPS (.743) in his first campaign with the Rockies.
Bill James remained unimpressed: "A pretty awful player, even for an expansion team. He hit .290, but that's .266 if you adjust for the park, and there was … no power, no walks, no runs, no RBI. His defense isn't anything special, and … he's not likely to get any better. He missed two months in mid-season following surgery on his right hand, which kept him from driving in 40 or even 45 runs."13
Girardi's offense worsened during his subsequent years in Denver even as the Rockies improved each season. Denver Post columnist Mark Kiszla castigated Girardi as "a nonessential part … a player so expendable even the Chicago Cubs didn't want him…. Baseball goes on strike almost as often as he gets an extra-base hit. … Girardi is a defensive specialist who allows approximately 70 percent of baserunners to steal him blind."14
But Colorado manager Don Baylor appreciated his skills. "Baylor knew what he had in Girardi, a catcher who would guide a questionable pitching staff. 'Guys had 5.00 ERAs and high 4.00s, and you have to try to talk them through that,' Baylor explained. 'Joe really worked on the mental part of the game.'"15
After the 1995 season, the Rockies, clearing payroll to pursue free agent Craig Biggio,16 sent Girardi to the Yankees for reliever Mike DeJean. Girardi had enjoyed Denver. "Those three years in Colorado were magnificent," Girardi said. "We played at Mile High Stadium, and you'd have seventy thousand people there. It was loud, it was exciting, people loved baseball."17
One reporter writing at the end of Girardi's career saw another motivation for the transaction. "Girardi earned his teammates' respect during the labor conflict that erased the 1994 season and delayed the 1995 campaign, when he served as the Rockies' player representative. Girardi's stance against management helped instigate his trade. … The Rockies missed Girardi more than he missed them."18
With the transaction, New York bade farewell to free agent Mike Stanley and announced that Girardi would start in 1996. "To me, Joe Girardi is one of the best catchers in the game," Yankees manager Joe Torre said. "Mike Stanley did a heck of a job offensively for this ballclub. But the defensive part we improved."19
New Yorkers viewed the transition from Stanley to Girardi skeptically. "I know some people are very, very unhappy over what happened," Girardi said. … "I know I've taken heat on the radio and in some articles. But to me, that will make the rewards at the end all the more special."20
Girardi proved prescient. "I'm not going there to replace Mike Stanley," he said. "We're two different types of catchers. … I think what it really comes down to is winning ballgames."21
In 1996, New York won the AL East and then its first World Series title since 1978. Over a year, Girardi had improbably transformed himself from the discard pile of a third-year expansion team to the backstop of a championship edition of the game's most storied franchise.
The '96 Yanks got unexpected boosts from a pair of declining ex-Mets in Dwight Gooden and Darryl Strawberry. Girardi particularly helped Gooden. "We're already on the same page," Gooden said in spring training. "The thing I like is that he communicates with us. He's constantly talking strategy. … I talked to (Bret Saberhagen) recently and he said he loved pitching to Joe (in Colorado)."22
A little more than two months after Gooden praised Girardi, the two teamed up on a no-hitter, the first for both pitcher and catcher. "Moments after throwing the 135th pitch of his gem, Gooden … said, 'Joe Girardi is the best catcher I've ever thrown to.'"23
Girardi praised his pitcher. "He was able to place it wherever he wanted to," Girardi said. "So we were able to throw his slider and a few changeups at any time. … There's only one more thing for me to do in my career and that's play in a World Series."24
Girardi got his wish during his first season in the Bronx. After losing the first two games of the Series at home, the Yankees won all three in Atlanta. New York would have to break through at home to take the title.
In the top of the third of Game Six, Girardi kept the contest scoreless. "Leadoff-hitter Terry Pendleton skimmed a grounder … that Mariano Duncan … bobbled for an error. On the next pitch, Pendleton took off for second, but Jeff Blauser failed to swing … and Pendleton was easily tagged out despite Girardi's double pump."25 The caught-stealing proved critical after Blauser doubled.
Batting ninth, Girardi came to the plate with a career postseason record of no RBIs and only 8 singles in 54 at-bats, including an 0-for-7 mark in the 1996 Series. Maddux, the Cy Young Award winner each season from 1992 through 1995, faced Girardi with one out in the bottom of the third inning and Paul O'Neill on third base.
Girardi smashed Maddux's high pitch to deep center, just out of the reach of speedy center fielder Marquis Grissom, who, understandably, had played the weak-hitting Girardi shallow.26 Girardi had an RBI triple ("I felt like I was running on air. It was the biggest hit in my career in the biggest game in my career"27), his lone career playoff RBI in 127 postseason plate appearances.
Jeter singled in Girardi, and later in the frame Bernie Williams drove in Jeter with another single, giving the Yankees a 3-0 lead in a game that ended 3-2. After John Wetteland induced a foul out to Charlie Hayes to end the Series, Girardi embraced his closer.
A free agent after the World Series, Girardi hoped to remain in New York28 and did so with diminishing playing time due to the emergence of Jorge Posada.29 Girardi hit less well in 1997, a season highlighted by an eighth-inning homer on April 28 to give the Yankees a 6-5 comeback win over the Seattle Mariners. "I'm surprised," Girardi said of his first homer of the year. "It took me until August last year to get my first home run. I don't hit homers."30
Girardi did not hit another home run for more than 13 months (off Pedro Martinez of the Red Sox on May 31, 1998).
Girardi suffered personal tragedy in 1997 when his wife, Kim, miscarried. Girardi later revealed, "She took it a lot harder than I did. We went through a tough period until like a year later. It was much tougher for her because it was part of her. I just told her it wasn't her fault. It was God's will."31 Two years later, Kim gave birth to a daughter named Serena. Son Dante (named after Girardi's Colorado teammate Dante Bichette) and daughter Lena followed.
New York secured the AL wild card in 1997. The Indians eliminated the Yankees in five games. Girardi had 17 postseason plate appearances with more grounded-into-double-plays (3) than hits (two singles).
With Girardi playing in his fewest games since 1991, New York featured one of the best teams ever in 1998. A minor contributor to the superb squad, Girardi again caught the championship clincher.
Surprisingly, New York exercised its $3.4 million option on its 34-year-old backup backstop for 1999. In spite of a career-high seven-RBI game on August 23 when he went 4-for-6, Girardi still struggled to a career-low .271 OBP in 1999. Nevertheless, he contributed defensively,32 caught seven postseason games, and won his third World Series ring.
Girardi caught David Cone's perfect game against Montreal. "He always knows how to say the right thing at the right time," Cone said. "Maybe a younger catcher or a different catcher might get a little angry with me because I have a tendency to show some emotions on a mound that a catcher might interpret as showing him up. But Joe has a great personality."33
As in 1996, New York faced Atlanta in the 1999 World Series. Girardi starred in Game Three, the closest contest. The Braves led 4-1 in the third with Bret Boone on second and one out. Girardi threw out Boone trying to steal third, a critical play that saved a run as Chipper Jones followed with a single. The Yanks trailed 5-3 in the bottom of the eighth. Girardi led off with a single and scored on Chuck Knoblauch's game-tying homer.
Boone singled off Mariano Rivera to start the ninth. Otis Nixon, with 29 steals in 36 attempts in the 1999 regular season and playoffs combined, ran for Boone, but Girardi threw out Nixon attempting to swipe second. In the bottom of the 10th with the scored tied and Girardi on deck, Chad Curtis hit a walk-off homer to give New York the win on its way to a Series sweep.
"When Girardi went home that night, the first thing he said to his wife, Kim, was, 'Honey, I think I just played my last game for the Yankees.' He was right."34 Girardi wanted to play more for another team that did not have a catcher like Posada. "Obviously, it's been a great four years here for me, winning three championships. But I want to play every day and I have to see what's out there," Girardi said.35
Spurning bigger offers from St. Louis and San Francisco,36 Girardi returned to the Cubs. He made the All-Star team for the only time in his career in 2000 as an injury replacement for Mike Piazza but did not play. In Girardi's second Chicago go-round, the Cubs never made the postseason.
Girardi's old-school ways occasionally grated on his younger teammates, a foreshadowing of his fate as Yankee manager. After a loss to Pittsburgh near the end of the dismal 2002 season, Girardi lowered my Sosa's clubhouse music. "I just said, 'I'm a little older and I don't like the [loud] music,'" he told a sportswriter. "'I have nothing against you playing it when you're in here. … He didn't realize that I turned it down because I thought he went outside.'"37
Chicago declined to keep Girardi, but St. Louis inked him to a one-year contract. After moving on from Girardi, Cubs general manager Jim Hendry said, "It was a baseball decision, not a personal decision, and he has a great future … as a manager or a front-office guy."38
Girardi hurt his back in spring training39 with the Cardinals and played in only 16 games in 2003, his last season as a player. In his final plate appearance, he singled off Arizona's Edgar Gonzalez on September 28.
The Yankees invited Girardi to spring training in 2004. Saying "players don't realize how fortunate they are to play for the Yankees," Girardi battled to back up Posada and had a backup plan of his own to join the YES Network as a broadcaster.40
Girardi failed to make the team and chose a different post-playing career than the one he had foreseen in 1998. "When I retire, I think I'd have to go and work in a front office at some level," Girardi said, "scouting or maybe, if you got real lucky, an assistant's job."41
In 2005, he served as Torre's bench coach. Florida hired Girardi as manager for 2006 and then traded away most of its front-line talent for prospects.42 "In May, the team tied a franchise record with 11 consecutive home losses. After [a road loss in the middle of the streak], a beat writer asked Girardi if it would be hard for him to sleep that night. 'No harder than when I was a player,' he said. 'I didn't sleep too good after losses then, either.'"43
By August, Girardi faced rumors of troubles with the front office as a result of his declining to argue against the call by a home-plate umpire that resulted in a walk by a Florida pitcher in a game attended by the Florida owner.44 "There's no rift; there never was a rift," Girardi said. "There's always tension when I lose."45
Girardi kept his job after he "agreed to apologize to the owner [Jeffrey Loria] in front of the team"46 but was fired in October. Florida GM Larry Beinfest did his best to justify the decision, explaining, "This team exceeded everybody's expectations in terms of wins, and Joe … played an integral role in the team's success. Joe is not returning because he was not a good fit. … We felt that Joe was not able to integrate himself into the workings of our organization."47
In November, the Baseball Writers Association of America named Girardi NL Manager of the Year. "It's nice that people who watched the games every day understood what we accomplished," Girardi said. "I don't know if vindicated is a good word, just because as a manager you want to manage. Whether you are Manager of the Year or not, it's not going to put you in that seat."48
Girardi returned to YES for the 2007 season to broadcast games and co-host a show with former catcher John Flaherty,49 an ironic pairing given that Flaherty had held off Girardi in 2004 to back up Posada. Few thought Girardi would remain off the field for long. As Sports Illustrated's Tom Verducci observed, "Girardi is the rare manager who emerged from a firing — and a first-year firing at that — without his reputation diminished. The hottest managerial candidate of last winter is the hottest managerial candidate of this season."50
Indeed, Girardi sat out a single season before beating out Yankees legend Don Mattingly to replace Torre as New York manager. Replacing the popular Stanley as catcher in 1996 represented a serious challenge for Girardi; beating out a former Yankee MVP in Mattingly and stepping in for the beloved Torre represented monumental hurdles for Girardi to overcome. "I can't be Joe Torre, because I'm made up different," said Girardi … "I'm a different character."51
By wearing a uniform with the number 27 (the Yankees at the time of Girardi's hiring had won 26 titles), Girardi sent a signal that in the Bronx, "This team's ultimate goal is to win the World Series," he said. "It's not going to change."52
In 2008, New York won 89 games but missed the playoffs for the first time in 14 seasons. In contrast to what happened in Florida, Girardi survived because Yankees management realized that he helmed a flawed team. Jose Molina caught most of the games; Darrell Rasner and Sidney Ponson made 35 ineffective starts.
With better talent, New York made the playoffs for the next four years. During the first half of his managerial tenure with the Yankees, Girardi won few plaudits; rather, as Will Leitch concluded in a New York Magazine analysis, "He has done what a manager is supposed to do: put his players in the best mental position to succeed and then stay out of the way."53
New York reloaded for 2009 by signing three big-name free agents in A.J. Burnett, CC Sabathia, and Mark Teixeira. The Yankees also made a terrific trade for Nick Swisher. After hitting only three homers in an injury-plagued 2008 campaign, Posada juked 22 in 2009.
Nevertheless, New York started slowly in 2009 and did not move into first place for good until July 20. The Yankees struggled against the Red Sox, losing their first eight games against Boston before winning nine of their final 10 versus their arch-rivals. Girardi deftly handled players in a high-pressure atmosphere. In 2008, Girardi had benched Robinson Cano for not hustling. In 2009, Cano credited Girardi for his tough love. "He's been the same as last year," Cano said. "Always talks to everybody."54 Future Yankees would not appreciate Girardi's consistency.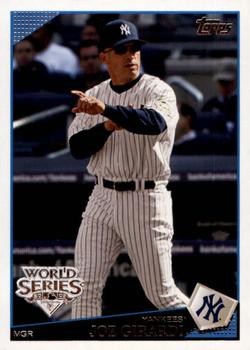 A good regular-season club that got 130 starts from Burnett, Joba Chamberlain, Andy Pettitte, and Sabathia, New York became a great postseason squad by returning Chamberlain to the bullpen and taking advantage of off-days to use three starters.
The Yankees returned to the World Series and beat the defending champion Phillies to make Girardi's uniform number prophetic. Making for an even bigger storybook ending, Girardi, heading home after the final game, assisted a stranded driver who had a car accident. "Obviously, there's a lot of joy in what we do, but we can't forget that we're human beings where we help others out," Girardi said. "I think that's the most important thing that we can do in life."55
Although he swapped his number-27 jersey for number 28, Girardi never managed the Yanks to another World Series. In 2010, the Yanks fell in six games to the Rangers in the ALCS. In 2011, New York lost to Detroit in the AL Division Series. The Yanks took the division title again in 2012 and opened the playoffs against Baltimore. Girardi had weightier matters to consider due to his father's passing during the ALDS and attended the funeral on an off-day. With the teams tied at a game apiece, "Girardi made the toughest decision of his six years as a major league manager"56 by pinch-hitting Raul Ibanez for Alex Rodriguez in the ninth inning of Game Three with New York down a run. Ibanez homered to tie the game and homered again in the 12th to win it. "Asked what his father would have thought of this decision, Girardi replied, 'He would have been extremely proud and probably told all his buddies.'"57
The Yankees outlasted the Orioles in five games before getting swept by the Tigers in the ALCS.
New York had a trio of unsuccessful seasons in 2013, 2014, and 2016 that nevertheless showcased Girardi's managerial skills. While the 2015 Yankees outscored opponents by 66 runs en route to an 87-75 record and a wild-card loss to the Astros, the other three clubs all yielded more runs than they scored but nevertheless had three winning records:
| Year | Scored | Allowed | Margin | W-L |
| --- | --- | --- | --- | --- |
| 2013 | 650 | 671 | -21 | 85-77 |
| 2014 | 633 | 664 | -31 | 84-78 |
| 2016 | 680 | 702 | -22 | 84-78 |
Teams that get outscored usually have losing marks. Teams that get outscored but still win more games do so due to strong bullpens, good luck, and capable managers.
In 2013, New York went 85-77 despite a starting lineup with a single star in Cano and one accomplished player in Brett Gardner. The other seven regulars were past their primes (34-year-old Vernon Wells, 36-year-olds Travis Hafner and Overbay, and 39-year-old Ichiro Suzuki) and career backups (Jayson Nix, Eduardo Nunez, and Chris Stewart). A Boston Globe Red Sox beat writer lauded Girardi as "one of the top managers in baseball this [2013] season. You normally can't have that many injuries — lose that much payroll — and survive. The Yankees not only survived, they took their quest for a playoff spot into the final week of the season."58
Likewise, the 2014 Yanks went 84-78 with a lackluster starting rotation featuring a future star in Masahiro Tanaka who pitched in just 20 games due to injury and a steady pitcher in Hiroki Kuroda. But Girardi mixed and matched 85 starts among eight fringe hurlers (Chris Capuano, Shane Greene, Brandon McCarthy, Bryan Mitchell, Vidal Nuno, David Phelps, Esmil Rogers, and Chase Whitley).
In 2016, New York had big names who failed to produce. All nine offensive regulars had OPS+ figures below 100, meaning the Yankees did not have a single league-average hitter in the batting order. GM Brian Cashman traded the present for the future by swapping veterans for prospects. The young players returned New York to the playoffs in 2017 but also paved the way for Girardi's departure from the Bronx.
A pair of youngsters led the 2017 Yankees. Aaron Judge hit 52 homers, and Luis Severino went 14-6. As in 2015, New York won the wild card and opened the playoffs at home, this time against Minnesota. Severino faced only six batters, who homered, fouled out, walked, homered, singled, and doubled to put the Twins up 3-0. Managing aggressively, Girardi yanked Severino in favor of the fireballing Chad Green, who, along with his bullpen mates and the Yankee bats, rallied New York to an 8-4 win that advanced the Yankees to face the Indians in the ALDS.
After losing the first game of the ALDS, New York led the second one, 8-3, in the sixth inning, a disastrous frame during which Girardi arguably overmanaged and assuredly undermanaged. With one out and one on, and CC Sabathia throwing well at just 77 pitches, Girardi again went to Green, who got an out and gave up a double to put two on with two outs. Green then hit Lonnie Chisenhall to load the bases. Replays showed that the ball had in fact hit the bat rather than the batter, but Girardi failed to ask for a review, "an all-time mess-up … easily the lowest point of his managerial career."59 Francisco Lindor followed with a grand slam to make the score 8-7. Cleveland tied the game in the eighth and won it in the 13th to take a commanding 2-0 series lead.
Surprisingly, New York won all three straight elimination games to win the ALDS and, seemingly, minimize the meaningfulness of Girardi's miscues. The manager expressed relief after the comeback. "I've been carrying this burden for five or six days," Girardi said. … "It's hard. … So for me, what these guys did for me, I'll never forget."60
As in 2015, the Astros ended the playoff run of the Yanks, this time by taking the ALCS in seven games. With an expired contract, Girardi "had an almost fatalistic tone as he discussed his baseball future. 'I've had 10 great years here,' he said. 'I feel extremely blessed. God has been good to me, and we'll see what the future holds.'"61
As New York had gone 910-710 under Girardi, Washington Post columnist Barry Svrluga urged the Nationals to hire him: "He dealt with the Yankees' aging, expensive and inflexible roster, and then managed the transition … to this new, athletic, powerful core that looks like it will restore order in the Bronx for years to come," wrote Svrluga.62
But New York declined to retain Girardi amid accusations that younger players disdained him. "He just wears you down," one of his players said when Girardi's fate was still not public. "Nobody hates him, everybody respects the work ethic, but there is no real connection. He wears his tension … and it is too long a season for that style all the time."63
GM Cashman questioned Girardi's "ability to fully engage, communicate and connect with the playing personnel."64 Understandably, Girardi expressed surprise at Cashman's judging him on style over results especially after "the year we had and the progress the team had made … I thought I'd be back."65
The Yankees replaced Girardi, who returned to television, with Aaron Boone. Staying classy, Girardi praised Boone as "a bright man [who] understands the game and has been around it a long time."66
Tyler Kepner, baseball columnist for the New York Times, summed up Girardi's legacy, opining, "Girardi was an excellent manager — driven, prepared, caring — and he shepherded a young clubhouse into a new era."67 Girardi seems likely to manage again; when Cincinnati made the first managerial firing of 2018 by canning Bryan Price, Girardi's name surfaced as a potential successor.68
Regardless, Girardi's legacy remains secure as the first catcher of the Rockies, and as a champion player and manager of the Yankees.
Last revised: December 1, 2018
This biography appeared in "Time for Expansion Baseball" (SABR, 2018), edited by Maxwell Kates and Bill Nowlin.
Notes
1 Billy Witz, "The Yankees' New Manager Takes a Number, and Decides Not to Use Girardi's," New York Times, February 25, 2018.
2 Nancy Armour (Associated Press), "Girardi's Leadership Stems from His Parents' Hard Work." This undated article comes from the National Baseball Hall of Fame and Museum's file on Girardi. Thanks to Reference Librarian Cassidy Lent for scanning the Girardi file.
3 Bryan Hoch, "Girardi Cherishes Talks with Father," MLB.com, June 19, 2009.
4 Vic Ziegel, "Girardi Only Thinks Deep; with Pitchers, He's a Hit," New York Daily News, March 17, 1998.
5 Jack Curry, "Girardi Gets Turn to Play Big Brother," New York Times, March 27, 1997.
6 "About Joe Girardi," joegirardi.com/about-joe/ (accessed March 12, 2018).
7 "Cubs," The Sporting News, August 18, 1986: 25.
8 "Cubs," The Sporting News, January 2, 1989: 52.
9 "Joe Girardi, 'Always Ready to Go,'" Peoria Journal Star, October 7, 1989: C1. As a kid, Girardi had "two idols … Ron Santo and Jose Cardenal." Chuck McAnulla, "Joe Girardi," Sports Collectors Digest, February 14, 1997: 161.
10 Bill James, The Baseball Book 1990 (New York: Villard Books, 1990), 286.
11 "Girardi, Berryhill Give Cubs Catching Depth," The Sporting News, August 13, 1990: 13.
12 Claire Smith, "Yanks' Girardi Leaves His Ego in the Clubhouse," New York Times, May 12, 1998.
13 Bill James, The Bill James Player Ratings Book 1994 (New York: Collier Books, 1994), 90.
14 Mark Kiszla, "Show Girardi the Door as Antidote for His Venom," Denver Post, February 28, 1995: D1.
15 Kevin Kernan, Girardi: Passion in Pinstripes (Chicago: Triumph Books, 2012), 159-160.
16 John Harper, "Rockies High on Biggio; Yanks' Deal for Girardi Frees Up Colorado Cash," New York Daily News, December 5, 1995.
17 Gay Talese, "The Crisis Manager," The New Yorker, September 24, 2012: 45.
18 Unattributed and undated article in the Hall of Fame's file on Girardi.
19 John Harper, "Yanks Get Rockie, Throw Out Stanley," New York Daily News, November 21, 1995.
20 John Giannone, "Girardi's Catching Heck," New York Daily News, February 5, 1996.
21 Don Burke, "A Case for the Defense," Newark Star-Ledger, December 10, 1995.
22 John Giannone, "Seems Girardi Is Catching On," New York Daily News, March 8, 1996.
23 Jim Salisbury, "One Lucky Joe," New York Post, May 22, 1996.
24 D.L. Cummings, "Joe Catches Bit of History," New York Daily News, May 15, 1996.
25 John Giannone, "Yanks Rule the World; Key, Girardi Spark Bombers to Title," New York Daily News, October 27, 1996.
26 youtube.com/watch?time_continue=17&v=YCSnK_ctjdk (accessed April 4, 2018).
27 Steve Serby, "Serby's Sunday Q&A with Joe Girardi," New York Post, November 4, 2007: 105.
28 John Giannone, "With Wells in Waiting, Yanks Pitch to Girardi," New York Daily News, November 19, 1996.
29 In 1996, Girardi by his own subsequent account said of Posada, "This is a scary situation. He's young, he's got a tremendous arm, he's a good receiver and hits for power on both sides." 1998 World Series program article by Joe Girardi with Pat McEvoy, "What Ceiling?"
30 Luke Cyphers, "For Yanks, '96 Déjà vu; Girardi HR in 8th Caps Comeback over M's," New York Daily News, April 29, 1997.
31 Jack Curry, "Throughout Life's Travails, Girardi Is Keeping the Faith," New York Times, February 28, 1999.
32 With the Yankees suffering through a five-game losing streak but leading 2-1 in the sixth inning of a May game, the White Sox had runners on the corners with none out. "Darrin Jackson topped the ball … and Girardi bolted … to field it. Magglio Ordonez broke for the plate and Girardi quickly turned back toward home, forcing Ordonez to reverse direction. Girardi ran him toward third and flipped the ball to Scott Brosius, who tagged Ordonez." Anthony McCarron, "Girardi Catches Falling Yankees 'D,'" New York Daily News, May 17, 1999.
33 Ralph Vacchiano, "Girardi's Perfect for Cone," New York Daily News, July 21, 1999.
34 Tom Verducci, "New York Yankees: They May Be Getting Long in the Tooth, but These Bombers Still Have Their Bite," Sports Illustrated, March 27, 2000.
35 Peter Botte, "Girardi May Catch on Elsewhere," New York Daily News, October 29, 1999.
36 "Girardi Catches On with the Cubs," Albany Times Union, December 16, 1999.
37 Teddy Greenstein, "Looney Tunes at Wrigley," Chicago Tribune, September 28, 2002.
38 Teddy Greenstein, "Girardi Move 'Part Of Game,'" Chicago Tribune, December 20, 2002.
39 Dan O'Neill, "Girardi Sets Up Behind the Mike," St. Louis Post-Dispatch, September 29, 2003.
40 Mark Feinsand, "Girardi Invited to Spring Training," MLB.com, February 4, 2004.
41 Buster Olney, "Girardi Sees His Future as a General Manager," New York Times, March 19, 1998.
42 "According to reports, Girardi was blindsided by the Marlins' massive youth movement after he was hired." Mike Berardino, "Points of Conflict," Sun Sentinel (Fort Lauderdale, Florida), October 4, 2006.
43 Michael Sokolove, "Happy Just to Be here," Play, June 2006: 84.
44 Kevin Baxter, "Anger Management," Miami Herald, August 8, 2006. "Loria was upset when Girardi asked him from the dugout not to yell at the umpires. But … Girardi's bench lieutenant, Gary Tuck … caused all the clubhouse commotion afterward. 'If you don't f—— like it, get someone else,' Tuck shouted from the dugout to Loria." Dave Hyde, "Firing Unfair but Necessary for Everyone," Sun Sentinel, September 22, 2006.
45 Mel Antonen, "Inside the NL," USA Today, August 9, 2006.
46 Greg Cote, "A Loria Apology to Girardi Would Be the Right Thing to Do," Miami Herald, August 19, 2006.
47 Clark Spencer, "Beinfest: Girardi 'Was Not a Good Fit,'" Miami Herald, October 3, 2006.
48 Juan C. Rodriguez, "Girardi Gets His Due as Top Manager," Sun Sentinel, November 16, 2006.
49 Jack Curry, "Girardi Says Broadcasting Is Best for Now," New York Times, November 14, 2006.
50 Tom Verducci, "Fish Out of Water," Sports Illustrated, February 19, 2007.
51 Bob Nightengale, "Girardi Replaces Torre, Who May Join Dodgers," USA Today, October 31, 2007.
52 Harvey Araton, "Girardi's Introduction Starts the Clock Ticking," New York Times, November 2, 2007: D4.
53 Will Leitch, "Joe Cool," New York Magazine, September 16, 2011.
54 Tyler Kepner, "The Taskmaster Loosens Up," New York Times, September 25, 2009: B13.
55 Jon Fogg, "Girardi's Selfless Act," Washington Times, November 7, 2009: 2.
56 Ronald Blum (Associated Press), "Joe Girardi's Father, Jerry, Dies at 81," October 11, 2012.
57 Mike Bauman, "Girardi Does His Best Through Triumph, Tragedy," MLB.com, October 12, 2012.
58 Nick Cafardo, "Girardi Couldn't Have Managed to Time It Better," Boston Globe, October 6, 2013.
59 Andrew Marchand, "The Simple Truth in the Bronx: It Was Time For Joe to Go," ESPN, October 26, 2017.
60 Billy Witz, "For Girardi and Judge, Game 5 Became the Great Escape," New York Times, October 13, 2017: B11.
61 Billy Witz, "After 10 Seasons and a Title, Girardi Is Done as Yanks Manager," New York Times, October 27, 2017: B10.
62 Barry Svrluga, "If Nationals Are Serious About a World Series, They Should Make Joe Girardi an Offer," Washington Post, October 25, 2017.
63 Joel Sherman, "What Made Girardi a Success Cost Him His Job," New York Post, October 26, 2017.
64 Billy Witz, "Girardi Didn't Connect With Players, Cashman Says," New York Times, November 7, 2017.
65 Ken Rosenthal, "Q&A with Joe Girardi: How He Feels About Being Let Go By the Yankees And Whether He Will Manage Again," The Athletic, October 31, 2017.
66 Billy Witz, "Girardi Joins MLB Network as an Analyst," New York Times, February 8, 2018.
67 Tyler Kepner, "Boone on Day 1: 'How Stable Everything Is,'" New York Times, February 14, 2018.
68 John Fay, "Cincinnati Reds 2018: Barry Larkin, John Farrell, Buddy Bell or Jim Riggleman May Be Next," Cincinnati Enquirer, April 19, 2018.
Born
October 14, 1964 at Peoria, IL (USA)
If you can help us improve this player's biography, contact us.
https://sabr.org/sites/default/files/GirardiJoe-1998.jpg
600
800
admin
/wp-content/uploads/2020/02/sabr_logo.png
admin
2012-01-04 20:32:15
2012-01-04 20:32:15
Joe Girardi